The Sunny Health & Fitness SF-T4400 Treadmill is a cardio machine that helps you to lose weight, and improve heart and lungs' health.
It is a fine treadmill designed for individuals of different heights who are 220 pounds/100 kg or less in weight. Great for individuals that are not inclined to performing highly challenging workouts but exercises that could help them lose weight and maintain a healthy body.
This treadmill offers the opportunity to perform walking and light jogging exercises that can ultimately transform and boost your overall physical health and wellness.
That being said, if you wish to find out the price of the Sunny Health & Fitness SF-T4400 Treadmill, then click right here.
The Frame and Construction
The Sunny Health & Fitness SF-4400 Treadmill's frame is made of a steel frame that supports up to 220 pounds/100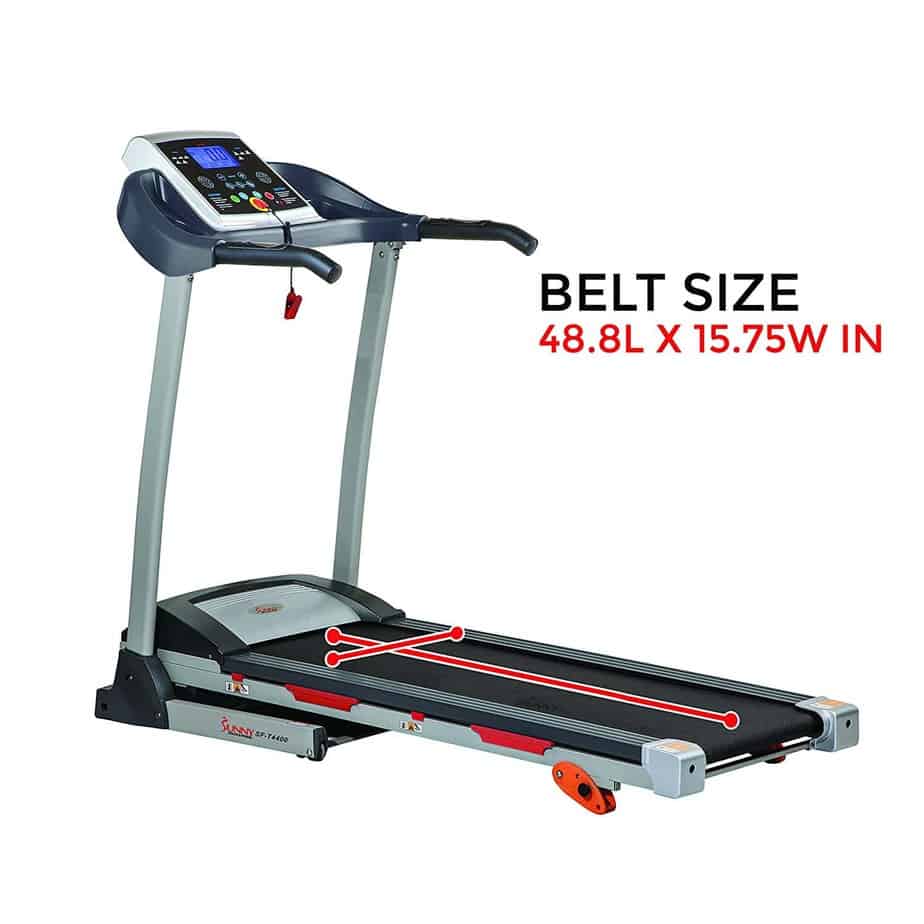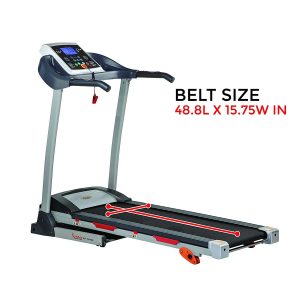 kg maximum user weight capacity.
This is a compact piece of machine that is also foldable and so space won't be much of an issue. It has overall assembled dimensions of 62 inches long by 27 inches wide by 50 inches tall, which means it will require a workout area of 5 feet 2 inches long by 2 feet 3 inches wide. That being said, it is recommended you leave an extra 2 to 3 feet on both sides and the rear of the treadmill for safe and convenient workout practices.
A ceiling height of 7 feet should be fine because its incline is only 4.75% in its highest and very tall individuals are not expected to jog on it anyway due to the running surface size.
Speaking of the running surface, it has the dimensions of 48.82 inches long by 15.75 inches wide, not a very spacious treadmill belt. This restricts very tall individuals of 6 feet and above to enjoy good workouts.
The treadmill deck is however integrated with a shock-absorbing system that significantly reduces the stress that is often felt on the knees, legs, and ankles as a result of walking or jogging exercises.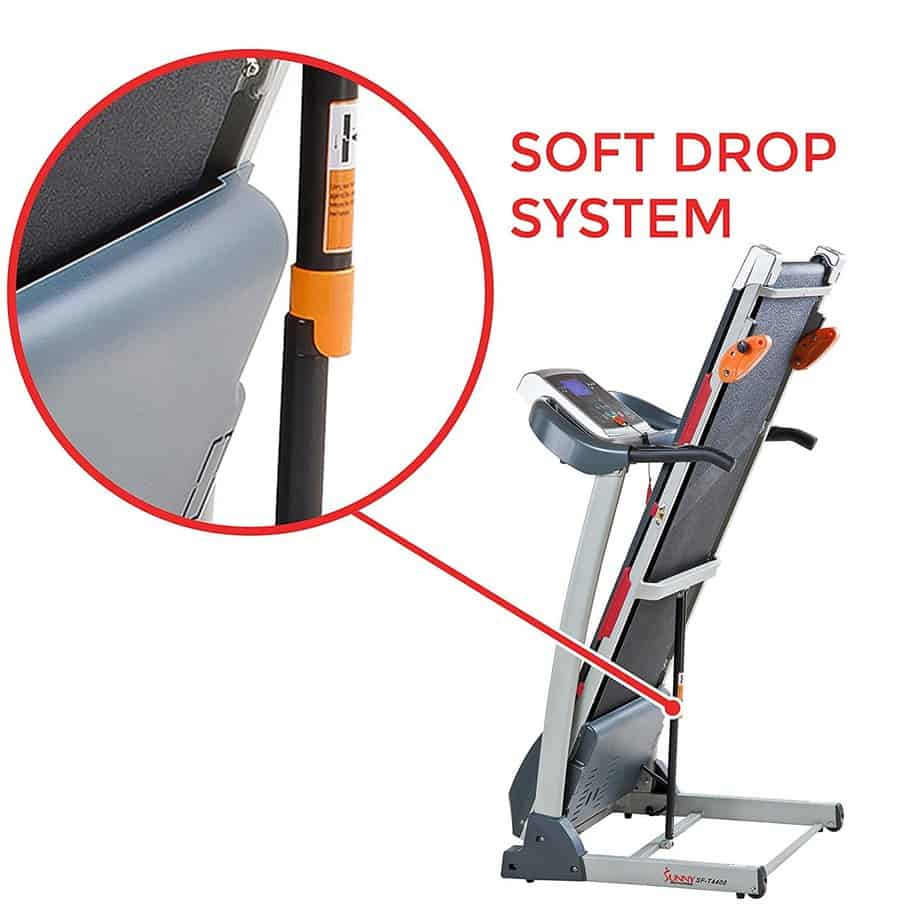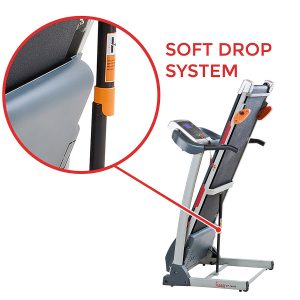 The easy fold and the SoftDrop mechanisms help you to easily store away the treadmill without any hassles. You can easily fold and unfold the unit without the risk of dropping it especially during the process of unfolding which is crucial.
The folded dimensions are 34.25 inches length by 26.25 inches width by 58 inches tall. When you look at it, it means the length is reduced, the width is pretty much the same and the height is increased. In other words, you cannot store it under the bed but can only be stored vertically.
It weighs about 103 pounds/47 kg, which adds to its stability but you may be worried about how to move it. In that case, it features 2 transport wheels that are strategically designated, such that the treadmill stands on them when folded so that you can easily tilt and wheel it away when you wish to relocate it.
And, by the way, the treadmill comes in two variant colors of gray and pink, and the pink seems to be slightly expensive than the gray one. So, you also have the liberty of choosing the preferable color if that makes your day.
The Motor
The Sunny Health & Fitness SF-T4400 Treadmill's 2.2 peak HP motor and the other components of the drive system provide quiet, consistent, and smooth operation.
Being that it is a quiet treadmill (users have indicated so too) you should be able to work out and enjoy other activities too, such as watching your favorite TV show or listening to good music. On top of that, you don't have to feel you are disturbing the family or neighbors as well.
It provides a speed range of 0.5 to 9 mph with the incremental possibility of 1/10's mph. This allows you to select a suitable speed range for your fitness level.
The Incline
The SF-T4400 Treadmill has a manual incline system that provides 3 incline levels. The first level which is 0% has an almost non-existent impact on your workout. The other two are 2% and 4.37% which could provide minimal challenging workout experiences.
To adjust the incline you have to locate the three holes that are on the side of the rear deck, remove the two fixing pins from the sides (left and right) then align the holes of the adjustable footpad to the holes on the mainframe once you have found your desired incline level and reinsert the fixing pins back, and that's it.
It is as simple as that, but we know some users wish it could incline significantly more to feel the challenge during workouts.
The Console
The Sunny Health & Fitness SF-T4400 Treadmill comes with an average console that is integrated with some useful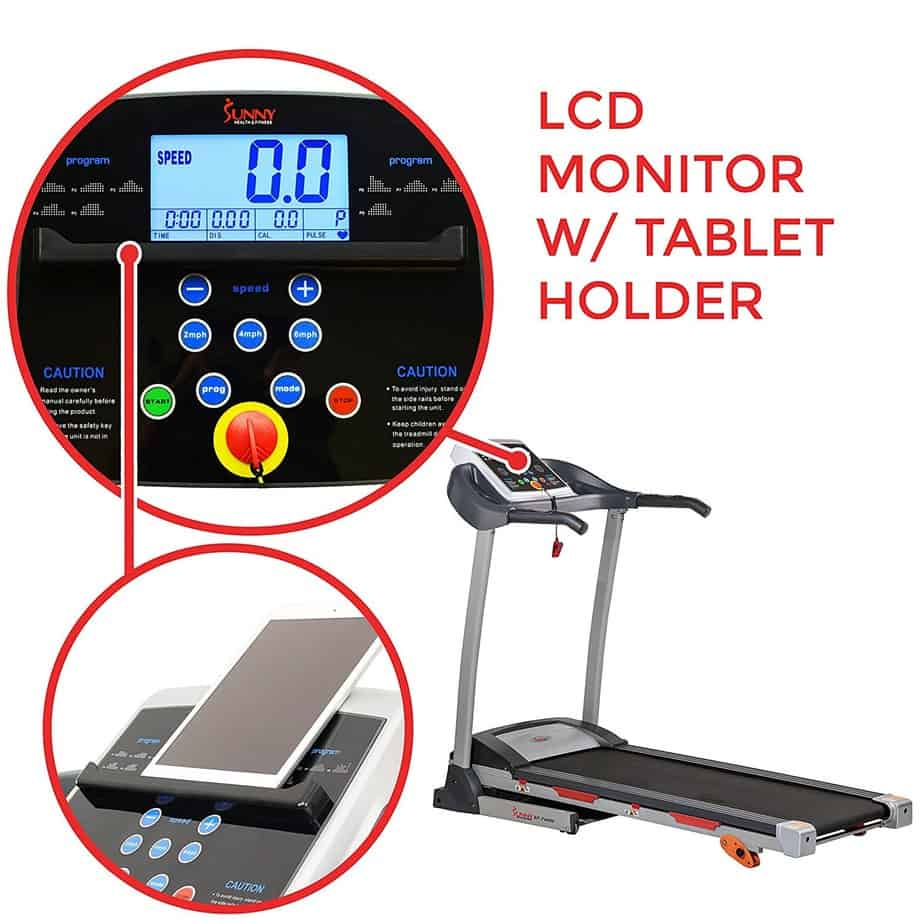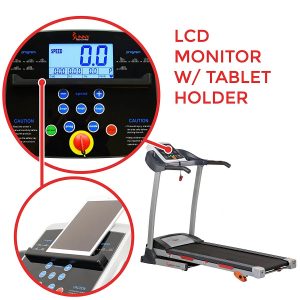 features.
The LCD monitor has high-quality readability that cannot be diminished even in a poorly lit room because it is backlit. With the monitor you should be able to keep track of your workout progress because it keeps track of time, distance, speed, calories burned, and heart rate.
The handlebars have the heart rate sensors embedded in them which make it possible for your heart rate to be read and be displayed on the monitor each time you grip them during workouts. These also allow you to maintain your target heart rate zone all the time during exercises.
The handlebars also have the Speed, Start/Stop buttons on them which allow you to have quick access and control of the speed, and start/stop of the treadmill.
On top of the console are also the speed buttons that allow you to increase speed by 0.1 mph, 3 quick speed buttons of 2mph, 4mph, and 6mph. Start and stop buttons are also available on the console, Program button which consists of 9 preset workout programs which automatically selects your speed when using any of the programs.
You could use the stop button to pause the belt by pressing it once while you rest between workouts without having to lose your current workout data.
There is also the safe key with a nylon rope with a clip that is designed to be clipped on you short or shirt during a workout to automatically stop the treadmill in case you fall or trip accidentally.
There are 2 water bottle holders, one on each side of the console and a tablet holder for your phone. Although, the phone will block the view of the monitor if you decide to use the tablet holder.
Approval Rating
The Sunny Health & Fitness Treadmill SF-T4400 has been around for a couple of years now and there are hundreds of Amazon customer reviews about it. Some of them are positive and some are negative, but overall, it has a good approval rating, which means the majority of the users think it is a good buy.
But before you make your final decision about purchasing make sure you take your height and weight into account and also analyze what you need to achieve on a treadmill.
Do look at the ''cons'' of this treadmill down below as well.
Pros/Feature Overview
Compact and foldable in design
Easy folding and SoftDrop mechanism
Supports up to 220 pounds/100 kg maximum user weight capacity
Weighs about 103 pounds/47 kg which boosts its stability
Transport wheels for an easy relocation process
Backlit LCD monitor tracks time, distance, speed, calories burned, and pulse
9 Preset workout programs
2 peak HP motor
Smooth and quiet during operation
3 manual incline levels, 0%, 2%, and 4.37%
Treadmill belt size of 48.82'' long by 15.75'' wide
Shock absorber system reduces stress on the knees, ankles, and legs during walking or jogging
Easy to assemble
Water bottle and tablet holders
Designed for walking and light jogging exercises
Cons
Poor warranty, which makes some people question the quality of the treadmill
The incline could be better
The console is not telemetry enabled, which means you cannot use an HR chest strap to read your pulse
The running surface is not wide and long enough which could restrict some people from using it because of their height
The weight limit is low confirming the suspicion of the warranty
Product Dimensions and Specifications
62'' Length
27'' Width
50'' Height
34'' Length (folded)
27'' Width (folded)
58'' Height (folded)
Supports up to 220 pounds/100 kg maximum user weight capacity
Weighs 103 pounds/47 kg
Backlit LCD monitor
9 Preset programs
3 Manual incline levels, 0%, 2%, 4.37%
Speed range 0.5 to 9 mph with an increment of 1/10's mph
Warranty
1 Year on Frame
90 Days on Parts
Shipping, Assembly, and Maintenance
Shipping
The shipping cost of the Sunny Health & Fitness SF-T4400 Treadmill is determined by the shipping policy of the retailer you are purchasing from; nevertheless, Amazon provides free shipping.
Assembly
The assembling process of this treadmill is pretty straightforward and easy. It doesn't take much time to put together because most of the parts are preassembled. You will be required to fix the upright tubes/post, the console, the left, and right tube covers, and that's it, you are done assembling it.
This could take about 30 minutes more or less depending on your pace at doing it.
Maintenance
Take note, it is recommended that you must lubricate the treadmill first before using it. Lubricate the running board and the running belt because it prolongs the lifespan of the treadmill even as it makes operation better.
Therefore, always inspect the running board and other parts. Should you find any loose, worn, or broken parts re-tight, repair, or replace accordingly, contact the manufacturer if you have to at [email protected].
Don't forget to unplug the treadmill from power before lubricating, repairing, or cleaning it.
Conclusion
The Sunny Health & Fitness SF-T4400 Treadmill is great if you are right for it, i.e., if you have the right height and weight it supports and you wish to perform walking/light jogging exercises.
It is all about what you need or wants to experience with a treadmill that will make it great. Therefore, if you have read this review from the beginning you will be able to know if this treadmill is really what you need or should you look for another.
Sunny Health & Fitness SF-T4400 Treadmill Review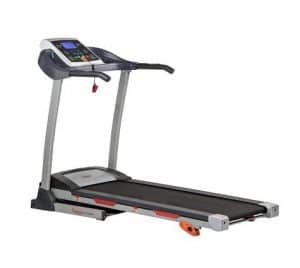 The Sunny Health & Fitness SF-T4400 Treadmill is a cardio machine that helps you to lose weight, and improve heart and lungs' health.
Product Brand: Sunny Health & Fitness
Product In-Stock: InStock