The Merax Folding Electric Treadmill enables you to work out beyond just walking and jogging. It can connect to the FitShow Sport app via Bluetooth to track and store your workout progress and create a personal fitness plan.
It is a basic treadmill that is designed to make your workout sessions convenient, comfortable, and productive. You can easily fold and unfold it with less effort as well.
Its compact and space design might appeal to those that have limited space and to folks that just needed something less bulky. Its running surface is 16.5'' W x 47.5'' L, enough for walking and jogging exercises for users that are less than 6′ tall.
Click right here to have a peek at the Merax Folding Electric Treadmill.
The Frame and Construction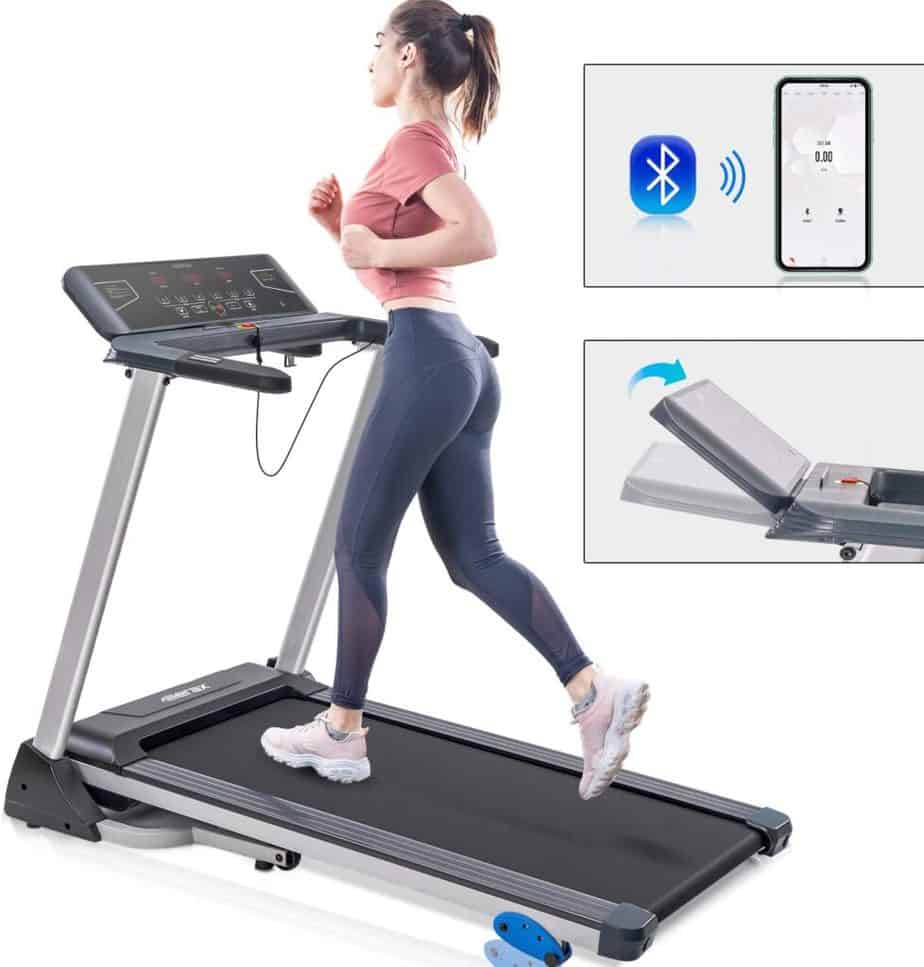 The Merax Folding Electric Treadmill is primarily designed for people to walk and jog conveniently in the comfort of their homes. Its sturdy steel construction supports a maximum user weight capacity of 264 lbs./120 kg.
The robust base framework holds up and prevents wobbling and unnecessary movements during workouts. Moreover, it weighs about 90 lbs./40.8 kg which boosts its overall stability.
The assembled dimensions are 56.9'' long by 22.8'' wide by 45.1'' high. Thus, it requires a workout area with perimeters of 4'8'' length by 1'9'' width. However, an additional 2' clearance around it will be necessary for safety.
A ceiling height of 7'5''-8' should be suitable for most users and the step-up height is 5''-6''.
Lastly, the treadmill has contact grips for support and reading and transmitting the heart rate data to the monitor when they are grasped during a workout.
The Deck of the Merax Folding Electric Treadmill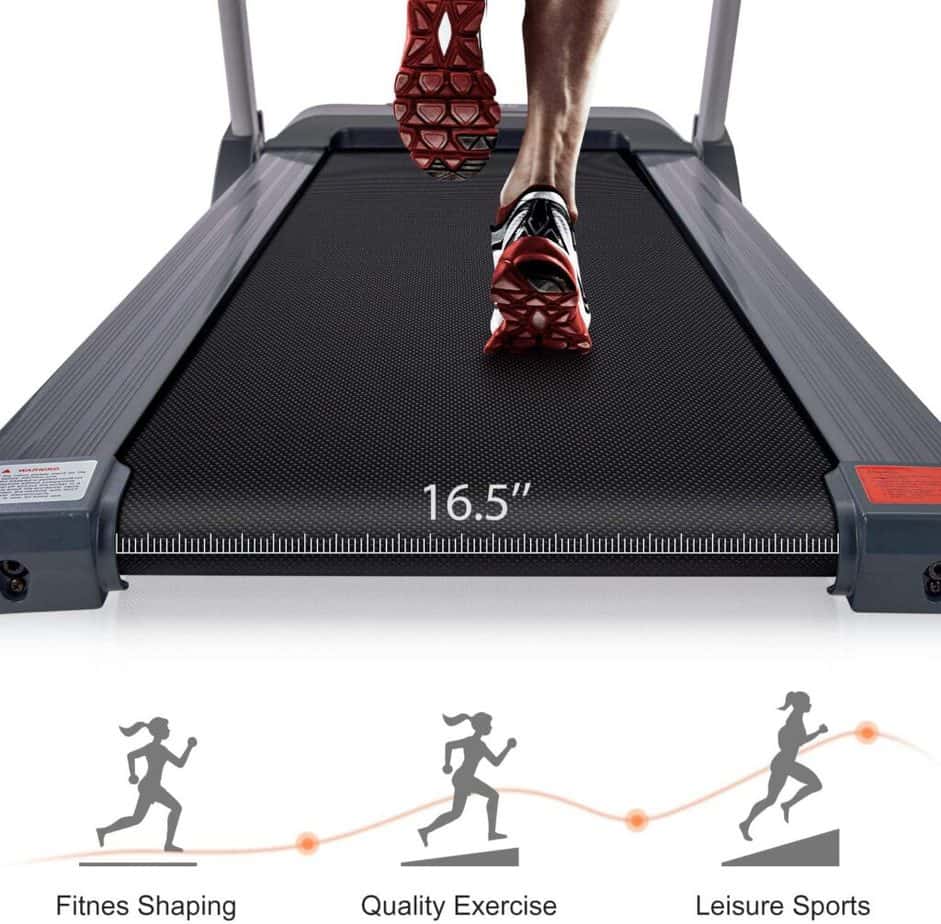 As aforementioned, this treadmill has a rather small running surface with dimensions of 16.5'' W x 47.5'' L which only allows walking and jogging activities. It doesn't integrate any cushioning system, but it's OK since the treadmill isn't for serious runners.
The textured rail on each side of the deck allows you to exit a workout without having to turn off the treadmill entirely.
The Motor
The Merax Folding Electric Treadmill comes with an unspecified motor horsepower capacity that is designed to provide the drive needed for 264 lbs./120 kg users. It is designated at the front base of the treadmill with a plastic cover.
The motor operates smoothly and requires the machine to be plugged into a power source for it to be functional. The overall noise level of the treadmill is considered very minimal and won't be distractive or disturbing to the family or the neighbors even though they may hear you during workouts.
It provides a speed range of 0.5-8 mph; it could gradually be adjusted by an increment of 0.1 mph or by a quick and rapid increment of 1, 3, 4, 5, 6, 8 mph through their respective buttons on the console.
Incline
The treadmill does not have a power incline as the Nordic Track T 6.5 S Treadmill, but it does have a 3-level manual incline system that at least allows you to change the intensity of your workout to some certain degrees.
Since it is manually adjustable, you need to get off the treadmill to make the adjustment through the adjuster at the rear base, and it's pretty easy to do.
The Console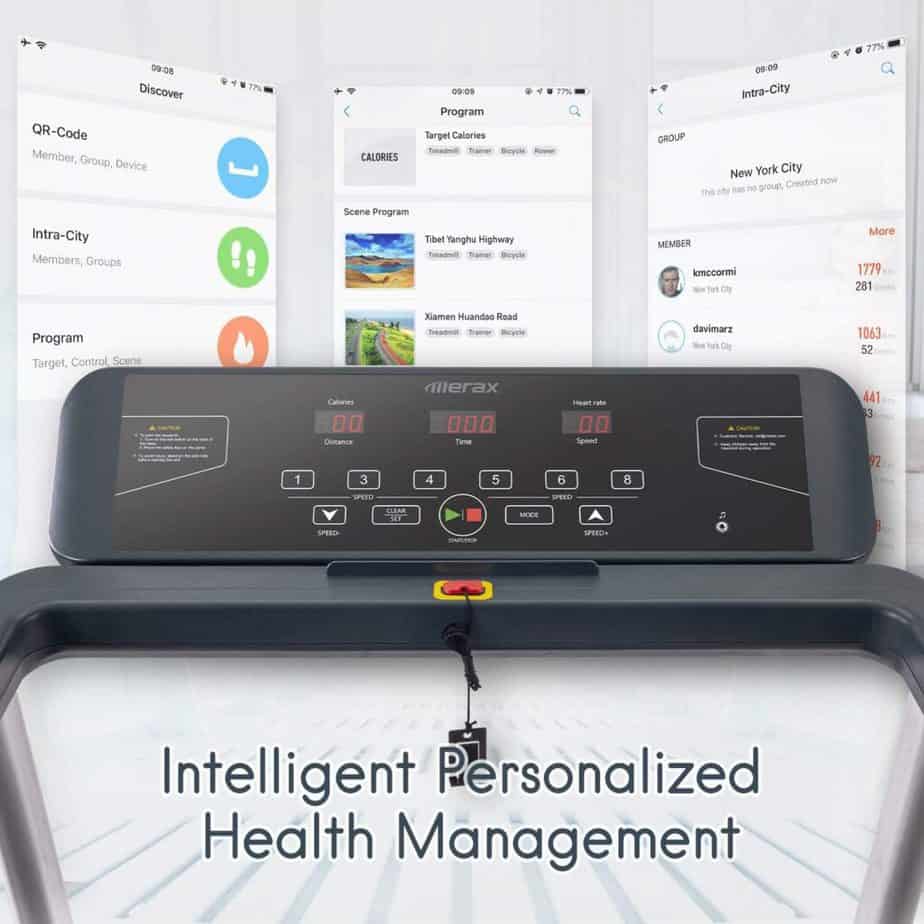 The Bluetooth-compatible console on the Merax Folding Electric Treadmill features LED display windows that track workout stats such as Time, Distance, Speed, Calories, and Pulse.
To view the pulse rate and maintain your target heart rate zone you need to grasp the contact grips during a workout, and this is the only way because the console is not telemetric.
The display readability is good and sustainable even in a poorly lit room. Moreover, the adjustable console could be adjusted for a better viewing angle.
15 preset workout programs are available to help you achieve your fitness goals, and the Bluetooth technology sync the treadmill to FitShow Sport via the downloaded app on the Android or iOS smartphone for tracking and recording workout progress, and more.
Accessory
The Merax Folding Electric Treadmill has a sound system that enables you to connect your smartphone and listen to music through the built-in speakers.
There is a tablet holder on the console designed to enable you to keep a smartphone/tablet within view for monitoring your workout progress via the FitShow app or for entertainment purposes.
Storage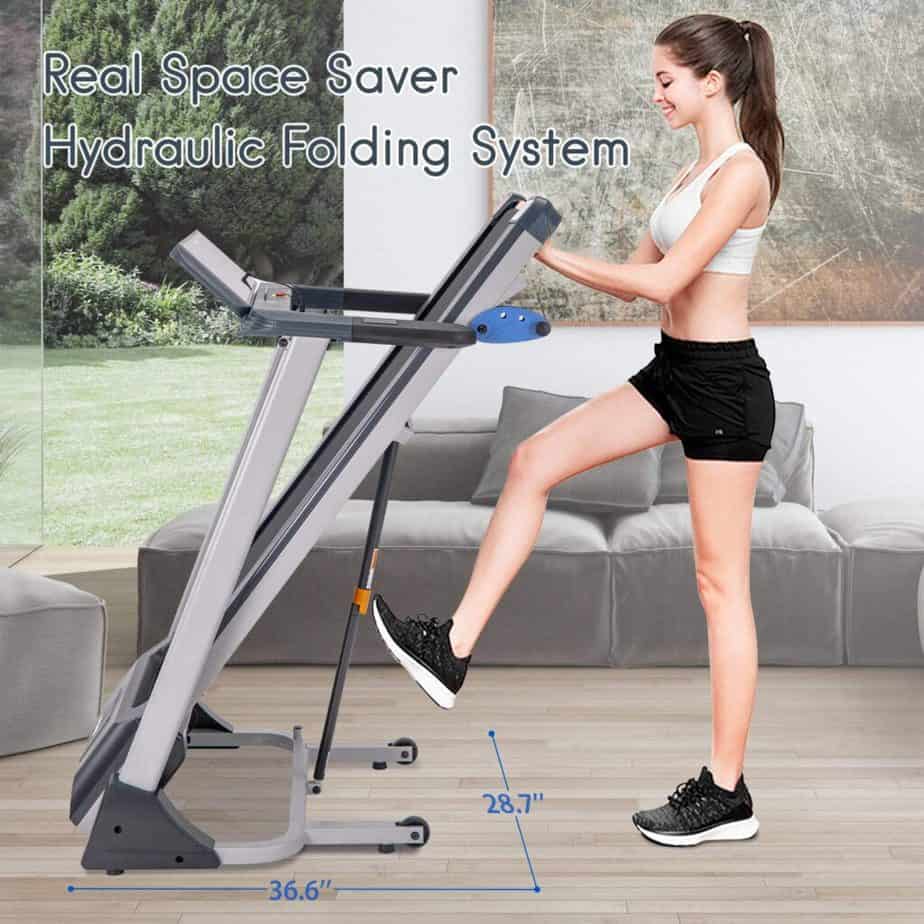 This unit is compact, foldable, and portable; these are the recipe for easy storage.
The treadmill has a hydraulic folding system that facilitates the process of folding and unfolding it without hassle. When folded, the dimensions become 36.6'' long by 28.7'' wide. In other words, a storage area with perimeters of 3'1'' length by 2'3'' width can accommodate it.
The integrated transport wheels help you to move it from the storage area to the workout area and vice versa.
Pros/Features Overview
Compact, portable, and foldable
Built to support a 264 lbs./120 kg maximum user weight capacity
Its operation is smooth with low noise
The powerful motor provides a speed range of 0.5-8 mph for walking and jogging activities
The speed can be adjusted gradually by an increment of 0.1 mph or by a quick and rapid increment of 1, 3, 4, 5, 6, 8 mph
Suitable for 6' tall users and below
A 3-level manual incline system for workout variance and challenges for better fitness results
LED monitor tracks Time, Speed, Distance, Calories, and Pulse
15 preset workout programs designed to target specific goals
Bluetooth connectivity sync the treadmill to FitShow app via an Android or iOS smartphone for tracking and storage of workout progress online
EKG contact grips for heart rate monitoring
Easy to assemble
Maintenance is low
A tablet holder included
Speakers and MP3 port
Cons
Small tread belt size
No water bottle holder
Warranty
1 Year limited warranty
Product Dimensions & Specifications
Length 56.9''
Width 22.8''
Height 45.1''
Folded dimensions: 36.6'' L x 28.7'' W x 47.2'' H
Tread belt dimensions: 16.5'' W x 47.5'' L
Net weight: 90 lbs./40.8 kg
Gross weight: 103 lbs./46.7 kg
Maximum user weight capacity: 264 lbs./120 kg
Motor: Unspecified capacity
Speed range: 0.5-8 mph
Bluetooth connectivity
FitShow app compatible
Incline System: 3-level manual
Program: 15 presets
Heart rate monitoring: EKG contact
Monitor: LED
Folding system: Hydraulic
Speakers, MP3 port, and a tablet holder included
Transport wheels: Yes
Assembly
Amazon offers free shipping for Merax Folding Electric Treadmill and gets it delivered in a couple of days. It is shipped out in a box that weighs 103 lbs./46.7 kg.
Assembly
The treadmill arrives almost preassembled. However, you need to attach the console masts, the handrails, and the console to the rest of the unit.
This takes about half an hour, more or less, depending on your dexterity.
An instruction manual and the tools needed for a successful assembly are included in the package.
Maintenance
The maintenance required for this treadmill is not serious. Just make sure that it's clean at all times, and prevent water, moisture, or direct sunlight from getting to the console. Store it in a cool and dry place, and inspect it before use to be sure that every part is tight and good as it should be.
The tread belt may need to be lubricated at some point in time, and when it does, make sure to use a silicon-based oil or as may otherwise be instructed by the manufacturer.
Conclusion
The Merax Folding Electric Treadmill is a sleek designed machine that also offers the opportunity to walk and jog in the comfort of your home. It comes with a couple of features that ensure you engage in productive and fun-filled workouts.