Do you wish to step up your walking, jogging, and running activities with new experiences in the comfort of your home? Then, the Nordic Track T 9.5 S Treadmill could make that happen.
It takes cardio workouts to a whole new level, just as the Nordic Track T 7.5 S and T 6.5 S do.
It has additional and upgraded features that include a bigger HD interactive Touchscreen monitor, a powerful motor, iFit technology, and a lot more.
Click right here to have a peek at the Nordic Track T 9.5 S Treadmill.
Frame and Construction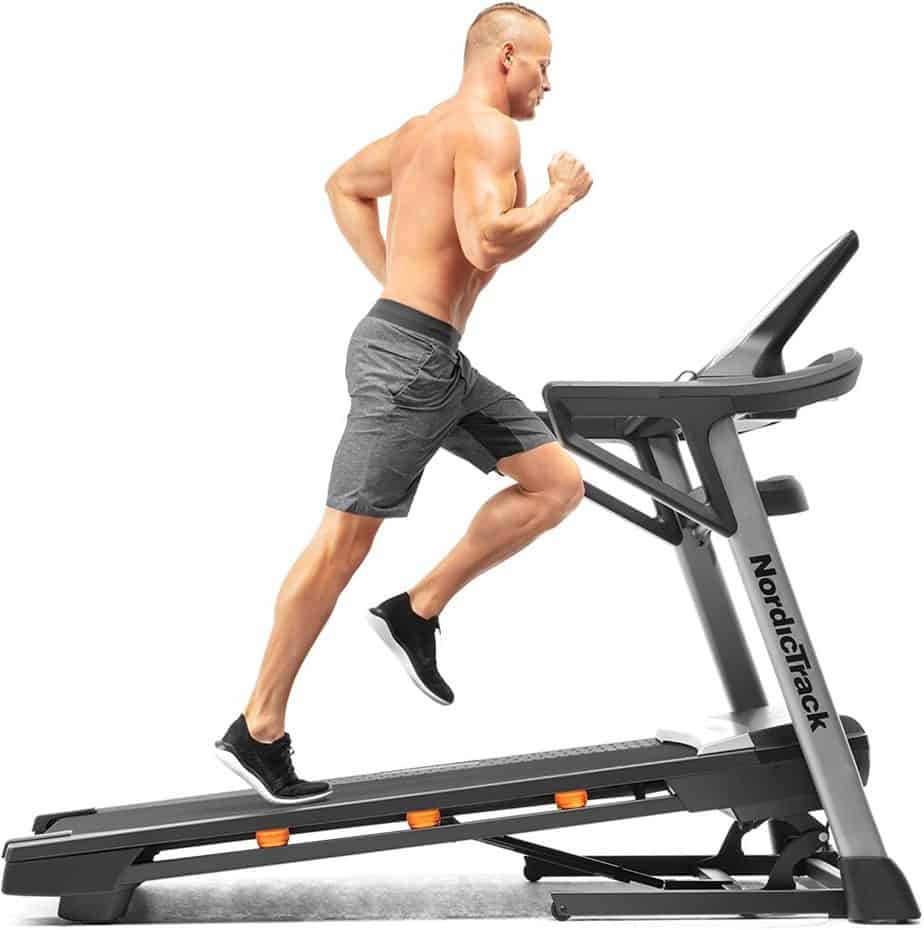 The construction of the Nordic Track T 9.5 S Treadmill features an anti-corrosive powder-coated heavy-duty steel frame and other parts that are made of durable plastic.
Hence, it supports a maximum user weight capacity of 300 lbs./136 kg.
The treadmill features a robust anti-slip base framework that provides superlative stability for stable workouts. Also, the overall weight of 214 lbs./97 kg grounds and makes it unmovable.
That said, it is not difficult to relocate regardless of the weight because it is foldable and portable with transport wheels.
Its overall assembled dimensions are 81.6'' long by 36'' wide by 59'' high. In other words, a workout area with perimeters of 6'8'' length by 3'' width should accommodate it. However, additional clearance of 2' around it becomes imperative for easy access and safety during workouts.
Since the height of the floor to the deck is about 20'' (when the incline is at its maximum position), hence, your ceiling height should be your height plus 20'', and 5" clearance.
The Deck of the Nordic Track T 9.5 S Treadmill
The deck step-up height is 10'', and it is integrated with a thick and textured tread belt that rolls over 1.9'' Precision and Balanced Non-Flex Rollers. Consequently, it runs smoothly without abrasion.
Most users can exercise on the 20'' W by 60'' L running surface without their strides being restricted.
Moreover, the deck has a FlexSelect Cushioning System with 3 adjustable suspension cells on each side of it. This ensures that every step and every footfall is bolstered from the stress that usually affects the joints.
The Motor
The Nordic Track T 9.5 S Treadmill Model NTL16119 has a reliable 3.6 CHP DurX Commercial Plus Motor. It is a powerful and self-cooling drive that provides enduring high consistent performance that doesn't diminish no matter the duration and the speed of your workout.
Its speed range is 0.5-12 mph and the adjustment is exclusively done through the buttons on the console. It is possible to micro-adjust the speed by 0.1 mph and 0.5 mph. This allows you to work out with a suitable and comfortable speed range.
You can also quickly adjust the speed to any level between 1 mph to 12 mph.
Its operation is smooth, thanks to the integrated small flywheel, and its noise level is not problematic either. The people around you may hear the sound of the treadmill or your footfall during a workout but it doesn't rise to be a disturbance.
The motor is situated at the front base/deck of the treadmill with a plastic cover, and it needs to be plugged into a 120V, 15A, electric power outlet to be functional.
Incline
The T 9.5 S Treadmill integrates an automatic incline that could be elevated from 0-12%. This initiates workout intensities of different degrees that are calorie burning and muscle toning oriented.
It can be adjusted by an increment of 1% or via the quick keys on the console that represent 1% to 12%.
The incline also gets adjusted automatically when a preset workout program is selected, or when a personal trainer decides to adjust it remotely during an interactive workout session.
The Console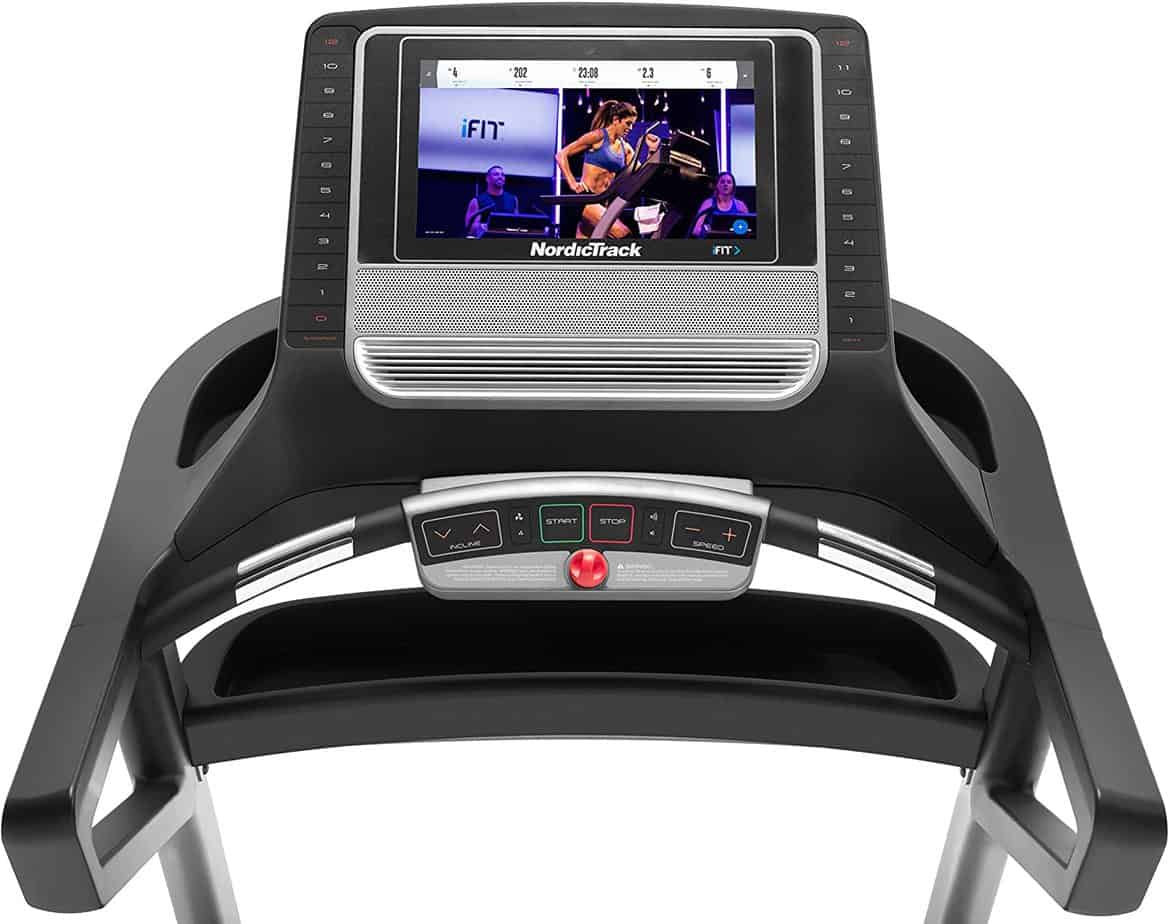 The Nordic Track T 9.5 S Treadmill is incorporated with a console that features a larger 14'' HD interactive Touchscreen monitor that operates like a tablet device. The monitor is iFit compatible and can also track workout progress by displaying metrics such as Time, Distance (mile/kilometer), Speed (mph/km/h), Calories, Incline, and Heart Rate.
The Heart Rate can only be read and transmitted to the monitor when the EKG contact grips are held during a workout or through the use of the optional Bluetooth wireless HR chest strap (not included).
There are 50 onboard workout programs that are designed to provide diversified workouts and ultimate results. They target weight loss, muscle toning, improvement of heart and lungs' health, and more.
iFit Technology
The console is wifi enabled, thus, it can connect to the iFit account using the internet without the need for a special wireless module as the case with the Nordic Track T 6.5 S Treadmill.
Upon connecting to the iFit app, you will have access to unlimited workout programs, new daily workout programs, and live sessions that offer interactive training with a personal trainer.
The package comes with a 1-year free membership which requires you to renew upon expiration for continued access. You can create up to 4 profiles per membership account so that the rest of the family members using different machines can also experience what it has to offer.
Moreover, you will be able to train on the exotic terrains of Google Maps, track and share your workout progress, race against other iFit users, and more.
Accessory
There are a couple of extras that are designed to make your workout fun-filled. These include the Bluetooth 2'' built-in speakers, the auxiliary MP3 compatible port, an AutoBreeze workout fan, accessory tray, and water bottle holders.
So, you can sync your smartphone/tablet with the speakers using Bluetooth technology or the auxiliary port for entertainment purposes. While the water bottle holders and the cooling fan enable you to remain properly hydrated and cool throughout a workout session.
Basically, when using this treadmill there will be no dull or boring moments.
Storage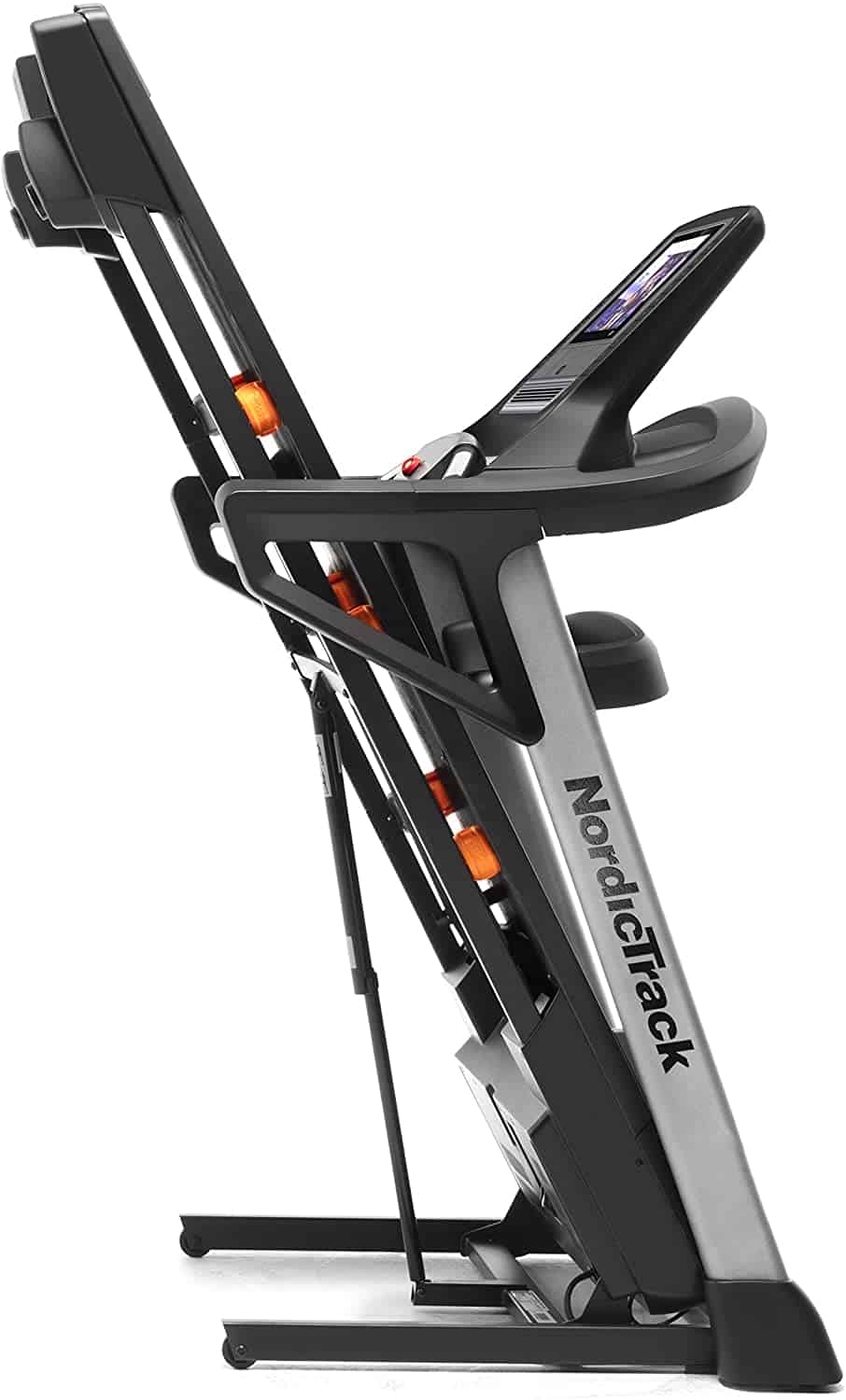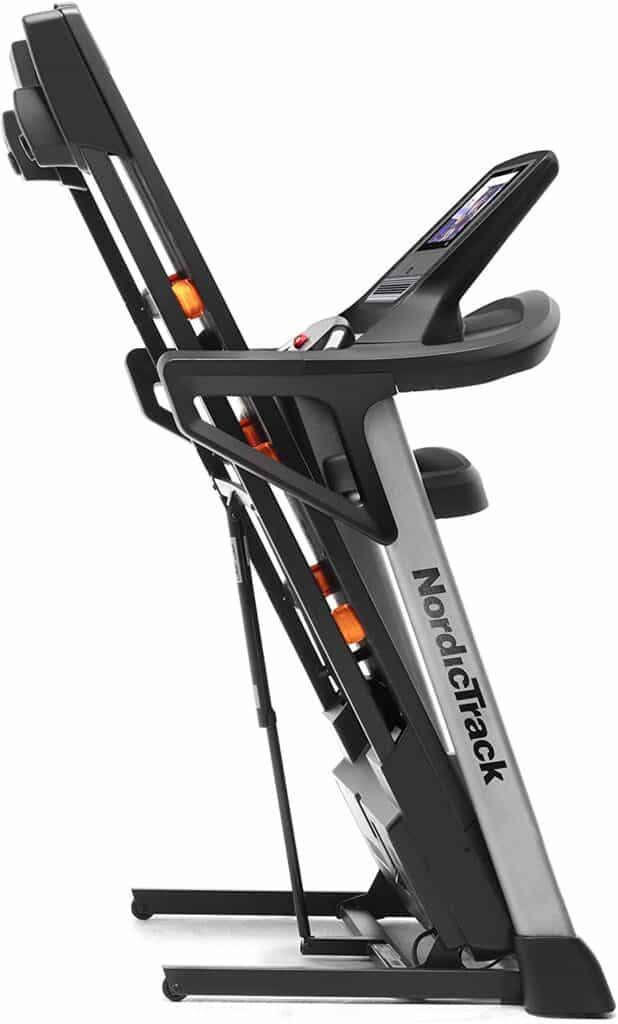 The storage of the Nordic Track T 9.5 S Treadmill is made easy by its foldability, portability, and the EasyLift Assist.
Folding and unfolding it is not difficult, and the integrated transport wheels make the relocation process a breeze regardless of its weight.
An area with perimeters of 3'2'' length by 3' width will be just fine for storage.
Pros/Features Overview
Sturdy construction
The robust base provides superlative stability
It is foldable and portable, thus, easy to move and it doesn't take too much space for storage
It accommodates users that are up to 300 lbs./136 kg
The operation is smooth with low noise
The powerful, self-cooling, and energy-efficient 3.6 CHP DurX Commercial Motor plus provides a speed range of 1-12 mph
The 0-12% automatic incline system spices your workout with a degree of challenges that ultimately help you to improve your overall physical fitness
Speed and incline can be adjusted by increments of 0.1 mph/0.5 mph and 1% respectively; both have quick key adjustment buttons as well
The treadmill has a large 14'' HD Touchscreen monitor that streams workout programs and also displays workout stats such as Time, Distance, Speed, Incline, Calories, and Heart Rate
The console is wifi and Bluetooth enabled
EKG contact heart rate monitoring
Optional Bluetooth wireless HR chest strap monitoring
50 console-based workout programs designed to burn calories, and improve overall physical fitness
iFit technology provides access to unlimited workout programs, new daily workout programs, live interactive session with a personal trainer, training on trails by Google Maps, compete against other iFit users, and more
1-year free iFit membership with 4 profiles for 4 different users
20'' W by 60'' L running surface with FlexSelect cushioning system that eases stress on the joints
A workout cooling fan
2'' built-in speakers
Water bottle holders
Low maintenance
Easy to assemble
Cons
Wireless HR chest strap not included
No tablet holder
Warranty
10 Years for the Frame
2 Years for Parts
1 Year for Labor
Product Dimensions & Specifications
Length 81.6''
Width 36''
Height 59''
Folded dimensions: 38'' L x 36'' W x 73'' H
Shipping dimensions: 83.25'' L x 31.5'' W x 16.5'' H
Tread belt size: 20'' L x 60'' W
Net weight: 214 lbs./97 kg
Gross weight: 226 lbs./102.5 kg
Maximum user weight capacity: 300 lbs./136 kg
EasyLift Assist
Frame: Steel
Motor: 3.6 CHP DurX Commercial Plus
Speed range: 1-12 mph
Incline: Automatic
Incline level: 0-12%
Cushioning: FlexSelect with 3 adjustable cells
Programs: 50
IFit technology
1-year free iFit membership
Console/monitor: 14'' HD Touchscreen
Heart rate monitoring function: EKG contact & optional Bluetooth HR chest strap
Cooling fan
Transport wheels
Water bottle holders
2'' Bluetooth speakers
Auxiliary port
Accessory tray
Shipping
The Nordic Track T 9.5 S Treadmill is shipped in a box that weighs 226 lbs./102.5 kg with dimensions of 83.25'' L by 31.5'' W by 16.5'' H.
Amazon offers free shipping and gets it delivered in a few days.
Assembly
The unit comes with a well-written and clear instruction manual on how to assemble it and the tools needed are also included.
The complicated parts are already assembled by the manufacturer; therefore, you are only required to attach the front base, the 2 upright masts, the handrails, and the console to the main core unit.
These take less than an hour to complete.
Maintenance
The treadmill needs to be used and stored in a clean, cool, and dry area. The tread belt has been lubricated by the manufacturer, but it may need to be lubricated periodically.
Finally, inspect it before use to ensure that the parts are in good order.
Conclusion
The Nordic Track T 9.5 S Treadmill with a 3.6 CHP commercial motor is designed for home use. It has interesting features that we have diligently outlined in this review.
If you have not used a high-end treadmill before, this one will show you how much you have been missing in terms of quality, and enjoyable workout experiences.