The KETTLER Racer 7 Indoor Cycling Bike with model number 7938-150 is a German-made product that is unarguably a beauty. It is also equipped with features tailored to help you achieve your fitness goals.  
In other words, it's not only about outward appearance but it is also about durability and capability in helping you transit to that physical well-being you have always desired.
It is sturdy enough to support a maximum user weight capacity of 286.6 lbs./130 kg. It is a rear-driven spin bike that has dual sets of handlebars and dual-sided pedals.
The integrated large blue backlit LED monitor tracks workout stats such as Time, Speed, RPM, Distance, Energy Consumption, Resistance, and Pulse Rate. There are 10 workout programs and pulse recovery function that helps you to understand your cardio health fitness.
It is completely customizable; both the seat and the handlebars are 4-way adjustable.
This machine is poised to get everyone including beginners and serious athletes across the finish line of attaining physical fitness.
Click right here to have a peek at the KETTLER Racer 7 Indoor Cycling Bike on Amazon.
The Frame and Construction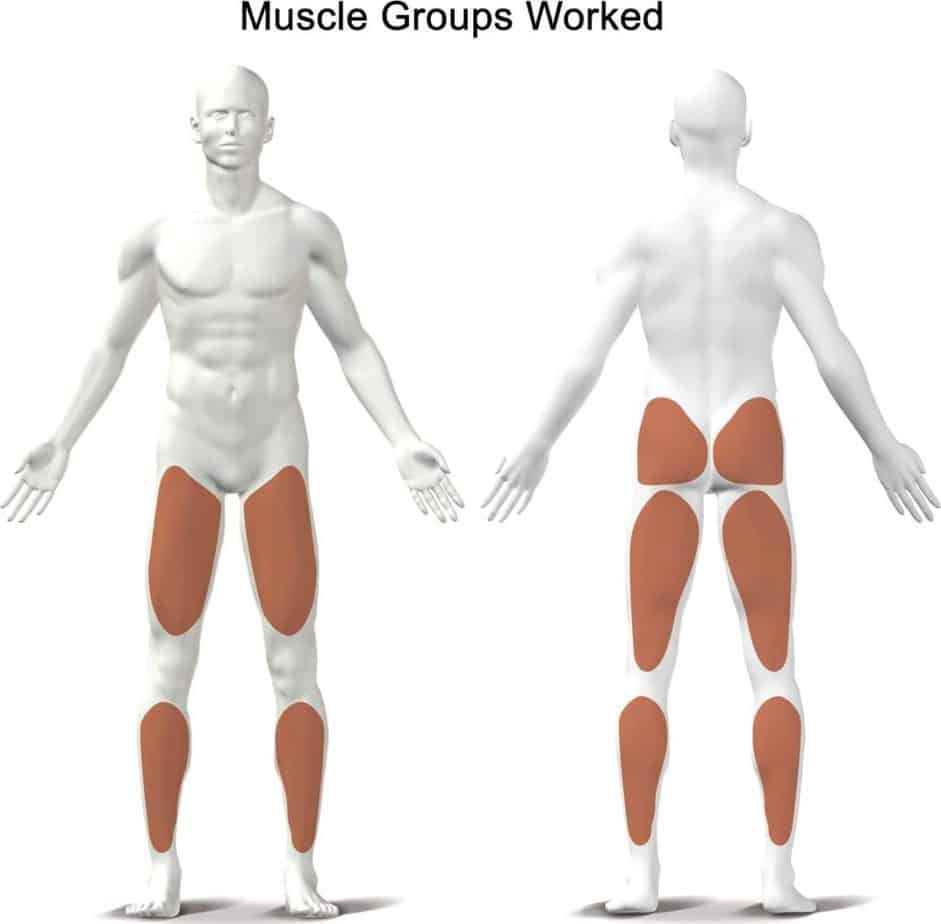 The KETTLER Racer 7 Indoor Cycling Bike's construction consists of a sturdy, powder-coated, high carbon steel and ABS material. The frame is of course made of steel (the seat and the handlebar posts are chrome-plated), while the safety and the cosmetic coverings are made of ABS.
The frame has a lifetime warranty due to the fact it's built to last.
It is slightly larger than most average indoor cycling bikes. Its overall assembled dimensions are 61''/155 cm long by 21.3''/54 cm wide by 52''/132 cm high. In other words, the unit requires a workout area with perimeters of 5'1'' length by 1'8'' width.
Moreover, it's recommended to consider adding extra clearance of 1-2′ at the rear and on each side of the bike for safety and comfortable workout experience.
Its floor-friendly base has front and rear stabilizers equipped with adjustable levelers that are designed to keep the unit stable even on a crooked surface.
Also, its overall assembled weight of 117 lbs./53 kg further optimizes its stability level.
There are transport wheels at the rear base that helps with the relocation process.
The Seat
The KETTLER Racer 7 Indoor Cycling Bike has a unique flat-designed saddle that is meant to provide comfort and adherence. It sits on a standard connection mechanism that allows the possibility of swapping it for another if need be.
The seat is 4-way adjustable; it could be adjusted vertically (upward/downward) and horizontally (fore/aft). There are adjustment levers that enable you to adjust the seat to suitable positions quickly, easily, and nicely.
The Handlebars of the KETTLER Racer 7 Indoor Cycling Bike
There are 2 sets of handlebars on this spin bike. One set provides standard grip positions while the other offers arrow grip hand positions.
Therefore, you will be able to work out in different postures.
They are both generously padded with soft durable foam that prevents slippage and blisters in the palms but instead secures and provides lasting comfort during a prolonged workout.
The first set of handlebars have pads for resting the elbow comfortably during a race riding workout.
Just as the seat, the handlebars are equally 4-way adjustable giving maximum advantage to taller and bigger users to adjust to fit. Thus, a wide range of different heights of users can be accommodated.
The handlebars are equipped with an infrared earlobe clip sensor that tracks and transmits your heart rate data to the display when held during workouts so that you can maintain your target heart rate zone at all times.
Although the console is telemetry-enabled, however, it is optional because the bike doesn't come with the compatible HR chest strap, it has to be purchased separately.
The Pedals
The pedals that come with the KETTLER Racer 7 Indoor Cycling Bike are interesting because they are dual-sided. One side accommodates a standard gym shoe while the flip side allows you to use a special spin bike shoe.
They provide secure, comfortable, and authentic feel during workouts.
You can perform out-of-seat pedaling (pedaling while standing) as long as you are within the maximum user weight the bike supports.
It is interesting to know that the Q-Factor (distance between the left and the right pedals) of this bike is 6.5''. This means it is narrow enough for a natural feet placement and the user will experience a natural pedaling motion that does not stress the knees or the ankles in the long run.
The Drive
The KETTLER Racer 7 Indoor Cycling Bike is equipped with a belt drive system that consists of a durable V-belt, solid crankset and crank-arms, pulleys, the 40 lbs./18 kg perimeter weighted flywheel, and the pedals.
The drive system provides smooth and ultra-quiet operation. You don't have to struggle with the decision-making of when to exercise, your workout activities won't border the family or the neighbors.
Moreover, you don't have to raise the volume beyond the normal range when watching a TV show or listening to music while working out.
In addition to that, the drive system doesn't require any maintenance such as periodic lubrication or adjustment just as the case with a chain drive system.
The drive allows you to pedal in reverse due to the fact that the flywheel and the pedals are fixed, thus, they spin together simultaneously.
However, it's not possible to coast as one could on a road bicycle.
The Resistance
The bike has an electromagnetic resistance system that could only be functional when the bike is plugged into a power outlet (requires AC power source of 110 V).
There are 16 adjustable resistance levels that provide workout challenges that are suitable for beginners to professional athletes. They are electronically controlled via the console by a push of a button while in some cases they are automatically engaged when a certain workout program is selected.
The resistance system's elements don't cause any friction when generating resistance, thus, no part wears out.
It will suffice to say that the resistance system is maintenance-free just like the drive system.
No vibration is felt when the resistance is engaged and the heavy 40 lbs./18 kg perimeter weighted flywheel ensures consistent momentum for smooth and graceful motion.
The Console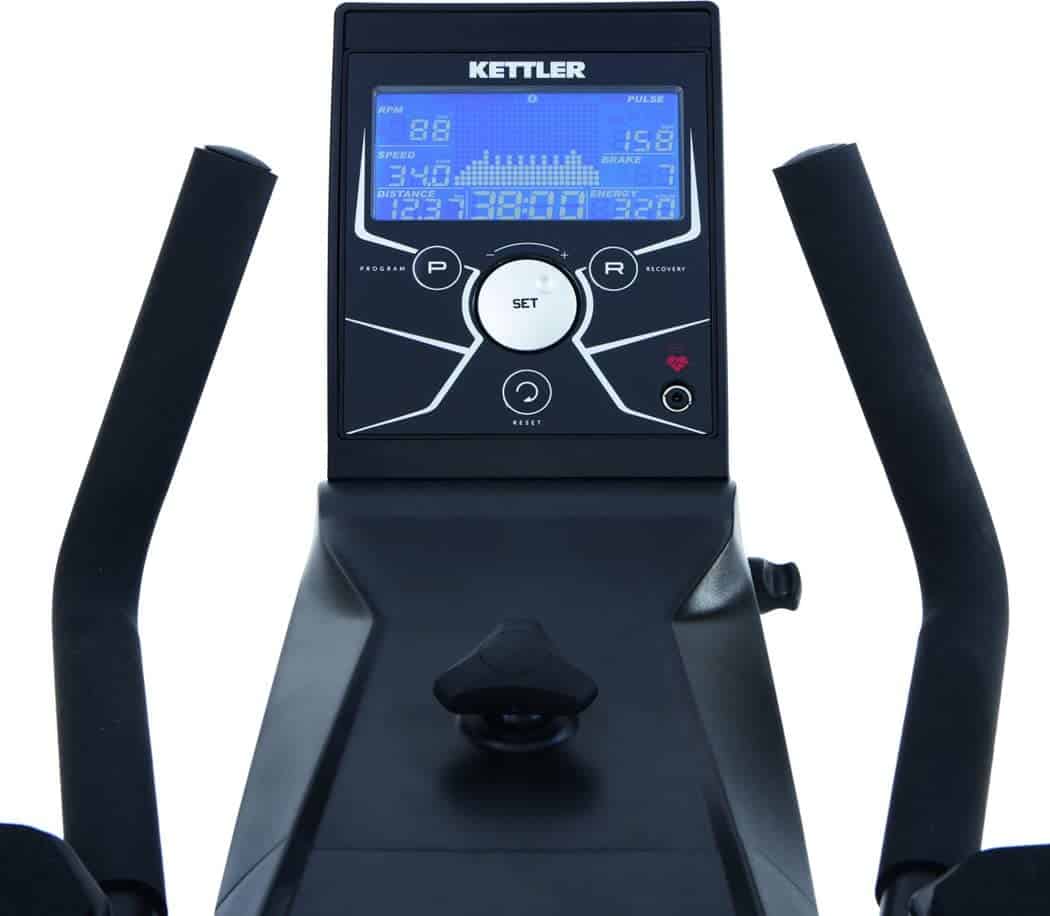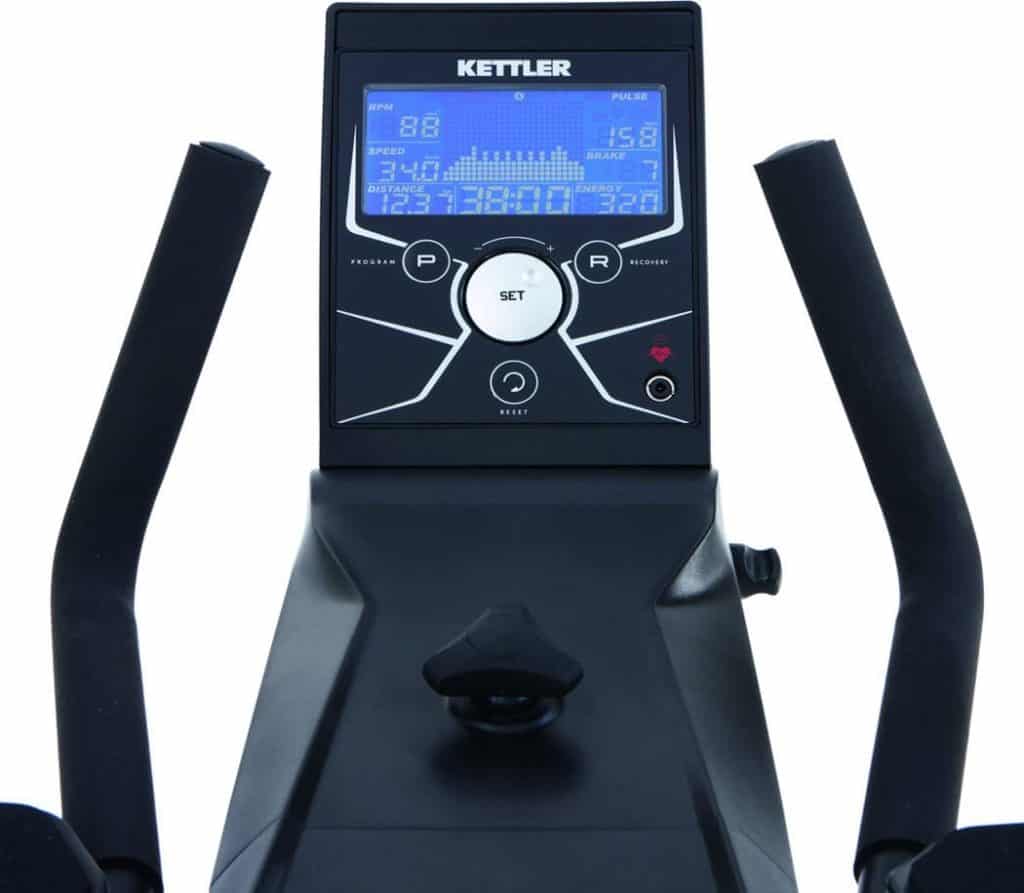 The KETTLER Racer 7 is incorporated with a console that features a large blue backlit display that tracks workout stats such as Time, Speed, RPM, Distance, Energy Consumption, Resistance, and Pulse Rate.
The monitor has high readability and can still be viewed in a room with poor illumination. It does display all the metrics all at a time.
As aforementioned, the console is compatible with a POLAR T-34 wireless chest strap transmitter which is, unfortunately, is not included in the package but has to be purchased separately.
However, you will still be able to monitor your heart rate via the grip pulse rate sensors.
There are 10 challenging workout programs designed to help you target and achieve certain aspects of physical fitness. These programs include 6 Preset Programs, 2 Heart Rate Controls, and 2 Customs.
A Recovery Function is also available; this indicates the health state of your heart at the end of a workout. It usually displays an F1-F6 rating (F1 being excellent while F6 being worse).
The console features simple navigation buttons that include a Program button, a Recovery button, a Set button (that doubles as -/+ dial button), and a Reset button.
Accessory
No accessory accompanies the KETTLER Racer 7 Indoor Cycling Bike. Not even a basic accessory such as a water bottle holder or a tablet holder.
However, you can always improvise to stay properly hydrated and entertained during a workout session.
Storage
This cycling bike is not foldable, and it's slightly larger than an average spin bike.
That said, it is integrated with transport wheels at the rear base to facilitate the relocation process.
It could be stored in a garage, in a closet, under the staircase, or just by the wall.
If you can afford a dedicated workout space, then it might as well be left there after workouts.
Pros/Features Overview
A very sturdy and stable bike
Supports a maximum user weight capacity of 286 lbs./130 kg
Its electromagnetic resistance system with 16 adjustable levels provides vibration-free operation and a variety of workout challenges suitable for users at any fitness level
It is completely customizable; users of different heights and sizes can be accommodated
There are 10 challenging workout programs
The high resolution blue backlit monitor simultaneously displays 7 workout stats that keep you motivated and focused
Dual handlebars provide alternative hand grip positions
Dual-sided pedals accommodate spin and standard gym shoes
40 lbs./18 kg perimeter weighted flywheel provide consistent momentum that simulates the feel of riding a road bike
Belt drive system makes operation smooth and quiet
Recovery Function provides you with the health state of your heart
6.5'' Q-Factor
Handgrip sensors and optional POLAR T-34 compatible heart rate monitoring system
Transport wheels for easy relocation
Low maintenance
Easy to assemble
Cons
POLAR T-34 HR chest strap device not included in the package (has to be purchase separately)
Lacks water bottle and tablet holders
No Bluetooth connectivity
No sound system
Warranty
2 Year residential warranty
Product Dimensions and Specifications
Length 61.1''/155 cm
Width 21.3''/54 cm
Height 52''/132 cm
Weight: 117 lbs./53 kg
Maximum user weight capacity: 286 lbs./130 kg
Drive: Belt
Resistance: Electromagnetic, 16 adjustable levels
Seat: 4-way adjustable
Handlebar: Dual sets, 4-way adjustable
Pedals: Dual sided; SPD & regular pedal grip surface
Console: Features blue backlit LED monitor that tracks Time, Speed, RPM, Distance, Energy Consumption, Resistance, and Pulse Rate
Programs: 10
Recovery function for the state of cardio health
Frame: Steel
Flywheel: 40 lbs./18 kg
Q-Factor: 6.5''
Transport wheels: Yes
AC Power: 110 V
Shipping
The KETTLER Racer 7 Indoor Cycling Bike is shipped out in a box.
Amazon provides free shipping and gets the product delivered within a couple of days.
Assembly
The unit is not difficult to assemble. On the contrary, it's straightforward and has clear instructions on how to assemble it on the owner's manual.
It takes about 30-40 minutes to get it to a 100 percent functional and usable level.
Maintenance
The basic maintenance required is to always keep the unit clean. Do not expose the console to a liquid, direct sunlight, or high temperature.
Ensure to examine the bike for any loose or broken parts before use or periodically.
Further dos and don'ts are provided in the manual.
Conclusion
The KETTLER Racer 7 Indoor Cycling Bike is quality and a rich spin bike that helps you to engage in productive workouts that ultimately get you to achieve optimal physical fitness.