Can't make it to the gym? No problem, the Flywheel Home Exercise Bike brings the gym to your home. This home exercise bike comes with free two months subscription and it's available with an optional built-in tablet that allows you to maximize its usability and potentiality.
Of course, the Flywheel Home Exercise Bike without the built-in tablet is cheaper than the one with it. The unit has a unique design that is different from the regular indoor cycling bikes.
It is a rear-driven bike that has a simple outlook that features all-black color and a tint of sky-blue color on the crankset, the adjustment knobs, the belt drive guard, and the adjustment markings on the seat and handlebar post.
Its outstanding and unique performance allows you to engage in interval-based workouts led by the best coaches in cycling. The free two-month subscription opens access to indoor cycling classes with a coach of your choice.
Flywheel sports does not only offer an amazing innovative indoor cycling bike but also resources that help you make the most out of it.
The spin bike supports 330 pounds/149.6 kg maximum user weight capacity.
Click right here to have a peek at the price of the Flywheel Home Exercise Bike on Amazon.
The Frame and Construction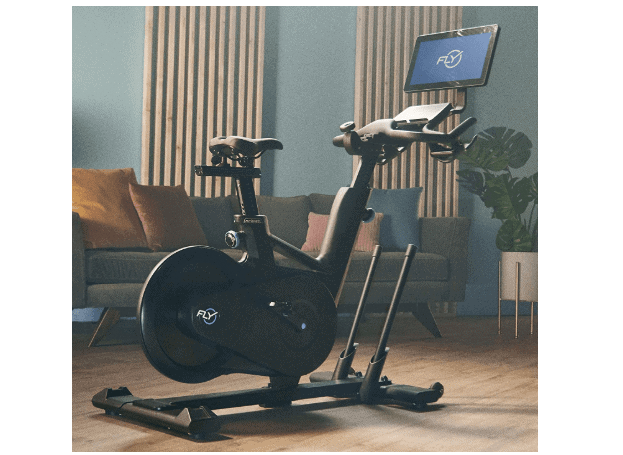 The Flywheel Home Exercise Bike has a commercial construction that withstands hard use and it features a durable steel frame that supports 330 pounds/149.6 kg maximum user weight capacity.
The flywheel is at the rear and covered for safety. This prevents any curious kid or pet from getting injured when in use. The weight is not specified; however, it provides momentum that eliminates turbulence and promotes smooth motion that also boosts the workout challenge.
It is not a foldable bike neither is it too large to overwhelm your space. The overall assembled dimensions are 62 inches long by 20.5 inches wide by 59 inches tall. Differently put, the bike requires a workout area with dimensions of 5'2'' length by 1'7'' width and a ceiling height of at least 7' and above.
Additional extra clearance of at least 2′ at the rear and on each side of the bike will be necessary for safety and convenient workout performance, especially, if it's going to be used in a confined area.
The bike has amazing stability due to its base design that features a rectangular steel bar at the front and the rear. Underneath these stabilizer bars are the rubber adjustable levelers that allow the user to balance the bike on a surface that is not even.
The bike weighs about 125 pounds/56.7 kg which further grounds and stabilizes it.
There are transport wheels at the front base that facilitate the easy relocation of the bike regardless of its weight. Two weighted bars are included for upper body strength exercises; how to use them is demonstrated in the online coaching classes that you will have access to.
The Flywheel Home Exercise Bike literally brings premium studio fitness to the comfort of your home, featuring high-intensity interval training, elite coaching, and performance tracking that ensure you get the best fitness workout experiences that transition you to a healthier physical fitness.
The Seat, the Handlebar, and the Pedals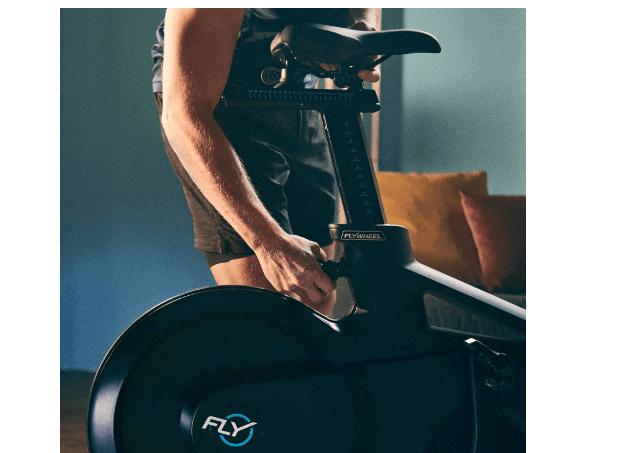 The seat of the Flywheel Home Exercise Bike is designed to convey comfort. Users have not complained about the seat being uncomfortable. However, if for any reason you wish to improve its comfort, you can do so with a gel seat cover.
It is fully adjustable; it has vertical (upward/downward) and horizontal (fore/aft) settings. There are distinctive markings on the seat and handlebar posts that allow users to easily reset when someone has altered their previous settings.
This also means that multiple users can utilize the bike. It can accommodate users between the heights of 5'1'' to 7' tall.
The handlebar is also fully adjustable; it could be adjusted 4-ways just like the seat. There are two built-in water bottle holders on it and a tablet holder as well.
It is ergonomically designed with multiple grips that allow a user to work out in different postures. It is coated with a soft rubber foam material that provides secure and comfortable grips that enable the user to train longer without experiencing any sort of slippage or blisters in the palms no matter the workout intensity.
The pedals are special and only accommodate LOOK Delta shoes. These shoes are sold by Flywheel Sports and it's not included in the package; it has to be purchased separately. The pedals and the LOOK Delta shoes are designed to work together to provide an outstanding pedaling experience that increases the users riding skills.
Unfortunately, it is not possible to swap the pedals for SPD clip or toe cages pedals. Any attempt to do this voids the warranty.
The Drive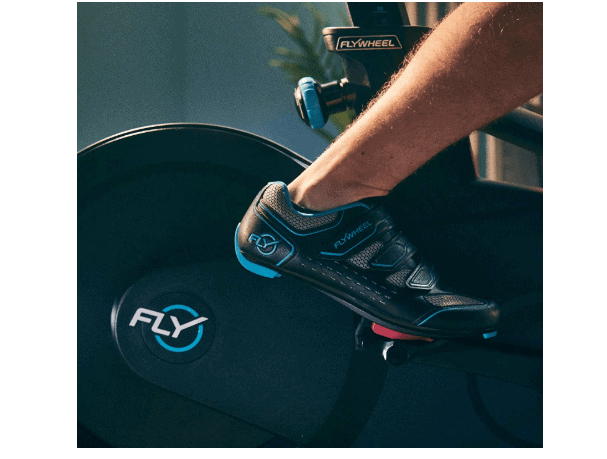 The bike is equipped with a belt drive system. Its operation is quiet and smooth and requires no maintenance.
Most users prefer bikes with a belt drive system because it doesn't need any periodic lubrication and adjustments like the bikes with a chain drive system. As a matter of fact, due to its popularity, there are more belt-driven bikes in the market than bikes with a chain drive system.
You can train at any time of the day without being worried that the family members or the neighbors could be disturbed by your workout activities. You can also enjoy watching the workout training that is being streamed on your tablet or TV without having to raise the volume too high.
The drive system consists of a heavy-duty belt, solid crankset and crank-arms, pulleys, pedals, and a flywheel.
The Resistance
The Flywheel Home Exercise Bike features a magnetic resistance system. The resistance system provides different levels of workout difficulty that suit everyone at any fitness level. In other words, beginners, intermediaries, and advanced athletes will be impressed by its performance.
It is great for high-intensity interval training and any other type of spin bike training.
The resistance is regulated via the torq knob on the handlebar. Turn clockwise to increase the resistance difficulty and anticlockwise to decrease it. Push it down to apply the emergency brake that stops the spinning of the flywheel and the pedals.
The flywheel and the pedals spin simultaneously because they are fixed together to work like that. As a result, you cannot coast on the bike as you could on a road bicycle. Therefore, in order to avoid an accident, apply the emergency brake anytime you wish to suddenly stop pedaling.
The Console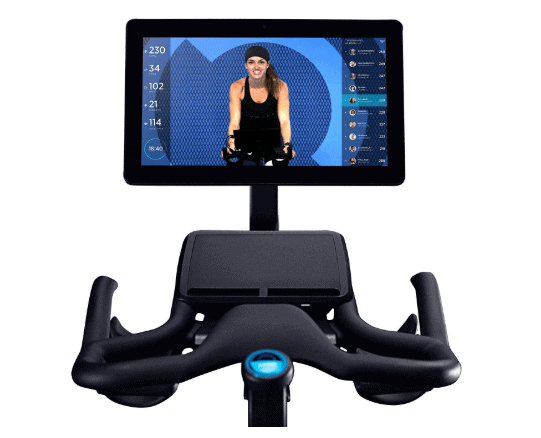 The Flywheel Home Exercise Bike doesn't have a console but has something even better.
The bike comes with a built-in tablet that is optional, you may decide not to have that on your order but instead make use of your own tablet.
However, the built-in tablet is large and positioned in a strategic place that provides a better viewing experience.
The tablet allows you to connect and have access to the on-demand and live classes that feature several coaches and thousands of training.
The training you get is basically studio workouts that are brought to you in the convenience of your home. You can stream thousands of live and recorded cycling and strength workouts with new classes added daily.
Workout progress can be tracked via digital stats. A user will be able to set tangible goals and work toward personal bests in every class. There are a lot of features such as personal trainer and favorite music genre that ginger and keep you focused on becoming what you wish to be.
In order to have access to the studio, you will have to subscribe; but the bike comes with a free two-month subscription. Upon receiving and assembling the bike, you will need to activate the subscription with the product key that is included in the Amazon purchase confirmation email or in the Amazon order history.
Apple and Android phones are compatible with streaming.
There is more information about this in the user manual and the user guide.
Accessory
There are two built-in water bottle holders on the handlebar and a tablet holder as well. These help you to keep water handy for hydration and a tablet device for streaming workouts and taking calls while exercising.
Storage
The Flywheel Home Exercise Bike is compact and doesn't take up much space. It can easily be stored next to a wall or under the staircase.
There are two transportation wheels at the front base that make the relocation process easy. Simply raise the bike from the rear mount and let it tilt forward and roll it to the new location or storage area.
Pros/Features Overview
Commercial grade frame
Supports a high user weight capacity of 330 pounds/149.7 kg
The flywheel is covered for safety
Access to on-demand and live classes
Operation is quiet and smooth
The seat is comfortable and fully adjustable; 4-way
The handlebar is multi-grip designed and fully adjustable: 4-way
It's sturdy and stable
It can accommodate users between the heights of 5'1'' to 7'
Low maintenance
Easy to assemble
2 water bottle holders included
A tablet holder is included
Good customer service
Cons
Only LOOK Delta-compatible shoes can be used on the bike
The pedals cannot be swapped
Warranty coverage time is short (1 Year warranty)
Product Dimensions and Specifications
Length 62''
Width 20.5''
Height 59''
User weight capacity: 330 pounds/149.7 kg
Flywheel weight: Not specified
Weight: 125 pounds/56.7 kg
Drive: Belt
Resistance: Manual magnetic
Console: No
Pedals: LOOK Delta compatible shoes
Workout classes: On-demand and live classes
Seat: 4-way adjustable
Handlebar: 4-way adjustable
Transport wheels: Yes
Water bottle holder: Yes
Tablet holder: Yes
Shipping, Assembly, and Maintenance
Shipping
The shipping cost of the Flywheel Home Exercise Bike is determined by the shipping policy of the retailer you are purchasing from. However, Amazon offers free shipping, and delivery is made within days the product is ordered.
Assembly
The bike comes with the major components preassembled. However, it is highly recommended to opt for the free expert assembly available on Amazon.
Maintenance
The Flywheel Home Exercise Bike does not need serious maintenance that is complicated and time-consuming.
Examine the bike before use for any loose or broken parts. Re-tight or replace any loose or broken part. Always keep the bike clean from dirt and sweat before and after use.
There is a further preventive maintenance measure that is stated in the owner's manual.
Conclusion
The Flywheel Home Exercise Bike brings the fitness studio to your home. It is a good alternative to attending group workout classes or going to the gym. This does it even better because there are thousands of workouts available and you can pick your own coach all in the comfort of your home.
The spin bike enables you to lose weight, improve cardiovascular health, strength and endurance with ease and convenience.
Flywheel Home Exercise Bike Review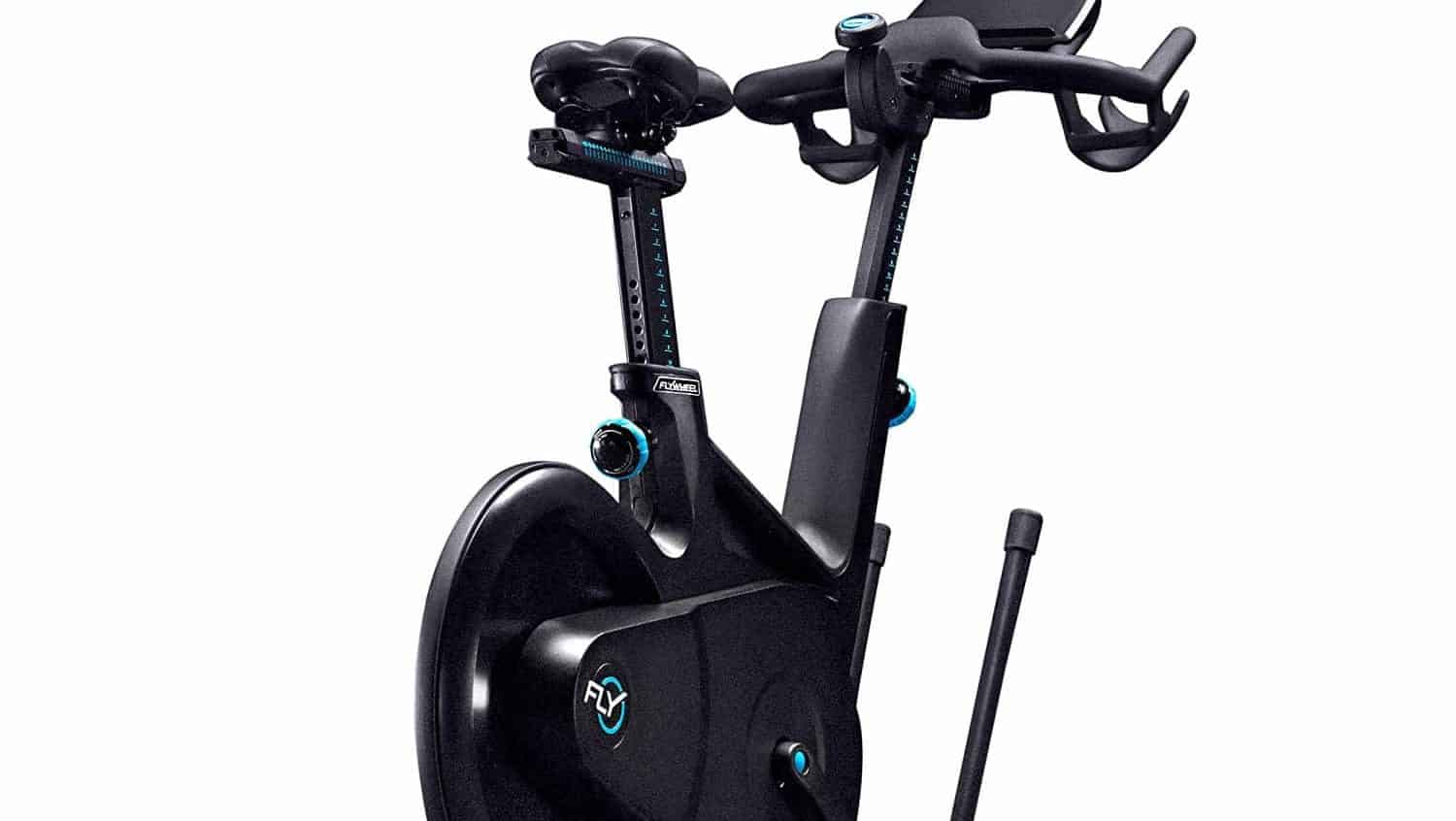 Can't make it to the gym? No problem, the Flywheel Home Exercise Bike brings the gym to your home. This home exercise bike comes with free two-month
Product Brand: Flywheel Home Exercise
Product In-Stock: InStock