The NordicTrack Commercial Studio Cycle Bike is a one-stop shop for complete and interactive spin bike training. This assertion is not an exaggeration but a reality, simple.
This bike is a mirror of the Echelon Smart Connect EX-3 Bike and Flywheel Home Exercise Bike. However, they definitely have some differences that make them unique in their own way.
For instance, the NordicTrack Commercial Studio Cycle Bike is a front-driven bike that has a 10% decline and 20% incline technology. The spin bike offers a full-body workout because it's accompanied by 2 pieces of 3 pounds dumbbells that enable upper body exercises as well.
The NordicTrack S22i Studio Cycle model NT3X02117NB comes with a 22 inches HD touchscreen display and has about 24 digital resistance levels for complete workouts, while the S15i Studio Cycle model NTEX05119 comes with a 14 inches HD touchscreen display and has got 22 digital resistance levels.
Either of these bike models offers interactive personal training at home powered by iFit. Upon purchase, the user gets a 1-year iFit membership that provides access to over 16,000 on-demand workouts (new ones are added daily), (worth $396).
The NordicTrack Commercial Studio Cycle Bike (S22i & S15i) supports 350 pounds/158.7 kg maximum user weight capacity.
Click right here to have a peek at the price of this amazing indoor cycling bike on Amazon.
The Frame and Construction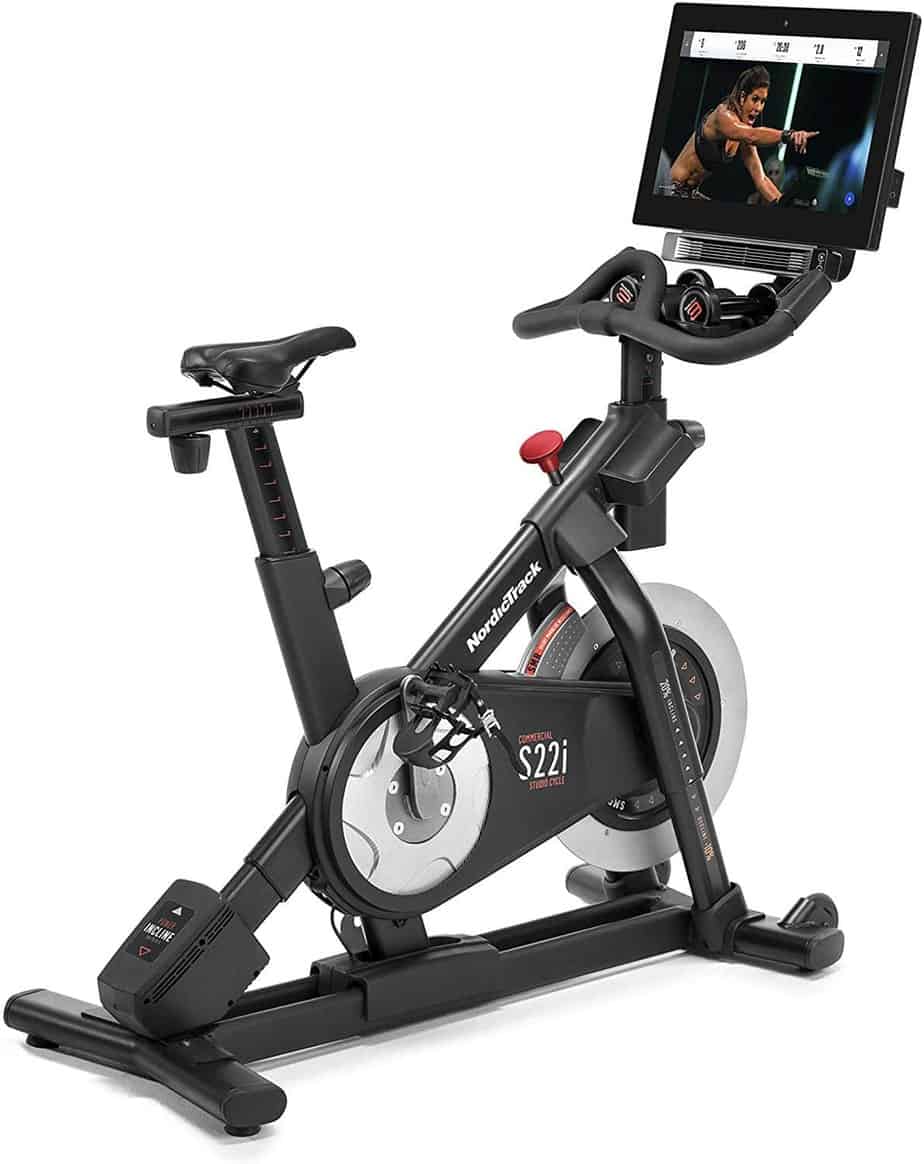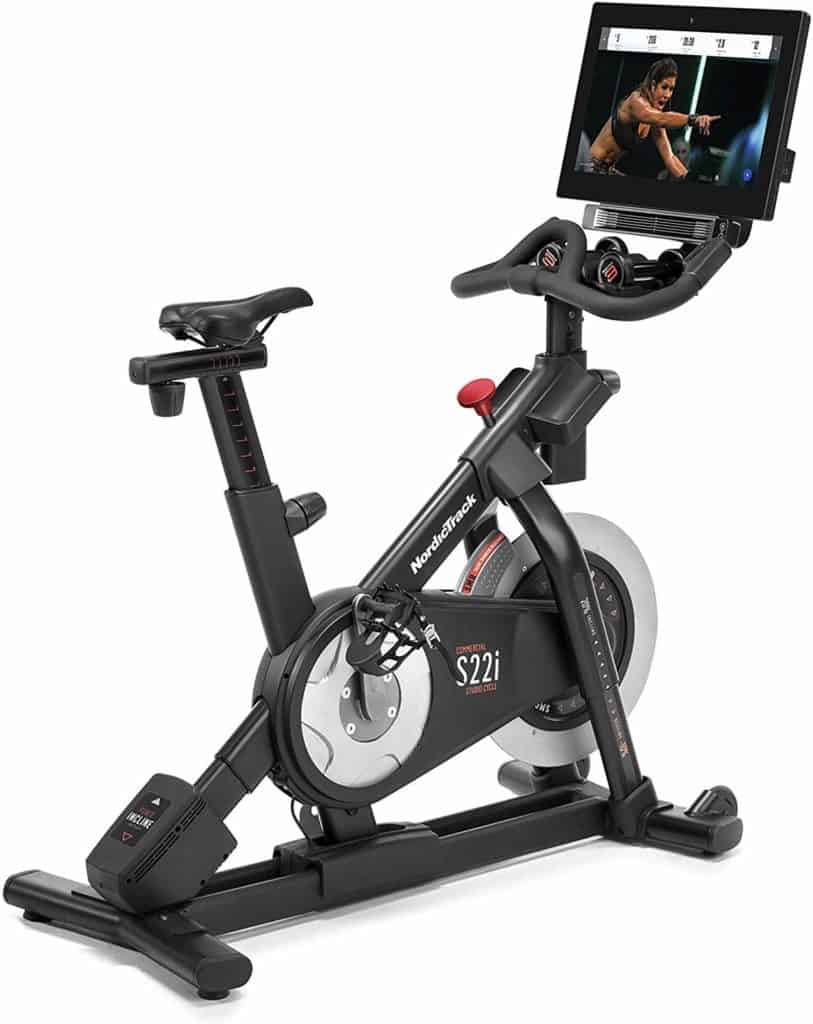 The NordicTrack Commercial Studio Cycle Bike is indeed a high-end luxury spin bike that brings a comprehensive outdoor riding experience to your home. It has a sleek and robust construction that features a durable steel frame that is powder-coated with anti-corrosive paint.
Part of the base, the incline motor, and the drive covers are made of ABS plastic material.
The bike's construction and design epitomize an outdoor mountain cycling bike. It's not very large, however, larger than most standard indoor spin bikes though. Its overall assembled dimensions are 55 inches long by 22 inches wide by 55 inches high. So, a workout area perimeter of 4'6'' length by 1'8'' width will be required for it.
Moreover, additional extra clearance of at least 2' will be necessary around it especially if it's going to be utilized in a somewhat confined area. This move is imperative for easy access, safety, and the best workout experience.
The base framework of the bike features solid thick steel front and rear stabilizers with adjoining bars. Thus, guarantees stability that is unwavering even during a vigorous workout event. Its overall 200 pounds/90.7 weight further grounds and boost its overall stability as well.
Nevertheless, the weight could raise concerns on how to transport it from one room to another but that has been taken care of by the integrated large transport wheels at the front base. These enable the user to easily tilt the bike towards the transport wheels and roll away to storage and this literally reduces the bike's overall weight significantly.
The Seat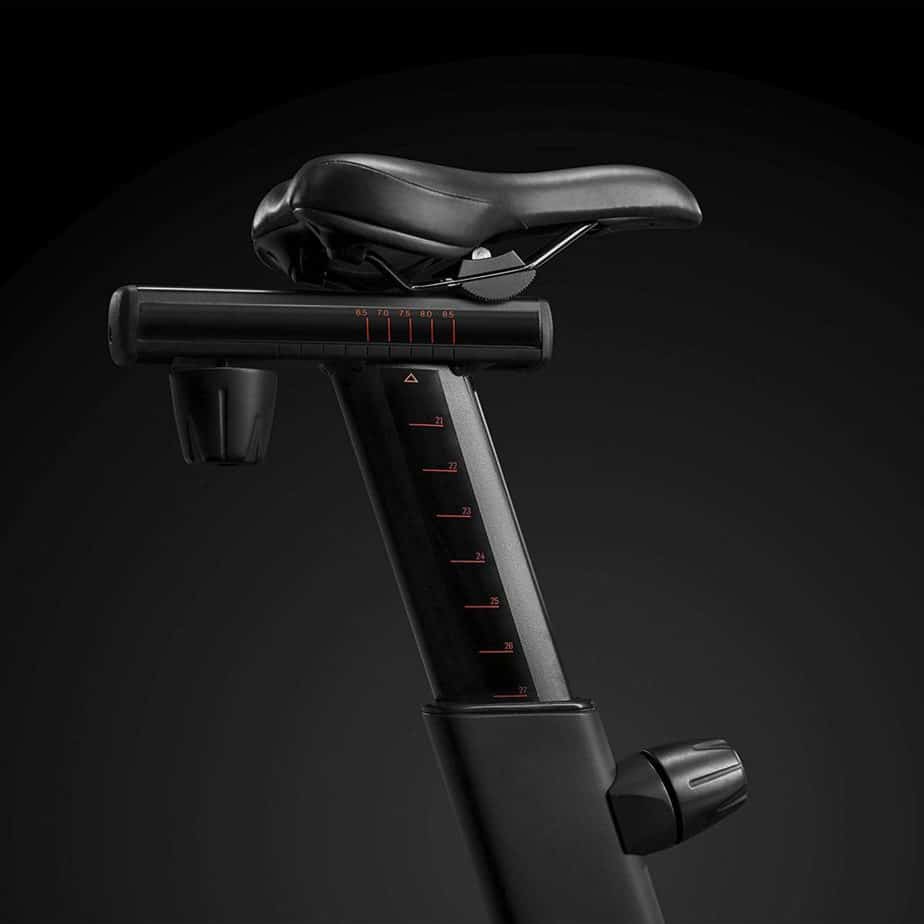 The seat that comes originally with the NordicTrack Commercial Studio Cycle Bike is long, slim, and contoured. It's basically similar to the ones on road bicycles and might take some time to get used to if the user has never used one before.
It is possible and easy to swap it for another saddle if it's not working out for the user. Its replacement is widely available online or in the local bicycle shops.
The seat is 4-way adjustable. This allows vertical (upward/downward) and horizontal (fore/aft) adjustments. It provides several levels of adjustment for a better user experience and it only takes a few seconds to adjust.
Therefore, users of different heights and multiple users can conveniently use the bike in turn.
The Handlebar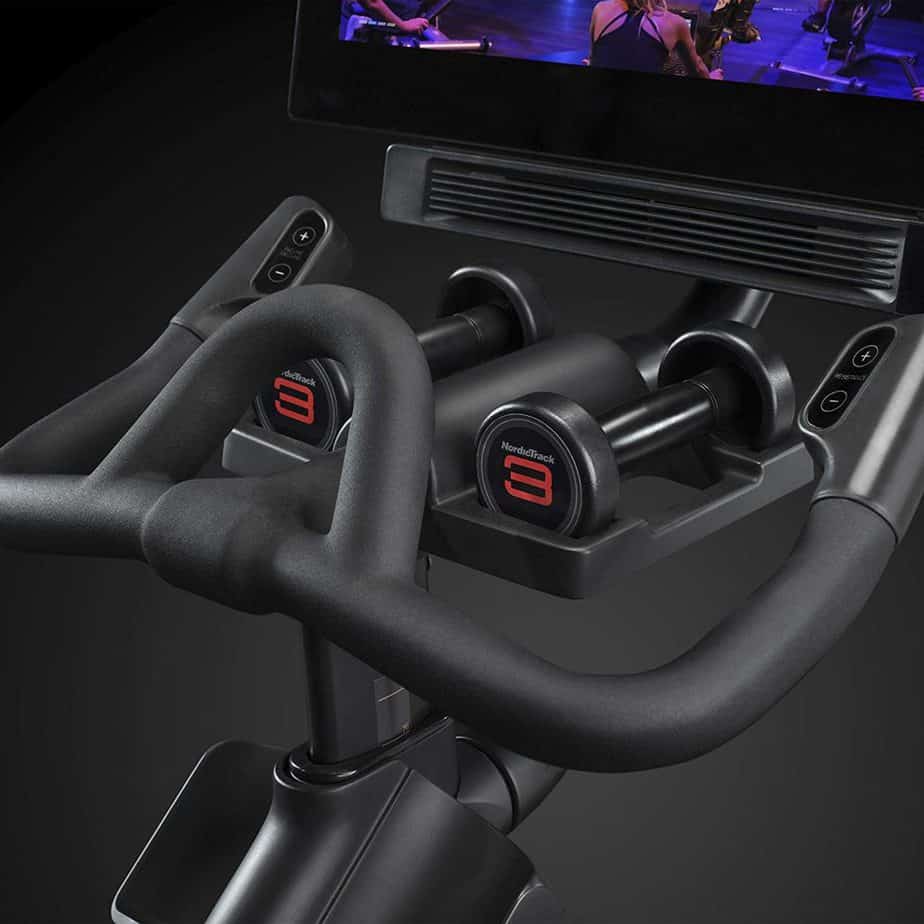 The NordicTrack Commercial Studio Cycle Bike has a multi-grip handlebar that is ergonomically designed. This offers different handle grips that enable the user to work out in different postures or angles.
It is also coated with a soft rubber foam that guarantees comfortable and secure grips. Consequently, slippage or discomfort won't be felt.
The handlebar is only 2-way adjustable; meaning, it can only be adjusted vertically, upward/downward. However, it is already in a great position that simulates the riding position of a road bike.
The resistance and the incline adjustment buttons are integrated into the right and left handle grips respectively. There are two 3 lbs. dumbbells in front of the handlebar for upper body workouts.
The Pedals
The pedals on the NordicTrack Commercial Studio Cycle Bike are toe cages type. They also have adjustable straps that ensure the feet stay in and secure.
But if the user chooses to use a set of SPD clip pedals or any other choice of pedals, it can be swapped and be replaced easily as the thread is standard.
The Drive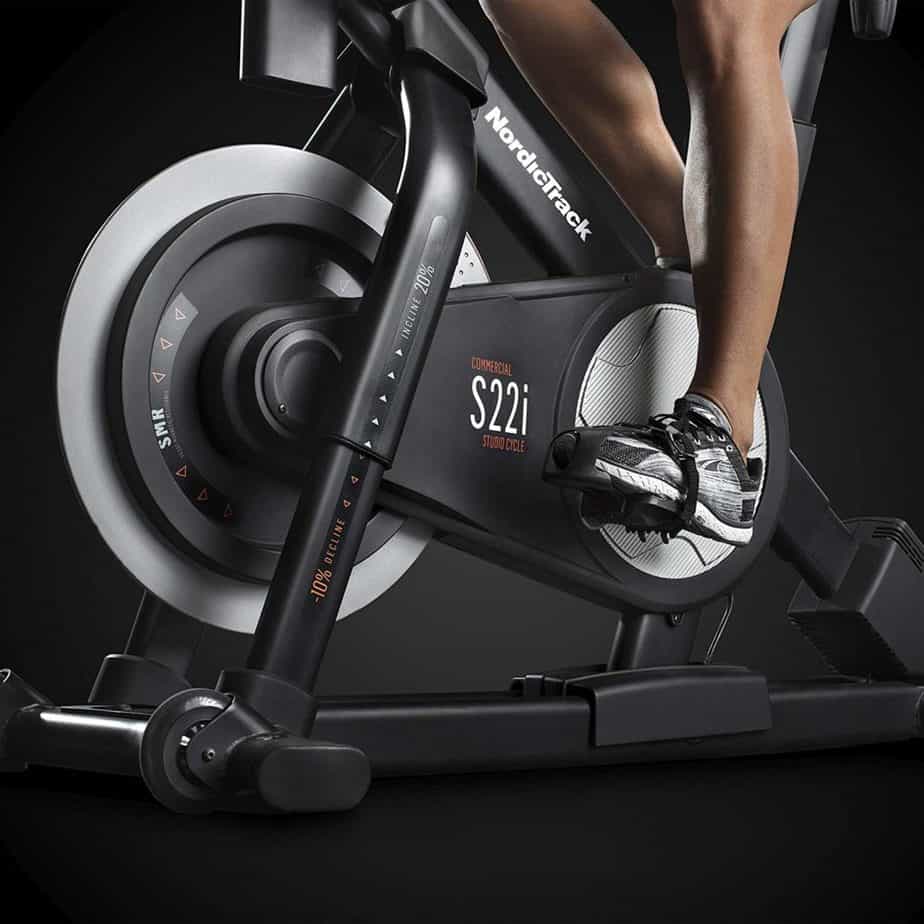 The NordicTrack Commercial Studio Cycle Bike has a belt drive system. The drive has mechanisms that include the inertia-enhanced flywheel which makes its operation smooth and silent.
As a result, the user can work out without restraint or constraint. For example, the user can exercise any time of the day without upsetting or disturbing the family or the neighbors.
It is also possible to listen to the workout instructions when connected to the iFit app without having to raise the volume up high.
The last and not the least aspect of the drive is that it's maintenance-free. It doesn't need any post lubrication or adjustment as a bike with a chain drive system does.
The Resistance and the Power Decline and Incline
This bike has several levels of magnetic resistance. In other words, it has an automatic resistance system that offers 22/24 digital adjustable levels depending on the model.
The resistance is suitable for beginners, intermediaries, and advanced athletes. It's even great for the elderly as well.
Interestingly, the resistance and the incline automatically adjust when using the Google Map thereby mimicking riding outdoors on different terrains, and it also automatically adjusts when the user trains with a trainer via the iFit app.
Although, the user can override the resistance/incline by using the buttons on the handlebars.
The bike is quiet, smooth, and vibration-free when the resistance is engaged.
The power decline and incline system offer an outstanding workout experience. It declines 10 percent and inclines 20 percent both of which could be done manually or automatically.
This comes in handy when using Google Maps. As the landscape and the street views change so those the decline and incline level of the bike changes. This brings the outdoor riding reality to your home.
The Console
The NordicTrack Commercial Studio Cycle Bike comes with a 22'' or 14'' interactive HD touchscreen display depending on which model.
The HD touchscreen gets connected to the iFit app and grants access to on-demand workouts. This is only possible when the user subscribes to the iFit coach membership which costs about $33/month.
Although, the good news is that the bike comes with a 1-year free subscription. The studio workouts available are highly interactive, motivational, and inspiring. The user will never get bored working out due to the thousands of workouts available.
The HD touchscreen display is very clear and could be rotated 360 degrees. Therefore, the user can rotate the screen to the right or to the left especially when doing and following an exercise that requires being off the bike.
Accessory
There is a couple of accessories on the NordicTrack Commercial Studio Cycle Bike. These include two 3-lbs. dumbbells, 2 water bottle holders, and an automatic cooling fan.
The dumbbells are used for upper body workouts. There are several exercises that could be done with them available on the iFit coach app.
The water bottle holders allow the user to keep water handy for maintaining hydration. While the automatic or self-adjusting cooling fan keeps the user cool at all times.
Storage
The NordicTrack Commercial Studio Cycle Bike is a bit large when compared with standard indoor cycling bikes but that doesn't mean it will require very large storage space.
For those that can afford to leave it in a dedication workout area, that would be great, if not, it can be stored next to a wall or in a garage.
The incorporated transport wheels facilitate an easy relocation process regardless of the bike's weight.
Approval Rating
This bike has got the approval of several reputable review sites. Moreover, due to the positive reviews, it has received from real users on Amazon it has earned it the ''Amazon's choice'', a recommendation by Amazon.
Pros/Features Overview
Sleek and professional design
It's very sturdy, stable and durable
It supports 350 pounds/158.7 kg maximum user weight capacity
Offers iFit coach on-demand interactive classes
Offers interactive Google Map street views and different terrains
The HD touchscreen is highly readable and rotates 360 degrees
Its operation is smooth, quiet, and vibration-free
S15i offers 22 digital resistance levels and S22i offers 24 digital resistance levels that provide a range of challenging workouts that are suitable for just about anyone
Power 10% decline and 20% incline
Resistance and incline adjust automatically when engaged in iFit coach interactive workout with a trainer or when using the Google Maps
The caged pedals are accommodating and secure and can be swapped with SDP clips or road bikes pedals
The handlebar is ergonomically designed to offer different hand grips and postures that mimic riding a road bike
Heart rate monitoring via the contact pulse sensors; these are also compatible with Bluetooth chest straps for wireless heart rate monitoring
It's possible to automatically chart the user's pulse to track long-term cardiovascular health
Two 3-lbs dumbbells included for exercising the upper-body
Emergency stop knob allows the user to stop the bike from spinning when done working out
Requires low maintenance
Water bottles holders included
Automatic cooling fan
Cons
Requires re-subscribe after the expiration of the 1-year free subscription
Assembly involves a lot of parts, thus, takes time to put together
Warranty
Lifetime for Frame
3 Years for Parts
1 Year for Labor
Product Dimensions and Specifications
Length 55''
Width 22''
Height 55''
Maximum user weight capacity: 350 pounds/158.7 kg
Weight: 200 pounds/90.7 kg
Flywheel: Inertia-enhanced
Resistance: Magnetic
Resistance levels: S15i has 22 levels and S22i has 24
Drive: Belt
Programs: iFit coach
Seat: 4-adjustable
Handlebar: 2-way adjustable
Heart rate: Contact heart rate sensors and Bluetooth wireless heart rate monitoring
Monitor: HD 14'' touchscreen on S15I and HG 22'' touchscreen on S22i
Frame: Durable steel
Automatic cooling fan: Yes
Transport wheels: Yes
Water bottle holder: 2
Dumbbells: 2
3.5 mm audio jack and speakers
Shipping
The NordicTrack Commercial Studio Cycle Bike is shipped out in a box that is considerably heavy. Amazon provides a free shipping that gets it delivered at your doorstep. You may need a hand to get it to the assembly destination or you might have to pick off the parts one after the other.
Assembly
The assembly requires patience and time. However, there is an instruction manual that walks you through the assembly process, and the tools needed for the assembly are attached as well.
It will probably take about 2 hours to completely assemble it.
Maintenance
No serious maintenance is needed.
It is more of making sure that the bike is clean at all times and avoiding exposing the HD touchscreen to moisture or water.
Examine the bike before use to ensure that no part is loose or broken.
Conclusion
The NordicTrack Commercial Studio Cycle Bike has 2 different models that include the S15i and S22i. These two models share pretty much the same features except that the S22i has a bigger HD touchscreen, more resistance levels.
There are inexhaustive workouts available that help users to lose weight, improve cardio health, strength, and endurance.
NordicTrack Commercial Studio Cycle Bike Review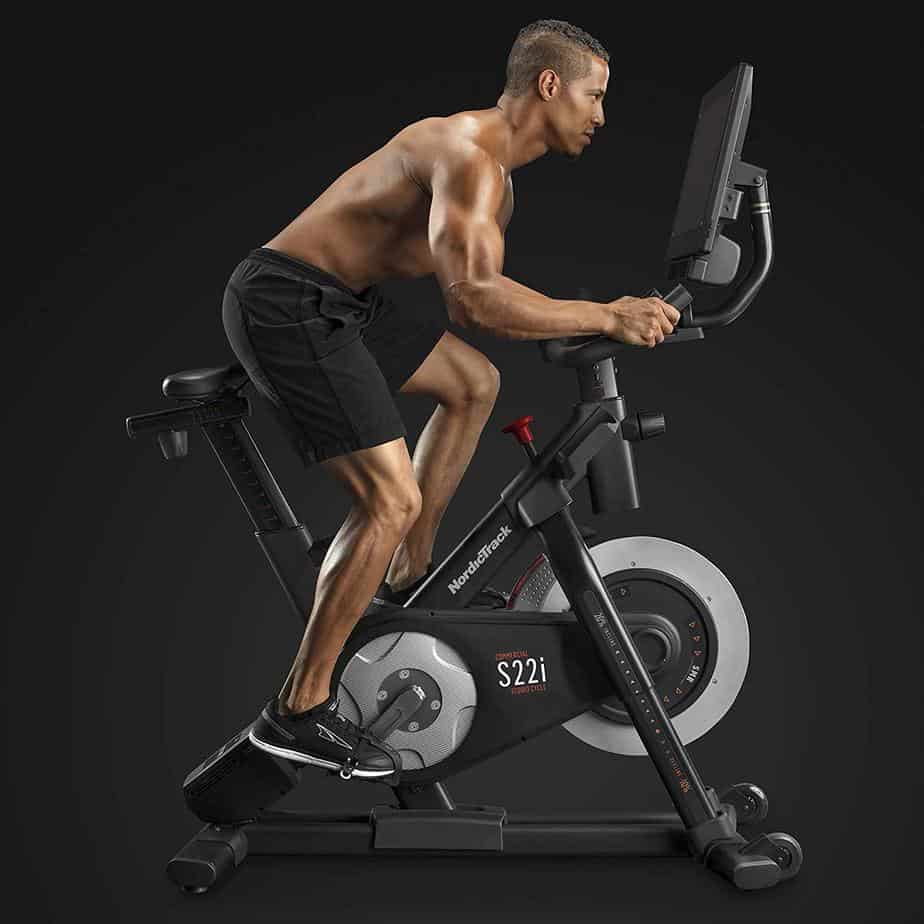 The NordicTrack Commercial Studio Cycle Bike is a one-stop-shop for complete and interactive spin bike training. This assertion is not an exaggeration but a reality, simple.
Product Brand: NordicTrack
Product In-Stock: InStock