The Echelon Smart Connect EX-3 Bike is a full package spin bike that offers cardio workouts and training. This means it is a full resource for comprehensive weight loss, muscle toning, and cardiovascular-oriented workouts engagement, and special and personalized training.
This bike and the Flywheel Home Exercise Bike have similar features; however, the latter offers an optional built-in tablet for tracking workout progress and training.
The Echelon Smart Connect EX-3 Bike is a high-quality bike with the ability to connect to ON-Demand and live spin classes via the Echelon Fitness App. This is possible by wirelessly connecting a smartphone with the bike through Bluetooth.
The Echelon Fit app is the real deal that makes it stand out and different from other spin bikes. However, other aspects of it are also interesting as the overall construction is solid and sturdy. The flywheel is about 33 pounds/15 kg which ensures smooth and quiet performance.
It is integrated with a new motor for precise magnetic resistance and has a new indexing resistance adjustment. A handheld rack is attached to the seat rail for the placement of lightweight dumbbells.
The Echelon Smart Connect EX-3 Bike is indeed an indoor cycling machine that is designed for anyone and every home.
Click right here to have a peek at the price of the Echelon Smart Connect EX-3 Bike on Amazon.
The Frame and Construction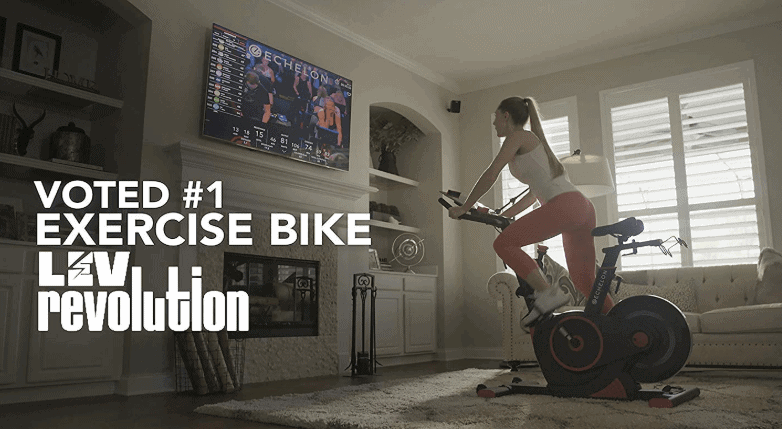 The Echelon Smart Connect EX-3 Bike has a heavy-duty steel frame that features a new lightweight triangular tubing. It is coated with anti-corrosive paint for its preservation from rusts and indiscriminate scratches. Other parts such as the belt and motor guard are made of ABS material.
The bike supports 300 pounds/136 kg maximum user weight capacity.
Its stability cannot be questioned because of its outstanding base framework that features front and rear stabilizer bars. There are also adjustable levelers underneath them which enable the user to balance the bike on a surface that is not even. More so, its weight (120 pounds/54.4 kg) further boosts the overall stability.
Do not be wary of how to move it from one room to another as it is integrated with transport wheels at the front base designed to allow an easy and hassle-free relocation process.
The bike is also compact and can easily fit into most spaces. The footprint is pretty small and has the dimensions of 42 inches long by 13.2 inches wide. In other words, a workout area with a perimeter of 3'5'' long by 1'10 inches wide will be just enough to accommodate the bike. That said, you must consider adding extra clearance of at least 2' at the rear and on each side of the bike for safety and comfortable riding experience.
The Echelon Smart Connect EX-3 Bike is undoubtedly a high-quality bike that has innovative features for a better and productive workout experience. With it, you are never left alone to figure out how to get results but you have certified instructors at your disposal to make things happen.
The Seat, the Handlebar and the Pedals
The Echelon Smart Connect EX-3 Bike has a new competition seat that is applauded by everyone that has used the bike. It is padded and contoured to provide the perfect feeling and comfort that allows the user to train all the way.
The seat can also be replaced with another type of seat of your choice if so desired.
It is fully adjustable; you can adjust it vertically (upward/downward) and horizontally (fore/aft). There are adjustment markings on the seat post and rail that make readjustment pretty easy especially if someone has altered your previous settings.
This also means that multiple users of different heights can utilize the bike without getting in each other's way.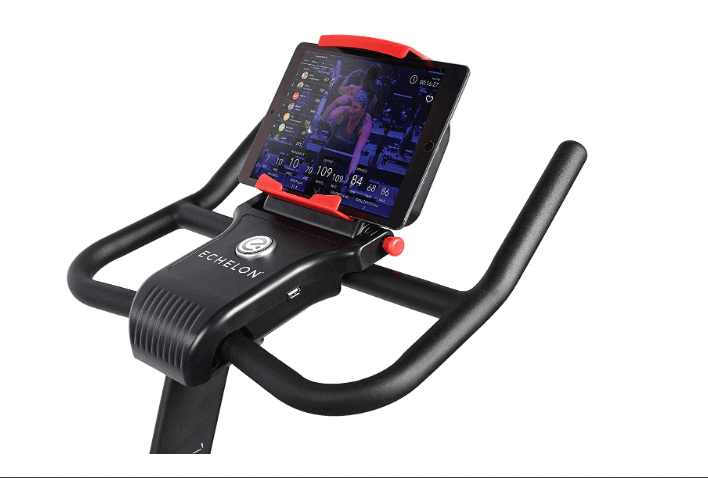 The handlebar is ergonomically designed with multiple grips that provide the user with the option of riding in different postures or angles. It is coated with breathable foam for comfortable and secure grips that prevent slippage and blisters.
It's 2-way adjustable (vertically adjustable (upward/downward) which of course compliments the bike's overall customization.
The handlebar and the seat have new adjustment levers that enable the user to quickly customize the bike for a perfect fit within seconds.
The pedals are dual-sided which means they accommodate standard shoes or clip-in spin shoes. They feature toe cages with adjustable safety straps and SPD clips.
They are made of durable aluminum that supports standing ride and vigorous workout intensity of a user that is within the stipulate weight the bike supports.
Drive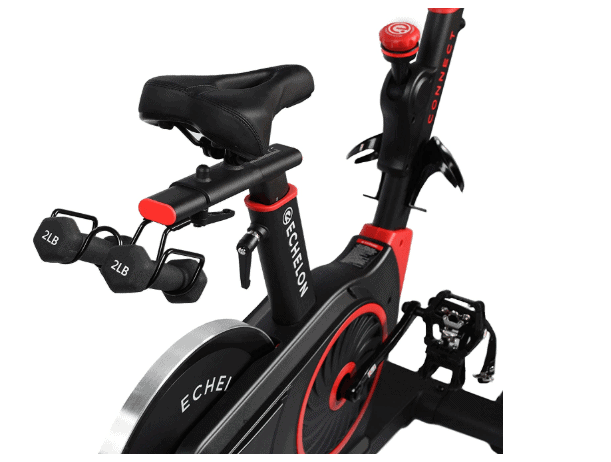 The Echelon Smart Connect EX-3 Bike has a belt drive system that is famously known for its quiet and smooth operation. The drive system features a very durable belt, pulleys, crankset, crank-arms, pedals, and the 33 pounds/15 kg perimeter weighted flywheel that provides the momentum needed for the outdoor bike experience.
To further expatiate, any flywheel that weighs 30 pounds and above is regarded as heavy enough to provide a smooth ride that simulates riding a mountain bicycle.
It also means you can work out at any time of the day without being afraid that your family or neighbors might be disturbed by your activities due to the bike's quiet operation. You can also enjoy watching the on-demand and live classes without amplifying the volume more than usual.
Moreover, the belt drive system doesn't require post lubrication or adjustment just as the chain drive system does. Differently put, it is a drive system that is maintenance-free.
The Resistance
The Smart Connect EX-3 is equipped with a new motor for a precise magnetic resistance system. It provides different resistance challenges that are suitable for everyone at any fitness level. It is also great for different spin bike training especially high-intensity interval training.
There are 32 predefined resistance levels. This does not only provide multiple resistance levels but also the ability to track your endurance and strength progress because you can easily know and compare the different resistance levels you used in every workout session.
The resistance can easily be increased and decreased by turning the tension knob clock and counter-clockwise respectively.
Again, this is maintenance-free; being a magnetic resistance system means the flywheel and the magnetic pad do not come in direct contact in order to generate resistance, thus, no part wears out. Instead, the magnetic pad emits a magnetic field around the flywheel for resistance to be generated.
The Console
The Echelon Smart Connect EX-3 Bike doesn't have a traditional console. It does have a 180-degree adjustable tablet holder for a smartphone or tablet.
The holder is for your smartphone or tablet which could be connected with the bike via Bluetooth so that you can access the Echelon fit app that provides you with the live and on-demand classes. There are a lot of other things this avails you with, such as being able to ride with other riders around the world, scenic rides, yoga, stretching, and additional classes with a trainer of your choice.
Basically, the Echelon fit app brings the studio to the comfort of your home since you can do whatever it is you do in a gym or group classes.
In addition to that, you can also track your workout progress by being able to view workout performance data such as calories burned, speed, and distance via the app.
You have 14-day free trial access to the fit app after which you have to subscribe in order to have continued access to it.
Accessory
The bike has a couple of accessories available on it.
It has water bottles holders for keeping water handy for hydration. Staying hydrated is very important during and after a workout session.
Of course, the tablet holder for your smartphone or tablet placement. This could be adjusted in different angles that offer perfect views for different users. There is a Bluetooth speaker and the 2.4-volt advanced charging USB is integrated for keeping your smartphone or tablet charged at all times.
There is also a handheld rack at the seat rail designed for holding a set of 2 pounds dumbbells.
Storage
The storage of the Echelon Smart Connect EX-3 Bike is not difficult because it has a small footprint that doesn't' take up space and transportation wheels that make the relocation process easy.
Pros/Features Overview
Sturdy and stable
Supports 300 pounds/136 kg maximum user weight capacity
Operation is smooth and quiet
It has a sleek look that fits any background
Customizable for different users
Track calories burned, speed and distance via the app
The pedals are dual sided; suitable for standard gym shoes and professional spin shoes
Resistance is great for users at different fitness levels
It brings gym and group classes experience to your home
Access to on-demand and live classes via the Echelon fit app
Train with a certified instructor of your choice via the Echelon fit app
Train in a terrain of your choice right in the comfort your home
Low maintenance
Not difficult to assemble
Water bottle holders included
Weight rack included
USB charging port included
Compact and transportable
Bluetooth speaker
Bluetooth connectivity
Cons
No console or preset programs
You have to subscribe for continued access to the fit app upon the expiration of the 14-day free trial otherwise you have a limited functionality
The warranty is poor
Product Dimensions and Specifications
Length 42''
Width 13.2''
User weight capacity: 300 pounds/136 kg
Flywheel weight: 33 pounds/15 kg
Weight: 120 pounds/54.4 kg
Drive: Belt
Resistance: Manual magnetic, 32 resistance levels
Console: No
Pedals: Dual-sided (toe cages/SPD clips)
Workout classes: On-demand and live classes
Seat: 4-adjustable
Handlebar: 2-way adjustable
Transport wheels: Yes
Water bottle holders: Yes
Tablet holder: Yes
USB charging port: Yes
Bluetooth connectivity: Yes
Speaker: Bluetooth
Shipping, Assembly, and Maintenance
Shipping
The Echelon Smart Connect EX-3 Bike is shipped in a box. The shipping cost depends on where you are purchasing it from. If online and from Amazon, the shipping is free and it's being delivered within days of order.
Assembly
The bike is not difficult to assemble. To cut long story short, below is the assembly video that guides you through the process nicely and easily.
Also included in the package are the assembly tools and a manual with distinctive guidance for assembly.
Maintenance
The Echelon Smart Connect EX-3 Bike doesn't have any tasking maintenance. This is because of its drive and resistance systems which are the belt and magnetic respectively.
The maintenance is more like keeping the bike clean from dirt and sweat at all times. And also making sure that every part is tightened and good before using it for a workout. This is a precautionary measure to prevent an injury or further damage to the bike.
Further maintenance details are listed in the owner's manual.
Conclusion
The Echelon Smart Connect EX-3 Bike is a bike for everyone and any home. It brings the studio to you in an extraordinary way. It inspires and motivates you to push further toward achieving your fitness goals.
With this bike and the app, attaining weight loss and improving your overall physical fitness is certain.
Echelon Smart Connect EX-3 Bike Review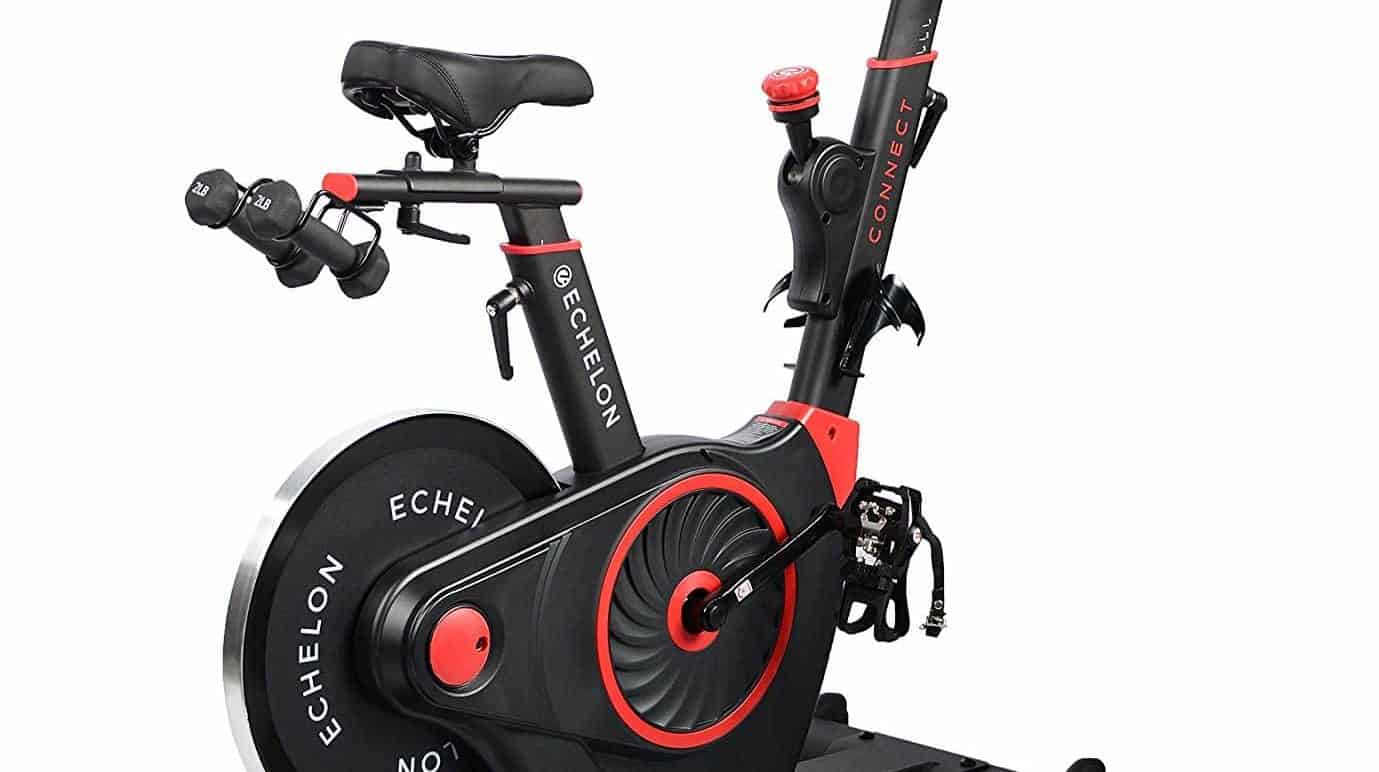 The Echelon Smart Connect EX-3 Bike is a full package spin bike that offers cardio workouts and training. This means it is a full resource for comprehensive
Product Brand: Echelon
Product In-Stock: InStock