The Nautilus T614 Treadmill could compete with some of the more expensive treadmills out there in terms of quality and features. It is made for those that are looking forward to walking, jogging, and running in the comfort of their homes.
Most of its users have a positive view of it and it is affordable; you don't have to break a bank to acquire one.
The unit features a cushioning system that reduces stress on the joints, thus, you can work out longer and comfortably. It is the preceding version of the Nautilus T616 Treadmill.
Click right here to have a peek at the price and of of the Nautilus T614 Treadmill on Amazon.
The Frame and Construction
The Nautilus T614 Model 100393 Treadmill is one of the best treadmills that can be acquired at less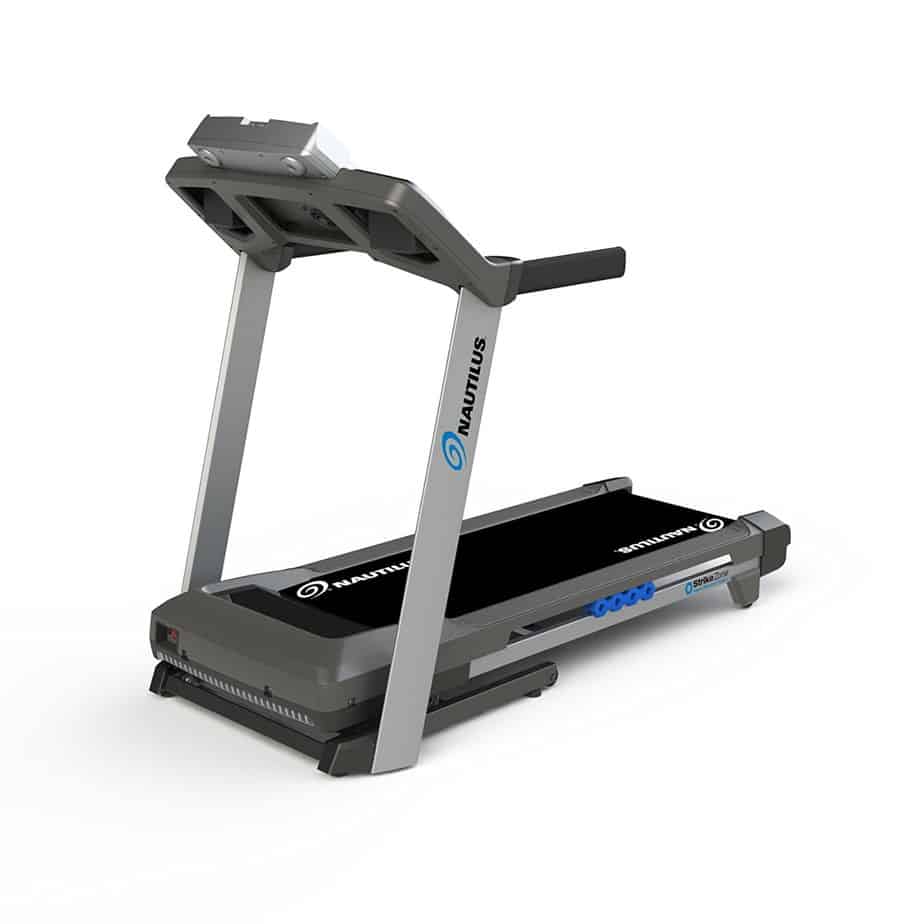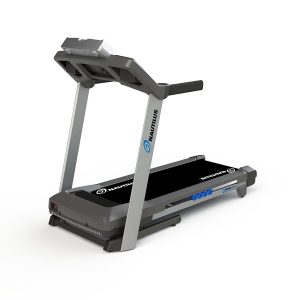 than $1000.
It is made of durable steel and ABS material, hence, it supports a maximum user weight capacity of 300 lbs./136 kg.
The oversized crossbar tubing, the adjustable levelers underneath, and its overall assembled weight of 200 lbs./90.7 kg provide superlative stability.
The dimensions of the treadmill are 72.2" long by 35.2" wide by 57.6" high. Resultantly, the treadmill will require a workout area with perimeters of 6'1" length by 3" width.
Also, consider adding extra clearance of 2′ around it for safety and easy access, especially if it's going to be used in a confined area.
The suitable ceiling height should be your height plus 15.1" which is the maximum incline position, and 5" clearance.
The step-up height of the deck is 9".
The Deck of the Nautilus T614 Treadmill
The deck dimensions are 20" W by 55" L, and it integrates a 1-ply tread belt, 1.5mm thick with 2.5"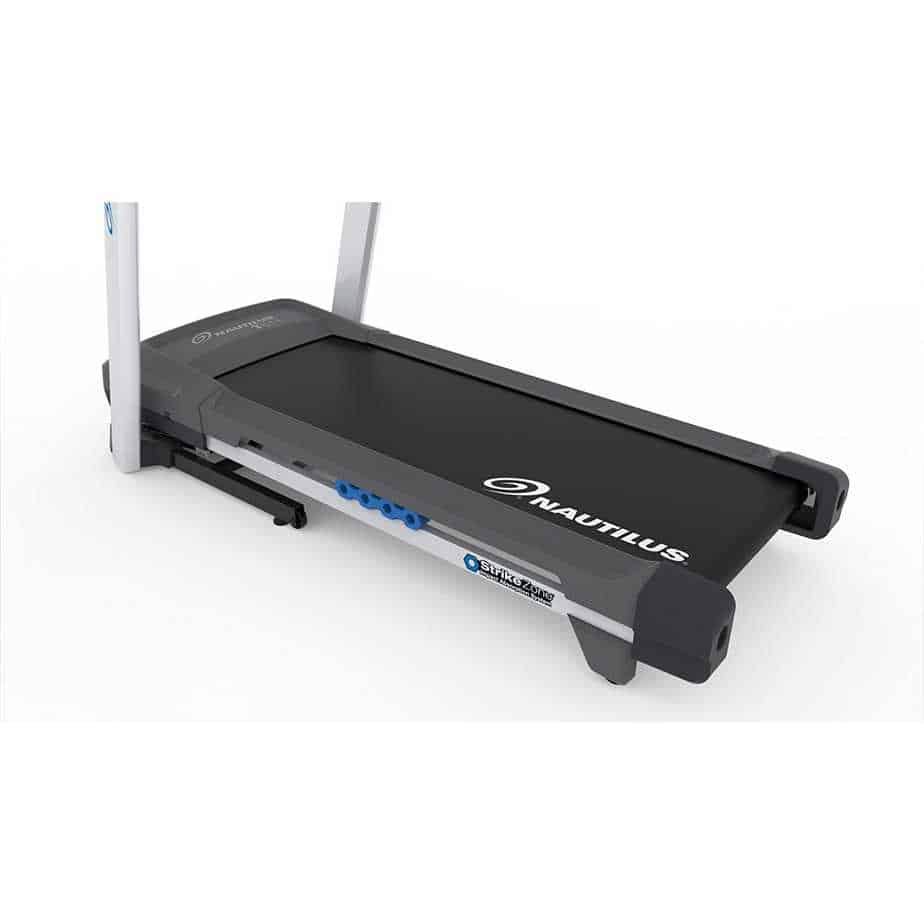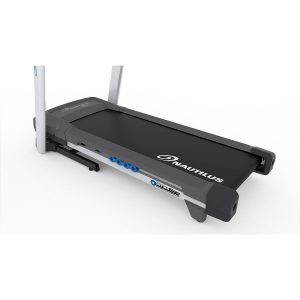 crowned rollers. Thus, its rolling operation is smooth and most users can at least train without their strides restrained.
Moreover, the deck has a StrikeZone Cushioning System with a hex 4-cell that reduces the stress that usually affects the hips, knees, and ankles during and after workouts.
The Motor
The Nautilus T614 Treadmill is equipped with a 2.75 CHP motor that is reliable and responsive. It provides a speed range of 1-12 mph which could be adjusted by an increment of 0.1 mph or by a quick speed of 2 mph, 4 mph, 5 mph, 6 mph, 8 mph, or 12 mph.
The speed adjustment is exclusively done via the buttons on the console.
Although, the speed and the incline automatically adjust when a preset workout program is selected.
The motor is designed to provide an adequate drive for up to 300 lbs./136 kg user who may engage in high speed and prolonged workouts without overheating or breaking down.
It does also operate quietly with a consistency that doesn't disturb the family or neighbors.
The motorized treadmill needs to be plugged into a 120V, 15A, power outlet for it to be usable.
Incline
The unit has an automatic 0-12% incline system that incorporates a small motor that lifts and lowers the ramp whenever the incline is adjusted.
This enables you to diversify and intensify your workouts to burn more calories and ultimately lose weight and improve strength, and endurance.
It could be adjusted via the console by a 1% increment or by a bulk increment of 2%, 4%, 7%, 10%, or 12%.
The Console
The console on the Nautilus T614 Treadmill features a blue backlit LCD monitor, 22 Workout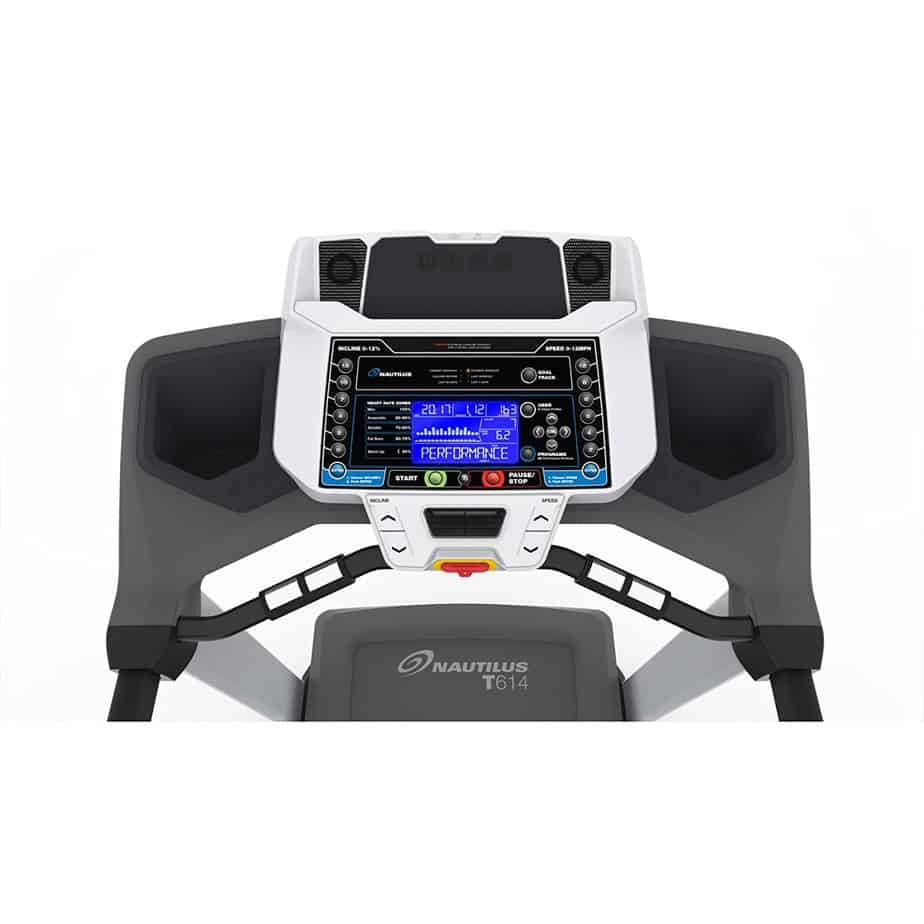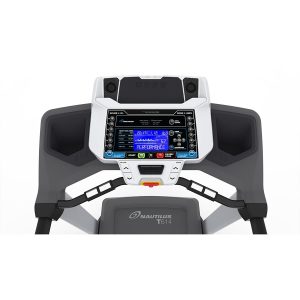 Programs (that include 1 Manual, 3 Quick Goals, 5 Training, 3 Weight Control, 5 Heart Rate, 3 Intervals, and 2 Custom), 4 User Profiles, a USB port for data export to NautilusConnect or MyFitnessPal account and more.
The 4 User Profiles allow 4 different users to enter and store their personal information such as Name (contains up to 13 characters), Age, Weight, Height, Gender, and more. So, when they exercise, their workout data is automatically stored for a review and future reference.
While on the other hand, the easy-to-read 5.5" monitor displays workout data such as Active User, Time, Speed, Distance, Calories, Incline, and Heart Rate.
The heart rate can be read through the use of the EKG contact grips or a wireless Polar chest strap (the device not included).
The console is not Bluetooth-enabled and doesn't connect to an online app.
Accessory
This treadmill features built-in acoustic chambered speakers, an auxiliary MP3 compatible port, a 3-speed fan, a tablet holder, and water bottle holders.
So, you can train without feeling bored because these features provide the opportunity to watch a movie or listen to music while working out, and to also be able to keep water handy for proper hydration.
Storage
This unit has a SoftDrop system that helps you to fold and unfold it with ease for storage.
It also integrates transport wheels that assist in the relocation process without hassles regardless of its assembled weight.
A storage area with approximate perimeters of 3'9" (36") length by 3′ (35.2")width can accommodate it.
Pros/Features Overview
Stable and sturdy
Portable and foldable
Supports a user that is up to 300 lbs./136 kg or less
Its SoftDrop system enables users to easily fold and unfold it
The 20" W x 55" L running surface allows most users to train without feeling confined
You can use the EKG contact grips or a wireless HR chest transmitter to read your heart rate
The treadmill's operation is smooth with low noise
The 0%-12% automatic incline system and the 22 workout programs provide you with the arsenal to improve your overall physical fitness quickly
4 User Profiles for you and your family members to store workout session data for future reference
The 2.75 CHP motor is powerful enough to withstand long and intense workouts without reducing its performance
There will be no dull moments during your workouts, thanks to the sound system, water bottle holders, a tablet holder, and a 3-speed cooling fan
The USB port enables you to manually transfer workout data to a NautilusConnect or MyFitnessPal account using a flash drive
Easy to assemble
Maintenance is low
Cons
The wireless HR chest strap is not included, needs to be purchased separately
The console is not Bluetooth-enabled, and it doesn't connect to online apps
The 3-speed fan is not powerful enough to keep you cool
Warranty
10 Years for the Frame
10 Years for the Motor
2 Years for Mechanical Parts
2 Years for Electronic Parts
1 Year for Labor
Product Dimensions & Specifications
Length 72.2"
Widht 35.2"
Height 57.6"
Shipping dimensions: 77.17" L x 30.31" W x 13.39" H
Tread belt dimensions: 20" W x 55" L
Net weight: 200 lbs./90.7 kg
Gross weight: 207 lbs./93.8 kg
Step-height: 9"
Maximum user weight capacity: 300 lbs./136 kg
22 Workout Programs
USB port
0 to 12 mph speed
2.75 CHP motor
Contact and Telemetry enabled
Blue backlit LCD Display
SoftDrop Folding System
0 to 12% automatic incline
Maximum incline height: 15.1"
1 Ply, 1.5 mm thick belt
4 Hex Cell StrikeZone Cushioning System
3-Speed Fan
Sealed acoustic speakers
Transport wheels
2 water bottle holders
A tablet holder
Shipping
When purchased from Amazon, it ships out without a shipping cost and it gets delivered in a couple of days.
The shipping weight is 207 lbs./93.8 kg and has dimensions of 77.17" L x 30.31" W x 13.39" H.
Assembly
The assembly is not complicated but instead straightforward. Since the major components are already assembled by the manufacturer, the 2 upright posts, the front base, the handrails, and the console are left to be attached by you and of course, connect the wires as well.
The instructions on how to do these are explained explicitly on the instruction manual and the tools required are also included in the package.
It takes less than an hour or a little more to fully assemble it.
Maintenance
The treadmill needs to be kept clean at all times, especially the tread belt, and it needs to be lubricated with a silicon-based oil after every 25 hours of usage.
Do not use the unit outdoor or expose it to liquid, moisture, or direct sunlight. Inspect it before use to be sure that every part is tight and good. If there should be a problem act accordingly to fixing it.
Conclusion
The Nautilus T614 Treadmill is an affordable home fitness machine that has decent features.
It is sturdily designed to support a 300 lbs./136 kg maximum user weight, it has 22 Workout Programs, 4 User Profiles, 5.5" blue backlit monitor, StrikeZone cushioning system, 2.75 CHP motor that provides 0-12 mph, a 0-12% automatic incline system for challenging workouts, and many more.
Nautilus T614 Treadmill Review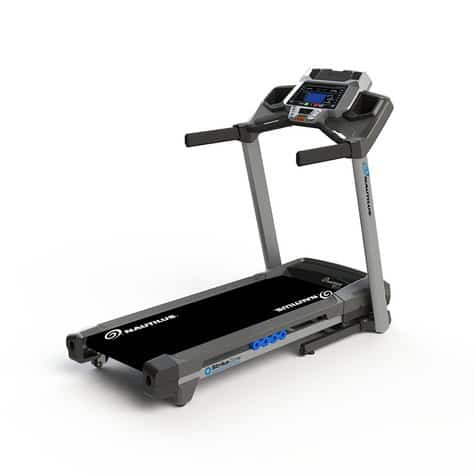 The Nautilus T614 Treadmill could compete with some of the more expensive treadmills out there in terms of quality and features. It is made for those that are looking forward to walking, jogging, and running in the comfort of their homes.
Product Brand: Nautilus
Product In-Stock: https://schema.org/InStock