The Stamina 1205 Precision Rower is a very compact, lightweight, and hydraulic resistance rower. Its affordability doesn't compromise its durability and performance level.
It shares a lot in common with the Stamina 1215 Orbital-Free Arms; but the only difference is how their respective handlebars work.
The Stamina 1215 Orbital-Free Arms' handlebars can be moved in a circular rowing motion, while that of the Stamina 1205 Precision Rower moves back and forth without circling.  
Thus, the former mimics the rowing pattern of a real boat than the latter. 
That said, the Stamina 1205 Precision Rower is more affordable. 
Click right here to have a peek at the price and of of the Stamina 1205 Precision Rower on Amazon. 
The Frame and Construction
The construction of the Stamina 1205 Precision Rower features a heavy-duty D-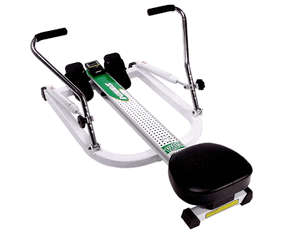 shaped steel frame, and a wide extruded aluminum beam.
Thus, it supports a maximum user weight capacity of 250 lbs./113 kg, and it can withstand years of hard use as well. 
The base has protective rubber caps that prevent skidding and wobbling during an intense workout. Although, the usage of a protective rubber mat is recommendable for optimum stability. 
Unfortunately, as opposed to the stamina 1215 Orbital-Free Arms, the rear base cannot be adjusted to induce the incline of the beam for more challenging workouts. 
Its overall assembled dimensions are 48" long by 32.5" wide by 27.7" high. In other words, it will require a workout area with perimeters of 4′ length by 2'8" with an extra clearance of 1-2′ around it for easy access and best user experience.
This rower provides low-impact and total-body aerobic workouts that burn calories twice as much. 
The Seat
The Stamina 1205 Precision Rower integrates a large comfortable seat that is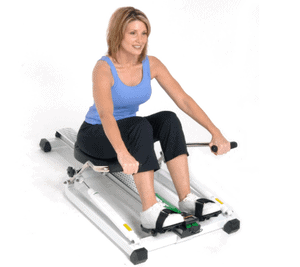 padded and covered with a vinyl material.
It incorporates a deluxe ball-bearing roller system and firmly attached to the beam/rail for smooth and quiet gliding operation. 
Users can workout comfortably and longer without feeling bored or tired.  
The Handlebars of the Stamina 1205 Precision Rower 
The unit has a set of dual-action handlebars that allow you to comfortably engage the arms in smooth and a quiet back and forth movement. They are coated with anti-sweat soft foam that provides comfortable and secure grips. 
No slippage or blisters will be experienced during or after frequent intense workouts. 
The Pedals
The pivoting pedals on the Stamina 1205 Precision Rower are large and textured.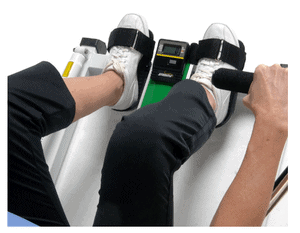 They also have an adjustable safety nylon strap and a heel guard that ensure that the feet are optimally stable. 
Therefore, your feet will remain secure and comfortable during vigorous workouts without feeling stressed on the ankles as the pedals pivot to adhere to movements. 
Users of different foot sizes and gym shoes can be accommodated. 
Resistance
The Stamina 1205 Precision Rower is equipped with an adjustable dual hydraulic piston resistance system. It consists of 2 hydraulic cylinders that are attached to each side of the front base and connected to the handlebars.
They can be adjusted by raising or lowering the locking knob on each side of the handlebars, to increase or decrease the resistance intensity respectively. 
The resistance system provides a wide range of workout difficulties that could stir up metabolism that burns tons of calories and tone muscle groups such as arms, back, shoulders, abdomen, and glute. 
Maintenance is not required, however, the hydraulic cylinders get weak as time goes on, and so will need to be replaced. 
The operation of the rower remains quiet and smooth, hence, you can work out without disturbing anyone next to you, even when a newborn baby is present.
Finally, the hydraulic resistance applies to the arms, while your body weight serves as resistance to the legs. Therefore, both the upper and lower body are impacted by resistance.   
The Console
The console on this rower is similar to the one on the Stamina 1215 Orbital-Free Arms. It is a basic console that features a nonbacklit monitor that tracks workout values such as Time, Speed, Distance, Stroke Count, Miles rowed, and Calories Burned. 
Its readability is crystal clear when viewed in a well-lit room, otherwise, it will be diminished because of the fact it's not backlit. 
The workout values are displayed rotationally one at a time after every 6 seconds by the SCAN function because they can't be shown simultaneously. This way, you will be to view them at separate times. 
Although, if you want a certain value to display constantly, you can override the SCAN function to set it. 
The monitor is battery-powered (1 AA battery, not included). It automatically shuts down when there is no activity on the rower for 4 minutes to save the battery's power, and it automatically turns ON when activity resumes.
The monitor can as well be manually turned ON/OFF by pressing the only button on the console.  
Accessory
There is no basic accessory such as a water bottle or tablet holder on this rower. You have to improvise to keep proper hydration and entertainment during workout sessions. 
Storage
A rowing machine that is lightweight, compact, and portable is storage-friendly. Thus, this rower has all the attributes that make storage easy. 
Once you are done working out with it, fold-up the arms and roll it away for storage. 
It might fit under a bed and can be leaned against the wall. 
Approval Rating
The Stamina 1205 Precision Rower is a popular machine among its users. It has several Amazon customers' reviews, the majority of which are favorable.  
Thus, its approval rating is positive. 
Pros/Features Overview
Made of durable steel and aluminum
It is compact, lightweight, and portable; doesn't take much space for a workout & storage
Supports 250 lbs./113 kg maximum user weight capacity
Its operation is smooth and whisper-quiet
The seat is well-padded for comfort and it's integrated with a deluxe ball-bearings roller system for smooth gliding operation
Robust base with rubber end caps for stability and floor-friendliness
Dual-action handlebars are coated with soft rubber foam for secure and comfortable grips
Its adjustable hydraulic resistance system provides a range of difficult workout challenges to the arms
The large, textured and pivoting pedals with adjustable safety straps accommodate different foot sizes and gym shoes comfortably
The LCD monitor tracks workout progress by displaying stats such as Time, Distance, Speed, Calories Burned, Stroke Count, and Miles Rowed
The rower offers full-body and low-impact workouts that lose weight, improve lungs and heart's health, and tone major muscle groups
Maintenance is low
Assembly not complicated
Cons
No heart rate monitoring function
The monitor is not backlit
No water bottle holder
No tablet holder
Hydraulic cylinders may become weak
Product Dimension and Specifications
Length 48"
Width 32.5"
Height 27.7"
Shipping dimensions: 48.75" L x 14.25" W x 7.25" H
Net weight: 45 lbs./20.4 kg
Gross weight: 47 lbs./21.3 kg
Maximum user weight capacity: 250 lbs./113 kg
Frame: Steel
Rail: Aluminum
Resistance: Hydraulic and adjustable
Seat: Large and padded
Handlebars: Dual-action with foam-coated grips
Pedals: Pivotal, anti-skid, large with adjustable safety straps
Monitor: Nonbacklit LCD monitor 
Heart rate monitoring function: No
Water bottle holder: No
Tablet holder: No
Shipping
The Stamina 1205 Precision Rower is shipped out in a single box that weighs 47 lbs./21.3 kg with dimensions of 48.75" L x 14.25" W x 7.25" H.
Some online retailers including Amazon, ship it out for free and delivers it within a couple of days. The time duration for delivery also depends on your location. 
Assembly
The unit requires assembly, however, it is not difficult to put together. 
It takes between 45 minutes to an hour to fully assemble it. 
Included in the package are the assembly manual and the tools needed to get the job done. 
Maintenance
You are expected to keep the rowing machine clean at all times. Examine it for a loose or broken part before use to prevent an accident and further damage to it. 
Ensure that you remove the battery from the monitor before storage. 
Conclusion
The Stamina 1205 Precision Rower is for those that do not have enough space in their home or office and are on a budget. 
This comes handy to help you achieve your fitness goals with a very good user-experience. 
Stamina 1205 Precision Rower Review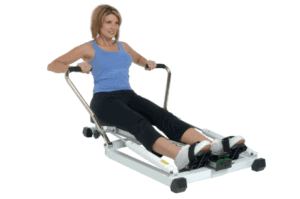 The Stamina 1205 Precision Rower is a very compact, lightweight, and hydraulic resistance rower. Its affordability doesn't compromise its durability and performance level.
Product Brand: Stamina
Product In-Stock: https://schema.org/InStock