The Egofit M2 Treadmill has an innovative smart design that includes a vibration platform. It is basically an under-desk treadmill that could also be used as a standalone treadmill and a massager.
In other words, folks that don't have the time to go to the gym due to office work will have the opportunity to walk while they work on the desk. They may also be able to walk or jog on it as they could on conventional treadmills and shake off excessive fat using the vibration platform.
In other words, it's a 2 in 1 treadmill that offers a vibration area and a running area.
It has a powerful, energy-efficient, quiet 3.0 horsepower motor that provides up to 7.5 mph speed. Designed to support a maximum user weight capacity of 264.6 lbs./120 kg.
The integrated LED display tracks workout stats such as Time, Distance, Speed, and calories. It keeps the user motivated and focused.
It is a versatile treadmill that is compact, foldable, easy to use, easy to store, easy to move, and easy to maintain.
Click right here to have a peek at the Egofit M2 Treadmill.  
The Frame and Construction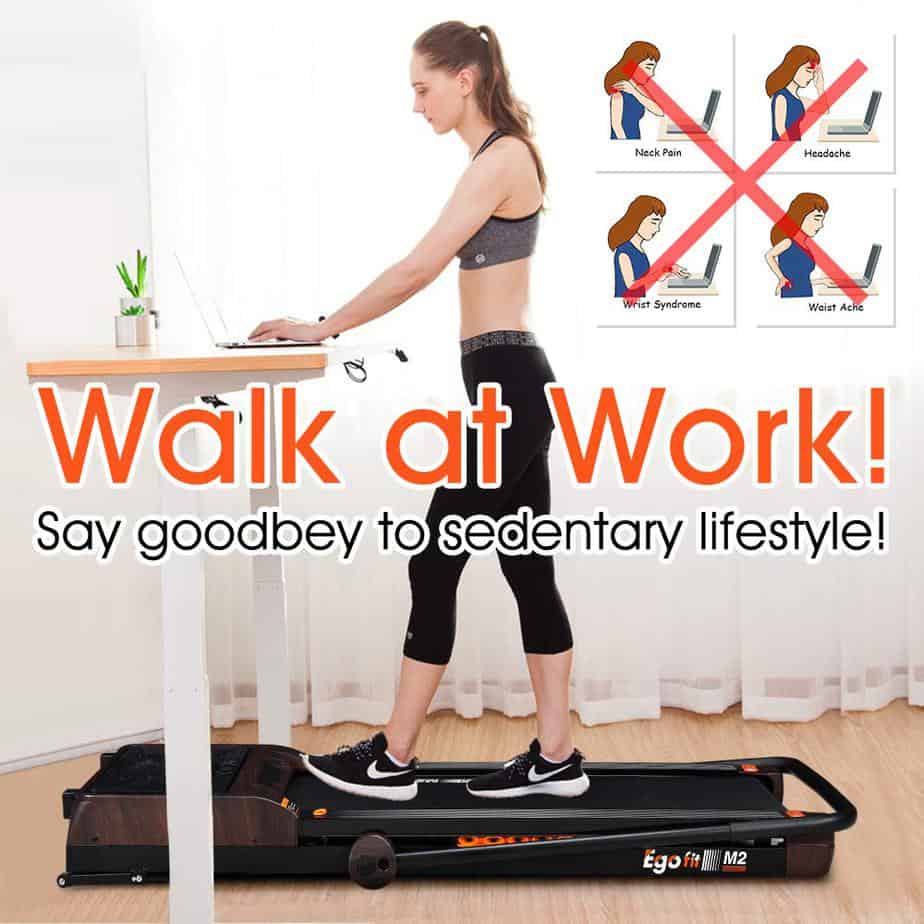 The Egofit M2 Treadmill has a sleek and solid construction that features steel for the frame and ABS plastic for the side rails.
At the front base sits the vibration platform while the running belt span from that point to the rear part of the treadmill.
The vibration platform area dimensions are not stated but obviously sufficient to accommodate users that are within the stipulated weight capacity the treadmill supports.
While on the other, the running belt dimensions are 43.5'' long by 16.6'' wide. This allows most users to exercise on the treadmill conveniently except for the fact that 6' and taller individuals may experience certain restrictions such as not being able to have a full stride.
Nevertheless, generally speaking, it is not that bad considering that other treadmills in the same category are no different or are even worse than this.
Also, the running belt has an anti-skid and a double-layer shock surface that features six shock-absorbing positions over the two sides. Thus, your workout is safe with less fatigue as no slippage or severe impact on the knees, and ankles will be experienced.
The side rails are wide and textured so that you can easily step on them when you wish to make a quick exit without having to turn OFF the treadmill.
The overall assembled dimensions of the treadmill are 63'' long by 26.8'' wide by 41.8'' high. Differently put, the treadmill requires a workout area with perimeters of 5'3'' length by 2'3'' width. Moreover, additional clearance should be considered for easy access and safety, especially, 3' at the rear and 1-2' on each side.
When folded (foldable handrails), the treadmill becomes even slimmer that it can be stored under a bed or a couch that has at least 8'' clearance underneath.
Stability has never been a problem because the treadmill has a good base framework and its overall weight of 93 lbs./42 kg. further grounds and stabilizes it.
There is a lubrication system that allows you to quickly and easily lubricate the running belt and the vibration trainer by injecting the included lubricant oil into it.
This means no hassles of having to go through the rigorous work of loosening the tread belt with tools.
The Egofit M2 Treadmill is suitable for office folks that work many hours behind the desk, housewives, and seniors.
The Vibration Plate
As aforementioned, the Egofit M2 Treadmill's vibration platform is spacious and provides the opportunity to shake off fat by simply standing or sitting on it. It's recommended to not exceed 20 minutes of using it. You may continue after having a break of 30 minutes for health's sake.
There are up to 50 adjustable vibration levels and 3 bonus programs designed to help you shake off fat.
The Motor of the Egofit M2 Treadmill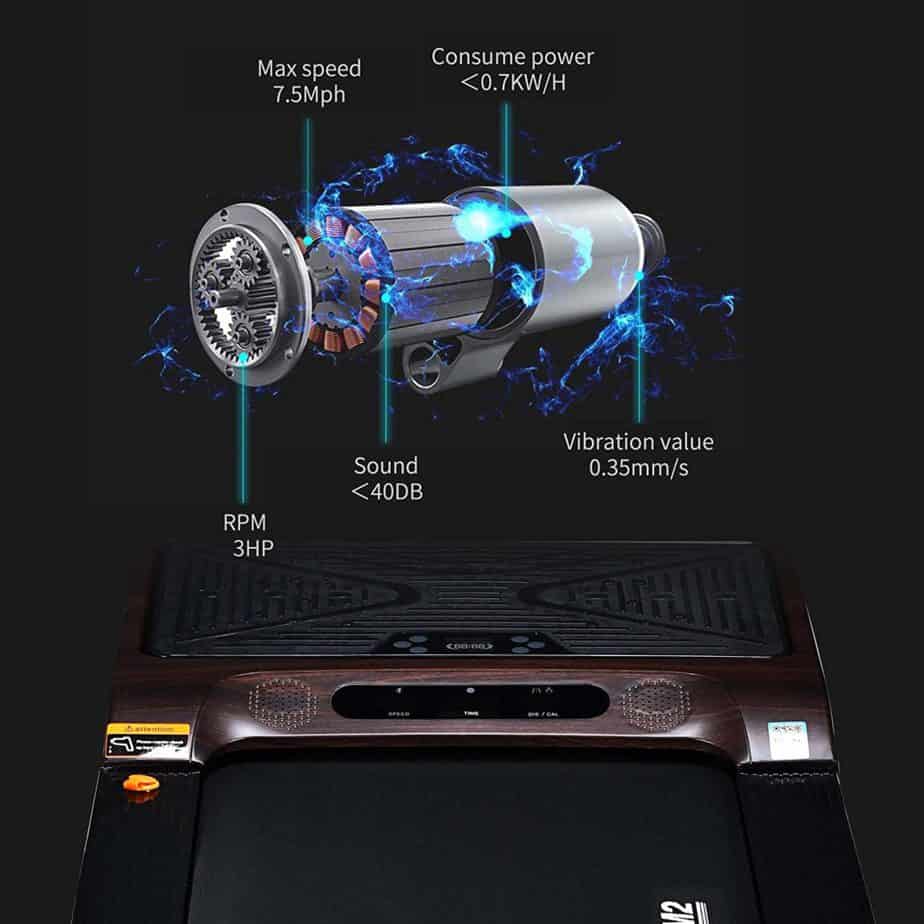 The Egofit M2 Treadmill is equipped with a powerful 3 horsepower motor that provides a speed range of 0.6-7.5 mph (1-12 km/h). The speed is controlled by the use of the included remote controller.
It is certainly quiet, energy-efficient, and doesn't over-heat or break down during operation because it has been tested to work continuously for 8 hours. However, for best maintenance practice, it's recommended not to be used beyond 2 hours when walking or jogging without having at least a break of 30 minutes.
The motor's operation is smooth and vibration-free, suitable for office and home use.
Console/Display of the Egofit M2 Treadmill
This treadmill has its console/display on the front base. It is an LED monitor that tracks workout stats such as Time, Speed, Distance, and Calories with high definition clarity.
It is rather basic without additional features but its ability to track your workout progress keeps you focused on achieving your fitness goals.
Incline System
No incline system
Accessory
The Egofit M2 Treadmill doesn't have any accessories, but it's all good since the essential and basic accessories would be a tablet and water bottle holders both of which can easily be substituted.
Storage
The treadmill is easy to put away because of its space-saving design. When folded, it can be stored under the bed, or the couch with enough clearance underneath. It can also be leaned against the wall if you so desire.
Moving it from one room to another has never been easier, it is integrated with transport wheels at the front base.
Pros/Features Overview
Compact, stable, and durable
Space-saving design; very easy to store away and doesn't require too much space
Supports maximum user weight capacity of 264 lbs./120 kg
Its 3.0 horsepower motor is powerful, energy-efficient, and quiet
The treadmill provides the possibility to walk, jog, and shake
The bonus vibration platform with 50 adjustable levels and 3 programs helps to shake off fat
LED display track workout progress and keeps the user motivated and focused
The running deck is anti-skid designed with a shock-absorbing system that features six shock-absorbers over the two sides
It provides the opportunity for folks with the sedentary lifestyle the opportunity to walk while they work on their desks
It's suitable for office and home users who wish to lose weight and improve overall physical and mental well-being
Automatic lubrication system
Low maintenance
Installation-free
Cons
No heart rate monitoring function
It's not for serious runners
Warranty
1 Year limited warranty
3 Years for Motor
30-day return/refund policy
Product Dimensions and Specifications
Length 63''
Width 26.8''
Height 41.8''
Folded dimensions: 63'' L x 26.8'' W x 6.5'' H
Shipping dimensions: 66'' x 30'' x 8.8'' H
Tread belt: Anti-skid designed with a shock-absorbing system
Tread belt dimensions: 43.5'' L x 16.6'' W
Net weight: 93 lbs./42 kg
Gross weight: 106.3 lbs./48 kg
Maximum user weight capacity: 264 lbs./120 kg
Motor: 3.0 horsepower
Speed range: 0.6-7.5 mph (1-12 km/h)
Vibration Plate: 1-50 adjustable levels & 3 preset programs
Display: LED, tracks Time, Distance, Speed, and Calories
Frame: Steel
Rated voltage: 100-110V/50-60Hz
Shipping
The Egofit M2 Treadmill is shipped in a box that weighs 106.3 lbs./48 kg. With dimensions of 66'' L x 30'' W x 8.8'' H.
Amazon offers free standard shipping and gets it delivered within a couple of days.
Assembly
The unit comes in preassembled; no assembly is required. Simply unbox, plug and use.
Maintenance
The Egofit M2 Treadmill needs to be lubricated periodically just as is the case with every treadmill.
However, it has a lubrication system that makes it very easy to do. You simply need to inject the included lubricants into the lubrication system and that's it.
Other than that, ensure to keep the treadmill clean and dry at all times.
If you have any need to contact the manufacturer, you can do so using this email address [email protected].
Conclusion
The Egofit M2 Treadmill is innovative fitness equipment that has a decent price.
It is the right companion for those that hardly have time for the gym due to other activities.
Its bonus vibration platform makes it even more intriguing and interesting.
Now, you can go about losing that weight in different ways; walk, jog, or shake off the fat.