A water rower such as the MaxKare Water Rowing Machine comes with two major benefits. First of all, it helps you to get physically healthier when using it in the comfort of your home, and second of all, it brings the real water rowing boat experience with it. These are incontestable facts and the truth.
That said, the MaxKare Water Rowing Machine is just one out of many water rowers out there that we have chosen to review and find out its pros and cons.
Its frame is made of steel, thus, it supports 264 lbs./120 kg maximum user weight capacity and it is one of the most affordable rowing machines.
Its resistance system is highly effective and dynamic and the integrated adjustable LCD monitor displays Time, SPM (stroke per minute), Distance, Strokes, Calories, and pulse.
It has a lot in common with the XTERRA Fitness ERG600W. Although, the XTERRA Fitness ERG600W has a dual side aluminum-made rail with the core part made of steel, and it supports a slightly higher maximum user weight capacity of 300 lbs./136 kg.
Click right here to have a peek at the MaxKare Water Rowing Machine.  
The Frame and Construction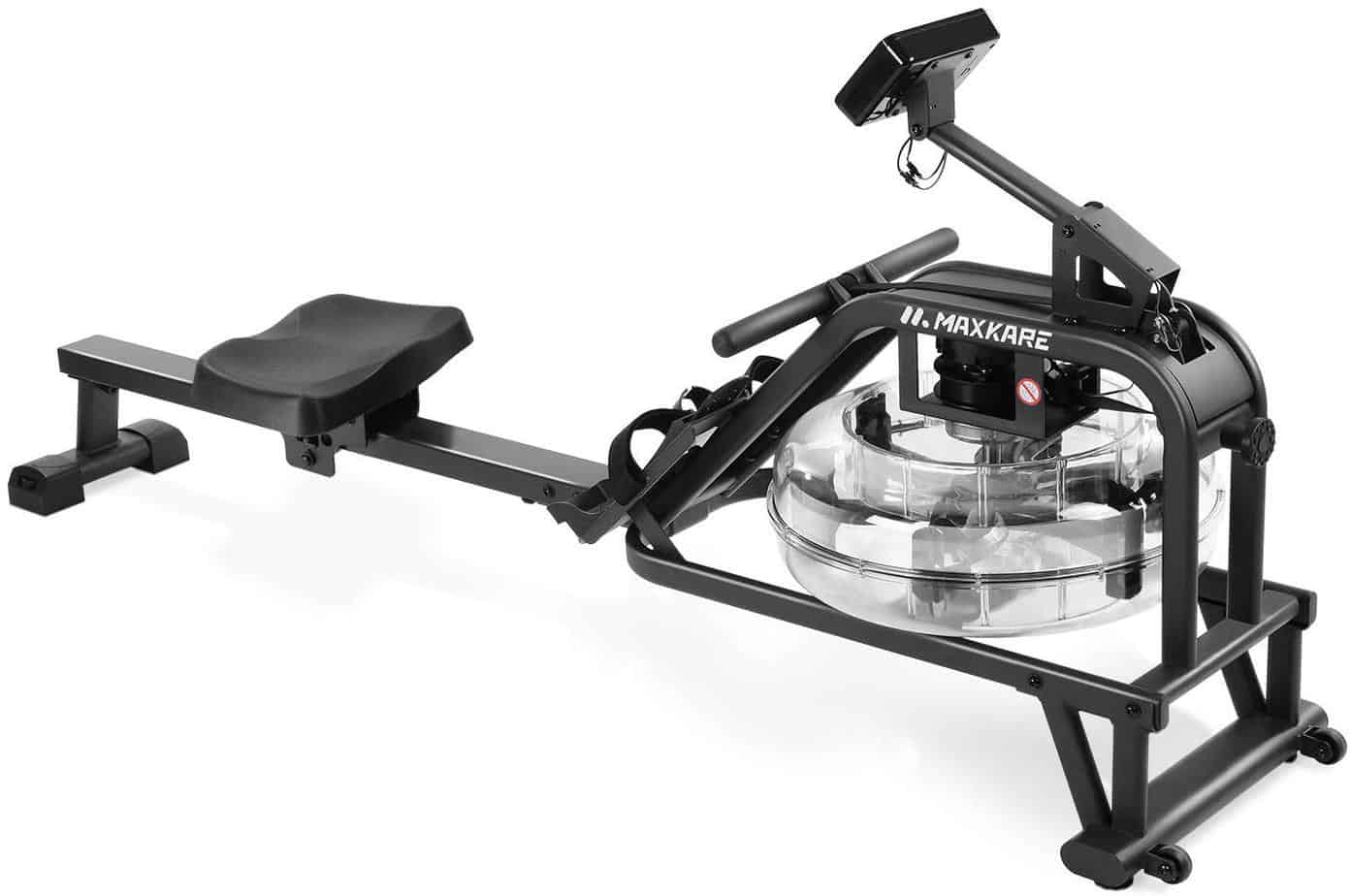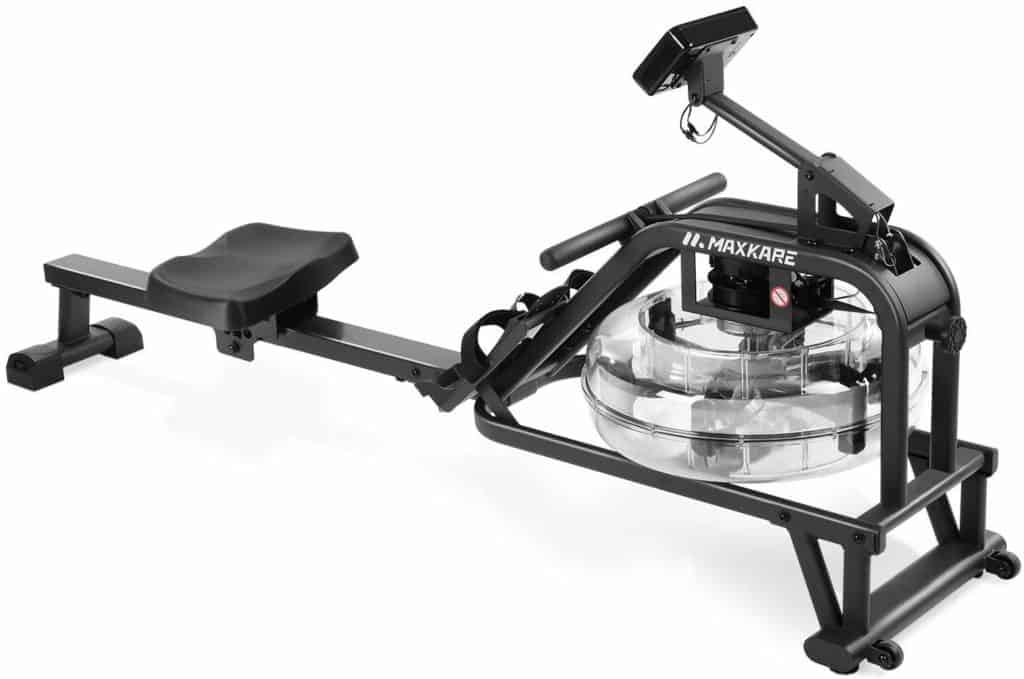 The MaxKare Water Rowing Machine's frame is made of heavy-duty steel and coated with a black anti-corrosive paint that ensures its quality is sustained over a long period of time.
It is not a very large rower when compared to some other water rowers. Its overall assembled dimensions are 78'' long by 17.3'' wide by 35.4'' high.
Therefore, it will require a workout area with perimeters of 6'5'' length by 1'5'' width. Also, it's recommended to add extra clearance of at least 2' all around it so that the user may have easy access and be able to perform workouts safely.
It may not be suitable for a small room or apartment after all.
Nevertheless, the MaxKare Water Rowing Machine is not foldable but it could be stored vertically thereby saving a lot of space; and the transport wheels at the front base help in moving it from one room to another with ease.
When stored vertically, it occupies a space area with perimeters of 20'' wide by 30'' long by 80'' high.
The rower has a good level of stability, thanks to its base framework that features front and rear steel stabilizers with adjustable levelers, and it could still maintain its stability even on a crooked surface or flooring.
Moreover, its overall assembled weight of 81 lbs./36.7 kg further makes its stability formidable.
The Seat of the MaxKare Water Rowing Machine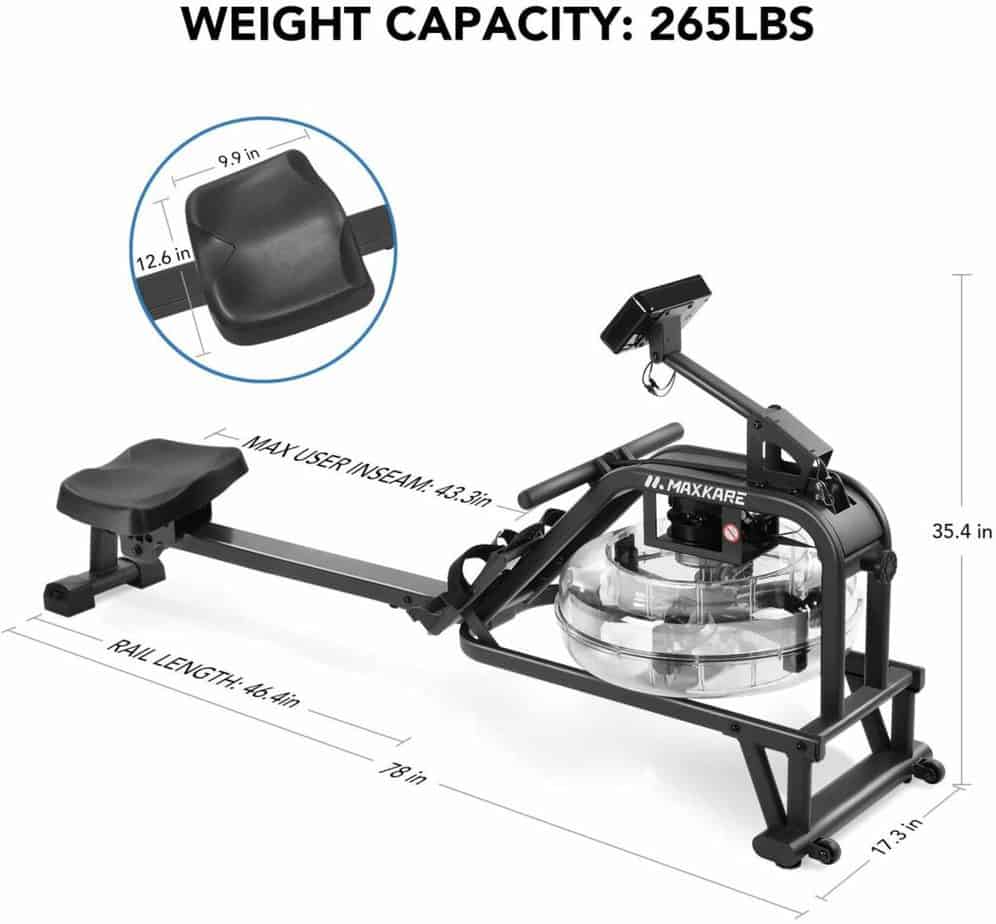 The MaxKare Water Rowing Machine is integrated with a large comfortable cushioned seat. Its dimensions are 9.9'' long by 12.6'' wide.
The seat's ergonomic design makes it comfortable for a long rowing duration.
Also, the seat's height from the floor is just right for easy access and exit for all users.
The seat is attached to the steel monorail with 3 concealed rollers for smooth, quiet, and stable glide. It is designed not only to provide comfort but to also last.
The rail length of this rower is 45.3'', so, users of different heights (with leg length no more than 43.3''/110 cm) can utilize it. In other words, since the maximum inseam (the length of the inner thigh to the ankle) the rower supports is 43.3'', 6'4'' users can work out with it with full leg extension.
The Handlebar of the MaxKare Water Rowing Machine
The handlebar on the MaxKare Water Rowing Machine is a straight rubber foam-coated steel bar that provides secure and comfortable grips.
It is attached to a 1'' nylon strap that connects to the water tank.
The Footplates of the MaxKare Water Rowing Machine
The MaxKare Water Rowing Machine is equipped with large footplates that are 2-way adjustable. A user can adjust to increase or decrease the length depending on the individual's foot size. Also, they have adjustable safety straps that keep the feet in place and secure.
The footplates also have 2''heel guards that further make one's feet secure and comfortable.
They do not pivot because their base is attached to the frame. However, they are optimally positioned to 45 degrees that provide stable support.
The Resistance
The MaxKare Water Rowing Machine has a water resistance system that consists of a clear see-thru polycarbonate water tank with a multi-blade impeller inside, a recoil system, a 1'' nylon strap, and the handlebar.
The water tank has water level indicators on its wall, and these indicators show you where the level of water should be when filling it up.
It (water tank) mustn't be filled to the bream in order to prevent spillage when storing the rower vertically. It's recommended to have it filled to 2/3 of its capacity.
The resistance system doesn't have predefined resistance levels nor can it be adjusted as the First-Degree Fitness AR Water Rower.  
The resistance intensity is determined by the user's rowing ability. In other words, rowing energetically and faster intensifies the resistance while otherwise tempers it. Therefore, you get engaged with resistance level(s) that are proportionate to your rowing ability or fitness level, thus, suitable for everyone.
Although, the resistance can somewhat be adjusted by filling in more or less water to the tank. More water in the tank makes rowing difficult and less water makes it easier or in between.
The noise level the resistance system generates depends on the speed and the strength with which you pull the handlebar. It will suffice to say that the noise generated is rather pleasant than offensive because It brings that nostalgic feeling of rowing on real open water.
Overall, the noise is considerably quiet.
The Console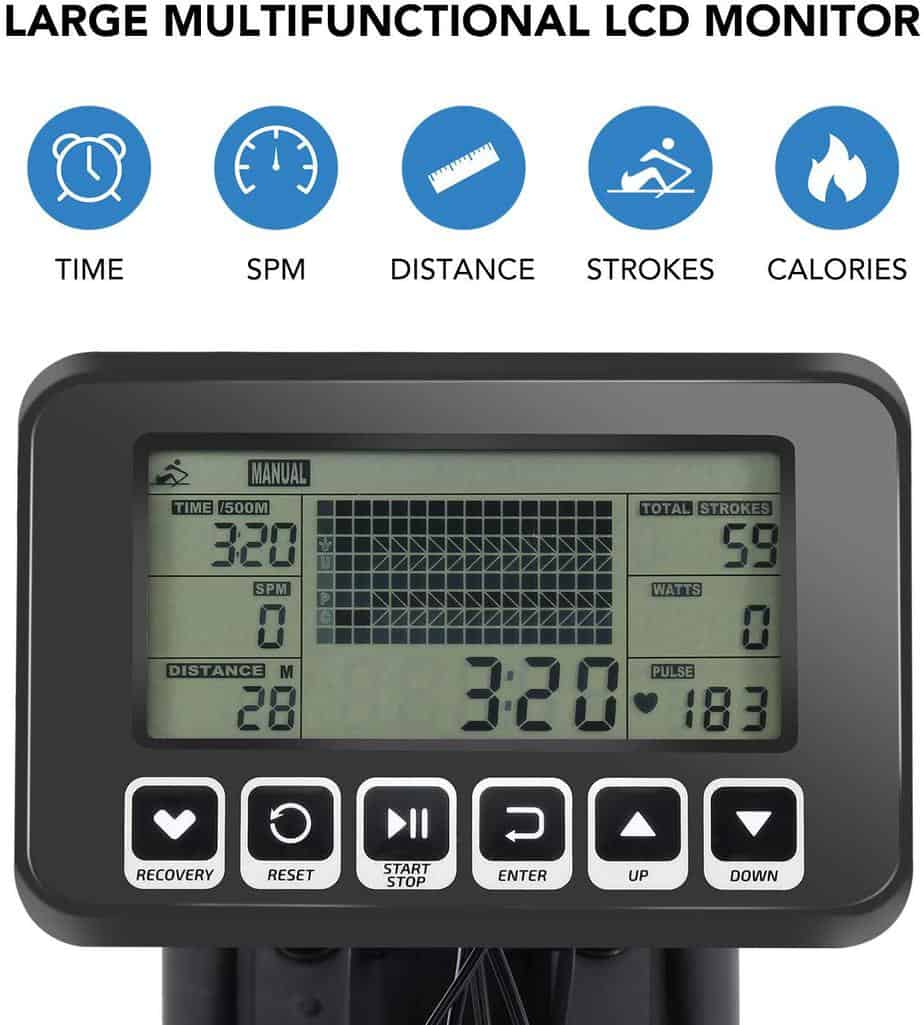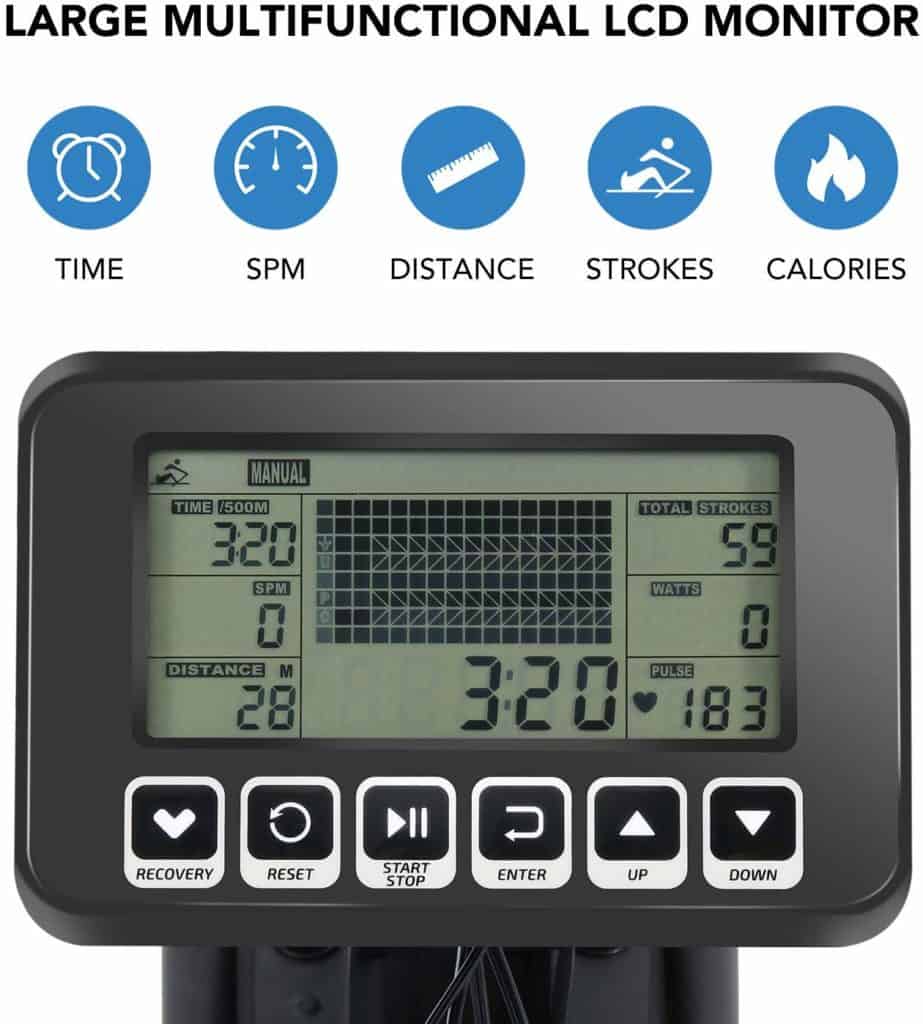 The MaxKare Water Rowing Machine is equipped with a console that features an LCD monitor with multiple segmented windows for simultaneous display of multiple workout stats.
Interestingly, it can be adjusted to any angle that is suitable for the user for a better view and good readability, even though it's not backlit.
It is a mid-range monitor that tracks workout progress by displaying Time, SPM (stroke per minute), Distance, Strokes, Calories, and pulse. It also offers a man-machine competition mode that makes your workout interesting and productive.
There is also a manual mode that provides you with an opportunity to select a workout goal for time, distance, strokes, calories, and pulse. This motivates you to reach your fitness goals as you aspire to stay physically healthy.
You need a 5.3 kHz HR chest strap device (not included) to be able to monitor and view your heart rate.
The console features a pulse recovery function that allows you to calculate and determine your fitness level. This provides your fitness rating at the end of your workout based on your heart rate. The result is usually between F1 (Excellent)-F6 (Poor).
There are 6 navigational buttons in total on the console and they are somewhat self-explanatory. From left to right; the recovery button when pressed at the end of a workout session calculates and displays your fitness level, while the reset button clears every existing value to zero upon pressing it. The third button which is start/stop allows you to turn the monitor On/Off and also to start and end any function in use.
The fourth button, ENTER, allows you to activate a function upon selection, and finally, the two last buttons, UP/DOWN, allow you to select a value and to increase or decrease a setup goal.
The monitor is battery-powered; it is powered by 2 AA batteries.
There are quite a number of functions on the console that could really motivate and inspire you to work out harder in order to achieve your fitness goal.
However, the monitor is not backlit, it does not connect online either, neither is it compatible with any fitness app.
Accessory
The MaxKare Water Rowing Machine, unlike most indoor rowing machines, has a water bottle holder. It is designated right within your fingertips for easy access.
Now, you can work out and maintain proper hydration.
Storage
The rower is easy to store away. It is integrated with transport wheels that help in the relocation process and it could be stored upright thereby hugely reducing the storage space it could have ordinarily taken.
The storage space would be 20'' W x 30'' L x 80'' H.
You don't need to remove the water in the tank before storage. There won't be any leakage as long as you don't exceed the tank's maximum level with the water.
Approval Rating
The MaxKare Water Rowing Machine has a good approval rating.
Amazon customers' reviews are positive and so are other review sites as well.
Users think it's a good investment considering the features it possesses and its affordable price.
Pros/Features Overview
Solid steel frame; supports 264 lbs./120 kg maximum user weight capacity
It could be stored vertically to save space without having to remove the water in the tank
The seat is large, cushioned, and contoured for enduring comfort
The glide system provides smooth and quiet motion
Footplates are adjustable, thus, users with different foot sizes can be accommodated comfortably
The handlebar is coated with soft rubber foam for a secure and comfortable grip
The LCD monitor is telemetry-enabled (HR chest strap not included) and it tracks workout values that keep you focused and motivated
There are two workout modes that include man-machine competition mode, and manual mode
There is a recovery function that calculates your fitness level
The rowing operation is quiet and smooth
The rower mimics outdoor water rowing
Working out with this rower provides a full-body effect that impacts over 80 percent of the body muscles
Water bottle holder included
It provides low-impact workouts
Not difficult to assemble
Assembly tools are included
Serious maintenance is not required
Cons
The LCD monitor is not backlit
Product Dimensions and Specifications
Length 78''
Width 17.3''
Height 35.4''
Storage dimensions: 20'' W x 30'' L x 80'' H
Net weight: 81 lbs./36.7 kg
Shipping weight: 86 lbs./39 kg
Maximum user weight capacity: 264 lbs./120 kg
Frame: Steel
Resistance: Water
Seat: Contoured and cushioned
Seat dimensions: 9.9'' L x 12.6'' W
Footplates: Adjustable
Console/Monitor: LCD with segmented windows, tracks Time, SPM (stroke per minute), Distance, Strokes, Calories, and pulse
HR monitoring: Wireless HR chest strap (not included)
Shipping
The MaxKare Water Rowing Machine is shipped by FedEx and delivery is made in a couple of days.
Assembly
It is not difficult to assemble this rower because the complicated parts have been attached/assembled. You only need to attach the rail, the seat, the front and the rear stabilizers, and the monitor.
These could take about 30 minutes, more or less to completely assemble.
Moreover, the needed tools for the assembly are included in the package, and an instruction manual that walks you through the process is also included.
Maintenance
The only maintenance that is required is to treat the water with a chlorine tablet periodically and probably change the water as well.
Apart from that, you need to keep the rower clean at all times especially the rail and the rollers so that they may function properly. Avoid liquid from getting into the console.
Conclusion
A water rower such as the MaxKare Water Rowing Machine brings the real outdoor rowing experience into the comfort of your home.
It does not only allow you to lose weight and improve the overall physical health but it does bring relief to spinal pressure, alleviate shoulder and back pain, and prevent lumbar muscle strain.