Most magnetic rowing machines do not have 16 adjustable resistance levels like the MaxKare RM-MKB901 Magnetic Rowing Machine. Although, some do, such as the ECHANTFIT CRW 4901 Magnetic Rower.
However, the point is, it is not common for rowers such as this to have many resistance levels that offer more workout challenge opportunities.
It is also affordable and good for the whole family because it possesses a sturdy alloy steel frame and a long rail beam that support 264 lbs./120 kg maximum user weight capacity and accommodates up to 6'5'' tall users.  
Click right here to have a peek at the best price on Amazon.
The Frame and Construction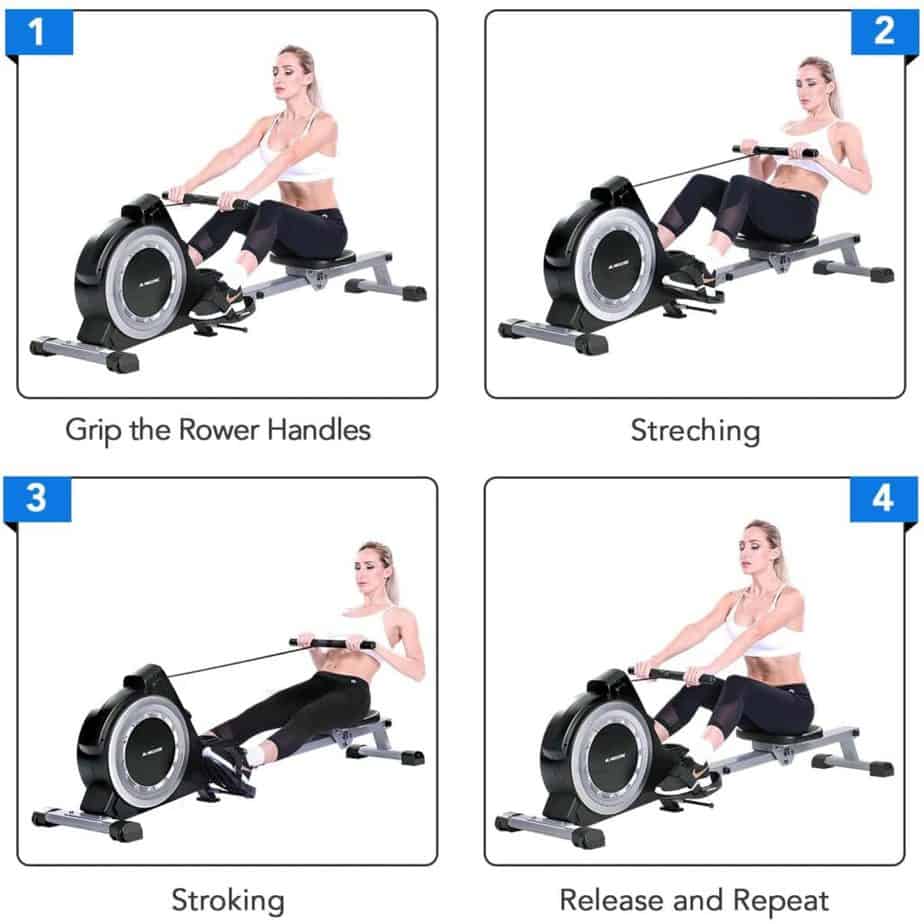 As aforementioned, the MaxKare Magnetic Rowing Machine has a solid silver-gray anti-corrosive coated alloy steel frame that looks neat and can endure the savage negative environmental effects. Other parts include plastic-made resistance covers, pedals, and end caps.  
When it comes to stability, the rower's robust base is designed in a way to guarantee that.
There are steel front and rear stabilizers that have plastic end-caps and levelers for floor-friendliness and ensuring that the unit can be leveled on a platform that is not so even.
Although, the use of a protective rubber mat could be an advantage to achieving superlative stability.
Since the rowing machine is portable with transport wheels at the front base, it can easily be moved around the room or apartment, and it only weighs 57.3 lbs./26 kg.
As expected, it requires a bit of space for workout activities as the assembled dimensions are 76'' long by 19.7'' wide by 18.5'' high. In other words, a workout area with perimeters 4'59'' length by 1'64'' width is needed.
Also, it is recommended to leave an extra clearance of 2' around the rower for convenience and safety.
That said, it is good to know that the unit doesn't need much space for storage because it is foldable. Hence, a storage area with perimeters of 3'11'' length by 1'64'' by 3'52'' height should suffice.
The Seat of the MaxKare RM-MKB901 Magnetic Rowing Machine
The seat is large and padded, hence, it is suitable for everyone even though some users may have their concerns.
The dimensions are 14'' width by 10'' length, and it is attached to the long 49'' rail beam with 2 rollers at the top and a roller underneath for smooth and quiet glide motion.
The rail beam is slightly slanted so that it enforces quick recovery motion that increases the body resistance to the legs for greater muscle group toning.
The floor to seat height from the rear is 11'' while from the front is 9''.
There is a sensor under the seat which is responsible for the stroke count data that is transmitted to the monitor.
As stated above, users that are up to 6'5'' can fit in on this rower because the rail supports inseams of 45''.
Do stretch exercises for proper blood circulation and maintain a proper posture on the rowing machine so that you don't feel butt distress during workouts.
Finally, the seat is comfortable in most cases, but you may use a gel seat cover to improve it if you feel the need.
The Handlebar
The handlebar of the MaxKare RM-MKB901 Magnetic Rowing Machine is straight with cushioned anti-slip grips.
It is attached to a 1'' nylon strap that doesn't snap easily no matter how long and frequent you exercise with the rower. This also makes the rowing to be smooth and silent as opposed to a rower with a chain anchor.
The Pedals
The pivoting pedals are large and textured with adjustable safety straps. They are great for everyone, especially for those with knee injuries.
They are predominantly made of plastic, but each is attached to a steel bolt that is screwed to the frame, hence, their ability to pivot.
Safety features such as a textured surface, heel guards, and Velcro straps are integrated to ensure that your feet are securely and comfortably placed.
The Drive/Resistance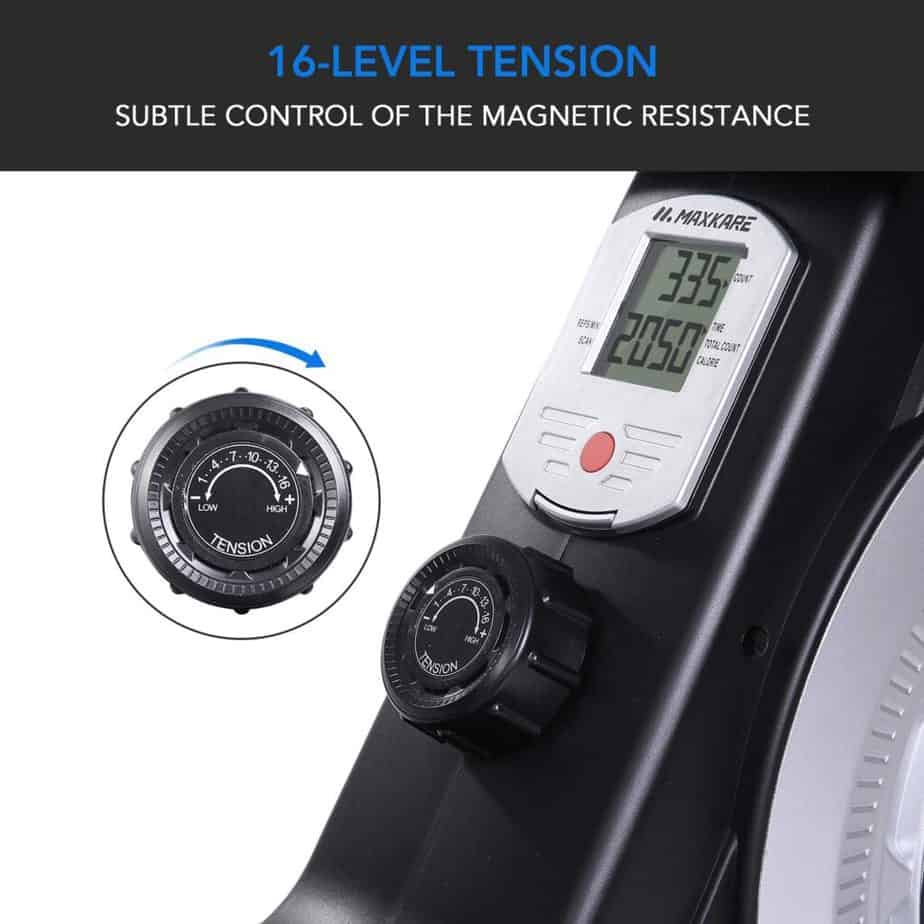 Needless to say, the MaxKare RM-MKB901 Magnetic Rowing Machine is equipped with a belt drive that mainly consists of the handlebar, a nylon strap, a pulley, and a weighted flywheel that is probably 5-7 lbs.
The resistance system is magnetic and manually adjustable. It is a frictionless resistance system that generates resistance when the included magnetic brake pad emits magnetic fields around the metallic flywheel.
The resistance intensity increases or decreases when the magnetic brake pad is closer or farther away from the flywheel, and this is controlled by dialing the tension knob clockwise or counterclockwise.  
There are 16 resistance levels to select from. In other words, the magnetic brake pad can be adjusted to 16 different positions for different workout challenges to take effect.
Since no friction occurs in the process of generating resistance, the operation of the rowing machine remains smooth and silent regardless of the resistance level that is being used.
Moreover, no part wears out, and no maintenance is required over time.
The Console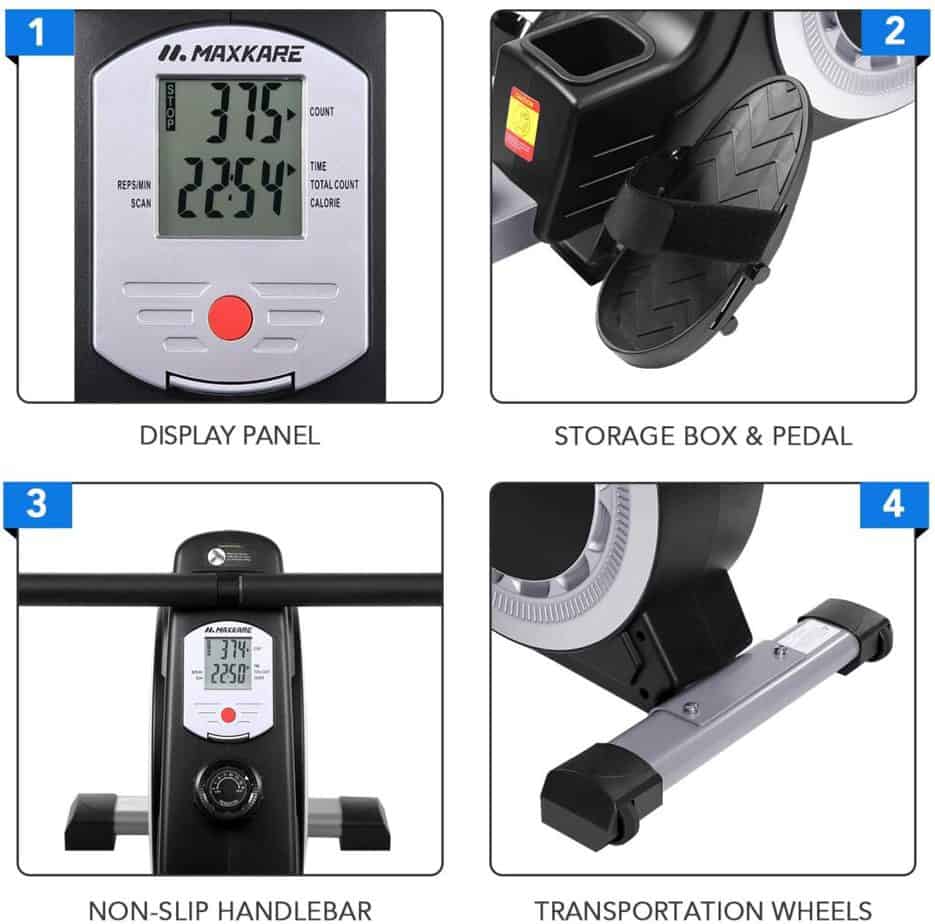 This rowing machine has got a console that features a basic LCD monitor that is non-backlit. It tracks your workout progress by displaying metrics such as Time, Count, Total Count, and Calories.
The data are displayed one at a time after every few seconds by the SCAN function. But it can be changed to display a certain workout metric of your choice instead.
Aside from tracking the aforementioned workout data, there is not much to be said about the console. No heart rate monitoring function or workout app connectivity.  
But to be fair, this is an entry-level rowing machine, it doesn't usually have these other advanced features.
So, if you wish to monitor your heart rate data and be able to track your workout progress more accurately, the use of an external heart rate device or wristwatch should be considered.
The monitor is powered by 2 AAA batteries (included), and it turns on when the button on the console is pushed or when you start rowing, and it automatically turns off when there is a few minutes idle moments.  
Accessory
The rower has a holder that is designed primarily for a water bottle but can be used for the placement of a small smartphone as well.
Storage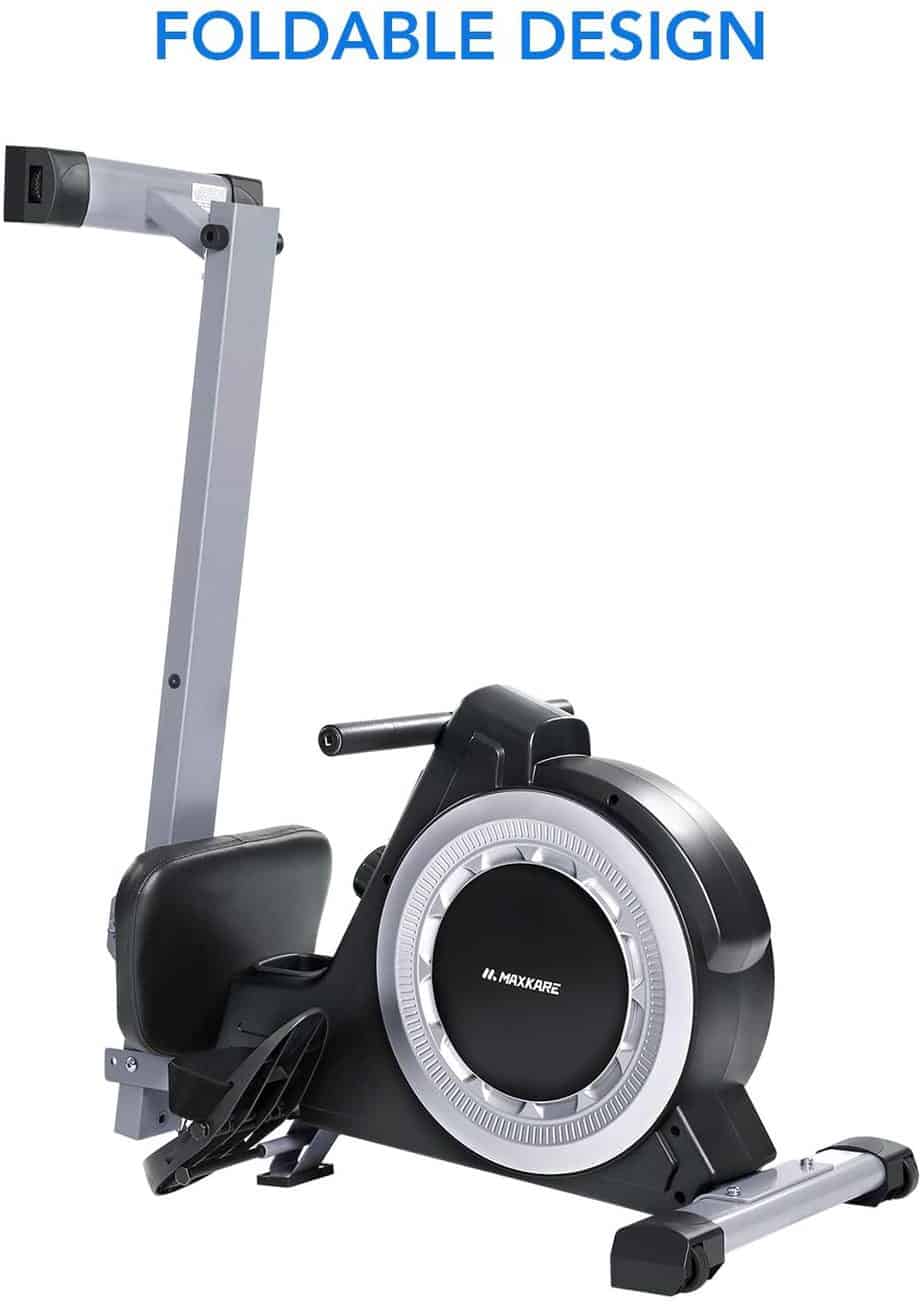 The MaxKare RM-MKB901 Magnetic Rowing Machine is foldable, portable, and lightweight. Hence, storage is pretty easy and convenient.
The folded dimensions are 37.4'' long by 19.7'' wide by 42.3'', and there are transport wheels at the front base.
So, it could be stored in a small area and can easily be moved. After all, it weighs only 57.3 lbs./26 kg.
Pros/Features Overview
Solidly built with a robust base for optimum stability
Supports 264 lbs./120 kg maximum user weight capacity
It has a long rail beam that makes it possible for taller users (up to 6'5'') to fit in
The rowing machine's operation is smooth and nearly silent, thanks to its belt drive and magnetic resistance system
Its slightly slanted rail promotes quick recovery motion for a better rowing experience
The magnetic resistance system provides 16 adjustable levels for different workout challenges
The pivoting pedals are large, textured, with heel guards and Velcro strap for safe and comfortable rowing
The handlebar grips are coated with soft rubber foam material
The seat is large and cushioned; hence, it is fairly comfortable
LCD monitor tracks Time, Count, Total Count, and Calories, and has a SCAN function
Easy to assemble
The maintenance requirement is very minimal
It is foldable, portable, and lightweight, hence, easy to store
A water bottle holder is included
It provides a full-body and low-impact cardio workouts
Cons
The monitor is basic and non-backlit
No heart rate monitoring function
No tablet holder
Warranty
Product Dimensions & Specifications
Length: 76.4''
Width: 19.7''
Height: 18.5''
Folded dimensions: 37.4'' L x 19.7'' W x 42.3'' H
Shipping dimensions: 45'' L x 25'' W x 9'' H
Net weight: 57.3 lbs./26 kg
Gross weight: 63.8 lbs./29 kg
Maximum user weight capacity: 264 lbs./120 kg
Maximum user height supported: 6'5'' (45'' inseam)
Frame: Alloy steel
Drive: Nylon strap
Resistance: Manual magnetic with 16 adjustable levels
Seat: Large and cushioned; dimensions: 14'' W x 10'' L
Handlebar: Anti-slip and cushioned
Pedals: Pivot, textured, large with heel guards & Velcro straps
Monitor: Basic nonbacklit LCD
Floor to seat height: 11''
Water bottle holder included
Transport wheels included
Shipping
The MaxKare RM-MKB901 Magnetic Rowing Machine is shipped in a box that weighs 63.8 lbs./29 kg with dimensions of 45'' long by 25'' wide by 9'' high.
It gets shipped out upon making an order and the delivery takes about a couple of days.
Assembly
Since the complicated assembly aspect of the rowing machine is already done by the manufacturer, it is easy to put together. Simply follow the instructions on the included owner's manual, and you will be done sooner than later.
It takes about 30 minutes or an hour to completely get it up and running.
Maintenance
It will suffice to say that no maintenance is needed. However, you will have to keep it clean after every use.
Store it in a cool, dry, and clean area.
As a precautionary measure, inspect it for any loose or broken parts before use to prevent an accident and further damage to the rower.
Conclusion
Consider acquiring the MaxKare RM-MKB901 Magnetic Rowing Machine if you are on a budget, and your goal is to lose weight and stay physically healthy.
However, if you do care for additional features, then you may have to look up Schwinn Crewmaster.