The Advenor Foldable Magnetic Rowing Machine represents one of the most basic rowing machines, hence, its affordability.
In terms of features, it is a close replica of the Merax Adjustable Magnetic Resistance Machine because it does not even have Bluetooth app connectivity like the Fitness Reality 1000 Plus Rowing Machine. 
However, we are going to dive in deeper to look at its ups and downs and also evaluate the sentiments of users.
Meanwhile, click right here to have a peek at the best price of the Advenor Foldable Magnetic Rowing Machine on Amazon.
Frame and Construction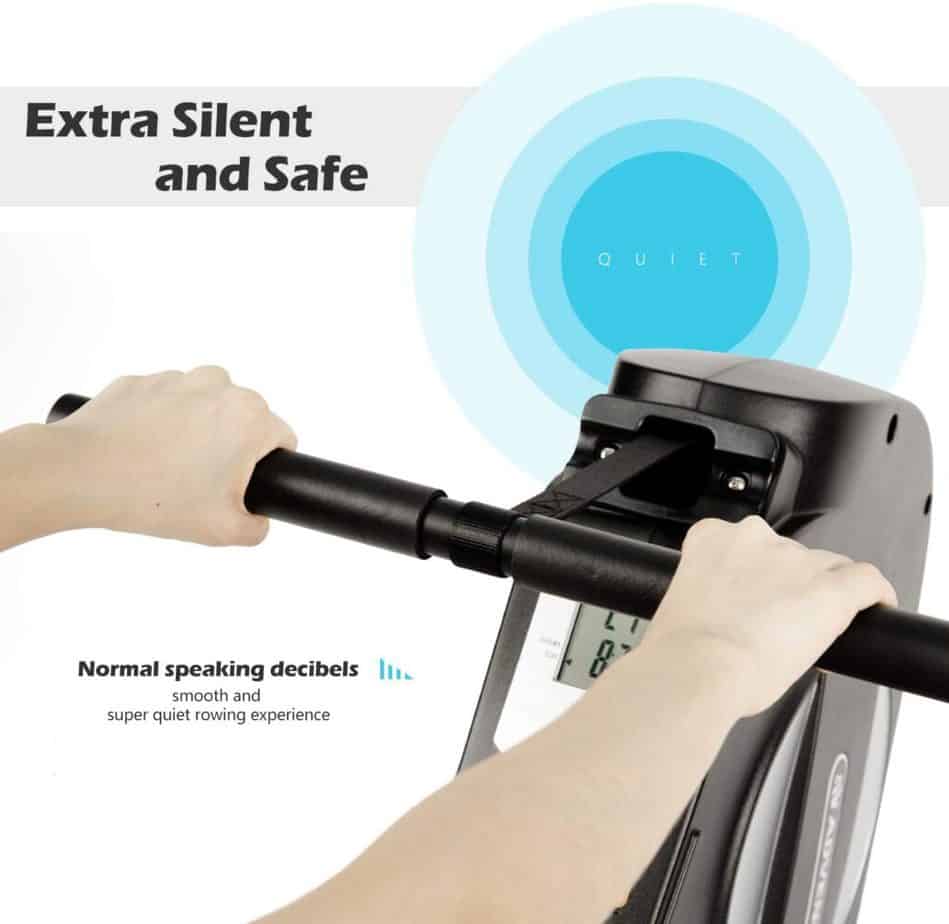 The Advenor Foldable Magnetic Rowing Machine is constructed with a black anti-corrosive steel frame to support a maximum user weight capacity of 265 lbs./120 kg. Its other parts, such as the resistance system covers, the pedals, and the stabilizer end-caps are made of ABS.
The unit has a robust base framework that features 3 stabilizers; these include the front and rear horizontal bars and a middle vertical steel bar. Also, there are adjustable levelers at the rear base for leveling up the rower on a not-so-even platform.
As a result, you will experience outstanding stability during workouts.
That said, make sure to exercise with the rowing machine on an even platform and use a rubberized mat if need be.
This unit is not compact, as the case with most of the rowing machines out there. However, it has a space-saving design that allows you to reduce the size significantly when you wish to store it away by folding it up.
The assembled dimensions are 72.5'' long by 19.52'' wide by 25'' high. Therefore, to use the machine for workouts, you are going to need an area with perimeters of 6'04'' length by 1'62'' width.
Additionally, it is recommended to provide an extra clearance of 2' around it for a safe and convenient workout experience.
The folded dimensions are 32'' long by 19.52'' wide by 47.5'' high. Hence, a storage area with half the size of the workout length can accommodate it.
The 39.5'' long slide rail beam is long enough to allow users that are up to 6'3'' tall to workout with the machine.
The Seat of the Advenor Foldable Magnetic Rowing Machine
The seat of this rowing machine is heart-shaped and cushioned with a Polyfoam (PU) for maximum comfort.
It is large with dimensions of 11.6'' long by 14.96'' wide by 1.97'' thick.
It is attached to the slide rail with 2 big rollers at the top of the beam and 1 other roller underneath it for stable, smooth, and quiet glide motion.
The floor to seat height is about 12''.
Should you find the seat lacking in terms of comfort, the use of a gel seat cover can improve it so that you may work out longer without feeling bored.
The Handlebar
The handlebar is straight and long enough to be suitable for users with different shoulder-width for a comfortable rowing experience
It is cushioned with anti-slip rubber foam material for secure and comfortable grips that prevent slippage and blisters that may occur as a result of frequent usage.
A one-inch nylon strap is attached to it and anchored to the drive/resistance system. For this reason, the rowing machine remains quiet and smooth with every stroke you pull.
In addition to that, the nylon belt doesn't require periodic lubrication as opposed to a handlebar with a chain, like the one on the Concept2 Rowing Machine.
The Pedals
This rowing machine incorporates large and anti-slip pedals that have heel guards and adjustable safety straps designed for secure and proper foot placement.
This also means that different food sizes can be accommodated.
They are made of durable plastic attached to a steel bolt each. This (bolt) makes them pivot to promote foot adherence to movement during workouts. Hence, the ankles do not get stressed or strained no matter how long you work out with the rower.
Drive/Resistance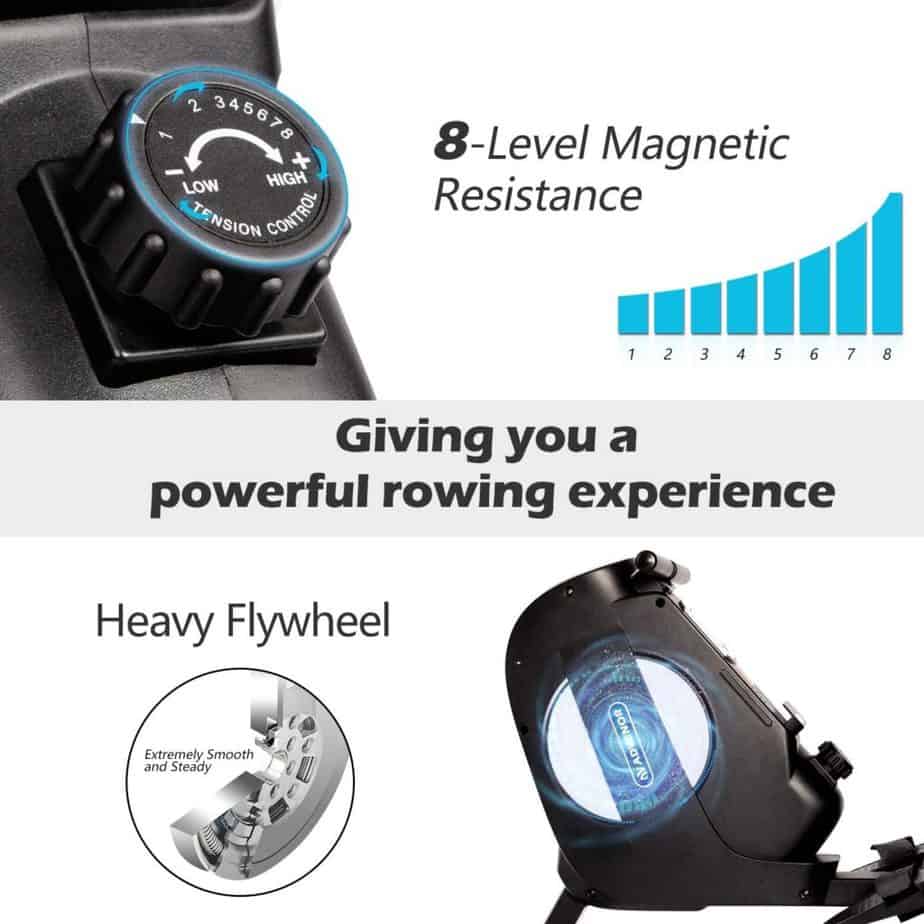 As aforementioned, the Advenor Foldable Magnetic Rowing Machine has a nylon belt that is attached to the drive, hence, it is belt-driven.
While the resistance system is magnetic and manually adjustable. It has 8 levels to which you can adjust to increase or decrease the workout challenge.
Maximize or minimize the workout difficulty by turning the tension knob that is situated below the console clockwise or counterclockwise, respectively.
In other words, the tension knob controls and shifts the magnetic brake pad that emits magnetic fields around the 2.2 lbs./1 kg perimeter weighted flywheel without actually making contact. Thereby eliminating the possibility of friction that might cause a squealing sound or wear out the parts.
So, no maintenance is required, and the operation of the rowing machine remains smooth and quiet even in the event a high resistance level is used.
The manual magnetic resistance system offers non-dynamic resistance. As a result, the maximum resistance level does not provide an extreme workout challenge, but enough to kick-start the heart and metabolism for increased energy and weight loss.
The Console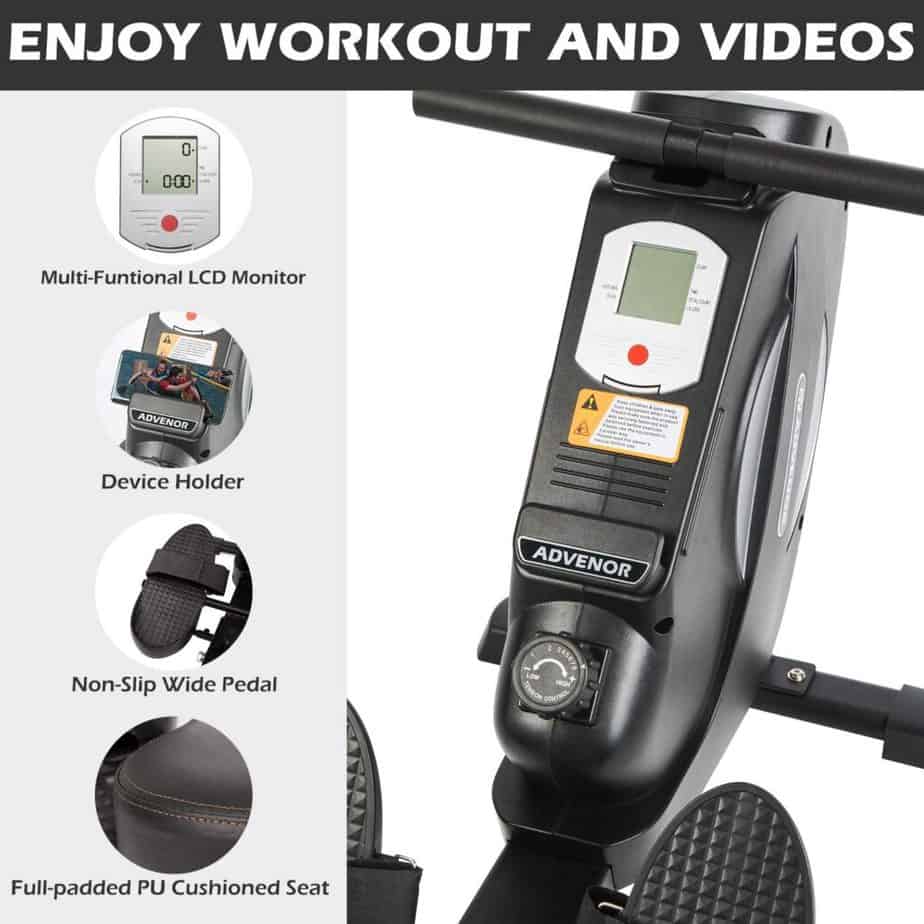 The Advenor Foldable Magnetic Rowing Machine, as anticipated, features a basic console that has a nonbacklit LCD monitor for tracking workout stats such as Time, Count, Total Count, and Stroke.
Since the monitor cannot display all the metrics simultaneously, a SCAN function is included to rotationally show the metrics one at a time after every few seconds. Although, it is possible to turn off the SCAN mode so that a permanently displayed workout metric of your choice may be shown instead.
The single button on the console allows you to navigate through its functions so that you can set and reset the monitor.
The readability is good when viewed in a well-lit room. Otherwise, you will have a hard time viewing the display because the monitor does not have a backlight.
The monitor is powered by 2 AA batteries (included).
To turn it on, simply push the button on the console or just start rowing the machine; and it turns off automatically when the unit idles for a few minutes.
Accessory
The only accessory on this unit is the built-in tablet holder on the console. It enables you to keep a smartphone/tablet device within reach for taking calls and entertainment purposes during workouts.
Interestingly, most sizes of devices can be placed on the tablet holder without blocking the view of the monitor.
Storage
As stated earlier, the rowing machine is not compact but it has a space-saving design that makes storage easy.
It can be folded by raising the slide rail when it is unlocked, while the front-mounted transport wheels help you to roll it away for storage.
A storage area with perimeters of 2'66'' length by 1'62'' width will suffice.
Therefore, it can be stored in a corner of the room.
Approval Rating
The Advenor Foldable Magnetic Rowing Machine has a good approval rating on Amazon as of the time of this review.
This is an indication that the majority of the users are satisfied with their purchases.  
Pros/Feature Overview
Strong and affordable
Sturdy and stable
Supports 265 lbs./120 kg maximum user weight capacity
Has a space-saving design that enables users to store in a considerably small space
The seat is cushioned and integrated with rollers for smooth and quiet glide motion
The operation of the rowing machine is quiet and vibration-free
The handlebar is coated with anti-slip rubber foam for secure and comfortable grips
The pedals pivot, and are large, and texture; they have heel guards and adjustable safety straps for maximum safety and comfort
There is an LCD monitor that tracks your workout progress by displaying Time, Counts, Total Counts, and Stroke
A tablet holder is included
Maintenance-requirement is pretty low
There are transport wheels for easy relocation process
The manual magnetic resistance system provides 8 adjustable levels for different workout challenges
The rowing machine provides full-body and low-impact cardiovascular workouts for overall physical fitness improvement
Easy assembly
Cons
No water bottle holder
No heart rate reading
The monitor is basic and nonbacklit
Warranty
Product Dimensions & Specifications
Length: 72.5''
Width: 19.52''
Height: 25''
Folded dimensions: 32'' L x 19.52'' W x 47.5'' H
Shipping dimensions: 41.7'' L x 26.3'' W x 10.2'' H
Net weight: 54.45 lbs./24.69 kg
Gross weight: 55.1 lbs./25 kg
Seat to floor height: 12''
Frame: Steel
Slide rail length: 39.5''
Maximum height supported: 6'3''
Drive: Nylon belt
Resistance systm: Manual magnetic with 8 adjustable levels
Seat: Large and cushioned
Handlebar: Straight and coated with anti-slip rubber foam
Pedals: Pivot, large, and anti-slip with heel guards and adjustable safety straps
Transport wheels included
Tablet holder included
Console: Basic with an LCD monitor
Shipping
The Advenor Foldable Magnetic Rowing Machine arrives in a box that weighs 55.1 lbs./25 kg with dimensions of 41.7'' long by 19.52'' wide by 47.5'' high.
The shipping process starts once an order is placed.
Assembly
The assembly of this unit is not complicated, instead, it is straightforward and easy because the heavy lifting has been done for you by the manufacturer.
In other words, the drive and the resistance system are already pre-installed. Thus, you only need to attach the slide rail, the seat, the pedals, the front, and rear stabilizers to the core unit.
It takes about an hour, more or less to completely put the machine together.
Moreover, the tools needed for the job and an instruction manual that guides you through the process are included in the package.
Maintenance
Simply make sure that the rowing machine is kept clean at all times.
Store it in a clean, cool, and dry area.
Finally, endeavor to examine it before use to ascertain that every part is in good condition.
Conclusion
If you are on a budget and needed a rower, the Advenor Foldable Magnetic Rowing Machine might just be a good investment as it enables you to work out in the comfort of your home for improved physical fitness.