Marcy NS-6002RE Magnetic Rower Review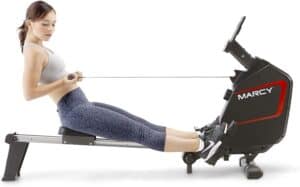 The manufacturer of the Marcy NS-6002RE Magnetic Rower has made a name for itself in the industry over the years. They have a wide range of fitness exercise equipment ranging from folding stationary bikes, upright bikes, recumbent bikes, cycling bikes, and even home gyms.
Product Brand: Marcy
Product In-Stock: InStock
The manufacturer of the Marcy NS-6002RE Magnetic Rower has made a name for itself in the industry over the years. They have a wide range of fitness exercise equipment ranging from folding stationary bikes, upright bikes, recumbent bikes, cycling bikes, and even home gyms.
Therefore, one would presume that anything that has their name on it should be great. Yes, but is that the case with the Marcy NS-6002RE Magnetic Rower? Well, you will find out in a couple of minutes.
Meanwhile, click right here to have a peek at the best price of the Marcy NS-6002RE Magnetic Rower.
The Frame & Construction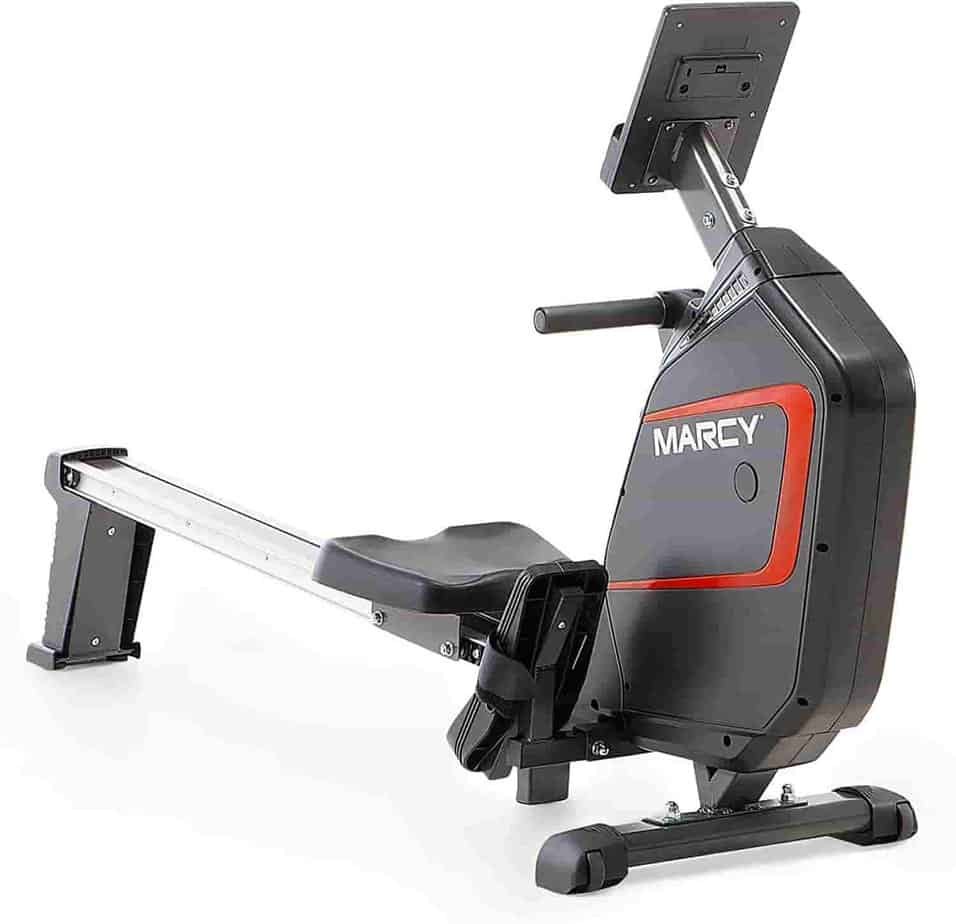 The Marcy NS-6002RE Magnetic Rower has a premium steel frame that is coated with anti-corrosion grey paint. The slide rail is made of extruded aluminum, while other parts are made of ABS material.
The rail is not horizontally straight but it is slightly angled to about 5 degrees toward the front base. In other words, the rear support is longer than the one at the front where the drive/flywheel system rests.
As a result, the user's motion recovery is faster and the legs' muscle groups are built better.
Adjustable levelers are not integrated into any of the stabilizers. However, there are two stabilizers incorporated and a small one in the middle close to the front base for maximum stability. Therefore, wobbling will never be an issue so long the unit is being used on a leveled platform on top of a protective rubber mat.
The rower is not very lengthy. The overall assembled dimensions are 74.5'' long by 20'' wide by 32'' high. Consequently, it requires a workout area with measurements of 6'2'' (189 cm) in length by 1'6'' (50.8 cm) in width.
As the best practice, safety, and ease of access clearance is to be considered. Therefore, it is recommended to leave a 2' clearance on either side of the rower and 3' at the rear part.
This also means that not every room can accommodate the unit for exercises. Fortunately, the machine is foldable, so storage is made easy because it doesn't take up too much space.
There are transport wheels at the front base that help in the relocation process.
The Seat of the Marcy NS-6002RE Magnetic Rower
The seat is designed to provide optimal comfort because it is large (11.5'' W x 9'' L), padded, and contoured.
It is built on a steel frame that is attached to the slide rail with two small ball-bearing rollers that are insulated in plastic on each side of it for stable, smooth, and quiet motion.
The seat-to-floor height is about 10'' high which is low for those that have problematic joints. If this should be a concern to you look up the XTERRA Fitness ERG220 Rower; it has a 16' floor-to-seat height.
The Handlebar
The handlebar has the most common designs for indoor rowing machines. It is straight and made of a metallic core with rubberized sleeves for comfortable and secure grips.
Thus, you can train frequently, and longer without experiencing calluses in the palms.
Since the handlebar Is attached to a 1'' nylon strap, every stroke that you pull is quiet and smooth. Also, no lubrication will be required as opposed to a chain anchor.
Finally, there are no heart rate sensors, or control buttons integrated into the handlebar.
The Footrests
The footrests are made of quality plastic and are attached to steel bars.
They are large and textured with adjustable safety straps and heel guards for proper and secure foot placement. Thus, different foot or gym shoe sizes can be accommodated.
The footrests do not pivot but instead, they are fixed or positioned at a 45 degrees angle.
The Resistance System
The Marcy NS-6002RE Magnetic Rower is equipped with a manual resistance system. This comprises a magnetic brake pad that is connected to the tension control knob and the metallic flywheel. So, when the resistance is adjusted, the magnetic brake pad moves closer or farther away from the flywheel as it releases a magnetic force that induces resistance.
The resistance becomes strong when the magnetic brake pad is closer to the flywheel and it gets weaker when it departs from it. This happens when the tension control knob is turned clockwise or counterclockwise to a desired resistance level.
There are 8 resistance levels that provide easy to fairly difficult challenging workouts for weight loss, improvement of stamina, endurance, and overall physical wellness.
That said, the highest resistance level, being level 8, only offers a fairly challenging workout. Therefore, professionals or advanced athletes may be disappointed as regards the resistance.
If you are looking forward to challenging or outdoing yourself, then you may want to go for a dynamic air or water rowing machine.
Nevertheless, this rowing machine's operation remains smooth and quiet even when the highest resistance level is engaged because hydraulic and magnetic resistance systems are the quietest of the different types of resistance systems.
On top of that, it does not need any maintenance or part replacement because no friction occurs during the process of generating resistance.
Since the resistance is manually adjustable, the rower does not need to be plugged into a power source in order to be functional.
The Console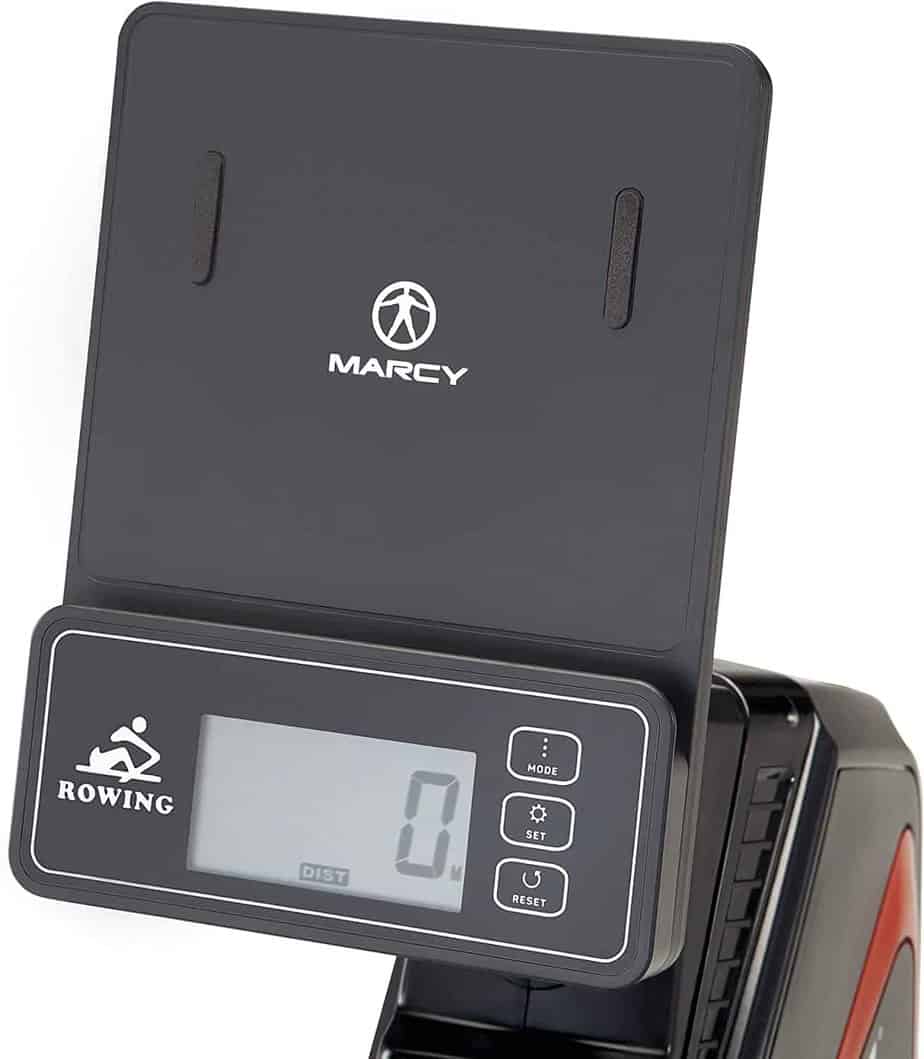 The Marcy NS-6002RE Magnetic Rower features a basic console that does not have workout programs or online capability.
It only tracks workout stats such as Time, Counts, Total Count, Speed, and Calories Burned via its monitor.
These are displayed rotationally one at a time after every few seconds by the SCAN function so that you can view your workout progress since they can't be displayed simultaneously. However, you can set a certain workout value that you wish to view constantly.
The display does not have a backlight; thus, the readability might be compromised if viewed in a room that is not well-lit.
Moreover, since the monitor is not telemetric-enabled and there are no HR sensors on the handlebar, it is not possible to keep an eye on your target heart rate zone. Unless you use an external HR monitoring device such as an HR wristwatch.
The monitor is easy to operate. There are only three buttons that include Mode, Set, and Reset buttons on the console. The Mode button enables you to select the workout value you wish to be displayed on the monitor as aforementioned or to select the SCAN function that rotationally displays all the workout stats.
Fortunately, you can set up a countdown goal for Time, Count, or Calories, and the Set button allows you to do this.
The Reset button, just as the name implies, allows you to clear an existing setting or data for a new setup.
The monitor is battery-powered. It utilizes 2 AA batteries which are to be purchased separately because they are not included in the package. The monitor automatically turns off when there is no activity on the rowing machine in order to save the battery's power, and it automatically turns on when you start rowing.
It can also be turned on by pushing the Mode button.
Accessory
The rowing machine has a tablet holder positioned at the top of the console which makes it possible to view the display even when a device is placed on it. You will be able to watch videos or listen to music without any downtime on viewing your workout progress.
There is also a water bottle holder for keeping water handy for the maintenance of proper hydration during a workout session.
Storage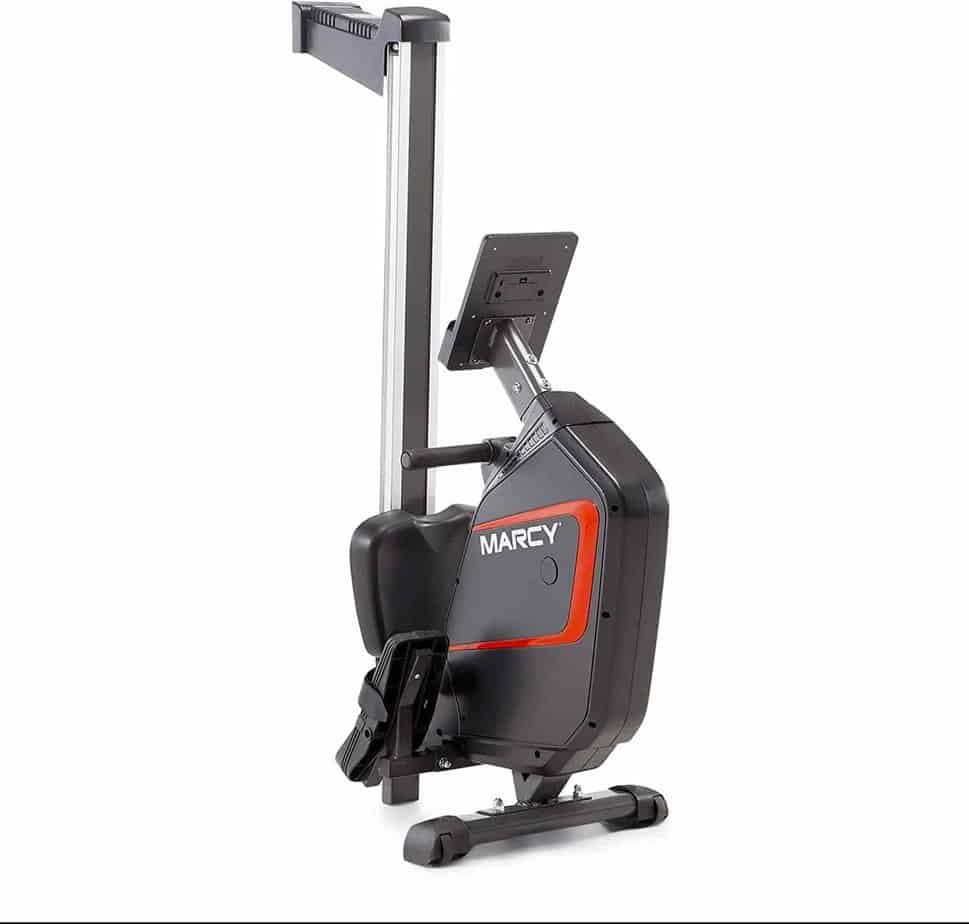 The Marcy NS-6002RE Magnetic Rower is foldable and lightweight. Therefore, it is a storage-friendly unit.
When folded a storage area with measurements of 2' (61 cm) in length by 1'55'' (47 cm) in width can accommodate it.
Also, it can easily be moved around the room or apartment via the transport wheels at the front base since it only weighs 64 lbs./29 kg.
Pros/Features Overview
It is durable and stable
Sturdy construction; accommodates up to 300 lbs./136 kg user weight
It is not extremely large when fully assembled
It has a space-saving design; thus, it doesn't take up too much storage space
The included transport wheels allow users to easily move it around the room
The seat is large, contoured, and padded for maximum comfort
The handlebar is straight and cushioned with anti-slip material for firm and comfortable grips
The footrests are large, textured, and flexible (not pivoting) with safety adjustable straps and heel guards to securely and comfortably accommodate different foot sizes
The magnetic resistance system provides 8 adjustable levels for weight loss and cardiovascular health improvement.
The LCD display tracks Time, Counts, Total Counts, Speed, and Calories
Its operation is smooth and quiet
Water bottle holder included
A tablet holder is included
Not difficult to assemble
Easy to maintain
Cons
Not suitable for professional rowers
The monitor is basic and nonbacklit
No workout programs or online connectivity
No HR monitoring function
The seat-to-floor height is about 10''
Warranty
Product Dimensions & Specifications
Length: 74.5''
Width: 20''
Height: 32''
Folded Dimensions: 24'' L x 18.5'' W x 53.5'' H
Shipping Dimensions: 47.24'' L x 22.83'' W x 11.02'' H
Maximum User Weight Capacity: 300 lbs./136 kg
Frame: Alloy steel
Net Weight: 64 lbs./29 kg
Gross Weight: 66 lbs./30 kg
Seat: Large, contoured, and padded (11.5'' W x 9'' L)
Seat-to-Floor Height: 10''
Handlebar: Straight, coated with soft rubber foam, and cylindrical in shape
Footrests: Large and textured with adjustable safety straps and heel guards
Drive: Nylon
Monitor: Basic LCD
Resistance: Manual magnetic with 8 adjustable levels
Water bottle holder included
Tablet holder included
Transport wheels integrated
Shipping
The Marcy NS-6002RE Magnetic Rower comes in a box that weighs 66 lbs./30 kg with dimensions of 47.24'' long by 22.83'' wide by 11'' high.
It may arrive in a couple of days to weeks depending on the destination, and there is no shipping charge as well. However, shipping fees may apply for certain destinations.  
Assembly
Assembling this rowing machine is a walk in the park because its major components are preassembled at the factory.  
You will only have to put together parts such as the stabilizers, the rail, the seat, the pedals, the console, and the tablet holder.  
This may take about an hour or less, depending on your dexterity.
An instruction manual and tools for a successful assembly are included in the package.
Maintenance
There is no maintenance that requires taking parts apart. Instead, it needs to be kept clean on a regular basis. Endeavor to check the parts before workouts to be sure that they are tight and in good condition.
Then, store in a safe, cool, clean, and dry area.
Conclusion
The Marcy NS-6002RE Magnetic Rower is an entry-level unit. It is designed to be used at home or in the office.
It supports 300 lbs./136 kg maximum user weight capacity, and it features an LCD monitor that tracks Time, Speed, Counts, Total Counts, and Calories.
This will be suitable for beginners and intermediary athletes that wish to lose weight, tone muscle groups, and improve stamina.