There is a reason why the Marcy Foldable Exercise WITH Adjustable Resistance NS-652 was listed as one the best folding exercise bikes there is. It is a perfect tool for weight loss and can be acquired at an affordable price.
Its compact design makes it the right choice for those that do not really need bulky fitness equipment for a home gym.  Yet, it is very sturdy and stable due to the steel frame and the well thought out base framework.
It supports 250 pounds/113 kg maximum user weight and has a 2-way adjustable seat that allows users of different heights and sizes to be accommodated.
You should be able to keep track of your workout progress because the LCD monitor displays data such as time, distance, speed, Odometer, and calories burned but unfortunately does not have heart rate display capability. If you wish to monitor your heart rate you can either purchase an external heart rate monitoring device or purchase another upright bike with a heart-rate monitoring feature such as the Exerpeutic GOLD 500 XLS Foldable Upright Bike or the Ivation Foldable Exercise Upright Bike.
Click right here to have a peek at the price of the Marcy Foldable Exercise Bike with Adjustable Resistance NS-652 on Amazon.
The Frame and Construction
The Marcy Foldable Exercise Bike with Adjustable Resistance NS-652's frame is made of solid 14 gauge steel that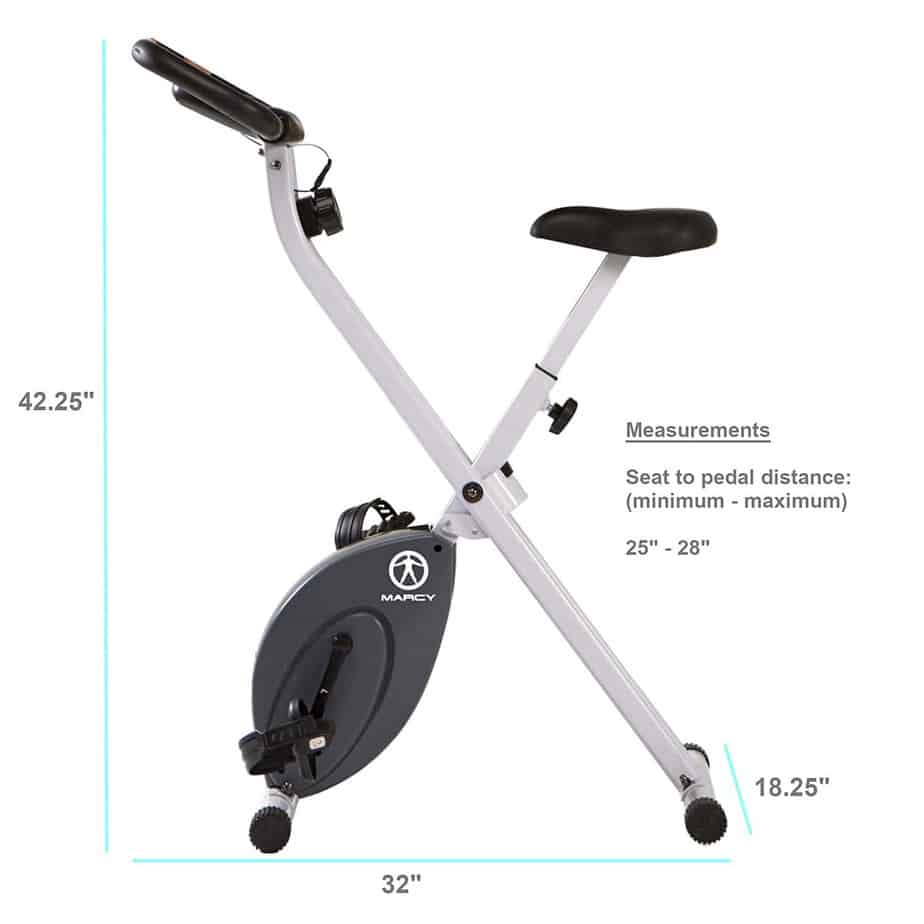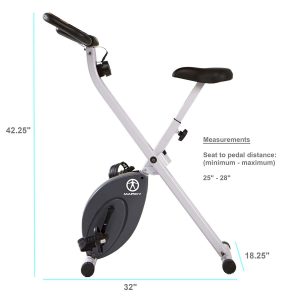 supports 250 pounds/113 kg maximum user weight capacity. It is coated with anti-corrosive and scratch paint that protects it from rusts and scratches.
It is stable and sturdy due to the integrated steel stabilizer bars at the front and the rear bases. The base is equally surface friendly because of the rubber cap on each end of the stabilizer bars.
The bike has an X-shaped design that allows the user to easily fold it up when not in use. It is a complete compact machine with a space-saving design. It doesn't take up much space while fully assembled and it even takes much less space when folded up for storage.
The overall assembled dimensions of the upright bike are 32 inches long by 18 inches wide by 42 inches tall. Obviously, it has a small footprint that requires a workout area of 2.7 feet long by a 1.5-foot wide area. However, an additional clearance of 2 feet at the rear and on each side is recommended so that you can exercise with safety and convenience.
The folded dimensions are 14 inches long by 18 inches wide by 51 inches tall. Basically, the bike is reduced to more than half its size when folded up.
It a lightweight machine that weighs 37 pounds/16.7 kg which makes it easier to be moved from one spot to another even as it contributes to the bike's stability.
The Marcy Foldable Exercise Bike with Adjustable Resistance NS-652 is simply a handy in-home upright bike that provides light to medium cardiovascular exercises that burn tons of calories.
The Seat, the Handlebar, and the Pedals
The distance between the seat and the pedals are 25 inches minimum and 28 inches maximum. This means the seat is 2-way adjustable, i.e. vertically upward and downward.
It is straightforward to adjust to your preferred position for a comfortable workout experience and only takes seconds to adjust. It is suitable for users between the heights of 5 to 6 feet tall, and there could be restrictions if shorter or taller individuals decide to use it.
The saddle is large and fairly cushioned with high-density foam to provide the much-needed comfort to the butt. But does it really provide comfort? Well, the Amazon customer reviews indicate that it is comfortable considering the fact that most saddles on the indoor cycling bikes are hardly very comfortable. However, if you find the need to enhance its comfortability you might use a gel seat cover to do so.
The handlebar on the NS-652 upright bike is ergonomically designed to provide different posture grips. It is also coated with soft rubber foam material intended to provide a firm and comfortable grip during workouts. This ensures that your hands are secure and prevents blisters in the palms.
As you may have already known, it does not have any HR sensors embedded in it and consequently no heart rate monitoring feature.
The handlebar is also non-adjustable but designated in a position that could be suitable for most users once the seat is adjusted.
The unit features anti-skid pedals with safety adjustable straps that secure the feet in place while working out.
The counterbalanced pedals are best used with barefoot or any standard gym shoes. Just in case you are wondering if you can replace the pedals with another set you prefer, YES, you can but make sure that the thread is the same.
The pedals are also bidirectional; this means you can pedal in reverse in order to exercise more muscle groups.
The Drive
The Marcy Foldable Exercise Bike with Adjustable Resistance NS-652 features a belt drive system that is smooth and quiet during operation. Very suitable for a small room or apartment because when using it the family or the neighbors won't feel bothered.  You can also enjoy your favorite TV show or listen to music while working out without turning the volume so high.
The drive is also maintenance-free without any duty on your side to lubricate or adjust anything periodically.
The drive consists of a small perimeter weighted flywheel that provides consistency in momentum even though it is small, a V-belt, solid crankset, and steel made crank arms. These are elements that make the drive a force to reckon with.
The Resistance
The Marcy Foldable Exercise Bike with Adjustable Resistance NS-652 has a manual magnetic resistance system with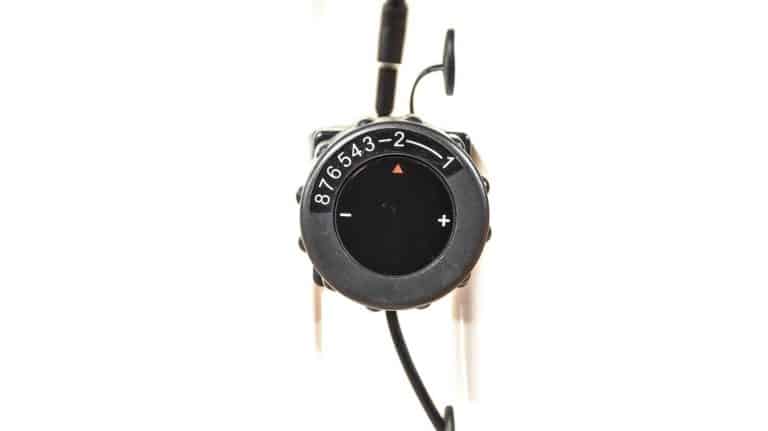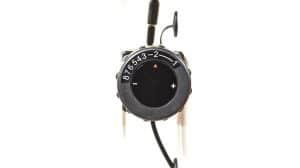 8 levels.
The resistance is generated by the magnetic field (provided by the magnetic pad) around the flywheel. This means that there is no direct contact between the flywheel and the magnetic pad, thus no friction is encountered.
Consequently, the magnetic pad does not require a replacement because it does not wear out. In other words, the resistance system is also maintenance-free.
You can easily adjust the resistance from light to difficult resistance by turning the tension knob clockwise from level 1 to 2, 3, 4, 5, 6, 7, and 8.
The resistance is suitable for beginners and those that simply wish to improve their overall physical health. It is also suitable for the elderly and those recovering from injury.
The Console
The Marcy Foldable Exercise Bike with Adjustable Resistance NS-652 rather has a basic console with a 2 inches-LCD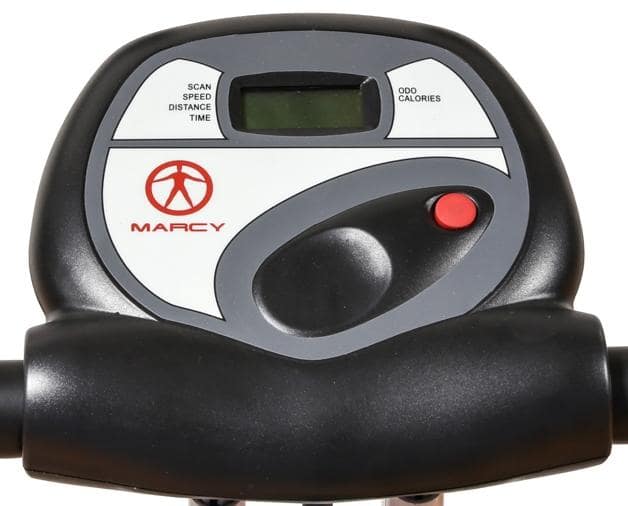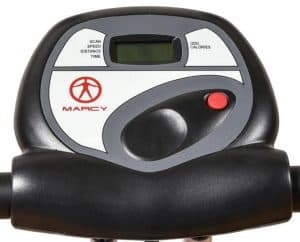 display monitor.
There is a single MODE button on the console used for navigation. You can turn ON the monitor by pushing the button once, and can also push and hold the button for a few seconds to set a preferred workout value you wish to view constantly on the monitor. By default, the monitor displays all the workout values such as time, distance, speed, calories burned, and the Odometer one at a time after a couple of seconds and rotationally which is otherwise known as the SCAN function.
The monitor allows you to monitor your workout progress so that you can remain focused on achieving your goals.
The monitor automatically turns ON as well when you start using the bike and it auto goes off if there is no activity on the bike for a few minutes in order to save the battery power.
The monitor is powered by 2x AAA batteries which are not included in the package.
The monitor displays values with high readability but could be diminished if viewed in a poorly-lit room because it is not backlit.
Accessory
There is no accessory such as the tablet holder that is included on the Marcy Foldable Exercise Bike with Adjustable Resistance NS-652.
You can simply improvise if you wish to keep your phone/ tablet or water bottle closer to you while exercising.
Storage
The storage of the NS-652 upright bike is a piece of cake because it is small and lightweight.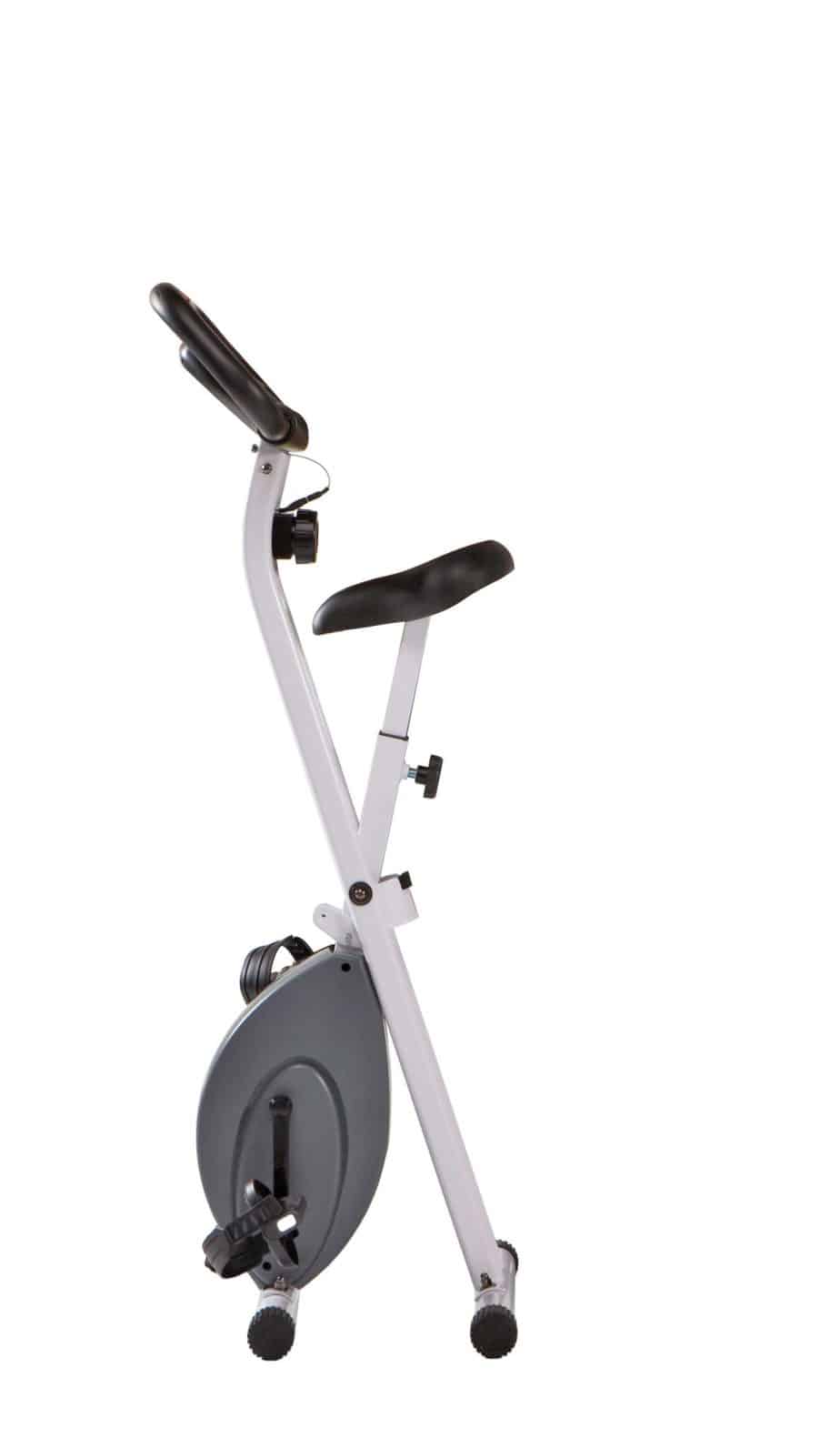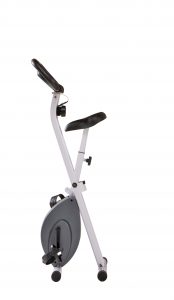 It has the dimensions of 14 inches long by 18 inches wide by 51 inches tall when folded. This means it can fit into most unlikely places for storage.
It weighs about 37 pounds/16.7 kg; easy to move from one place to another by almost any adult.
Approval Rating
The Marcy Foldable Exercise Bike with Adjustable Resistance NS-652 has been around for a while and as a result, it over eight hundred Amazon customer reviews most of which are positive. In other words, this bike is popular and well received by fitness enthusiasts.
Even with a high volume of Amazon customer reviews it still manages to have an average approval rating of 4.2 stars out of 5 stars at the time this review was written. This is indicative of the high number of positive ratings it has received from actual users on Amazon.
Therefore, it will suffice to say that the bike is recommendable.
Pro/Features Overview
Compact and lightweight
It has a 14 gauge steel frame that makes it very sturdy and durable
It is smooth and quiet while in operation; great for home use
The seat is large and padded with high-density foam that provides comfort
The seat is 2-way adjustable that allows user between the heights of 5 to 6 feet to be accommodated
The handlebar is ergonomically designed to provide suitable posture during workouts
The handlebar is coated with a soft rubber foam material that provides comfort and firm grips
It is integrated with an LCD monitor that displays workout values such as time, distance, speed, odometer, and calorie burned
It is affordable
Low maintenance
Magnetic resistance with 8 levels; suitable for beginners and medium users
Cons
Doesn't have any accessory such as a tablet holder
Does not include heart rate monitoring feature
Product Dimensions and Specifications
32'' Length
18'' Width
42'' Height
14'' Length (folded)
18'' Width (folded)
51'' Height (folded)
Maximum user weight capacity: 250 pounds/113 kg
Weight: 37 pounds/16.7 kg
Drive: Belt
Resistance: Manual magnetic with 8 levels
Monitor: Basic LCD, displays time, distance, speed, calories, and odometer
Pedals: Anti-skid with adjustable straps
Seat: 2-way adjustable, large and padded with high-density foam
Handlebar: Non-adjustable, multi-grip designed, no HR sensors
Warranty
Shipping, Assembly, and Maintenance
Shipping
The Marcy Foldable Exercise Bike with Adjustable Resistance NS-652 is shipped out in a box that weighs 40.6 pounds/18 kg.
The cost of shipping is determined by the retailer that is selling to you; however, some vendors such as Amazon provides free shipping for the United States residents and delivers within days of order.
Assembly
The unit is not difficult to put together as it comes with the major components preassembled.
You are only required to attach the seat, the seat post, the stabilizer bars, the handlebar, the pedals, and the console to the frame.
It takes half an hour, more or less to completely assemble the machine and most users have confirmed that it is easy to assemble.
An easy to follow instruction manual is included in the package to help you with assembly.
Alternatively, you can hire someone to assemble it for you if you do not want to do it yourself but that comes with an extra charge.
Maintenance
No major maintenance required for the Marcy Foldable Exercise Bike with Adjustable Resistance NS-652.
Simply keep it clean at all times from dirt and sweat and always examine it for any loose, worn, or broken part before use. This will prevent an accident and further damage to the bike.
Conclusion
The Marcy Foldable Exercise Bike with Adjustable Resistance NS-652 is that bike that provides a complete cardio workout to all. Even if you have a limited space it can still fit in.
It is affordable with overwhelming positive Amazon customer reviews that simply suggest you are making the right choice if decided to purchase it.
[rank_math_rich_snippet]