Recumbent bikes are mostly preferred by many individuals, especially those undergoing physiotherapy, folks with a history of joint pains, and the elderly. Its benefits include providing low-impact cardio workouts, the building of muscle groups, weight loss, and strength and cardio health improvement.
It also provides a more relaxed and comfortable posture that allows the user to perform workouts much longer. This is the distinctive difference between the Marcy Magnetic Resistance Recumbent Bike (NS-716R) and the Marcy Upright Exercise Bike (ME-708).
The Marcy NS-716R and other recumbent bikes share similarities and dissimilarities with the foldable semi-recumbent bikes as well. The foldable semi-recumbent bikes are very compact, foldable, affordable, and offer the opportunity to perform workouts in upright and semi-recumbent positions. While on the other hand the recumbent bikes are not foldable but provide a lot more comfortable posture that is accompanied by outstanding stability that surpasses that of the foldable bike.
We are not going to go into details but just wish to highlight the uniqueness of the recumbent bikes which the Marcy Magnetic Resistance Recumbent Bike (NS-716R) embodies.
The Marcy NS-716R has a resistance system that offers light to medium workouts and the integrated LCD monitor tracks workout progress by displaying distance, time, calories burned, speed, and ODO.
It is adjustable to accommodate users of different heights.
Click right here to have a peek at the price of the Marcy Magnetic Resistance Recumbent Bike (NS-716R) on Amazon.
Frame and Construction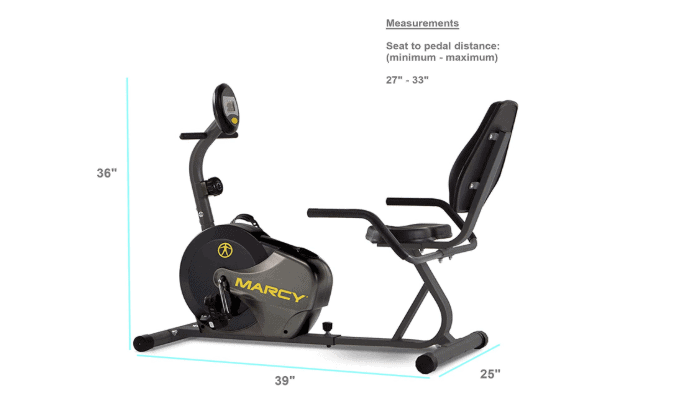 The Marcy Magnetic Resistance Recumbent Bike (NS-716R) frame is made of solid steel and is coated with anti-corrosive paint that shields it from rusts and indiscriminate scratches. It's sturdy enough to support a maximum user weight capacity of up to 300 pounds/136 kg.
The base framework has front and rear steel stabilizer bars that are wide enough to ensure optimal stability. No rocking or wobbling movement will be experienced whatsoever during an intense workout.
The stabilizer bars also feature a plastic polygonal cap on each end which makes the base floor-friendly. The bike's weight falls in the lightweight category as it weighs about 55 pounds/24.9kg. Nevertheless, this adds to its overall stability.
When it comes to the size, the Marcy Magnetic Resistance Recumbent Bike (NS-716R) is a large bike when compared to a foldable semi-recumbent bike and it is also slightly bigger than standard spin bikes as well. However, it won't overwhelm your space.
The overall assembled dimensions are 52 inches long by 25 inches wide and 38 inches tall. So, a workout area with a perimeter of 4'4'' long by 2'1'' wide will surface. To make sure that your workout performance is safe and comfortable, consider adding an extra clearance of 1-2′ at the rear and on each side of the bike, especially if it's going to be used in a confined area.
In a nutshell, the bike's construction guarantees sturdiness, durability, and stability.
The Seat, the Handlebar and the Pedals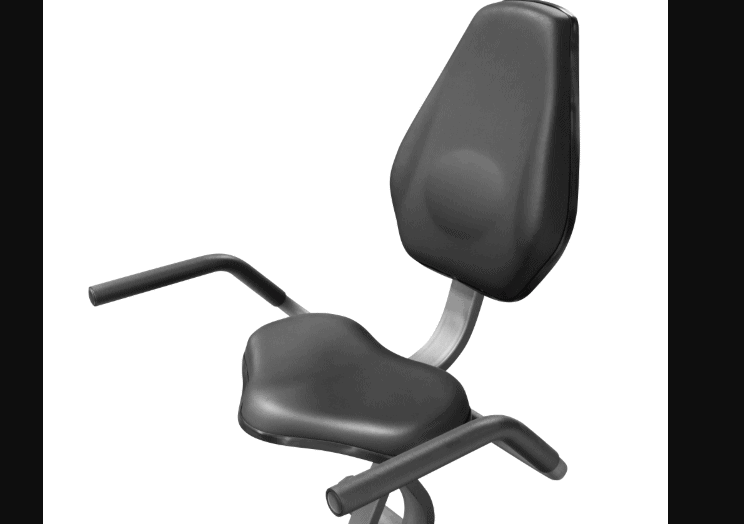 The Marcy Magnetic Resistance Recumbent Bike (NS-716R) is integrated with one of the most comfortable recumbent seats. It has a well-padded, contoured surface, and ergonomically designed seat that is durable and provides comfort sustainable for long workouts.
It has a handle on each side that is covered with soft foam material for maximum comfort and safety. The handles provide sufficient support that enables the user to pedal with easy aggression and intensity when held.
The seat is also adjustable. It could be adjusted to allow more room between the seat and the handlebar, leaving the pedals well in front. This allows tall individuals to be accommodated without having their leg extension restricted. Basically, it can accommodate users between the heights of 5'-6'2'' tall.
The adjustment is done via the base and has an adjustable range of 31-36 inches. Also, the seat to pedal distance is 27''-33''.
The seat's backrest is not adjustable, in other words, it cannot recline because it is fixed.
There is a set of front handlebars that are 6'' long. This is something, not every recumbent bike has, thus it is a plus to have them on the Marcy Magnetic Resistance Recumbent Bike (NS-716R). For instance, the Sunny Health & Fitness SF-RB4601 and the Universal R20 Recumbent Bike don't have this feature.
The front handlebars or grips allow the user to explore other possible workout postures. They are also covered with a breathable foam material that provides optimal comfort and safety.
The handlebars are non-adjustable, however, have been strategically fixed to provide an optimal suitable position for all users.
The bike is equipped with anti-skid pedals with adjustable safety straps that are made of plastic but have a metallic core.
These pedals allow a user to work out barefoot, or use a pair of standard gym shoes. They keep the feet aligned properly and secure. There won't be any slippage or awkward feeling with the foot's placement.
Moreover, the Q-Factor is considerably narrow, consequently, there is no lateral stress that will be felt on the joints since the foot placement is great. Unfortunately, the Q-Factor length is not stated.
Finally, the pedals are bidirectional, thus you can pedal in reverse.
The Drive
The Marcy NS-716R has a belt drive system. This drive system is quiet and smooth in operation. The belt drive system make-up elements include a stretch-resistance durable V-belt, durable crankset, solid crank-arms, a lightweight perimeter weighted flywheel, and the pedals.
These elements together deliver an outstanding riding experience with consistent momentum.
It also means that riding in the midst of the family and neighbors is totally fine because the user won't bother them with any unpleasant noise coming from the bike. One can also watch TV/movies or listen to music without the need to raise the volume so high while exercising with the bike.
Maintenance-wise, the drive system doesn't require any post lubrication or adjustment as the chain drive system does.
The Resistance
This bike is incorporated with a manual magnetic resistance system which is also vibration-free whilst in operation and it's maintenance-free as the belt drive system.
The reason is that the system consists of a magnetic brake pad that emits a magnetic field around the premise of the flywheel in order to induce resistance without actually making any direct contact. In other words, it is frictionless.
There are 8 predefined resistance levels that provide easy to medium intensities that are basically good for those that wish to improve overall physical fitness.
The resistance intensity could easily be adjusted via the tension knob that has the – 1, 2, 3, 4, 5, 6, 7, 8 + on it which are the resistance levels. Turn clockwise to increase the resistance level and counterclockwise to reduce it.
One can lose weight and improve cardio health with the bike especially if the user engages in aggressive workouts that involve fast pedaling.
The Console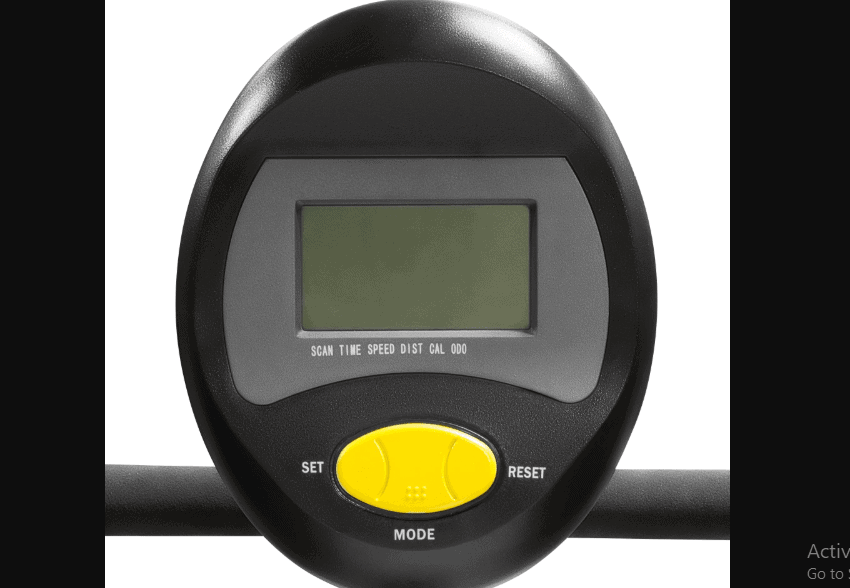 The console on the Marcy Magnetic Resistance Recumbent Bike (NS-716R) is basic with an LCD monitor that displays workout values such as time, distance, speed, calories, and odometer (count of miles traveled).
The LCD monitor's display is easy to read however, it will be difficult to read when viewed in a poorly-lit environment because it's not backlit.
There are also SET, MODE, and RESET buttons on the console which allow the user to easily navigate through its functions.
The monitor uses its SCAN function to rotationally display all the workout stats one at a time after a few seconds. You can also choose to set a certain preferred workout stat to display constantly as long as you want.
2 AA batteries are required to power the monitor and they are not included in the package, which means they have to be purchased separately.
In order to save battery power, the monitor is designed to shut down automatically when there is no activity on the bike for a few minutes and can power ON when pedaled. It can also be turned ON when a button is pressed.
Accessory
The bike features a water bottle holder that is conveniently within reach for keeping water handy for hydration.
Storage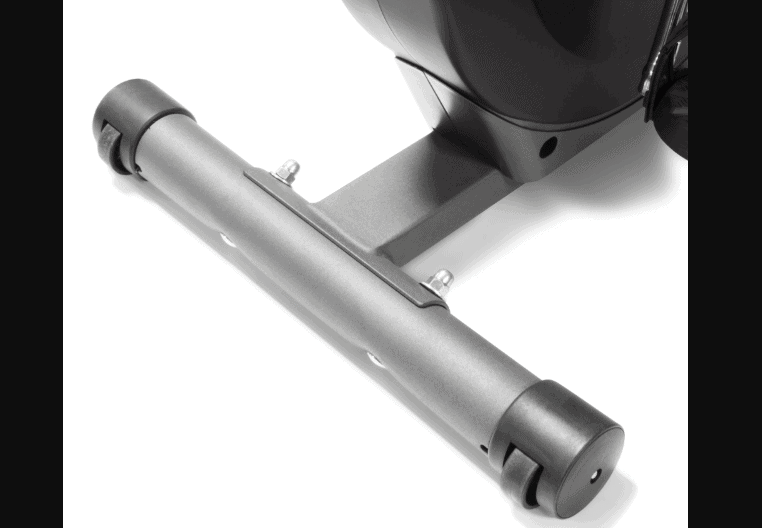 The Marcy Magnetic Resistance Recumbent Bike (NS-716R) is not foldable, therefore, if it must be moved to storage other than leaving it at the workout area then it will require a bit of space.
It is bigger than a standard closet, therefore it won't fit in there. Next to a wall will be your best bet or better still, have a dedicated workout area and always leave it in the same position after using it.
The bike is lightweight as it weighs about 55 pounds/24.9 kg and it's integrated with transport wheels at the front base.
So, it can easily be picked up by the rear and be moved to another location without hassle because most of the weight resides at the front.
Approval Rating
The Marcy NS-716R has been around for a couple of years now and has several Amazon customers' reviews that are mostly positive. Consequently, it has a very impressive and positive approval rating that suggests the recommendation of the bike.
Pros/Features Overview
Sturdy, stable, durable, and safe
Supports high user weight capacity of 300 pounds/136 kg
The construction allows easy step-thru
The frame is made of heavy-duty steel
The adjustable frame allows users between 5'-6'2'' tall to be accommodated
LCD monitor tracks workout progress such as time, distance, speed, calories burned and odometer
Operation is quiet and smooth
Low maintenance
Easy to assemble
The seat is very comfortable and can endure through a long workout
Easy to relocate from one room to another
Resistance provides light to medium workout intensities that improve overall physical fitness
No vibration when the resistance is engaged
Pedals are anti-skid designed with adjustable safety straps that ensure feet are properly and securely positioned
Cost-effective
Cons
No heart rate monitoring function
No tablet holder
The monitor is not backlit
Product Dimensions and Specifications
Length 52''
Width 25''
Height 38''
Weight: 55 pounds/24.9 kg
User weight capacity: 300 pounds/136 kg
Foldable: No
Transport wheels: Yes
Frame: Steel
Handlebars: Two sets; front handlebars and seat handles
Drive: Belt
Resistance: Manual magnetic, 8 levels
Seat: Recumbent and adjustable
Pedals: Anti-skid designed with adjustable safety straps
Shipping, Assembly, and Maintenance
Shipping
The Marcy Magnetic Resistance Recumbent Bike (NS-716R) is shipped in a box. The shipping cost depends on the retailer you are purchasing from. That said, Amazon provides free shipping and makes delivery within a couple of days.
Assembly
As aforementioned, the assembly of it is not complicated but straightforward and easy.
The major components are already preassembled; However, you are required to join the two main parts of the frame together. Attach other parts such as the seat, the front and rear stabilizer bars, the seat and the backrest, the seat's handlebars, the pedals, and the consoles to the main core unit.
To completely assemble the bike will probably take an hour or a little more.
An instruction manual and tools are included in the package for assembly and guidance.
Maintenance
No serious maintenance is needed since it comes with a belt drive and magnetic resistance systems.
You only need to keep the bike clean at all times by making sure you wipe dirt and sweat from it before and after use.
Examine the bike before use for any loose or broken part and re-tighten, repair, or replace when necessary.
Other information on maintenance is included in the owner's manual.
Conclusion
Marcy Gymnasium Equipment has been around for 5 decades, designing and manufacturing quality and durable fitness equipment. Therefore, the Marcy Magnetic Resistance Recumbent Bike (NS-716R) is no different from any other Marcy product.
It has the build, the quality, and the features to deliver.