The Exerpeutic Magnetic Recumbent ME-709 Bike is a very durable and low-cost bike that has been around for years. Since its emergence, thousands of users on Amazon have reviewed and come to the conclusion that it's a recommendable recumbent bike for those that wish to perform light cardio workouts at home.
It has over 90% similarity with its successor the NS-716R, in terms of features. They both have the same basic features and quality. However, the NS-716R's seat is well contoured and features a sleeker-looking drive shroud that is integrated with a water bottle holder at the top.
Thus, the latter is slightly costlier than the ME-709 Bike.
That said, the Exerpeutic Magnetic Recumbent ME-709 Bike design enables users to easily step in and out of the bike with a lot of ease. In other words, it has an easy step-thru design that is perfect for seniors, and those with joint pains, and everyone else that doesn't wish to scale through a hurdle in order to mount and dismount a bike.
It is equipped with counterbalanced pedals and a belt drive system that provide smooth and quiet pedaling motion. The LCD monitor tracks workout progress while the frame supports a maximum user weight of 300 pounds/136 kg.
The manual magnetic resistance system with 8 levels enables users to experience light to medium intensity workouts. This means you can realize your workout goals of weight loss, improving cardiovascular health, and muscle toning.
Users of different heights of 5'-6'2'' can be accommodated due to its adjustable length.
Click right here to have a peek at the price of the Exerpeutic Magnetic Recumbent ME-709 Bike on Amazon.  
The Frame and Construction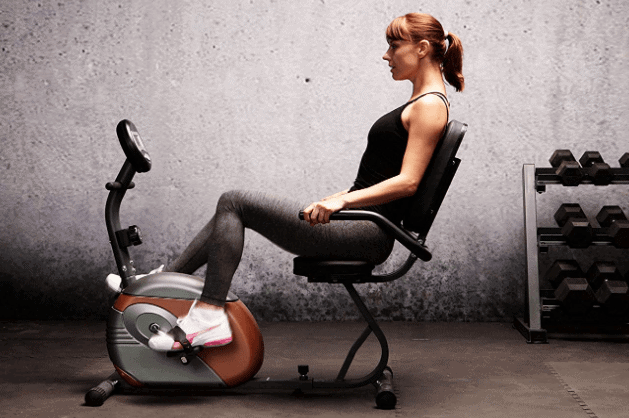 Apparently, the Exerpeutic Magnetic Recumbent ME-709 Bike has a very sturdy and heavy-duty frame, thus, it supports a high user weight capacity. Its construction features a combination of durable steel and ABS material.
The frame is made of steel while the drive covers are made of ABS material. The metal parts are coated with anti-corrosive paint that prevents decay that may be caused by rust, and the ABS material is a common thermoplastic polymer that doesn't have a true melting point.
The bike is not foldable, but not very large either. Its overall assembled dimensions are 55.5 inches long by 25 inches wide and 37.5 inches high. Differently put, a workout area of 4'7'' long by 2'1'' wide and a ceiling height of 7' high will suffice.
If it is going to be used in a very confined area then additional clearance of 1-2′ on each side of the bike will be necessary for safety and convenience reasons.
The Exerpeutic ME-709 is a not-so-heavy bike that weighs about 60 pounds/27.2 kg but nevertheless boosts its overall stability.
Speaking of stability, the recumbent bike is very stable and users won't experience any sort of unwanted movement during a workout. This is as a result of the base framework that has front and rear steel stabilizer bars with a rubber polygonal cap on each end that also makes it floor-friendly.
However, you may still place the bike on a protective rubber mat to optimize its overall stability especially if the floor is somewhat crooked. The rubber mat also prevents sweat from spilling on the floor.
As aforementioned, the frame could be adjusted within the range of 40-49'' forth and back. This allows more or less room between the seat and the front handlebar. A user can adjust to a suitable position that allows full leg extension to be achieved.
The Seat, the Handlebars, and the Pedals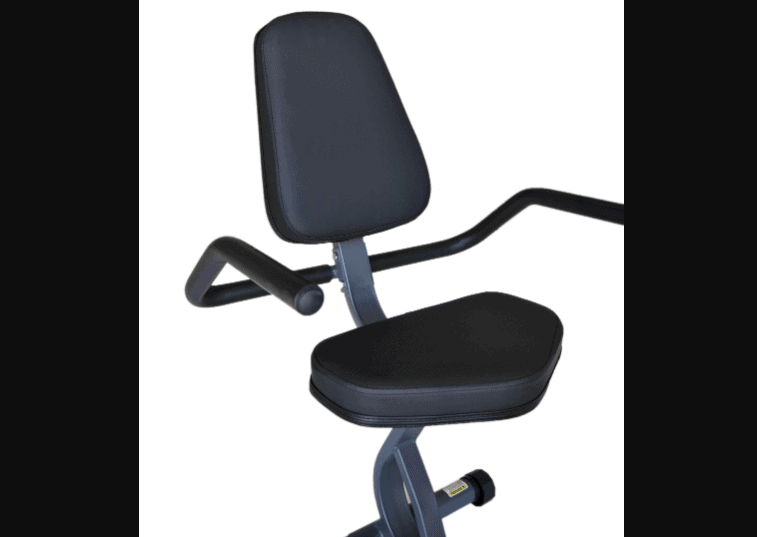 The Exerpeutic Magnetic Recumbent ME-709 Bike features a comfortable recumbent seat that has a long backrest. This is one of the features that make the recumbent bikes comfortable and low impact. Fortunately, the one on this bike is adequately padded as well.
Although, a gel seat cover is also available for those that wish to upgrade and make the seat a lot more comfortable. You can train longer to burn up calories with or without the gel seat cover.
The seat is not adjustable, the frame is the only adjustable part of the bike which directly impacts the seat's position when adjusted. So, users of different heights and sizes can still comfortably utilize the bike.
There are two sets of handlebars, one set on the seat while the other set is at the front part of the bike. The handlebars on the seat enable the user to work out with so much support that allows comfortable, and aggressive pedaling.
The front handlebars provide a different workout posture that makes the user kind of seat up during a workout that ultimately targets different muscle groups.
They (the two sets of handlebars) are covered with breathable soft foam material for secure and comfortable grips. No slippage or blisters will be experienced when engaged in long workouts.
On the downside, neither set of the handlebars have EKG pulse sensors for heart rate monitoring. In other words, the bike is not equipped with a heart rate function and so you cannot track your heart rate during a workout except if you use an external device or use a recumbent bike with a heart rate function.
The Exerpeutic Recumbent ME-709 Bike has a set of anti-slip designed pedals with adjustable safety straps. These pedals are meant to be ridden barefoot or be used with standard gym shoes. They are counterbalanced designed to provide optimal foot support while offering full pedaling control and safety.
The Drive
The ME-709 bike is incorporated with a belt drive system that consists of a durable belt, pulleys, a small and lightweight flywheel, solid crankset and cranks-arms, and pedals. These elements work mechanically together to provide a smooth and quiet operation that has become so popular among its users.
Therefore, you have the flexibility of time to work out whenever you want because the family or the neighbors won't feel disturbed by your activities. You may also enjoy watching your favorite TV show/movie or listening to good music while working out without having to raise the volume to a disturbing level.
Moreover, the drive is not only good in performance but it's also maintenance-free. No post lubrication or adjustment is required as is the case with a chain drive system.
The drive is bidirectional; meaning, you can also pedal in reverse to impact more muscle groups.
The Resistance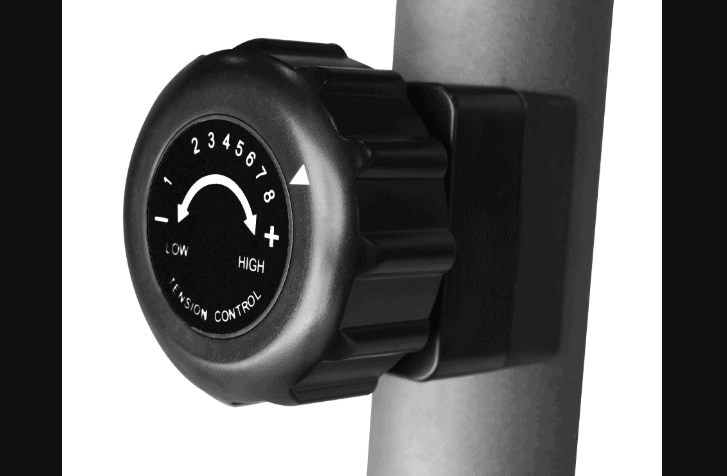 The bike is integrated with a manual magnetic resistance system with 8 levels that provide light to medium workout intensities. It is great for anyone that may have a knee replacement and is required to exercise in order to strengthen it.
Generally, it is also suitable for anyone else that is on a budget and simply wishes to engage in low-impact workouts that could lose weight, tone muscle groups, and improve cardio health.
The resistance system consists of a magnetic brake pad, the flywheel, and the tension knob. The resistance is generated when the magnetic brake pad emits a magnetic field around the flywheel. Therefore, no element makes direct contact with the other for resistance to be generated and this ultimately makes the overall performance to be vibration-free.
Simply turn the tension knob clockwise to increase resistance and anticlockwise to reduce it.
Also, no part needs to be replaced over time of usage since no element of the resistance system makes contact with the other, thus no wear and tear will occur.
The Console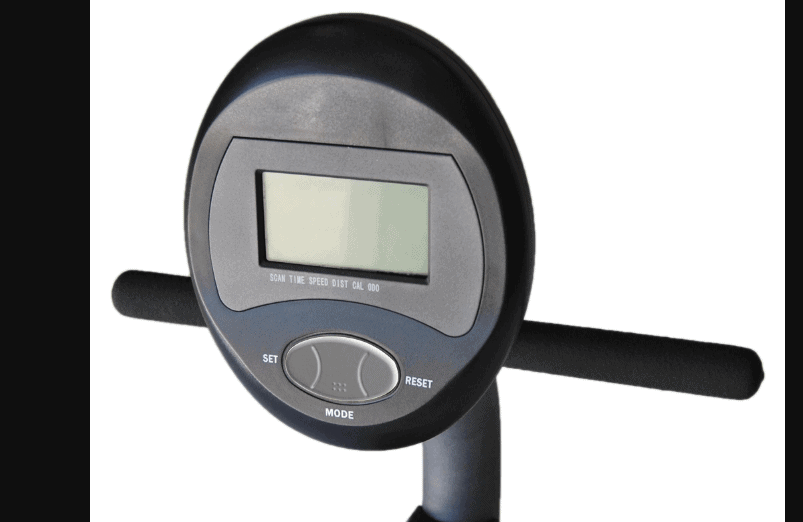 The basic console on the Exerpeutic Magnetic Recumbent ME-709 Bike features an LCD monitor that keeps track of workout stats such as time, distance, speed, calories burned, and odometer.
Its readability is good but could be compromised when viewed or used in a poorly illuminated room because it's not backlit.
The monitor uses a SCAN function to display workout stats rotationally one at a time after a few seconds. While to set a certain preferred workout stat to display constantly is possible as well.
Two AA batteries (not included in the package) are required to power the monitor.
In an effort to save battery power, the monitor is designed to automatically shut down when there is no activity on the bike for a few minutes and it turns ON when activity resumes. The monitor can also be turned ON when the button on the console is pressed.
Distance and speed are measured in miles, and as aforementioned, the console is basic without any extra functions.
Accessory
The bike doesn't have any accessories such as a water bottle holder or a tablet holder. In order to keep water and a tablet/smartphone device handy during a workout, you have to purchase them separately or improvise.
Storage
It is pretty easy to move and store by any adult including the elderly. The reason is that it is a lightweight machine that weighs about 60 pounds/27.2 kg and most of that weight resides at the front base where the transport wheels are located. So, it is lighter when raised by the rear base to move to another location.
The bike requires a storage perimeter of 4'7'' long by 2'1'' wide. If possible, it should be left permanently in the workout area.
Approval Rating
The approval rating of the Exerpeutic Magnetic Recumbent ME-709 Bike on Amazon is impressive and compelling. It's has been around for a couple of years now and it has thousands of reviews by users. The majority of these reviews are positive.
Pros/Features Overview
Construction is safe, durable, and stable
Supports a high maximum user weight capacity of 300 pounds/136 kg
Two sets of handlebars that offer secure and comfortable grips
The frame is adjustable to accommodate users of different heights of 5'-6'2'' tall
The recumbent seat has a long backrest that supports the back for relaxed aggressive pedaling
Its LCD monitor tracks workout progress by displaying time, distance, speed, calories burned and odometer
Transport wheels are included for easy relocation to storage
Operation is quiet and smooth
Low maintenance
Affordable
The bike provides low impact workouts
The resistance system offers easy to medium range workout intensities
The drive is bidirectional; reverse pedaling is possible
The pedals are anti-skid designed with adjustable safety straps that keep the feet in place and safe when pedaling
Easy to assemble
Cons
The monitor is non-backlit and basic without any extra functions
No heart rate monitoring function
No water and tablet holders
Product Dimensions and Specifications
Length 55''
Wight 25''
Height 37.5''
Weight: 60 pounds/27.2 kg
Maximum user weight support: 300 pounds/136 kg
Frame: Steel and adjustable
Handlebars: 2 sets
Seat: Padded with a long backrest
Console: Non-backlit monitor tracks time, distance, speed, calories burned and odometer
Power: 2 AA batteries (not included)
Transport wheels: Yes
Resistance: Manual magnetic with 8 levels
Drive: Belt
Pedals: Anti-skid with adjustable safety straps
Heart rate: No
Foldable: No
Shipping, Assembly, and Maintenance
Shipping
The Exerpeutic Magnetic Recumbent ME-709 Bike comes in a neat box that weighs about 66.5 pounds/30.1 kg.
Amazon ships and delivers it for free within a couple of days depending on which state in the United States.
Assembly
The assembly of this bike is not complicated at all and will take about an hour to completely put together.
The major components are preassembled and you are left with not-so-difficult parts to attach to the main core unit.
The assembling process is provided on the owner's manual and the tools needed for the job are all included in the package.
Maintenance
There is no serious maintenance needed since the bike has a belt and magnetic resistance systems.
Basically, you need to keep the machine clean by wiping it off with a clean damp cloth before and after use. Also, ensure to examine it before use for any loose or broken part that might need a re-tight or part replacement.
This is a preventive measure that averts an accident or further damage to the bike.
Conclusion
The Exerpeutic Magnetic Recumbent ME-709 Bike is no doubt a recommendable and low-cost recumbent bike that could help you to embark on a productive journey of losing weight and improving your overall physical fitness.
It has many positive attestations that indicate its popularity among real users.
Exerpeutic Magnetic Recumbent ME-709 Bike Review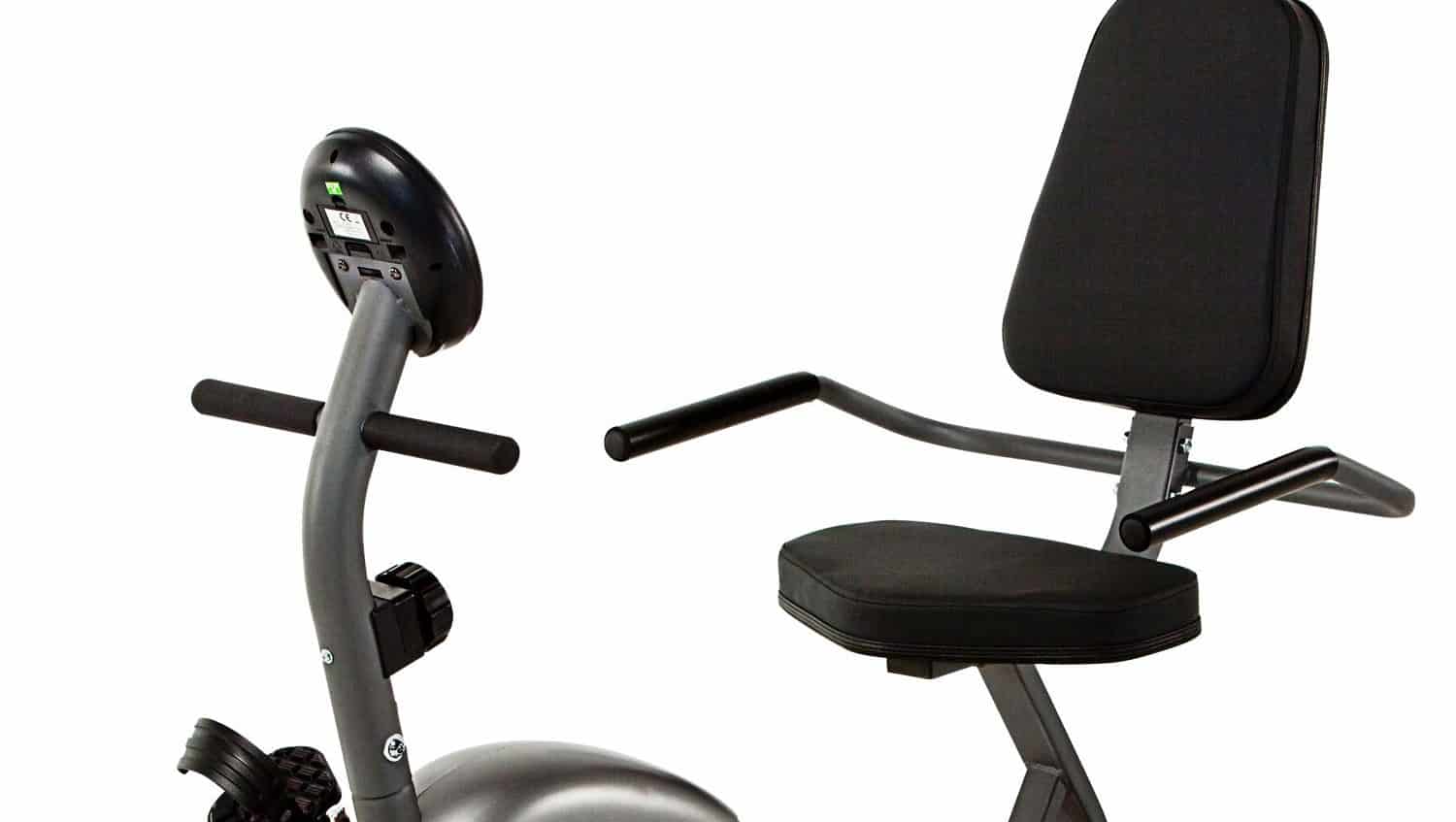 The Exerpeutic Magnetic Recumbent ME-709 Bike is a very durable and low-cost bike that has been around for years. Since its emergence, thousands of users on
Product Brand: Exerpeutic
Product In-Stock: InStock