Going by the customers' sentiment on Amazon at this time, the ATIVAFIT Stationary Foldable Exercise Bike could be considered one of the best foldable bikes available. Just as the MaxKare Folding Exercise Bike, it offers a full-body workout due to the integrated arm resistance bands.
The resistance bands allow the user to do some arm stretching while pedaling.
The ATIVAFIT Foldable Bike is compact, transportable, durable, and sturdy. It supports a high user weight capacity of up to 275 pounds/124.7 kg. Its portability is great because you can easily move it from one room to another via the transport wheels at the front base and it takes even less space when folded up.  
Hence, the bike could also be used in an office space.
The unit has a comfortable seat with a backrest that allows the user to work out comfortably with support in a semi-recumbent position. Even though it is not a typical upright bike it could be adjusted to be used as one or as a semi-recumbent bike.
Tracking workout progress is possible because it's equipped with an LCD monitor that does just that, including heart rate monitoring.
Click right here to have a peek at the price of the ATIVAFIT Stationary Foldable Exercise Bike on Amazon.
The Frame and Construction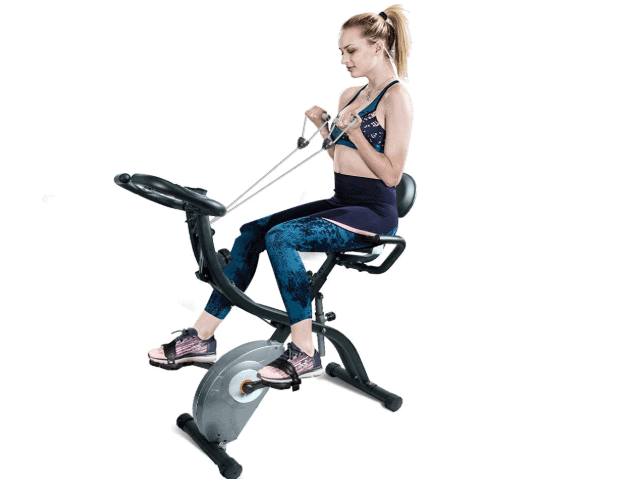 The ATIVAFIT Stationary Foldable Exercise Bike is designed for the performance of aerobic exercises that get the heart rate up and the metabolism to lose tons of calories that consequently shed weight and improve cardiovascular health.
The overall construction features a foldable and durable X-shaped steel frame that supports 275 pounds/124.7 kg. It is powder coated with anti-corrosive paint for longevity and preservation of the original outward appearance.
The base framework comprises front and rear steel stabilizer bars that have a rubber cap on each end. So, the bike is not only very stable during a workout but also floor-friendly.  You may or may not put a protective rubber mat under it.  
The bike's compact design is one of its outstanding features which probably endears it to so many cycling enthusiasts that do not have enough space in their condo.
The bike's overall assembled dimensions are 27.8-29.9 inches long by 14.9 inches wide. Differently put, space or the workout area required would be 2'5'' long by 1'3'' wide and a ceiling height of at least 7' high. That said, additional extra clearance of 1-2′ at the rear and on each side of the bike will be necessary for safe and comfortable workout performance.
The Seat, the Handlebar, and the Pedals
The seat on the ATIVAFIT 53100 Stationary Foldable Exercise Bike is cushioned and padded enough to convey the expected comfort. It has a considerable large back and a handle on each side that provide support for a long, intense, and comfortable workout.
It could be adjusted 2-ways; I.e. vertically (upward/downward)). The seat gets farther away from the front handlebar as you adjust upward because of the slanted seat post. So, users of different heights can be accommodated.
There are two seat positions, namely, the upright and the semi-recumbent positions. Individuals up to 6' may have plenty of room when it is in a semi-recumbent position and the knees won't hit the handlebar. Either way, the knees won't hit the handlebar.  
The multi-grip handlebar is ergonomically designed to fit users even though it is nonadjustable. It's been optimally positioned for a good ride. It is covered with a breathable soft foam that provides secure and comfortable grips that endure through long workouts. No slippage or blisters will be experienced.
The handlebar is also embedded with EKG sensors for transmitting the heart rate data to the monitor when held during a workout so that the user can track and maintain the heart rate zone.
A user can train in different workout postures or angles due to the handlebar's multiple grips.
The pedals are anti-skid designed with adjustable safety straps that keep the feet in place and secure. They have a metallic core: hence, they are durable and safe.
The pedals can be used with standard gym shoes or barefoot and can be pedaled in reverse so that more muscle groups can be toned.
The Drive
The ATIVAFIT Stationary Foldable Exercise Bike has a belt drive system that consists of a belt, pulley, crankset, crank-arms, a small flywheel that is usually about 5-12 pounds (the weight not stated), and the pedals.  
The belt drive system is smooth and quiet during operation and it doesn't require any maintenance.
Therefore, you can watch a movie or a TV show while working out without having to raise the volume overly high. Moreover, if you have a family, neighbors or even have to use the bike in the office, people around you won't feel bothered by your activities either.
The Resistance
This foldable semi-recumbent bike is integrated with a manual magnetic resistance system that has 8 adjustable resistance levels.
The bike remains silent and smooth during operation even when the resistance is engaged. This is because there is no friction between parts when the resistance is generated. Thus, no part is expected to wear out over time.
The resistance system comprises of small magnetic pads that emit a magnetic field around the flywheel when the resistance is applied. The intensity of the resistance depends on the resistance level or the proximity between the magnetic pad and the flywheel which is controlled via the tension knob.
Turn the tension knob clockwise when you wish to increase the resistance and anti-clockwise to reduce it. There are distinctive – 1, 2, 3, 4, 5, 6, 7, 8 + characters inscribed on the tension knob that allow you to know which resistance level is being used during a workout.
The resistance system provides decent workout intensities that are suitable for anyone that wishes to improve their overall physical fitness. But if you wish to experience an extremely difficult workout then we suggest you look up one of these spin bikes.   
As aforementioned, there are arm resistance bands for upper body workouts.  
The Console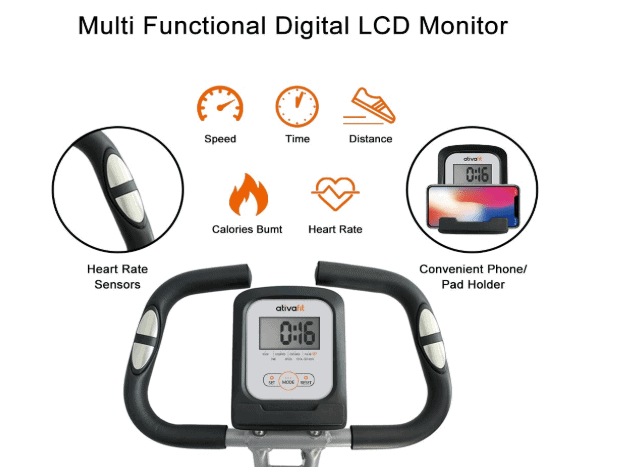 The console on the ATIVAFIT Stationary Foldable Exercise Bike is basic as expected. It features a monitor with a readable display that tracks workout data such as distance, time, speed, calories burned, and pulse.
The monitor has a SCAN function that displays workout data rotationally, one at a time after a few seconds, that way the user will be able to track all the workout values. You can also set a preferred workout value to display constantly if that's what you want.
It needs two AAA batteries to function.
To save batteries' power, the monitor automatically turns OFF when there is no activity on the bike and turns ON when activity resumes. It can also be turned ON when the MODE button is pressed.
Finally, there are only three buttons on the console which include the SET button, MODE button, and the RESET Button. A tablet holder is also integrated into it for the placement of a tablet or smartphone device.
Accessory
The tablet holder is the only accessory available on the ATIVAFIT Stationary Foldable Exercise Bike. The tablet holder allows the user to keep a tablet or a smartphone device handy for taking calls, watching a movie, or listening to music while exercising.  
Storage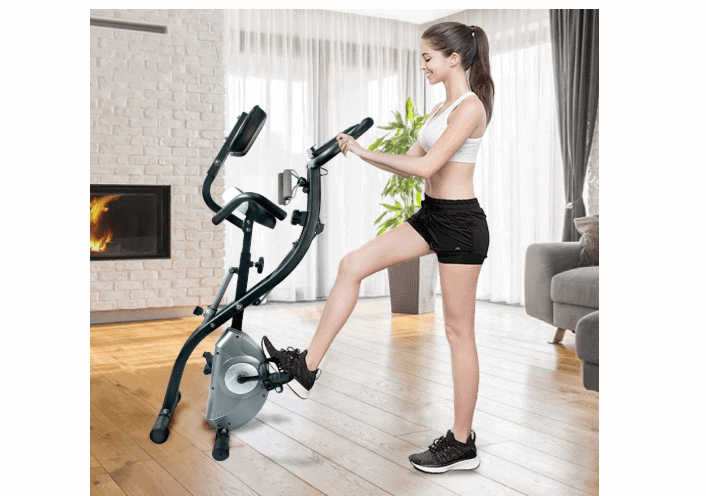 The bike is storage-friendly because it's foldable, transportable, and lightweight. This means it doesn't take up much space and it's easy to move to a storage area. 
No, it can be stored under the bed but will fit in a standard closet or just lean next to a wall.
Approval Rating
The approval rating of the ATIVAFIT Stationary Foldable Exercise Bike on Amazon indicates that users are satisfied with the bike. At the time of this review, it has a positive approval rating after several reviews by customers on Amazon.
Pros/Features Overview
It's durable and sturdy
Supports up to 275 pounds/124.7 kg maximum user weight capacity
Convertible to two positions of upright and semi-recumbent
The seat is soft and comfortable with backrest and handles
Operation is quiet and smooth
Maintenance-free
Easy to move from one room to another
Users of different heights can use it
The resistance system provides decent levels of resistance suitable for different users
Pedals are anti-skid designed with adjustable safety straps that keep the feet stable, secure and comfortable during workouts
Arm resistance bands allow the user to exercise the upper body
Easy to assemble
Tablet holder enables the user to keep a smartphone device handy for taking calls or for entertainment
LCD monitor tracks time, distance, speed, calories burned, and pulse
Cons
The LCD monitor is basic and non-backlit
Monitor gets blocked when a tablet device is placed on the tablet holder but a smartphone will be fine on it
Product Dimensions and Specifications
Length 29.9''
Width 14.9''
Height 41.7''
Folded dimensions: 12.2'' x 14.9'' x 53.1''
User weight capacity: 275 pounds/124.7 kg
Handlebar: Multi-grip with EKG heart rate sensors
Seat: 2-way adjustable with backrest and handles
Convertible positions: Upright and semi-recumbent
Transport wheels: Yes
Console: Basic, non-backlit monitor tracks time, distance, speed, calories, and pulse
Drive: Belt
Resistance: Manual-Magnetic with 8 resistance levels
Frame: Steel
Arm resistance bands
Shipping, Assemble, and Maintenance
Shipping
The ATIVAFIT Stationary Foldable Exercise Bike is shipped in a box that weighs about 42.3 pounds/19 kg.
Amazon provides free shipping, and delivery is made within a couple of days for those in the United States.
Assembly
The assembly is pretty easy and straightforward. If you are good with working with your hands then it will probably take about 30 to 40 minutes to completely assemble the bike.  
An instruction manual and the tools for the job are included in the package.
Maintenance
As stated above, there is no major maintenance required once you purchase the bike.  
Although, you need to keep the bike clean from dirt and sweat at all times. And also endeavor to examine the bike for any loose or broken parts before use.  
Conclusion
The ATIVAFIT Stationary Foldable Exercise Bike no doubt offers very good value for the money. Its compact and foldable design could be a very good reason for users with limited space to consider purchasing it.  
However, there are even more legit reasons other than that, such as the ability to easily move it around and quietly exercise to lose weight.
Take a look at it on Amazon now.  
ATIVAFIT Stationary Foldable Exercise Bike Review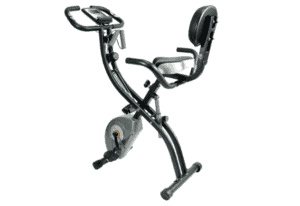 The ATIVAFIT Foldable Bike is compact, transportable, durable and sturdy. It supports a high user weight capacity of up to 275 pounds/124.7 kg. Its portabil
Product Brand: Ativafit
Product In-Stock: InStock