The Bowflex Revolution Home Gym is well equipped with the right features that could turn your physical fitness dreams and desire into a reality. It has 220 lbs resistance that targets the upper body and 600 lbs resistance for the lower body.
It has a commercial-grade design that offers unique versatility.
Click right here to have a peek at the price and of of the Bowflex Revolution Home Gym on Amazon.
By the way, if you are looking for a home gym close to this and affordable then you may want to look up the Marcy MWM-990 Home Gym.
The Frame
The unit's frame is made of heavy steel that guarantees durability and stability. It has 336.2 pounds of weight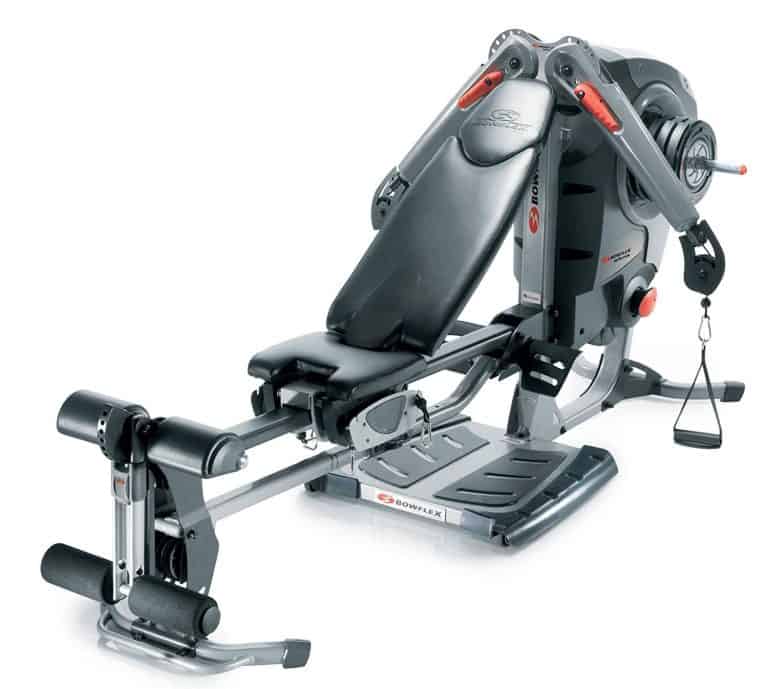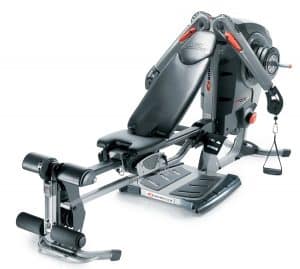 after assembly. Nevertheless, moving it around the room could be a little bit difficult just as you would expect with any other home gym.
But this unit has built-in transport wheels at the base, and fortunately, the frame, bench, seat, and the main bar are foldable.
No doubt, this is a large machine with these dimensions when fully assembled; 112'' L x 38'' W, but the length can change to 55'' if the seat is adjusted. Therefore you will require extra space of 2 feet clearance around it for safe operation. Just like aforementioned, the arms have 10 different adjustments, and being that they are at the top position the machine's height is about 73' high.
Due to the arms' ability to adjust to 10 different positions the machine can conveniently accommodate up to 6'5'' users. Again, it has a weight capacity of 300 pounds, which means users within this weight range can use it.
The Arm
The arms are made of heavy-duty nylon material pulleys that can swivel 360 degrees. The arms are industrial grade with sealed ball bearing for smooth operation and durability. As for the cables, they made of steel ropes encased in plastics that have passed the test of heavyweight
The Bench
This unit has a multi-function bench with two main positions of 180 and 45 degrees that allow a user to workout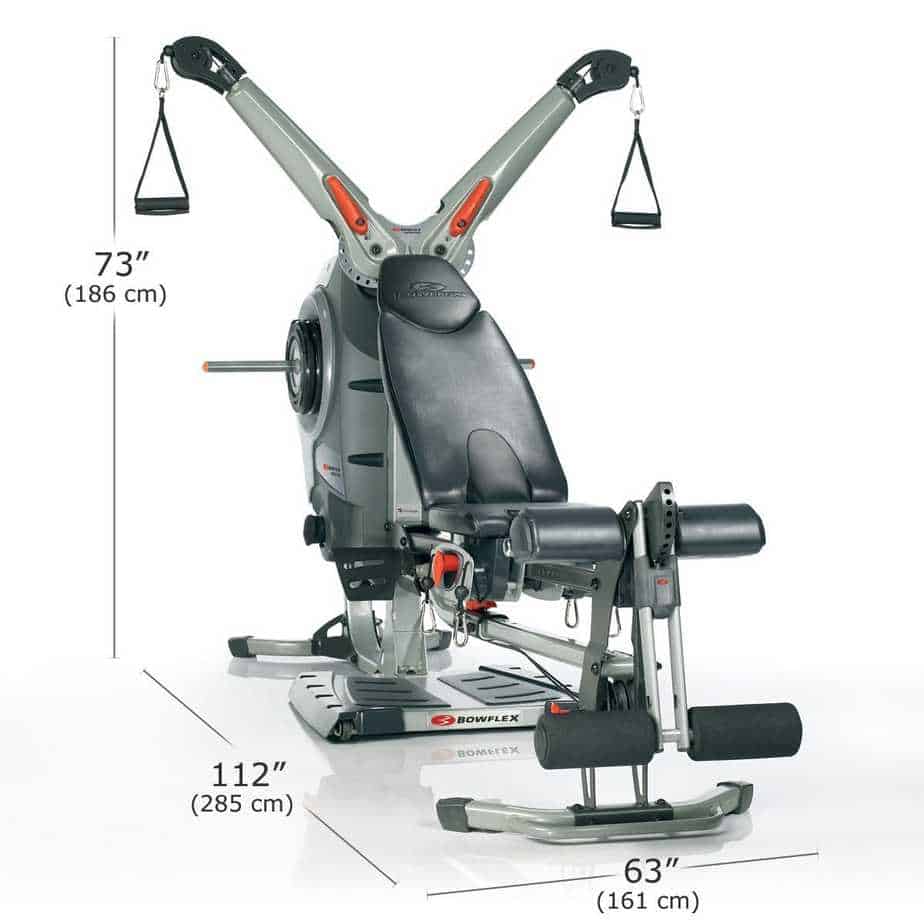 different positions. The seat is designed such that a user can do rowing exercise because it is integrated with a set of wheels that make it move in the rail.
Whereas the upholstery of the entire seat both the backrest is made of high quality and durable leather material. It is also padded with 2'' foam that is going to convey maximum comfort during a workout.
The Bowflex Revolution has a lot of accessories that are geared towards making workouts very comfortable. Such accessories include the leg press plates and the smaller backrest that is meant to offer support for leg press workouts.
It has leg developer attachment and preacher curl attachment that has 5 height adjustment positions. These are designed with upholsteries that are similar to that of the seat so that comfort will be achieved. The rollers for the leg developer are well padded also so that the user can experience optimum comfort.
It is also important to mention that two-foot- harnesses and two handle grips are included with D shape rings that allow adjustment possible. The adjustments take care of the strap length so that a user can find the perfect arm length during a workout.
The Resistance System
This equipment is integrated with the SpiralFlex resistance system that has two resistance packs on each side of the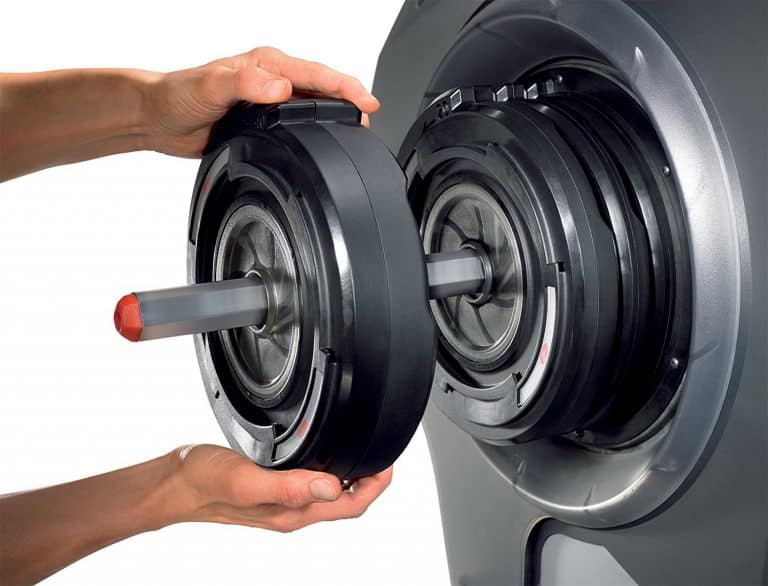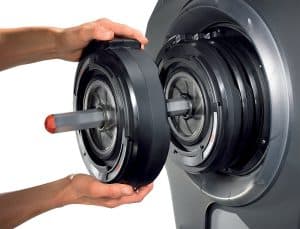 machine. On each side of the pack, they are integrated with heavy-duty elastic straps, which tighten up around the coil when the resistance discs turn as the cables are pulled.
The Bowflex Home Gym has 4 sets of weight discs similar to Bowflex Dumbbells which can be adjusted to different weights of 5, 10, 20, and 40 pounds.
Therefore you can simply decide on which weight to use or rather how much weight you can bear by adding the appropriate weight accordingly on each side of the resistance shaft.
How to use the weight is entirely up to you; if you wish to have a heavier weight on one side than the other you can simply add more weight on the side you wish to be heavier and less on the other side.
To adjust the weight is very easy because all you need to do is select the weight discs you intend to use and put them on each side of the resistance shaft and rotate them to lock in place.
Moreover, it does not take time to adjust and neither is it too heavy to lift weight disc because the highest weight is about 40 pounds. This is a great machine that provides you with multiple resistance weight options to use.
220 pounds is the total resistance the machine provides including the weight discs, which means each side has a total of 110 pounds. However, it can be upgraded to 300 pounds.
Workouts
The Bowflex Home Gym offers several workouts that target different parts of the body. You can successfully work the arms, chest, shoulders, abs, back, and legs with a different variation of exercises.
Pros
It has a durable frame that is made of steel
It has strong upholstery seat that is equipped with 2'' form to provide optimal comfort
It has got 2 main seat positions of 180 degrees and 45 degrees
It has leg developer with sufficient weight resistance
It has got preacher curl
Its overall design is great and beautiful and can promote motivation
It has high-quality pulleys with sealed bearings
It has got a gliding seat that allows a user to perform a rowing exercise
It has got thickly cushioned rollers for leg attachment
It has got leg press weight plate
It has harnesses for both the grips and foot
Resistance can be easily and quickly adjusted
It has a SprialFlex weight resistance system
It has 600 pounds resistance for lower body
It has 220 pounds resistance for upper body and up to 300 pounds when upgraded
There are numerous exercise available
It has got a very impressive warranty
It is smooth and quiet during operation
Cons
This machine is not exactly the perfect choice for those that wish to perform powerlifting
Unfortunately, with all its vast workout availability, one cannot use it for squatting nor conventional deadlift, however; there are other ways available to work on those muscles.
It is a very heavy machine
It is a high-end machine which means it is expensive
It requires getting used to
Product Specifications
Assembled Weight: 336.2 pounds; 152.5kg
Assembled Dimension: 112'' L x 37.8'' W x 73'' H
Maximum User Weight: 300 pounds; 136 kg
Resistance System: SpiralFlex
Number of Exercises: Over 100
Warranty: 10 years
Shipping, Assembly, and Maintenance
The shipping cost of the Bowflex Revolution Home Gym depends on where you are buying the unit from as all the retailers have different policies on shipping. However, Amazon ships this product for free upon purchasing it from them.
As for assembly, it comes with major components preassembled. Nevertheless, other parts need to be fixed hence the process of assembly might take about two hours or more.
It is reported that assembling is not complicated and the unit is accompanied by a well-detailed instruction manual that could walk you through the process of assembly. Also, tools such as Allen wrenches needed for assembly are included.
Maintenance requires cleaning and inspecting the unit periodically to ensure that no parts have fallen or loosened. This is done to prevent breaking down the unit and accident by tightening or replacing any damaged parts accordingly.
Conclusion
The Bowflex Revolution Home Gym is a highly versatile machine that could allow a user to virtually do everything that is needed to be done to achieve your fitness goals. It is sturdy and made with durability in mind.
You can't just refuse a unit that allows a user to perform over 100 workouts, which is outstanding.
However, just as stated above, it has a few downsides. Powerlifters or professional bodybuilders may not be enthusiastic about it as it does not offer the traditional deadlift exercise.
Many Amazon customer reviewers found it very interesting and useful though.
Bowflex Revolution Home Gym Review
The unit's frame is made of heavy steel that guarantees durability and stability. It has 336.2 pounds weight after assembly. Nevertheless,
Product Brand: Bowflex
Product In-Stock: InStock