The Goplus 1.5HP Electric Folding Treadmill LED Touch Screen is a unique treadmill in design and apparently could attract curiosity from treadmill enthusiasts and we are going to explain in this review by revealing everything you need to know about it.
We think it is relevant to mention the Goplus 2.25HP Folding Electric Treadmill (k1431) that we just reviewed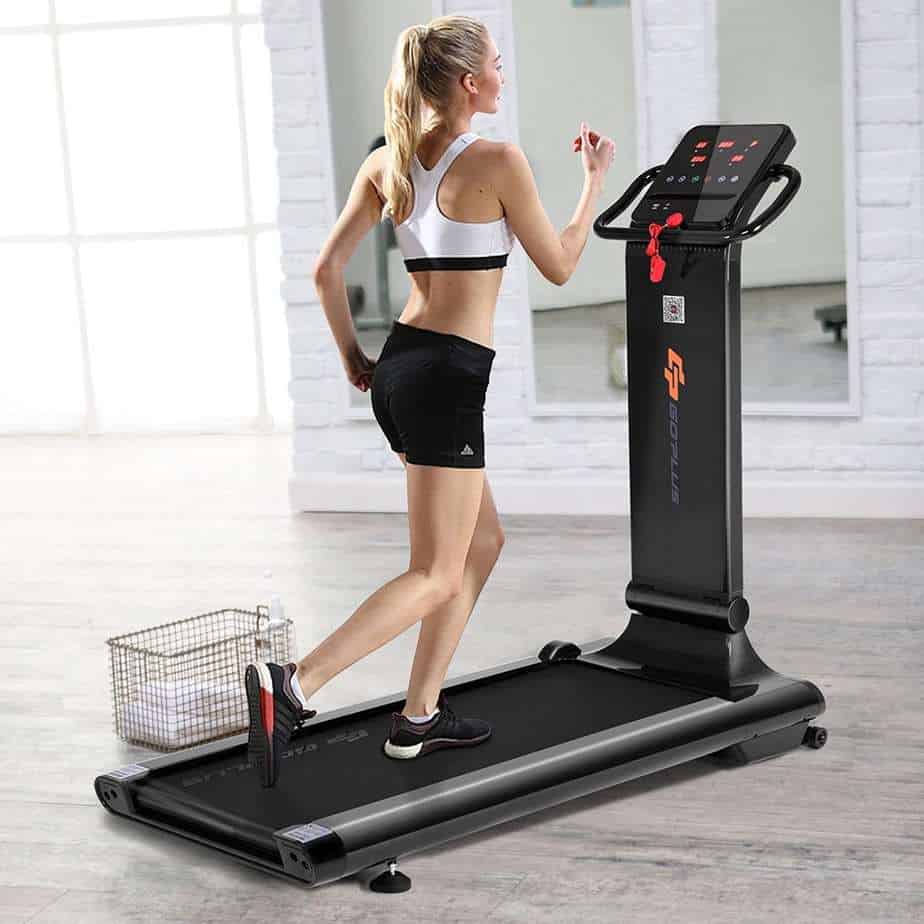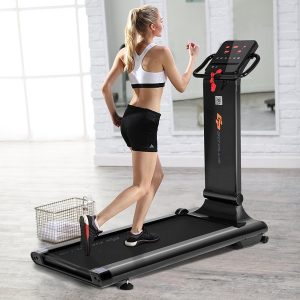 recently because they both have the same budget range price and might be interested to look it up as well.
That being said, the Goplus 1.5HP Electric Folding Treadmill LED Touch Screen is different in design and has a lesser motor capacity but interestingly has amazing features including the fact that it could fold horizontally unlike any other conventional treadmill does, while it is also possible to store it vertically if you so desire.
It has this beautiful LED touch screen that is about 11 inches in size.
The treadmill comes in three different colors which are black, pink, and silver; great for those that cherish certain colors because they would have the opportunity to choose their favorite color even as they also use the machine to achieve their fitness goals.
The Goplus brand is gradually becoming known in the fitness market. They have other types of indoor fitness equipment such as the rowing machine and the recumbent bike and they are amazing at what they do.
By the way, if you wish to find out the best price for the Goplus 1.5HP Electric Folding Treadmill LED Touch Screen click right here.
The Frame and Construction
The Goplus 1.5HP Electric Folding Treadmill is a new launch. It was first sold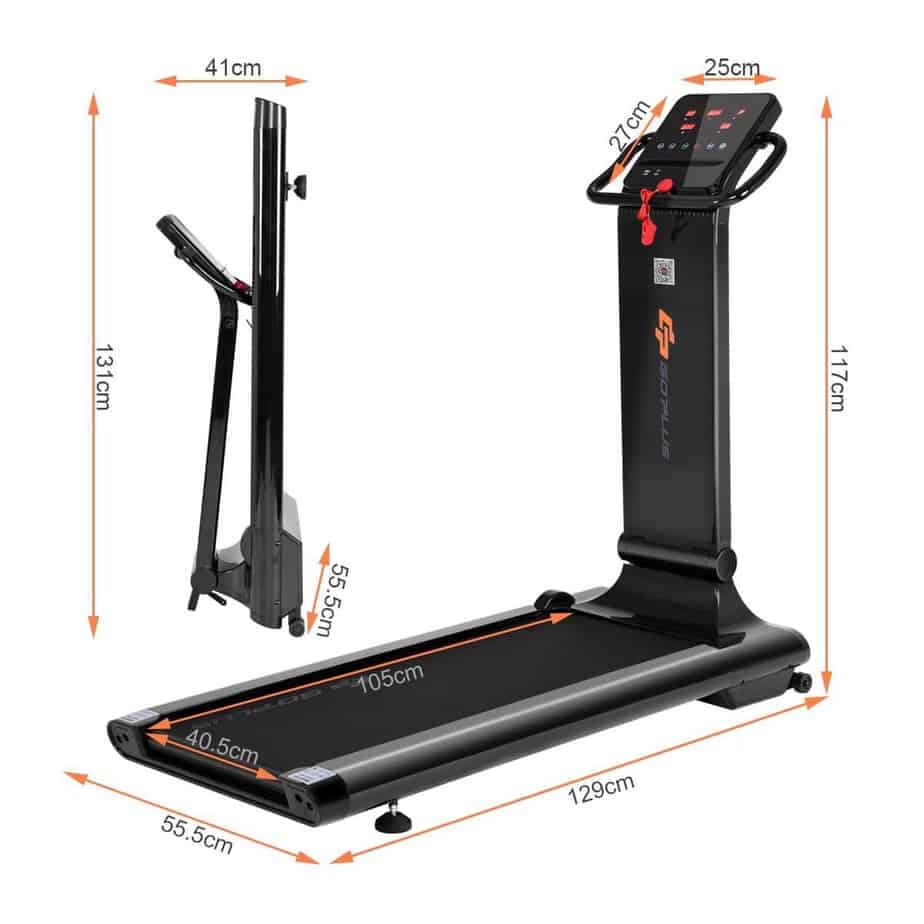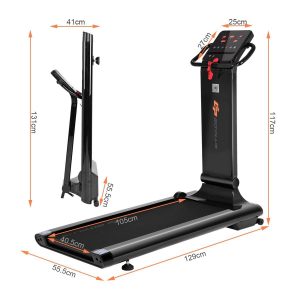 on Amazon in January 2018 and has already accumulated several positive feedbacks from users.
The treadmill's frame is made out of high-quality steel that could support up to 220 pounds maximum user weight capacity. It is a compact treadmill that could appeal to those looking for something that won't take up much space in the room. Its assembled dimensions are 50.7 inches long by 21.8 inches wide by 46 inches tall. While its folded dimensions are 51.5 inches long by 21.8 inches wide by 16 inches tall if positioned horizontally and the vertical folded dimensions are 16 inches long by 21.8 inches wide by 51.5 inches tall which saves a lot more space.
Considering the overall dimensions of the treadmill, users between 5 feet 9 inches and below could find it convenient to use but users above that might experience some sort of restrictions.
It is equipped with levelers at the rear base that is designed to level up the machine on an uneven floor which also doubles as incline. Then it features transport wheels at the front base which help in the relocation process and the machine weighs 78 pounds which also enhances its overall stability. However, it will be smart to use at least a standard exercise mat beneath it.
Interestingly, it comes fully assembled with no installation or attachment required. Simply expand and fold it up in seconds by screwing a black cap screw to set up and unfold as you wish. This is a perfect treadmill for individuals that lack space in their rooms or apartment.
The running surface has the dimensions of 41 inches long by 16 inches wide, which is a typical deck for walking and jogging exercises.
It is important to set the record straight regards to the kind of exercises you could perform on this treadmill. The Goplus 1.5HP Electric Folding Treadmill LED Touch Screen is not a running treadmill but for walking and jogging exercises due to its size and the motor capacity as well. Therefore, you might have to look elsewhere for a treadmill that provides the opportunity to perform running exercises if you are looking for one.
The speed range is 0.6 to 7.5 mph which further indicates that you can only perform walking and jogging exercises on it.
It finished with anti-corrosion and scratch paint that prevents rusts and scratches. It comes in three different colors of black, pink, and silver. The pink color is slightly cheaper than the other two colors.
The Motor
Maybe it is needless to say that the Goplus 1.5HP Electric Folding Treadmill LED Touch Screen comes with 1.5HP motor capacity as rightly suggested on the title.
The motor can handle walking and jogging exercises without overheating or break down and provides a speed range of 0.6 to 7.5 mph.
Yet another notable aspect of it is the fact that it runs smoothly and quietly without the annoying noise or sound that could irritate you or disturb the family or neighbors.
The speed could be adjusted via the console and the treadmill is required to be connected to a 110v power outlet and comes with standard US plug as well.
The Incline
Just as aforementioned, remember the levelers we talked about? Well, these are supposed to be primarily adjustable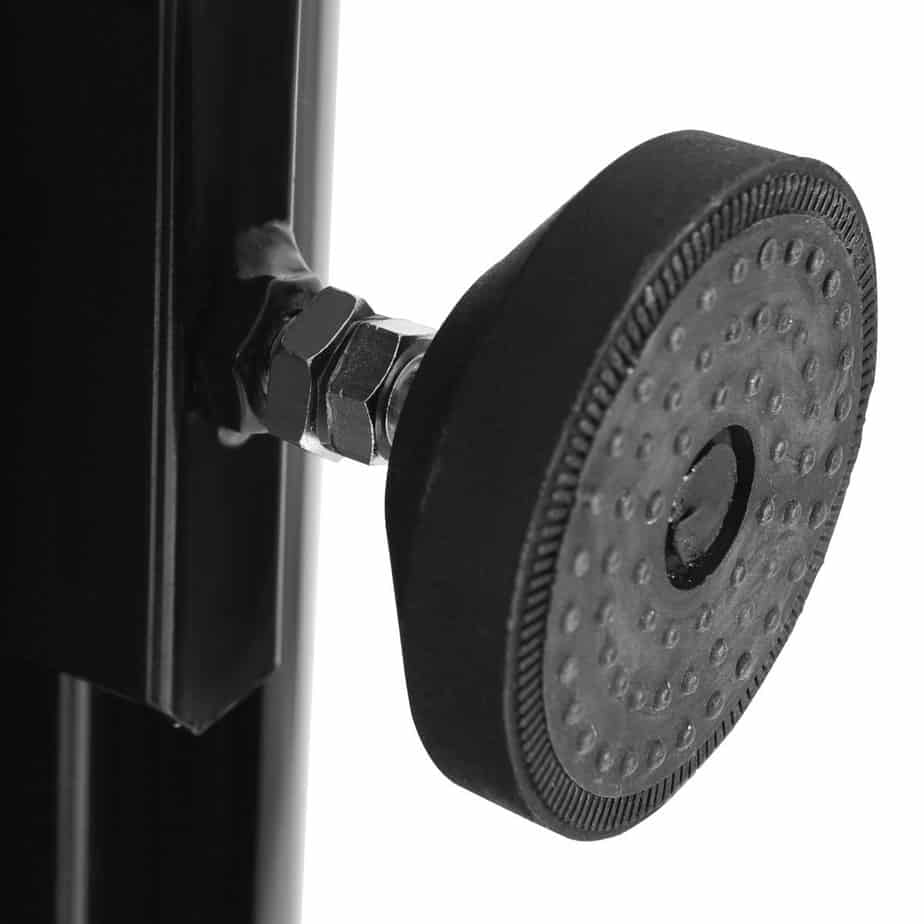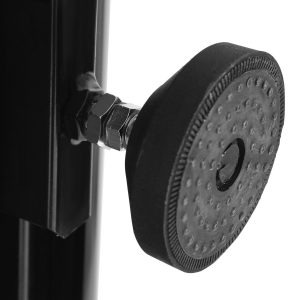 incline that could be used to change the incline level of your workouts.
In other words, the Goplus 1.5HP Electric Folding Treadmill LED Touch Screen is integrated with an innovative adjustable manual incline that could ultimately change the incline position of the treadmill which will, in turn, provide you with challenging workouts that could help you burn more calories, tone muscles and improve greater endurance.
However, the incline range is not indicated.
The Console
The Goplus 1.5HP Electric Folding Treadmill LED Touch Screen has a unique design that is appealing to the eyes. It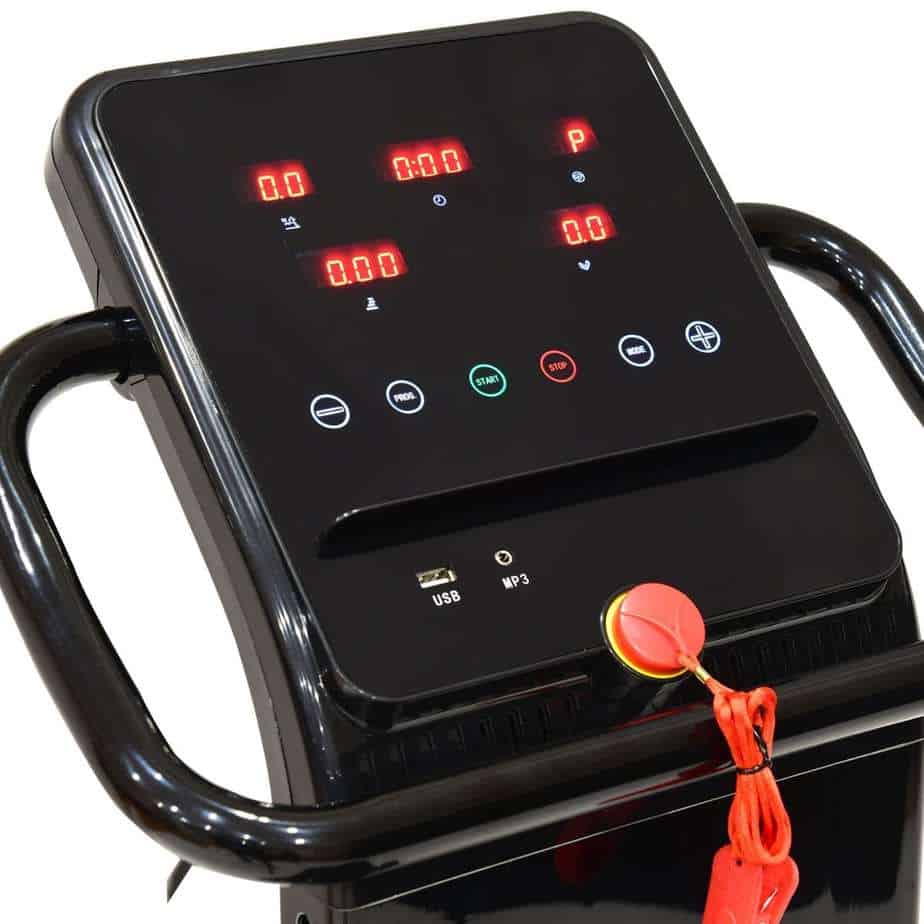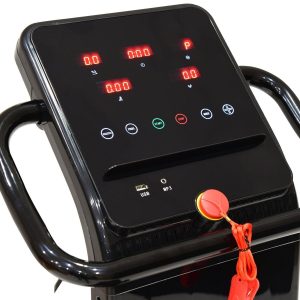 is not an extremely advanced console but provides many more features than the basic type though.
The 11 inches console features a beautiful LED touch screen that has high readability. The metrics can be viewed even in a poorly lit room.
The LED console allows you to track your workout progress as you should be able to view workout data such as distance, calories, time, speed, and heart rate.
It is interesting to know that you can observe your heart rate data which will enable you to maintain your target heart rate zone always because when you are using the included HR chest strap and the USB device then the treadmill will automatically adjust the speed depending on your heart rate. You could also set the mode or the speed by using the touchscreen capability.
The console also supports Bluetooth smartphone APP connect that allows you to connect your phone wirelessly to the treadmill. However, you need to download the scanner App and also download the smart treadmill APP before the wireless connection will be functional.
There are about 99 built-in programs designed to make your workout experience remarkable and fruitful. More detail is obtainable from the instruction manual.  The treadmill has three countdown modes that allow you to set the calories, time, and distance.
You can also connect your MP3 device with a cable to the console so that you can listen to music via the HI-fi sound system while you exercise and there is a tablet holder that you could use to place your phone or tablet on.
Below the console is the safety key that is designed to automatically stop the treadmill from running when you accidentally trip during a workout when you clip it to your shorts or shirt.
There are such buttons as the Negative, Prog, Start, Stop, Mode, and the Positive on the console which are very easy to use and are a touch screen capable.
Approval Rating
The approval rating of the Goplus 1.5HP Electric Folding Treadmill LED Touch Screen is impressive and recommending. The majority of the users on Amazon overwhelmingly recommends it and were satisfied by their experience with the treadmill.
Therefore, it is a thump up for this unit and we also think that it deserves the recommendation so long you are purchasing it for the sole purpose of walking and jogging exercises and you are within the height range it can conveniently accommodate.
Pros/Features Overview
Solid construction with steel frame
Supports up to 220 pounds maximum user weight capacity
Has an LED screen touch console with high readability
Bluetooth enabled
Telemetry enabled which means you can use an HR chest strap for heart rate monitoring which is included
It is integrated with an Intelligent Cardiac Rate monitor that automatically regulates the speed of your workout/treadmill depending on your heart rate.
99 built-in programs
90 degrees foldable design
Compact and space-saving design
Manually adjustable incline
5HP motor
No assembly required
Transport wheels for easy relocation
Tablet holder available
Hi-fi Sound system
Smooth and quiet during operation
Best for walking and jogging exercises
Cons
No water bottle holder
May not comfortably accommodate users between 6 feet height and above
Product Dimensions and Specifications
51'' Length
22'' Width
46'' Height
16'' Length (vertically folded)
22'' Width (vertically folded)
52'' Height (vertically folded)
41'' length x 16'' wide running surface
220 pounds maximum user weight capacity
Product Weight: 78 pounds
Speed range: 0.6-7.5 mph
Rated voltage: 110V
Plug type: US standard
Accessories: 1 Latch, 1 Safety Key, 1, 30ml Silicone Oil, 1 MP3 cable, 1 Allen key, Screwdriver 10/13/14/17/19, 1 USB device, 1 Fixed Knob, and 1 HR chest strap
Shipping, Assembly, and Maintenance
Shipping
The shipping cost of the Goplus 1.5HP Electric Folding Treadmill LED Touch Screen depends on the retailers' shipping policy just like with every other online product, however, Amazon provides free shipping.
Assembly
This treadmill does not need any kind of assembly because it is delivered fully assembled. You only need to fix the black cap screw to set it up and fold it as you wish.
Maintenance
No major maintenance is required but always keep it clean from dirt and sweat at all times. However, further information regards to that will be provided on the manual and a bottle of lubricant oil is also included in the package.
Conclusion
This is a very portable and compact treadmill to include in your home gym or use in the comfort of your home even if you have very limited space. It is suitable for individuals of 5 feet 9 inches tall and below and great for those that only wish to achieve overall physical fitness by engaging in walking and jogging exercises.
Not recommendable for runners and very tall individuals.
Goplus 1.5HP Electric Folding Treadmill LED Touch Screen Review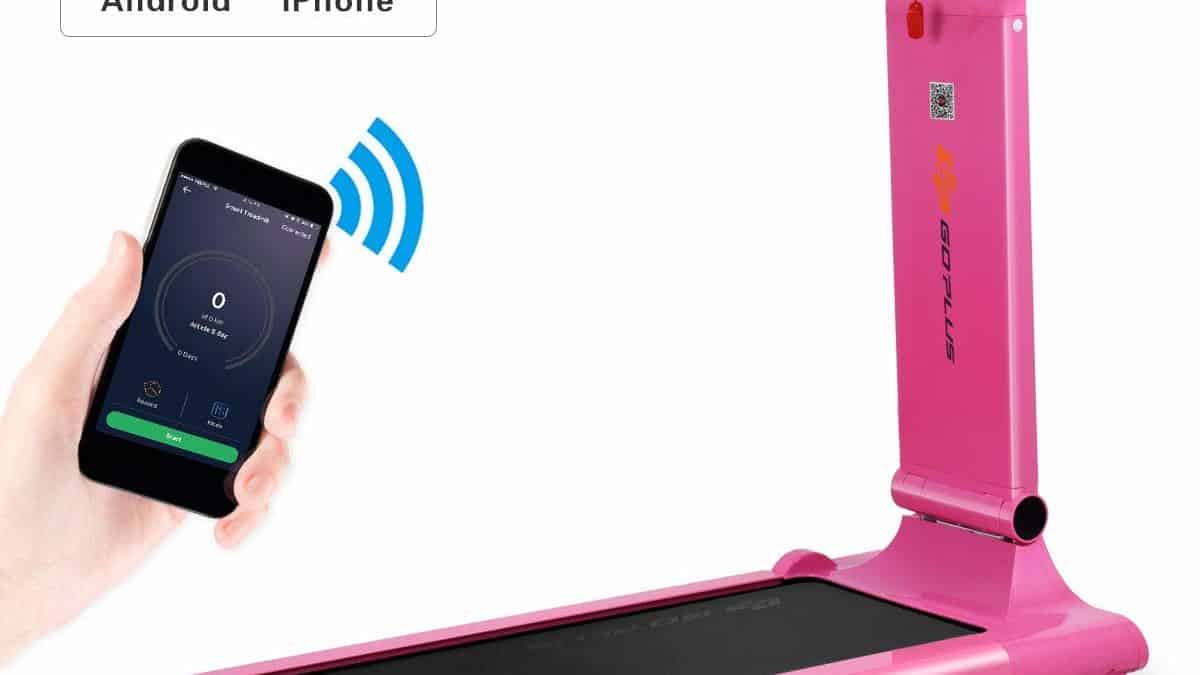 The treadmill's frame is made out of high-quality steel that could support up to 220 pounds maximum user weight capacity. It is a compact treadmill that
Product Brand: Goplus
Product In-Stock: InStock