In recent times, we reviewed some of the Goplus fitness equipment products ranging from recumbent bikes, rowing machines, and of course treadmills. In this review, we are going to be reviewing the Goplus 2.5HP Folding Treadmill Electric Treadmill which is a mid-range level treadmill.
This treadmill is slightly higher than the Goplus 2.25HP Folding Electric Treadmill in terms of the motor capacity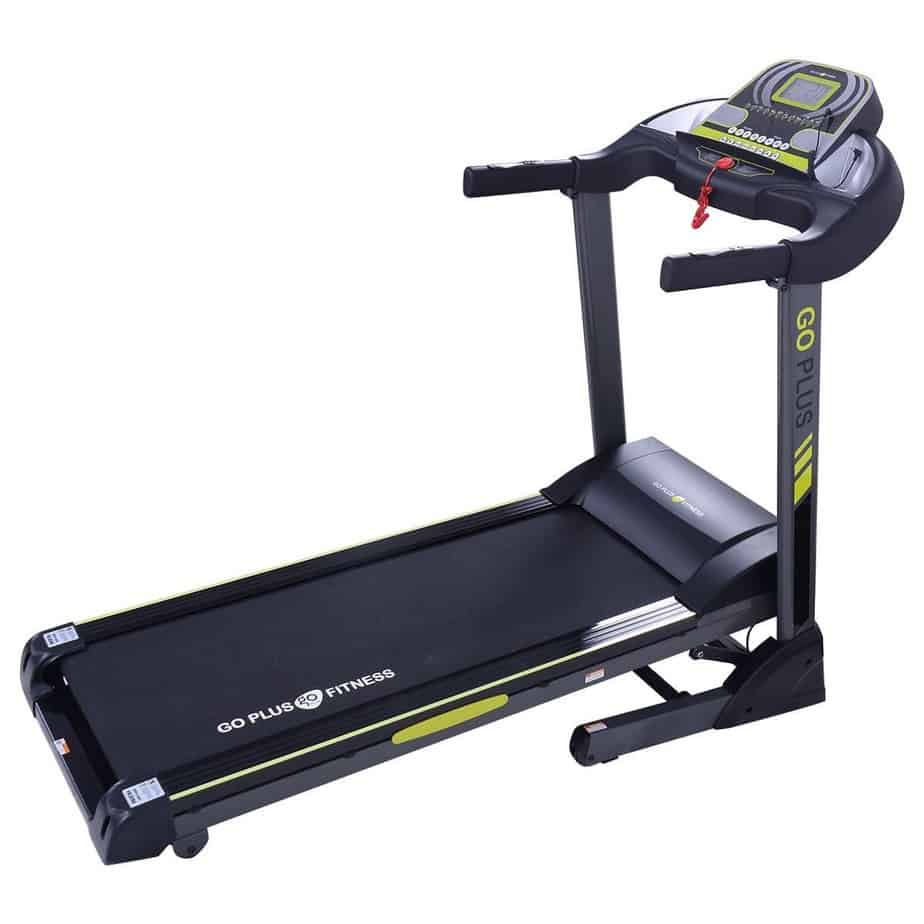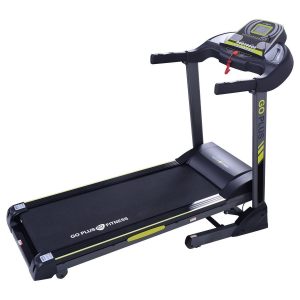 and some other features. It is interesting to know that Goplus has manufactured several treadmills that could cover certain groups of consumers' needs and budgets ranging from entry-level to high-end treadmills that are designed for walking, jogging, and running exercises.
The Goplus 2.5HP Folding Electric Treadmill which is available in two different colors which are green and orange has a good number of features that could help you burn calories and get back to shape or improve your existing fitness level.
Goplus's emergence from obscurity is revolutionizing the fitness industry. They have introduced innovative fitness equipment that includes the Goplus 1.5HP Electric Folding Treadmill LED Touch Screen.
That being said, if you wish to see the price of the Goplus 2.5HP Folding Electric Treadmill then click right here.
The Frame and Construction
First of all, the Goplus 2.5HP Folding Electric Treadmill is designed for walking, jogging, and probably light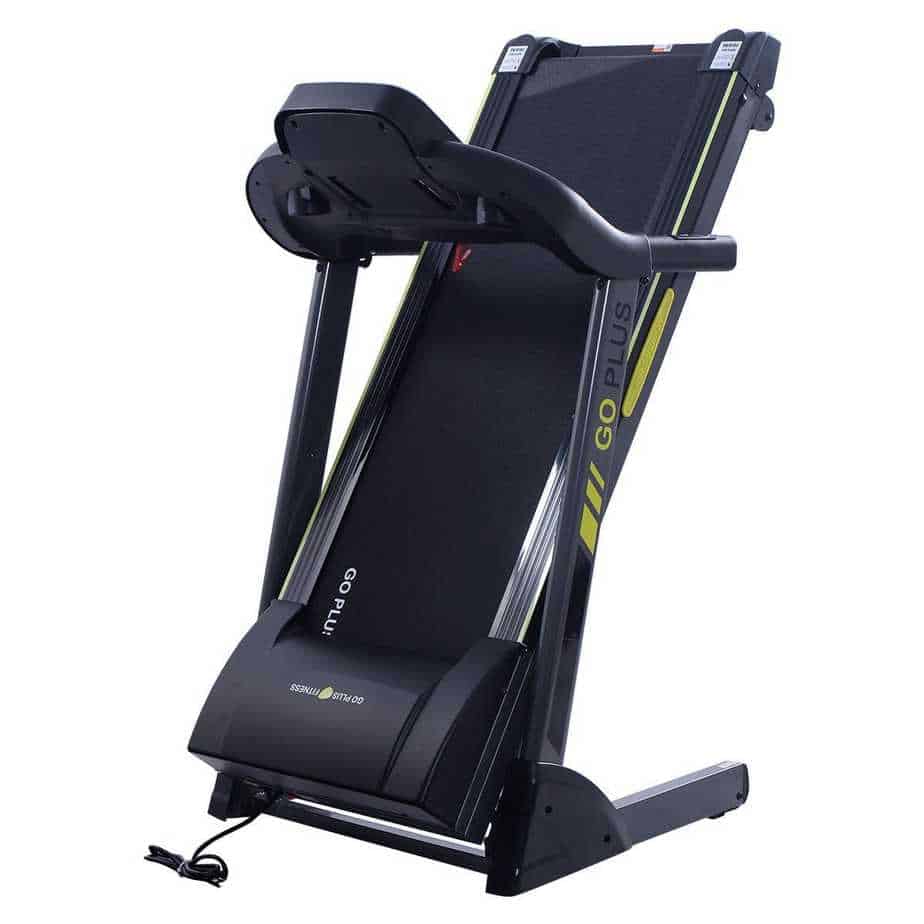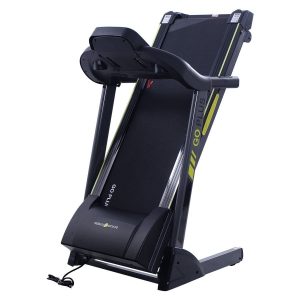 running exercises depending on your height because of the size of the running surface.
It is not a very large treadmill like the ProForm Pro 2000 Treadmill but large enough to provide a decent and effective workout experience to most users. It has overall assembled dimensions of 64 inches long by 30 inches wide by 53.5 inches tall. Whereas the folded dimensions are not indicated unfortunately but it certainly reduces the footprint of the original size, however, it cannot fit under the bed because we have seen people that asked that question.
So, you will need a workout area of 5 feet 3 inches long by 2 feet 5 inches wide and of course, the step-up height (floor to the ceiling) of at least 6 feet 5 inches will be required if you are up to 6 feet tall but could be less depending on your height. It is also recommended that you leave an additional clearance of at least 2 feet on each side of the treadmill and 3 feet at the rear end for safe and comfortable workout experience.
It weighs about 143 pounds which adds to its overall stability and the frame is made of a solid, high-quality steel frame that makes it sturdy enough to support up to 286 pounds maximum user weight capacity.
The running surface dimensions are 18 inches wide by 50 inches long; this is the actual size of the tread belt which could allow users of different heights to be able to perform light running exercise on it but 6 feet tall users may experience some level of restrictions in terms of being able to exercise their full stride during workouts.
The tread belt is made of high-quality material that could last for many years and it has non slip texture as well. The high-quality rubber belt provides adequate cushioning and absorbs some of the running impacts that usually stress the joints such as the knees and the ankles and reduces the overall fatigue too.
The steel parts of the treadmill are finished with black anti-corrosion and scratch paint that prevents rusts and scratches. And as aforementioned, it comes in two different colors of green and orange, while the black paint is the prevalent color in both versions. We also noticed that the orange color variant is slightly expensive than the green color variant.
In addition to its foldability, it is also integrated with transport wheels beneath its base to help in the relocation process.
The Motor
The Goplus 2.5HP Folding Electric Treadmill features a 2.5HP motor that operates smoothly and quietly. This is slightly powerful than some other treadmills that are in the same budget range and can handle walking, jogging, and light running exercises.
However, it cannot support serious running exercises, the type that is often performed by professional runners because it is below the recommended capacity of at least 3.0 CHP. Nevertheless, it is perfect for home use, for those that simply wish to improve overall physical fitness, lose weight, and improve physical endurance.
It provides a speed range of 1 to 11 mph which can ultimately offer consistent or interval cardio training. The speed can be adjusted via the console and quick speed keys are also integrated for swift speed selection during workouts.
It requires a 110v power outlet to function and operate normally and the treadmill comes with a standard US plug and cable.
The Incline
Unlike the Ancheer S9100, and the Goplus 2.25HP Folding Electric Treadmills that have a manual incline, the Goplus 2.5HP Folding Electric Treadmill has an automatic and motorized incline system that can only be adjusted via the console or the ones on the left handlebar of the treadmill. This can be done by pressing any of the buttons to increase or decrease the incline.  And there are quick incline buttons as well, numbers of 3, 5, 9, and 15 on the console.
The incline mechanism or system consists of a small motor and a small lift, designated at the front base of the unit. The front base goes up or down when the incline is adjusted.
The incline range is 0% to 15%, enough to provide challenging workouts that can burn a lot more calories.
The Console
The console of the Goplus 2.5HP Folding Electric Treadmill isn't a basic one, neither is it an advanced console, which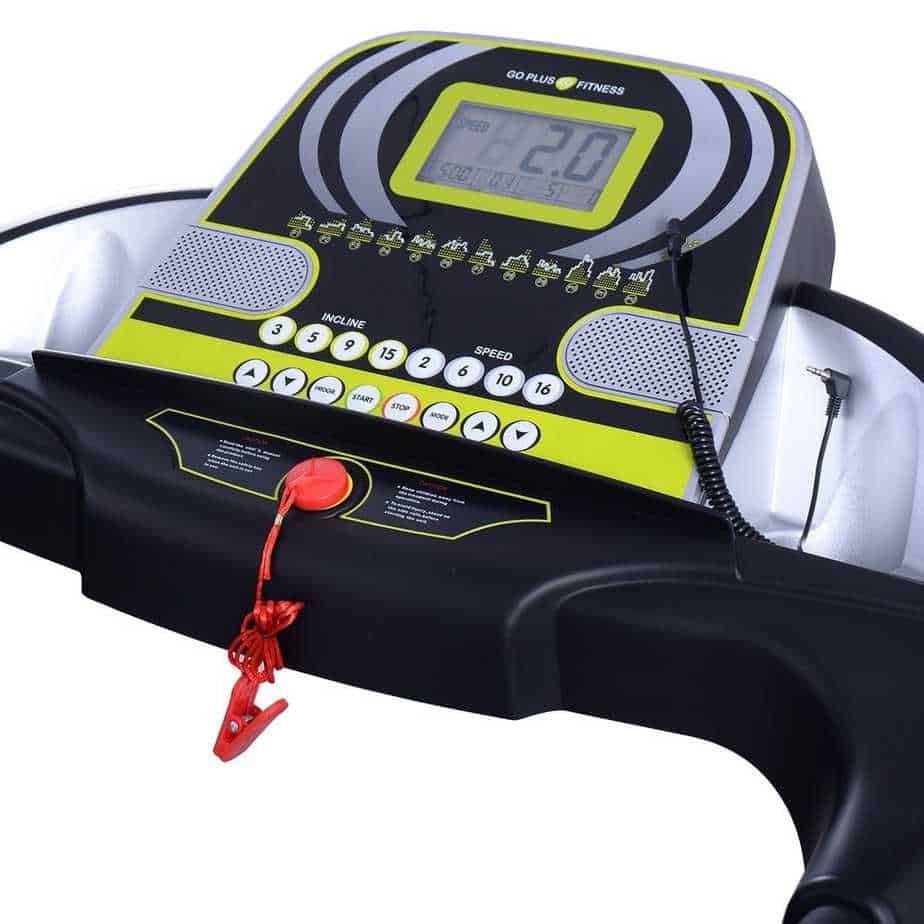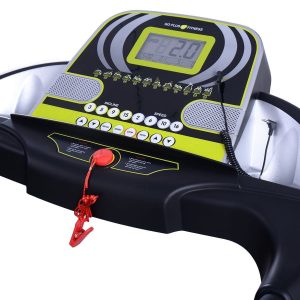 is to say it is between or moderate.
It has a blue backlit monitor that is 5 inches in size which displays high-quality readability metrics that could be viewed even in a poorly lit room.  You should be able to keep track of your workout progress as you view data such as time, distance, heart rate, calories burned, speed, and incline levels.
There are 12 easy to use built-in programs that are effective and safe to provide quality workout routines that will help to improve your cardiovascular fitness, burn fat, and enhance your overall physical health.  When using any of these built-in programs, the treadmill adjusts the speed and the incline level automatically.
There several workout buttons for speed and incline adjustments, prog, start, stop, and mode buttons which are pretty easy to use. There are two speakers for sound output when using an MP3 device to play music. It is important to note that the sound output of the speakers is not wonderful but better than some phones' sound output though.
Below the console is a tablet/phone holder that provides you with the opportunity to place your tablet on it while working out.
There is the safety/emergency key also on the console designed to be clipped to your shirt or short to automatically and abruptly stop the treadmill from running in case of accidental tripping or fall during a workout and that is why it is called the emergency stop.
The console is not telemetry enabled, which means you cannot make use of a wireless HR chest strap for heart rate monitoring.  However, it has built-in EKG sensors in the handrails/handlebars which transmit your heart rate data to the display when gripped during workouts. These help you to maintain your target heart zone through the entire workout session.
Approval Rating
The approval rating of the Goplus 2.5HP Foldable Electric Treadmill is impressive. Over 90% of the total Amazon customer reviews are positive and recommended. This goes to show that you may not be disappointed if you decide to add this to your home gym.
Pros/Features Overview
Solidly constructed with a heavy-duty steel frame that is finished with anti-corrosion and scratch paint
Supports up to 286 pounds maximum user weight capacity
It is foldable and equipped with transport wheels to save space and make relocation easy
It weighs 143 pounds that further enhances its stability
It features a 2.5HP motor that provides a speed range of 0 to 11 mph
Speed can be increased by 0.1 mph
EKG sensors are embedded in the handlebars for heart rate reading and transmission
It has automatic and motorized incline system that provides 0% to 15% incline
It has a not so advanced console with a blue backlit display that helps you to track time, distance, calories burned, heart rate, speed, speed and incline levels
12 built-in programs
Sound system with a port for MP3 device
Tablet holder
Running surface well cushioned with a rubber belt that decreases stress on the joints
Non-slip tread belt
Comes 90% assembled
Cons
It is not Bluetooth enabled which means you cannot download or transfer data
It is not telemetry enabled
No workout fan
Product Dimensions and Specifications
64'' Length
30'' Width
54'' Height
Frame: Steel
Tread belt: 18'' wide X 50'' long
Product weight: 143 pounds
Supports 286 pounds maximum user weight capacity
Motor: 2.5HP
Speed Range: 0 to 11 MPH
12 Built-in programs
Shipping, Assembly, and Maintenance
Shipping
The shipping cost of the Goplus 2.5HP Folding Electric Treadmill is determined by the shipping policy of the retailer you are purchasing from, however, Amazon provides free shipping.
Assembly
You could put this treadmill together without even using any tool because it arrives 90% assembled. It will take about 30 minutes more or less to completely make it functional.
Maintenance
It is recommended to always examine the unit for any loose, worn, or broken parts and retighten, repair, or replace accordingly before use.
Always apply lubricant oil on the runway regularly to maintain its good condition and performance.
Conclusion
The Goplus 2.5HP Folding Electric Treadmill is an ideal home treadmill that could provide you the convenience of working out at home without having to worry about going to the gym anymore, or the terrible weather and gym membership fees.
It is sturdy and equipped with useful features that are geared to help you realize your fitness goals with comfort and ease.
Goplus 2.5HP Folding Electric Treadmill Review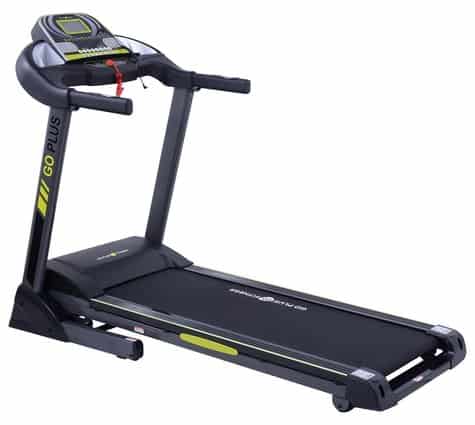 The Goplus 2.5HP Folding Electric Treadmill is an ideal home treadmill that could provide you the convenience of working out at home without having to worry
Product Brand: Goplus
Product In-Stock: InStock