ANCHEER is unleashing different types of entry-level indoor cycling bikes that resonate with many users and that include the ANCHEER Indoor Cycling Bike (Model M6008).
This bike is a little spin bike with great stability and sturdiness whose frame is made of solid steel and supports up to 300 pounds/136 kg maximum user weight capacity.
This model is available in 2 color variants of black and silver-red and both are beautiful.
It brings home the road biking experience due to the intensity and resistance its friction resistance provides.
It has a fully adjustable seat and handlebar that makes it possible for users of different heights to be accommodated.
The operation is smooth and quiet just as typical good belt-driven spin bikes are. No worries or fear of disturbing the family or neighbors while engaging in high-intensity cardio workouts.
Needless to say that spin bikes are one of the highest calorie burners and the ANCHEER Indoor Cycling Bike (Model M6008) provides you with the opportunity to do just that.
You can stay hydrated throughout the workout session by using the water bottle holder and be entertained by placing your phone on the phone bracket which is by the way not going to obstruct the workout data being displayed on the LED monitor, or better still watch your favorite TV show without having to turn up the volume since it is a quiet and smooth operating machine.
Click right here to have a peek at the price of the ANCHEER Indoor Cycling Bike (Model M6008) on Amazon.
The Frame and Construction
The ANCHEER Indoor Cycling Bike (Model M6008) is a proven strong bike with a strong steel frame that supports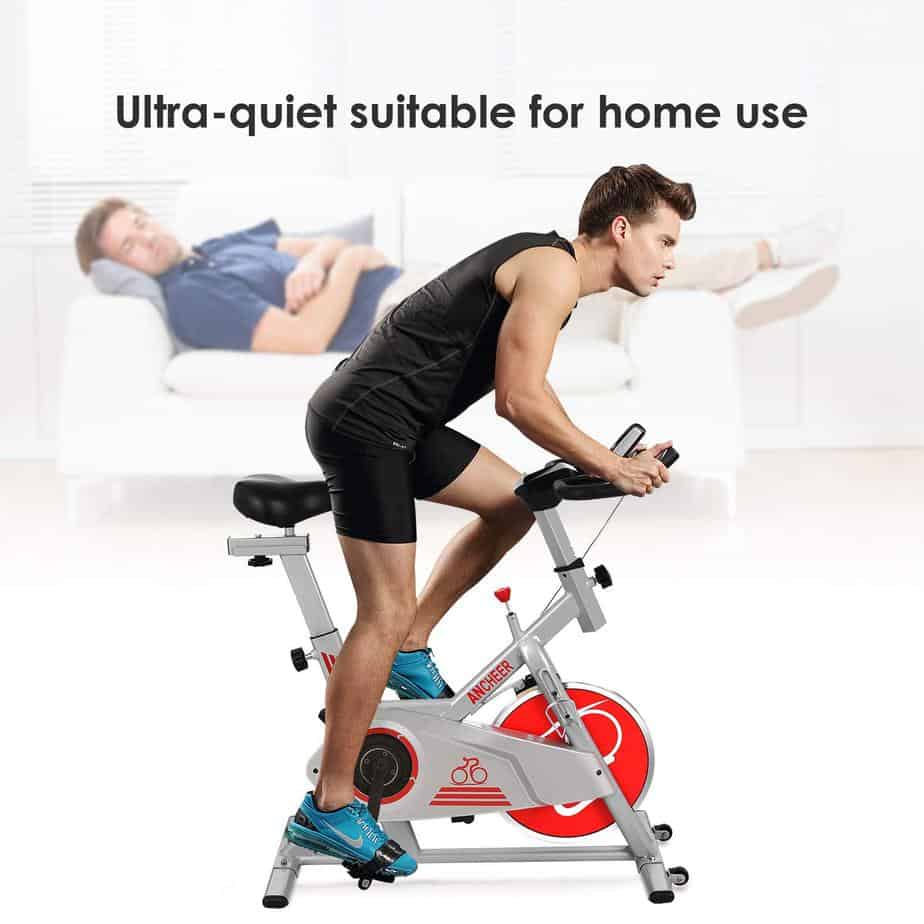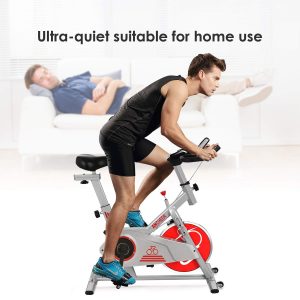 up to 300 pounds/136 kg maximum user weight capacity.
It is also compact and portable yet very stable because of the base framework that is reinforced by the stabilizer bars. Underneath these stabilizer bars are 4 adjustable rubber levelers that are designed to level up the bike on an uneven floor. These cement its overall stability and eliminate any chances of wobbling.
However, you may use a protective rubber mat as an additional stability boost and use it to prevent sweat from dripping on the floor as well.
The overall dimensions of the ANCHEER M6008 are 42.9 inches long by 18.9 inches wide by 43.3 inches tall just as the ANCHEER Indoor Cycling Bike, Belt Drive B3008. As a matter of fact, these two models have a lot in common.
The workout area required for this unit is 3.5 feet long by 1.5 feet wide and a ceiling height of at least 7 feet especially if you consider performing a sprint and a stand up pedaling. Considering adding extra clearance of at least 2 feet at the rear and on each side of the bike is believed to be a smart and a necessary move for safety and convenience during workouts.
Just as aforementioned, the bike comes in two color variants of black and silver and both have the same design, features, and price tag.
The metal parts are coated with anti-corrosive and scratch paint to preserve the original outlook from the invasion of rusts, scratches, and decay.
This is indeed a dynamic indoor cycling bike that provides cardio workouts that target the lower body, the abs, and ultimately help to lose weight.
The Seat, the Handlebar, and the Pedals
The ANCHEER Indoor Cycling Bike (Model M6008) features a fully adjustable seat. The seat is 4-way adjustable, i.e.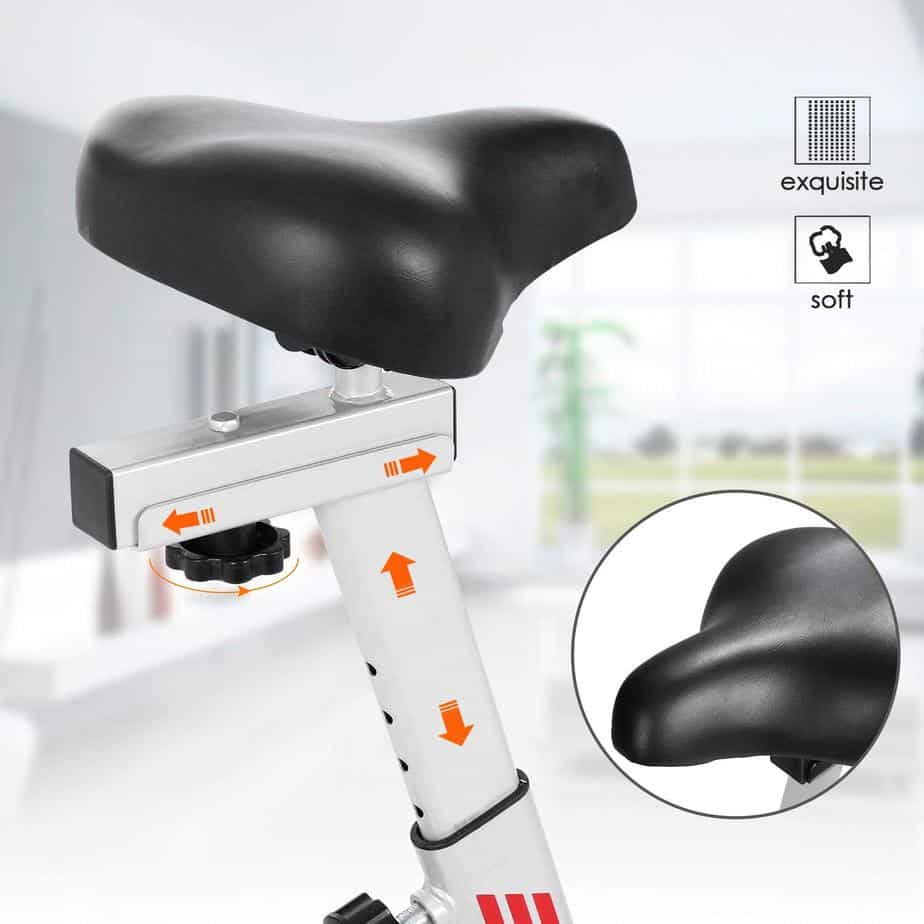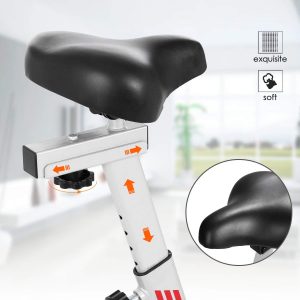 could be adjusted vertically (upward/downward) and horizontally (fore/aft). This makes it highly flexible in terms of different heights of users it can accommodate.
Users between the heights of 4.9 feet to 6.2 feet tall could be accommodated but taller individuals may experience some restrictions like not being able to ride with full leg extension.
The saddle is padded and contoured to provide adequate comfort to the butt but there might be an instance of getting used to It because some users say it took them few days to be able to use it. Although, you could use a gel seat cover to improve the comfort it provides or you can easily replace it with another of your choice.
Seat's dimensions are 25 cm by 20 cm (9.8 inches by 7.9 inches) and 37 inches maximum adjustment from pedal top to seat top.
The handlebar is ergonomically designed to provide the natural postures for comfortable and effective workouts. The 17.7inches /45 cm in height handlebar is coated with a soft rubber foam material intended to provide firm and comfortable grips that prevent slippage and blisters in the palms.
The handlebar has the LED digital monitor at the middle top and the phone bracket designated right below the monitor.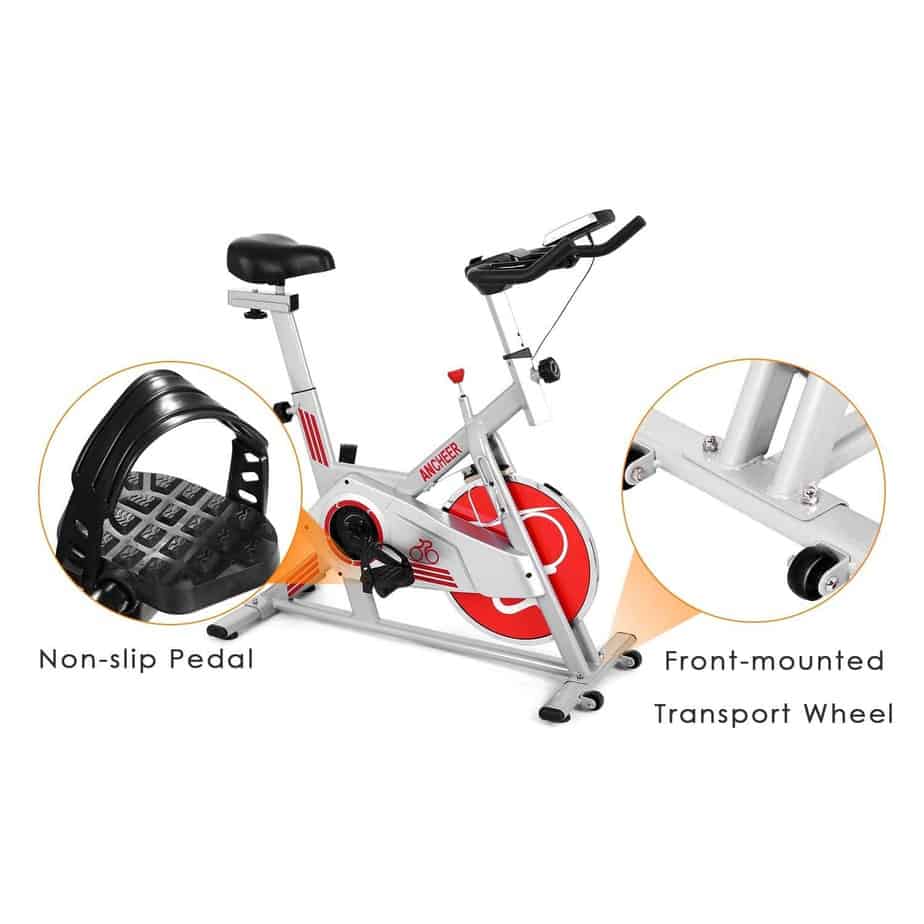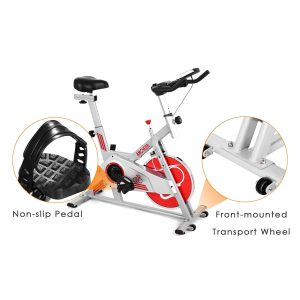 It can be adjusted 2-ways vertically (upward/downward) providing a suitable workout angle or setting.
The adjustments of the seat and the handlebar are pretty easy and take only seconds to completely get over with.
The pedals are anti-slip designed with adjustable safety straps that secure the feet and good for standard gym shoes. You should be able to easily swap them for a set of pedals with toe cages/SPD clips if you so desire or wish to use spin shoes.
The Drive
The ANCHEER Indoor Cycling Bike (Model M6008) is a front belt-driven bike that is quiet and smooth. This is the edge the belt drive has over a chain drive being very smooth and quiet during workouts. It is also maintenance free because you don't have to lubricate or adjust anything at any point in time just as the case with the chain drive.
However, the belt may require a replacement at some point due to wear and tear but this usually takes years on normal circumstances.
The drive consists of quality and a durable belt, pulleys, a crankset, crank arms, a 40 pounds/18 kg perimeter weighted flywheel, and the pedals. These together provide a formidable and dynamic drive that is sleek and powerful during workouts.
The drive is also bi-directional; you can pedal in both directions to reach more muscle groups but you will not be able to coast as you could on a road or a mountain bike because of the pedals and the flywheel spin together. As a result, it is important to slow down pedaling each time you wish to stop riding or use the emergency brake via the tension knob to stop the riding activity abruptly in order to avoid an accident.
To use the emergency brake simply push the tension knob down once and that's it.
The Resistance
The ANCHEER Indoor Cycling Bike (Model M6008) has a friction resistance that provides intense and challenging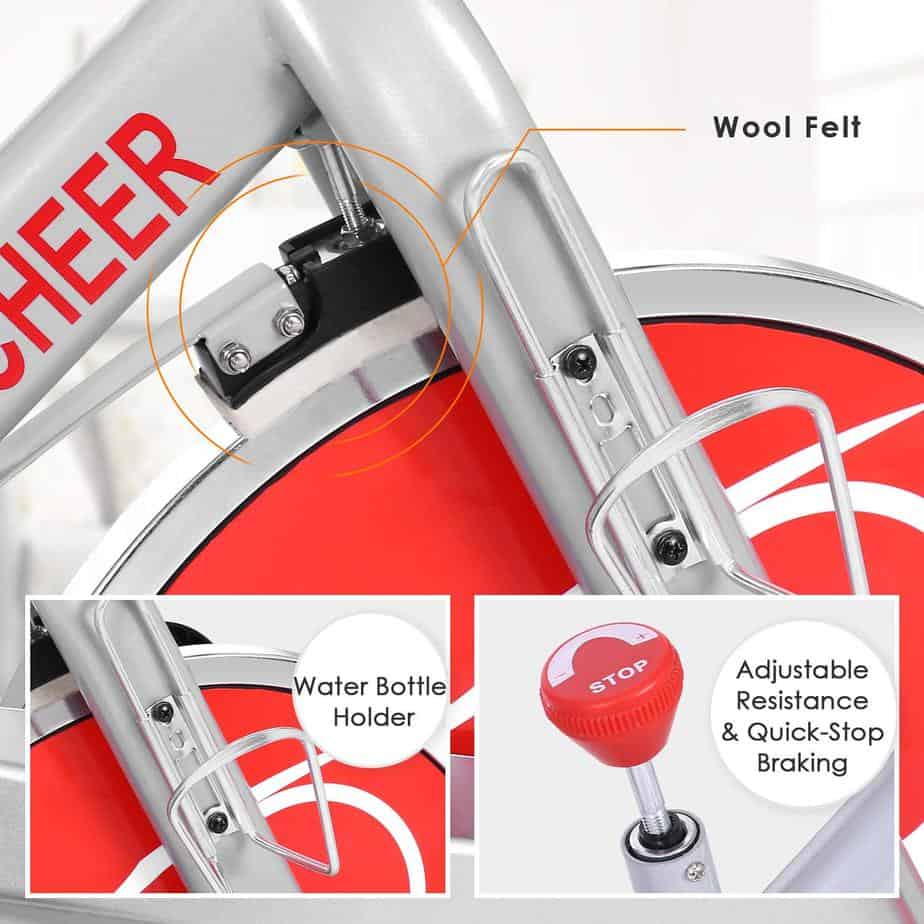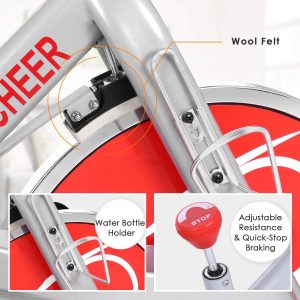 workouts like the ones at the gym or the road bike.
The friction resistance is usually a variable resistance system that does not really have limited resistance levels. In fact, it does not have resistance levels and you can only turn the tension knob control clockwise or anticlockwise to increase or decrease the resistance effect to what is suitable for your fitness level.
This helps to strengthen the legs as you experience uphill and steep hill climbing.
The problem though is that you will not be able to track your strength and endurance improvement progress due to the fact that you cannot compare the resistance levels used between workout sessions in the absence of specified resistance levels. In other words, you won't know when you have graduated from using resistance level 1 to level 2.
The resistance system consists of the tension knob that is connected to the wool felt pad which is face-down at the top of the flywheel's edge. When the wool felt pad gets in contact with the flywheel's edge resistance is generate and can get even more challenging when it gets tighter and which the reason why it is suitable for all fitness levels including advanced athletes.
The wool felt pad wears out at some point in time due to its friction with the flywheel but again this takes time as well and also depends on how hard and frequent it's being used. The warranty covers such parts for one year and provides a 30-day risk-free return.
The Console
The ANCHEER Indoor Cycling Bike (Model M6008) comes with an LED digital monitor that tracks workout data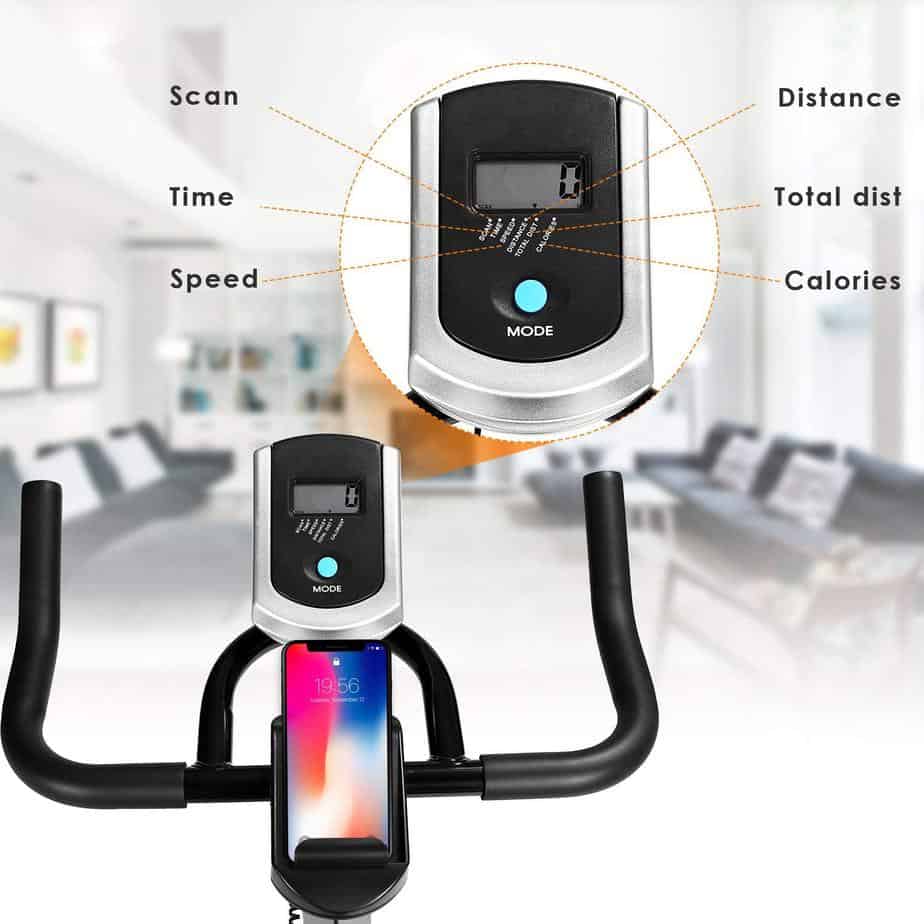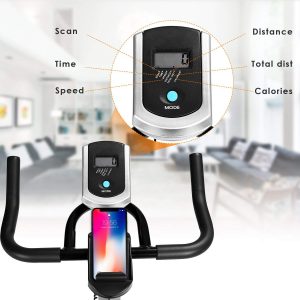 such as time, distance, speed, calories burned, and SCAN.
The console is basic with no bells and whistles but provides enough to keep you focused on achieving your fitness goals.
The dimensions are 3.9 inches by 6.3 inches/10 cm by 16 cm and it has a viewable monitor screen that displays workout data with high readability but will be compromised if used in a room with poor illumination.
The readouts may not be accurate, and they are not but estimates that allow you to calculate your workout progress.
You may have noticed that the readouts do not include the heart rate and that is because the bike is not equipped with the function to provide pulse rate. However, if you are so keen on knowing your heart rate during workouts you may decide to purchase the HR wristwatch or HR chest strap separately or use any existing you may have. This type of HR device provides more accurate heart rate data than the one provided by the EKG grip sensors.
There is only one MODE button for navigation on the console and data are displayed one at a time after 6 seconds or so before changing to another and so it goes rotationally, and this is referred to as the SCAN and enabled by the SCAN function. However, you can also decide to have a static display of a certain workout value of your choice to read throughout the entire workout session, it's your call.
The monitor is turned ON by pressing the MODE button once or by pedaling and it turns OFF automatically when there is no activity on the bike for some time in order to save battery power.
The bike does not require to be plugged into any electrical outlet to function but requires 1 AA battery to power ON.
Accessory
The ANCHEER model M6008 has two accessories which are the phone bracket and the water bottle holder.
The phone bracket provides you with the opportunity to secure your phone on the bike while you workout for taking and making calls and for the ultimate necessary distraction of listening to your favorite music.
Interestingly, the phone bracket is strategically positioned in the middle of the handlebars right below the console and it does not obstruct your viewing of the workout data from the monitor if you decide to place a phone on it unlike the case with many indoor cycling bikes.
While the water bottle holder which is also strategically positioned within reach at the right side fork of the bike allows you to stay hydrated throughout your workout session.
Storage
The storage of the ANCHEER Indoor Cycling Bike (Model M6008) is a lot easy due to its compact design and its portability.
It has dimensions of 42.9 inches long by 18.9 inches wide by 43.3 inches tall. Even though it is not foldable by design it doesn't still take up much space.
It basically requires a storage area of 3.5 feet long by 1.5 feet wide. You can conveniently store it beside the wall or under the staircase and probably in a closet.
Mobility is possible because of the integrated transport wheels at the front base. Simply tilt it towards the front base and easily relocate to your storage destination.
Approval Rating
The ANCHEER Indoor Cycling Bike (Model M6008) has an impressive approval rating on Amazon. It has over a hundred Amazon customer reviews and still has an average approval rating of 4.8 out of 5 stars at the time of this review.
This is simply an indication that the ANCHEER Indoor Cycling Bike M6008 is a good buy and recommendable.
There is an indication that people are buying this model more often.
Pros/Features Overview
It is sturdy and stable
It has a space-saving design that does not take up much space
It supports up to 300 pound/136 kg maximum user weight capacity
The pedals are bidirectional which tones and work on more muscle groups
The bike features a belt drive system that provides a quiet and smooth ride and requires no maintenance
The bike features a dynamic friction resistance system that is suitable for all fitness levels
The seat is 4-way adjustable thereby capable of accommodating users of different heights
The seat and the pedals can easily be replaced with another
The handlebar is 2-way adjustable and complements the overall flexibility of the bike
The handlebar is coated with a soft rubber foam material that provides firm and comfortable grips
LED digital multifunctional monitor that provides you with workout data such as speed, distance, time, calories burned, and SCAN function
Water bottle holder and phone bracket for staying hydrated and entertained while you exercise
Easy to assemble
Cons
No heart rate display but you may purchase an external HR device if you wish to monitor your heart rate
The pedals have neither toe cages nor SPD clips but they can be replaced with a set of pedals of your choice
Product Dimensions and Specifications
42.9'' Length
18.9'' Width
43.3'' Height
Supports 300 pounds/136 kg maximum user weight
Console: LED digital monitor
Seat: Padded and ergonomically designed, 4-way adjustable
Handlebar: Multi-grip designed and 2-way adjustable
Flywheel: 40 pounds/18 kg
Resistance: Friction and variable
Drive: Belt
Pedals: Anti-slip designed with adjustable safety straps
Water bottle and Phone holders included
Warranty
1 Year on Material and a 30-day risk-free return
Shipping, Assembly, and Maintenance
Shipping
The ANCHEER Indoor Cycling Bike (Model M6008) shipped with all its accessories and the tools needed for assembly, plus a user manual and that including a video that could walk you through the process of assembly.
The shipping cost depends on the retailer you are purchasing from; however, some vendors such as Amazon provides free shipping within the United States and delivers in a couple of days.
Assembly
The bike is very easy to assemble because it comes with the major components preassembled. You are only expected to attach the stabilizer bars, the pedals, the seat and the handlebar posts, the seat, the handlebar, and the console to the frame.
This usually takes about 30 minutes, more or less, depending on the level of your dexterity.
Just as aforementioned, instruction manual and video is included to guide you through the whole process, and the tools needed for the work are included as well.
Maintenance
The ANCHEER Indoor Cycling Bike (Model M6008)is a maintenance-free bike that does not require any serious maintenance.
Make sure to always examine the bike for any loose, worn, or broken part before use to avoid further damage and accident, and fix any problem that may arise accordingly.
Finally, always keep the unit clean from dirt and sweat.
Conclusion
The ANCHEER Indoor Cycling Bike (Model M6008) is an entry-level bike that is affordable. It is simply a cost-effective spin bike and this could easily be seen by the many users' reviews almost every one of whom has a positive thing to say about the cycling bike.
Having looked closer at the ANCHEER M6008, we also think that this is a good choice for those that cannot afford the real spinning bikes like the Spinner Blade ION Indoor Cycling Bike in order to experience the real gym workouts at home.
ANCHEER Indoor Cycling Bike (Model M6008) Review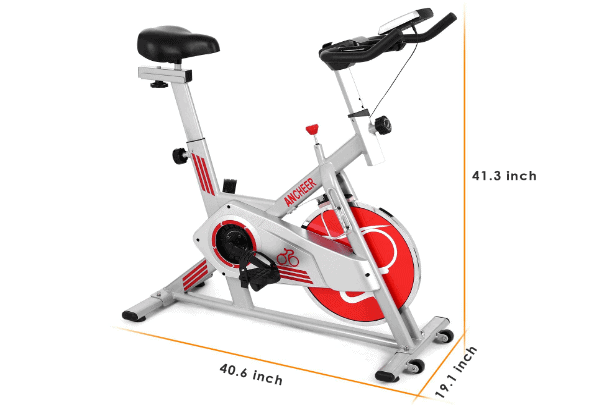 ANCHEER is unleashing different types of entry-level indoor cycling bikes that resonate with many users and that include the ANCHEER Indoor Cycling Bike (Model M6008).
Product Brand: ANCHEER
Product In-Stock: InStock