The Body-Solid Endurance B27 Upright Bike is indeed one solid-looking piece of equipment that could last forever. Aside from it been durable it has got features that could make your workout memorable and productive as well.
Just a quick heads up, the console sucks for a bike of this level; it does not have many functions one would ordinarily expect. There is a couple of other things we expected to see on this bike that is not present.
But first thing first, let's look at the upside of the unit, shall we?
The Frame
As we expected, the Body-Solid Endurance B2U has one of the best frames in terms of durability and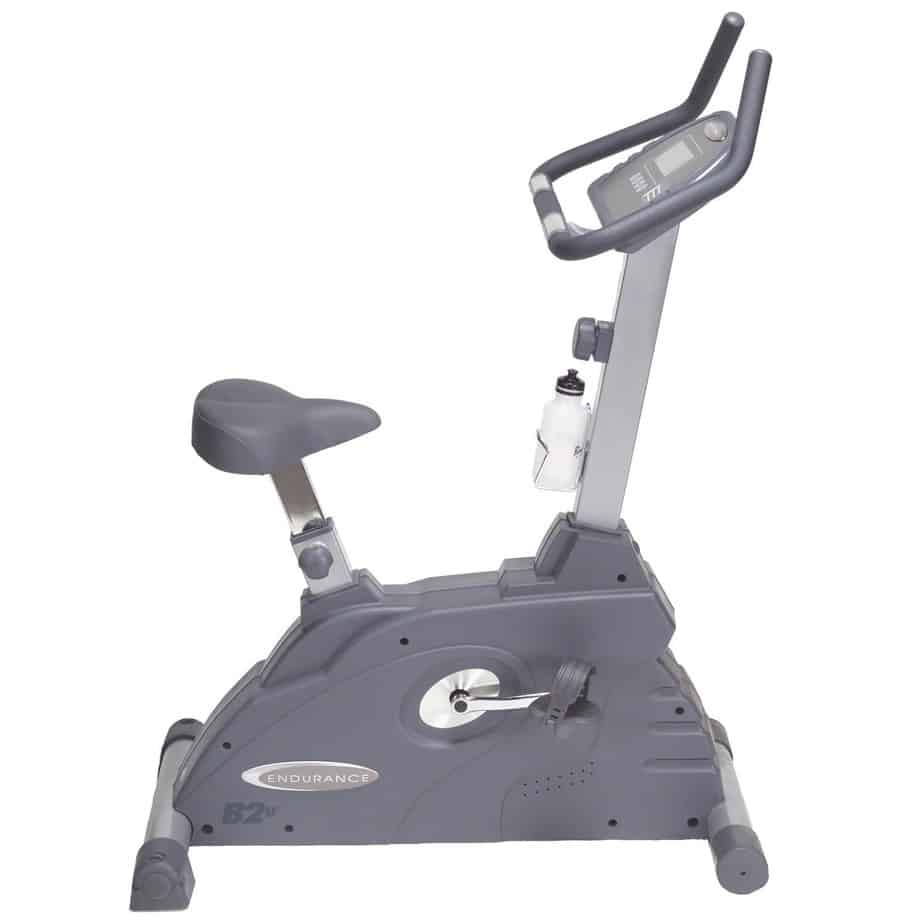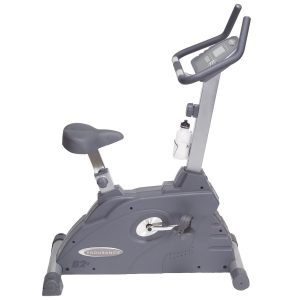 sturdiness. The frame is made of thick steel bars, coated with corrosion-resistant paint that is meant to prevent rust. The plastic material on it would be the side covers for the drive and the resistance system.
It supports 400 lbs./181 kg maximum user weight capacity.
The machine is compact and it fits in a small room or apartment. Its overall assembled dimensions are about 41'' in Length and 24'' in width. Although, it going to need extra clearance of 1-2′ at the rear and on each side of it for safety and easy access purposes.
It features a robust base that is made up of front and rear stabilizers. Thus, its stability is superlative. Moreover, it weighs about 121 pounds which is equivalent to 55kg, which also promotes stability.
You won't feel wobbling or tipping movements while exercising, not even during an intense workout.
The bike can easily be moved for storage due to the integrated transport wheels.
The Seat
The B2U has a seat that is large and cushioned. It provides comfort that could last the duration of a workout session.
If need be you can use a gel seat cover to improve the level of comfort it provides.
The seat is only 2-way adjustable; it can be adjusted vertically (upward/downward), unlike the Nautilus U616 upright bike seat that can be adjusted horizontally (fore/aft) as well.
That said, the bike's seat adjustment makes it possible for users of different heights to be accommodated.
It has a multi-grip design handlebar but cannot adjust like the Schwinn MY16 130 Upright Bike.
The handlebar is also equipped with heart rate sensors which transmit the user's pulse rate data to the monitor when held during a workout.
The Console
The console is rather basic and it features a nonbacklit monitor.
We think the console/monitor should have been better than what it is considering the price of the bike. Even a cheaper bike such as the Schwinn 170 Upright Bike has a better console and functionality.
That said, the monitor tracks your workout progress by displaying data such as the time, distance, speed, calories burned, and heart rate. The display is easy to read as long as it's being viewed in a well-lit environment.
It has a SCAN function that displays the workout data one at a time after every few seconds since the display screen cannot show them all simultaneously. It is also possible to set a preferred workout value to display constantly instead.
The console also offers the opportunity to set a goal countdown for Time, Distance, and Calories.
The monitor can be turned ON by pedaling or by pressing the RESET button. It also turns OFF automatically when the unit is inactive for a few minutes.
It is powered by 2 AA batteries.
The Drive
The Body-Solid Endurance B2U has a belt drive system that does not require maintenance like lubrication. This type of drive system is usually quiet and smooth during operation.
So, it is perfect for home use because you can work out at any time of the day without having to worry about disturbing the family or neighbors. It has a perimeter weighted flywheel (which is believed to be 24 pounds in weight) that provides consistent momentum.
The flywheel is heavier than what is on most upright bikes.
The unit has a very solid heavy-duty crankset that can support out-of-seat pedaling. However, this is an upright bike, and stand-up pedaling is not recommended.
The self-leveling pedals are large, and anti-skid designed with adjustable safety straps. They can securely and comfortably accommodate different foot sizes and can only be used with a pair of standard gym shoes.
They can easily be replaced with another type of pedals because they have 9/16" standard thread. Options are widely available online or in the local bicycle shops.
The Resistance
The B2U bike features a manual magnetic resistance system with 15 adjustable levels. The resistance system consists of a magnetic brake, the tension knob, and the flywheel.
It is a non-friction resistance system that generates resistance when the magnetic brake pad emits a magnetic field in the premise of the flywheel. Thus, no part wears out and no part replacement is required.
In other words, the resistance system is maintenance-free.
The tension knob controls the resistance level. Turn it clockwise to increase resistance intensity or counterclockwise to decrease it.
Users that wish to lose weight, and improve their overall physical fitness could find the B2U Bike handy and useful.
The Pros Overview
It has a heavy-duty frame that is well constructed with steel, therefore it is durable.
It is sturdy and stable even during an intense workout session thanks to the weight and adjustable stabilizers.
It is compact and operates quietly
It has transportation wheels that make relocation easy
It has an oversized seat that is designed to offer comfort even to big fellows with adjustment capability of upward/downward.
It has an easy-to-use console that enables you to track your workout progress
Requires almost no maintenance to function properly
It has a very fine warranty
A water bottle holder also available for hydration purposes during a workout
Relatively easy to assemble
Cons
The console is very basic for an upright bike like the B2U
No online capabilities or Bluetooth
No entertainment features such as MP3 and speakers
No cooling fan
No media shelf or charging USB port
Product Specifications
It supports 400 pounds/181kg maximum user weight
The seat can be adjusted upward/downward
Dimensions when assembled: 41'' L x 24'' W x 55'' H
Resistance System: Manuel magnetic with 15 levels
Console: Time, Speed, Calories, Distance, and Heart Rate
Warranty
Lifetime for Frame and Parts
1 Year for Labor
Shipping, Assembly, and Maintenance
The shipping cost of the Body-Solid Endurance B2U depends on where you are purchasing the unit.
However, Amazon provides free shipping and makes the delivery in a couple of days.
It is pretty easy to assemble the unit even though there are complaints that the instruction manual is not very clear. But hopefully, they have corrected it at this time.
The bike's major components are already preassembled. Therefore, you are only required to attach the seat, the base tube, the console stand, the pedals, the tension wire, the knob, the console, and of course the handlebar to the main core unit.
It takes about an hour, more or less to completely assemble the bike.
The bike doesn't need any serious maintenance.
Simply keep it clean at all times. Endeavor to examine it for any loose or broken parts before use or periodically and act accordingly if there is an issue.
Conclusion
The Body-Solid Endurance B2U is durable, compact, and portable.
It also has the features needed for outstanding and productive workouts despite its basic console.
If you are still open to checking out an alternative, look up the Nautilus U616 Upright Bike review.