The Body-Solid Freeweight Leverage Commercial Gym Package SBL460P4 is the leverage gym that could make you look like a superhuman because it is designed to offer full-body strength training with adequate features. This leverage gym is also solidly built for home and commercial use which means it is built to last even through hard use.
It is strongly constructed and cleverly adapts to different exercises quickly without problems. Honestly, if you are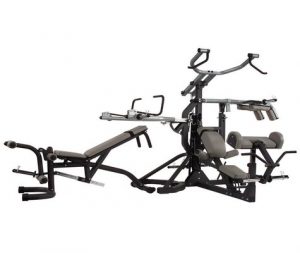 looking forward to experiencing the hardcore strength workouts and wish to build muscle mass then look no further than the Body-Solid Freeweight Leverage Commercial Gym Package.
Many gym enthusiasts have poured accolades on this equipment and considered it to be the leverage gym.
There is no way you can go wrong in your quest of building physical strength and outstanding sculpted body with this leverage gym at your disposal.
This is a free weight resistance based system gym, in other words, it leverages free weight and offers over 40 exercises that could develop the entire muscle groups.
It is a commercial-grade home gym because it features a super heavy-duty mainframe that is built from 10 and 11 gauge high tensile strength steel.  Features 3 workout stations with several attachments to allow a user to perform different exercises.
Body-Solid is a brand name that has proven over the years that they are one of the best fitness equipment manufacturing companies that must be reckoned with.
By the way, the Body-Solid Leverage Commercial Gym SBL460P4 is featured in our best home gyms review which means it is one of the best there is.
<<<Click right here to purchase the Body-Solid Leverage Commercial Gym at the best price available>>>
Frame and Construction
Again, the frame is made of 10 and 11 gauge high tensile strength steel. It features a durable, electrostatically applied powder coat finish that is anti-corrosion.  Nevertheless, it important to note that this is indoor equipment, which means not designed to be used outdoors.
This home gym is presumed to be one of a kind that provides stability and strength training.
The workout stations operate on pivot points using the commercial-grade pillow block bearings and oversized bronze bushings, and as you may have been already aware, it offers over 40 exercises in three different workout stations that are designed to help the user sculpt the entire muscle groups in the body.
A user can perform exercises such as the pec flys, lat pulldowns, preacher curls, incline, decline, and flat bench presses, squats, calf raises, and a lot more. All a user got to do is load up the weight plates and workout.
There are advanced safety features in place that allow a user to max out workouts without the need for a spotter.
This leverage gym is rugged and strong enough to withstand any sort of workout you wish to engage in and that makes it the best unit if you are looking for the home gym that can provide that hardcore and heavy workouts.
The leverage gym is fairly large including the attachments. When fully assembled it requires 107 inches long by 126 inches wide of the floor to be fully accommodated,  and to utilize it safely and properly without restrictions it is recommended that 12 feet long by 10 feet wide workout space be assigned to it.  The height is about 83 inches which is the equivalent of 6 feet 9 inches. So it will require a room with at least 7 feet ceiling height to be accommodated but will be safer if the room's height is a little bit higher than 7 feet.
It is designed to use Olympic style plates only and the unit weighs about 705 pounds without weight plates on it, which is pretty heavy. But this is an added advantage as it increases the overall stability of the machine.  But being a very heavy machine it is advisable to place it on a rubberized mat to prevent unwarranted damage to the floor.
It can accommodate users of different sizes, up to 6 feet 6 inches.
The Seat and Other Parts
The Body-Solid Leverage seats, backrest, bench, and shoulder pads are well cushioned and padded with 2 and 3 inches thick DuraFirm upholstery that is sweat resistant. They are designed to provide the optimal comfort any user would expect and need during workouts. And the featured upholstery in this machine is highly durable and resistant to wear and tear and so will last for many years.
Interestingly, this machine features one pulley that is designated in the middle of the main upright post which allows the user to perform various exercises such as the Ab crunches and trunk rotations.  This is a special feature given the fact that this machine is designed to use conventional weight plates.
Workout Stations
Now that we have been able to explain the construct of the leverage gym, we are going to try to explain the workout stations that are available on this machine. And these unique and main workout stations are the press station, the lat pulldown station, and the hack squat and calf raise station, including the popular FID46 weights bench. Moreover, there is also the mid pulley station which we mentioned earlier on in this review.
Press Station
The press station is mostly used for the upper body workouts and one of the ways of using it is by pressing a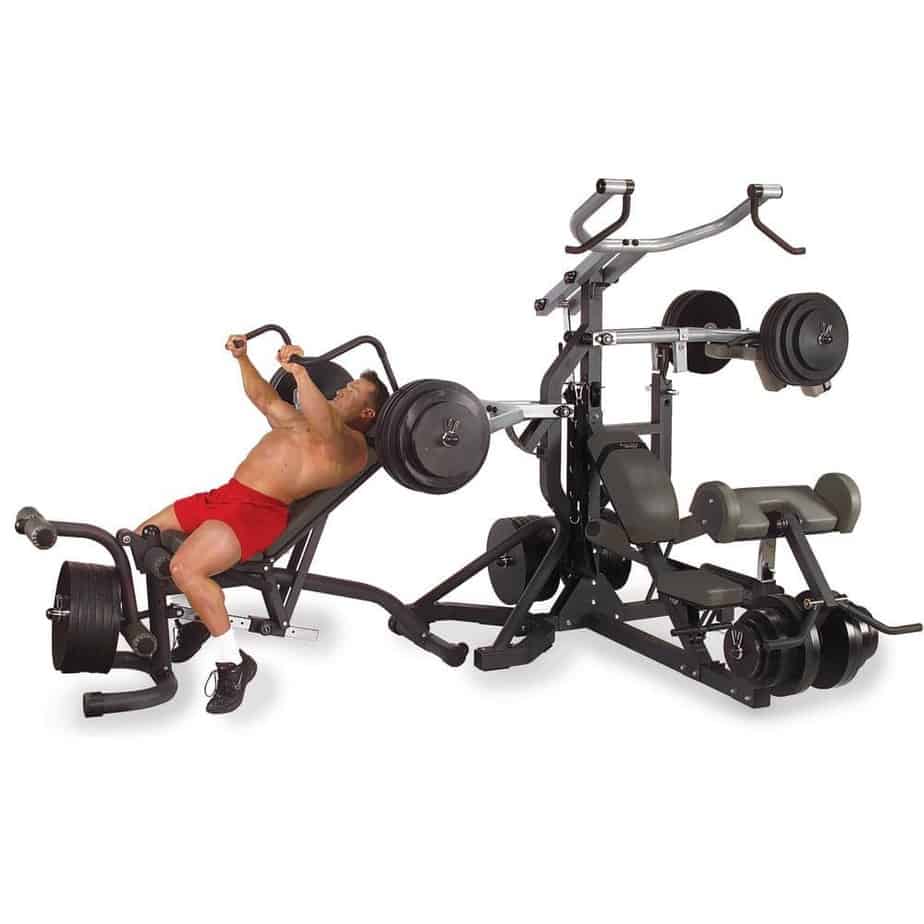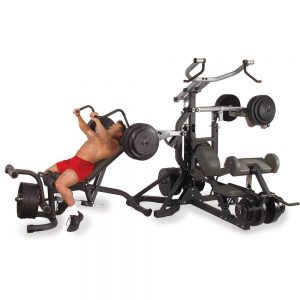 heavyweight up from the chest which is one of the common ways to build the chest, triceps, shoulders, and overall strength.  It is also used to perform upright rows and shrugs as well.
The FID46 bench is required to perform the chest presses with the pivoting handles and weight plates that are to be loaded on each side of the pegs.
So, the bench press exercises can be done much safer than the conventional bench press system because there is no bar in between the weight plates.
Lat Pulldown Station
The lat pulldown station helps a user to target the back that has the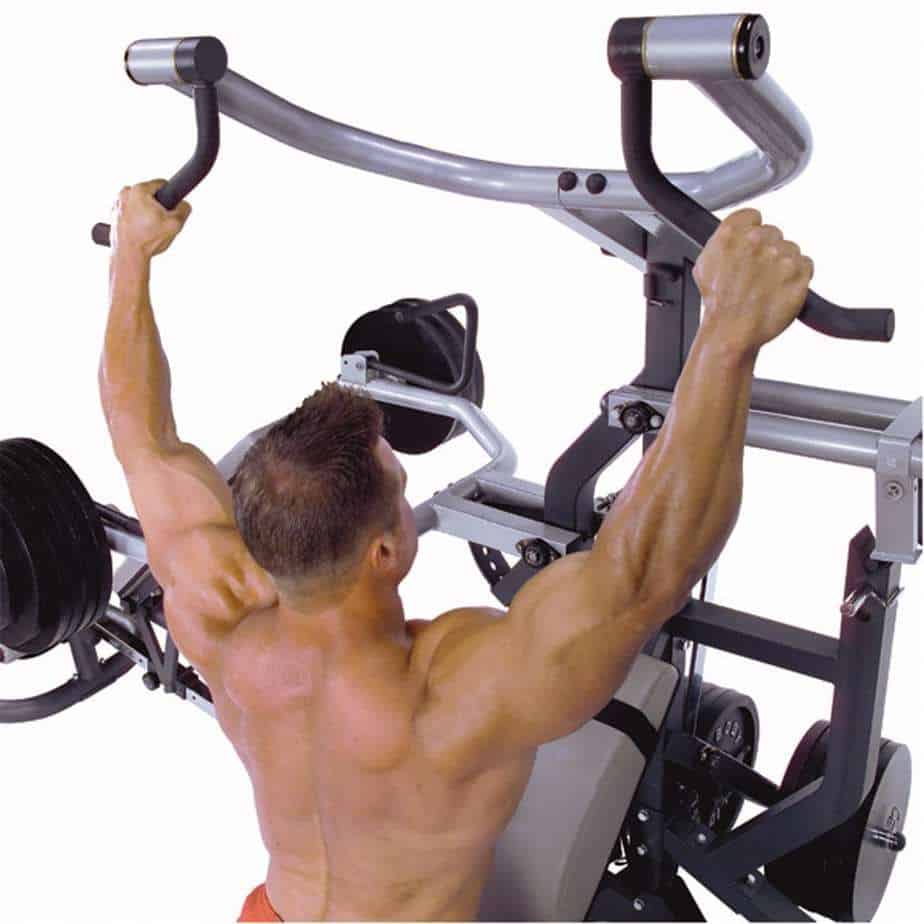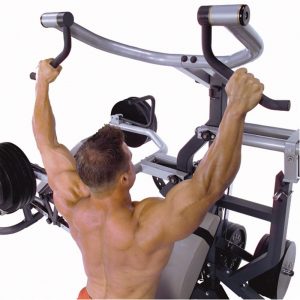 most and complex muscle groups. This allows the user to work on the various angles of the muscle groups thereby achieving optimal results.
The pull-down is one of the popular and commonly used workouts just like the bench press and the Body-Solid SBL460P4 is integrated with the features to support this exercise
The lat pulldown station also features some well-padded supports that are designed to keep the user comfortable throughout the entire workout.
There is also back support that is padded to create a slight arch in the upper back with the intent to help put the upper body in the best position for contracting the back muscles.
Whereas there are thickly padded rollers designated on either side of the seat meant to slide the legs under them when performing the exercise facing the frame. This helps the user to use more weight without having to worry about being lifted off the seat.
Hack Squat and Calf Raise Station
The hack squat and calf raise station allow the user to perform the hack squats and calf raises because Body-Solid SBL460P4 integrates a footplate. However, the leg developer on the weights bench can also be used to work on the lower body.
In this case, there is also well-padded upholstery that will provide much-needed comfort during the execution of this exercise.
Mid Pulley Station
This is the only pulley that is present in this leverage gym and it is designed for Ab crunches and other mid pulley exercises. This workout station leverages the weight load of the lat pulldown station.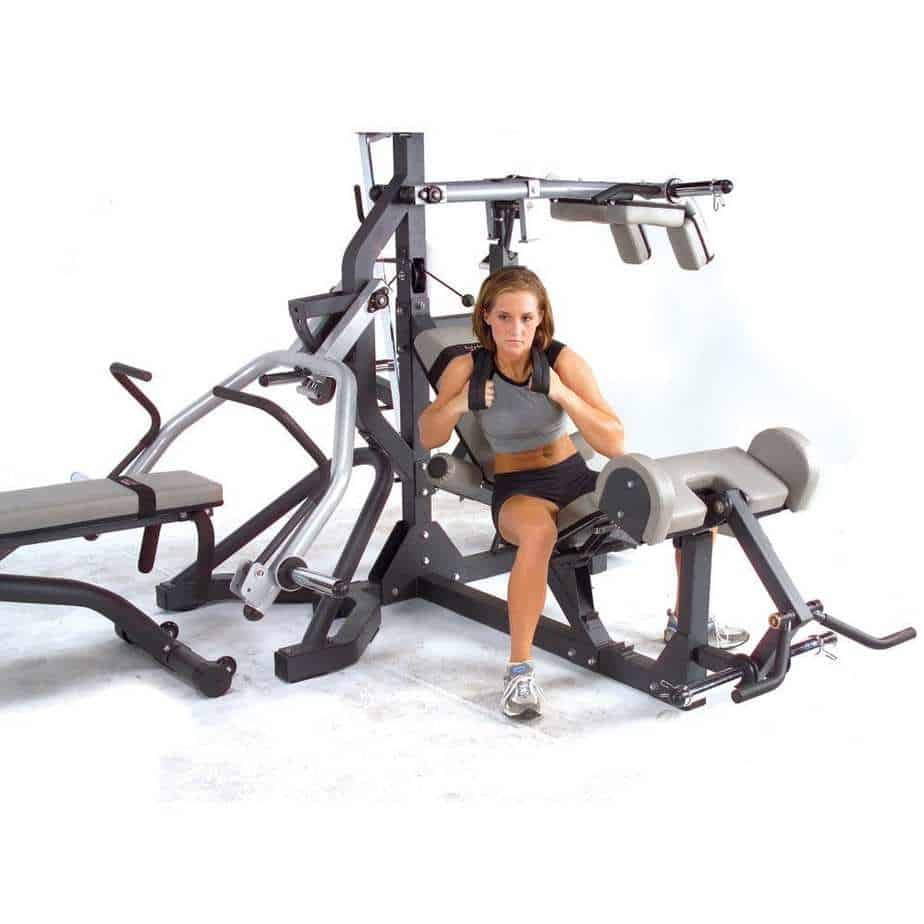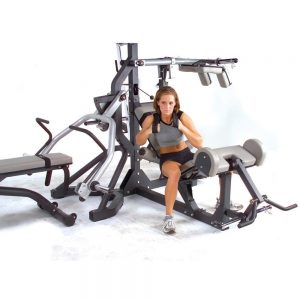 Attachments
These are the attachments that are included with the Body-Solid SBL460P4L Leverage Gym.
Bench FID46
The FID46 is an adjustable bench designed to be used for incline, decline, and standard presses. It features thick DuraFirm upholstery that could provide optimal comfort during workouts. There are two handlebars at the top of the backrest designed to be held on to when performing leg curls. At the rear base of the bench are two transport wheels for easy relocation.
Leg Developer
The leg developer is an attachment that accompanies the bench and it allows users to perform exercises such as the leg extensions and leg curls. There are three well-padded rollers with about 3 ½ inches foam integrated to provide maximum comfort during exercises.
Preacher Curl Station
The preacher curl station is used to work and develop the biceps. This station is attached to the main machine and has large elbow pads that are adequately padded to provide comfort during exercises.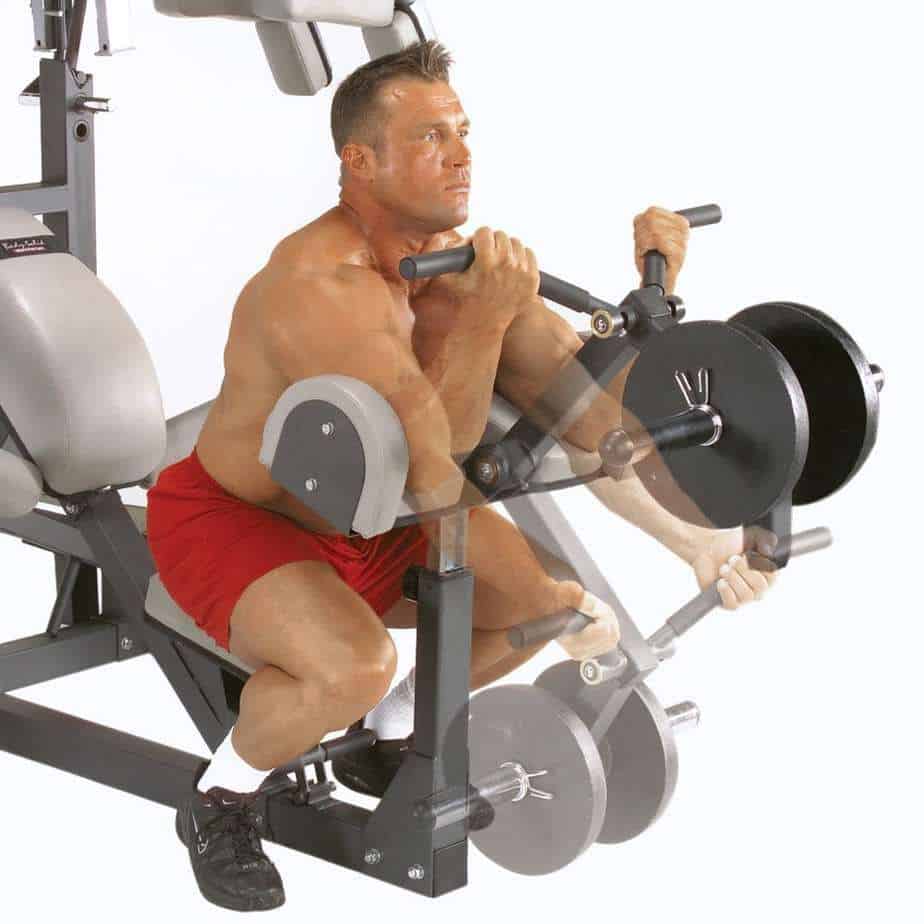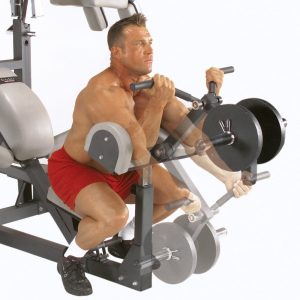 Weight Resistance
The Body-Solid SBL460P4 uses the free weight to create weight resistance, which means it does not use fixed weight because you can always load and unload weights as you see fit.
To utilize the workout stations, free weights must be loaded to feel the workout impact.
As aforementioned, this leverage gym utilizes only Olympic weight plates which are plates with 2 inches diameter hole.
Each peg where the weight plates are loaded comes with its spring collar to secure the weight plates.
There are safety measures in place that make it possible for a user to workout with heavyweight without needing a spotter. This machine is not only safe but also very effective for building strength and muscle mass as well.
However, it does not include weight plates upon purchasing the machine which means you have to buy them separately.
Some of the Possible Exercises
Bench Press
Incline bench press
Decline bench press
Shoulder press
Pec Flys
Lat pulldowns
Pull-ups
Hack squats
Calf raises
Tricep pushdowns
Seated Rows
Preacher curls
Leg extensions
Bicep curls
Upright rows
Shrugs
…and a lot more
Pros/Features Overview
Commercial –grade heavy duty machine with 3 inches by 3 inches steel mainframe
Very sturdy
Has enough padding upholstery on the rollers, seat, bench, and the preacher curl for optimal comfort.
Three main workout stations make it possible for three users to workout concurrently
The lat pulldown station can be locked to allow the user to perform pull up exercises
It provides over 40 exercises
It is a very effective machine for building strength and muscles
The bench is adjustable
The mid pulley is included to allow Ab crunches
Pivoting handles that provide great flexibility during exercises
There are safety guards available to avoid getting trapped under heavy weight without a spotter
Excellent warranty
Cons
It takes time to assemble
It does not come with any weight plates
Product Dimensions and Specifications
107'' Length
126'' Width
83'' Height
Weighs about 705 pounds
Offers over 40 exercises
Weight Limit:

FID46 Bench supports up to 1,000 pounds
LSA50 Squat attachment supports up to 600 pounds
The lat station supports up to 800 pounds
The press station supports up to 600 pounds
The leg developer supports up to 400 pounds
The preacher curl supports up to 400 pounds
Warranty
Shipping, Assembly, and Maintenance
Shipping
The shipping cost of the Body-Solid Freeweight Leverage Gym differs as it depends on the retailer you are purchasing from; nevertheless, Amazon could provide free shipping.
Assembly
The assembly of this machine is kind of difficult because it takes a lot of time to assemble but has a very detailed instruction manual that is designed to walk you through the process.
Some of the tools required for the assembly are included but will need to get additional tools such as the adjustable wrench and screwdriver.
It usually takes about 6 to 7 hours to fully assembly or even days because there are a lot of parts and some of them are heavy.
Maintenance
The Body-Solid Leverage Gym does not require any serious maintenance except to periodically check for bolts that may have loosened and re-tight accordingly and also lubricate joints if they start making a squeaky noise.
Aside from this, you just need to always wipe and keep it clean from dust and sweat.
Conclusion
The Body-Solid SBL460P4 Leverage Gym is a unit that is great for those that wish to engage in serious strength workout and develop muscle mass. It has a couple of useful features that could help a user perform different exercises that are over 40. Such features are the FID46 bench, preacher curl, lat station, leg developer, squat station, mid pulley station, and more.
It is also a commercial-grade leverage gym which means it is solidly built to last.
If you have any questions don't hesitate to ask as we shall be glad to respond accordingly.
Body-Solid Freeweight Leverage Commercial Gym Package SBL460P4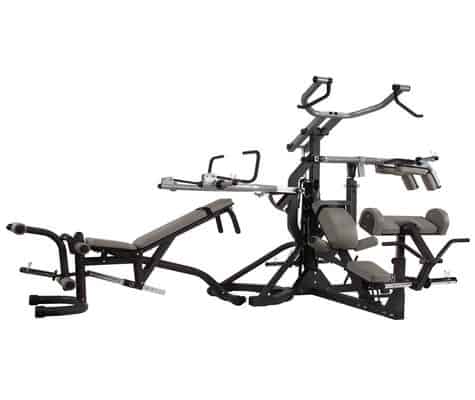 The Body-Solid Freeweight Leverage Commercial Gym Package SBL460P4 is the leverage gym that could make you look like a superhuman because it is designed to offer full-body strength training with adequate features. This leverage gym is also solidly built for home and commercial use which means it is built to last even through hard use.
Product Brand: Body-Solid
Product In-Stock: InStock