The Trbitty brand in the fitness industry may not ring a bell to so many fitness enthusiasts but that does not mean that they don't produce great fitness equipment such as the Trbitty Belt Drive Indoor Cycling Bike, Spin Bike.
In as much as we regard and tend to pay a lot more attention to the already established fitness manufacturing brands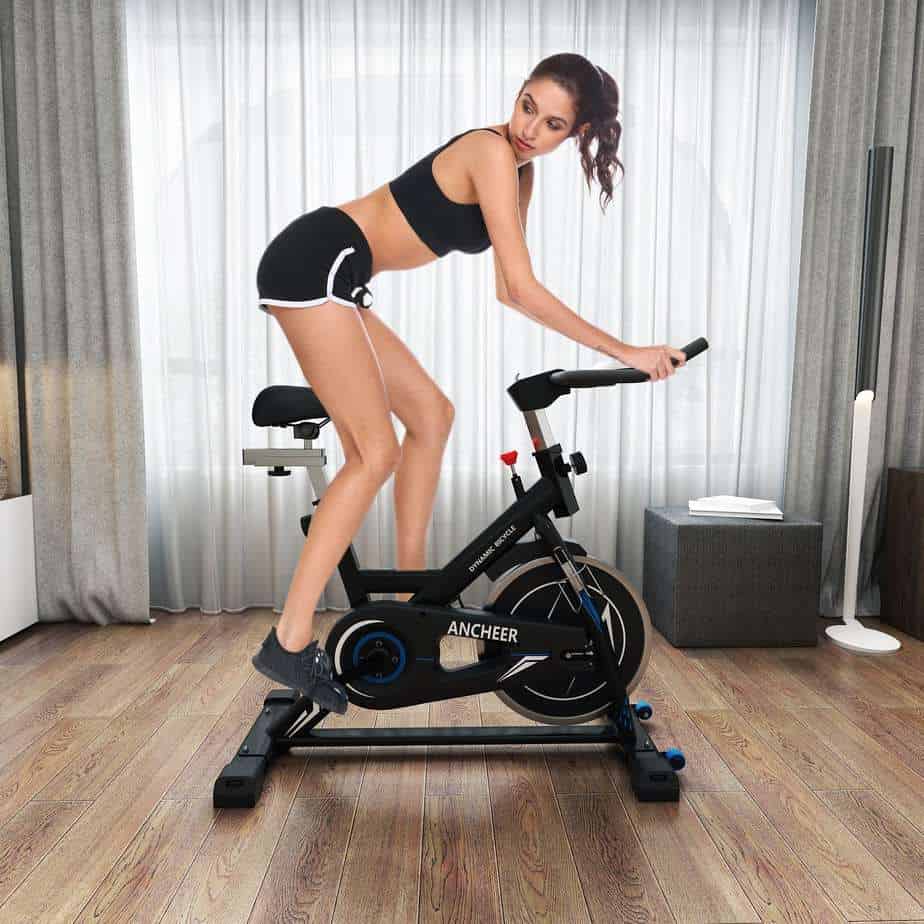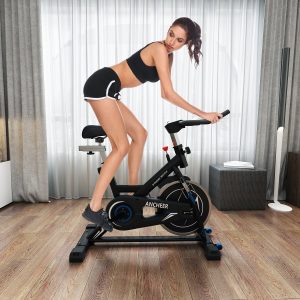 doesn't mean there aren't other brands out there that are producing remarkable and impressive fitness equipment.
Those brands that have less exposure are likely to be on their toes to make sure they manufacture something that is going to stand the test of time and the high competition that already exists in the market to be recognized.
This is exactly what Trbitty is doing and they have shown that effort in the manufacturing of the Trbitty Belt Drive Indoor Cycling Bike, Spin Bike. So far, those that are fortunate enough to discover the existence of this spin bike are very thankful that they did because it has great features and can be obtained at a value-oriented price as well.
We decided to look up this spin bike because one of our audience read our reviews on spin and best exercise bikes but instead of purchasing any of the listed bikes he purchased the Trbitty Belt Drive Indoor Cycling Bike and we followed the trail and discovered why he did and why we should also review it.
We can speculate on the reasons why he purchased this bike, and that is not because the listed ones on our spin bike review are not great or recommendable but because this bike has a value-oriented price which means a user gets a lot in return for the price and we shall explain in details what these features are in a moment.
At the time of this review, there aren't many reviews on this bike because it is new and not yet known by the vast majority of fitness reviewers except there is a handful of users' feedback on Amazon which turns out to be 100% positive.
NOTE!!!
Trbitty is a brand that sells Ancheer fitness products, in other words, this spin bike is also known as the ANCHEER Belt Drive Indoor Cycling Bike.
<<<Click right here to purchase the Trbitty Belt Drive Indoor Cycling Bike at the lowest price available>>>
The Frame/Durability/Sturdiness
The Trbitty Belt Drive Indoor Cycling/Spin Bike's frame is solidly constructed and can support up to 264 pounds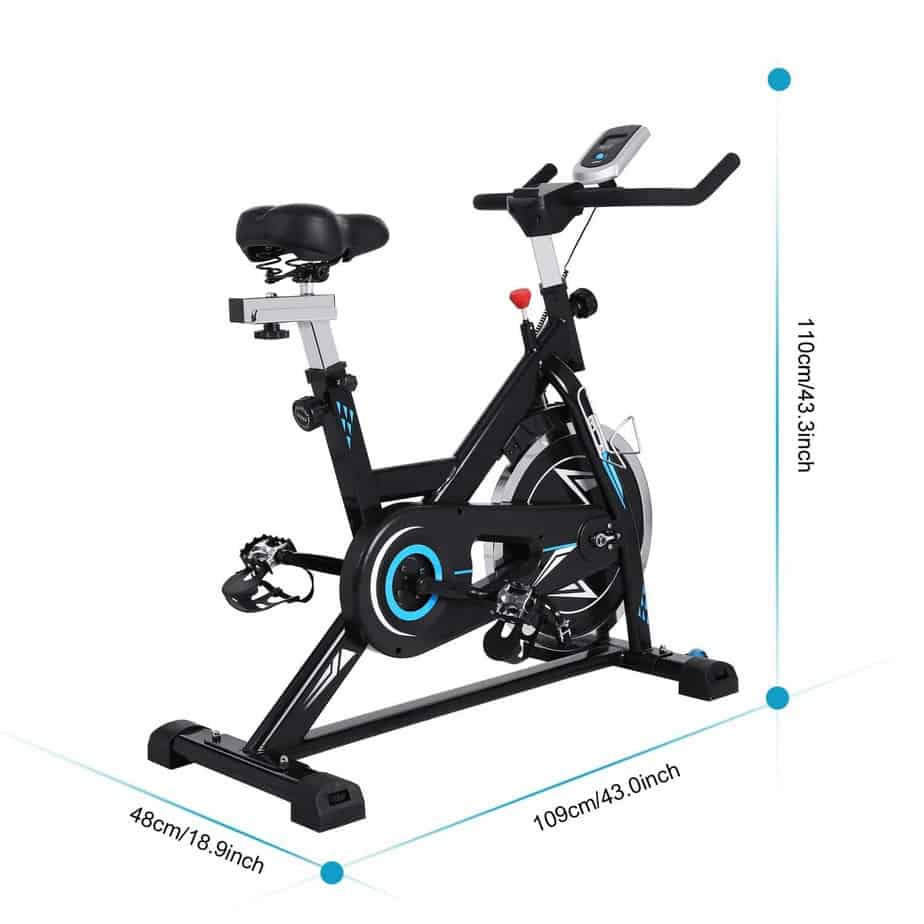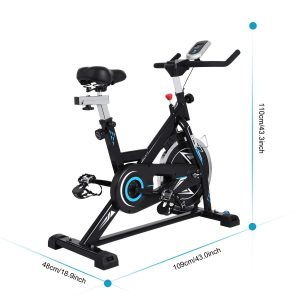 maximum user weight capacity.
The frame is finished with anti-corrosive paint that should prevent rust in the future
It is a stable spin bike for home use because it has two solid stabilizers at the front and rear bases of the bike with huge rubber capping on each end of the stabilizers to further promote stability on an uneven floor and to also prevent dent or scratch on a wooden floor.
It features an outstanding flywheel that weighs about 49 pounds one of the highest in its category. This, right there is one of the selling points of this spin bike because it makes workout smooth and quiet as it gathers enough momentum for a consistent operation that leaves the joints with less stress.  Moreover, the weight of the flywheel adds to the stability of the bike as well.
Its stability is not questionable because so far it has very positive feedback on Amazon. However, we shall keep our eyes on it and continue updating this post if necessary and if anything changes.
Its overall design is appealing to most users that are having space issues or just don't want bulky equipment at home. The assembled dimensions are 42.9 inches long by 18.9 inches wide by 43.3 inches tall.
The Seat and Handlebars
The seat and the handlebars are among the key elements that provide comfort and suitability in spin bikes.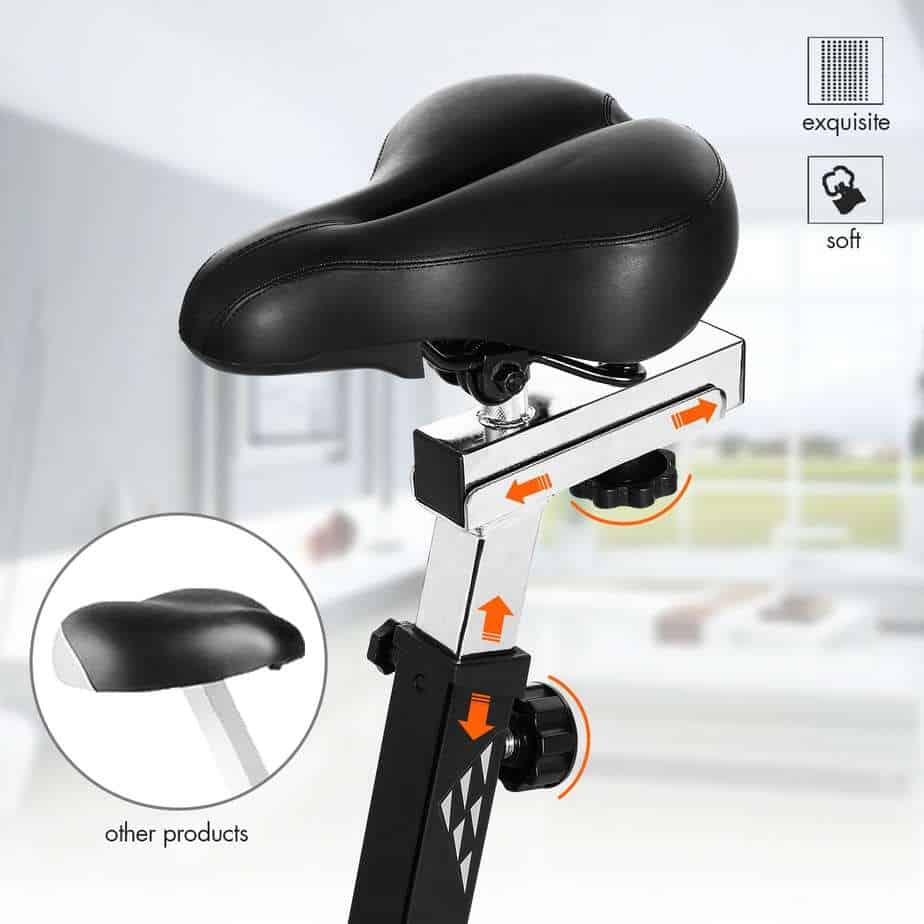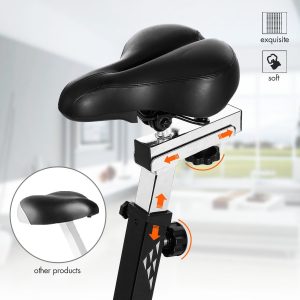 If these two elements are ergonomically designed then users may be able to experience comfort while working out on the bike.
Fortunately enough, the seat is ergonomically designed and well contoured and padded for maximum comfort.  It has 4-way adjustments, which means a user will be able to adjust the seat forward/backward and upward/downward to achieve a suitable position for workouts.
The handlebars can also be adjusted upward/downward and are well coated with a non-slip foam material that offers a solid grip and prevent blisters on the palm.
Both the seat and the handlebars can easily be adjusted to preferred positions in no time. This also means that multiple users can use the bike because of its quick adjustability process.
To adjust the seat upward/downward, all you need to do is to unscrew and remove the two knobs on the side and the back of the seat post and make your adjustment accordingly and then reinsert the knobs and screw back and that is it. The two knobs are meant to ensure that the seat does not shake or move during exercise.
As for the forward/backward adjustment of the seat, it only requires unscrewing the knob beneath the seat bar and slides the seat to the position you wish to use and screw back tight again. This will only take less than a minute to accomplish and can even do so while still seated on the seat.
The handlebars' adjustment is very similar to the seat's adjustment of upward/downward.
It can accommodate users of different heights of 4 feet 5 inches to 6 feet 5 inches.
The Drive
The belt drive system is yet another selling point of this spin bike because of its quiet and smooth operation, unlike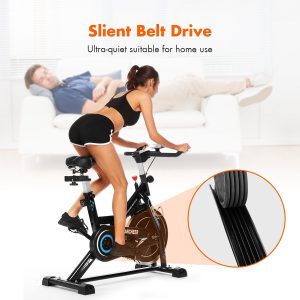 the chain drive system that makes some level of noise and requires maintenance from time to time.
You can work out with this bike at any time of the day without having to worry about disturbing the family or the neighbors as well.
The belt connects the crankset to the flywheel and it is enclosed in a guard that should prevent dirt and protect your feet from getting in contact with it during a workout.
It has got pedals made of alloy aluminum that feature toe cages and straps that will secure your feet in place to prevent any sort of accidental slippage during intense workouts.
Resistance Type
This bike has a friction resistance system that generates resistance when the felt pad comes in contact with the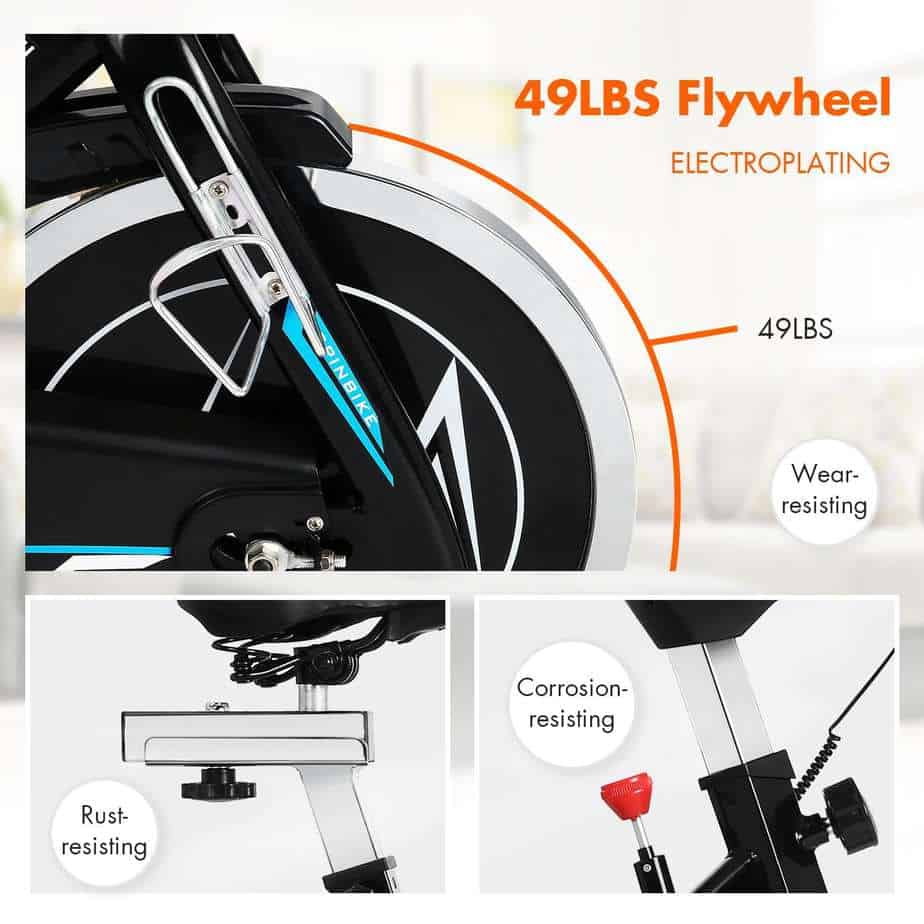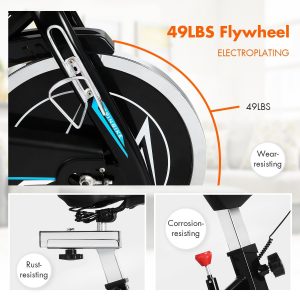 flywheel.
This type of resistance system is considered to offer challenging workout experience and this is even so because of the 49 pounds weight of the flywheel.
The adjustment of the resistance is done via the tension knob that is on the mainframe tubing which is connected to the felt pad that is beneath the same mainframe facing the flywheel. So, whenever the tension knob is adjusted the felt pad comes in contact with the flywheel thereby generating resistance.
However, it does not have resistance levels marked on the knob, therefore, you will not be able to know the resistance level you worked out with on your previous session, so it has a variable resistance control.
The tension knob is also used as the brake aside from being used to adjust resistance. This bike has an inertia-enhanced flywheel that is powerful and so it will be wise to use the tension knob to stop the bike each time you wish to stop working out.
The reason is to prevent any sort of accident because the bike does not allow a user to coast, which means that the pedals and the flywheel turn simultaneously as the crankset and the flywheel is fixed in design.
Spin bikes with magnetic resistance systems are usually the ones that have resistance levels marked on the tension knob such as the Keiser M3 Indoor Cycling Bike but it is nevertheless a high-end spin bike.
The felt pad usually wears out over time but can easily be replaced. It takes up to a year or more before a replacement will be necessary but it depends on the frequency of usage, so the time differs.
The Console
Interestingly, the Trbitty Belt Drive Indoor Cycling Bike comes with a monitor that enables the user to keep track of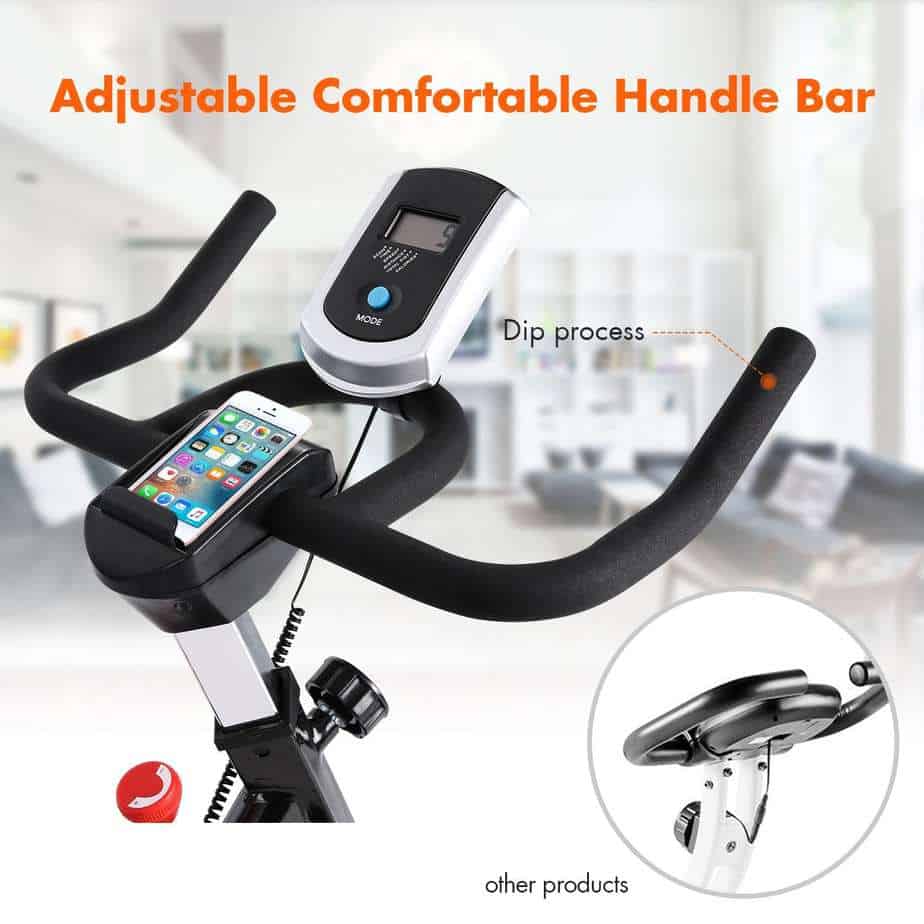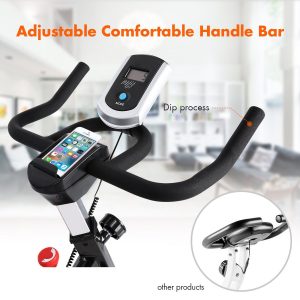 workout progress by displaying data such as time, distance, speed, and calorie and SCAN function.
This is a basic console that usually comes with just one button for settings. A user will be able to set the monitor to display the workout data one at time and changes to another after a few seconds and so it goes on and on in a rational fashion.
And it can also be set to display constantly any of the workout value a user desire.
Accessories
The bike comes with one or two accessories that are relevant and useful. These accessories are the water bottle holder and the phone bracket.
The water bottle is meant to keep water handy during exercise for the user to maintain hydration throughout the workout session, while the phone bracket is to secure or hold a smartphone for entertainment purposes.
Therefore, you can work out and stay hydrated and also listen to your favorite music as well.
Storage
This bike is a compact bike with a footprint of 42.9 inches by 18.9 inches wide that require workout space of 6 feet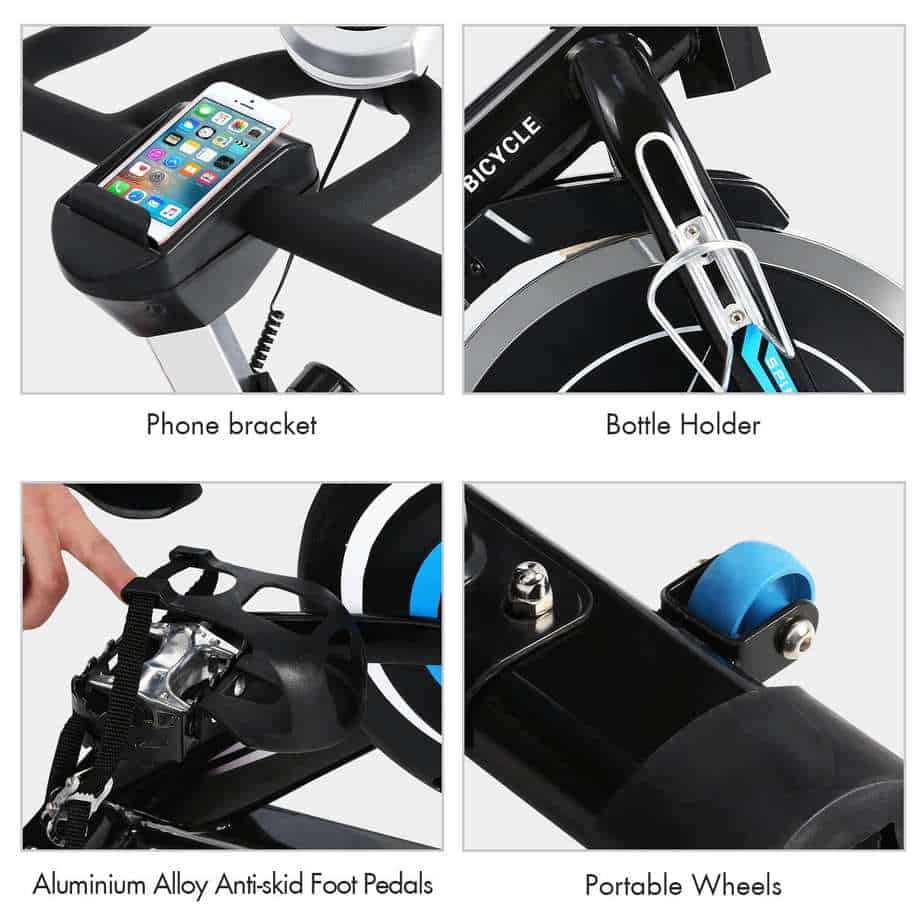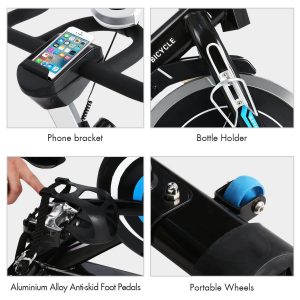 long by 3 feet wide with clearance and at least 5 feet long by 2 feet storage space.
The weight is not specified but we presume it will be a heavy bike considering the weight of the flywheel alone. Therefore, moving or relocation could have been a problem for one person but it has transport wheels at the front base that will assist in relocation.
You can simply hold the bike by the handlebars and tip it toward the front base and then move it to the storage location.
Approval Rating
The Trbitty Belt Drive Indoor Cycling Bike is a well-received spin bike. It is undoubtedly popular because Amazon customer reviews indicate that.
Users are happy with the feature, quality, and the price of the bike and will recommend it to friends.
However, being that it is still a new bike on the market we shall keep an eye on it and update this review accordingly if anything changes but so far so good.
Pros/Features Overview
It has a value-oriented price (cheap)
Very sturdy and solid
It is quiet and smooth during operation
It has 49 pounds inertia-enhanced flywheel that makes the operation of the bike to be smooth and consistent
It has a 4-way adjustable seat that is also well contoured and padded for maximum comfort
It has adjustable handlebars that are covered with a foam material to provide solid grip and prevent blisters on the hands
It has a friction resistance system that offers a challenging workout
It comes with a monitor that allows a user to track workout progress
It supports up to 264 pounds maximum user weight capacity
Pedals are made of alloy aluminum with toe cages and straps for safety
It has a belt drive system that is maintenance-free and quiet
It comes with accessories such as the water bottle and smartphone holder
It is integrated with transport wheels for easy relocation
Easy to assemble
Cons
The console is basic and cannot view heart rate data.
The handlebars can only be adjusted 2-ways which is upward and downward
Product Dimension and Specifications
42.9'' Length
18.9'' Width
43'' Height
264 pounds maximum user weight capacity
Seat size: 9.8'' L x 7.9'' W
Console size: 3.9'' W x 6.3'' H
Handlebar length: 17.7
Warranty
12 Months warranty with FREE replacement parts
Shipping, Assembly, and Maintenance
Shipping
The shipping cost of this spin bike depends on the retailer you are purchasing from, however, Amazon usually provides free shipping and it is delivered within 3 to 4 days in a well-packaged box.
Assembly
It has been reported that the assembly is super easy as the major components are preassembled. You are only required to fix or attach the seat post, the seat, handlebar post, the handlebar, the stabilizers, and the console.
It comes with an instruction manual that should walk you through the process of assembly with a video link on it.
It takes 25 to 30 minutes to fully assemble.
Maintenance
No maintenance required. You only need to always keep the bike clean from dust and sweat at all times.
Conclusion
The Trbitty Belt Drive Indoor Spin Bike is a very popular and impressive spin bike that you should add to your home gym. If you are on a budget and wish to acquire a sturdy spin bike then this is your gig.
If you still have any questions you need answers to please do not hesitate to ask because it will be our pleasure to respond accordingly.
Trbitty Belt Drive Indoor Cycling Bike, Spin Bike Review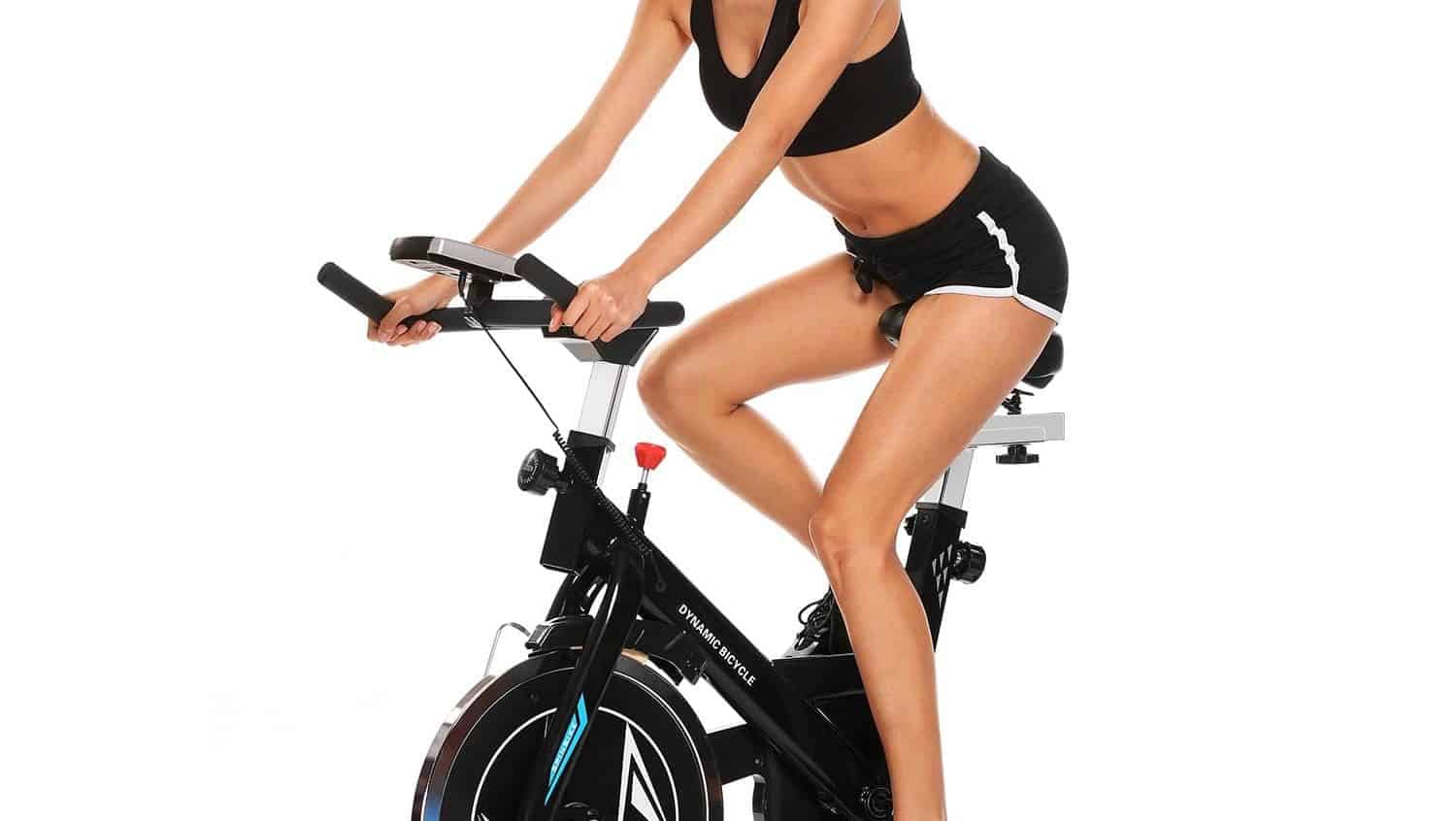 The Trbitty Belt Drive Indoor Cycling/Spin Bike's frame is solidly constructed and can support up to 264 pounds maximum user weight capacity.
Product Brand: Ancheer
Product In-Stock: InStock