The Sunny Health & Fitness SF-B1110 Indoor Cycling Bike is one of those low-budget cycling bikes Sunny Health & Fitness have on their stable. One could ordinarily conclude that you get exactly what you pay for when you purchase this cycling bike.
Well, don't be so quick to judge or draw conclusions because that is the reason for this review, to enlighten you and let you know if this bike is worth spending your hard earned money on.
Don't judge a book by its cover they say, right? So, let's flip through the pages and know if there are interesting stuff in it.
First of all, at the time of writing this review, this cycling bike has good approval rating on Amazon which tells you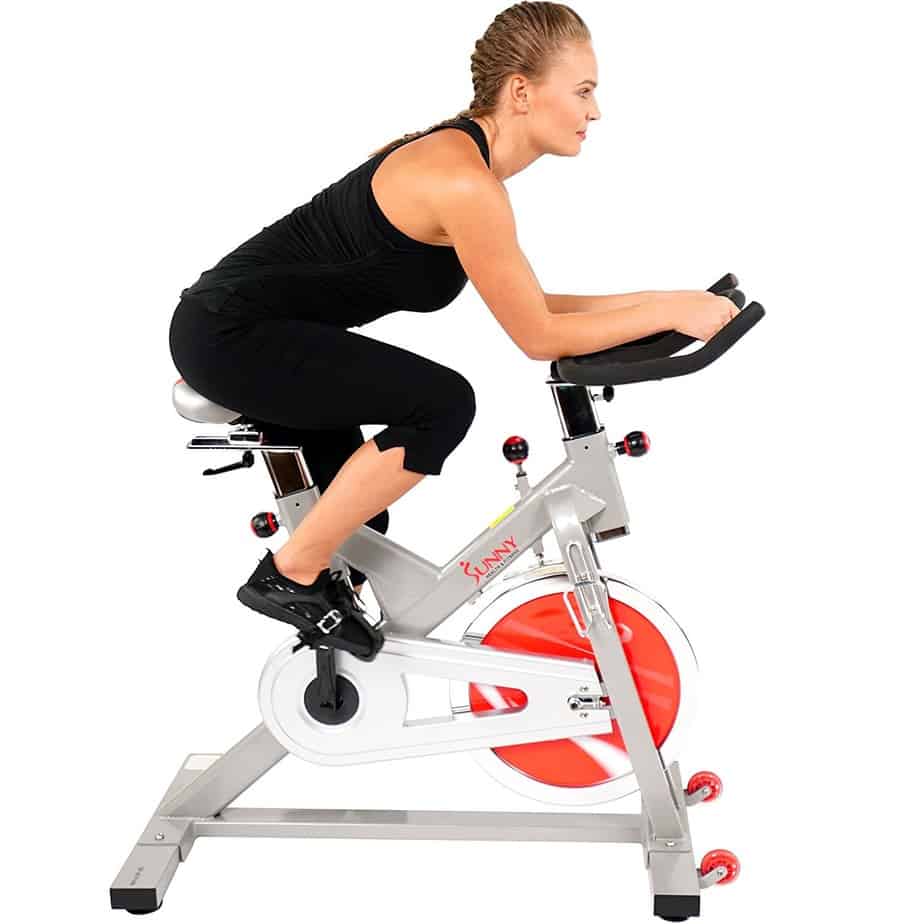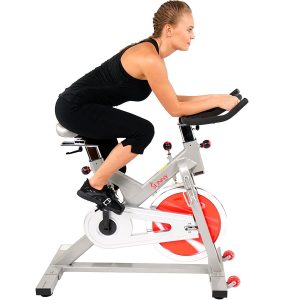 that it users are happy with it and are recommending it. This is important because there is no review like the one done by the real user.
With close to 500 Amazon customer reviews, it still manages to have 4.2 out of 5 approvals rating and this is huge after so many reviews.
So, we can conveniently say that the Sunny Health & Fitness SF-B1110 Indoor Cycling Bike is worth looking at or better still adding to your home gym.
That being said, there are other factors that will determine if you will finally settle for this bike or not and that would be the features. We are individuals with different needs, therefore; this bike could be perfect for one person but not so good for the other person simply because it does not suit that person's personality.
For instance, some folks may not see lack of heart rate in a cycling bike as a big deal or a deal breaker but some other persons may think otherwise. So, it has been established that this bike is a good buy especially for the price range but we shall have an in-depth look at the features and what the machine is made of.
One outstanding feature of the Sunny Health and Fitness SF-B1110 is the heavy flywheel that weighs about 44 pounds. This really adds to the quality of work out a user will experience.
Moreover, it has got adjustable seat and handlebars which are mostly responsible for a comfortable workout.
Click right here to have a peek at the best price of the Sunny Health & Fitness SF-B1110 Indoor Cycling Bike. 
[table id=17 responsive=scroll /]
The Frame/Stability/Sturdiness
The frame of this bike is made of steel and it is a solid and sturdy bike that could withstand any sort of hard use. Do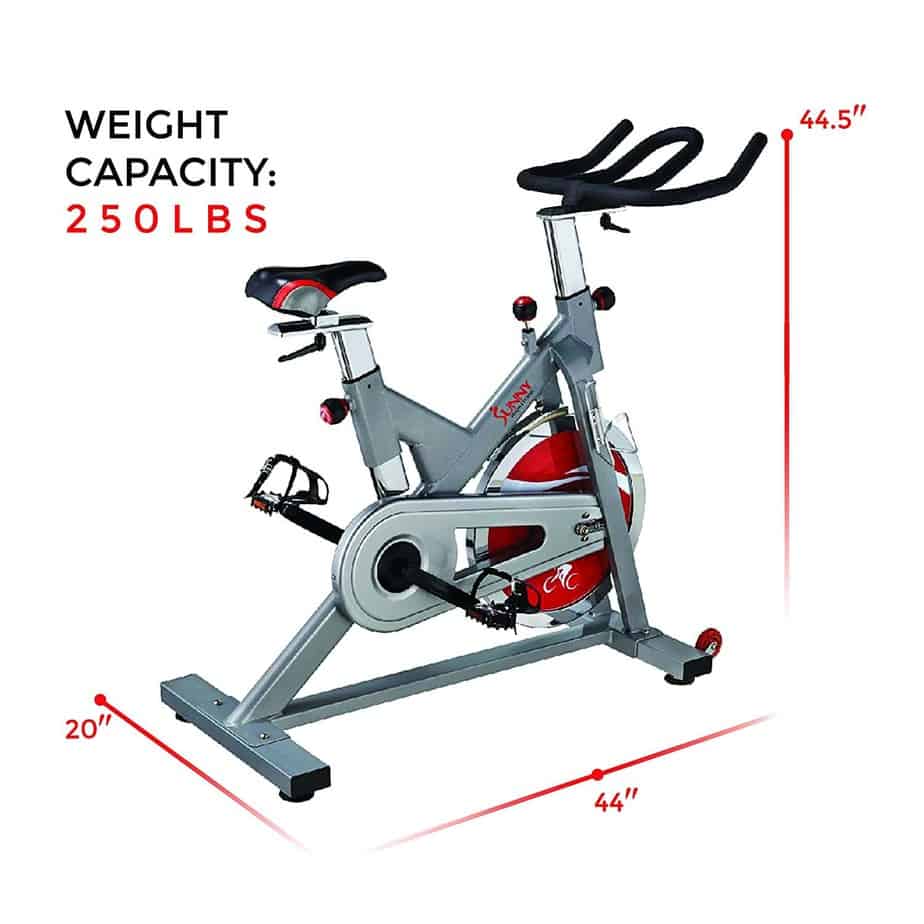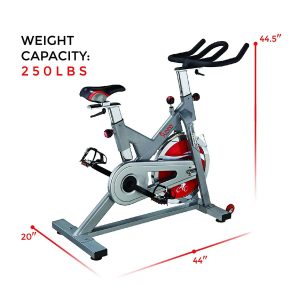 you wish to work out extensively and hard then this bike has got your back.
No complaints have been made whatsoever regards to the sturdiness of this bike; you can work out rigorously all you want you won't experience any sort of movement or wobbling of the bike.
It weighs about 106 pounds which ultimately adds to the stability and sturdiness of the machine and supports up to 250 pounds maximum user weight capacity. The bike may support more than 250 pounds since the frame and the crankset is very solid but the seat base where forward/backward adjustment is done is kind of thin therefore may bend if a heavier individual tries to use it.
Another part that contributes to the stability of the bike aside from the weight is the stabilizers. It has got two stabilizers at the rear and front base with rubber support underneath them which also help to level the bike even on an uneven floor.
It features transport wheels on the front base that aid in relocation or during storage. This is a typical indoor bike for home use nevertheless the frame doesn't fold.
The handlebar and seat posts are finished with chrome while the frame of the bike is coated with anti-corrosive paint that would prevent rust.
In case you are wondering if it can fit in a small room or not since it is not foldable; well, it is not a very large bike because its dimensions are 44'' L by 20'' W by 44.5'' H; let's say the dimensions are approximately 4ft L by 1.5ft W by 4ft H.
It is also important to let you that the bike is available in two different colors which are white/black and silver/red.
Overall, this is an indeed a very durable and solid bike that can withstand hard use and still endure.
The Seat
The seat of the Sunny Health & Fitness SF-B1110 Indoor Cycling Bike is well padded and contoured to fit the butt.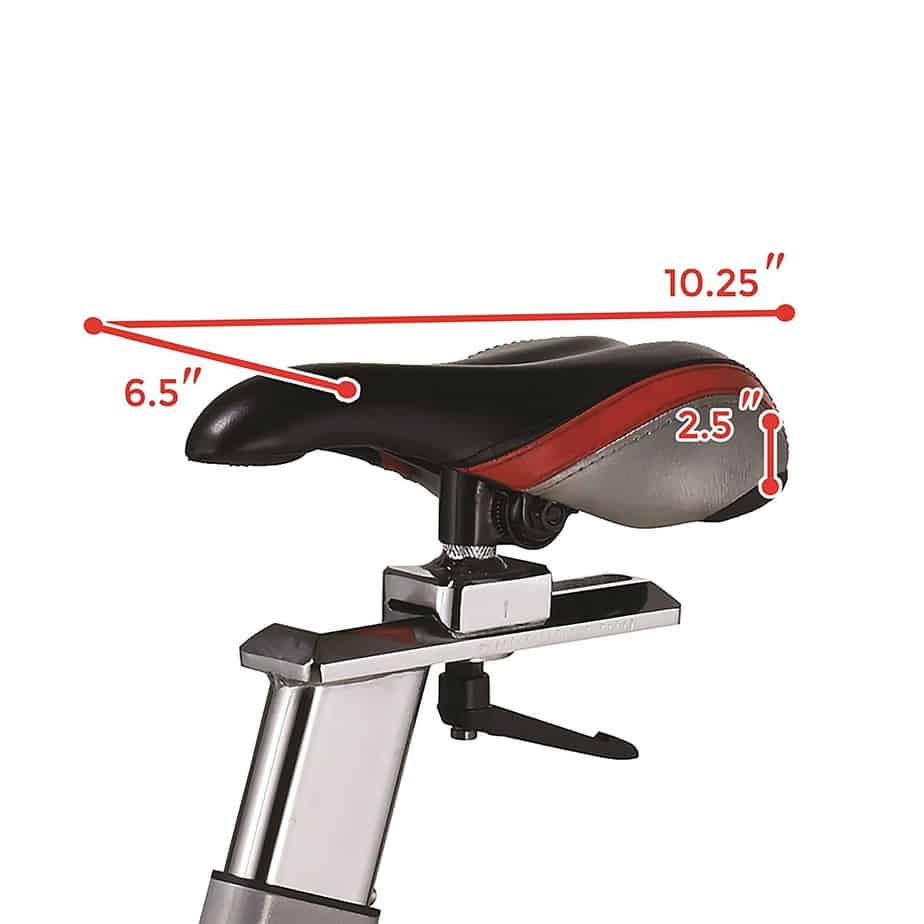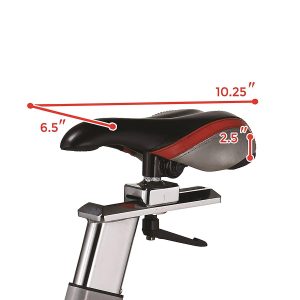 However, it has the shape of the standard bicycle and can be adjusted 4 ways, which means it can be adjusted up/down and forward/backward. This goes a long way to improve the user's comfortability.
Most individuals will find the bike suitable despite their varied heights. The seat post has 6 adjustments with increment/decrement of 1.5'' between each adjustment.
This can accommodate 5ft to 6ft height users conveniently without any complaints. We have observed users that have complained that it can't go beyond accommodating users that are more than 6ft; one user even suggested drilling more holes on the seat post in order to gain the right angle and suitability.
Basically, the seat is comfortable, but some users have complained that it is uncomfortable. If you feel the same way you might consider adding or using a gel seat cover to improve the feeling on the butt or you can as well decide to replace the seat with a better one.
Replacing the seat is possible since the connection of the seat is a pretty standard type, therefore, finding replacement won't be a problem.
Adjustability helps users to fit in properly without having to overstretch or experience discomfort and this bike has got that. You can easily and quickly adjust the seat vertically by unloosening the knob, pull the pin then adjust to your desired level and reinsert back the pin and tighten and that's it. The horizontal seat adjustment has an L-shape lever which you use to loosen and slide the seat to a preferred position and tighten back again.
The Handlebars
The handlebar also can be adjusted 4 ways as well just like the seat. Yes, just like the seat, the horizontal adjustment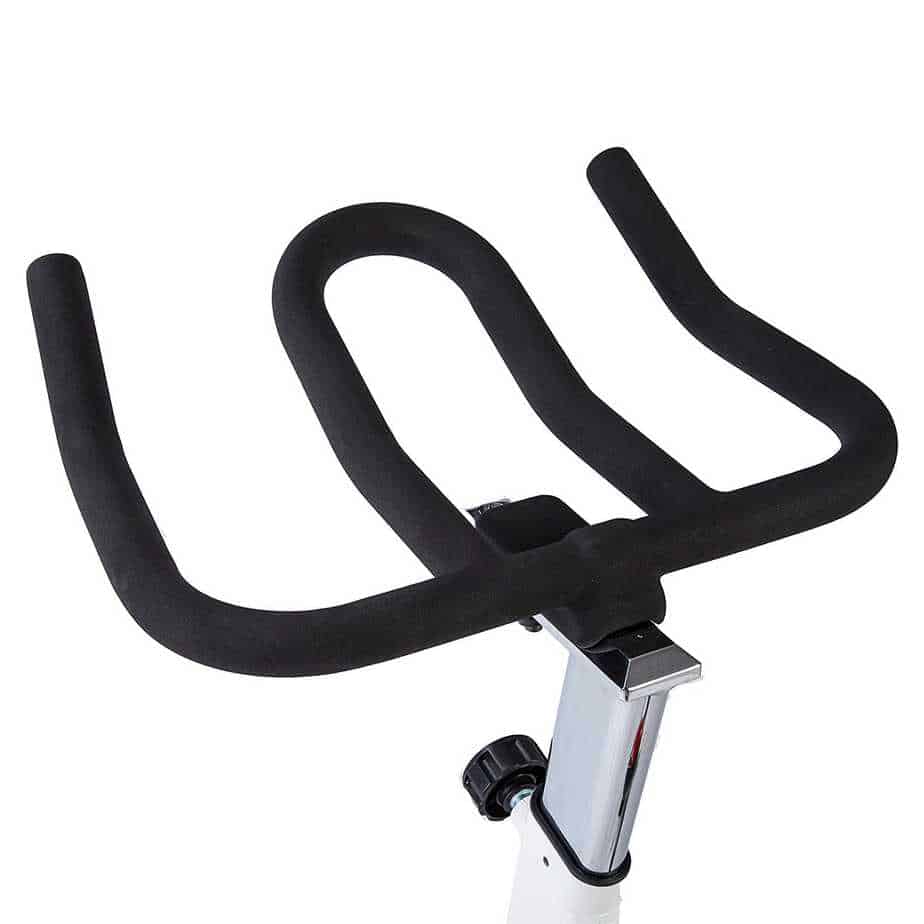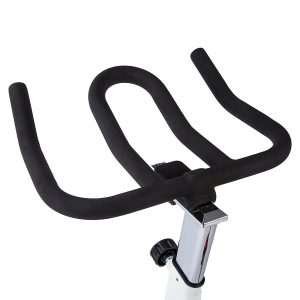 has an L-shape lever whereas the vertical adjustment has a knob for adjustment only that this one has only 3 holes against the seat post that has 6 holes.
The handlebars' ability to adjust 4 ways is something that is not very common with most bikes especially the ones in the same category and price ranges not even the popular Sunny Health and Fitness Pro Indoor Cycling Bike has handlebars with 4 ways adjustment.  Therefore, this is an added advantage for this indoor bike because users can finally fine-tune their workout position for the best comfortable angle.
It has multi-grips that give the user a good number of workout posture options and also covered with rubber foam material that is designed to convey comfort during a workout and to also prevent blisters on the hands.
Therefore, it is possible to be used by multiple members of the family because of its adjustability and very easy and quick to adjust.
The Resistance
This bike features a friction resistance system which means it uses felt brake pad and the flywheel to produce or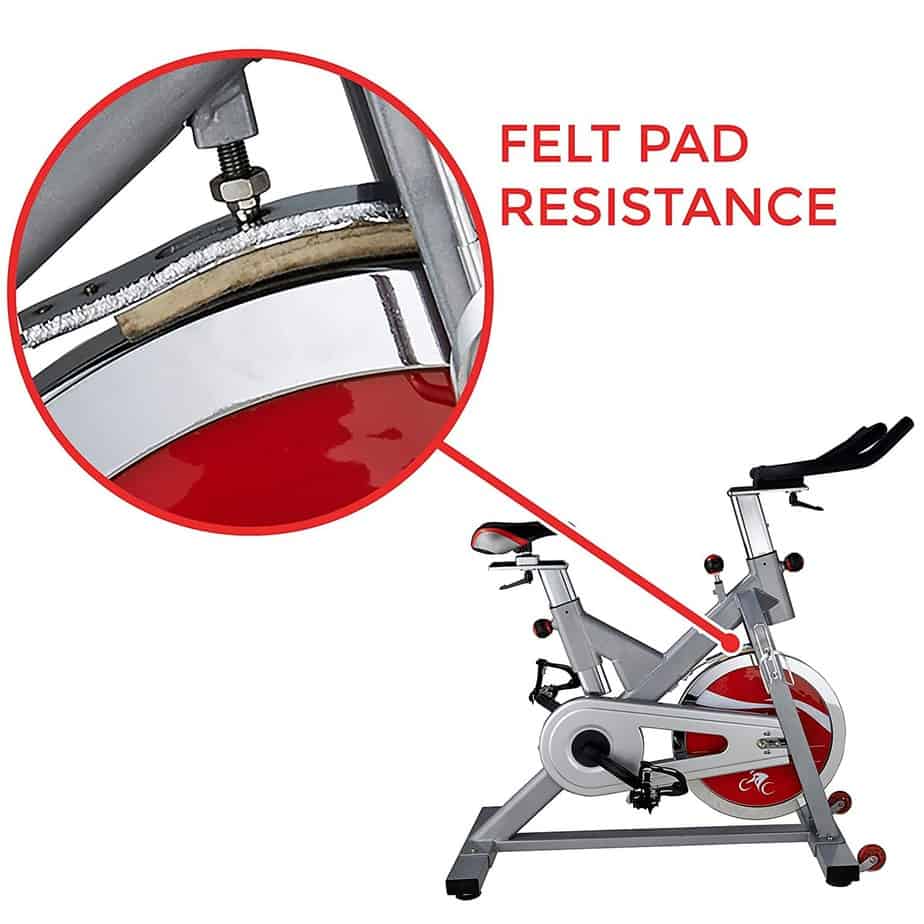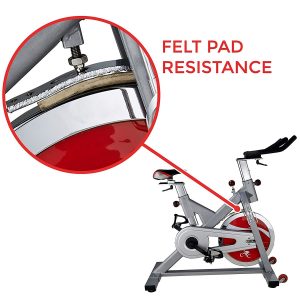 create resistance. The felt pad is attached underneath the main tube/frame and onto a tension knob that is on top of the same main tube. While the flywheel is beneath the felt pad which if come in contact produce resistance; and the tension knob is used to increase or decrease the intensity of the resistance when tightened or loosened.
In this case, the resistance does not have specific levels as the case with some fitness equipment. You only adjust to your desired resistance level by simply twisting the tension knob.
The felt pad is expected to wear when used over time; this could be in a year or more depending on how frequent it is used or applied.  To find a replacement for the felt pad is pretty easy because it uses a standard brake.
The tension knob also serves as the emergency brake as well. This is necessary because as the flywheel turns so do the pedals, so to avoid any sort of accident it is important to just press down the tension knob each time you wish to stop pedaling or workout.
The Drive
There are commonly two types of drive systems used for indoor bikes and that is the chain drive and belt drive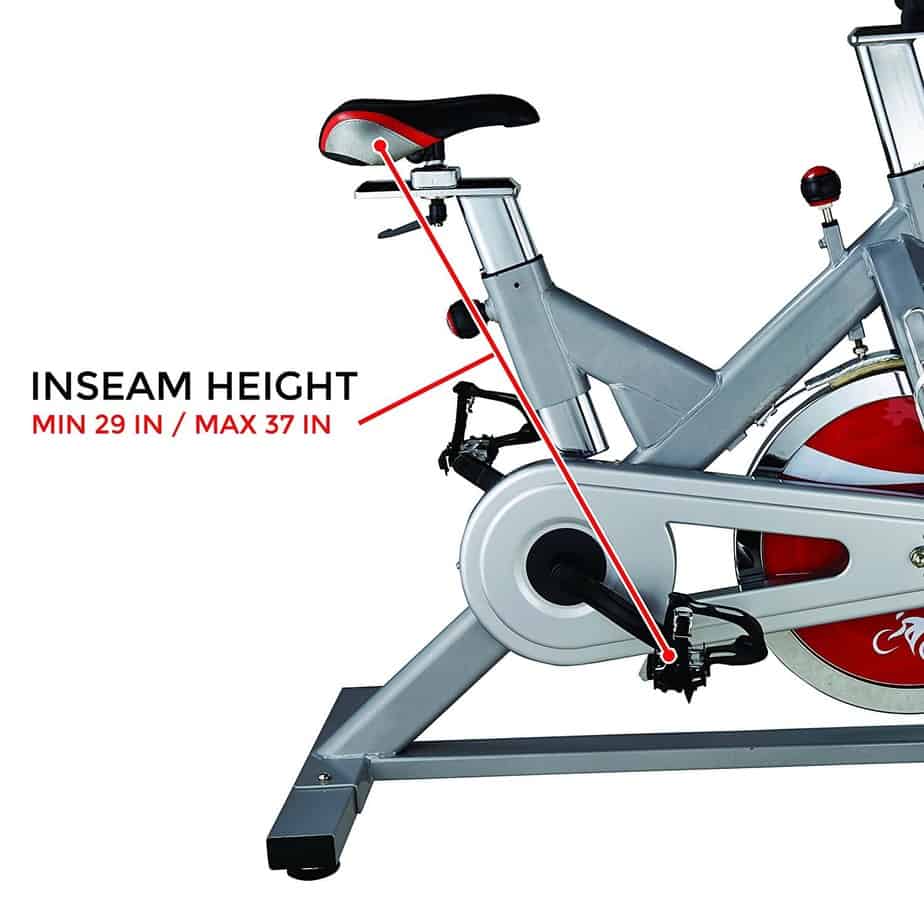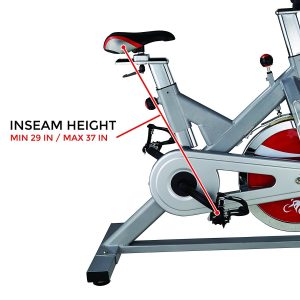 systems. Both have their upsides and downsides but in the case of the Sunny Health and Fitness SF-B1110 Indoor Cycling Bike, it uses the chain drive system which is similar to the ones found in bicycles.
For the fact it shares similar drive system with the road bike it also means that it provides the same feel as the road bike and in terms of riding experience and maintenance too.
Being that it uses chain it produces some level of noise during a workout but not the annoying type of noise of course. The guard that covers the chain also muffles the noise a little bit and prevents any unwarranted contact with the ankles.
Now, the belt drive system is quieter than the chain drive system and requires no maintenance but the belt will need replacement at some point when it has become too wide.
Whereas the chain-drive system needs lubrication from time to time and adjustment of the chain in order to keep on performing well.
As aforementioned, the crankset of the bike is strong and solid, can support stand up pedaling. The chain connects the crankset to the flywheel.
It is possible to pedal in reverse but unfortunately cannot coast because the pedals turn with the flywheel. That is the reason why it is advised to use the tension knob for emergency brake or stop to avoid an accident.
The bike does feature an impressive flywheel that impacts positively on your workouts because it provides consistent momentum and challenging workouts due to its weight. It weighs about 44 pounds which is about 20 kilogram; rarely found in bikes of the same price range.
The flywheel and the application of the tension knob (felt pad) provide formidable resistance that can be outstandingly challenging.
Just like the frame, the crankset is made of steel finished with metallic alloy pedals. The pedals do have toe cages that are adjustable but unfortunately do not have clips for spin shoes.
You can also find a replacement for the pedals since their thread is standard.
The Pedals
You already know that the pedals are made of steel and have a standard thread, right? They also feature toe cages that allow you to slide in your feet/shoes into place and adjust to fit. No clips for spin shoes though…
With the toe cages, your feet are secure and you won't have to worry about slippage during a vigorous workout which could ultimately cause injury.
The Console/Monitor
Unfortunately, this bike does not come with a monitor which could make it difficult for users to track their workout progress. However, this could also be the reason why the price is down as it now.
Moreover, it is not unusual for spin bikes not have a console or a monitor. Therefore, like we mentioned above, does this going to be a deal breaker? Is it too important for you? Well, only you can answer that but sure there are other people that may not really consider that as a problem.
So, if you are considering buying this bike you will not be able to know your progress over time except if you intend to use external monitor such as the Cateye Velo 7 Bicycle computer which also requires a bit of adjustment.
Storage
The storage of the Sunny Health and Fitness SF-B1110 Indoor Cycling Bike does not require large space as the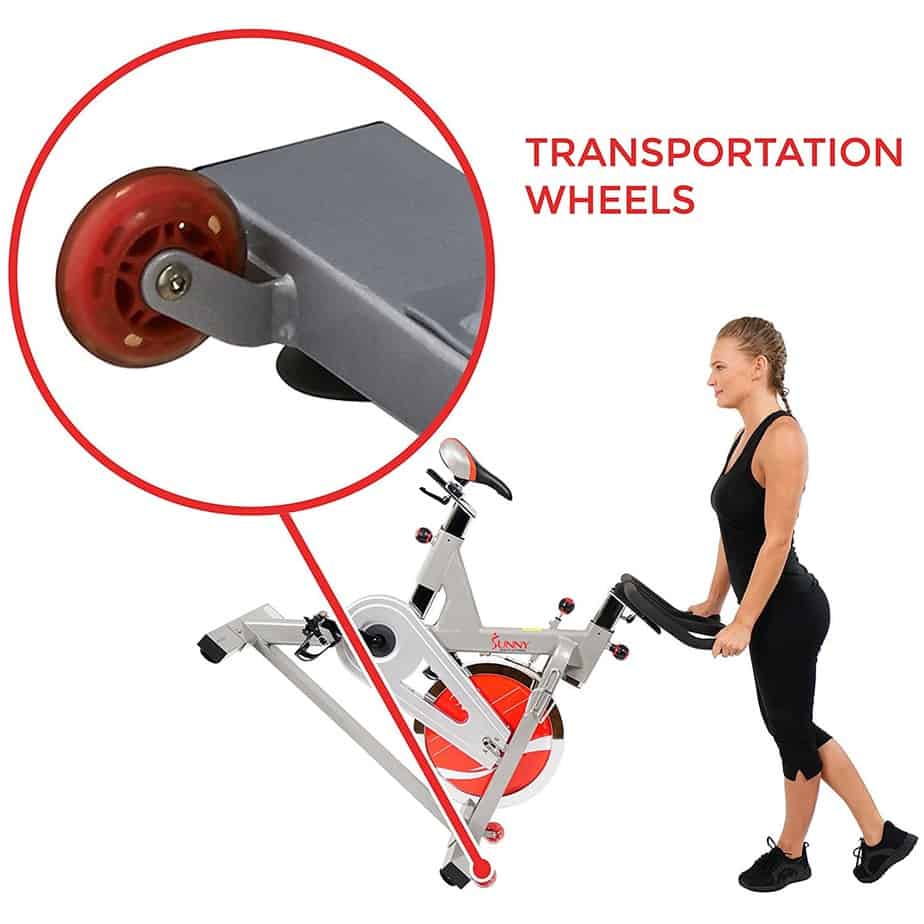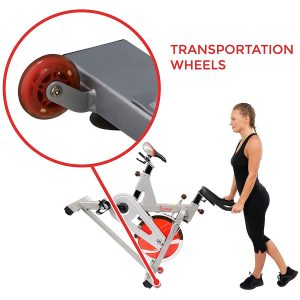 footprint is only 44'' L by 20'' W. Therefore, a 4 feet L by 1.6 W feet will just be fine for the accommodation of the bike.
If you have to be moving the bike to and from the location of storage and the location of a workout then the transport wheels will come handy because that will help you to easily move to anywhere you wish to take it.
Even though some people may be bothered by the bike's weight which is 106 pounds; but this will not have any negative impact during the relocation process because one person can still move it by tilting the bike towards the front base where the transport wheels are designated.
Moreover, this bike has bigger transport wheels that can easily roll over on a soft surface such as the carpet without getting sticky or friction.
Approval Rating
The bike is a very popular bike that has almost 500 Amazon customer reviews as at the time this review was written with an approval rating of 4.2 out of 5.
We have gone through these feedbacks and the majority of them turn out to be positive. They are very impressed by the solid nature of the machine and the price range.
You may click right here to read feedbacks from Amazon customers.
Pros/Features Overview
It is solidly built and very sturdy
It has a heavy flywheel that improves the quality of workout a user gets
It is very affordable
It has stabilizers and levers that ensure the stability of the bike even on an uneven floor
It has the 4-way adjustability of the seat and handlebars.
The pedals are made solid with adjustable toe cages
It has formidable and infinite resistance levels
It is considered a compact bike that does not take up space
The Crank Set is made of steel that can support just about any type of rigorous workout
Handlebars have multiple grips
Smooth and simulates real outdoor bike
Little maintenance required
Easy to assemble
Accommodates most users of different heights
Has water bottle holder for hydration during workouts
Cons
It does not have any sort of console or monitor, therefore, will be unable to monitor workout progress over time
The pedals feature toe cages that could be adjusted to fit your shoes but do not have clips for spin shoes.
There are no accessories such as the tablet holder or MP3 port, but can only improvise by using your smartphone to listen to music and probably trap the smartphone on the handlebars with an elastic band. That is improvising!
There are complaints about the seat being uncomfortable but you can always improve the comfort by using a gel seat cover or replacing it entirely
Unfortunately, people over 6 feet might have a hard time trying to use this bike.
Warranty not so great
NB
If you really value the inclusion of a monitor and pulse sensors on a bike and at an affordable price then you might want to check out the Exerpeutic LX7 Indoor Cycle Bike.
Dimensions Specifications
44'' Length
20'' Width
44'' Height
Weighs about 101 pounds
Supports up to 250 pounds maximum user weight capacity
Warranty
1 year for Frame
90 days for Parts
Shipping, Assembly, and Maintenance
Shipping
The shipping cost of the Sunny Health and Fitness SF-B1110 Indoor Cycling Bike depends on the retailer you are purchasing from. However, Amazon provides free shipping to its customers.
Assembly
To assemble this unit you may need a hand since it weighs about 118/119 pounds. The assembly is pretty straightforward and it is delivered with the major components preassembled.
Basically, you are required to attach parts such as the pedals, bases, seat and the handlebars as other parts are already taken care of.
The delivery comes with the needed tools for assembly and also user manual that could walk you through the process of putting it together is also included or you can download it right here and now.
Assembly by an average skilled person should take between 30 minutes to not up to an hour.
Maintenance
The maintenance of the Sunny Health and Fitness SF-B1110 Indoor Cycling Bike is very minimal.
After a period of time, the chain will need to be lubricated which could be done by removing the chain guard and applying the lubricant accordingly by making sure that the oil gets to the entire chain whereas the other aspect is to adjust the chain when necessary.
The felt pad might also need to be treated with oil when there is a burnt smell each time it comes in contact with the flywheel. A little bit of Silicone lubricant can be used on the flywheel to solve this type of issue.
Conclusion
The Sunny Health and Fitness SF-B1110 Cycling Bike is a considerable bike for cycling enthusiasts.
We have managed to reveal the good aspect of the bike and of course the downsides as well.
Now, it is up to you to know if it fits your personality and budget; if you can deal with the downsides and see them as no deal breakers.
No doubt, the upsides of this bike outweigh the downsides by far and we will not be surprised if more folks purchase this bike after reading this review.
If you have any further questions do not hesitate to ask them as we shall be glad to respond accordingly.
Sunny Health & Fitness SF-B1110 Indoor Cycling Bike Review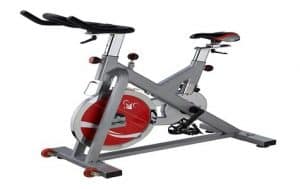 The Sunny Health & Fitness SF-B1110 Indoor Cycling Bike is one of those low-budget cycling bikes Sunny Health & Fitness have on their stable. One could ordinarily conclude that you get exactly what you pay for when you purchase this cycling bike.
Product Brand: Sunny Health & Fitness
Product In-Stock: InStock