The Elseluck 2-in-1 Under-Deck Treadmill is not the first of its kind ever to be. There are several other under-desk treadmills with different price tags that are recommendable, such as the LifeSpan TR1200, RHYTHM Air01, Goplus 2-in-1 Treadmill, etc.
However, what makes the Elseluck 2-in-1 Under-Desk stand out is because of its affordability and functionality. You may not be able to afford a high-end under-desk treadmill, but you can afford one such as this to enable you to exercise while you keep and maintain your workflow at home or at the office.
We believe it is cost-effective and can keep you active while behind that work desk.
Click right here to have a peek at the best price of the Elseluck 2-in-1 Under-Desk Treadmill.  
Frame & Construction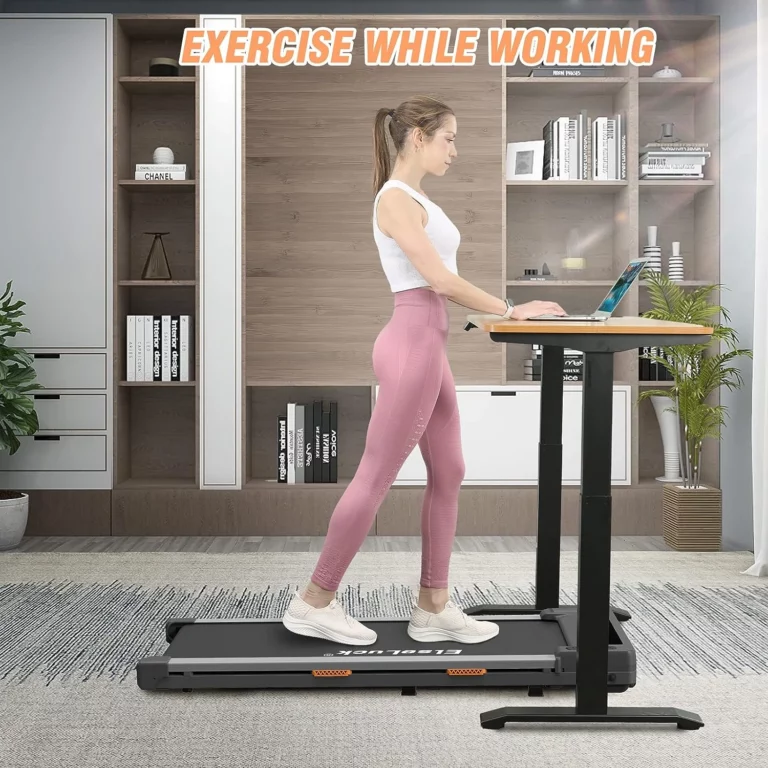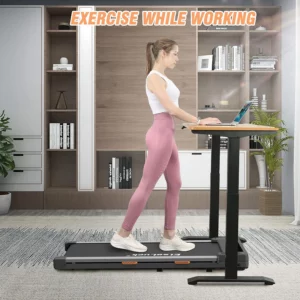 The Elseluck2-in-1 Under-Desk Treadmill is a dependable exercise machine that allows you to stay active while working. Its strong frame and reliable build guarantee a safe and enjoyable workout.
This treadmill is constructed with a high-quality steel frame, making it an ideal choice for anyone who seeks indoor exercise equipment.
The strong and robust steel frame provides great strength and resistance to wear and tear. Thereby ensuring stability during use, as well as making it a reliable investment for your home gym.
The Elseluck2-in-1 Under-Desk Treadmill is designed to save space, with its slim and sleek design that fits comfortably under most standard desks. This is good for those who have a limited area in their home or office, as it maximizes the workspace without taking up too much room.
Users that are up to 220 lbs./100 kg in weight can comfortably and safely exercise on it.
For stability purposes, rubber pads are integrated underneath it to prevent slippage during workouts.
Its dimensions are 51'' long by 23'' wide by 5.5'' high. Therefore, a workout area with measurements of 4'25'' (129.5 cm) in length by 1'91'' (58.42 cm) in width will suffice. However, bear in mind that extra clearance of at least 2' will be needed around it for safety and ease of access purposes.
The unit weighs about 54 lbs./24.4 kg, and there are transport wheels at the front base that were designed for the purpose of easy relocation.
The Deck of the Elseluck 2-in-1 Under-Desk Treadmill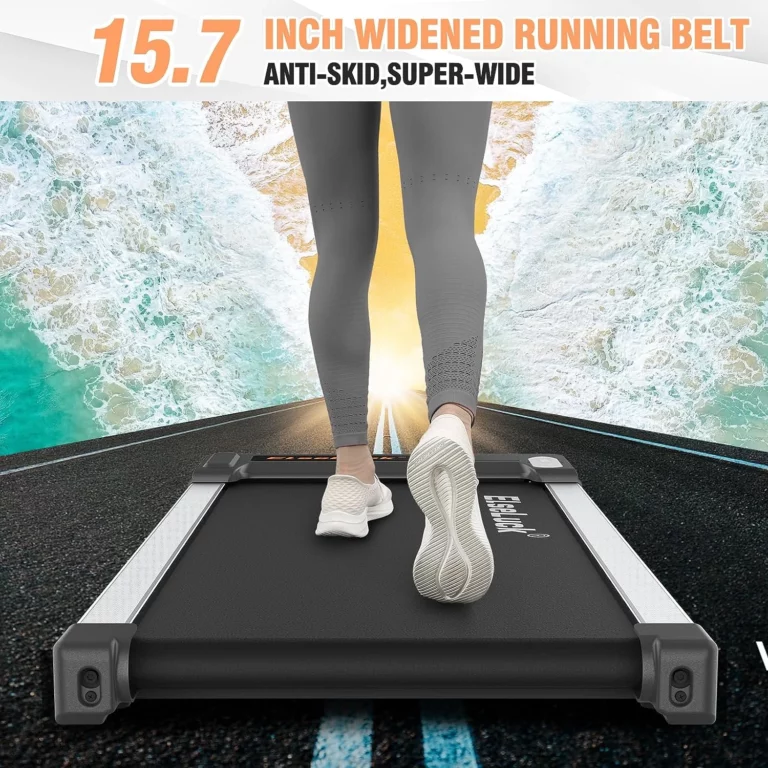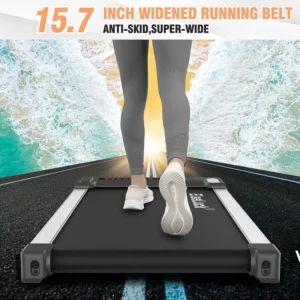 This Elseluck2-in-1 Under-Desk Treadmill is designed for long-lasting durability and superior performance. High-quality materials are used to ensure it can withstand regular use, while the solid deck construction provides stability and support for your workout. With its safe and comfortable design, this treadmill is good for those looking to exercise regularly.
The deck has a space (47'' long by 15.70'' wide) that is sufficient for its purpose. Thus, people of various heights and strides can use it with ease.
That said, depending on the individuals' height, some can only walk on it, while some can walk and jog without feeling confined or cramped.
The tread belt consists of 5 layers with the topmost being textured to prevent slippage during a workout.
The deck also integrates a shock-absorbing system that helps to reduce the impact of jogging on the joints.
The Motor of the Elseluck 2-in-1 Under-Desk Treadmill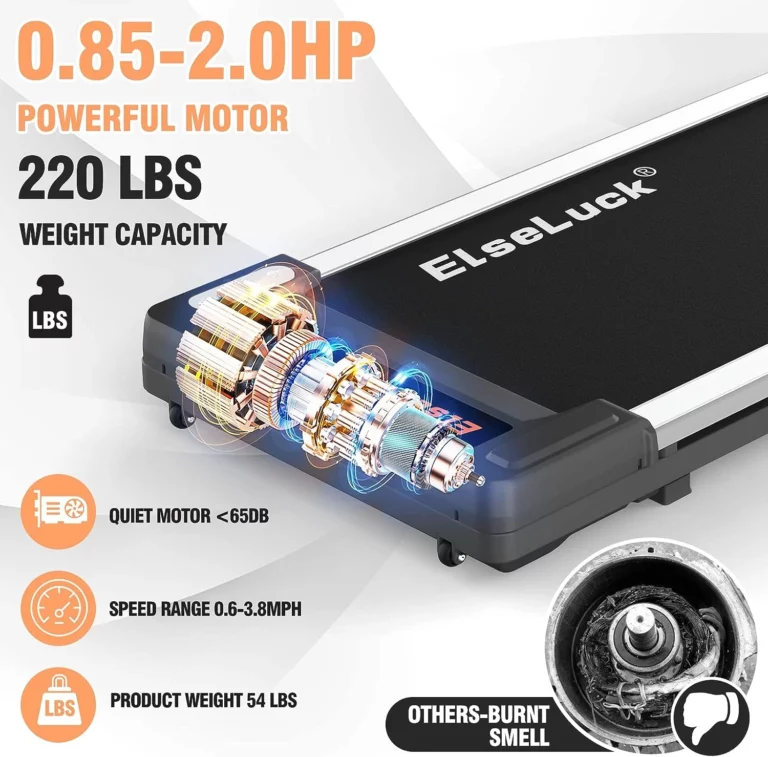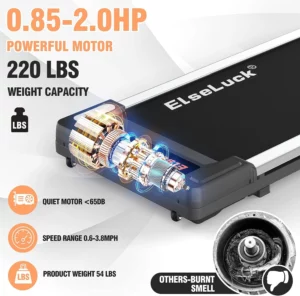 The Elseluck 2-in-1 Under-Desk Treadmill stands out from other treadmills of the same price category with its impressive 2.0 horsepower motor.
It provides a speed range of 0.6 to 3.8 mph.
The motor is designed to deliver a smooth and efficient running experience, making it a good option for both home and office work.
Furthermore, it offers reliable and consistent speed, allowing users to walk or jog without interruption.
The motor is powerful enough to support the stipulated maximum user weight capacity of 220 lbs./100 kg of weight, making it suitable for a wide range of users.
Also, its smooth and quiet operation is incredible. Thus, users can work out peacefully and focus without distraction or disruptive noise.
The motor has also been designed with energy-saving capabilities that greatly enhance its efficiency. It uses minimal power to deliver maximum performance, saving users on their electricity costs.
Thus, not only is this treadmill environmentally friendly, but it is also economically advantageous for those who plan to use the treadmill frequently.
Users can exercise on the treadmill for extended periods without the motor malfunctioning or underperforming.
The treadmill comes with a power cord and the motor is powered on via the red switch on its right side.
The Console
The Elseluck 2-in-1 Under-Desk Treadmill has an LED monitor like most under-desk treadmills.
The readability of the display is great and discernable even though it is situated down at the front base of the treadmill. In other words, even in a room with low lighting, the display's readability won't be compromised.
The monitor tracks workout progress by displaying stats such as Time, Distance, Speed, and Calories-Burned. These metrics are displayed simultaneously.
Speed and Distance stats are measured by mph and miles, respectively.
A handy remote control is included in the package to help you conveniently and seamlessly start/stop, control the treadmill's speed, and switch between modes.
Accessory
The treadmill doesn't have any accessory
Storage
The Elseluck 2-in-1 Under-Desk Treadmill is storage-friendly, and the reason is that it is mobile and has a slim design.
Differently put, there are transport wheels at the front base which enables users to easily roll it away to and from storage area. Its height is just 6'' and it can be stored under a couch or bed.
Pros/Features Overview of the Elseluck 2-in-1 Under-Desk Treadmill
It is built to support 220 lbs./120 kg maximum user weight capacity
It has a dual purpose; can be used as a traditional treadmill, and under a desk; users can walk and jog on it
It is compact; thus, it saves space and is suitable for those living in a small room or apartment
Its operation is smooth and quiet; thanks to its 2.0 horsepower motor
The motor is powerful enough to provide the drive needed for walking and jogging activities, and it is energy efficient as well
The motor provides a speed range of 0.6-3.8 mph
The deck features shock absorbing system and is textured to improve traction
This treadmill allows users to tailor their workout to fit their own fitness levels, preferences, and goals. With the adjustable speed settings, people can opt for a slow walk or a fast jog
It provides cardiovascular workouts that promote blood circulation and burn calories
Those who live a sedentary life because of desk work will have the opportunity to work out without having to leave their task; in other words, users can multitask by studying or working and working out
Features an LED monitor with a remote control that tracks Time, Distance, Speed, and Calories
No assembly is required
The maintenance needed is minimal
2 small bottles of silicone oil come with the package
Cons
No heart rate monitoring function
No incline system
No online connectivity
No built-in programs 
Product Dimensions & Specifications
Length: 51''
Width: 23''
Height: 5.5''
Shipping Dimensions: 52'' L x 24'' W x 6'' H
Net Weight: 54 lbs./24.4 kg
Gross Weight: N/A
Frame: Steel
Maximum User Weight Capacity: 220 lbs./120 kg
Monitor: LED
Motor: 2.0 horsepower
Speed Range: 0.6-3.8 mph
Tread Belt: 47'' L x 15.70'' W
Transport Wheels: Yes
Shipping
The Elseluck2-in-1 Under-Desk Treadmill is shipped with customer satisfaction as the number one priority. Every detail is considered to ensure a smooth process and secure delivery, guaranteeing that the product will arrive in perfect condition without any delay.
Some vendors that sell this treadmill provide customers with the convenience and flexibility of multiple shipping options, partnering with trusted, efficient shipping carriers. Customers can choose from standard, expedited, or international delivery methods, depending on their location and personal preferences.
They understand how important it is to stay in communication with customers throughout the shipping process. Therefore, they keep customers up to date on the progress of their orders. After the treadmill is shipped, they send a confirmation email with the tracking details so customers can track their package and know when it is due to arrive. 
Assembly
This treadmill does not need any assembly. Upon arrival simply unpack, plug into a power source, and start using.
Maintenance
Ensure to always keep the treadmill clean.
Store it in a cool, dry, and clean area.
It is important to ensure that the treadmill runs smoothly, so proper lubrication is essential. Use the included oil to lubricate the tread belt. Follow the manufacturer's instructions carefully when applying the lubricant to the walking belt. Additionally, don't forget to check the tension of the belt routinely and adjust it as needed.
If the walking belt on the treadmill is not properly aligned, it can lead to extra wear and tear and possible damage to the machine. To ensure optimal performance, make sure the belt is correctly aligned. If it appears to be slipping or out of alignment, refer to the user manual for instructions on how to adjust it.
Conclusion
The Elseluck2-in-1 Under-Desk Treadmill is a recommendable fitness equipment that provides convenience, adaptability, and functionality. Its small size makes it easy to fit into most areas, even in limited spaces. With adjustable speed options, a silent motor, and an integrated display, users can enjoy an outstanding workout experience.
In summary, the Elseluck2-in-1 Under-Desk Treadmill is an ideal choice for those seeking to remain active while at work or school.
Elseluck 2-in-1 Under-Desk Treadmill Review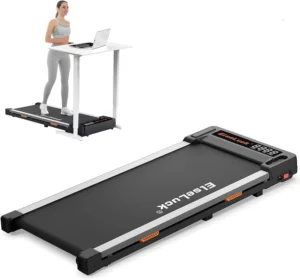 Click right here to have a peek at the best price of the Elseluck 2-in-1 Under-Desk Treadmill.  
Product Brand: Elseluck
Product In-Stock: InStock