The UREVO URSB005 Auto-Magnetic Exercise Bike is a piece of fitness equipment that provides a highly effective workout. This exercise bike features quiet and smooth auto-magnetic resistance, making it ideal for home use.
It is suitable for all individuals at various fitness levels. It features an adjustable seat and handlebar, Bluetooth connectivity, and a smart dial LCD monitor to track performance and adjustment of resistance.
Click right here to have a peek at the best price of the UREVO URSB005 Auto-Magnetic Exercise Bike.
Frame and Construction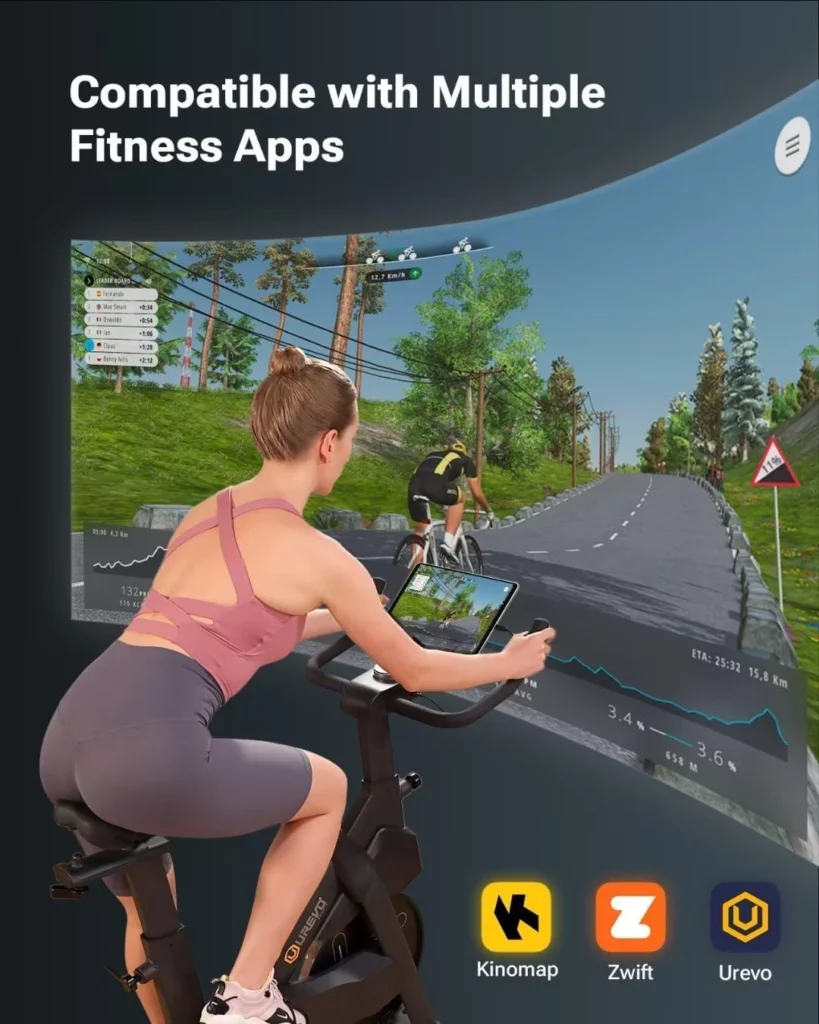 The UREVO URSB005 Auto-Magnetic Exercise Bike is designed to give users an efficient and comfortable workout experience.
Constructed from durable, high-quality 1.5 mm thick steel, the UREVO URSB005 rectangular structured frame is crafted for optimal strength and long-lasting use. Its steel composition is renowned for its durability and strength, providing stability and support to the user to ensure a safe and confident workout.
Its assembled weight of 88.2 lbs./40 kg and its well-thought-out base construction guarantees stability even in the event of intense workouts.
Nevertheless, the use of a protective rubber mat makes the unit slip-free and prevents damage to the floor.
The cycling bike is constructed to support up to 350 lbs./158.7 kg maximum user weight capacity, and 4'11''-6'5'' tall users even though it is compact.
The assembled dimensions of the bike are 42.1'' long by 20.1'' wide by 47.2'' high if the handlebar is adjusted to its max.
Differently put, the workout area measurements it will require would be 3'5'' (107 cm) in length by 1'7'' (51 cm) in width. Also, it is recommended to give a clearance of 2' around the bike so that you can work out with safety and convenience.
There are 2 transport wheels at the front base designed to enable users to easily move the bike around the room.
The Seat of the UREVO URSB005 Auto-Magnetic Exercise Bike
The seat of the UREVO URSB005 Auto-Magnetic Exercise Bike is designed with comfort and functionality in mind. It is an important component of this exercise bike, as it ensures a comfortable and supportive experience for the user during their workout sessions.
It is like the one on a regular road bicycle. It is contoured with a little foam on it. However, so far users have not complained about its discomfort.
Fortunately, you can use a gel seat cover if you feel it is not comfortable enough for you and you can also have it replaced with a better saddle.
There are complaints from users about the seat's pole not being stable, that it slides down while they workout. If this happens to be the case, you may send it back and demand for the one that has a seat pole where the knob passes through it.
As aforementioned, the bike is customizable to accommodate users of different heights, thanks to the 4-way adjustable seat.
The seat can be adjusted horizontally and vertically. In other words, you can adjust it upward/down and fore/aft.
The Handlebar of the UREVO URSB005 Auto-Magnetic Exercise Bike
The handlebar is yet another important component of an indoor cycling bike, and this unit has one that is ergonomically designed.
It is 2-way adjustable; this means it can be adjusted upward/downward. The multiple handles are coated with a soft rubber foam material that keeps the user's grip firm and comfortable even through a prolonged workout session.
Heart rate sensors are not integrated into the handlebar as is the case with most indoor cycling bikes. As a result, you will not be able to monitor your heart rate as you work out except if you use an external heart rate monitoring device.
Pedals
Crafted with precision in mind, UREVO URSB005 pedals are constructed from top-quality aluminum and plastic materials. Built to last and remain dependable during regular workouts and tough sessions.
They feature toe cages with adjustable safety straps that keep the feet in place, preventing slippage during an intense workout, giving the users the opportunity to focus on achieving their fitness goals.
The pedals can also securely accommodate different foot sizes comfortably.
However, they are not dual-sided. This means they can only be used with gym shoes or trainers. If you wish to use a pair of special spin shoes you can swap them for SPD pedals.
The Drive of the UREVO URSB005 Auto-Magnetic Exercise Bike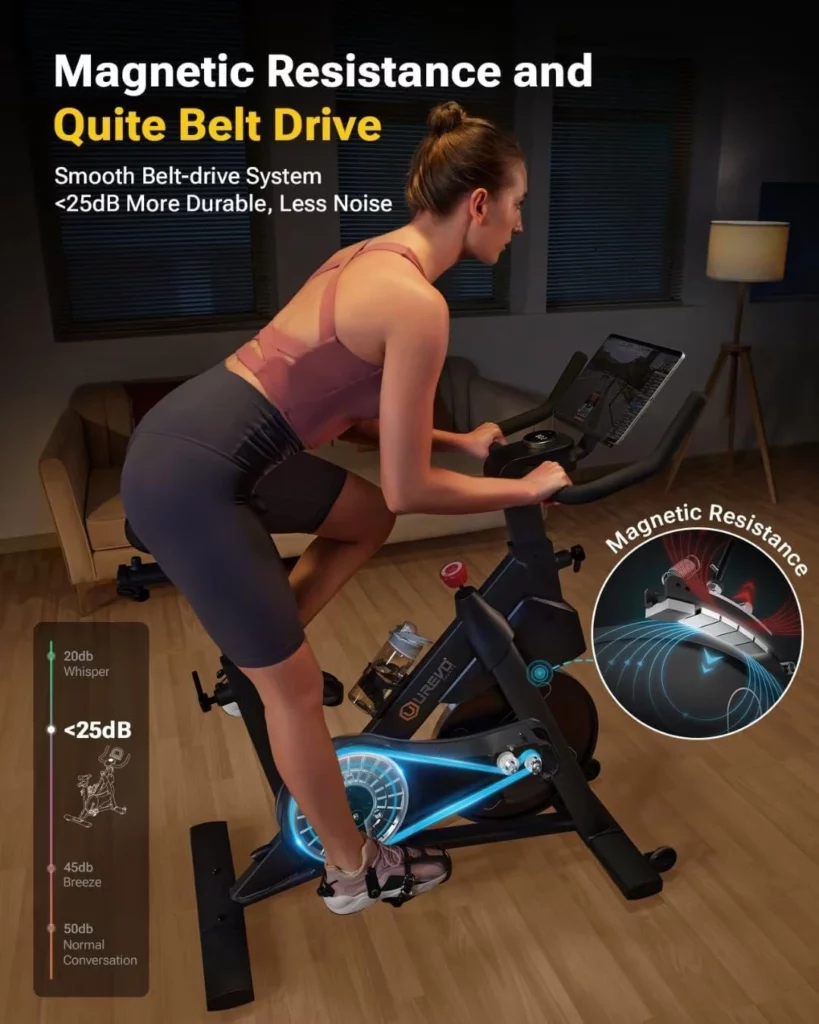 The UREVO URSB005 Auto-Magnetic Exercise Bike is equipped with the famous belt drive system. This consists of a v-poly belt, a pulley, and the 35 lbs./15.87 kg perimeter weighted flywheel.
The belt drive system is designed to solve the problems faced with traditional chain drives. Compared to chain drives, the belt drive system is quiet and requires little maintenance. This makes it a great choice for home use as it allows users to have a smooth and silent workout without disrupting or being distracted by noise.
It offers a smooth and consistent motion that allows riders to pedal with ease and maintain a steady pace.
It is a hassle-free drive system than a chain drive system due to its minimal maintenance requirements. It does not require regular lubrication or adjustments, making it virtually maintenance-free and providing a more enjoyable exercise experience for its users.
The Resistance
The UREVO URSB005 Auto-Magnetic Exercise Bike has an automatic magnetic resistance system with 16 adjustable levels.
The system consists of a small servo motor, a magnetic brake pad, and the 35 lbs./15.87 kg perimeter weighted flywheel.
Resistance is generated when the servo motor shifts the magnetic brake pad close to the flywheel and magnetic fields are released. The closer the magnetic brake pad is to the flywheel the more challenging the resistance becomes, and vice versa.
The resistance system needs the bike to be plugged into a power source for it to become functional.
The user can manually adjust the resistance levels via the smart dial knob with LCD monitor which is located at the middle of the handlebar by twisting it clockwise or counterclockwise.
Also, the resistance automatically adjusts when connected to certain workout apps that have the capability to remotely adjust resistance.
Interestingly, the operation of the bike remains smooth and quiet even when the resistance is applied because there is no friction in the process of generating the resistance. So, users can conveniently use this bike without being concerned that those around them are disturbed.
This also means that the parts are not affected by wear and tear. Therefore, no part replacement will be needed nor any type of maintenance.
Finally, there is an emergency stop knob on the mainframe. This is designed to enable users to stop the spinning of the flywheel whenever they wish to stop pedaling in order to prevent an injury
The Console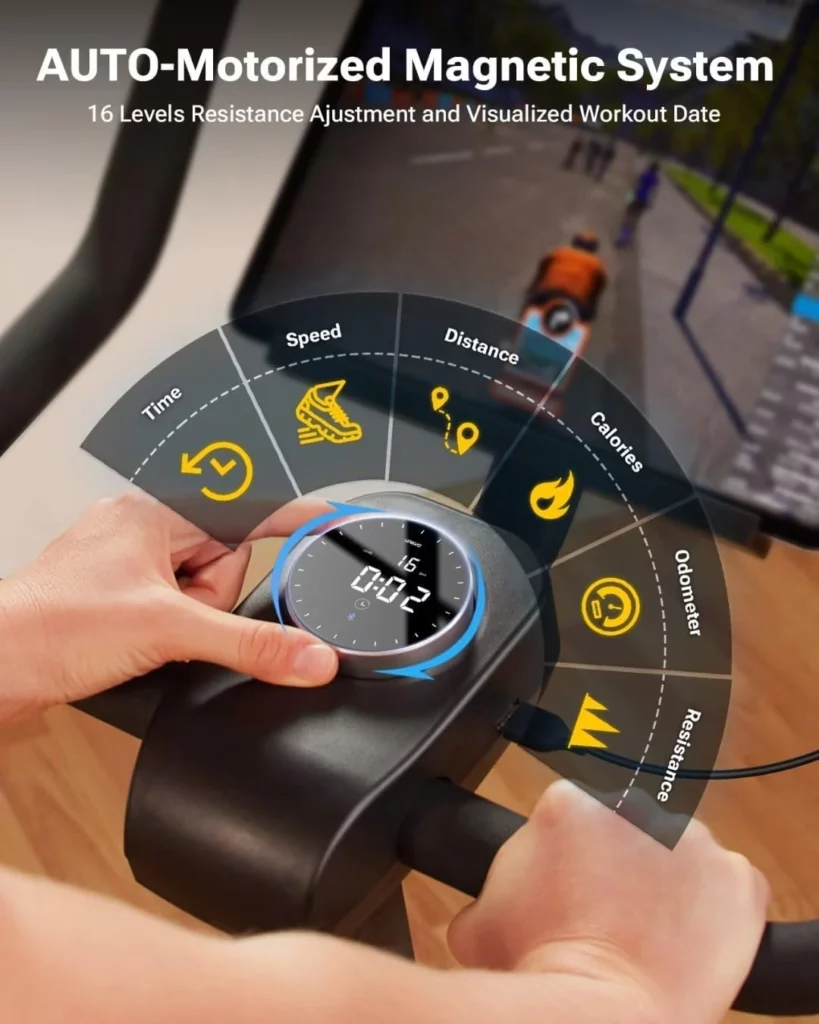 As aforementioned, the UREVO URSB005 Auto-Magnetic Exercise Bike has an LCD monitor that is integrated into the resistance knob just like the one on THERUN MTB108 Exercise Bike.
The LCD monitor has a crystal-clear readability, and it tracks workout stats such as Time, Speed, Distance, and Calories-Burned.
The console is Bluetooth-enabled. It is compatible with several workout apps. Such apps include UREVO, Zwift, and Kinomap. Through any of these apps you will experience more features that will add fun and productivity to your workout effort.
By syncing your device with the bike, you can track your workout data, set goals, and even compete with friends or other users. This integration with fitness apps adds an element of interactivity and allows you to personalize your workouts to meet your specific needs
However, you may be required to subscribe to unlock more features such as virtual trail, personal coach, and so on.
Accessory
There is a USB charging port on the console of the bike for charging a smartphone/tablet device.
There is a large tablet holder that can accommodate most sizes of smartphones/tablets for workouts and entertainment purposes.
A water bottle holder is also attached to the mainframe to enable users to maintain proper hydration during a workout session.
Storage
The indoor cycling bike is compact, and mobile. Thus, storage is convenient and easy.
A storage space with measurements of 3'5'' (107 cm) in length by 1'7'' (51 cm) in width can accommodate the bike, while the front-mounted transport wheels facilitate the relocation process.
Pros/Features Overview
Constructed with 1.5 mm thickened steel frame
It is stable and sturdy
Supports 350 lbs./158.7 kg maximum user weight capacity
It is customizable, supports 4'11''-6'5'' tall users; every family member can exercise with the bike
The seat is ergonomically designed and is 4-way adjustable
The handlebar is 2-way adjustable and is multi-grip designed
The pedals are made from plastic and aluminum, and they have toe cages and safety adjustable straps
The operation is smooth and quiet, thanks to the belt drive and electromagnetic resistance system
There are 16 resistance levels that provide a variety of workout intensities for users of different fitness levels
The console is Bluetooth-enabled for UREVO, Zwift, and Kinompa workout apps connectivity
The LCD monitor tracks Time, Distance, Speed, and Calories-Burned with good readability
Transport wheels included
Easy to assemble
Maintenance requirement is minimal
A tablet holder included
Water bottle holder included
USB charging port included
Cons
No heart rate monitoring function
Warranty
Can be returned, refunded, or replaced within 30 days of receipt
1 Year for Parts replacement
Product Dimensions & Specifications
Length: 42.1''
Width: 20.1''
Height: 47.2''
Shipping Dimensions: 40.5'' L x 33'' W x 8.5'' H
Gross Weight: 88.2 lbs./40 kg
Net Weight: 101 lbs./45.81 kg
Flywheel 35 lbs./15.87 kg
Frame: Steel
Drive: Belt
Resistance: Auto-magnetic resistance with 16 adjustable levels
Monitor: LED
Seat: 4-way adjustable
Handlebar; 2-way adjustable
Pedals: Toe cages with adjustable safety straps
Bluetooth connectivity and workout apps compatible (UREVO, Zwift, and Kinomap workout apps)
USB charging port: Yes
Transport wheels: Yes
Tablet holder: Yes
Water bottle holder: Yes
Shipping
If purchased from Amazon, they understand how important it is for you to receive your new exercise equipment quickly. Thus, they will make every effort to make the shipping process as seamless and efficient as possible.
Their team works hard to ensure the entire process, from order placement to delivery, goes as smoothly as possible.
To begin with, Amazon offers multiple shipping options to cater to different customer needs. Whether one prefers standard shipping or expedited delivery, Amazon strives to accommodate all preferences.
This flexibility ensures that customers receive their URSB005 Auto-Magnetic Exercise Bike in a manner that aligns with their schedule and urgency.
UREVO's URSB005 Auto-Magnetic Exercise Bike is carefully packaged for safe transit. The shipping dimensions are 40.5'' long by 33'' wide by 8.5'' high and it weighs 88.2 lbs./40 kg.
Amazon works with reliable shipping partners to quickly send out the exercise bike from its warehouse once the order is placed. Customers can stay up to date with their order by using the tracking number provided to them, which allows them to track the progress of their shipment and estimate the time of delivery.
UREVO understands that customer satisfaction is more than just providing the product; it's also about delivering outstanding customer service. If you have any queries about shipping, their dedicated customer support team is available to help. They strive to solve any problems swiftly, ensuring a positive experience for all customers.
Assembly
Putting together the UREVO URSB005 Auto-Magnetic Exercise Bike is a straightforward process with just a few steps. The accompanying instruction manual provides a detailed guide for assembly, so it is best to read it carefully before starting to construct the bike to ensure a problem-free setup.
The user should begin the assembly of the exercise bike by laying out all the components of the bike in an open space. This will make it easier to identify the various parts and accessories that come with the package.
Typically, the package contains the main frame, handlebars, seat, pedals, console, and a variety of bolts, screws, and tools required for the assembly.
Maintenance
Maintaining the cleanliness of the bike is essential. To do this, use a damp cloth to wipe down the frame, handlebars, seat, and pedals on a regular basis to remove any sweat or dirt that has built up from workouts. Avoid using harsh cleaners or abrasive materials that may damage the surface of the bike.
Also, do check on the parts of the bike to be sure that they are tight and in good condition.
Finally, store it in a dry, clean, and cool area.
Conclusion
If you're looking for an effective and convenient way to stay fit and active, the UREVO URSB005 Auto-Magnetic Exercise Bike is the ideal solution. Featuring an adjustable auto-magnetic resistance system, users can customize their workouts to suit their individual fitness levels and goals.
The bike is also designed to be compact, making it perfect for small spaces, while its sturdy construction ensures durability and stability. Plus, you can keep track of your progress with the LCD monitor, giving you the motivation to reach your fitness objectives.
With all these features, this exercise bike is a reliable and efficient piece of home fitness equipment.
UREVO URSB005 Auto-Magnetic Exercise Bike Review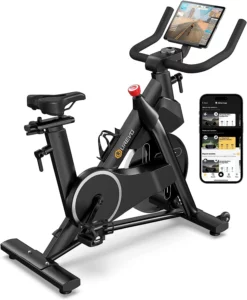 The UREVO URSB005 Auto-Magnetic Exercise Bike is a piece of fitness equipment that provides a highly effective workout. This exercise bike features quiet and smooth auto-magnetic resistance, making it ideal for home use.
Product Brand: UREVO
Product In-Stock: InStock