The EXerpeutic LX7 Indoor Cycle Trainer with Computer Monitor and Heart Pulse Sensors is the bike for the spin or cycling enthusiasts who cannot afford the high-end bike.
It is not only rich with features such as the monitor and pulse sensors but also tough to withstand any sort of hard use.  It is interestingly affordable and anyone on a low-budget can afford to own it for physical fitness.
Many bikes of the same price range do not have monitor nor pulse sensors, just as the Sunny Health and Fitness Pro Indoor Cycling Bike.
Although, Sunny Health and Fitness has good and affordable cycling bikes.
That said, the EXerpeutic LX7 Indoor Cycle Trainer weighs about 90 pounds which adds to its stability and sturdiness. The seat and handlebars are adjustable which allows most individuals of different sizes to be accommodated. It has got aluminum alloy pedals with straps to secure the feet and prevent any type of slippage during a workout.
Due to its overall built, it supports up to 300 pounds maximum user weight capacity.
No doubt that this bike has got some features that are hardly found in other bikes of its category and could provide formidable resistance for challenging workouts.
That being said, it doesn't mean that the Exerpeutic LX7 Indoor Cycle Trainer Bike is perfect, no, it has some concerns you must be aware of and we shall be outlining them in this review.
However, it does have some level of popularity among its users and has got some positive feedback to support that.
<<<Best Price for the  Exapeutic LX7 Indoor Cycle Trainer>>>
The Frame/Sturdiness
A lot of average spin bike or indoor cycling bikes can handle a lot of hard use, but if you are looking for something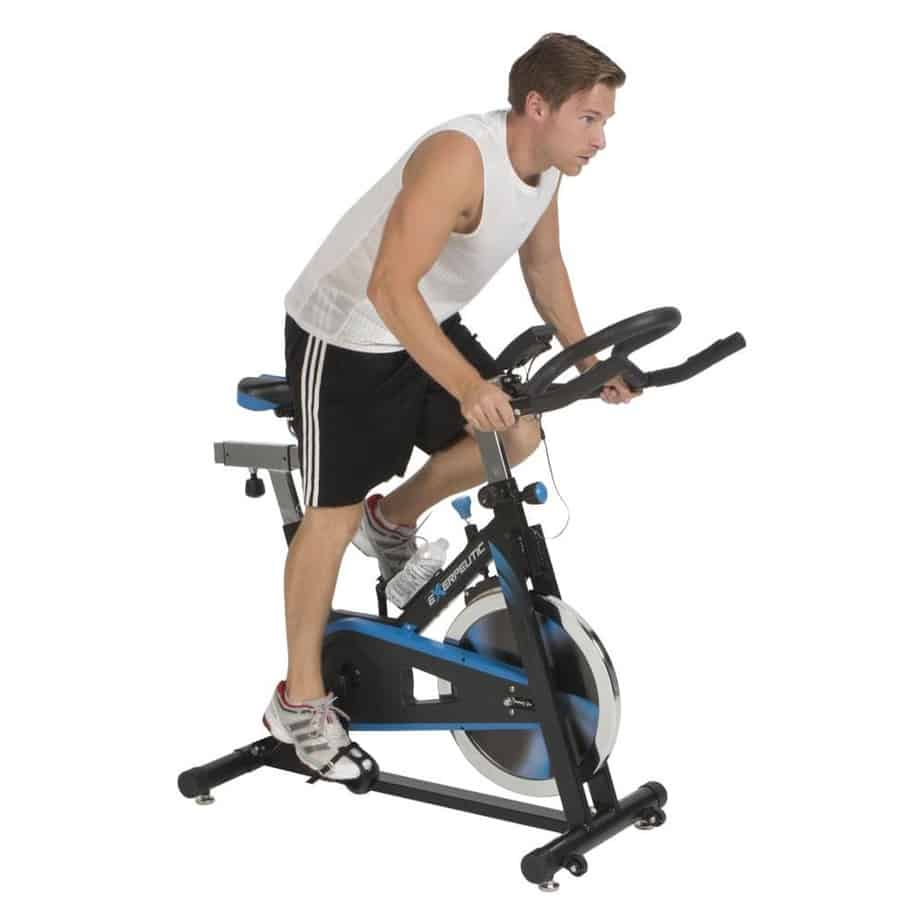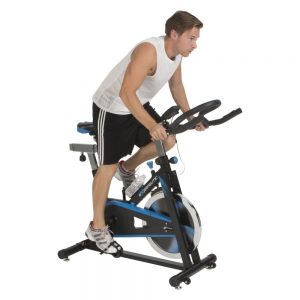 cheaper, affordable that can be as tough as an ox then Exerpeutic LX7 Indoor Cycle Trainer Bike would be your best bet.
The frame is made of steel to support up to 300 pounds maximum weight capacity with great stability during workouts. Majority of the feedback we have read confirmed that this machine is strong and simply stable.
This is the bike for the home gym which provides challenging workouts than the average exercise bike. It has 40 pounds flywheel that enhances stability and makes operation smooth and quiet.
It has floor stabilizers designed to help level up the bike on an uneven floor
In terms of sturdiness, no reviewer or feedback has negatively asserted otherwise…at least the feedback we have read suggested that this bike is completely sturdy.  One particular reviewer stated ''you will benefit from this bike either way''.
We must not ignore cases where a user experiences a breakdown after a few days or weeks of purchase. This happens but very few people have complained of this.
The manufacturer of the Exerpeutic is Paradigm and their customer service email is [email protected] and the telephone number is 1-844-641-7921, 8 am-5 pm pacific time. You can also verify this information on the downloadable user's manual which you can find in the shipping section of this review.
The Seat and the Handlebars/Adjustability
The Exerpeutic LX7 Indoor Cycle Trainer has a cushioned ergonomic seat that is adjustable vertically and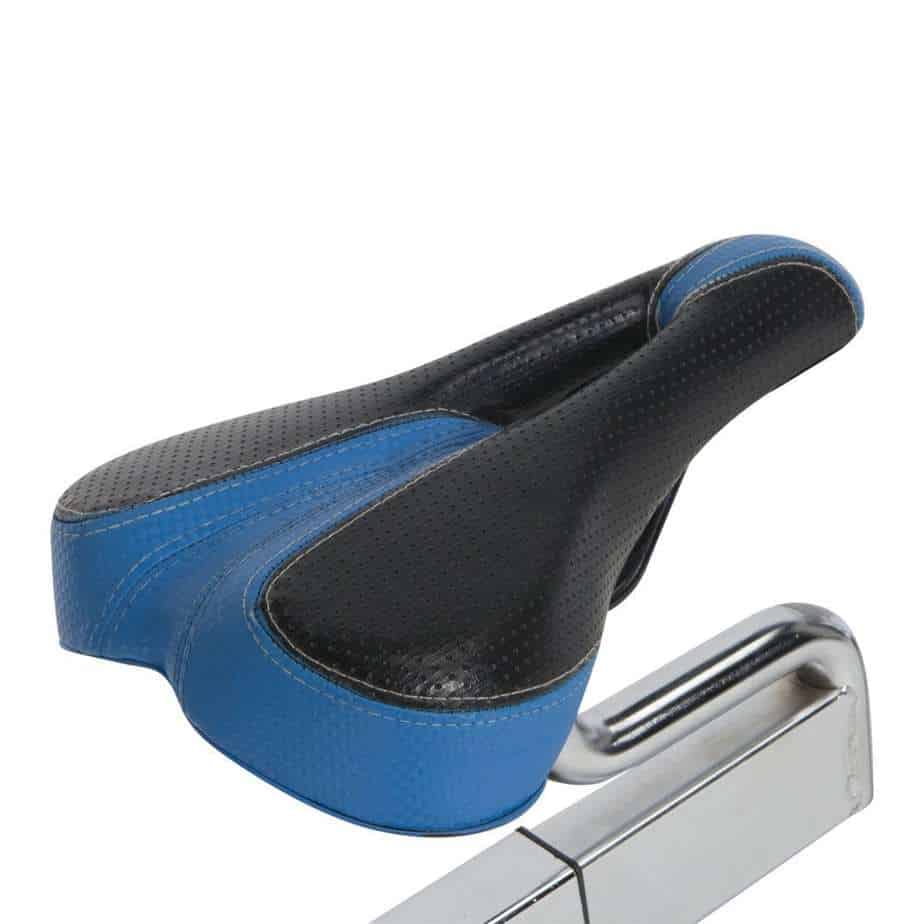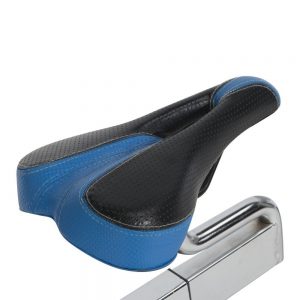 horizontally. This means that most users can adjust the seat to fit in comfortably. It is stated officially by the manufacturer that the bike can accommodate different heights of individuals from 5 feet 2 inches to 6 feet 2 inches. However, we discover a conflicting comment by a user that claims to be 6 feet and fits in just fine but feels like adjusting a notch further.
Now, the user is trying to say that he is not having a full leg extension but not discomforting either. Nevertheless, there are people with long legs than the trunk and vice versa.
We can conveniently say that people up to 6 feet will be accommodated without discomforting restrictions.
It is not difficult to adjust the seat neither does it take time to do. To adjust the seat you simply unscrew the knob and adjust the pole to your preferred position and reinsert the knob back to the hole and tighten up. So also is the case with the horizontal adjustment but in this case, you are required to unscrew the knob and slide the seat to your preferred position and tighten up.
This also means that multiple family members can conveniently use the bike in turn.
The handlebar is adjustable and has 2 adjustment knobs that are designed to make it stable.
Once you loosen the two knobs, adjust to the level you want, and tighten back again. It takes only a few seconds to get it over with.
The Resistance
The resistance system of this bike is one of the outstanding features that users have expressed satisfaction. Yes, the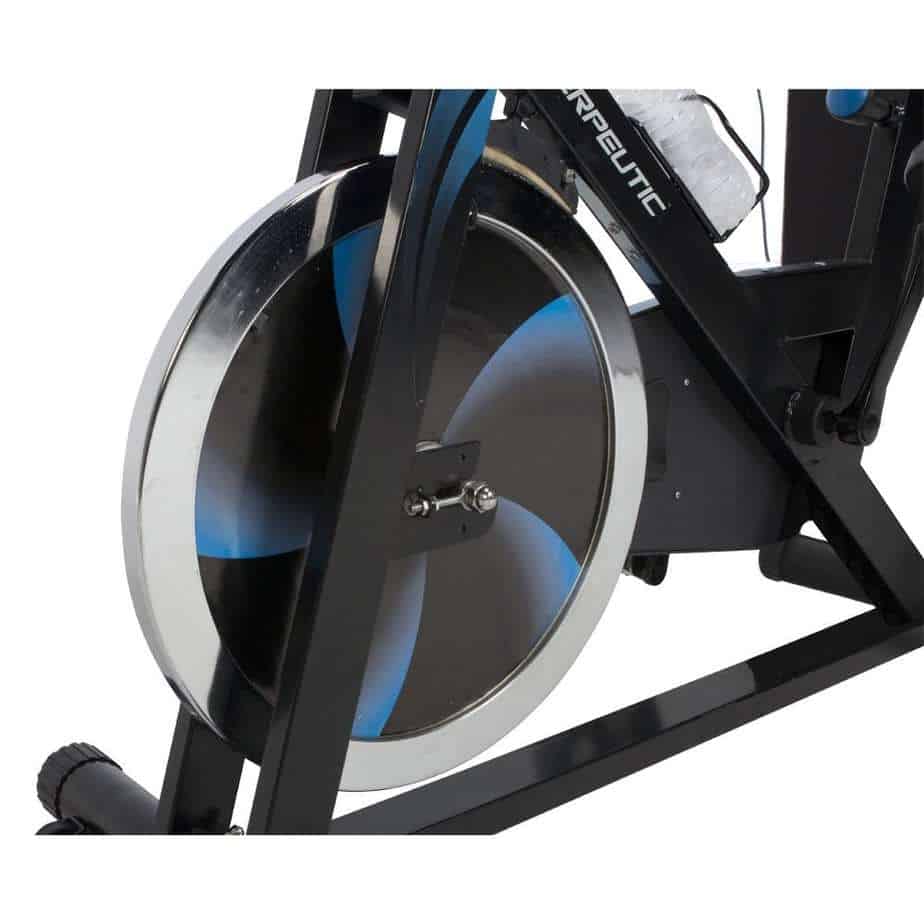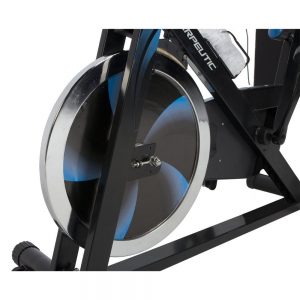 resistance provides tougher and challenging workouts because it is a friction resistance type that uses a felt pad and a tension knob for adjustment, although, it does not have any specified levels as the case with a magnetic resistance system.
The felt pad is attached to and under the frame tubing which is very close to the flywheel so that when the felt pad comes in contact with the flywheel resistance will be created. The tighter the felt pad gets in contact with the flywheel the more resistance will be experienced.
Whereas the tension knob is on the frame tubing connected to the felt pad for adjusting the resistance accordingly.
The felt pad is a wear part that will be needing replacement after a year or more depending on the frequency of the bike's usage. It is easy to replace as it is a standard type of felt pad, therefore, it can be found easily or better still order one from the company using the contact information provided above.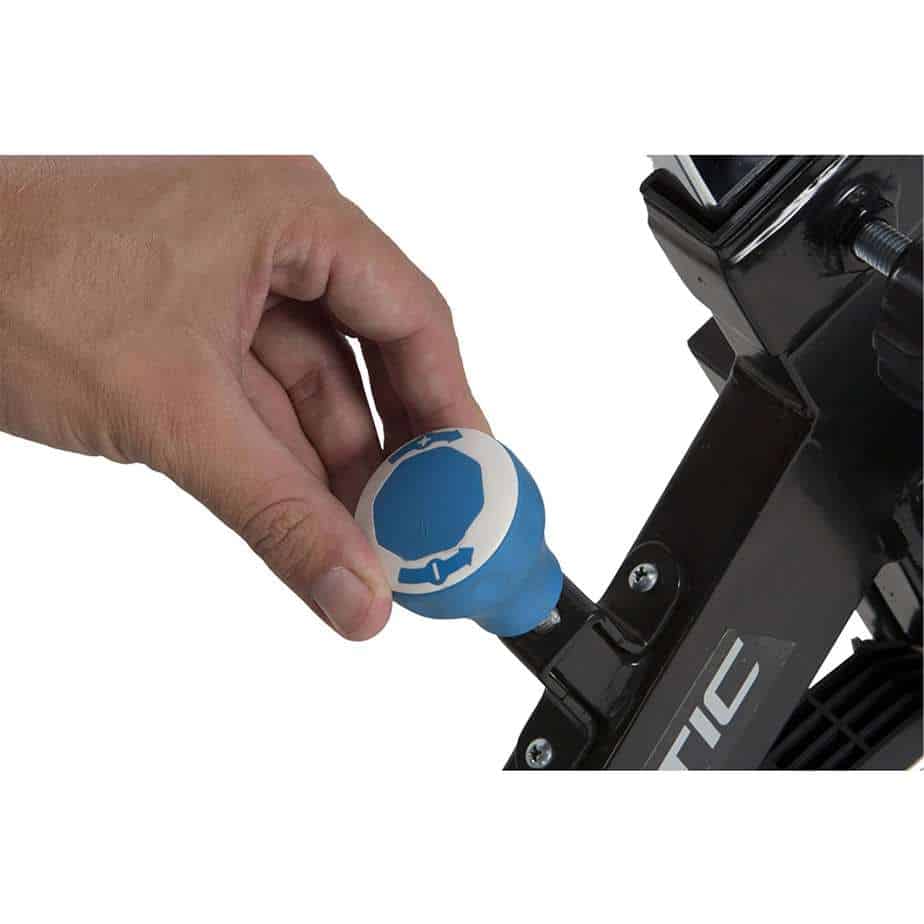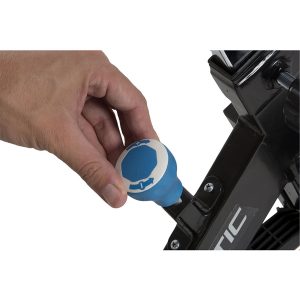 Moreover, the tension knob also doubles as the brake. When you want to safely stop and get off the bike during a workout you will have to push down hard on the tension knob to bring flywheel to an abrupt stop.
This is important because it has a fixed drive system that does not allow you to coast just like you would with an outdoor bike which means the pedal and the flywheel continues to turn simultaneously until you stop the flywheel using the tension knob.
So, it is safer to use the tension knob in the event you wish to stop a workout to avoid possible injury.
By the way, just in case you are interested in a bike that has specified resistance levels which will likely be a bike with a magnetic resistance system then check out the Keiser M3 Plus Indoor Cycle Bike, although this is a way more expensive bike than the Exerpeutic LX7 Indoor Cycle Trainer.
Finally, the resistance operation is smooth and almost noiseless but of course, you must hear some level of sound when the felt pad and the flywheel get in contact but that won't be an issue or annoying. However, you will have to lubricate the flywheel from to time using a silicone-based lubricant that will just take seconds to apply.
The Drive System
The Exerpeutic LX7 Indoor Cycle Trainer has a chain drive system; this means it uses a chain as the connecting part between the crankset and the flywheel. It is similar to the outdoor bike which uses a chain, therefore, you will experience the outdoor feel when working out with this bike.
Being that it uses a chain drive system it also means that some level of maintenance is required to keep the operation smooth and quiet. You will need to lubricate the chain by removing the guard that covers it and also adjust the chain when there is the need to do so. We believe that the manufacturer includes the lubricants required upon purchasing the bike.
When it comes to quietness, it is not completely quiet because you will still hear some noise from the chain when working out but that again is not going to be disturbing. If you are familiar with the sound the outdoor bikes make during usage then you will understand that the noise is not a big deal.
However, bikes that use a belt drive system are a lot quieter and do not require maintenance but do require belt replacement at some point.
The Pedals
It has pedals made of aluminum alloy with standard thread and of course toe cages that will secure your feet in place and prevent slippage.
The crankset is a solid 3-piece that is designed to even support pedaling while standing.
Therefore, you can work out vigorously all you want without having the concern that something is going to break.
The Console
The console is one of the selling points of this bike as many spin or cycle bikes in its category rarely have a monitor let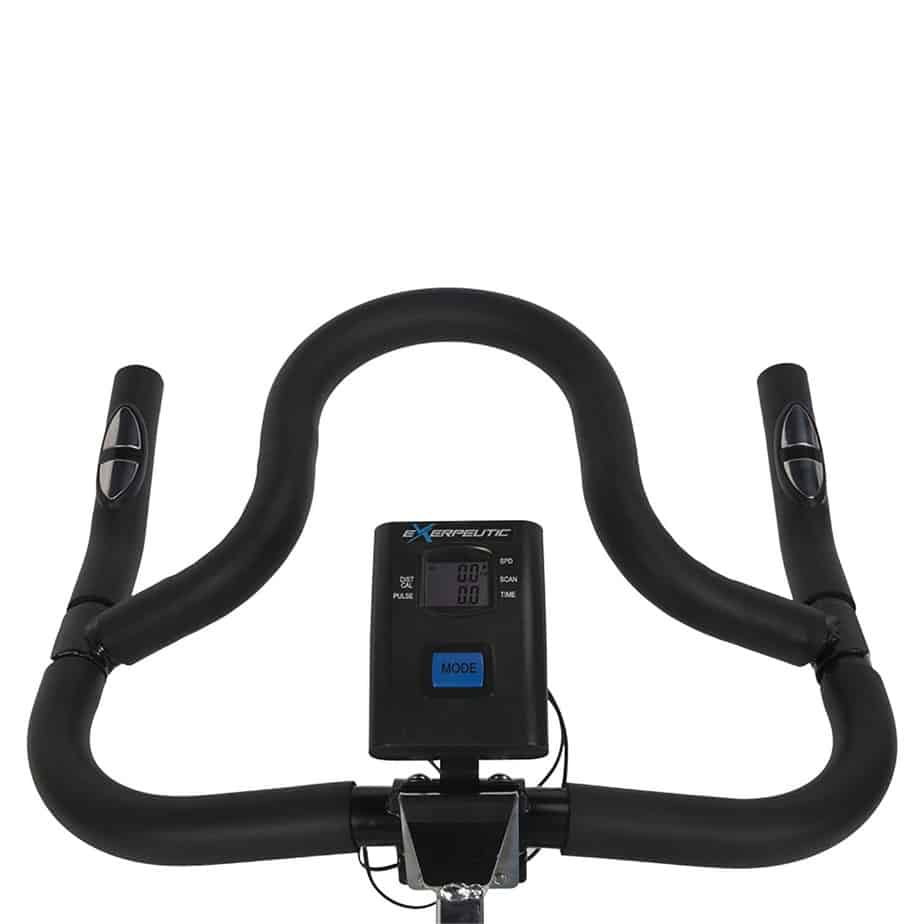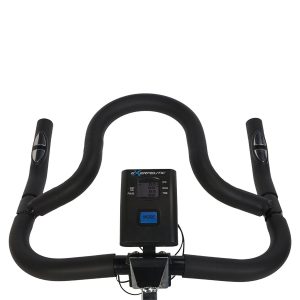 alone heart rate.
The manufacturer made sure to specify these features in its name so that buyers will get to know what they will be getting by using the bike.
Although, and understandably the monitor or console is basic with the capacity of displaying the RPM, calories burned, speed, the time elapsed, distance, and heart rate.
Have it in mind that your heart rate gets to show up on the monitor if your hands are on the part of the handlebars that have the heart rate sensors embedded in them.
The readability is not that excellent but is good as long as you are in a well-lit room because it is a basic monitor with no backlit.
Just as the case with the most basic console it only has one button tagged ''MODE''. This is a multi-functional button that can be used to set the display. For instance, you can use the button to set a certain workout value to display at all times or set it to scan through all the workout values one at a time and changes to another after few seconds, and does this continuously, whereas you can also reset the monitor by pressing the button and holding it down for 3 to 5 seconds.
Also, the monitor can be turned on by just pressing the only button or can be turned on by resuming activity on the bike that is by pedaling. The console requires two AA batteries to power on which is included upon purchasing the bike.
Now, you need to know that the monitor metrics are not accurate. There are some complaints about that by the users. Ordinarily, the grip heart rate is considered not to be as accurate as of the chest strap and this problem is with any fitness equipment. But this bike does not only have issues with the heart rate output but also with other workout data.
Some users believe that the displayed workout values are based on estimations that are not on point and 100% accurate.
And you may want to prevent sweat or water from touching the console because that could damage it.
Accessories
The Exerpeutic LX7 Indoor Cycle Trainer does not have as many accessories as expected.
It does have a water bottle holder that is placed in an awkward position but not a real problem though. It is positioned in a place that is not easy to get to and sweat gets to the water bottle as though it was deliberately positioned so that sweat can drench it.
Unfortunately, that's the only accessory that is available on this bike…with, of course, the heart rate sensors.
Storage
The storage of the bike is not a big issue because even a small room can accommodate it as the assembled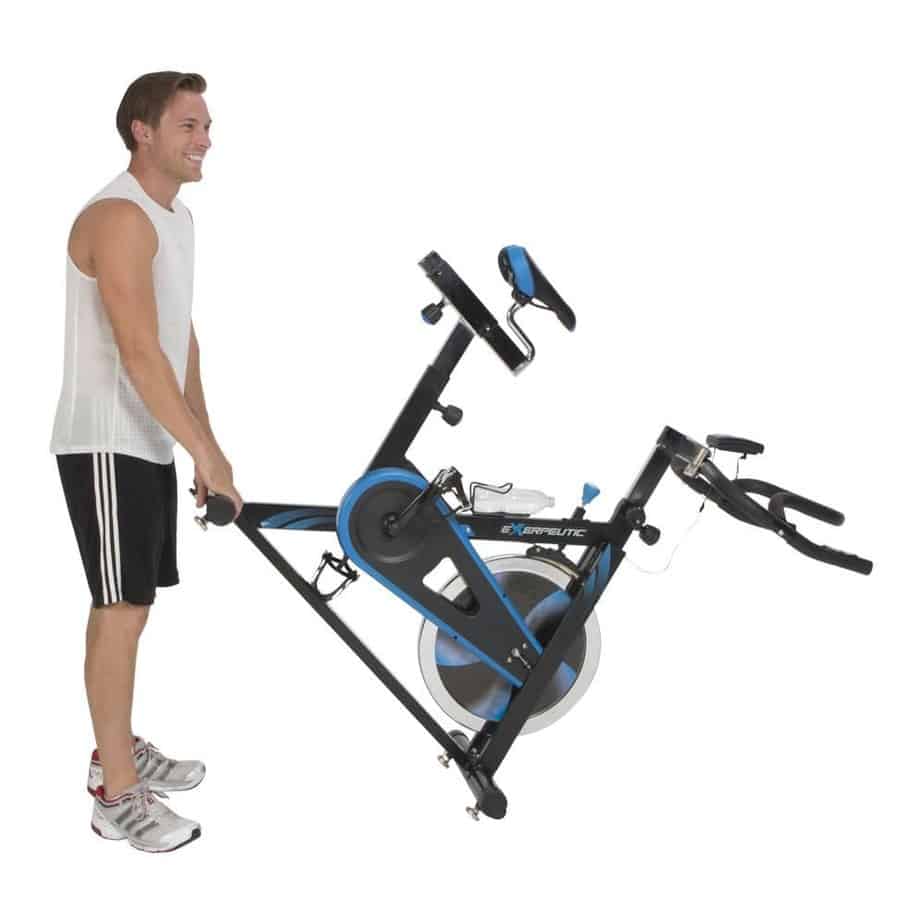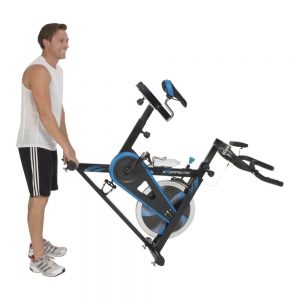 dimensions are 49 inches L by 20 inches W and weighs about 90 pounds. If you convert the dimensions into feet that would be 4.09 L by 1.66 W then you will need a clearance of 2 feet by the side and 1 foot at the front and the rear. So, the approximate space needed for storage should be 6 feet by 2.5 feet W.
You should not be worried about the weight is 90 pounds (that is considerably heavy) because the bike features two transport wheels at the front base which could be used to move or relocate the bike by tipping it towards the front base by holding the handlebars. By so doing, almost anyone that is an adult can move it alone without assistance from anyone.
Although you have to be careful when moving it on a soft surface like the carpet but it can easily be moved to any other type surface. Also, be careful when moving on the wooden floor so that you don't leave a dent or scratch on the floor.
Approval Rating
The approval rating is one important aspect that points to anyone that wishes to purchase any fitness equipment machine in the right direction. We do consider the approval rating and popularity of any fitness equipment we are reviewing because that helps us to understand the product better from the real users.
That being said, the Exerpeutic LX7 Indoor Cycle Trainer has about 179 Amazon customer reviews at the time this review was written with an approval rating of 4 out of 5. This shows that the majority of the users are satisfied with their purchase.
Of course, the reviews by the real users are not void of complaints but overall they could be summed up as recommendable.
The manufacturer indeed did a good work by providing a bike such as the Exerpeutic LX7 Indoor Cycle Trainer at a very affordable price. Not only is it affordable for low-budget folks but they managed to integrate features that are not commonly available in the most bikes of its category.
Speaking of complaints by the users, most were about the monitor and inaccuracy of the workout data displayed, damaged parts as a result of mishandling during transit for delivery.
But overall, the majority of the users are good with the bike and what it has to offer.
Click right here to read Amazon customer reviews.
Pros/Features Overview
Well constructed with a steel frame
It is sturdy
It is affordable and good for folks on a budget
Easy to assemble
It does not take up space
Has console with monitor
Users will be able to track workout progress
A user will be able to maintain a target heart rate zone
Has got transport wheels to aid in relocation
The seat is 4 way adjustable
The handlebars can be adjusted up/down
It has got a heavy flywheel of 40 pounds that enhances the smooth and quiet operation
It provides an outdoor bike feel because of its chain drive system
Cons
The workout data are somewhat not 100% accurate
The transport wheels are pretty small
The console can easily be damaged by sweat
There are some complaints about customer service being horrible at handling issues.
The seat does not provide exceptional comfort, but can be improved by using a gel seat cover or replacing it completely.
Product Dimensions and Specifications
49'' Length
20'' Width
49'' Height
Weighs about 90 pounds
Supports up to 300 pounds maximum user weight capacity
Flywheel weight is 40 pounds
3-Piece Crankset
Aluminum Alloy Pedals
Chain drive system
Adjustable stabilizer lever
Shipping, Assembly, and Maintenance
Shipping
The bike is well packaged in a box and delivery is usually on time. The shipping cost depends on the retailer you are purchasing from; however, Amazon provides free shipping.
Assembly
To assemble this bike is pretty easy and most of the users attest to this. It does not take up to an hour to completely assemble it because the major components are preassembled. Moreover; there is an instruction manual that helps you to assemble successfully.
Tools required for the assembly are also included.
You may click right here to download the user manual or go to Amazon to do so.
Mainly you will need to attach the seat posts, seat, handlebar post, handlebars, stabilizers (front and rear), pedals, and the console as every part has been preassembled.
The shipping weight is about 106 and the assembled weight is 90 pounds. Therefore, if possible have the box delivered in the room you intend to assemble and use the bike in.
Maintenance
The maintenance of this bike is minimal because you only need to oil and adjust the chain periodically and always clean and wipe the bike clean of dust and sweat.
You need to apply lubricant and adjust the chain to maintain a smooth and quiet performance and operation at all times.
Wipe the sweat off of the bike to prevent corrosion.
 Conclusion
The Exerpeutic LX7 Indoor Cycle Trainer certainly has downsides but obviously, the upsides outweigh the negative side of it.
It has been established that this bike is sturdy, solid, and provides tough and challenging workouts. It has a value-oriented price that could make most prospects to consider adding it to their home gyms.
There is nothing that is ever perfect without a downside but when the pros are greater than the cons then it is considered a good buy.
If you are looking for more options or alternative then check out our best spin bikes review with a comparison table that could let you quickly glance through options. And besides all the bikes on that review have good approval ratings.
If you have further questions do not hesitate to holler at us and we will respond accordingly.
Exerpeutic LX7 Indoor Cycle Trainer Review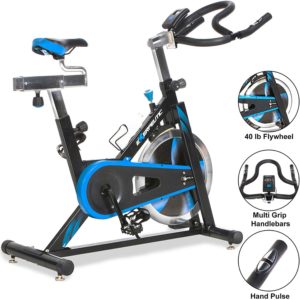 A lot of average spin bike or indoor cycling bikes can handle a lot of hard use, but if you are looking for something cheaper, affordable
Product Brand: Exerpeutic
Product In-Stock: InStock