The Sunny Health & Fitness SF-B2721 Comfort XL Folding Recumbent Bike is a unique entry-level upright bike that is interesting because of its reclining seat and its affordability as well. There are a lot more features available on this bike that makes it difficult not to have a second look.
The unit is a very compact and lightweight semi-recumbent bike that weighs just about 38 pounds / approximately 17 kg with dimensions of 35 inches long by 21 inches wide by 50 inches tall. This is a very handy unit that you can literally move around without any problem and store away conveniently almost effortlessly.
It has similarities with the Exerpeutic Folding Magnetic Upright Bike except that the big difference between the two is that the latter does not have recumbent seat integrated into it. The Sunny Health & Fitness SF-2721 Comfort XL Folding Recumbent Bike is one of the best folding exercise bikes available.
It is a belt-driven bike that provides a seamless and smooth operation that is accompanied with quietness. This is one of the best exercise bikes that are best used at home, school, or working place when it is convenient.  The main highlight features of this semi-recumbent bike are foldability, 3 levels of adjustable recline, 10 levels of magnetic belt-driven resistance, and of course supports up to 300 pounds maximum user weight capacity.
If you would want to take a peek at the best price it is being sold at then click right here otherwise stick around for the rest of the review.
The Frame and Construction
The Sunny Health & Fitness SF-B2721 Comfort XL Folding Recumbent Bike is designed to provide maximum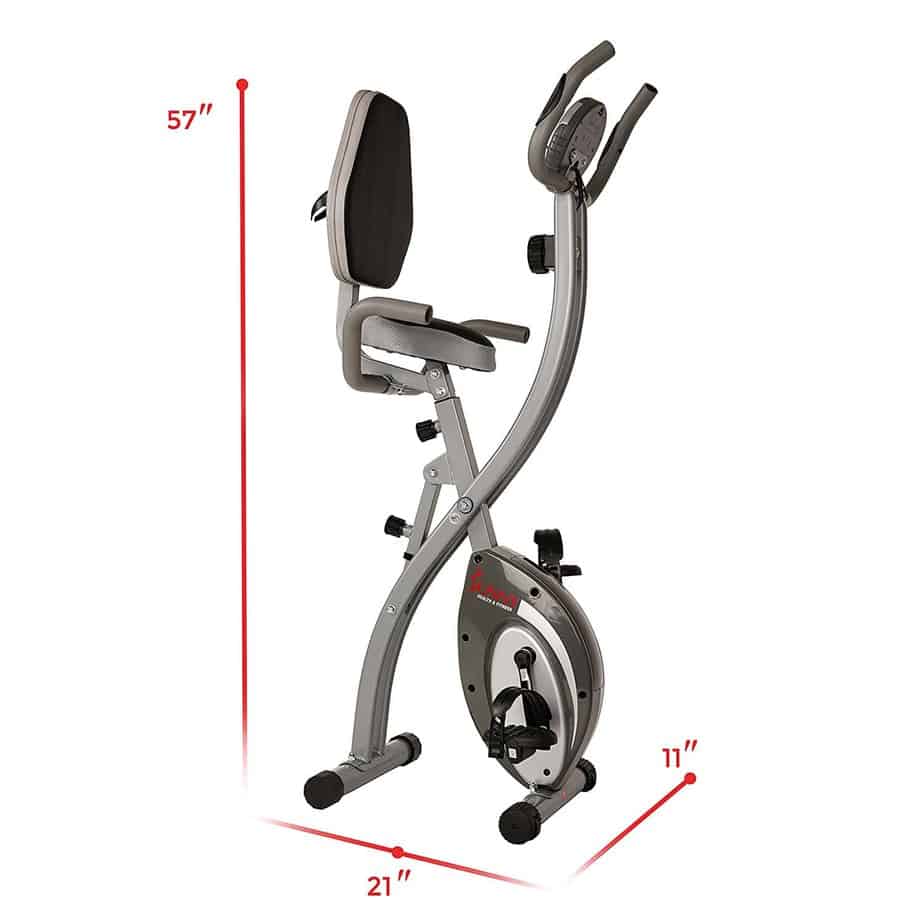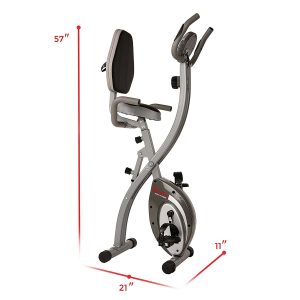 comfort while you workout to achieve your fitness goals. It is amazing how it is incorporated with useful features and portability without compromising the quality of comfort and exercises it provides.
Just as aforementioned, it has a foldable design that reduces the length size to more than half the original assembled size. It has assembled dimensions of 35 inches long by 21 inches wide by 50 inches tall and the folded dimensions are 12.5 inches long by 20 inches wide by 57 inches tall. This shows that it does not take up space when fully assembled and even takes less space when folded up. Mobility is a lot easier and convenient because it is a lightweight exercise bike that weighs just about 38 pounds approx. 17 kg and in no way compromise its stability during exercise.
Speaking of stability, it is equipped with two stabilizer bars designed to enhance its stability; one at the rear base and the other at the front base which has protective rubber caps on each end.
The steel parts of the bike are finished with anti-corrosion and scratch paint that prevents rusts and scratches, but that being said, it is important to note that this unit is designed to be used indoors only otherwise will be exposed to an unfriendly environment that could damage the machine most especially the console.
It is integrated with 3.3 pounds flywheel that provides smooth and consistent motion.
The manufacturer even deemed it necessary to include a water bottle holder that helps you to stay hydrated throughout the workout session.
It is constructed to support up to 300 pounds maximum user weight capacity which is decent considering the fact it is a compact machine.
The Seat and Handlebars
The seat, handlebars, and the pedals are essentially part of the elements that ensure that fitness equipment such as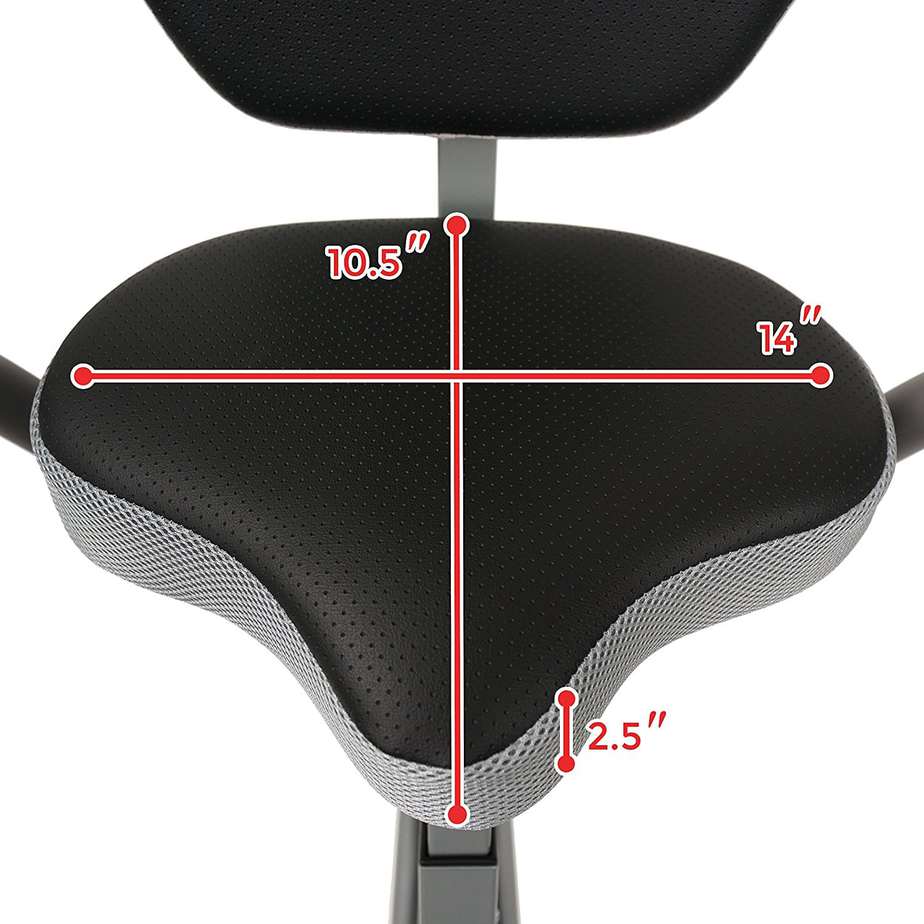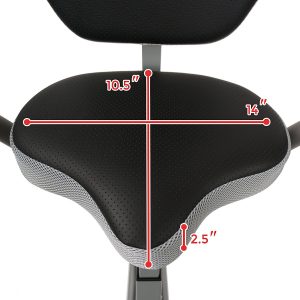 the Sunny Health & Fitness SF-B2721 Comfort XL Folding Recumbent Bike provides optimal comfort and that depends on the overall design.
Just as the name suggested, the seat that comes with this unit is a recumbent styled seat that is extra large when compared to other folding exercise bikes. The size is not only extra large but the cushioning and padding of both the seat and the backrest are extra large which is intended to suit the butt and to ensure that there is proper blood flow in the glutes so that you can experience prolonged and vigorous workouts without feeling bored.
Just as the manufacturer rightly pointed out, the seat relieves the pressure points in the tailbone due to prolonged sitting.
There are adjustable side handles/armbars on each side of the seat which provides the much-needed support to push or pedal harder during a workout while you sit back. Its adjustability presents the opportunity for more users of different heights to be accommodated. You have the liberty to adjust the seat up to 3 recline levels which is a big deal as it provides multiple workout postures with a minimum inseam of 22 inches and maximum inseam of 28 inches.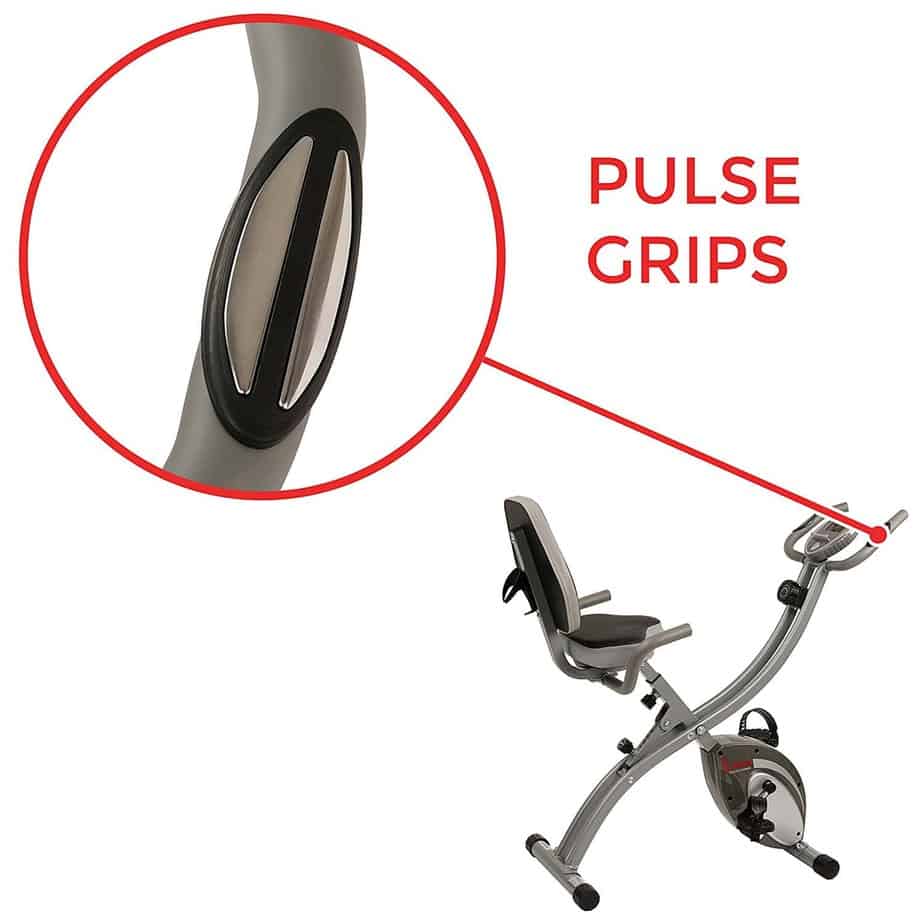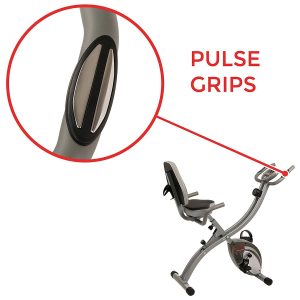 The seat can also be adjusted vertically, upward, and downward, which provides the opportunity for users of different heights and sizes to be accommodated.
The handlebars are well coated with rubber/foam material that is designed to provide a comfortable grip and prevent slippage due to sweaty palms and blisters in the palms. The pulse sensors are embedded in the handlebars so that your heart rate data could be transmitted to the monitor each time you grip them.
The Drive and Pedals
The Sunny Health & Fitness SF-B2721 Comfort XL Folding Semi-Recumbent Bike has a belt drive system that is famously known for its ability to operate without generating noise. This implies that this unit does not generate noise when in operation and so can be the perfect equipment for a workout at home, school and workplace because you don't have to be worried about disturbing others during workouts and you can conveniently watch your favorite TV show and listen to some good music as well.
The belt drive system with the 3.3 pounds flywheel provides a smooth and quiet workout experience that is remarkable.
The pedals are equipped with an adjustable safety strap that will secure your feet in place and prevent any sort of accident during vigorous workouts.
Resistance System
This foldable bike features a manual magnetic resistance system that has 10 adjustable levels. Resistance levels can be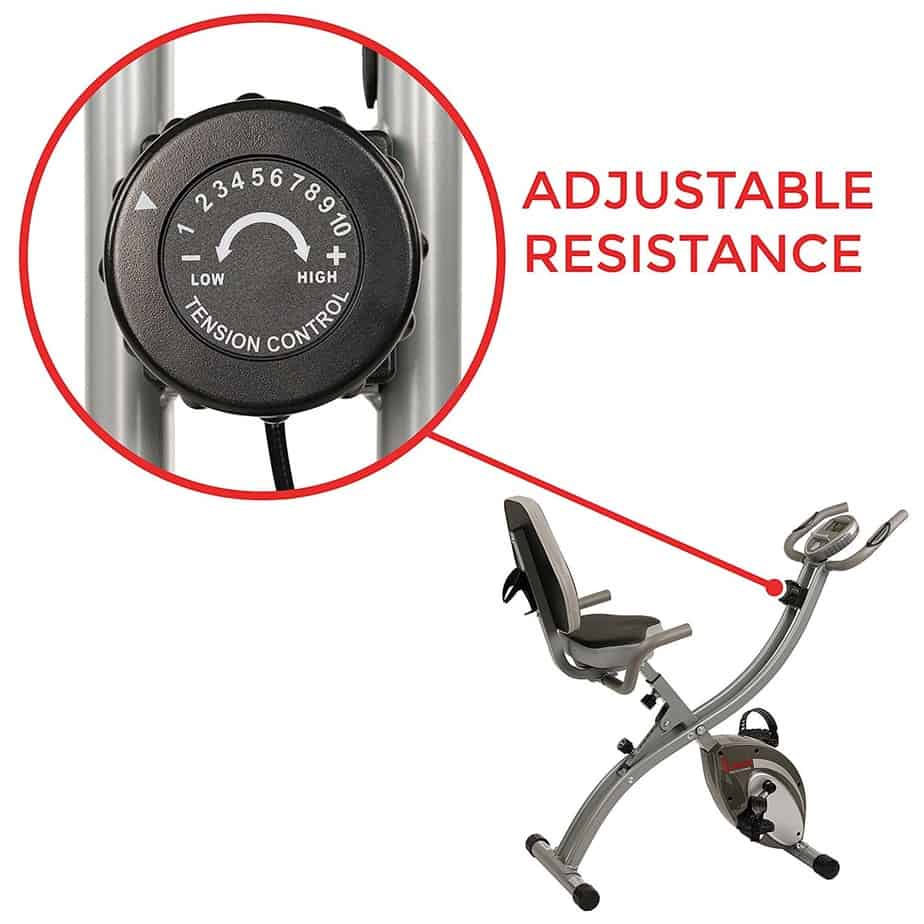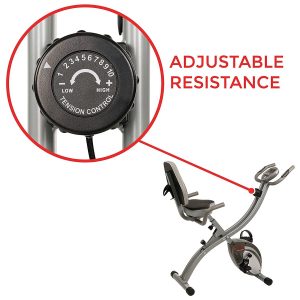 adjusted manually via the tension knob that is distinctly specified with resistance levels 1 to 10.
The adjustment is simple as you can increase or decrease the resistance level by twisting or turning the tension knob clockwise to increase and anti-clockwise to decrease. The SF-B2721 Foldable Bike presents you with challenging workout experience that will ultimately engage multiple muscle groups of the body to achieve your fitness goals.
Being that this is a magnetic resistance system, you don't have to maintain or replace any part that consists of the resistance system due to tear and wear, so it is maintenance-free.
The Console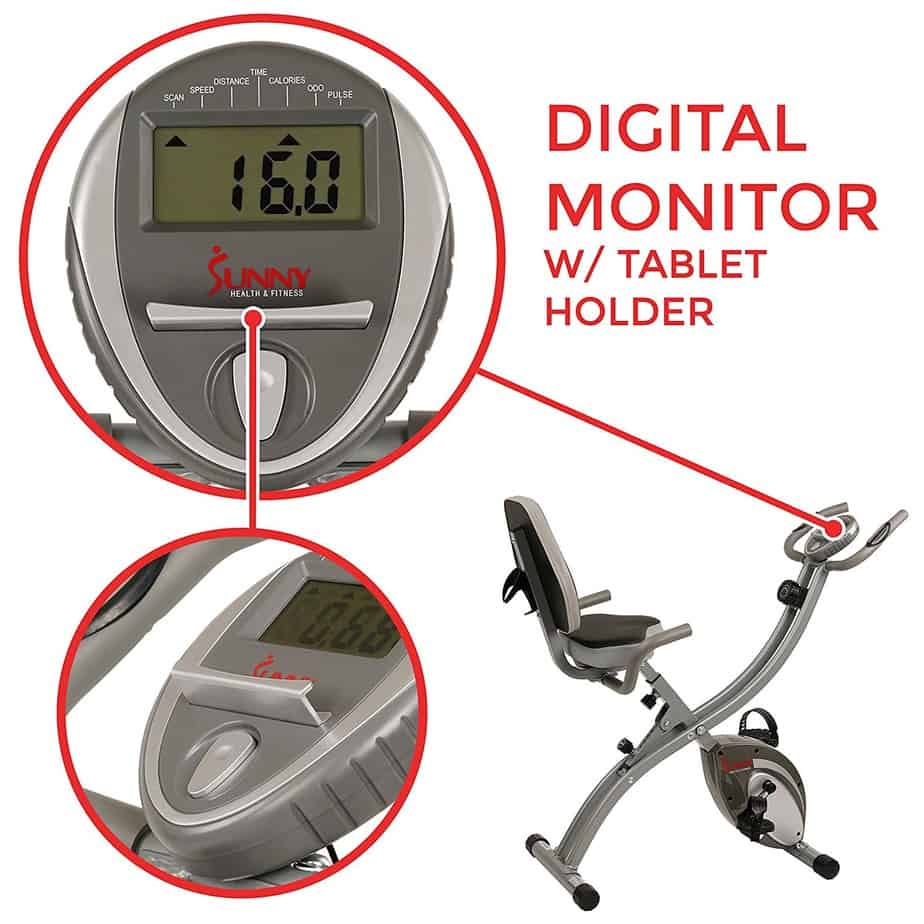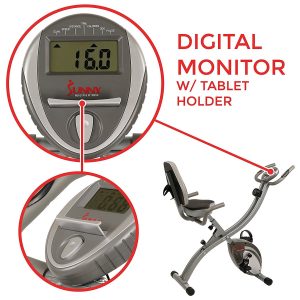 The Sunny Health & Fitness SF-B2721 XL Comfort Folding Bike features a basic console that is nevertheless very useful to your workouts and achieving your fitness goals. You will be able to track your workout progress by viewing data such as the time, speed, distance, calories burned, Odometer, and Pulse through its monitor.
The monitor provides high-quality readability however when used in a poorly lit room the clarity will be compromised because it is not backlit design.
The console only has one button that is responsible for the setting of the LCD monitor. You can either choose to view all the workout metrics one at a time after several seconds by using the SCAN function or you may choose to have a certain value display at all times.
The ability to see your heart rate data is very important as it enables you to maintain your target heart rate zone at all times.
The console is powered by two AA batteries that are included. The power automatically turns off when there is no activity on the bike for 4 minutes to save the batteries' lifespan, and turns ON when activities resume.
Accessory
It is very interesting to see that the Sunny Health & Fitness SF-B2721 XL Comfort Folding Bike has several features that are useful in the quest of achieving a healthy body which includes the water bottle holder and the tablet/phone holder the manufacturer managed to integrate.
These are the only two accessories available on this bike but they are recommendable despite the fact we think the positioning of these accessories are not perfect because the water bottle holder is designated behind the backrest of the seat which will not be convenient to reach by a user and the phone holder that is on the console just below the LCD monitor will block the user's view of the data being displayed should he decide to place a device on it.
Storage
The storage process of the SF-B2721 Folding Bike is very easy and convenient because of its foldable design. It is also equipped with transport wheels that facilitate the relocation of the unit. Simply fold and reduce the bike's size to more than half its length size and effortlessly roll away to a storage location.
Moreover, it is a lightweight machine that weighs about 38.5 pounds approximately 17 kg.
Approval Rating
The approval rating is a yardstick used by most smart individuals that make purchases online. Every online product has an approval rating that is being summed or concluded by the overall users' feedback.
That being said, the Sunny Health & Fitness SF-B2721 XL Comfort Folding Bike is relatively a new product that has only one user feed on Amazon at the time this review was written which is 100% positive and we are not surprised because this is an indeed a recommendable bike at a very value-oriented price.
Pros/Features Overview
Sturdy and well constructed to support up to 300 pounds /136 kg
Very affordable
It has an extra-large recumbent seat that is well padded and cushioned with arm support on each side
The seat is vertically adjustable, that is upward/downward
The seat also has 3 levels of recline adjustments
Has basic console with an LCD monitor that allows you to track your workout progress
Pulse sensors embedded in the handlebars
It is compact with dimensions of 35 inches long by 21 inches wide by 50 inches tall and foldable with dimensions of 12.5 inches long by 20 inches wide by 57 inches tall.
It features a manual magnetic resistance system with 3.3 pounds flywheel that provides quiet, smooth and consistent resistance operation
10 levels of magnetic resistance that is distinctly marked on the tension knob
It is integrated with a belt drive system
A lightweight machine that weighs 38.5 pounds /17 kg
Transport wheels for the easy relocation process
Water bottle and phone holders available
Very easy to assemble
Cons
Not the ideal bike for any serious and advanced user
The water bottle holder is designated behind the seat's backrest which makes it very difficult to reach the user; however, we can't think of a better place to put it.
The LCD monitor will be blocked if you decide to place your phone on the holder
Product Dimensions and Specifications
35'' Length
21'' Width
50'' Height
12'' Length (folded)
20'' Width (folded)
57'' Height (folded)
Supports up to 300 pounds maximum user weight capacity
Weighs 38 pounds / 17 kg
3 pounds flywheel
Belt drive system
Magnetic resistance system
Adjustable Inseam height 22 inches min. / 28 inches max.
Digital Monitor tracks time, speed, distance, calorie, Odometer, and heart rate
Warranty
3 Year Manufacturer's Warranty
Shipping, Assembly, and Maintenance
Shipping
The shipping cost of the Sunny Health & Fitness SF-B2721 XL Comfort Folding Semi-Recumbent Bike depends on the shipping policy of the retailer you are purchasing from; however, Amazon provides free shipping and usually delivers within 2 to 3 days order.
Assembly
The assembly of the unit is a straightforward process that does not require much do in terms of the parts to be attached.
It comes preassembled except for a few parts that required to be attached such as the stabilizer bars, the consoles, the handlebars, the seat, and the pedals.
An instruction manual is also included to walk you through the process of assembly.
Maintenance
This is a maintenance-free folding bike that only requires a routine check to see if there is any part that is loosed, worn, or broken, and if there is, make sure to retighten, repair, or replace accordingly.
Other than that, always keep clean from dust and sweat.
Conclusion
To be honest, we think this bike has a value-oriented price that is going to be appreciated by anyone that is on a budget. You will still be able to achieve your physical health goals at the convenience and comfort of your home.
We do not see any reason not to recommend except if you are an advanced user who is looking at experiencing serious and outstanding workout challenges; otherwise, the Sunny Health & Fitness SF-B2721 XL Comfort Folding Bike is a good choice.
Sunny Health & Fitness SF-B2721 Comfort XL Folding Recumbent Bike Review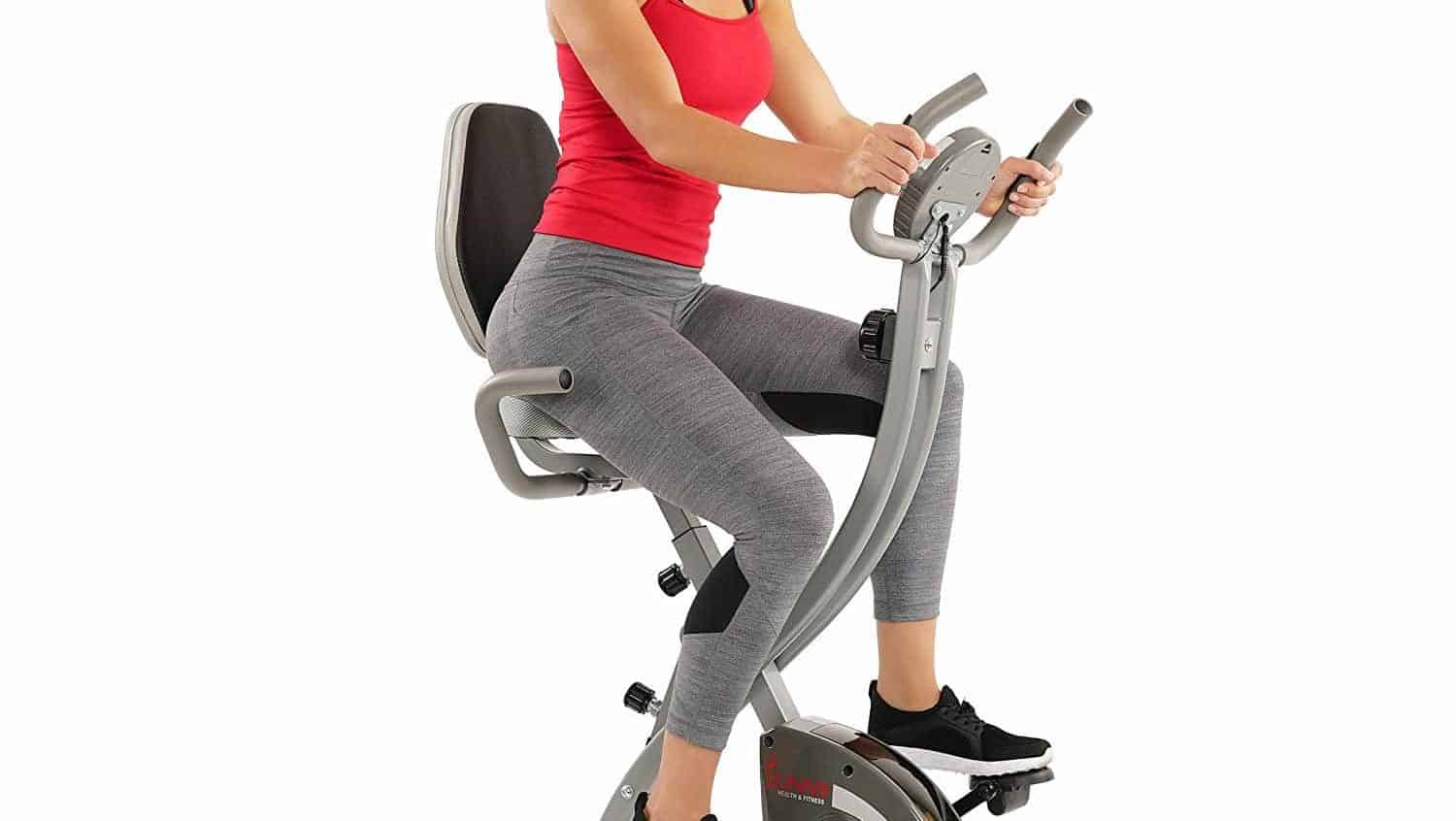 The Sunny Health & Fitness SF-B2721 Comfort XL Folding Recumbent Bike is designed to provide maximum comfort while you workout to achieve your fitness goals
Product Brand: Sunny Health & Fitness
Product In-Stock: InStock