The Echelon Smart Rowing Machine is a full-body cardiovascular piece of equipment that is equipped with the necessary features to impress and enable you to achieve your fitness goals.
It has a magnetic resistance with 32 predefined adjustable levels and a belt drive system. Thus, its operation is smooth and quiet even as it offers a wide range of workout difficulties.
Interestingly, there are quick tension control keys on the handlebar that give it an edge over its competition. Also, it is compatible with Echelon Fit App (subscription required) which provides access to live workout classes, On-Demand Scenic workout waterways, and the ability to compete with others, and more.
Its structural design, especially the elevated row base brings to mind the likes of Airrow Rowing Machine and Concept2 Rower. Although, they are distinct and unique in their own ways.
Click right here to have a peek at the best price of the Echelon Smart Rowing Machine.
The Frame & Construction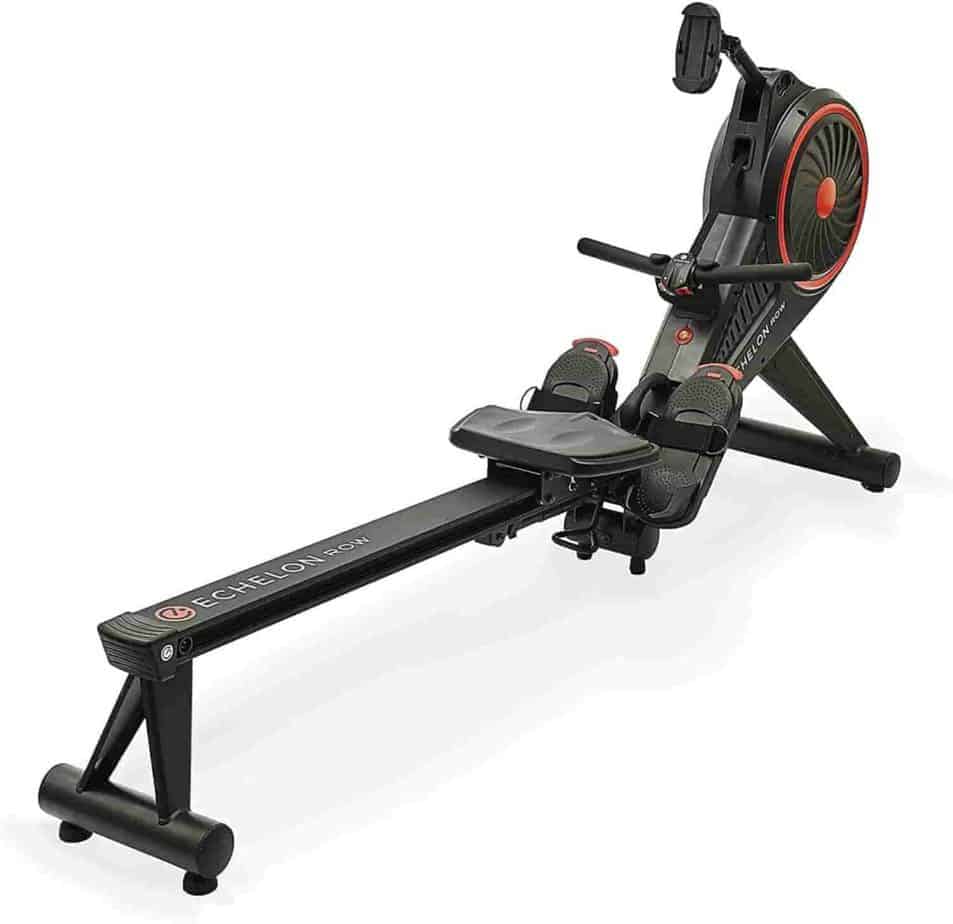 The Echelon Smart Rowing Machine's frame is made of aluminum and steel, while other parts such as the resistance system/row base covers are made of plastic.
It supports a maximum user weight capacity of 300 lbs./136 kg.
It has triple stabilizers at the base; meaning there are front and rear stabilizers and one at the folding point to ensure that it stays stable during workouts. Moreover, there are adjustable levelers integrated underneath the stabilizers to enable users to balance the machine on a surface that is not entirely even.
However, the use of a protective rubber mat could prevent floor damage and slippage, especially when used on a tiled or wooden floor.
The full assembled dimensions of the rowing machine are 83.46'' long by 20.47'' wide by 41.73'' high. Thus, it will require a workout area with measurements of 6'95'' (211.98 cm) length by 1'70'' (51.99 cm).
Also, do consider extra clearance of 2' around it to maintain safety and easy access.
The folded dimensions are 39.46'' in length by 20.47'' in width by 60.23'' high.
The Seat of the Echelon Smart Rowing Machine
The seat is large, padded, and contoured for maximum comfort. However, in a situation where it falls short of providing that, a thin pad could be used to improve it.
Its movement is smooth and quiet, thanks to the integrated superior rollers that glide seamlessly through the rail beam.
The rail beam length is not disclosed, but evidently, it can accommodate taller individuals that are up to 6'5''.
Finally, floor to seat height is about 18''.
The Handlebar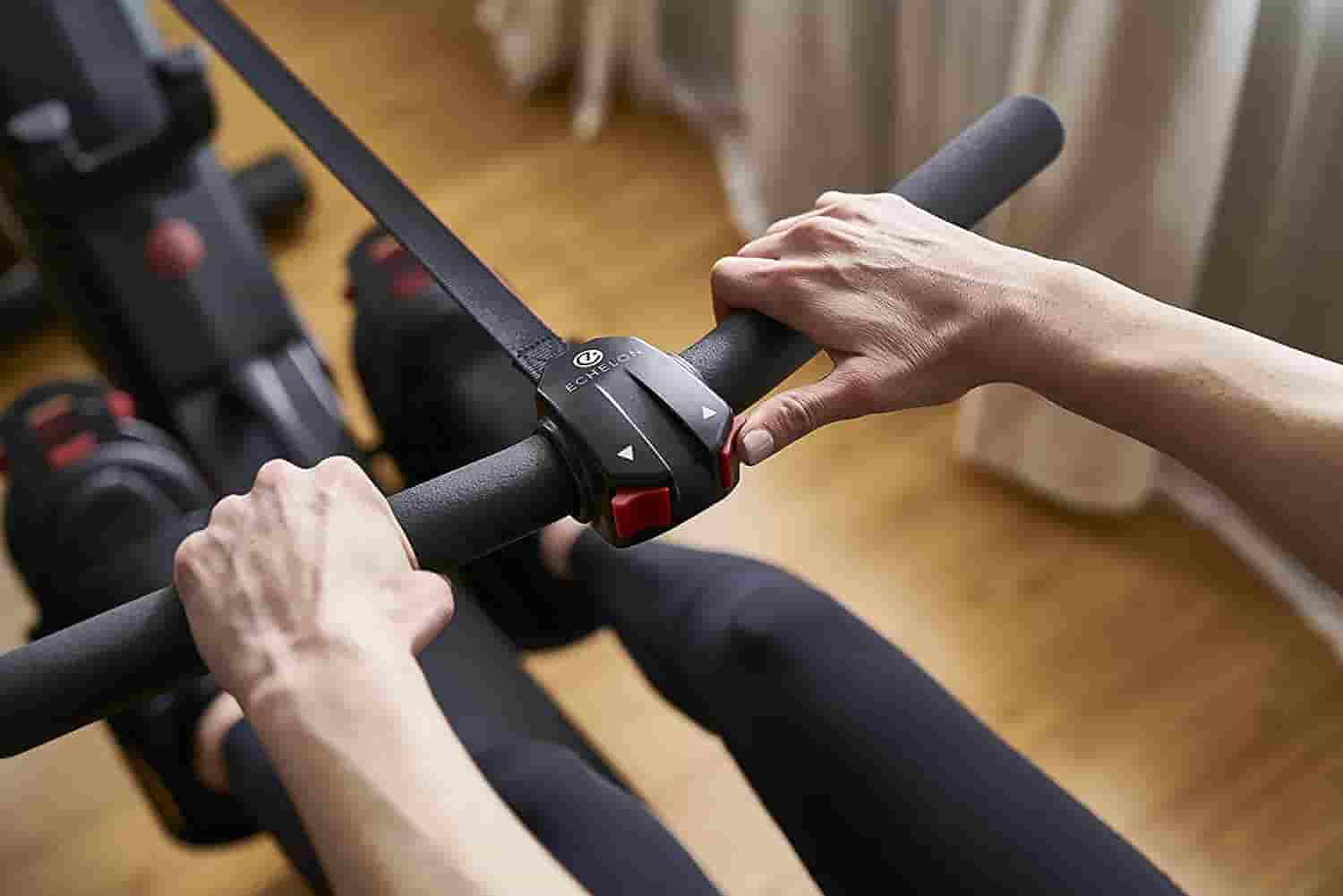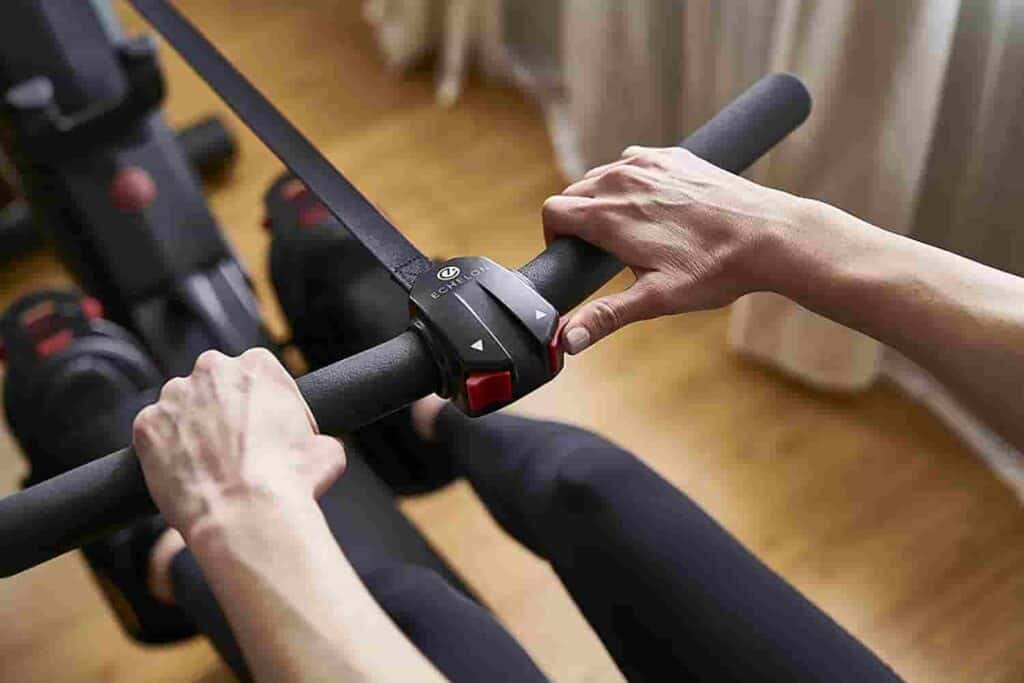 The handlebar is uniquely designed in a V-shape. It has tension control buttons designated in places that allow the user to easily make adjustments effortlessly without having to stop rowing.
This in my opinion can boost morale and encourage more effort input in order to realize one's objective.
The handlebar is coated with anti-slip soft rubber foam for consistent maintenance of dry, secure, and comfortable grips.
The anchor between the handlebar and the rowing system is a 1'' mesh strap that does not easily snap no matter how forceful your workout gets.
Pedals
There are 2 large pedals that can accommodate different foot sizes; and because of the heel guard and the Velcro adjustable straps, the foot placement is optimally secure and comfortable.
The Resistance System
The Echelon Smart Rowing Machine has a magnetic resistance system with 32 adjustable levels.
It is electronically controlled via the buttons on the handlebar. Thus, it is only operational when the rower is plugged into an outlet, otherwise, it is inoperable.
Considering that the resistance system has a wide range of resistance levels, users of different fitness levels should be able to find and engage in suitable workout challenges that would help them meet their fitness goals.
Moreover, regardless of any resistance level being used, the rowing machine's operation remains silent and smooth. Thus, it is suitable for home use and places where people are present.
The Console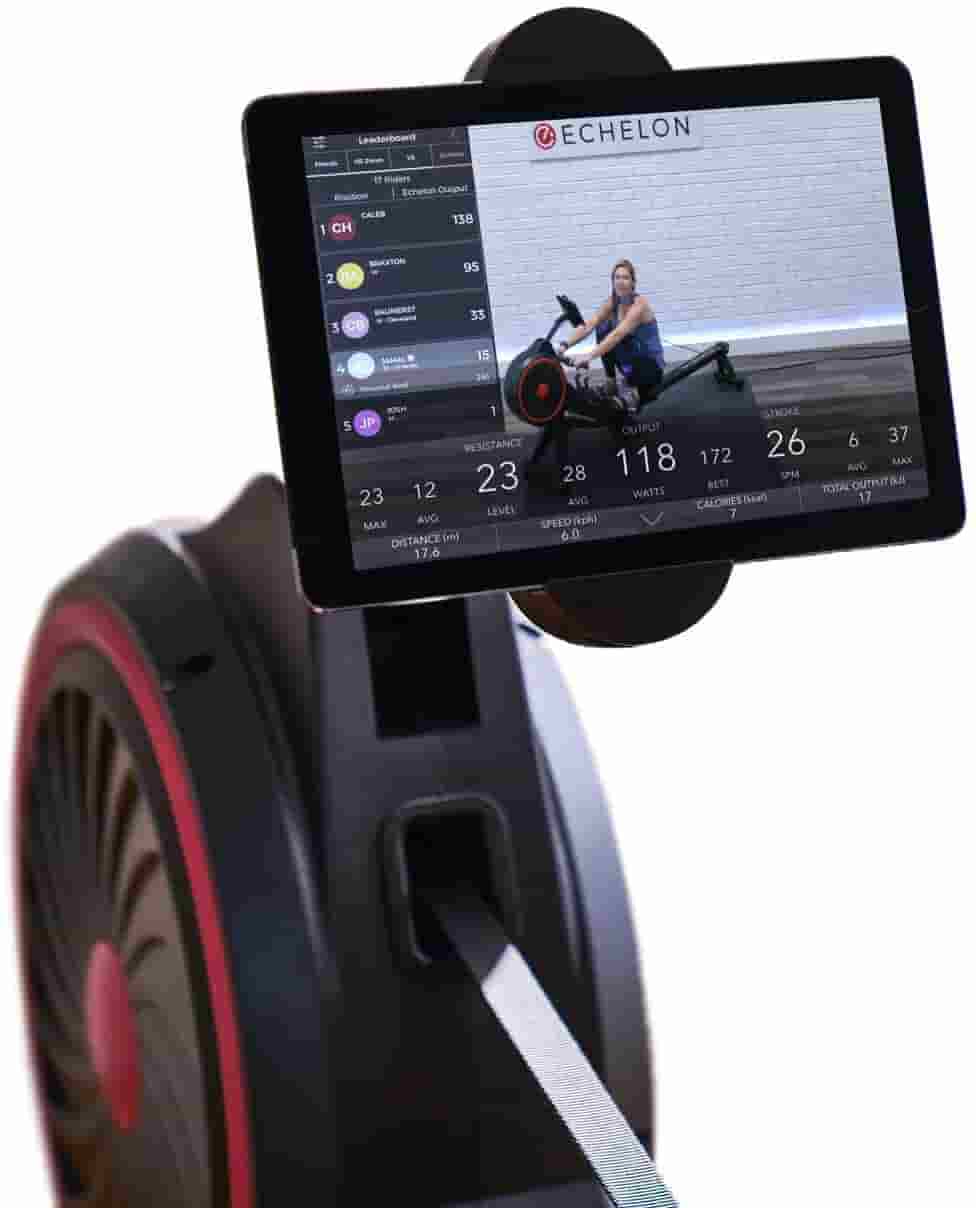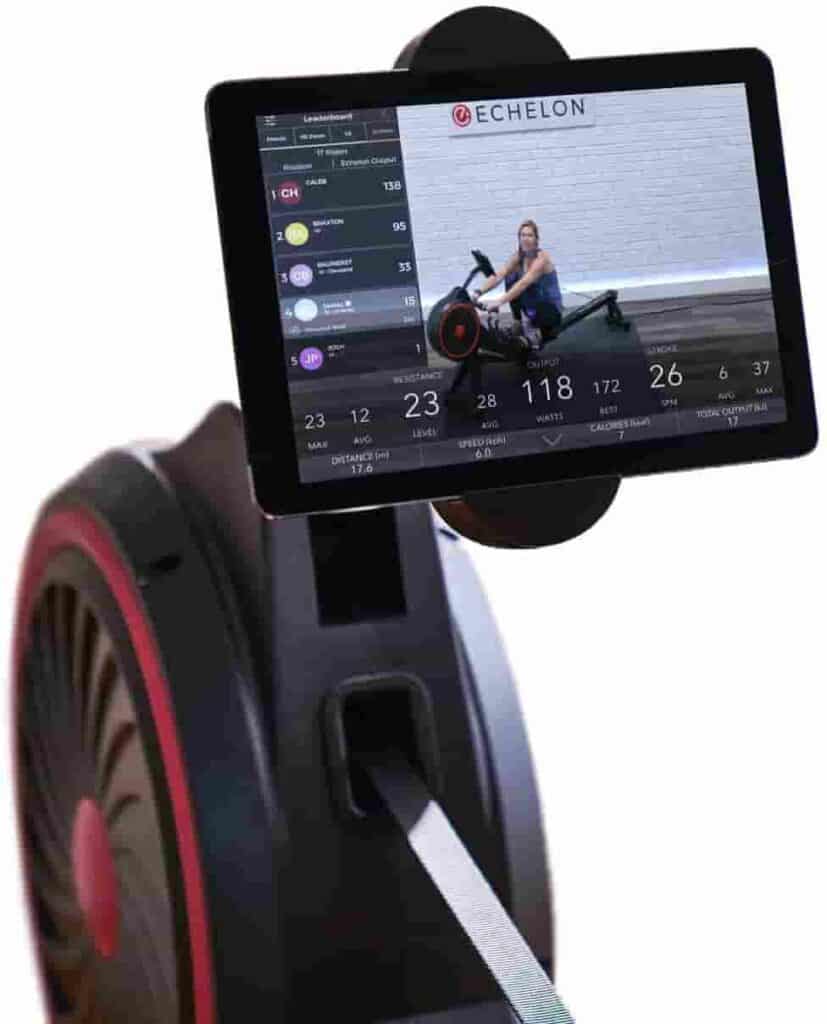 There is no console on the Echelon Smart Rowing Machine. Nevertheless, the unit is Bluetooth-enabled, meaning, it could be paired with a smartphone once the Echelon Fit App is downloaded.
This enables you to track your workout stats such as Time, Stroke, Watts, Distance, Speed, Calories, Resistance, and more. You will also have access to tons of workout resources that include live classes, On-Demand workouts, exotic scenic waterways, and more.
The app makes available some fitness programs that include pilate, boxing, and yoga. You can stay energized and motivated by listening to your own kind of music genres such as R&B, Pop, Metal, Latin, Dance, and much more.
That said, the Echelon Fit App requires a monthly subscription for access. Although, you might be offered a month's trial.
For heart rate tracking, you may use any Bluetooth HR device to sync to the rower.
Just for the record, the absence of a built-in console keeps the price of the rower down. But if you need one with a console then check out the Echelon Stride Row S with a 22'' HD smart screen.
Accessory
A retractable tablet holder that swivels 90-degrees and flips 180-degrees is integrated. This serves the purpose of holding different sizes of smartphones/tablets.
Storage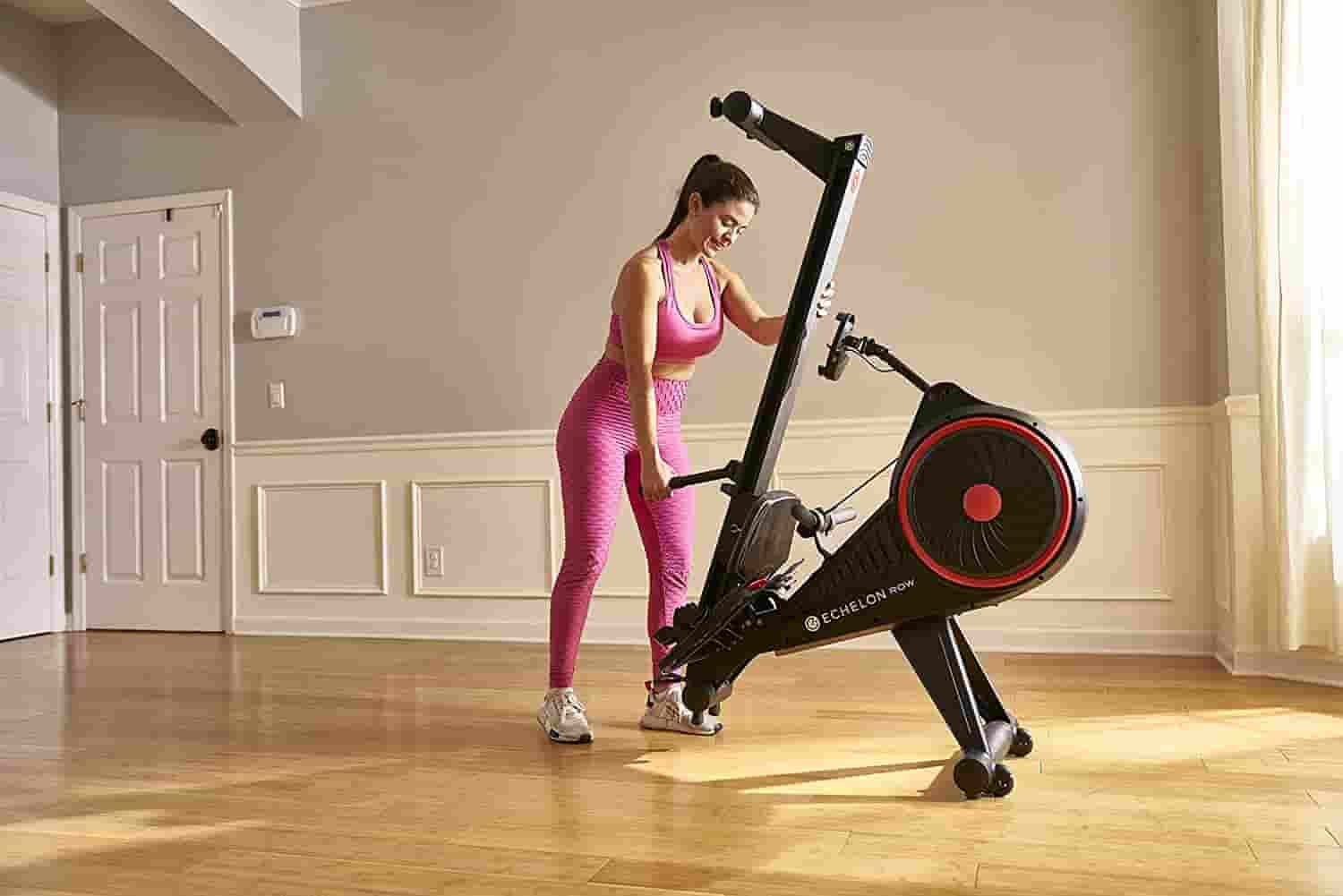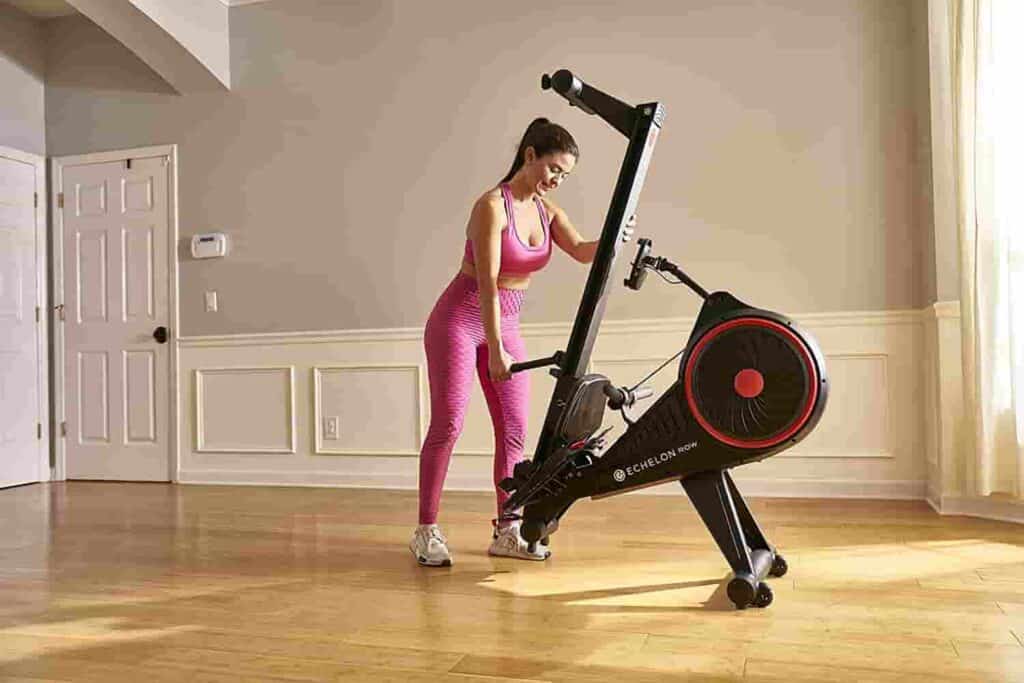 This is a foldable rowing machine that could easily be folded for storage.
Once folded, a storage area with measurements of 3'28'' (100.22 cm) long by 1'7'' (51.99 cm) width will suffice, and it could be relocated within the room or apartment via the front-mounted transport wheels.
Pros/Features Overview
It is sturdy and durable; It supports a maximum user weight capacity of 300 lbs./136 kg
The base integrates stabilizers with adjustable pads
Users that are up to 6'5" tall can utilize it
The operation is smooth and quiet; thanks to the magnetic resistance and belt drive
There are 32 electronically adjustable resistance levels
Anti-slip coated handlebar with tension control buttons
The unit is Echelon Fit App compatible; this avails access to several live workout classes, On-Demand workout classes, Scenic workouts, competition with family and friends, music genres, fitness programs, track workout progress such as Stroke, Distance, Speed, Watts, Resistance, Calories, and more
The pedals are large and textured with heel guards, and adjustable safety straps
Low maintenance
Easy to assemble
Retractable tablet holder included (swivels 90-degress & flips 180-degrees)
Cons
No console
Needs a monthly subscription for Echelon Fit App
Warranty is only 1 year for Parts and Labor
Product Dimensions & Spec.
Length: 83.46''
Width: 20.47''
Height: 41.73''
Folded dimensions: 39.46'' L x 20.47'' W x 60.23'' H
Shipping dimensions: 49'' L x 25.6'' W x 16.5'' H
Net weight: 108 lbs./49 kg
Gross weight: 124 lbs./56 kg
Drive: Belt
Resistance: Magnetic with 32 adjustable resistance levels
Power adapter included
Seat: Contoured & Padded
Floor to seat height: 18''
Handlebar: Anti-slip coated with tension control buttons
Pedals: Large, textured with Velcro adjustable straps and heel guards
Compatible with Echelon Fit App
Tablet holder: Yes
Transport Wheels: Yes
Lifting handle
Power Adapter
Shipping
The Echelon Smart Rowing Machine is shipped in a neatly packaged box that weighs 124 lbs./56 kg with dimensions of 49'' length by 25.6'' width by 16.5'' height. It contains the row base, stabilizers, a rail beam, pedals, a seat, a power adapter, screws, washers, and assembly tools.
It ships for free by major vendors like Amazon.
Assembly
The assembly requires attaching some parts to the row base, and it is not difficult to execute.
The owner's manual that accompanies the package contains clear and comprehensive illustrations of how to successfully put the rowing machine.
It takes about a couple of minutes to an hour to complete this task.
Maintenance
This rower is maintenance-free, but there are things to be done in order to keep it in a good functional state.
So, it needs to be kept clean after every workout session. Ensure to examine it to ascertain that every part is intact and in good condition.
Finally, it should be stored in an area that is clean, dry, and cool.
Conclusion
The Echelon Smart Rowing Machine is one of the tech-savvy rowing machines available.
It is sturdy enough to support a maximum user weight capacity of 300 lbs./136 kg, and its operation is smooth and quiet, thanks to the belt drive and the magnetic resistance system with 32 adjustable levels.
It has no console, but its compatibility with Echelon Fit App offers more functions for productive workout experiences.
Echelon Smart Rowing Machine Review
The Echelon Smart Rowing Machine is a full-body cardiovascular piece of equipment that is equipped with the necessary features to impress and enable you to achieve your fitness goals.
Product Brand: Echelon
Product In-Stock: InStock