The Echelon Stride Treadmill will be appreciated by those that wish to acquire a compact exercise machine that has a couple of smart features.
It has a similar structural design as the Merax Folding Treadmill and the Sunny Health & Fitness SF-T7718 Treadmill; however, it is better endowed and of course more expensive.
Although, the motor capacity (1.75 horsepower), the running surface (55'' L x 20'' W), and the 10% incline system could have been better.
So, if you don't have a space problem and you are a serious runner you may want to consider a treadmill that might be a little bit expensive but provides the features you need to accomplish your goals.
Otherwise, the Echelon Stride Treadmill would be ideal for you.
Click right here to have a peek at the best price.
The Frame & Construction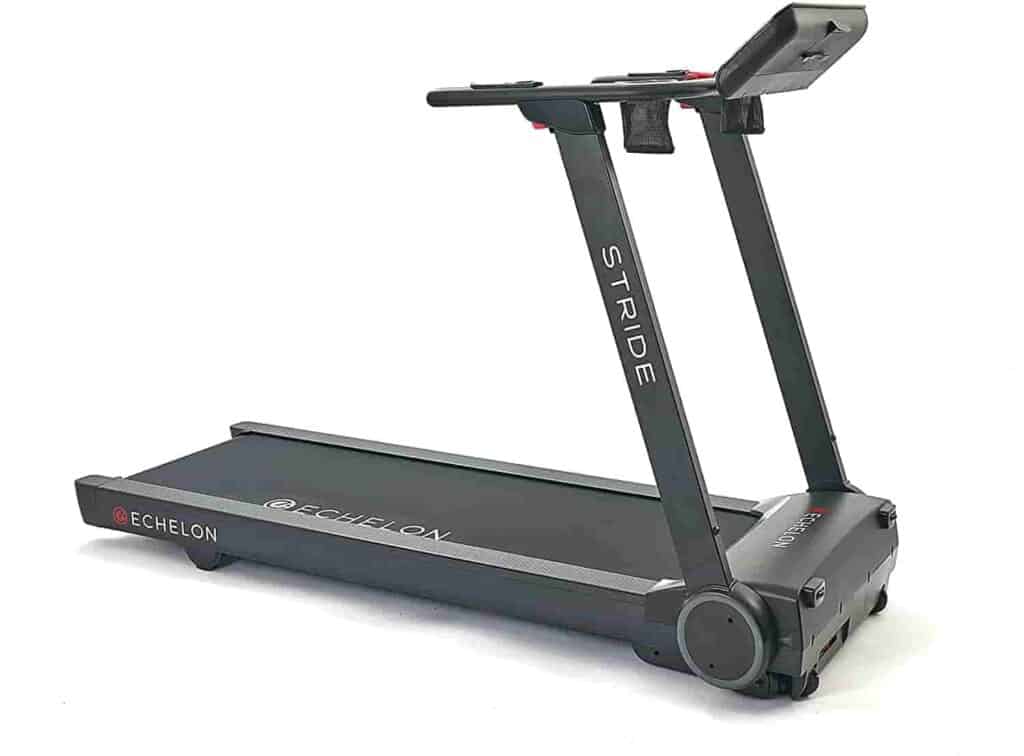 The Echelon Stride Treadmill integrates a durable anti-corrosion-coated steel frame. The motor and the console covers, and other small coverings are made of ABS material.
The side rails (side steps) are wide and textured, and these ensure maximum safety when the user decides to step on them during workouts. Users that are up to 300 lbs./136 kg are supported.
The base framework is intended to provide a stable workout experience, and its overall assembled weight (156 lbs./70.8 kg) further enhances the stability.
It has versatile transport wheels that enable horizontal and vertical portability. Thus, you can easily tuck it away under the bed or have it leaned against the wall once it is folded.
The overall assembled dimensions are 69.3'' long by 31'' wide by 49.2'' high. Therefore, it occupies a workout area with measurements of 5'77'' (176 cm) length by 2'58'' (78.74 cm), plus an additional 2' clearance around it for safety and easy access.
The folded dimensions are 69.3'' long by 31'' wide by 10.25'' high, and aforementioned, it can easily be stored out of sight.
The Deck of the Echelon Stride Treadmill
The deck of this treadmill consists of a durable anti-slip tread belt and a frame-balanced elastomer suspension that was designed to prevent slippage, and absorb the shock impact that often comes with running.
Also, for safety and convenience, a metal safety bar is integrated underneath the deck to prevent objects from being pulled under.
The dimensions of the running surface are 55'' L x 20'' W. This could be inadequate for serious runners and taller individuals. However, if your goal is to keep fit and you don't have the space for a larger treadmill, it will suffice.
The Motor
The Echelon Stride Treadmill is equipped with a brushless energy-efficient 1.75 continuous duty horsepower motor that provides a speed range of 0.5-12 mph. Although, this is considered to be underpowered taking into account that there are other treadmills that are not as expensive with higher horsepower.
Having said that, it holds up as long as your workout does not involve frequent serious running.
The motor is located at the front base of the treadmill with a plastic cover. Its operation is smooth and quiet, and vibration-free. As a result, it is perfect for home and office use.
The speed measurement unit could be toggled between metric and imperial (km/miles).
The lowest speed is 0.5 mph/0.8 km/h and the highest is 12 mph/19.3 km/h. There are gradual adjustment buttons on the right handlebar that enable you to increase or decrease the speed on the fly, and there are also quick adjustment buttons (3 km/h-1.8 mph, 6 km/h-3.7 mph, 9 km-5.5 mph) designated on the console.
The motor needs to be powered by a 110V power outlet.
The Incline
The treadmill has an automatic incline system with 12 adjustable levels (0-10%). It is not operable if the treadmill isn't plugged into a power outlet because it is automatic as aforementioned.
It can be adjusted gradually via the buttons on the left handlebar or through the quick keys on the console to simulate flat or uphill terrain workouts. This creates the suitable workout challenge you wish to engage with.
The Console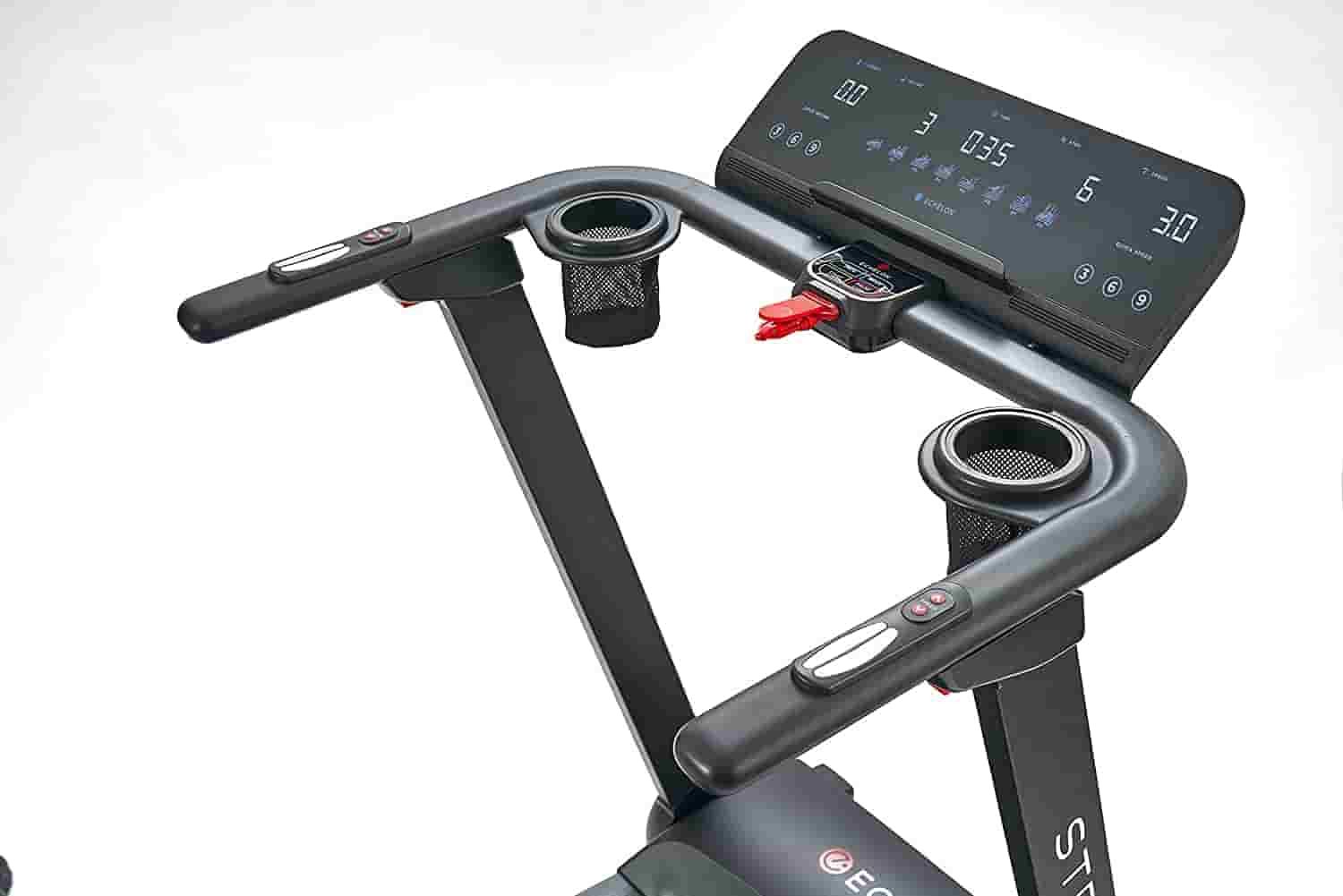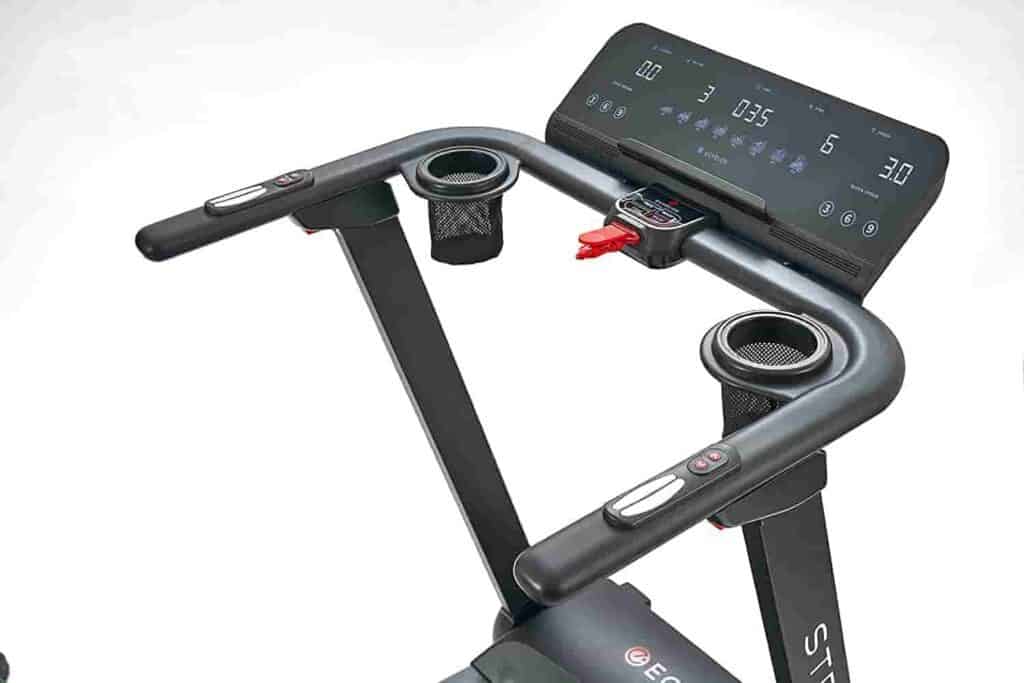 The Echelon Stride Treadmill has a beautiful rectangular console with an LED display that tracks workout stats such as Time, Speed, Distance, Calories Burned, Incline/Altitude, Step/Pace, and Heart Rate simultaneously.
However, the Incline and Altitude, the Step and Pace switch places to display every 5 seconds as they appear on the same window, while Distance and Heart rate also switch places after every 5 seconds once the latter is detected.
For the heart rate data to appear on the display, the handlebars with the HR sensors must be grasped during a workout.
The console also has an emergency key/safety stop lanyard that is designed to be clipped to user's outfit so as to automatically turn off the treadmill in the event of slipping during a workout.
8 preset workout programs, 3 user programs, and 1 Body Mass Index (BMI) are available to spice up your workout routine and experience. Also, you can set a countdown goal for Time, Distance, and Calories.
The navigation keys include a Start Button, a Pause/Stop Button, a Mode Button, and a Program Button.
You can pause the treadmill to keep your current workout data as you step out for a minute.
If you wish to take your workout experience to yet another level you could subscribe to the monthly, yearly, or bi-yearly Echelon Fit app subscription.
This gives you access to live classes, world-class instructors, On-Demand classes, and competitions with family and friends. You will also get access to several fitness programs that include yoga, pilates, strength, boxing, and more.
On top of that, Echelon partners with a record label to make available different genres of music such as EDM, Dance, Folk and Funk, R&B, Hip Hop, K-Pop, Metal, Latin, and more for your pleasure. Thus, you don't have to be bored during a workout session if you can help it.
The fitness app is compatible and downloadable to Android and iOS-based smartphones.
Accessory
A couple of relevant accessories are present on the treadmill. These include a 2.0 amps USB charging port, 2 watts built-in speakers, 2 water bottle holders, and a tablet holder.
These are to guarantee you experience a productive and fun-filled workout session each time you step on the treadmill.
Storage


The Echelon Stride Treadmill has a patented auto-fold feature that enables you to fold it automatically in 3 easy steps.
The first step is to adjust the console in a horizontal position, the second step, release the handlebars to a forward drop-down position, and finally, step on the RED release lever down at the side of the console stand, and watch the treadmill fold automatically, and safely, unassisted.
Once folded, the dimensions become 69.3'' long by 31'' wide by 10.25'' high. Hence, you can slide it under a bed or have it propped up against the wall.
There is a lifting handle at the rear and versatile transport wheels that enable you to move it vertically or horizontally around the room for easy storage.
Approval Rating
Across the board, the Echelon Stride Treadmill is seen in a positive light at the time of this review. This means it is well received by users, including those on Amazon.
Pros/Features Overview
Sleek and sturdy
Supports a maximum user weight of 300 lbs./136 kg
It is compact and foldable (it has a patented auto-fold feature); so, it doesn't take up too much space and easy tuck away
Its energy-efficient and low-noise 1.75 horsepower motor operates smoothly and quietly;
Provides 0.5-12 mph
Automatic incline system with 12 levels (10% max. Incline)
Bluetooth-enabled console
LED monitor tracks workout stats such as Time, Distance, Speed, Calories Burned, Incline, Pace/Step, Heart Rate, and more
HR EKG contact;
Goal setting for Time, Distance, or Calories
8 preset workout programs;
3 user programs;
1 Body Mass Index (BMI);
Frame-balanced Elastomer suspension deck for soft foot landing
Echelon fit app provides access to live workout classes, workout instructors, On-Demand workout classes, music of different genre, and several fitness programs such as yoga, pilate, strength, and boxing
USB charging, 2 water bottle holders, tablet holder, and 2 built-in speakers included
Easy to assembled
Not difficult to maintain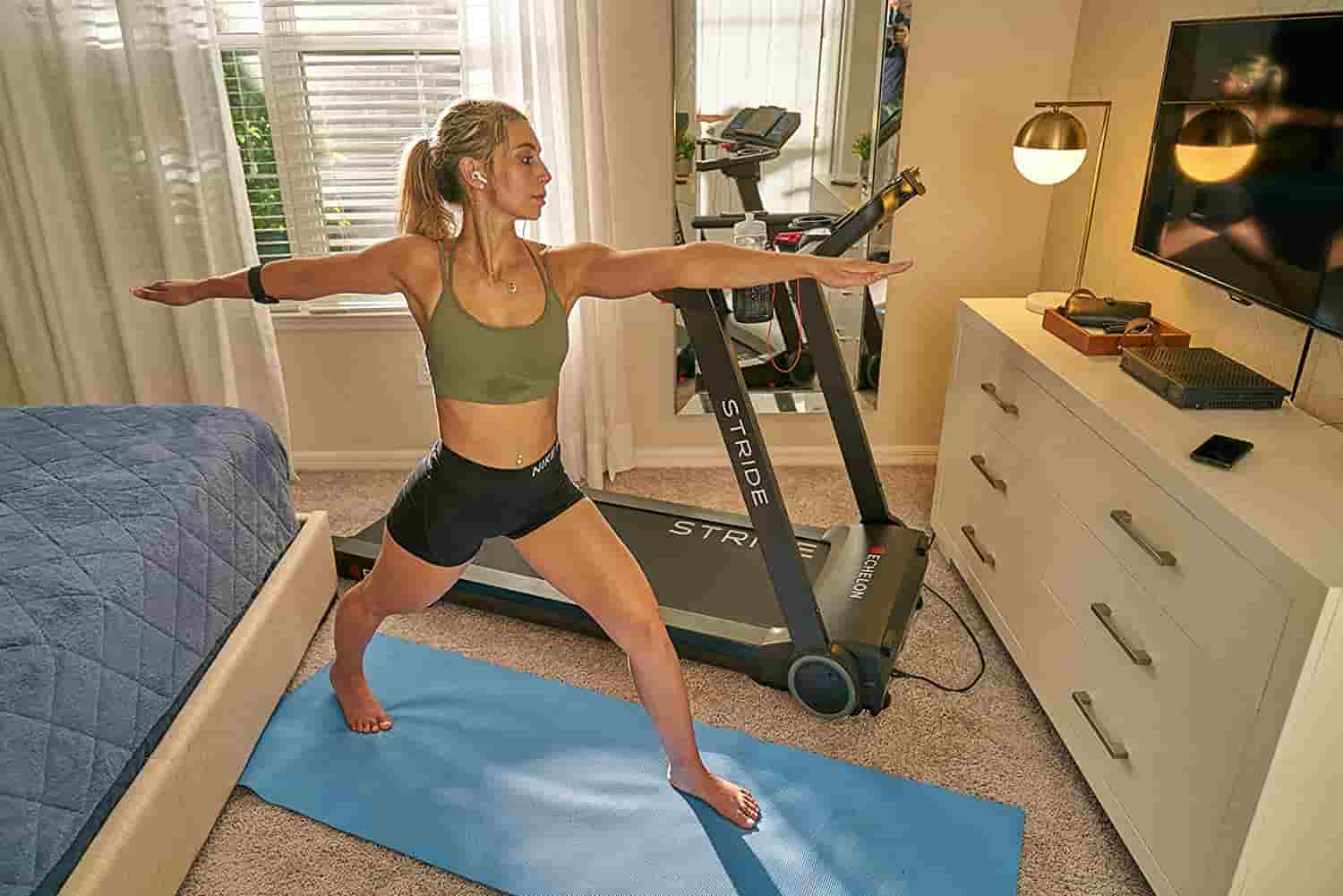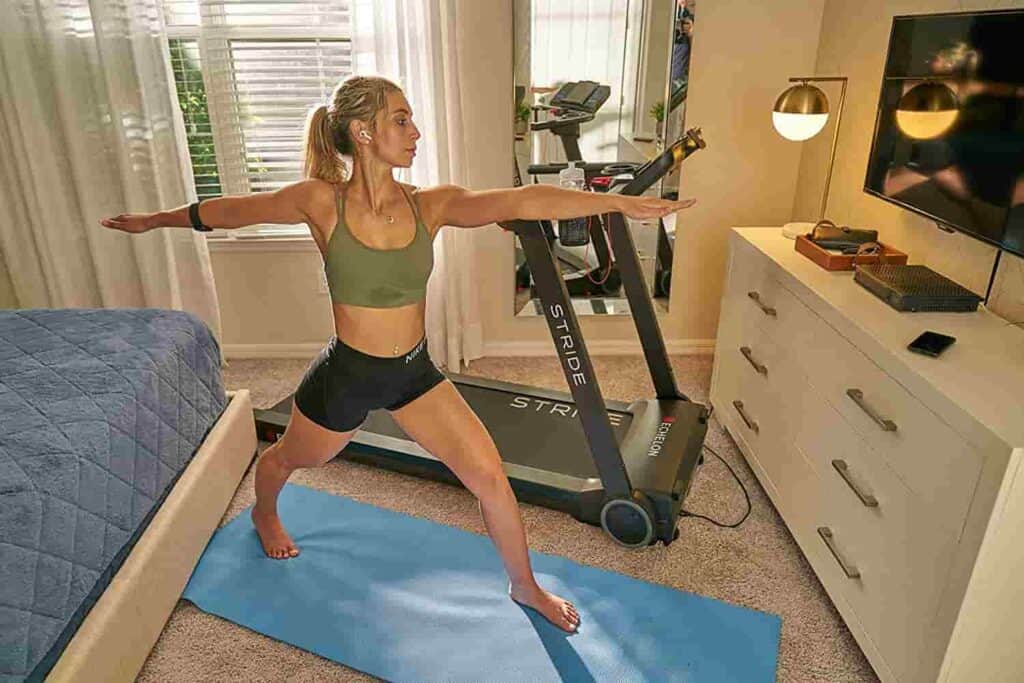 Cons
The console is not telemetry-enabled
The motor is only 1.75 horsepower
Cooling fan not included
Warranty is only 1 Year for Parts & Labor
Subscription is required for the Echelon Fit app
Warranty
1 Year limited warranty for Parts & Labor
Product Dimensions & Specifications
Length: 69.3''
Width: 31''
Height: 49.2''
Folded dimensions: 69.3'' L x 31'' x 10.25'' H
Shipping dimensions: 73.5'' L x 35'' W x 11'' H
Tread Belt size: 55'' L x 20'' W
Deck step-up height: 4.5''
Treadmill's net weight: 156 lbs./70.8 kg
Treadmill's gross weight: 179 lbs./81.19 kg
Maximum user weight capacity: 300 lbs./136 kg
Motor: 1.75 horsepower
Incline: Automatic; 12 adjustable level with 10% max. incline
Bluetooth console and LED monitor
Echelon Fit app compatible
8 Reset workout programs;
3 User Programs;
1 Body Mass Index (BMI);
Frame-balanced Elastomer deck suspension
2 water bottle holders included
A tablet holder
USB charging port
2 built-in speakers
Shipping
The Echelon Stride Treadmill comes in a box with dimensions of 73.5'' long by 35'' wide by 10.25'' high, and it weighs 179 lbs./81.19 kg.
Vendors such as Amazon provide free shipping, and delivery takes a couple of days.
Assembly
Generally, most treadmills are pretty easy to assemble, but the Echelon Stride Treadmill is even easier because it arrives 95% assembled.
In other words, It is basically assembly-free.
Maintenance
The treadmill is accompanied by a user manual that has safety and warning information.
Having said that, you need to keep the treadmill clean before and after use. You should especially be mindful of the tread belt not getting invaded by any debris or dirt.
Store it in a good environment that is dry, cool, and clean.
Conclusion
The Echelon Stride Treadmill could be the first choice for those that do not have the luxury of space.
Moreover, It is a smart and sleek-looking treadmill that offers a couple of features that guarantee a fun-filled and productive workout experience.