Those familiar with the Concept2 Rowing machine will probably think that the AirRow Fitness Rowing Machine is its replica and perhaps would operate with the same precision. Well, they are probably right because the two machines share a lot of similarities.
That said, the AirRow Fitness Rowing Machine is designed and engineered to provide a quality workout experience and to support a higher user weight as well.  
It is made to be used at home or at the gym.
Click right here to have a peek at the AirRow Fitness Rowing Machine on Amazon.
The Frame and Construction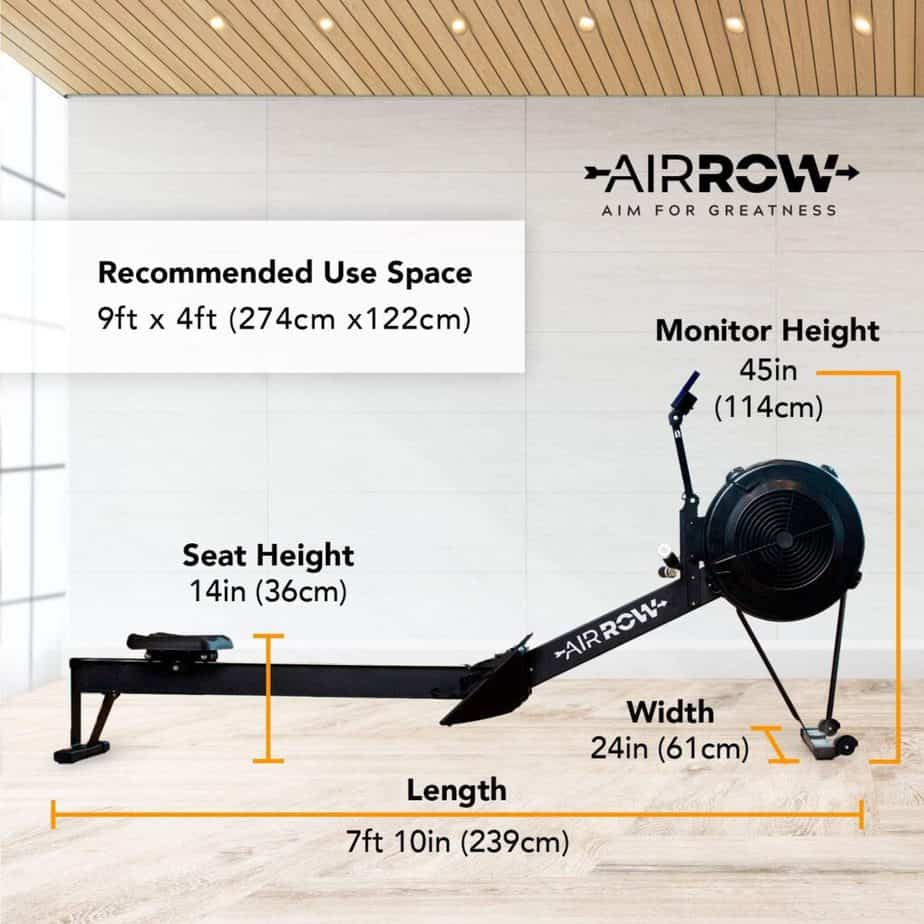 The AirRow Fitness Rowing Machine is a total body and low-impact unit that provides cardiovascular exercises and strength training. Its frame is made of anti-corrosion coated alloy steel.
It is sturdily built to support a maximum user weight capacity of 550 lbs./250 kg.
Its robust base framework features front and rear stabilizers with V-shaped steel supports that maintain consistent stability no matter the weight of the rower or how aggressive the exercise gets.
A rowing machine of this size is expected to be heavy, but it is not due to its alloy steel frame. It weighs about 67 lbs./30.3 kg. In other words, the monorail weighs 17 lbs./7.7 kg, while the other half part with the flywheel weighs 50 lbs./22.6 kg.
The machine requires quite a sizable space for workouts but a lot less for storage because it is foldable.
The assembled dimensions are 85.2'' long by 24'' wide by 45'' high. Differently put, it requires a workout area with measurements of 7'10'' length by 2' width and an additional 2' clearance around it for safety and convenience during workouts.
When folded for storage, its length becomes less than half of its fully assembled size. That is to say, the length becomes 2'8'', instead of 7'10".
The floor to seat height is 14''; this means users can easily mount and dismount the rowing machine without difficulty.
There are transport wheels integrated to assist in the relocation process.
The Seat of the AirRow Fitness Rowing Machine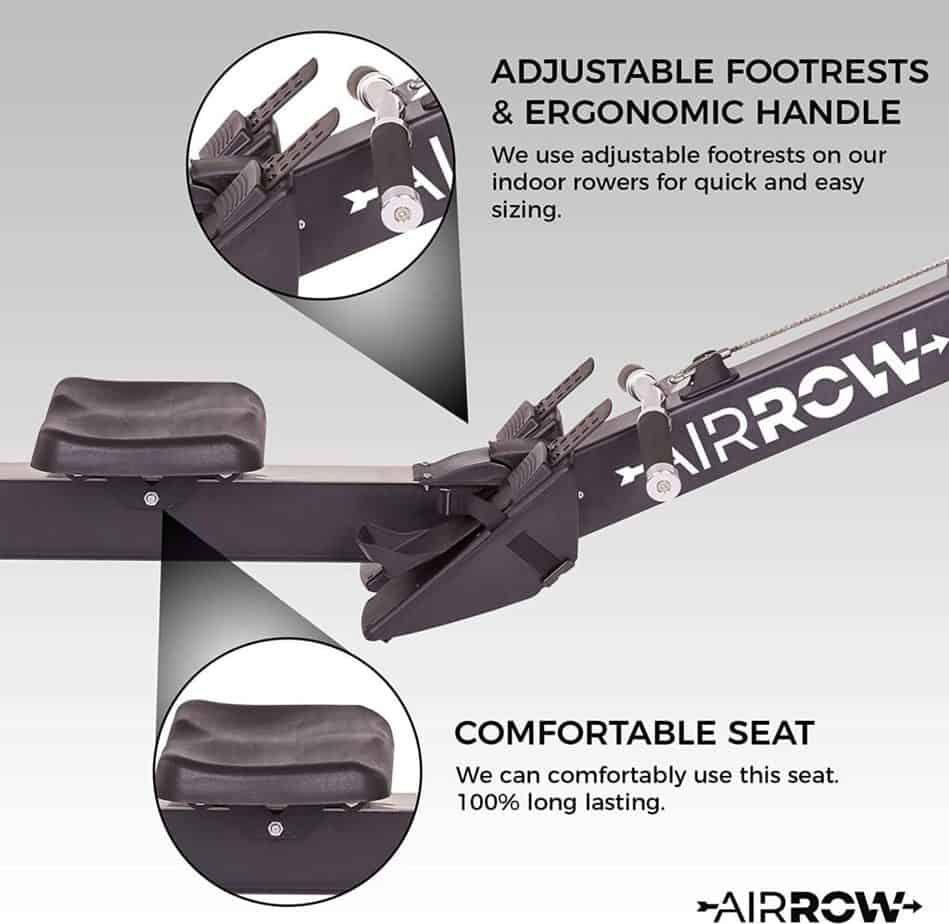 The large angled seat is padded and contoured to provide enhanced comfort that could endure through a prolonged workout.
It integrates 3 large rollers that make the gliding movement on the monorail smooth and quiet.
The Handlebar
The handlebar of the AirRow Fitness Rowing Machine is made of steel, long and slightly curvy with soft rubber foam coated handles. Thus, it is suitable for all types of shouldered persons and it provides firm and comfortable grips as well.
It has a chain instead of a nylon strap attached to it. This means, no matter how vigorous and longer your workout gets, you won't experience a snap.
The pedals
The pivoting pedals on this air rowing machine are large with adjustable safety straps and heel guards, and the length could also be adjusted based on the user's foot length.
Therefore, the pedals have all the features that guarantee maximum footing stability for most foot sizes.
It is important to also note that their ability to pivot allows users' feet to be placed in an optimum position that prevents stress on the ankles.
The Drive
The AirRow Fitness Rowing Machine drive system features a quality stainless steel chain. Its operation is smooth with an ignorable noise level.
The chain could last for a lifetime as long as it's being maintained accordingly by lubricating it periodically to prevent rust that might cause stiffness in the long run.
The Resistance
This rowing machine is equipped with a dynamic air resistance system that mainly consists of a fan flywheel.
This provides different levels of workout difficulties that are suitable for all users. Why? Because the resistance levels are generated based on the user's fitness level or workout ability.
In other words, the user's rowing speed generates a resistance level proportionate to it, which changes with any sudden change in the rowing tempo.
That said, you can also adjust the resistance level from 1-10. This controls the amount of airflow inside the fan flywheel, ultimately affecting the outcome of the resistance level.
This rowing machine is suitable for advanced athletes, beginners, seniors, and those undergoing physical therapy.
The noise level of the machine is comparable to that of a dryer or a dishwasher machine. You will be able to watch a TV show or listen to music without noise interference from it.
Nevertheless, the noise level increases and decreases with the intensity of your rowing.
The Console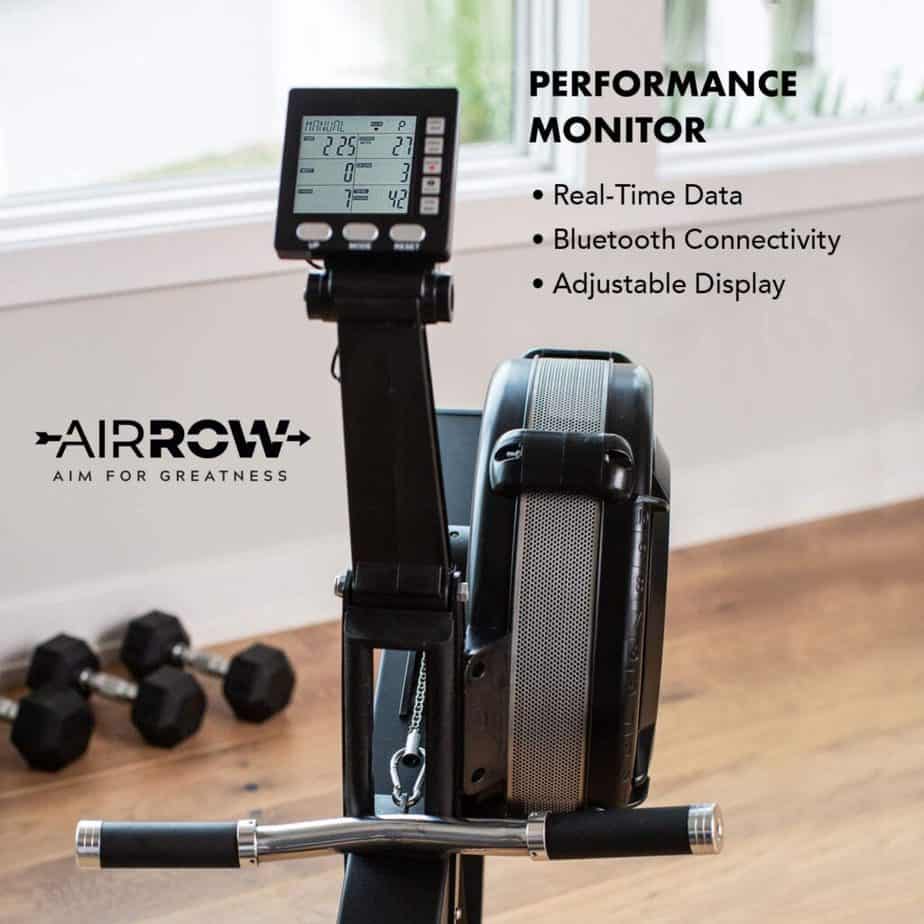 The AirRow Rowing Machine comes with an advanced console that features a backlit LCD monitor. This tracks workout stats such as Time, Row Count, Total Row Count, Calories Burned per Minute, and Heart Rate.
It has Bluetooth connectivity that allows you to connect to a heart rate chest strap device and online apps such as Fitbit so that you can do a lot more that could help you achieve your fitness goals.
The workout data are displayed concurrently with high readability, and the monitor could be adjusted for a better view.
The console is battery-powered; thus, no electricity will be needed.
Accessory
The AirRow Fitness Rowing Machine does not have a tablet holder nor a water bottle holder. You will have to improvise to keep water and a smartphone handy for hydration and entertainment purposes.
Storage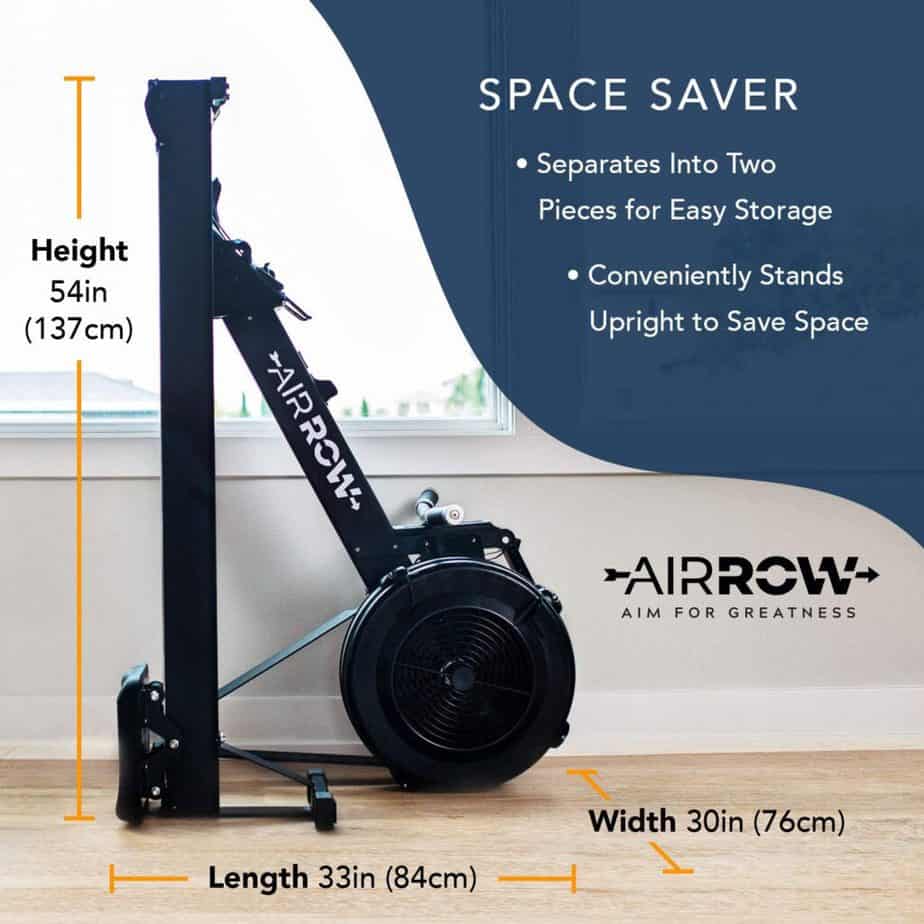 The AirRow Fitness Rowing Machine needs a sizable area for workouts, but not for storage because it is foldable. It folds when the monorail is separated from the other part with the flywheel.
Thus, a storage area with measurements of 2'8'' length by 2'5'' width can accommodate it.
Just for the record, the separation of the two parts of the rowing machine is easily done without tools.
There are also caster transport wheels integrated for easy relocation process; and being that it is a lightweight machine, it can even be moved to the basement (by two persons).
Pro/Features Overview
Durably built and sturdy
Supports a maximum user weight capacity of 550 lbs./250 kg
Users as tall as 6'7''or less can fit into the rowing machine
Foldable and storage-friendly
It is lightweight and portable
It has Bluetooth enabled console that features a Backlit LCD monitor for tracking workout stats such as Time, Row Count, Total Row Count, Calories Burned per Minute, and Heart Rate
The console can be connected to a HR chest strap and Fitbit app via Bluetooth
The stainless-steel chain is unbreakable
The seat is large, padded, and contoured to provide maximum comfort
The handlebar is curvy, lengthy, and coated with anti-slip rubber foam
The pivoting pedals are adjustable with safety features such as heel guard and adjustable straps; thus, most foot sizes can be accommodated comfortably and securely
The dynamic air resistance system with 10 adjustable levels offers workout difficulties that are suitable for everyone regardless of their fitness status
The machine raises the heart rate within minutes of workout and provides full body and low-impact exercises that could burn tons of calories, improve the heart and lungs' health, and tone muscle groups
Since the floor to seat is 14'', those suffering from arthritis will be able to get on and off the machine easily
Easy to assemble
Maintenance is not complicated
Cons
No water bottle holder nor a tablet holder
Requires large area for workouts
Heart rate chest strap device not included
Warranty
2 Years on the Frame, Parts, and Labor
Product Dimensions & Specifications
Length: 50''
Width: 24''
Height: 45''
Folded dimensions: 33'' L x 30'' W x 54'' H
Shipping dimensions: 65.3'' L x 15.5'' W x 13'' H
Net weight: 67 lbs./30.3 kg
Gross weight: 95 lbs./43 kg
Floor to seat height: 14''
Drive: Stainless steel chain
Resistance: Air with 10 adjustable levels
Seat: Large, padded, and contoured
Handlebar: Lengthy, and curvy with foam coated handles
Pedals: Pivoting, adjustable with safety straps and heel guards
Monitor: Backlit LCD
Bluetooth connectivity for HR chest strap and Fitbit app
Shipping
Amazon ships this rowing machine without extra charge, and it's delivered in a couple of days.
It arrives in a single box that weighs 95 lbs./43 kg with dimensions of 65.3'' long by 15.5'' wide by 13'' high.
Assembly
There is no much to do since the machine arrives 90% pre-assembled.
Once the instructions on the manual are followed, you will be able to put the unit together within 30 minutes.
The tools needed for the assembly are also included.
Maintenance
The AirRow Fitness Rowing Machine needs low maintenance that involves cleaning after every workout session and lubricating the chain periodically.
Do not expose the console to liquid, moisture, or direct sunlight, and do examine the machine before every use to ensure that every part is tight and in good condition.
Conclusion
The AirRow Fitness Rowing Machine should be on top of your to-do-list if you are looking for a durable rowing machine for home use.
It is a sleek looking unit that is capable of providing a quality workout experience for everyone. It engages the upper back, arms, core, shoulders, lower back, glutes, quadriceps, hamstrings, and calves muscle groups.