The Echelon (Row S) Smart Rower includes a 22'' HD touchscreen display, whereas the preceding model, Echelon Smart Rower doesn't. In other words, the former is the upgraded version of the latter.
It is compatible with the Echelon Fit App (membership required). Thus, it is the complete package that does not require you to use an external device such as a tablet to connect to the app.
The rowing machine offers full-body and low-impact cardiovascular workouts, and of course entertainment opportunities for productive and enjoyable workout experiences.
Click right here to have a peek at the best price of the Echelon (Row S) Smart Rower.
The Frame & Construction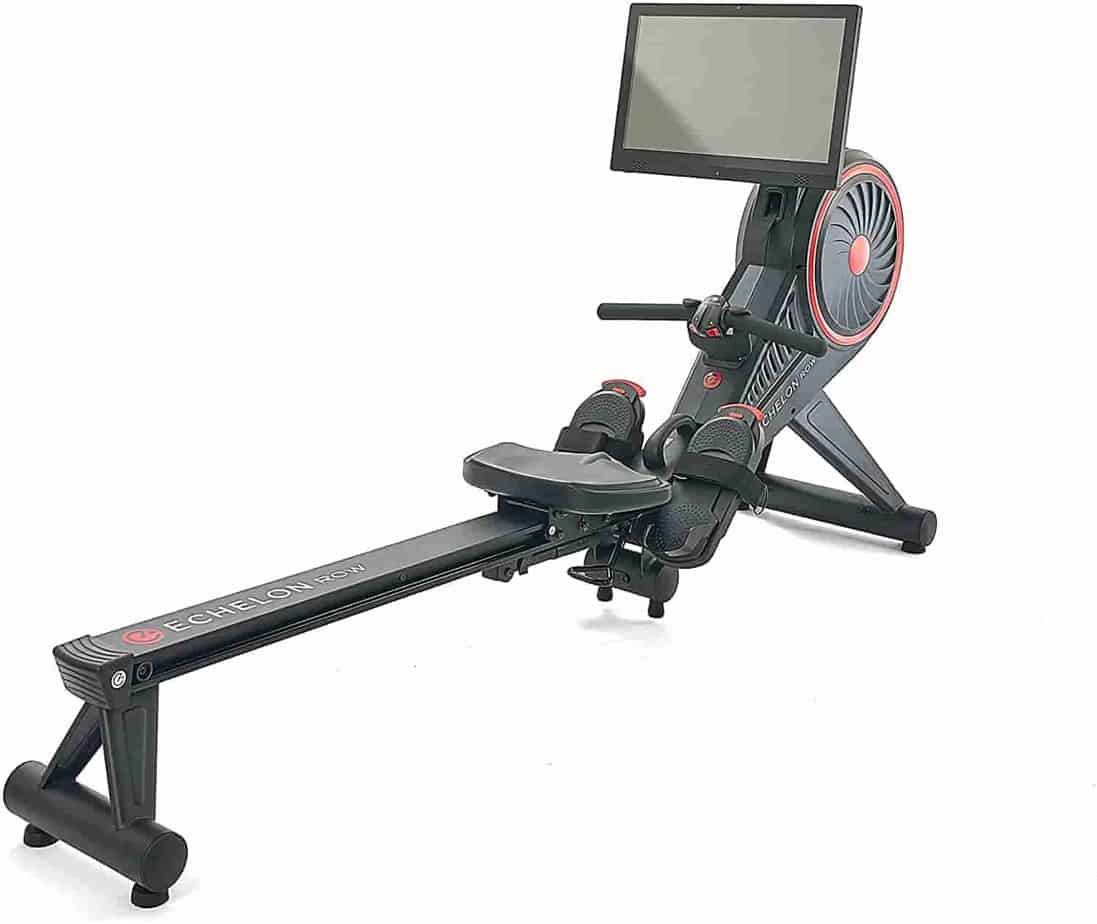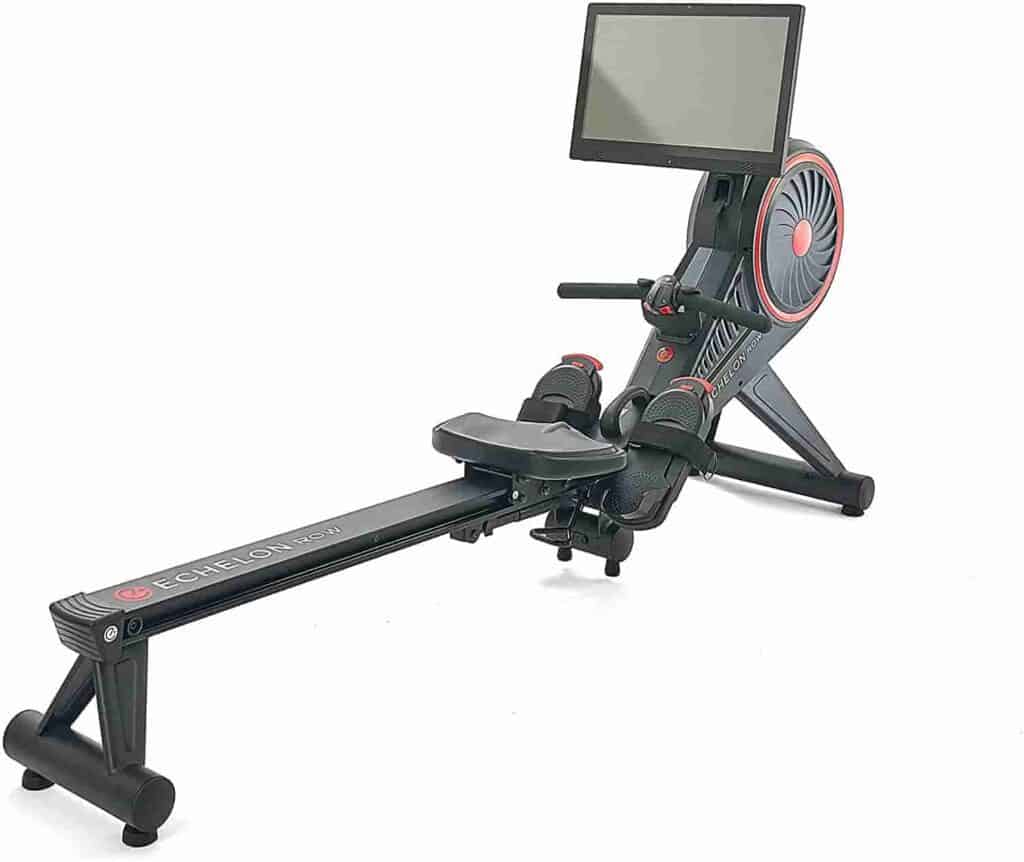 The Echelon (Row S) Smart Rower features a quality aluminum steel frame that can support up to 300 lbs./136 kg maximum user weight capacity.
Its other protective and cosmetic external parts are made of ABS material. Thus, it looks elegant, yet safe and very stable during any rowing style, thanks to the base framework with triple solid stabilizers and adjustable levelers.
However, consider using the unit on a protective rubber mat to prevent floor damage and to also increase traction.
The rowing machine is considerably long, with the length at 84'', the width at 21'', and the height at 47''. Therefore, it will occupy a space with measurements of 7' (213.36 cm) L by 1'75'' (53.34 cm) W for workout sessions.
It also requires extra clearance (usually about 2') around it for safety and easy access.
But the consolation is that the rower is foldable. Thus, it doesn't put a burden on your space when it's time for storage. Once folded, the dimensions become 41'' long by 21'' wide by 60'' high. In other words, a storage area with measurements of 3'41'' L by 1'75'' W will be appropriate.
Moreover, despite weighing 114.5 lbs./51.93 kg, the integrated transport wheels and the handle help to make the relocation and storage process easy.
The Seat of the Echelon (Row S) Smart Rower
The seat has a 6'' lever-style adjustment, and it glides smoothly and quietly through the rail beam, thanks to the solid rollers. It is also contoured to ensure that the butt stays stable and padded to convey comfort that could endure through a prolonged workout session.
The floor to seat height is about 18". Hence, not only would users be able to work out comfortably to focus on achieving their fitness goals, they can easily mount and dismount the rower without a struggle.
The Handlebar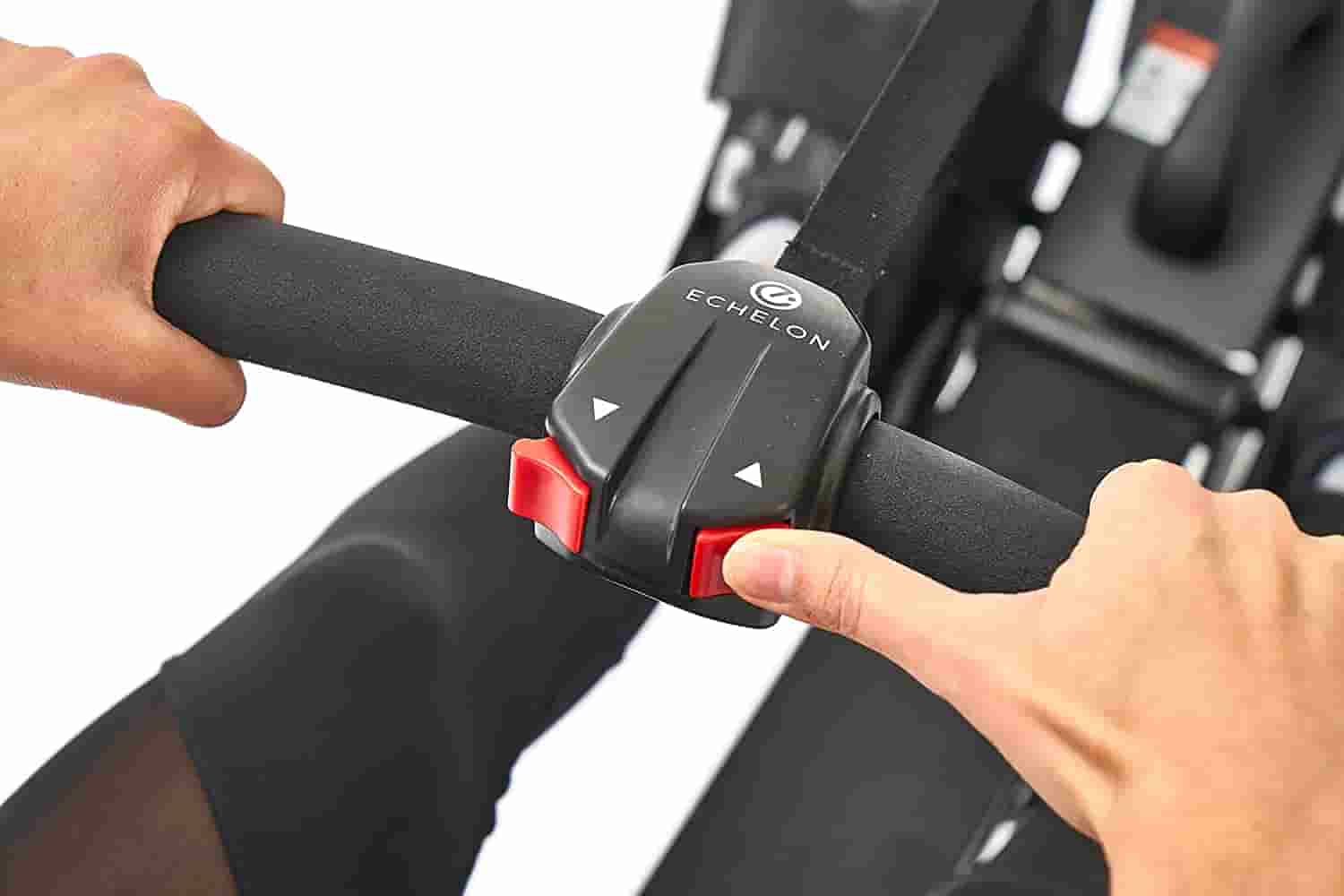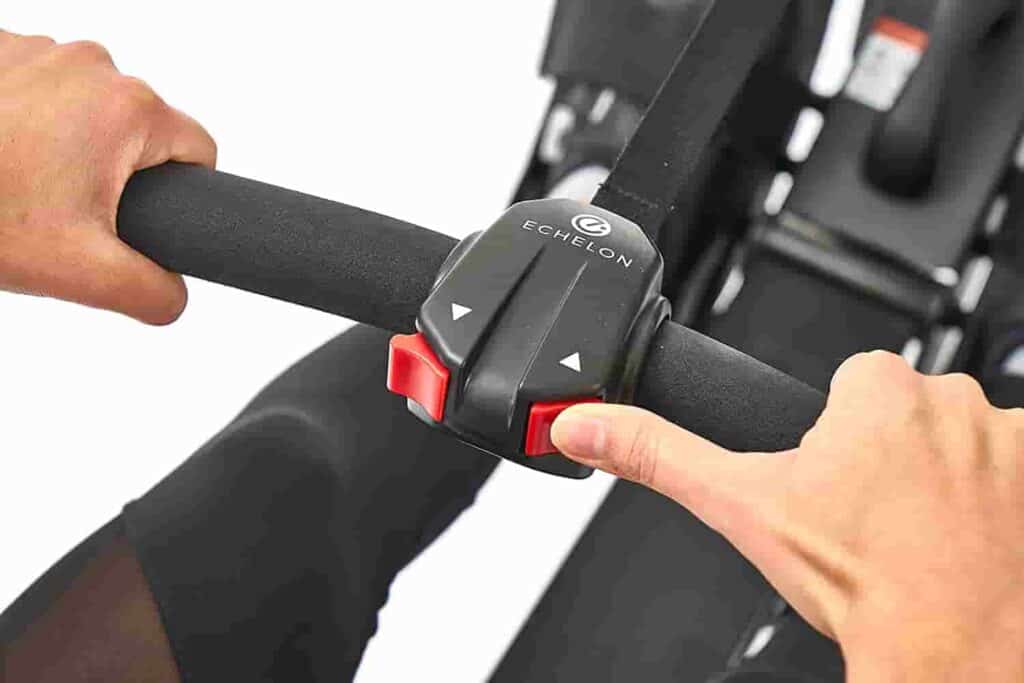 The unique handlebar of the Echelon (Row S) Smart Rower includes tension control buttons that are designated in strategic positions for easy resistance adjustment. This means you can quickly adjust the resistance to the desired level without interrupting the progression of your workout.
It is ergonomically designed and coated with anti-slip rubber foam for firm, comfortable, and secure grips.
The Pedals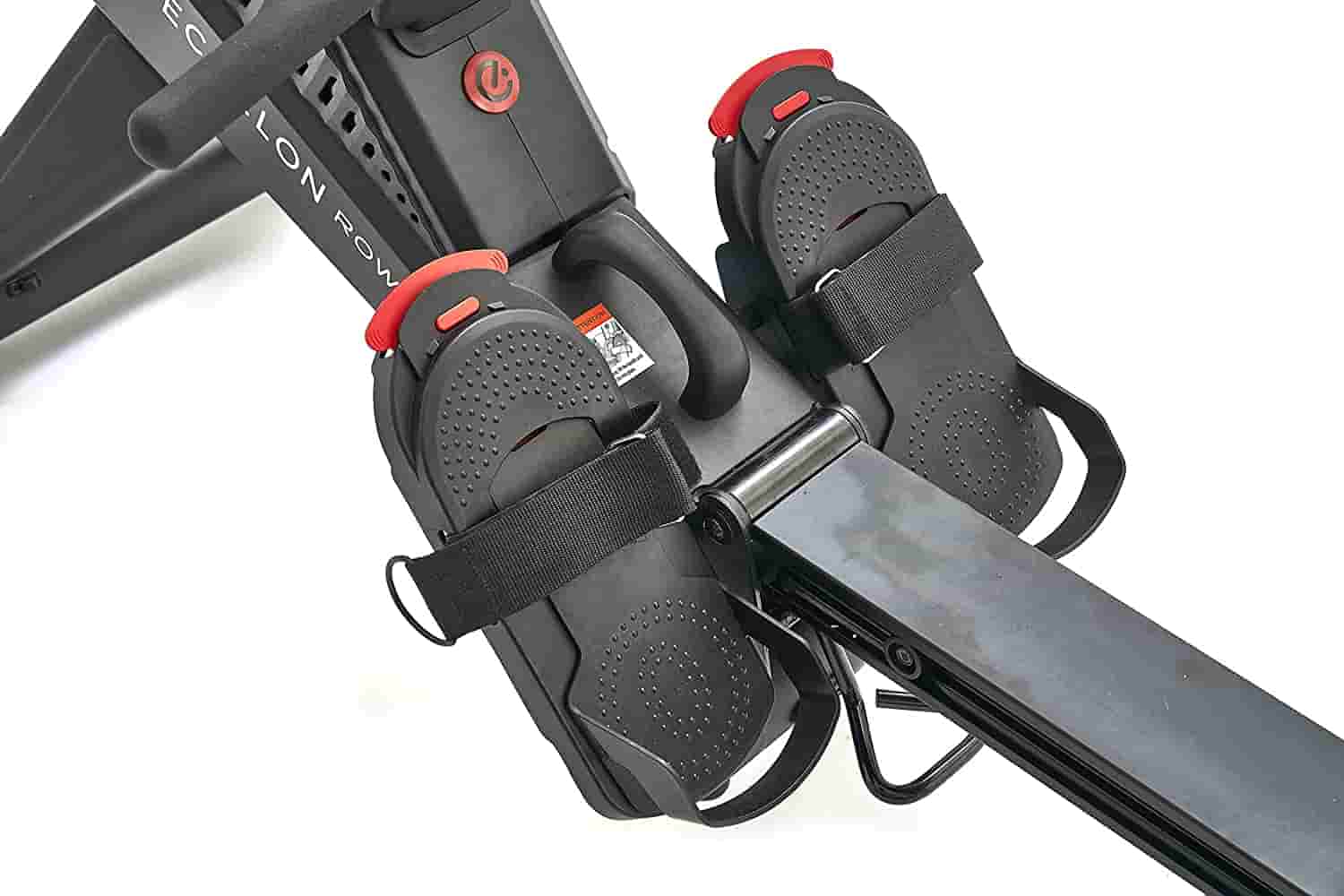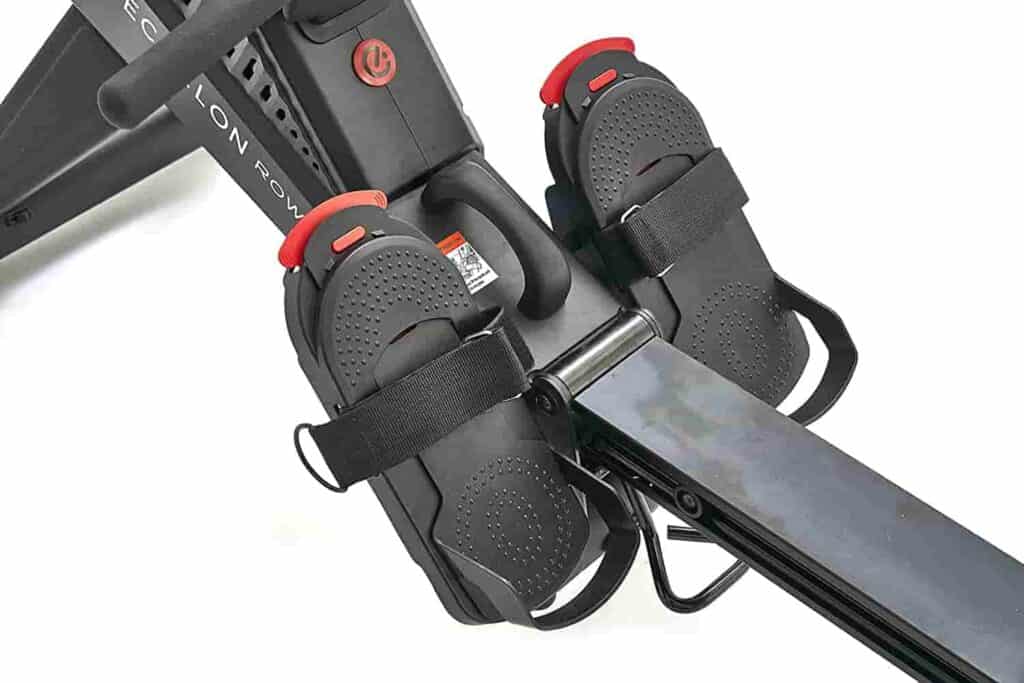 The Echelon (Row S) Smart Rower is equipped with a set of pedals that are large to accommodate different foot sizes. They are also textured with heel guards, and adjustable Velcro straps for stable foot placement.
Resistance
This is a magnetic resistance rowing machine; meaning, it has a magnetic resistance system with 32 electronically adjustable levels.
Consequently, the rower needs to be plugged into a power outlet (a power adapter is included in the package) for the resistance system to work.
Its operation is smooth and quiet making it suitable to be used anywhere possible without disturbing others, and it doesn't need pre or post-maintenance.
Due to the wide range of resistance levels available, users will be able to engage in easy to extremely difficult workouts.
Interestingly, the monitor displays the resistance level that is actively being used in a workout.
The Console
The Echelon (Row S) Smart Rower has got a 22'' high-definition touchscreen monitor that flips 180 degrees for the best viewing position.
Its crystal-clear display gets you glued to the features it offers throughout the entire workout session.
Once the console is synced with the Echelon Fit App, you will have access to several workout resources that include live workout programs, On-Demand workout programs, interactive session with world-class instructors, and ability to compete with others.
You can explore the exotic virtual waterways from around the world that gives you the serenity and semblance of rowing in real water.
There are also fitness programs such as Strength, Pilate, Yoga, Boxing, and much more that can be accessed.
Moreover, Echelon partners with top music labels to provide every subscriber with different kinds of music genres that include Dance, R&B, Hip Hop, K-pop, Metal, EDM, Folk and Funk, Latin, etc. to spice up your workout activity.
On top of that, the console tracks your workout progress by displaying stats such as Time, Distance, Stroke Rate, Resistance, Speed, Watt, Calories, and more.
Accessory
The rowing machine has 2 5-watts built-in Bluetooth speakers for quality audio output.
Storage
As aforementioned, this is a foldable machine that reduces in size significantly when folded.
Therefore, a storage area with measurements of 3'41'' L by 1'75'' will be fine.
Due to the integrated transport wheels, the relocation process is pretty easy even though it weighs 114.5 lbs./51.93 kg.
Pros/Features Overview
Solidly built with quality aluminum steel frame
It supports 300 lbs./136 kg maximum user weight
It has a solid and robust base framework with adjustable levelers for maximum stability
It has a belt drive system and a magnetic resistance that guarantee smooth and quiet operation
The magnetic resistance system offers 32 electronically adjustable levels that support users of different fitness levels
The rower engages over 85% of the body muscle groups with minimal stress impact
Performing a high intensity interval training (HIIT) on this rower for 20 minutes could burn over 300 calories
The seat, the handlebar, and the pedals are secure and comfortable
It is foldable; hence, it does not take up too much space for storage
It integrates a 22'' HD smart touchscreen console that is compatible with Echelon Fit App; this avails access to several workout resources such as live classes, On-Demand classes, world class instructors, exotic virtual waterways, ability to compete with other users, and more;
Low maintenance
Easy assembly
Transport wheels included for easy relocation process
2 built-in speakers
Power adapter included
Cons
Membership is required for Echelon Fit App
No water bottle holder
Warranty is only 1 year for Parts & Labor
BUY IT NOW AT THE BEST PRICE AVAILABLE
Warranty
Product Dimensions and Specifications
Length: 84''
Width: 21''
Height: 47''
Folded dimensions: 41'' L x 21'' W x 60'' H
Shipping dimensions: 49.5'' L x 25'' W x 17'' H
Seat to floor height: 18''
Net weight: 114.5 lbs./51.93 kg
Gross weight: 127 lbs./57.6 kg
Power: 110V AC
Maximum user weight capacity: 300 lbs./136 kg
Drive: Belt
Resistance: Magnetic with 32 adjustable levels
Seat: Large, contoured and padded
Handlebar: Slightly curvy, padded with resistance adjustable buttons
Pedals: Large, textured with adjustable Velcro straps and heel guards
Console: Echelon Fit App compatible 22'' HD touchscreen monitor
Transport wheels: Yes
Shipping
The Echelon (Row S) Smart Rower is shipped in a box that weighs 127 lbs./57.6 kg, and it has dimensions of 49.5'' long by 25'' wide by 17'' high.
Vendors such as Amazon offer a free shipping option that usually takes a couple of days.
Assembly
The assembly is easy such that an averagely skilled person can put it together without any problem.
Moreover, the package comes with tools and an instruction manual that helps to walk you through the process of assembly.
Maintenance
There is no serious maintenance that is required of you, other than to keep it clean at all times; especially after every workout session.
Where to store the machine is important. Therefore, make sure that the storage space is clean, moisture-free, and cool.
Also, as a precautionary measure, endeavor to check the rower before use to be sure that every part is in good condition.
Conclusion
The Echelon (Row S) Smart Rower is a user-friendly machine that could be used by beginners, intermediaries, and advanced athletes. It provides the opportunity of working out productively while having fun as well.
It supports a maximum user weight capacity of 300 lbs./136 kg, comes with a 22'' HD smart console that is Echelon Fit App compatible.
Users of different heights can be accommodated, hence, family members can take turns working out on it.
Echelon (Row S) Smart Rower Review
The Echelon (Row S) Smart Rower includes a 22'' HD touchscreen display, whereas the preceding model, Echelon Smart Rower doesn't. In other words, the former is the upgraded version of the latter.
Product Brand: Echelon
Product In-Stock: InStock