The Conquer Indoor Magnetic Air Rowing Machine with model number AR5600 is first released on 23 November 2016. It is a rower that is worth looking at even though it may not be well known to some rowing enthusiasts.
It has a construction and design that ensures users are comfortable while they workout to lose weight, and tone muscle groups of the body. Thus, it might be a smart choice to have it added to the home gym.
Its outlook is pretty much like the Concept Model D Rower but not as powerful though because the latter is more expensive and advanced.
That said, the Conquer Indoor Magnetic Air Rowing Machine has a dynamic air and magnetic resistance system that provides challenging workouts.
It targets the shoulders, upper/lower arms, abdominals, upper/lower back, hamstrings, calves, buttocks, and quads muscle groups without stressing the joints.
Click right here to have a peek at the price and of of the Conquer Indoor Magnetic Air Rowing Machine on Amazon.
Frame and Construction
The construction of the Conquer Indoor Magnetic Air Rowing Machine includes steel and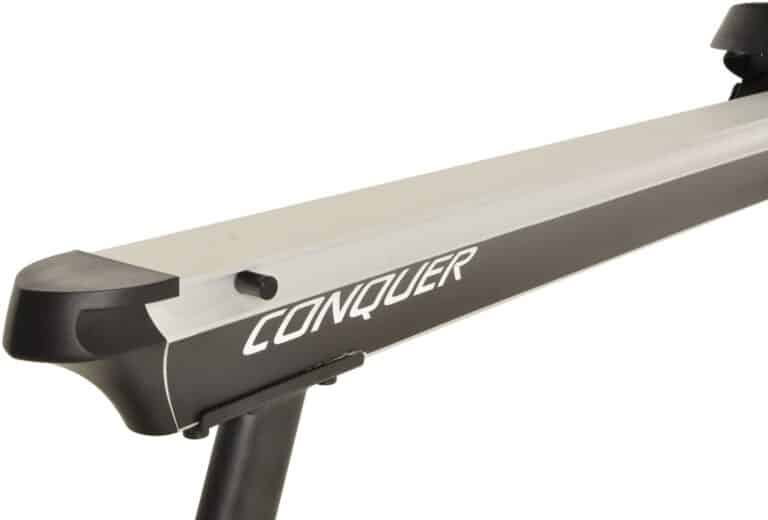 aluminum.
The extruded aluminum rail enhances the smooth back and forth motion of the seat, while the durable anti-corrosive steel frame supports a maximum user weight capacity of 300 lbs./136 kg.
Other parts such as the drive/console shrouds and the pedals are made of ABS material for comfort, safety, and cosmetic purposes.
This rower is almost the same size as the Concept2 Rower, so, it is going to need a substantial piece of your space for workouts. The assembled dimensions are 96" long by 20" wide by 44" high.
To put it differently, the rowing machine needs a workout area with perimeters of 8′ length by 1'7" width and an extra clearance of 2′ around it for easy access and safety during workouts.
Thankfully, it won't take up this much space for storage because it is foldable. Hence, an area with perimeters of 4′ length by 1'7" width should accommodate it.
Nevertheless, it is still not for those that do not have enough space in their rooms or apartments.
Users will experience optimum stability when exercising on this rowing machine because of its robust base framework with anti-skid floor protectors. Its stability is further enhanced by its assembled weight of 97 lbs./44 kg.
It can easily be relocated once it is folded via the integrated transport wheels.
The Seat of the Conquer Indoor Magnetic Air Rowing Machine
This machine is equipped with a large, contoured, padded, and upholstered seat that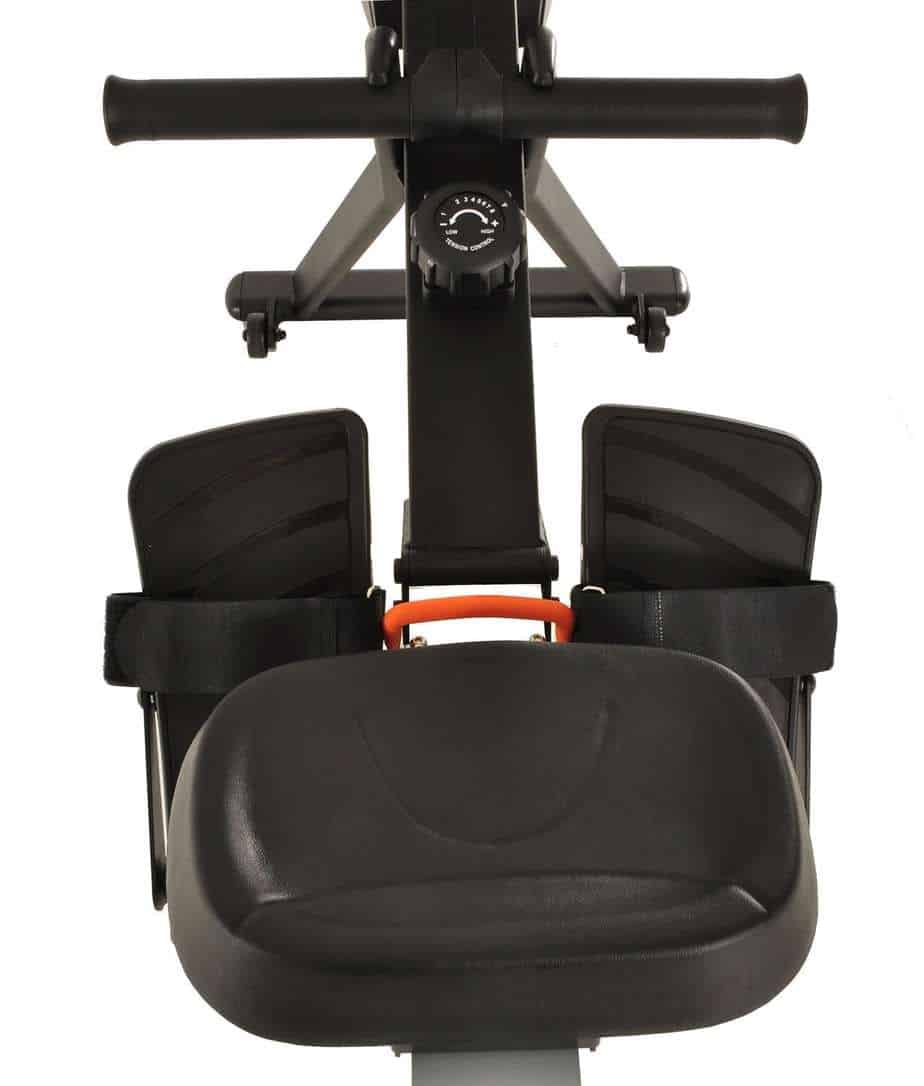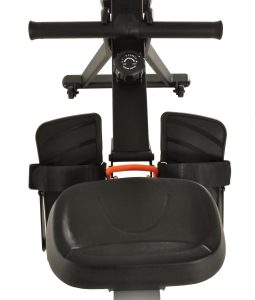 integrates sealed ball bearing rollers on each side. It is attached to the aluminum rail so that users can enjoy a smooth and quiet back and forth gliding motion.
The seat provides comfort and adherence that lasts through a prolonged workout. However, if you ever wish to improve it, simply add a small pillow on it.
The floor to seat height is about 18", therefore, users can easily mount and dismount without struggling.
The Handlebar
The pulling handle is a straight foam coated steel bar that anchors a 1" nylon strap that is connected to the fan flywheel. It provides secure and comfortable grips and suits users of different shoulder width sizes.
The Pedals
The pedals are made of durable ABS material with a metallic steel core. They are large and ribbed with adjustable nylon safety straps and heel guards.
Hence, they can accommodate different foot sizes and provide optimum footing stability.
Resistance
The Conquer Indoor Magnetic Air Rowing Machine doesn't have the typical dynamic air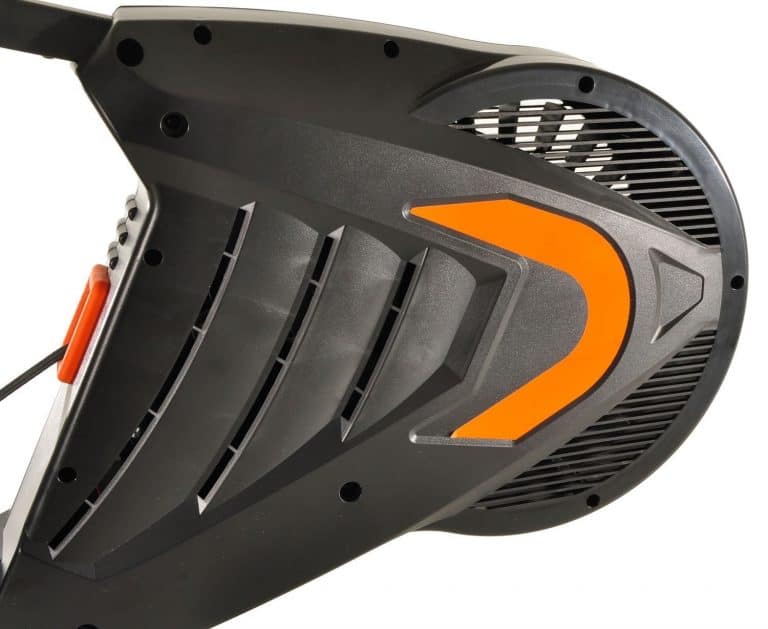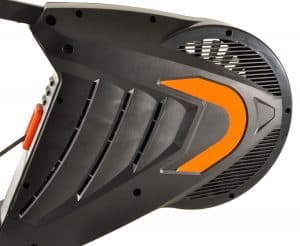 resistance system as the Concept2 Rower or the Stamina ATS 35-1405 Rower. Its resistance system is the combination of air and magnetic with 8 adjustable levels.
This means the rower's air resistance system alone is not powerful partly due to the size of the fan flywheel. Thus, it is augmented by the integrated magnetic resistance system.
Nevertheless, the resistance can still become difficult when you pull harder/faster, and less intense when you slow down. So, with the combination of the air and magnetic resistance, users of all fitness levels and all ages can benefit from it.
Moreover, the air from the fan is channeled back to the rower for cooling purposes through the scale design on each side of the shroud.
Since the fan is not large, its noise level is very low when compared to a conventional air resistance system. Therefore, people won't complain when exercising with the rowing machine, and you can watch a TV show or listen to music as well.
The Console
The Conquer Indoor Magnetic Air Rowing Machine incorporates rather a mid-range console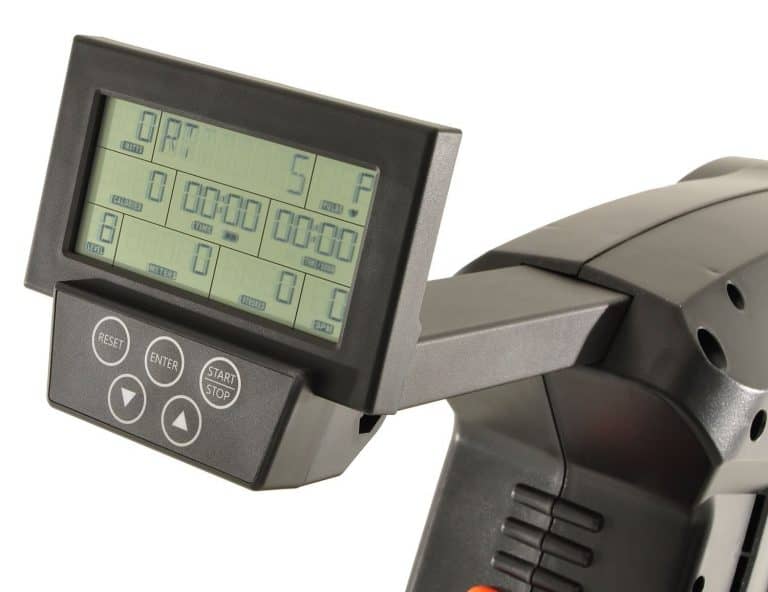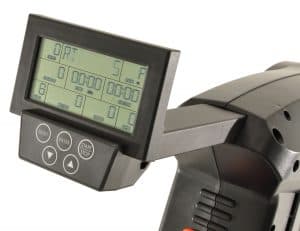 that has quite a number of features.
For example, the digital multi-display LCD monitor tracks workout stats such as Time, Meters, Strokes, Calories, Strokes per Minute, Time/500, Watts, Resistance Level simultaneously.
The display is easy to read as long as it is being viewed in a well-lit room, otherwise, it will be compromised because the monitor is not backlit.
Since the console is telemetric, users can use a compatible Polar wireless HR chest strap (not included) to track and maintain the target heart rate zone at all times.
You can also set a goal (countdown) for Time, Distance, and Calories.
There are 5 navigation buttons (Reset, Enter, Start/Stop, Up, and Down buttons) on the console that are easy to use.
The monitor is battery-powered.
Accessory
This rower doesn't integrate a water bottle holder or a tablet holder. You will have to improvise to maintain proper hydration and keep yourself entertained.
Storage
As aforementioned, the unit folds to half of its assembled length, thereby requiring less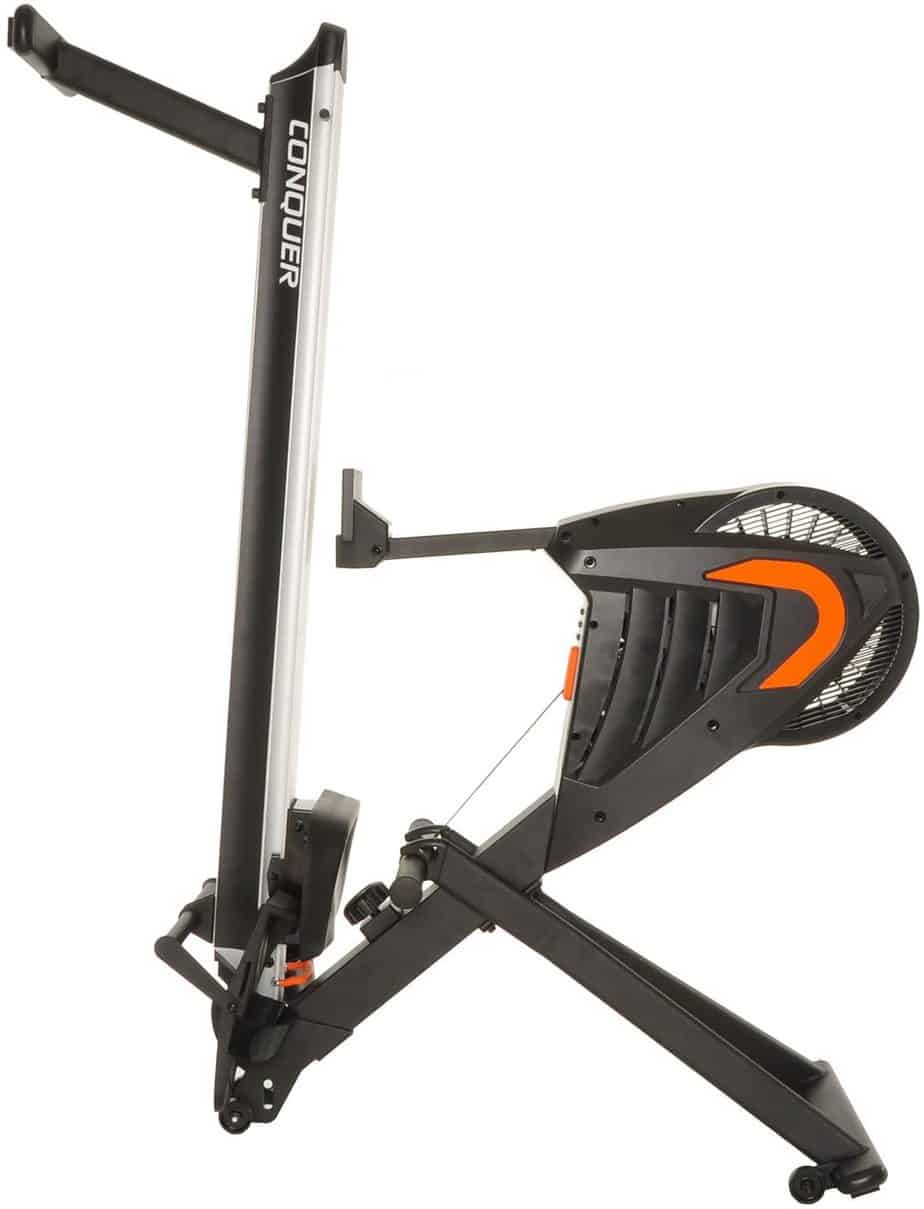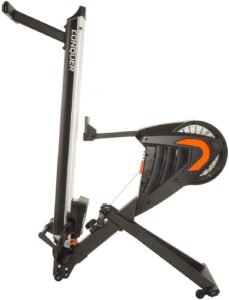 storage space.
Its folded dimensions are 48" long by 21" wide. As a result, it needs a storage area with perimeters of 4′ length by 1'8" width.
Transport wheels are also included to facilitate the reclocation process.
Features/Pros
It is beautiful and durably designed
It supports a maximum user weight capacity of 300 lbs./136 kg
It possesses air and magnetic resistance system with 8 adjustable levels that provides a range of different workout challenges suitable for all users
The rower offers low-impact and full-body workouts
It is foldable with transport wheels for easy storage
The integrated LCD monitor tracks Time, Meters, RPM, Calories, Strokes, Stroke per Minutes, Watts, and Pulse
The console is telemetric
Goal setting for Time, Meters, and Calories
The large, ulphostered, padded, and contoured seat with sealed ball bearing rollers is attached to the extruded aluminum rail for smooth and quiet gliding motion
Large, ribbed pedals with adjustable safety straps and heel protective guards provide very good footing stability
Its operation is not loud
Maintenance required is low
Not difficult to assemble
Cons
It takes a lot of space for workouts
The wireless heart rate strap device is not included
The monitor is not backlit
No water bottle holder and tablet holder
Product Dimensions
44'' Height
96'' Length
20'' Width
It supports 300-pounds maximum user weight
Warranty
3 Years on Frame
1 Year on Parts
Shipping and Assembly
The shipping cost all depends on where you are buying the unit from; should you be buying from the Amazon, the product will be shipped out for free..
Assembly is relatively easy as the main components are preassembled and you have got the instruction manual that will assist you in setting up the machine in no time.
Conclusion
What I like about the Conquer Indoor Magnetic Air Rowing Machine is that it is elegant and durable. It possesses features that could make your workouts inspirational and productive.
Such features include the mid-range telemetric console that features a digital LCD monitor with segmented display windows for tracking multiple workout data, and more.
Conquer Indoor Magnetic Air Rowing Machine Review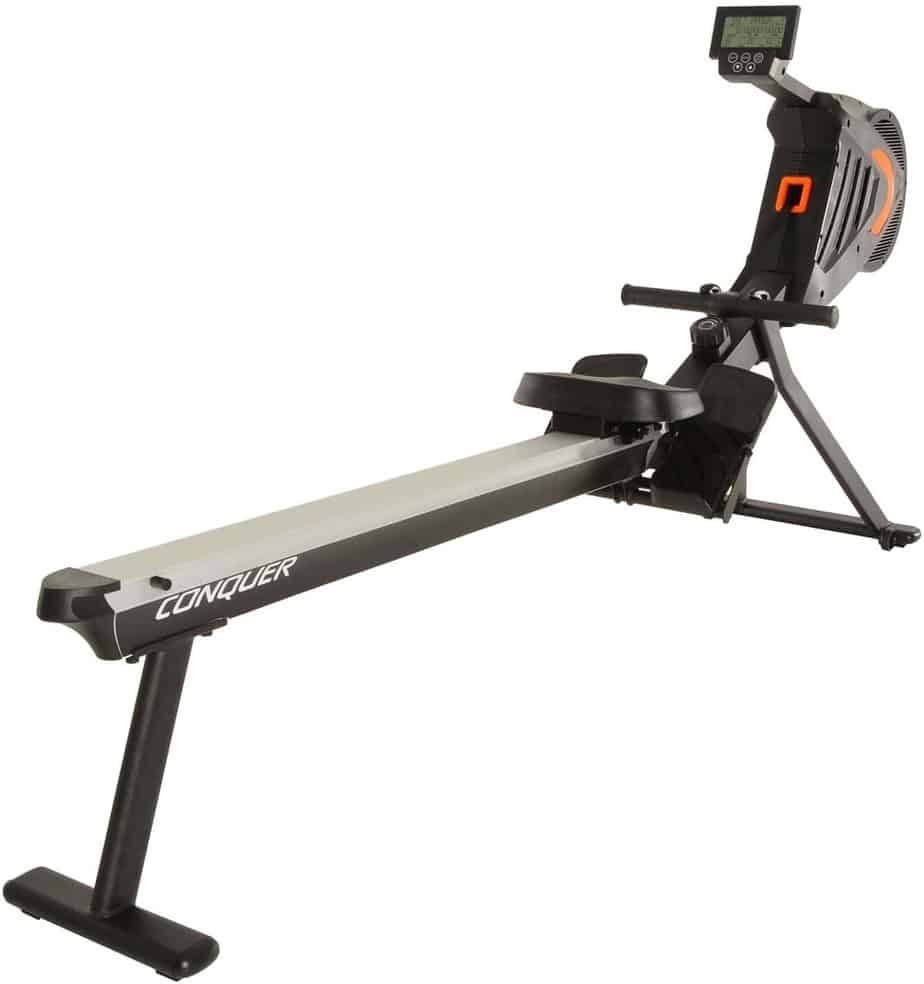 The Conquer Indoor Magnetic Air Rowing Machine with model number AR5600 is first released on 23 November 2016. It is a rower that is worth looking at even though it may not be well known to some rowing enthusiasts.
Product Brand: Conquer
Product In-Stock: https://schema.org/InStock