The Sunny Health & Fitness SF-RW5508 Magnetic Rower was first released on July 15, 2015. It is the upgrade version of the SF-RW5515 because it has expanded resistance levels of up to 10 instead of 8, and supports a higher user weight capacity.
Although it is not foldable as the SF-RW5515, thus, it will require the same amount of space for workouts and storage.
This rowing machine has the design and features that enable you to exercise comfortably in your home.
It provides a full-body and low impact cardio workout that tones most of the muscle groups in the body and burns tons of calories as well.
Click right here to have a peek at the price of the Sunny Health & Fitness SF-RW5508 Ultra Tension Magnetic Pro Rower on Amazon.
Frame and Construction
The Sunny Health & Fitness SF-RW5508 Ultra Tension Magnetic Pro Rower is a product of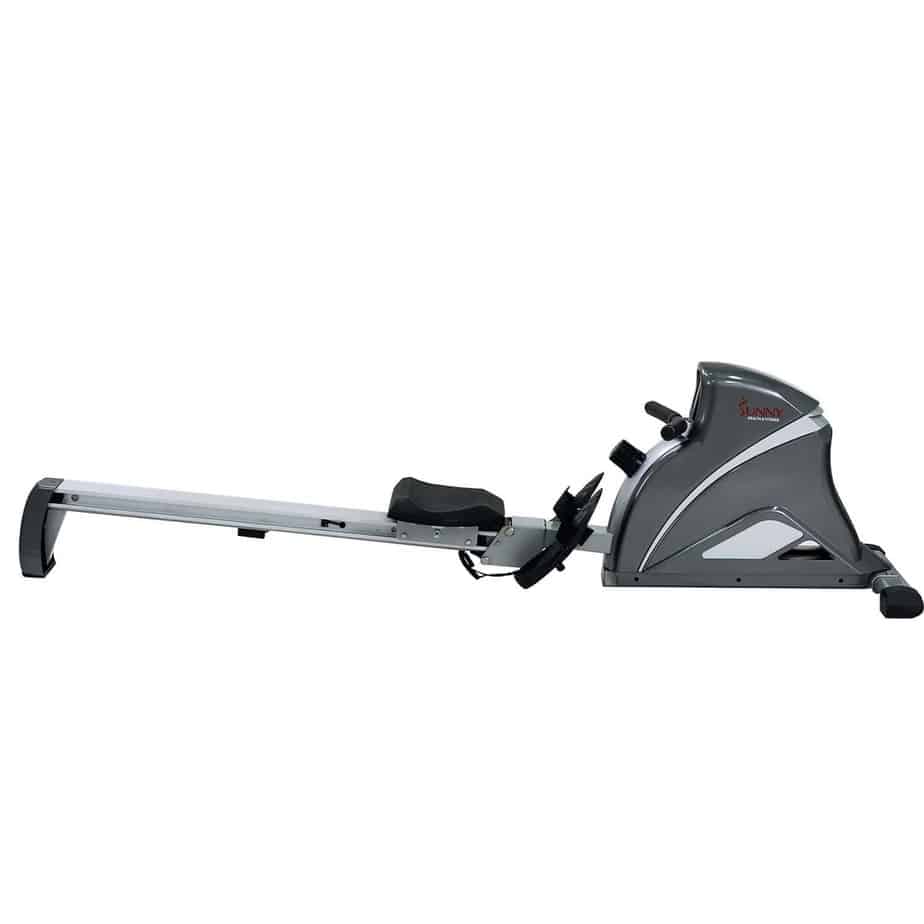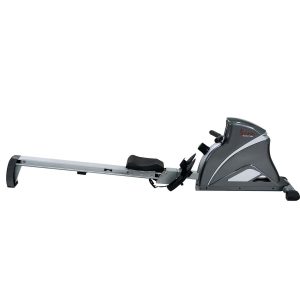 steel, aluminum, and ABS material. In other words, it has a light commercial grade steel and aluminum frame while the drive shrouds, the pedals, and other small covers are made of ABS.
Hence, it looks elegant and supports a maximum user weight capacity of 300 lbs./136 kg.
The slanted silver slide rail makes the motion recovery quick, thereby toning the lower body muscle groups more effectively.
The base features a vertical bar at the rear and a horizontal stabilizer at the front for maximum stability. However, do place the rower on a protective rubber mat to prevent damage to the floor.
This rower takes up space for workout activities and storage as well since it not foldable. Although, the storage space required won't be the same as the workout area because there won't be an extra clearance around it.
The assembled dimensions are 87" long by 21.5" wide by 23" high. Differently put, the unit needs a workout area with measurements of 7'3" length by 1'8" width, plus an extra clearance of 2′ around for conduciveness.
It is easy to move around because it only weighs 80 lbs./36 kg and has front-mounted transport wheels.
The Seat of the Sunny Health & Fitness SF-RW5508 Magnetic Rower
This rowing machine integrates a large, contoured, and padded seat with polyurethane. Thus, it provides some level of comfort and optimal adherence.  However, some people may not entirely feel comfortable on it, and if you do try to use a small pillow on it you will feel better.
The seat glides smoothly and quietly because it has on each side of it 3 ball bearing rollers that are coated with durable plastic, and then attached to the slanted aluminum rail.
Users whose inseams are less than 38" can fit in perfectly on this rower.
The Handlebar
This Pro Magnetic Rower has a cushioned, anti-slip handlebar that offers comfortable and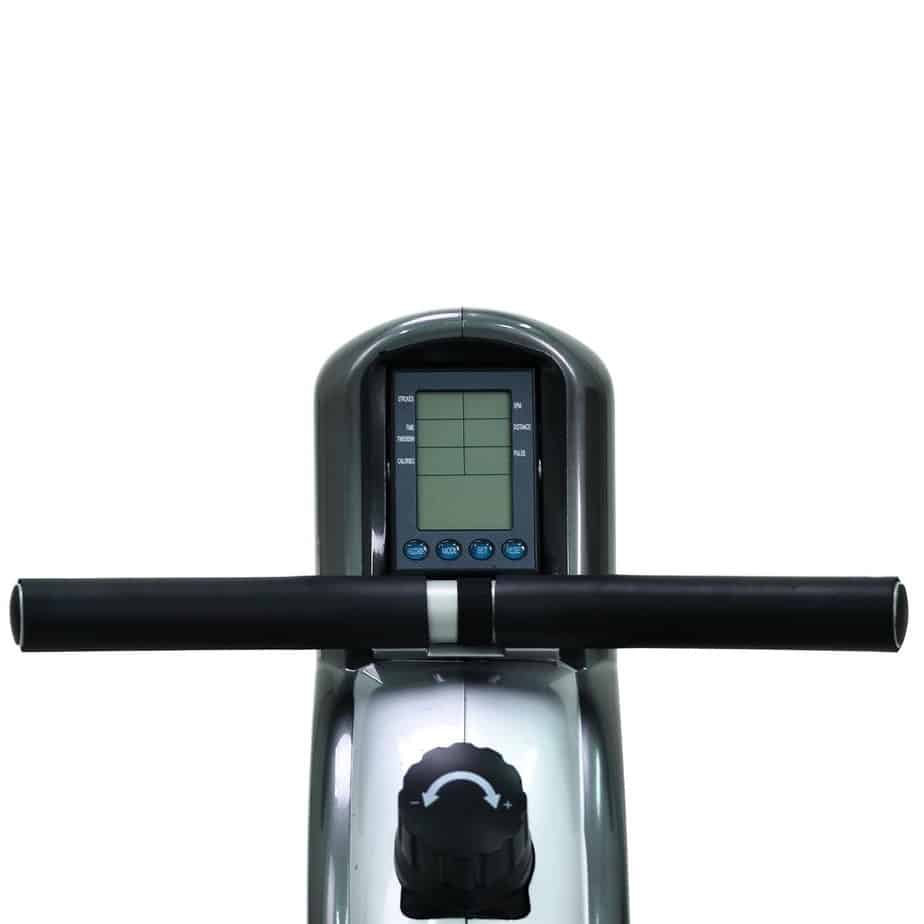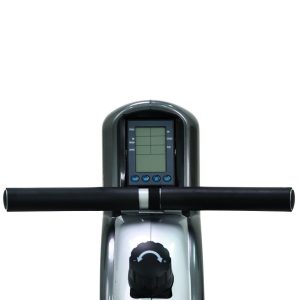 secure grips. It allows you to apply each stroke comfortably without fear of losing your grips, and neither will you experience any blisters in the palms after prolonged and consistent workouts.
The handlebar is attached to a durable nylon pulling cord that is connected to the flywheel.
The pedals
The pedals are large, and textured with adjustable safety nylon straps and heel guards. Hence, most foot sizes can be accommodated comfortably with optimum footing stability.
The Drive/Resistance
The SF-RW5508 Ultra Tension Magnetic Pro Rower is a belt-driven machine that is equipped with a manual magnetic resistance system.
This means the rower's operation is smooth, quiet, and vibration-free. For this reason, users can workout without constituting a nuisance to anyone around them, and if they wish to watch a TV show or listen to music they can too.
The manual magnetic resistance system provides 1 to10 resistance levels for different workout challenges. It mainly comprises a metallic flywheel (weight not specified), and a magnetic pad.
So, resistance is generated when the magnetic brake pad emits magnetic fields around the flywheel without actual contact.
The tension knob is used to control the resistance intensity. Therefore, you can simply turn it clockwise or anti-clockwise to increase or decrease the resistance level, respectively.
Although, the resistance is not dynamic as a water or air resistance system, but it does provide fairly low-impact challenging workouts that could help users to burn calories, engage and tone most of the body's muscle groups, and more.
No maintenance is required since none of the resistance system's elements rubs, and so, no part wears out over time. Moreover, post lubrication or adjustment is not necessary as well.
Features/Pros
The Sunny Health & Fitness SF-RW5508 Magnetic Rower has a manual magnetic tension system with 10 adjustable levels
It has got wireless pulse receiver for heart rate monitoring, however, the chest strap is not included; with this feature, a user will be able to track and maintain their heart rate zone during workouts
It has a quality frame that is made of steel and aluminum for light-commercial use
It supports a maximum user weight capacity of 300 lbs./136 kg
This machine targets the entire body and tones muscle groups such as the legs, arms, back, abdominal, shoulders, and glutes
It does provide low impact aerobic and cardiovascular workouts which are great for physical endurance and weight loss
Its large LCD console allows the user to view workout data such as the Time, Strokes, Strokes/min, Distance, Calories burned, and heart rate; this motivates and keeps the user focused on achieving their fitness goals
The unit is integrated with a fully padded seat that could enable users to train longer
The handlebar has non-slip comfortable grips
The large anti-slip foot pedals with adjustable foot straps secure and accommodate most foot sizes optimally
It is easy to assemble
Maintenance required is low
Cons
The warranty is short
It is not foldable and therefore may not be convenient for users in small apartments
No tablet/water bottle holders
Product Dimensions
87'' Length
21.5 Width
23'' Height
Warranty
1 Year on frame
90 days of parts
Shipping and Assembly
The shipping cost of this product varies as it depends on where you are buying it from. Usually, it is free when purchased from Amazon.
Whereas the assembly is relatively easy and straightforward; the major components are pre-assembled and with the help of the instruction manual the rest of the assembly would be a piece of cake.
About Sunny Health & Fitness
It may interest you to know that Sunny Health & Fitness has been the premier distributor of high-quality health and fitness equipment for over a decade. While they have the headquarter in Los Angeles, California, they also have a wide network of top manufacturers in China and Taiwan.
Conclusion
Indeed Sunny Health & Fitness is one of the most reputable health and fitness equipment manufacturers producing fitness equipment ranging from treadmills, elliptical trainers, and indoor upright and recumbent bikes.
The Sunny Health & Fitness SF-RW5508 Magnetic Rower is rated favorably by real consumers. If you wish to read of written by customers, click here.
[rank_math_rich_snippet]