Concep2 has added yet another innovative stationary bike to the family. The Concept2 BikeErg with PM5 Monitor Stationary Exercise Bike Model 2900 features the brand trademark of innovation, usability, and durability.
Interestingly, this stationary bike has the same flywheel and performance monitor as the famous and popular Concept2 Model D & E Indoor Rowers. This makes the bike unique and very effective for HIIT and cardiovascular training that burns tons of calories.
Its air resistance system responds to your effort thus suitable for beginners, intermediaries, and professional athletes because it goes with you as far as you can go. Most air resistance system bikes and rowers do not usually have resistance adjustment but the Concept2 BikeErg with PM5 Monitor Stationary Exercise Bike has the damper as the gearing system, it allows you to adjust the feel of your ride.
One more feature that is worth mentioning is the integrated clutch that makes it possible to coast on the bike just as you could on a road bike.
The frame is made up of solid aluminum that supports 300 pounds/136 kg maximum user weight capacity.
Concept2 has been in the industry for over 40 years and they have vast experience when comes to manufacturing quality and usable indoor fitness equipment.
Click right here to have a peek at the price of the Concept2 BikeErg with PM5 Monitor Stationary Exercise Bike on Amazon.
Frame and Construction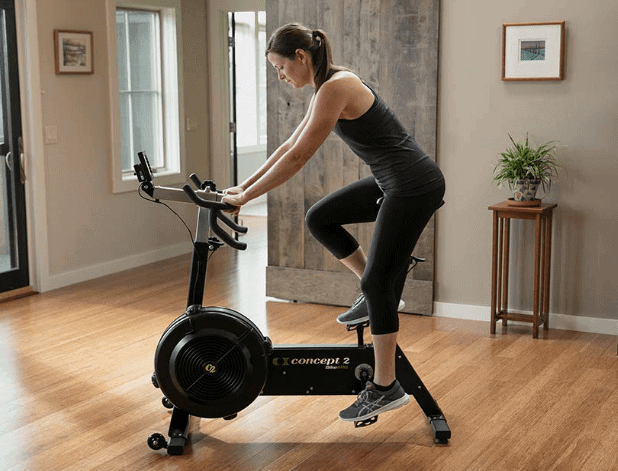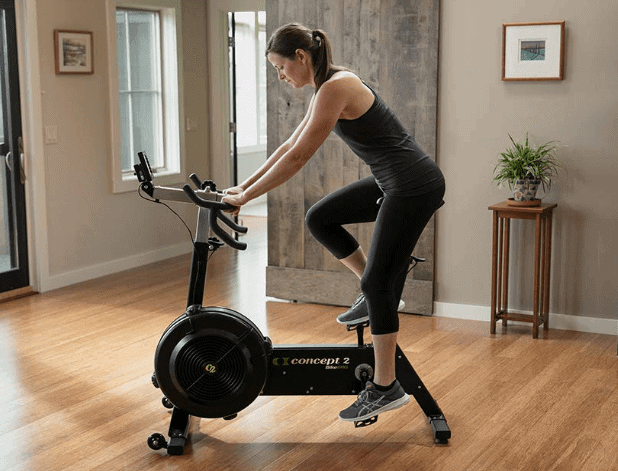 Just as aforementioned, the Concept2 BikeErg with PM5 Monitor Stationary Exercise Bike is a sturdy and durable bike whose frame is made up of durable welded aluminum that supports 300 pounds/136 kg maximum user weight capacity, the front, and rear stabilizer bars are made of solid steel.
The frame is black powder-coated while the posts are gray anodized.
The bike is also stable due to the base framework and the rear stabilizer bar that has adjustable levelers underneath and on each end in order to enable the user to balance it when used on a surface that is not even.
It is a lightweight machine that is also integrated with transport wheels at the front base for easy relocation and storage. Nevertheless, its weight of 58 pounds/26 kg boosts the bike's overall stability.
It is not foldable but compact; it won't really be a problem for those that do not have enough space. The overall assembled dimensions are 48 inches long by 24 inches wide by 40.5 inches tall. Basically, the Concept2 BikeErg with PM5 Monitor Stationary Exercise Bike will require a workout space of 4' long by 2' wide and a ceiling height of at least 7 feet high and may be higher if you are a taller individual that also wishes to perform a stand-up ride.
Moreover, also consider adding extra 1'-2' feet at the rear and on each side of the bike especially if it is going to be used in a confined area for safety and convenience reasons.
The Concept2 Erg Bike has good adjustability that makes it possible for users of different heights and sizes to be accommodated.
Its easy step-thru design is ideal and will be appreciated by those recovering from an injury, the elderly, and generally by everyone else that wishes to walk through and sit and work out.
Users have often purchased this bike together with the Concept2 Smartphone cradle and the Conept2 Model D indoor rower.
The Seat, the Handlebar, and the Pedals
The seat is thinly padded and flat and could be adjusted vertically only. The need for horizontal adjustment is not necessary because it has been optimally positioned to suit individuals of different sizes and heights.
However, users that are just getting into riding may find it a little bit uncomfortable. The good news is that the seat is compatible with a traditional bicycle seat and therefore you can swap it if you have one, and if you don't you can always purchase it.
The seat's height adjustments are; max. Height adjustment is 41 inches while the min. height adjustment is 30.75 inches.
Users with inseam length (the measurement from the top inner thigh to the ankle) between 27-37 inches could be accommodated comfortably.
The handlebar is ergonomically designed with multi-grips that allow you to work out in different postures.
It is also coated with soft rubber foam that provides comfort and secure grips that prevent slippage and blisters in the palms.
The handlebar does not have any EKG sensors on it and could also be replaced with any alternative handlebar if you so desire.
The pedals are simple and designed to be used barefoot or with a pair of standard gym shoes. They do not have toe cages or cleats but just like the seat and the handlebar you can choose to customize by replacing them with a set of pedals you wish to use.
The Drive
The Concept2 BikeErg with PM5 Monitor Stationary Exercise Bike features high-strength poly groove belts instead of a chain. In other words, it is a belt-driven bike that provides smooth and quiet operation.
Despite the fact that the fan makes some level of noise while exercising, but is not enough to be distractive to you or disturb the family and neighbors.
The belt drive system is generally known and popular for its quiet operation and non-maintenance status. This means that the drive system doesn't need any post maintenance as opposed to a chain drive system.
The Concept2 Erg Bike's drive system consists of solid, durable, and self-tensioning belts, the fanned flywheel, the heavy duty crankset, crank-arms, and pedals.
It is built with a clutch that allows you to coast on the bike just as you could on a street bike. That is you can stop pedaling while the flywheel keeps turning or spinning. Very few indoor bikes have this feature, mostly rather have a fixed flywheel that does not allow the pedals independent movement.
You can as well perform a standing ride if you so wish because the drive and the pedals support it.
The bike's Q factor (distance from the inner edge of the left pedal to the inner edge of the right pedal) is 155 mm/6.1''. This means that your feet placement will be aligned properly and you won't feel them widely apart.
The Resistance
The Concept2 brands always have a unique air resistance system that is adjustable by the damper and so does the Concept2 BikeErg with PM5 Monitor Stationary Exercise Bike.
The air resistance is dynamic and adjustable at the same time. This means that the resistance becomes intense and challenging at any resistance level whenever you pedal faster and it becomes easy as your pedaling slows down. 
The damper helps to regulate the amount of air that enters the fan. When the damper is adjusted to a higher level the fan opens up for more air to come in thereby generating challenging resistance and when it is adjusted to a lower level the fan closes to let minimum airflow for easy resistance. Therefore, the resistance strength is determined by the resistance level and as well as the intensity level of your workout.
The damper has about 1-10 levels you could use.
The resistance system on this bike is very suitable for anyone at any fitness level, including professional athletes or bikers.
The Console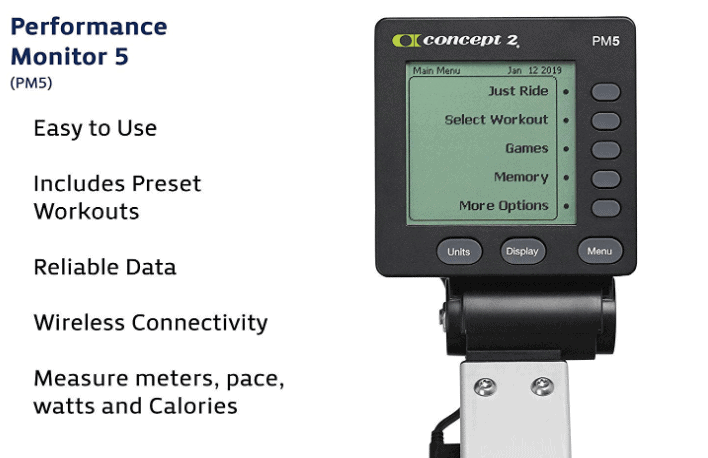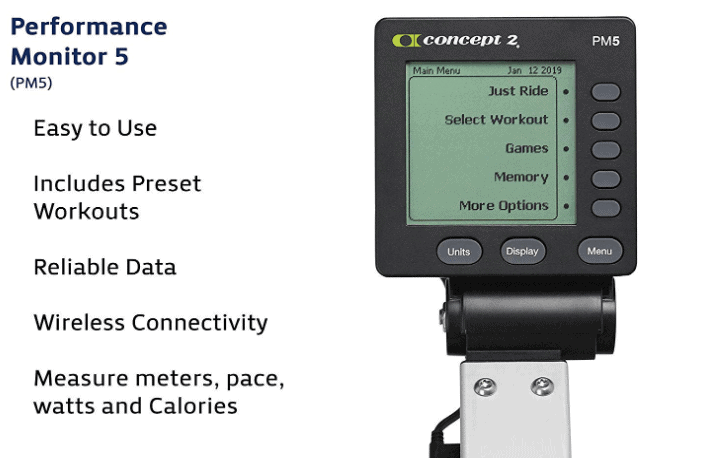 The Concept2 BikeErg with PM5 Monitor Stationary Exercise Bike comes with the console that features the PM5 monitor. This monitor is the same as the one on the Concept2 Model D & E Rowers but if you intend to switch the monitor from a rower to the BikeErg then it has to be reprogrammed before it will work and vice versa.
The console is awesome and well-positioned for readability to be achieved and the visibility is great because the monitor is backlit.
The PM5 performance monitor gives a wide range of real-time feedback that keeps the user motivated and focused. The workout data that it displays are the pace, watts, cadence (RPM), and calories burned.
The monitor also automatically stores this information for future reference. It provides repeatable and comparable data for every ride.
The monitor is powered by 2 D-cell batteries, and the flywheel also powers it during a workout so that the battery power will be preserved.
It powers ON when you start pedaling without pushing any button on the console. The easy Menu-driven operation allows you to quickly access the preset workouts, save favorite workouts and also review past workout results, and much more.
If the performance PM5 on your bike is still running on the older Firmware version the menu options may be different. Therefore, it is only imperative to upgrade and run the latest Firmware and this is how to do it.
The console supports both ANT+ and Bluetooth which allows you to be able to connect to a wide range of wireless devices.
This allows you to use an HR chest strap that supports either ANT+ or Bluetooth Smart to monitor your heart rate. It is important to note that the PM5 supports Bluetooth Smart and not just Bluetooth because they are different technology.
When a compatible HR chest strap is used the MP5 includes the display of your heart rate data and store for future reference. You will be able to track and maintain your target heart rate zone all the time.
You can as well connect wirelessly to Concept2's ErgData app and other third-party compatible apps.
The console is also USB flash drive compatible. This means that you can also store your workout data on the flash drive aside from the internal memory of the PM5.
You can also use the free Concept2 Utility software to upload data to your online logbook or transfer data to your Mac or PC compatible with FAT and FAT32 USB formats only.
Accessory
The Concept2 BikeErg with PM5 Monitor Stationary Exercise Bike does not come with any accessory but they are available to be purchased separately.
You can purchase the smartphone cradle that allows you to place your phone on top of the monitor so that you can use the ErgData, watch a movie or listen to music while working out. However, Concept2 Promises to integrate a phone holder on the bike soon
A water bottle holder is also necessary for staying hydrated at all times, you must purchase one or improvise to keep water within reach during a workout.
Storage
The storage of the Concept2 BikeErg with PM5 Monitor Stationary Exercise Bike is easy because it is compact, lightweight, and portable.
Therefore, it doesn't take up much space, it is not heavy to handle while trying to relocate and it has transport wheels at the front base.
Approval Rating
The Concept2 BikeErg is popular and widely accepted by users. Users have to come to understand the innovative features it possesses and they have decided to exploit them.
Amazon, Concept2 website, and other review sites have several customer reviews that are mostly positive thus the average approval rating is impressive.
Pros/Features Overview
Sturdy and durable
It supports 300 pounds/136 kg maximum user weight capacity
It is compact and portable
It has a dynamic resistance system that is suitable for all users
It has a belt drive system that provides smooth and quiet operation
The seat, handlebar, and the pedals are compatible with most road biked and can be customized
The seat and the handlebar are adjustable; hence, there are suitable settings for users of different heights and sizes
It has an easy step-thru design that allows users to mount and dismount the bike easily
The performance PM5 displays watts, pace, cadence (RPM), and calories burned and it has good visibility because it is backlit
The console supports Bluetooth Smart technology and ANT+ wireless connection
You can monitor your heart rate using an HR chest strap (not included)
ErgData app available
You can download data from the MP5 internal memory to the USB flash drive
The console feature preset programs
The monitor is powered by the flywheel when working out in order to save the battery power
The resistance system has a damper that is used to adjust the resistance strength
Low maintenance
It is designed to be used for commercial and home use
Easy to assemble
Cons
It doesn't come with the HR chest strap
No accessory, you have to purchase the smartphone cradle and the water bottle holder separately
The seat may not be entirely comfortable for some users
Warranty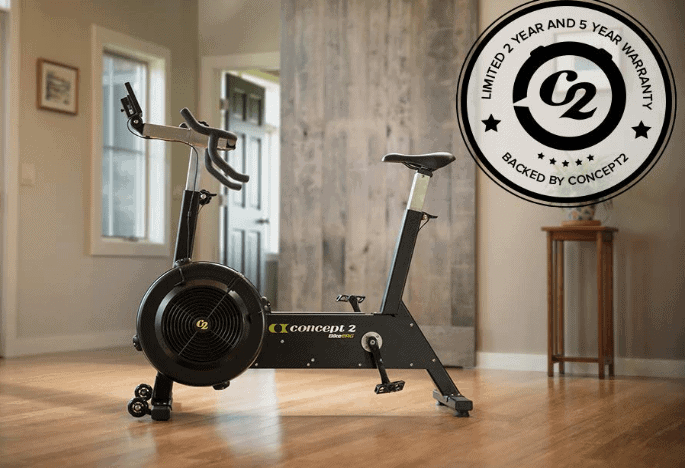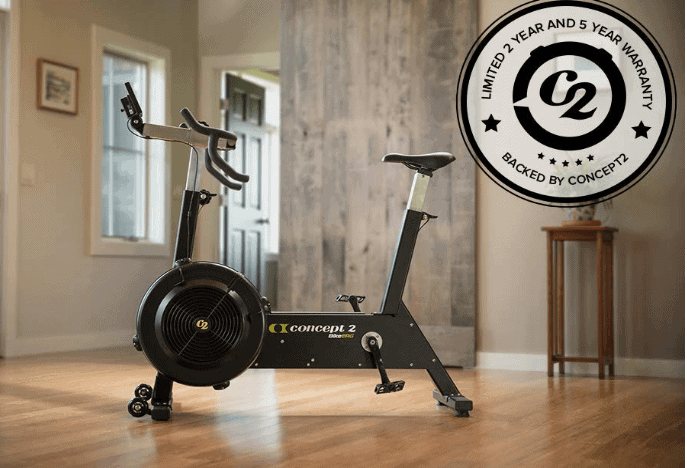 2-Year & 5-Year limited warranty
30-Day money back guarantee
Click here for details on warranty
Product Dimensions and Specifications
48'' Length
24'' Width
41'' Height
Weight: 58 pounds/26 kg
Supports 300 pounds/136 kg maximum user weight capacity
Resistance: Air resistance system with damper (gearing) 1-10 levels
Transport wheels included
Performance MP5 monitor, backlit, displays, watts, pace, cadence, calories burned and pulse if you use an HR chest strap device
Bluetooth Smart and ANT+ Wireless compatible
Drive: Polygroove belts with self-tensioning system
Frame: Welded aluminum and steel feet
The Seat is 2-way adjustable
The Handlebar-4-way adjustable
Clutch for freewheeling (coasting)
Shipping, Assembly, and Maintenance
Shipping
The Concept2 BikeErg with PM5 Monitor Stationary Exercise Bike Model 2900 is shipped out in a neatly packed package that weighs 80 pounds/37 kg and has dimensions of 15 inches by 26 inches by 48 inches.
The shipping cost depends on the vendor that is selling to you. However, some vendors such as Amazon provide free shipping and deliver the package within days of order placement.
Assembly
The bike is not delivered completely assembled but it is partially assembled. The major component such as the drive/resistance system is already attached to the frame.
You are expected to attach the front and rear stabilizer bars, the pedals, the seat/post, the handlebar/posts, and the console to the main core unit.
The assembly won't take up to an hour to complete. You also have the instruction manual and the tools needed for the assembly included in the package.
Maintenance
The Concept2 BikeErg with PM5 Monitor Stationary Exercise Bike Model 2900 does not need any serious maintenance.
Simply make sure to examine the bike before use for any loose or broken parts. Re-tight or replace accordingly if there is any issue; contact the manufacturer if you have to.
Finally, ensure to always keep it clean from dirt, dust, and seat before and after use.
Conclusion
The Concept2 BikeErg with PM5 Monitor Stationary Exercise Bike Model 2900 is indeed different from the regular indoor stationary bike.
It is suitable for everyone and those that wish to engage in HIIT cardiovascular exercises. A person recovering from an injury and everyone else that wishes to improve or maintain physical wellness could find it useful.
[rank_math_rich_snippet]