The Body Boss Home Gym 2.0 is a compact, portable, affordable, and cost-effective Home Gym that gives you the opportunity to experience several aspects of strength training in the comfort of your home.
This Home Gym is ingenious because it hardly takes up space as the standard Home Gym does and still provides effective full-body strength training and burns tons of calories as well. As a matter of fact, this could pass as one of the best home gyms ever invented.
If you cannot afford to acquire the BodyCraft HFT Functional Trainer or the Bowflex PR3000 Home Gym because of a low budget then the Body Boss Home Gym 2.0 is your best option.
This home gym allows you to simulate several strength workouts that you could do at the gym such as squats, upright row, rear deft fly, single-leg deadlift, Ab twist, tricep extensions, and much more.
Its innovative features include a foldable base, a collapsible bar, resistance bands, straps, handles, and a door anchor.
The acquisition of this home gym will save you a lot of money because it is inexpensive and you don't have to pay for that gym membership after all. It is convenient, space-friendly, and easy to use.
Click right here to have a peek at the price of the Body Boss Home Gym 2.0 on Amazon. It comes in pink and green color.
You can choose your color (pink or green) and you can choose your package (VectorFit base, 4 resistance bands, and a bar, or VectorFit base, with 2 resistance bands and a set of wrist bands or you can have the complete package of 4 resistance bands, a bar, a set of wrist bands, and a set of handles).
You will also get the 1-getting-started guide that gives you access to all online videos and workouts that guide you through how to make the most out of it.
Watch the Body Boss Home Gym 2.0 video is below
The Construction and Parts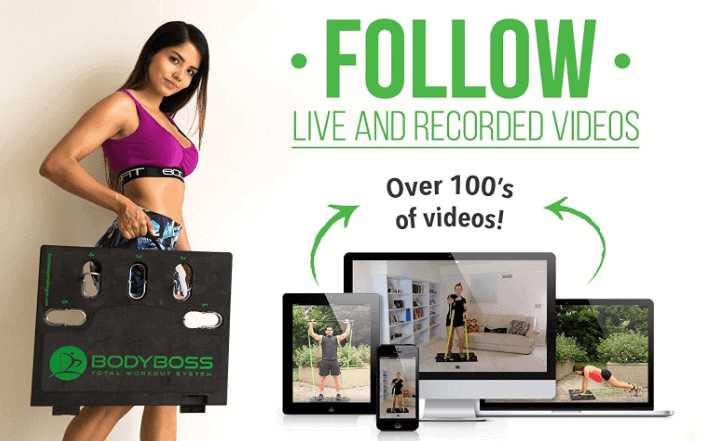 The Body Boss Home Gym 2.0 does not have a frame, FID bench, barbells, stack weight, workout stations, cables, and pulleys but only has a foldable non-slip base that features retractable anchors and floor padding plus other accessories as aforementioned.
It is even unthinkable that a home gym could be portable and be stored away under the bed and that is the reality with the Body Boss Home Gym 2.0.
The VectorFit base could be folded up in half for easy and convenient storage. It has carry handles for portability; you can grab and carry on the go.
The folded dimensions are 22.5 inches long by 18.75 inches wide by 4.5 inches tall and it weighs about 16.6 pounds/7.5 kg; the folded dimensions of the base platform are 19.75'' long by 34 inches wide by 1 inch tall.
Users of different heights can make use of it. In fact, it can handle heights up to 7'.
In other words, the dimensions of the workout perimeter required for this home gym are 1'7'' long by 2'8'' wide. This is a workout space anyone living in a small apartment can provide and still have plenty of room to do other things.
Just in case you are wondering what the base is made up of, it is made up of a very hard durable plastic that is comfortable otherwise known as the VectorFit. It will last probability a lifetime except you intentionally try to destroy it.
The home gym is just so suitable for everyone no matter their fitness level. It has almost zero restrictions and is convenient.
Other parts that are included in the package are the resistance bands that are designed to be hooked up to the anchors on the VectorFit base so that you can perform certain challenging strength training exercises.
There are several possible ways to manipulate the bands in order to create the intensity or the resistance strength you need. For instance, you can shorten or add bands to increase resistance strength.
That said, they aren't complete without the bar, the handles, door anchors, and the wrist straps. These are other accessories that allow you to completely utilize the Body Boss Home Gym 2.0.
The Bar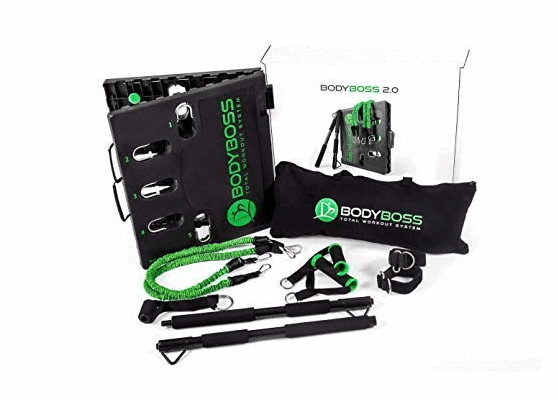 Using the bar and the resistance bands on the VectorFit enables you to perform squats, presses, and standing curl that target the quads, calves, chest, and biceps. It could also be used to simulate other dumbbell exercises.
The bar has a 360-degree design for smooth natural motion and features padded grips that ensure safety and comfort during a workout. It is collapsible; you can screw and unscrew it depending on what you intend to do at a given time, storage or workout.
The Wrist Straps
These accessories are padded for optimum comfort. They are adjustable and suitable for the sizes of ankles and wrists.
When attached to the other ends of the resistance bands you will be able to perform different types of exercises that target the upper and the lower muscle groups.
The Handles
These accessories also allow you to do more exercises such as an upright row, rear deltoid fly, single-leg deadlift, tricep extensions, and much more.
The handles perfectly simulate the use of dumbbells. In other words, you could use them to do exercises that are done with dumbbells and also be able to increase and decrease the difficulty and challenge through the adjustment of the resistance bands.
The Door Anchor
This is designed to be attached to the top of the door so that resistance bands can be anchored to it for exercises such as the rear deltoid fly, lat pull-downs, chest flies, and much more. There might be challenges however for taller individuals to make use of this accessory.
Although, if you are very tall and want to make use of it you may improvise by finding a stud in a wall and attaching eye hooks to whatever height you wish.
Storage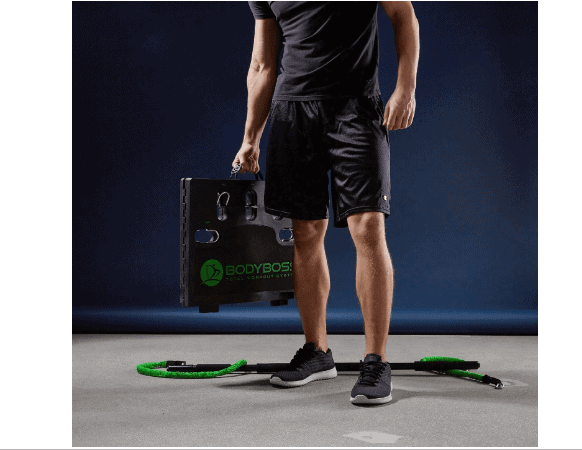 The VectorFit base could be folded up in half for easy and convenient storage. It has carry handles for portability; you can grab and carry on the go.
Basically, it fits under the bed or couch.
Approval Rating
The Body Boss Home Gym 2.0 has hundreds of Amazon customers' reviews and many more on their website and they are all positive.
What this means is that every user agrees this is a recommendable home gym thus has a positive approval rating.
Pros/Features Overview
It is durable and has no weight limit
It has a space-saving design
It is portable with handle
It is affordable
It is versatile and provides over 300 exercises
Startup guide that helps you understand the home gym is available
It is suitable for everyone at any fitness level
It provides full-body workouts that tone the muscles groups and also burn tons of calories
It is easy to use and no assembly is required
No maintenance is required
Cons
It is not as effective as the traditional home gym
Taller individuals may have challenges to perform certain exercises
Warranty
Product Dimensions and Specifications
20''-23'' Length (folded & shipping dimension)
18''-19'' Width (folded & shipping dimension)
2''-5'' Height (folded & shipping dimension)
20'' Length (VectorFit Base)
34'' Width (VectorFit Base)
1'' Height (VectorFit Base)
2 resistance bands (2 extra is optional)
1 collapsible bar
1 set of wrist straps
1 set of handles
1 Door anchor
Shipping, Assembly, and Maintenance
Shipping
The Body Boss Home Gym 2.0 is shipped in a neat light package that weighs 16.6 pounds/7.5 kg with dimensions of 23 inches long by 19 inches wide by 5 inches tall.
The shipping cost varies because vendors have different shipping policies. That said, Amazon provides free shipping and delivers within days of order placement.
Assembly
The Body Boss Home Gym 2.0 basically does not require assembly. All you have to do is unpack and unfold the VectorFit base and just attach the resistance bands and any of the other accessories to get on with your walkout.
Maintenance
No maintenance is required, only ensure to fold up and repack the accessories neatly after use to prevent losing any.
Conclusion
The Body Boss Home Gym 2.0 is not a replacement for the traditional home gym but an option for those that do not have the space to accommodate larger or bulky home gym, for those on the go, for those that cannot afford to invest hundreds or even thousands of dollars on a home gym.
This home gym is perfect for these categories of people. It is affordable, compact, portable, and cost-effective.
Body Boss Home Gym 2.0 Review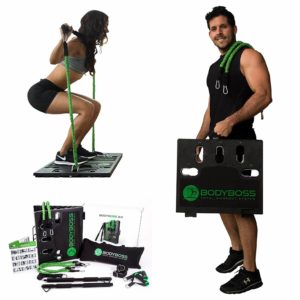 The Body Boss Home Gym 2.0 is a compact, portable, affordable and cost-effective Home Gym that gives you the opportunity to experience
Product In-Stock: InStock