The Circuit Fitness AMZ-167RW Water Rowing Machine is designed for home use. Just like every good water rower, it provides a realistic outdoor rowing experience.
Users will be able to work out within their fitness zone and also push themselves to the limit. Hence, it is suitable for everyone regardless of where they are in terms of physical fitness level.
Beginners, intermediaries, and advanced users will find it as a pathfinder to their quest to achieve their fitness goals.
It is integrated with features that ensure you experience comfortable and productive workouts. Such features include a comfortable molded seat, foam coated handlebar, large and textured pedals, adjustable LCD monitor, and more.
Click right here to have a peek at the Circuit Fitness AMZ-167RW Water Rowing Machine on Amazon.
The Frame and Construction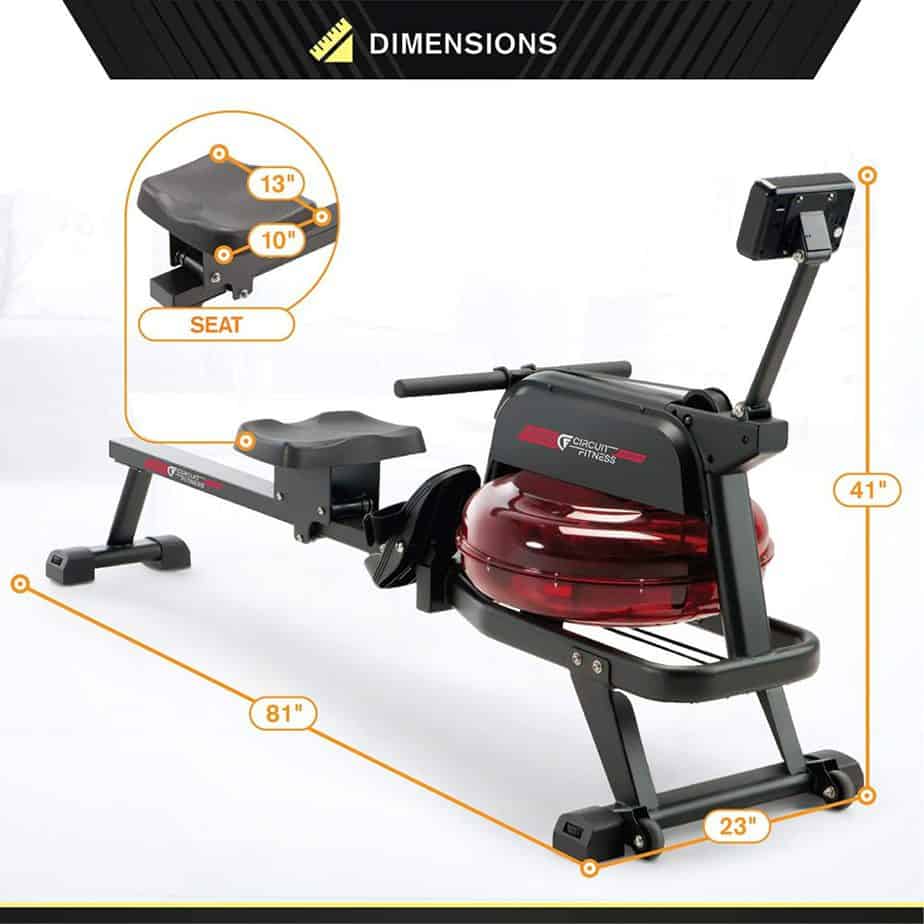 The Circuit Fitness AMZ-167RW Water Rowing Machine's frame is made of heavy-duty premium-grade steel that supports a maximum user weight capacity of 300 lbs./136 kg.
It is coated with black anti-corrosion paint that conserves its quality and durability.
The base framework system features floor-friendly front and rear stabilizer bars with adjustable rubberized levelers. This means it enables users to adjust the stabilizers if need be to prevent wobbling movement during workouts.
Its stability is further improved by its weight of about 100 lbs./45 kg.
The front-mounted transport wheels facilitate the relocation process of the rower.
It is not a very large machine when compared to other rowing machines such as the Concept2 Model E. But it still requires a little bit of space for a workout though.
The overall assembled dimensions are 78'' long by 22'' wide by 42'' high, hence, it will need a workout area with perimeters of 6'5'' length by 1'9'' width.
It is also recommended to consider adding extra clearance of 1-2′ on each side and 0.5' at the front and rear part of it so that you can easily access it and work out safely.
The rail inseam is not specified but we gathered it can accommodate users up to 6'2'' tall or less.
The Seat of the Circuit Fitness AMZ-167RW Water Rowing Machine
The seat is padded, grooved, and contoured to provide comfort that lasts through a prolonged workout by ensuring adequate blood circulation.
3 large rollers and the seat are attached to the rail for smooth back and forth glide motion. Its dimensions are 10'' in length by 13'' in width.
The seat is comfortable and thus far, there has not been any complaint regarding it.
The floor to seat height is not indicated but it seems pretty high enough for users to easily get on and off the rower.
The Handlebar
The anti-slip foam-padded handlebar provides secure and comfortable grips that prevent slippage and blisters in the palms while rowing longer sessions.
It is long enough for multiple grip positions that are suitable for different users. In other words, it is also suitable for users with wide shoulders.
The Pedals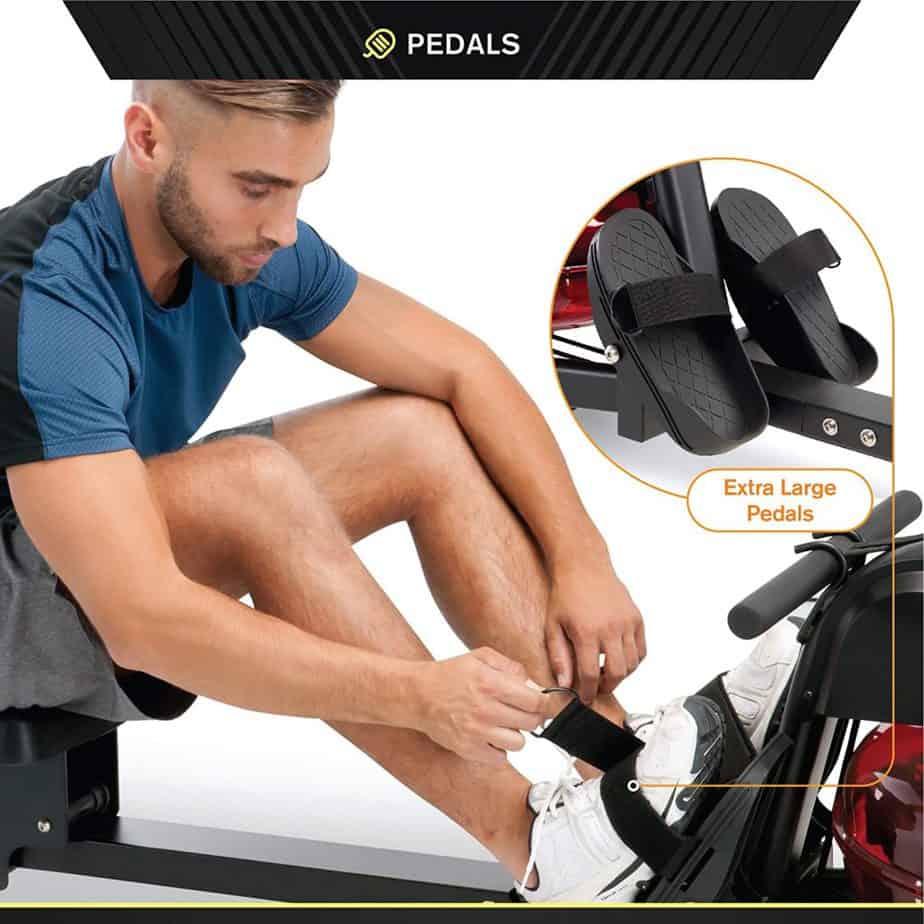 The Circuit Fitness AMZ-167RW Water Rowing Machine has footrests that are large with a textured surface. They also have other safety features such as the 1'' heel guard and the adjustable safety straps that ensure maximum footing stability.
Therefore, the user's foot doesn't slip during intense workouts.
They accommodate most foot sizes and allow users to use standard gym shoes for rowing activities.
The Resistance
The Circuit Fitness AMZ-167RW is a water rowing machine. This means it has a water resistance system that consists of a red polycarbonate water tank, a durable 1'' nylon strap, a recoil system, pulleys, and a handlebar.
The water tank also has a paddle inside that swirls the water around during a rowing activity.
There are no predefined resistance levels as the case with a magnetic rowing machine. Instead, the resistance is infinite and it's determined by the user's rowing ability.
Simply put, the resistance intensity increases or decreases by the user's ability to row faster or slower, respectively.
Also, if you want a tougher workout challenge fill the water tank to its recommended maximum capacity (water level 3) and adjust the bungee cord on the bottom to the maximum.
To burn calories faster, you have to row faster and work out harder.
The rower comes with 3 tablets of chlorine for cleaning the water, a siphon pump, a tube, and a funnel for adding and removing water from the tank.
Moreover, it makes a swoosh-swoosh sound that brings the memory of rowing in a real water boat, which to some, it puts a smile on their faces and probably makes them meditative.
Consequently, users are motivated to work out longer to achieve their fitness goals.
The Console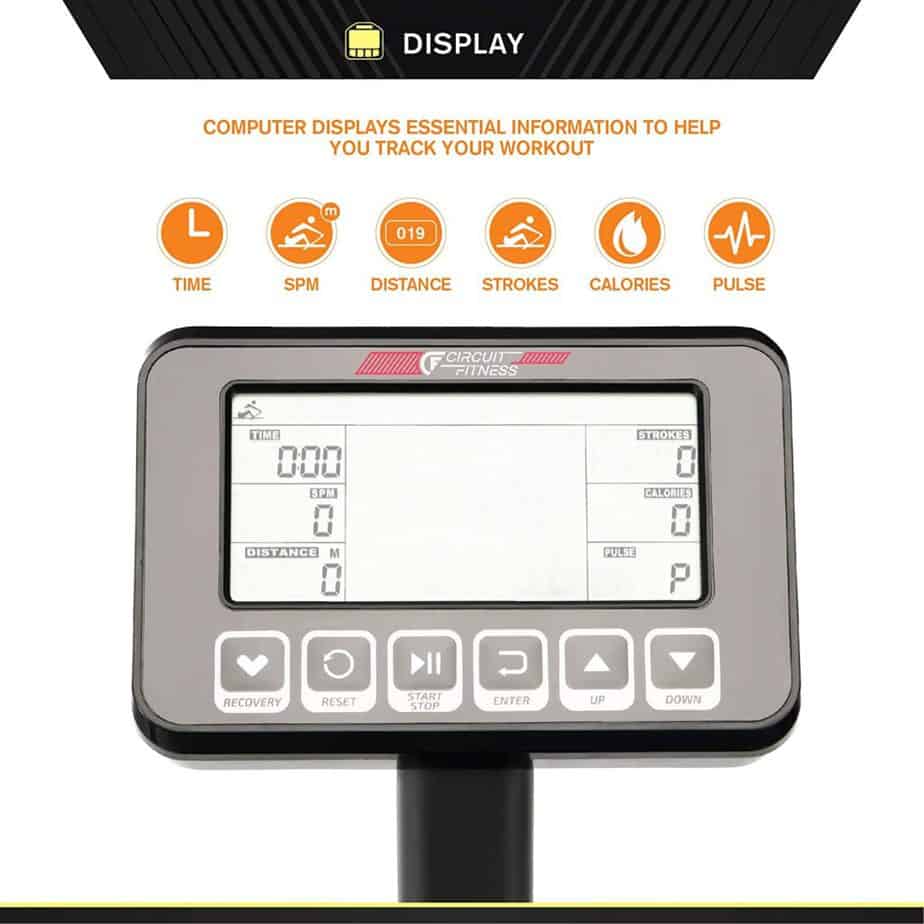 The water rowing machine is incorporated with an adjustable console that features a large easy-to-read LCD monitor that tracks Time, Distance, Calories, SPM (stroke per minute), Strokes, and Heart Rate.
These workout values are displayed simultaneously with great readability. However, since the monitor is not backlit, its readability will be compromised in a poorly lit room.
The console and the arm can be adjusted for a better view of the monitor and it can also be tucked away for storage.
To be able to track and maintain your target heart rate at all times, you need to use a 5.3 kHz chest strap (not included). There is also a Recovery Function that displays the status of your heart rate between F1 (excellent) to F6 (poor) upon pressing the button at the end of a workout.
The distance is measured in meters and you will be able to set goals (countdown) for Time, Distance, and Calories).
The monitor is powered by 2 AA batteries and they are included in the package. To save the batteries' power, the monitor goes to sleep when there is no activity on the rower for 4 minutes. You can set an alarm to sound or beep when the monitor is in sleep mode.
Storage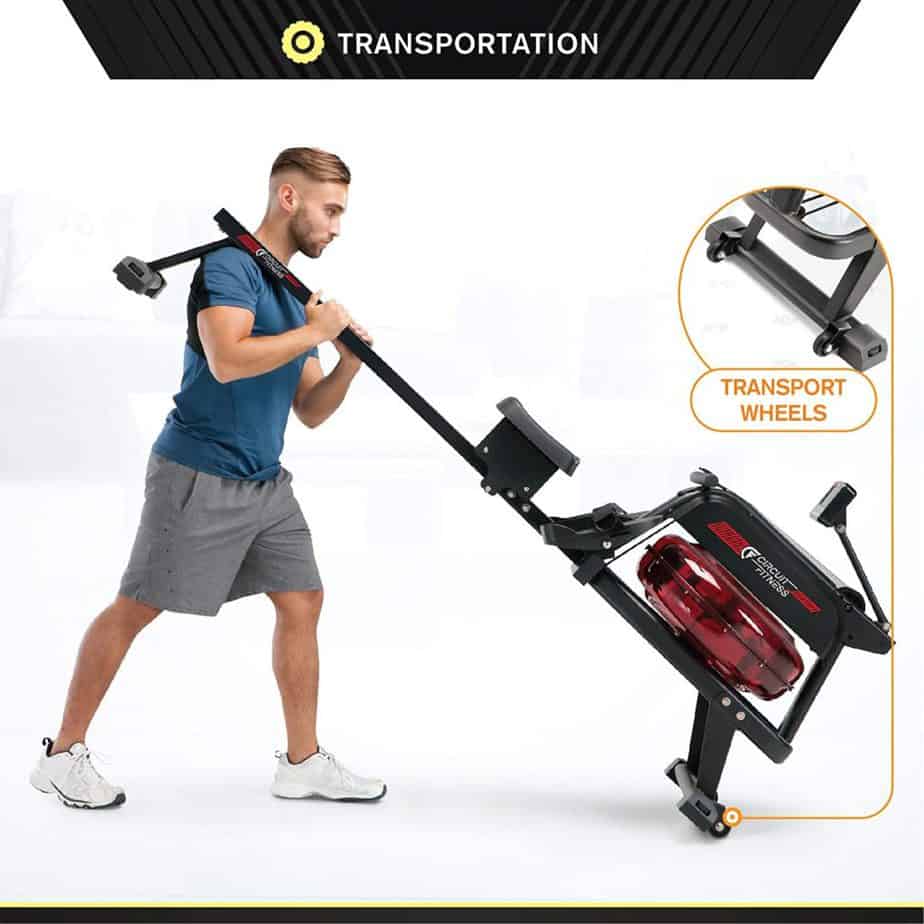 The Circuit Fitness AMZ-167RW Water Rowing Machine requires a very minimal storage space because it is stored vertically and the water in the tank doesn't leak.
The storage space perimeters needed are 3'5'' in length by 1'9'' in width.
It can easily be moved to and from storage via the front-mounted transport wheels by virtually any adult.
Approval Rating
This rowing machine has several reviews on Amazon, done by real users. The majority of these reviews are positive and as a result, it has a very good approval rating.
Pros/Features Overview
Durable and stable
Supports a maximum user weight capacity of 300 lbs./136 kg
It features a robust base with adjustable levelers that allow users to balance it on a surface that is not even
It provides low-impact and full-body cardio workouts that lose weight, tone over 80% of the body's muscle groups, and improve heart and lungs' health
The seat is large, contoured, and comfortable
Its operation is smooth with a soothing swoosh-swoosh sound of water
The dynamic resistance system provides challenging workouts that are suitable for everyone, including advanced athletes
The LCD monitor tracks workout stats such as Time, Distance, SPM (stroke per minute), Strokes, Calories, and Pulse
The console is telemetry-enabled
Goal settings for Time, Distance, and Calories
Recovery Function evaluates your fitness level after a workout
Easy to assemble
Maintenance is limited
Siphon pump, a tube, a funnel, and 3 chlorine tablets are included
Cons
The monitor is not backlit
No water bottle holder
No tablet holder
Heart rate chest strap is not included
Warranty
Product Dimensions and Specifications
Length 78''
Width 22''
Height 42''
Shipping dimensions: 43'' L x 23'' W x 21'' H
Upright dimensions: 42'' L x 22'' W x 79'' H
Gross Weight: 105 lbs./48 kg
Maximum user weight capacity: 300 lbs./136 kg
Resistance: Water
Frame: Steel
Rail: monorail
Seat: Large with dimensions of 10'' L x 13'' W, and comfortable
Handlebar: Anti-slip foam coated
Pedals: Large and textured with Velcro adjustable safety strap
Water tank: Durable polycarbonate
Monitor: Large multi-digital LCD
Transport wheels: Yes
Siphon pump, tube, funnel, and chlorine tablets included
Shipping
The Circuit Fitness AMZ-167RW Water Rowing Machine is shipped out in a single box that weighs 105 lbs./48 kg with dimensions of 43'' L x 22'' W x 21'' H.
Amazon provides free shipping and makes delivery within a couple of days after purchase.
Assembly
The assembly of this rower is pretty easy because it comes with its major components preassembled. You are only required to attach the slide rail, the seat, the front and rear stabilizer bars, and the console to the main core unit of the rowing machine.
It takes between 10 to 30 minutes to completely assemble the rower.
The tools needed and the instruction manual that guides you through the assembly process are included in the package.
Maintenance
There is no serious maintenance required. Just make sure that the machine is kept clean at all times. Inspect it before use for any loose or broken part to avoid an accident or further damage to it.
Ensure to periodically treat the water in the tank by dropping in a tablet of the included chlorine. Remove the water from it if you are not going to use the rowing machine for up to a month.
Do not expose the console directly to sunlight, and store the unit in a cool and dry place.
Conclusion
The Circuit Fitness AMZ-167RW Water Rowing Machine helps you to lose weight, tone muscle groups, and improve your overall physical fitness in the comfort of your home.
Its resistance system is such that it pushes anyone to the limit regardless of their strength and endurance level.