The Body Power 2-in-1 BST800 Elliptical Stepper Trainer provides an elliptical path and a stepper movement.
It is a total body and low-impact machine that offers cardiovascular workouts that nuke calories, improve the heart and lungs 'health and overall physical fitness.
It is compact and affordable, you don't have to break a bank to acquire one and it doesn't take too much space as well.
Click right here to have a peek at the Body Power 2-in-1 BST800 Elliptical Stepper Trainer.
The Frame and Construction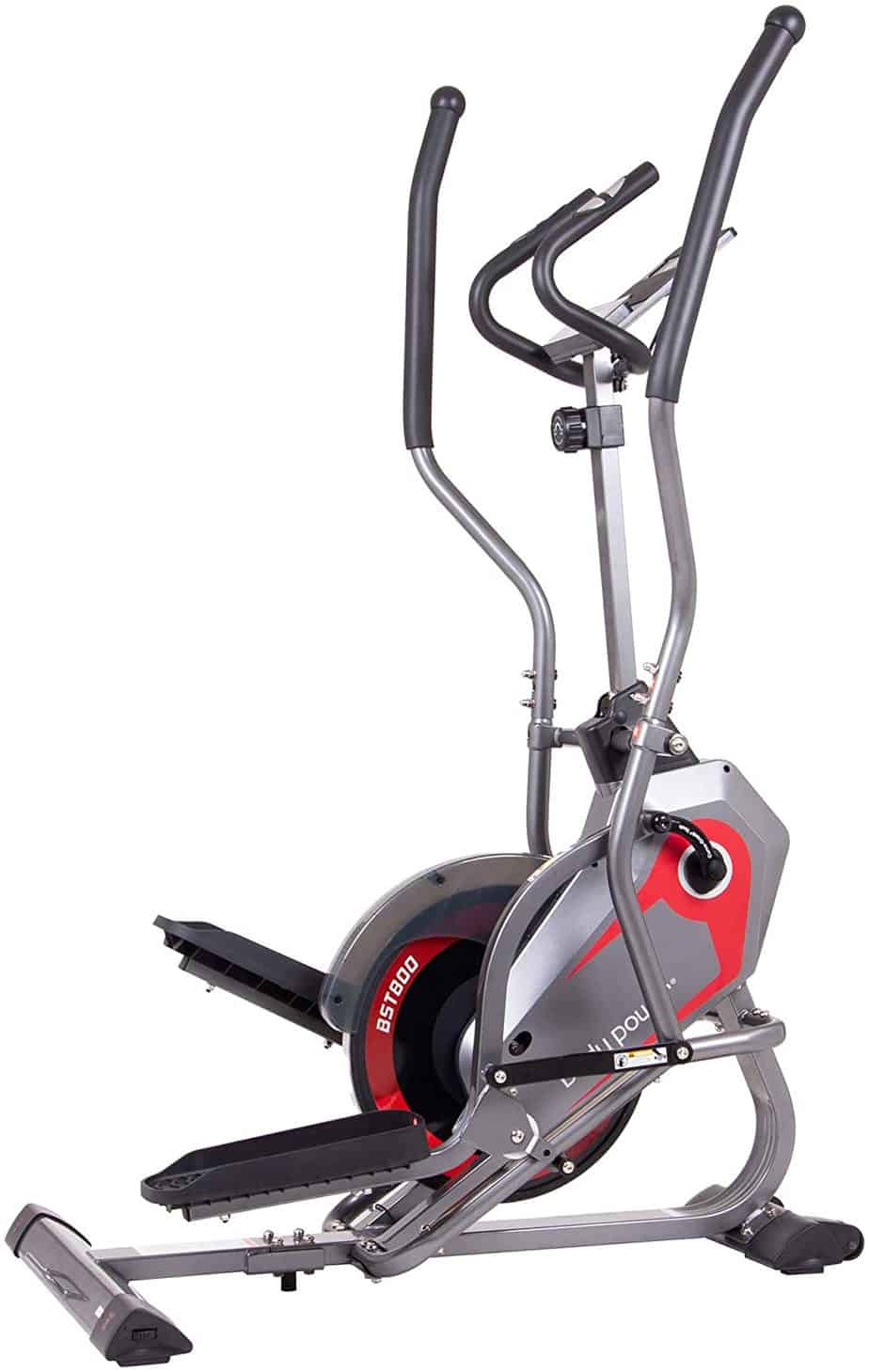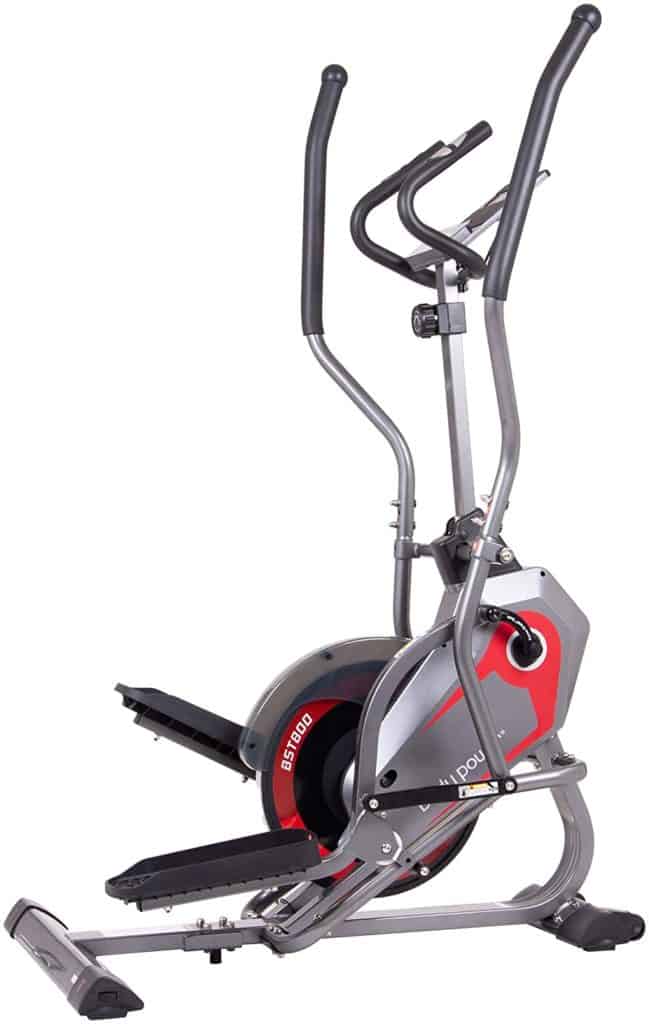 The Body Power 2-in-1 BST800 Elliptical Stepper Trainer is designed for home use. It has a robust construction that features a heavy-duty steel frame that is coated with anti-rust and scratch paint. It is protected from the environmental effects that might degrade it over time.
It supports a maximum user weight capacity of 250 lbs./113 kg.
Its overall assembled dimensions are 42'' long by 28'' wide by 62'' high. Differently put, it needs a workout area with the perimeters of 3'5'' length by 2'4'' width.
Although, an additional extra clearance of 2' will be required around it for a safe and convenient workout experience. This is especially important if the unit is to be used in a confined area.
The recommended ceiling height of the room where it's going to be used should be at least 1'8'' (`20") plus your height because its highest pedal position is about 17''.
Despite its small footprint, its stability is still great. This is because of the base framework that features steel stabilizer bars with rubber pads. They promote traction and floor-friendliness, and the adjustable levelers at the rear base enable users to balance the unit on a crooked surface.
Its stability is further boosted by its assembled weight of 88 lbs./40 kg. However, some users have complained it wobbles a little bit. If it does, make sure to adjust the levelers at the rear base and perhaps use a rubber mat.
The 2-in-1 BST800 Elliptical Stepper has a lot in common with the Progear 9900.
The Handlebars of the Body Power 2-in-1 BST800 Elliptical Stepper Trainer
This unit has dual handlebars; one set is mobile while the other set is static. They are both non-adjustable but are optimally positioned to be suitable for all users. They have anti-slip foam-coated grips that prevent slippage and blisters in the palms.
In other words, they offer secure and comfortable grips that allow you to work out longer.
The inverted static handlebars are attached to the console mast. They integrate the EKG HR sensors that transmit the heart rate data to the monitor when they are held during a workout.
While on the other hand, the moveable handlebars do not have HR sensors. They are connected to the curvy cranksets and pedal bars.
Therefore, you can engage the full-body or just the lower body during a workout.
The Pedals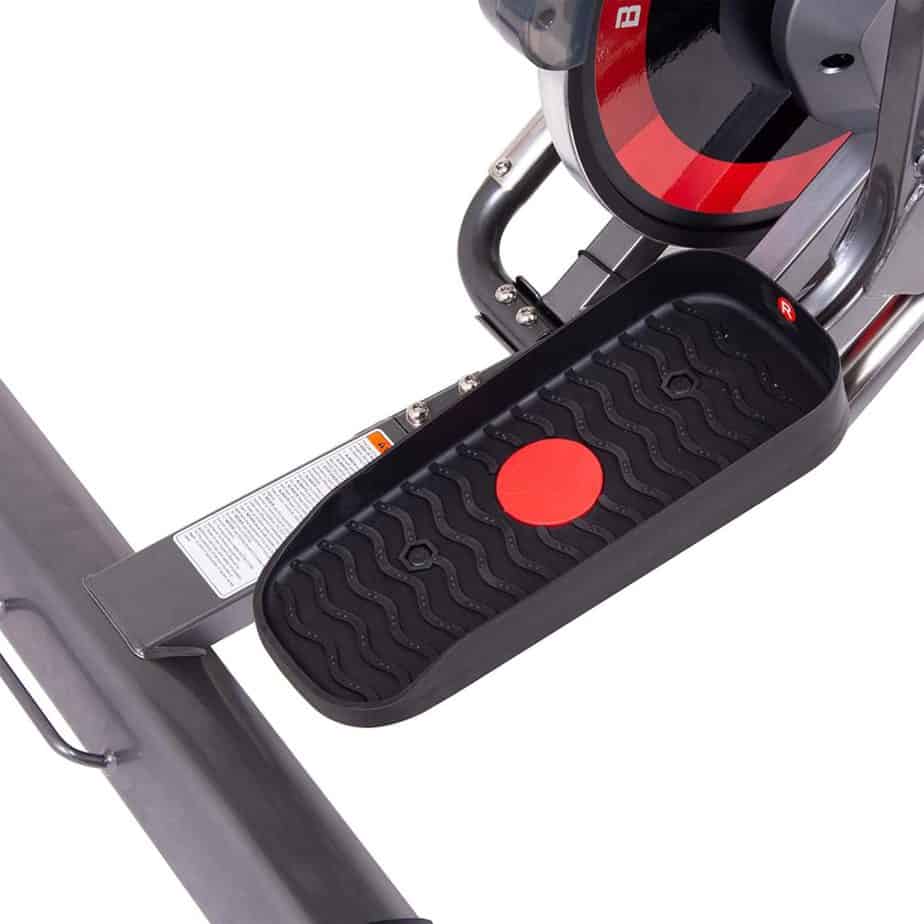 Just as aforementioned, the pedals and the moveable handlebars are interconnected such that they aren't independent. This means when you pedal the moveable handlebars also become active even when they are not held during a workout.
The pedals are large, textured with a protective 1'' guard that secures the feet from slipping when exercising. They are made of durable ABS material and each of them is attached to a steel bar with a big roller for smooth and quiet gliding operation.
These pedals are designed to provide an elliptical path and stepper movement that are unique from regular elliptical trainers.
They have a step-up height (lowest position) of 5'' which ultimately makes it easier for users to get on and off the stepper without hassle.
Finally, its stride length is not indicated but it should be around 13'' or less.
The Drive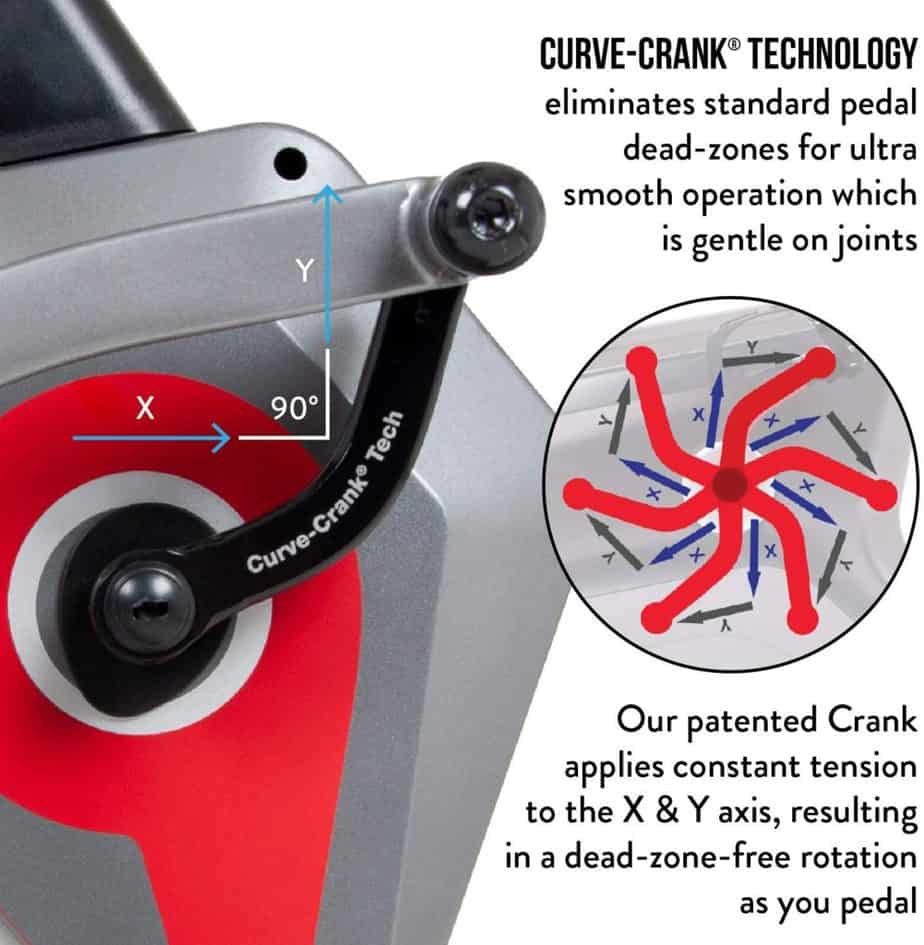 The Body Power 2-in-1 BST800 Elliptical Stepper Trainer has a front-mounted perimeter-weighted flywheel that is large and bare. Although, it has a transparent plastic safety cover at the top.
Unfortunately, its weight is not specified, but it's likely heavier than most of the ones on a regular elliptical machine.
Thus, it provides consistent momentum that translates to smooth and vibration-free motion.
The machine features a belt drive system that mainly consists of a durable belt, pulleys, and cranks, and they are covered with hard plastic shrouds for safety and cosmetic purposes.
Its operation is smooth and quiet. Your workout activity won't disturb the people around you; meaning you can work out whenever you want..
Also, the drive system is maintenance-free. It doesn't require you to periodically take the shrouds apart and lubricate or adjust the internal mechanisms.
The Resistance System
The BST800 Elliptical Stepper Trainer is incorporated with a manual magnetic resistance system with 8 adjustable levels.
This comprises a magnetic brake pad, the flywheel, and the tension knob that is attached to the mast, right below the console, and the static handlebar.
Resistance is generated when the magnetic brake pad gets close to the flywheel and emits a magnetic field in its premise. While the intensity is determined by how close the magnetic brake pad is to the flywheel.
In other words, the resistance system is frictionless, hence, no part wears out and no part requires to be replaced, no maintenance is needed.
To increase or decrease the resistance intensity, simply turn the tension knob clockwise or counterclockwise respectively.
Since the resistance adjustment is manually done, the stepper doesn't need to be plugged into a power outlet to function.
Users will enjoy light to fairly decent challenging workouts that are suitable for weight loss, muscle toning, and improvement of cardiovascular health.
The Console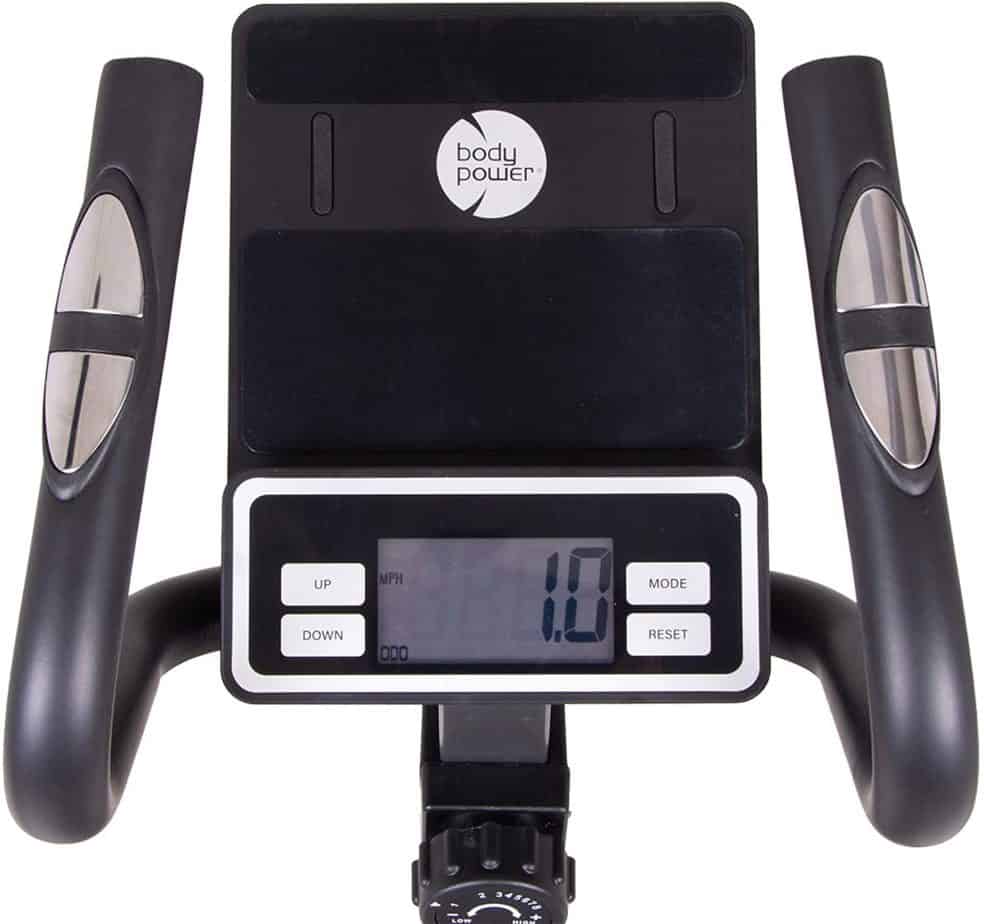 The Body Power BST800 Elliptical Stepper features a console that has a 3.5'' non-backlit LCD monitor. It tracks workout progress such as Time, Distance, Odometer, RPM, Speed, and Heart Rate. The monitor is easy to read, however, it will be diminished if viewed in a poorly-lit room.
The metrics are displayed rotationally one at a time after every 5 seconds by the SCAN Function because the display screen is not large enough to have them all displayed simultaneously. However, you can set a preferred workout value to display constantly instead if you want.
To be able to track or view your heart rate on the monitor, you must hold the EKG contact grips during a workout. Unfortunately, this is the only way to track and maintain your target heart rate zone because the console is not telemetry-enabled.
The Distance and Speed are measured in miles and mph respectively.
The monitor is powered by 2 AAA batteries (included). Thus, to save the batteries' power, the monitor automatically shuts down when there is no signal (inactivity) for 4 minutes, and it automatically turns ON when the signal returns.
It can also be manually turned ON/OFF by pressing any of the buttons on the console.
There are 4 navigation buttons available which include Mode, Reset, Up & Down keys. These are easy to use and are well explained in detail in the owner's manual.
Finally, the console does not have wireless connectivity or preset programs.
Accessory
This unit has a large and strategically designated tablet holder that is right at the top of the console. It can securely accommodate different sizes of tablet devices without blocking the view of the display screen.
Other than that, the machine doesn't have any other accessory such as a water bottle holder. You will have to improvise to maintain proper hydration during a workout session.
Storage
The Body Power 2-in-1 BST800 Elliptical Stepper Trainer is compact, lightweight, and portable. This simply means it is easy to store away.
It weighs only 88 lbs./40 kg, with dimensions of 42'' long 28'' wide by 62'' high. Therefore, a storage area with the perimeters of 3'5'' length by 2'4'' width should suffice, and it can easily be moved via the front-mounted transport wheels.
Pros/Features Overview
Compact, portable, and lightweight; easy to move around and doesn't take up much space
Durable and stable
Supports a maximum user weight capacity of 250 lbs./113 kg
It is a 2-in-1 machine that provides an elliptical path and a stepper movement
Its operation is smooth and quiet
It provides zero impact and full-body workouts that could lose weight, improve heart and lungs' health, and tone muscle groups
There are 2 sets of handlebars (static & moveable) with cushioned grips
The large, and textured pedals with protective guards provide maximum footing stability and they accommodate most foot sizes
The manual resistance system with 8 adjustable levels provides a wide range of workout intensities
The LCD monitor tracks workout progress by displaying stats such as Time, Speed, Distance, Odometer, Calories, and Pulse
EKG heart rate sensors
Maintenance is very minimal
Tablet holder included
Assembly is not difficult
Cons
The monitor is not backlit
No water bottle holder
No sound system
Warranty
1 Year for the Frame
90 Days for the Parts
Product Dimensions and Specifications
Length 42''
Width 28''
Height 62''
Shipping dimensions: 10.04'' L x 33.07'' W x 34.65'' H
Net weight: 88 lbs./40 kg
Gross weight: 96.8 lbs./44 kg
Maximum user weight capacity: 250 lbs./113 kg
Drive: Belt
Resistance: Manual magnetic, 8 adjustable levels
Frame: Steel
Handlebars: 2 sets (fixed & moveable)
Pedals: Large, textured, with a protective guard
Stride length: Not specified
Console/monitor: Basic, LCD non-backlit
Power: 2 AAA batteries (included)
Tablet holder: Yes
Water bottle holder: No
Transport wheels: Yes
Shipping
The BST800 Elliptical Stepper is shipped out in a box that weighs 96.8 lbs./44 kg with dimensions of 10.04'' L x 33.07'' W x 34.65'' H.
Amazon offers free shipping and delivers the product in a couple of days.
Assembly
The unit's assembly is straightforward because the complicated parts are preassembled.
So, you only need to attach the base stabilizers, the mast, the pedals, the handlebars, and the console to the core unit. This takes more than an hour to fully accomplish.
The tools needed for the assembly and an instruction manual that guides you through the process are included in the package.
Maintenance
The BST800 Elliptical Stepper doesn't need serious maintenance.
Simply make sure that it's kept clean at all times. Do not expose the console to heat, liquid, or moisture.
Inspect the machine before use for a loose or broken part and act accordingly if there is an issue.
Conclusion
The Body Power 2-in-1 BST800 Elliptical Stepper Trainer is specifically designed for home use. It is for those that wish to improve their physical fitness but are on a budget or lack the space for a workout machine.