The Marnur Recumbent Exercise Bike is one of the most affordable recumbent machines made for home use. Both young and the old can use it to keep fit at home.
It delivers low-impact workouts that help to burn calories and improve overall physical fitness.
The machine is sturdy enough to support a 300 lbs./136 kg maximum user weight capacity, and it integrates a manual magnetic resistance system with 8 adjustable levels.
It has a belt drive system that ensures smooth and quiet operation.
Click right here to have a peek at the Marnur Recumbent Exercise Bike.
The Frame and Construction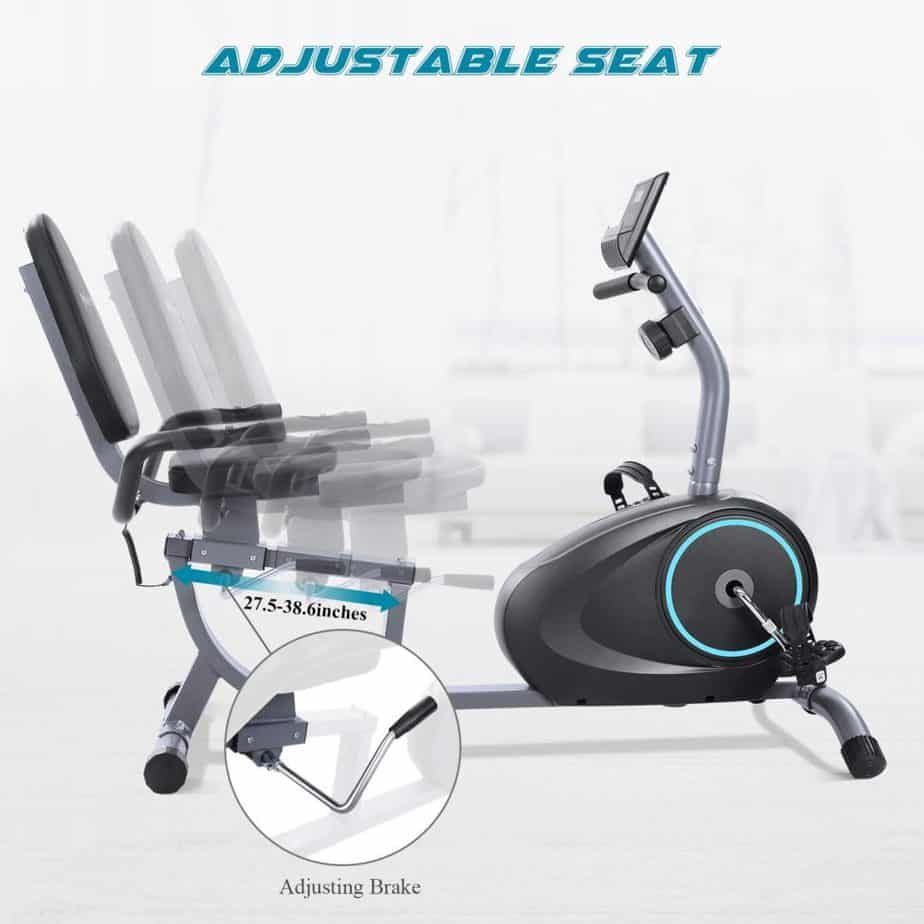 The Marnur Recumbent Exercise Bike has a solid steel frame that is coated with anti-corrosion gray paint and drive system coverings that are made of ABS material.
Its base framework features stabilizers that have rubber end caps for floor-friendliness. The rear stabilizer's end caps are polygonal in shape and adjustable so that you can balance the bike on a surface that is not so even.
Thus, its stability level prevents wobbling movement during intense workouts.
That said, you may use a rubberized floor mat to further boost its overall stability and to prevent sweat from spilling to the floor.
The recumbent bike is portable; it has transport wheels at the front base and only weighs 57.3 lbs./26 kg. Hence, moving it around the room or for storage won't be a problem.
Its overall assembled dimensions are 51.2'' long by 24.8'' wide by 37.4'' high. Differently put, it needs a workout area with the perimeters of 4'3'' length by 2'1'' width and with an additional extra clearance of 1-2′ on each side of it for easy access and safety.
Every user, including the elderly and those that are physically impaired, can easily mount and dismount the bike due to its step-thru design.
The Seat of the Marnur Recumbent Exercise Bike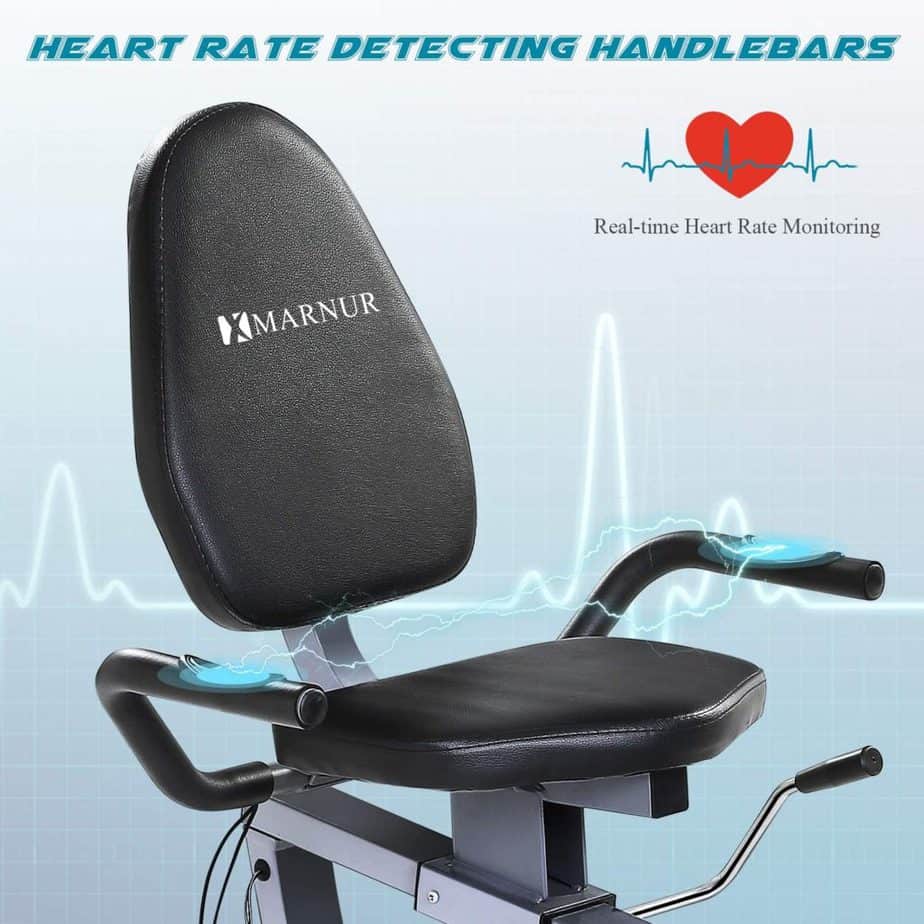 The Marnur Magnetic Bike has a large seat with a backrest that is cushioned and covered with a vinyl material. The seat dimensions are 10.6'' length by 14.2'' width, while the backrest dimensions are 11.4'' width by 14.9'' Height.
Hence, the seat provides comfort that allows you to train longer without feeling bored.
The seat is attached to a steel bar and it's 2-way adjustable; meaning, it could be adjusted horizontally backward and forward through the use of the adjustment lever at the right side of the seat. The adjustment takes only a few seconds because you can do so while seated.
Users with the inseams between 27.5''-38.6'' can be accommodated conveniently. In other words, individuals that are 6'5'' tall or less can utilize the bike.
The Handlebars
There are 2 sets of handlebars on the Marnur Recumbent Exercise Bike. One set is designated on the seat, while the other set is attached to console mast.
The handlebars on the seat have the EKG HR sensors on them so that when held during a workout your heart rate can be tracked and be transmitted to the monitor. This allows you to keep an eye and maintain your target heart rate at all times.
The slightly curvy handlebars on the front mast do not have the EKG heart rate sensors but are designed to provide an alternative arm position or posture. The 2 sets of handlebars are well coated with soft rubber foam that provides secure and comfortable grips.
In other words, you won't feel soreness, blisters, or slippage during a prolonged workout.
However, both are non-adjustable, but they are optimally positioned to be suitable for users.
The Pedals
The pedals on this recumbent machine are balance-weighted. They are large, and textured with adjustable safety straps, and are made of steel and durable nylon plastic.
Therefore, they are durable and can accommodate different foot sizes securely and comfortably. Your foot won't slip during an intense or vigorous pedaling.
For the record, the pedals only allow standard gym shoes to be used or barefoot.
The Drive
The Marnur Recumbent Exercise Bike is equipped with a belt drive system that comprises a durable belt, pulleys, cranks, and the 7 lbs./3 kg perimeter weighted flywheel.
The drive provides smooth and near-silent operation that permits you to have a flexible workout routine timetable. Simply put, you can work out even when the family or the neighbors are around without disturbing them.
Its operation won't interfere if you wish to listen to music or watch a TV show.
Also, the drive system doesn't need you to lubricate or adjust anything as opposed to a chain drive system.
You can diversify your workout and tone more muscle groups by pedaling in reverse because it's is bidirectional.
The Resistance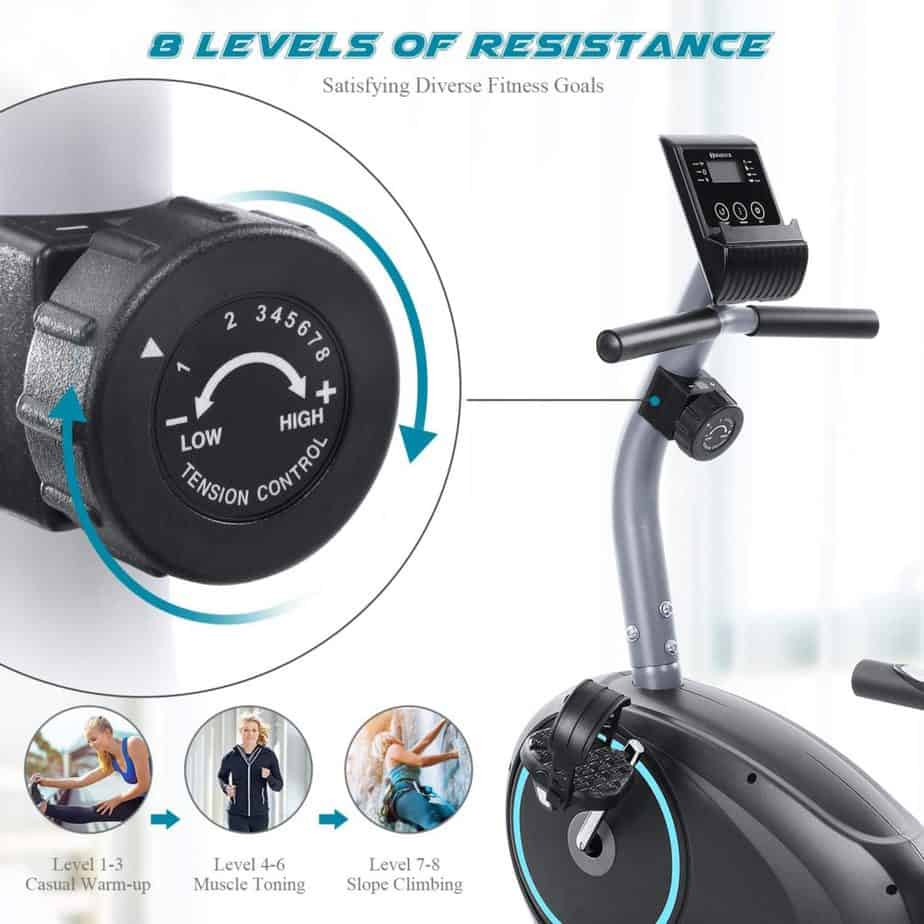 The Marnur Recumbent Bike has a manual magnetic resistance system with an internal mechanism such as a magnet.
Actually, the flywheel and the tension knob are also part of the resistance system.
Friction doesn't occur in the process of generating resistance, and consequently, no part wears out, and no part needs to be replaced.
Resistance is generated when the magnetic brake pad gets close to the flywheel and emits magnetic fields. While the intensity is determined by the closeness of the magnetic brake pad to the flywheel.
To increase or decrease the intensity of the resistance, simply turn the tension knob clockwise or counterclockwise, respectively.
There are 8 resistance levels that offer a wide range of intensities that are suitable for most users. Especially, those whose goals are to lose weight, tone muscle groups, and to improve the heart and lungs' health.
The Console
The unit comes with a basic console that features a non-backlit LCD monitor that displays workout stats such as Time, Distance, Speed, Calories, Odometer, and Pulse. Therefore, you can track your workout progress to stay focused and motivated.
The workout values are not displayed simultaneously due to the screen is small. They are displayed rotationally one at a time after every few seconds by the SCAN function. However, you can override this to set a certain workout value you prefer to display constantly.
The display is readable as long as it's being viewed in a room that is well-lit, otherwise, it will be difficult to view because it's not backlit.
There are 3 easy-to-use navigation buttons that include Set, Mode, and Reset.
The monitor is battery-powered. It needs 2 AA batteries which are included in the package.
To reduce the battery power consumption, the monitor automatically shuts down when there is no activity on the bike for a few minutes and it automatically turns ON when activity resumes.
Although, it is also possible to manually turn it ON/OFF by pressing any of the keys on the console.
Accessory
The recumbent magnetic bike has a tablet holder on the console. It can accommodate a smartphone or any sizable tablet device.
However, any device that is placed on it will potentially block the view of the monitor.
Storage
As aforementioned, the bike is compact, lightweight, and portable. This means it will be easy to store away.
A storage area with the perimeters of 4'3'' length by 2'1' width should be enough. You can easily move it by raising it from the rear so that the front base tips on the transport wheels.
Do not worry, it only weighs 57.3 lbs./26 kg.
Pros/Features Overview
It's very affordable
Durably constructed
It is easy to store away and it doesn't take too much space
Customizable to accommodate users of different heights and sizes
It supports a maximum user weight capacity of 300 lbs./136 kg
Friendly and adjustable base for stability
Its operation is smooth and quiet
The resistance system provides a range of workout challenges that allow users to improve their physical fitness
The LCD monitor allows you to track your workout progress so that you can remain inspired, and focused
Heart rate monitoring function included
Easy step-thru design enables users to easily walk in and out of the bike without any hassle
It provides low-impact cardio workouts that are gentle on the hips, the knees, and the ankles
Transport wheels for easy relocation process
Tablet holder included
Easy to assemble
There are 2 sets of cushioned handlebars that allow you to work out in different postures
The seat with a backrest is large and comfortable
The pedals provide optimal footing stability
Cons
No water bottle holder
The monitor is not backlit
Product Dimensions and Specifications
Length 51.2''
Width 24.8''
Height 37.4''
Net weight: 57.3 lbs./26 kg
Maximum user weight capacity: 300 lbs./136 kg
Inseam: 27.5''-38.6''
Seat: Large and cushioned
Seat dimensions: 10.6'' L x 14.2'' W
Backrest dimensions: 11.4'' W X 14.9'' H
Handlebars: 2 sets (seat & Front)
Pedals: Self-leveling, large, anti-skid with adjustable safety straps
Drive: Belt
Resistance: Manual magnetic, 8 adjustable levels
Monitor: Nonbacklit LCD monitor, tracks Time, Distance, Speed, Calories, Odometer, and Pulse
Power: 2 AA batteries (included)
Heart rate monitoring: EKG HR sensors on the seat handlebars
Tablet holder: Yes
Water bottle holder: No
Shipping
The Marnur Recumbent Exercise Bike is shipped out for free by Amazon upon purchase. It takes a couple of days to have it delivered.
Assembly
The assembly of the Marnur Recumbent Bike is straightforward as it comes with the major and complicated component preassembled.
You only need to attach the base bars, the seat/backrest, the handlebars, the pedals, the mast, and the console to the main core unit of the bike.
The tools needed for the assembly and an instruction manual that guides you through it are included in the package.
You should be able to be done within an hour or less depending on how good you are with your hands.
Maintenance
The bike needs to be kept clean at all times. It needs to be inspected before use for any part that may have loosened or broken to prevent an accident or further damage to it.
Conclusion
The Marnur Recumbent Exercise Bike is affordable and still gets you to work out for improved overall physical fitness.
It is of course without the bells and whistles but it has the basic features that could get you well on your way to achieving your fitness goals.