The Body-Solid Strength Tech EXM2500S Home Gym is a popular home gym with several workout stations. It is a well-built home gym that has a lot of features that could excite and help you fulfill your physical health goal.
This home gym made it to our top picks in the best home gym buying guide and the reason is clear.
Click right here to have a peek at the price and of of the Body-Solid Strength Tech EXM2500S on Amazon.
The Body-Solid Strength Tech EXM2500S has selectorized weights which means there is no need for the hassle of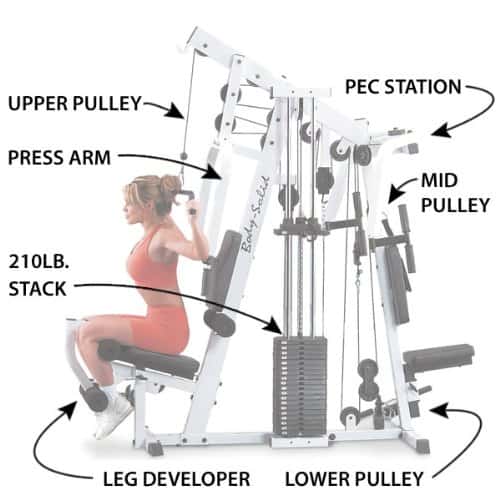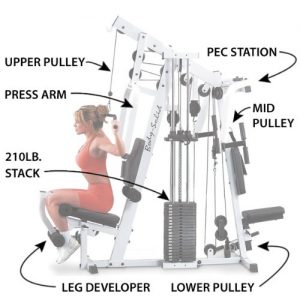 changing cables to increase or decrease the weight you intend to use.
All you need to do in this case is to just merely shift the selection key to the weight position you desire to workout with at any given time.
It is super multi-functional because you could do over 30 different exercises which are more than what you could get with any other home gym of the same price range.
It is named the ''Best Buy'' by Consumer Magazine. It is also a machine that operates smoothly with an adjustable seat that offers the right suitable best angle for optimal motion and workout.
Most individuals are concerned about durability and quality, well this machine has got that as well because it is made of 12-gauge steel that is finished with a powder coating that is also scratch-resistant, this means that your home gym will likely look new at all times.
The cables are made of military spec nylon that is capable to withstand 2,200 pounds weight. Therefore, your mind will be at rest because it has been reported that most home gym injuries or accidents are mostly as a result of broken cables.
The machine is integrated with thick DuraFirm pads that are meant to provide comfort and lumbar support.
Some Exercises Available
Leg extension and curbs
Chest presses
Ab crunches
Triceps extensions
Press-downs
Cable crossovers
Pectorals flies
Upper-Pulley lat pull-downs
Lower-pulley deltoids raise
Seated and bent-over rowing
Leg abductions.
Triceps extensions and more…
Product Specifications
83'' Length
51'' Width
83'' Height
Weighs about 420 pounds/190.5kg
210 pounds weight resistance
Over 30 exercises available
Lifetime warranty
Features/Pros Overview
It has an electrostatically-applied scratch-resistant finish
It has got up to 220 pounds of iron weights in 10-pound plate increment which is a selectorized system that eliminates the need for changing cables to increase or decrease weight.
It has got low, mid and high pulleys
Sturdy and very quality frame
It has got 6 workout stations that include press, lat pulldown, leg attachment, fly, low pulley, and mid-pulley stations.
There are over 30 exercises available
It has very durable pulleys with sealed bearings.
Seats are adjustable for maximum comfort during workouts
It has 2'' thick padding and durable upholstery on the seat and the back support for maximum comfort.
Moderately difficult to assemble with a great warranty
The Frame
This home gym has a small footprint of 83'' L x 51'' W that could fit in conveniently even in most apartments or rooms.  And it has a height of about 83'' that will also fit in rooms of at least 7 feet. The EXM2500S is not so large a home gym that is made with great quality to last and to fit in most rooms even though it could be close to the ceiling should the room be 7 feet in height.
Moreover, it is understandably heavy equipment, therefore, it must be delivered and assembled in the very room where it should be used. Otherwise, moving or relocating it could be an impossible task since it weighs about 420 pounds that is equal to 190kg. However, the advantage of this is that it is going to improve its sturdiness and stability.
The machine is of quality because it is made of steel tubing, 2 x 4'', 12-gauge coated with anti-corrosion paint that is tough to scratch. It has got 22 fiberglass pulleys that also have sealed ball bearings that will make them last.
Whereas the cables that are on the pulley are made of steel ropes covered in thin sheet PVC material, tested, and can withstand up to 2,2200 pounds weight. This is very reassuring given the fact that safety is very necessary especially when it has to do with humans in harm's way.
This unit lacks adjustable stabilizers at the base but due to its weight, it does not need them because the weight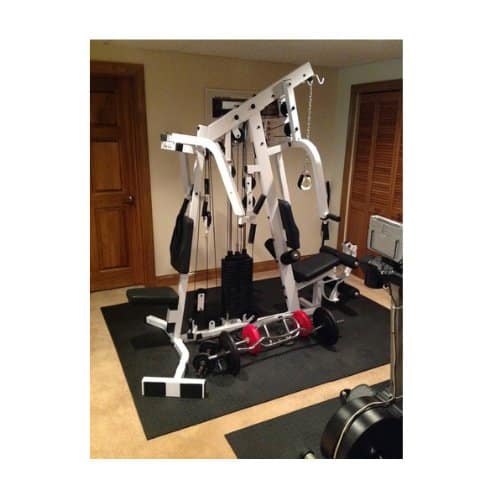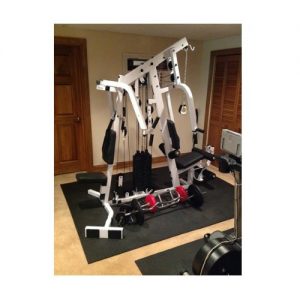 and the design make it very stable and sturdy just as aforementioned.
However, it is highly recommended to place it on a rubberized mat to preserve your floor and save it from any damage. Again, it is not designed to have it drilled to the floor but to be set on a mat and it will be just fine to be used safely.
It does have six workout stations with two seats that are made for chest press and pec fly station. The seats are well-padded and cushioned to provide maximum comfort including the backrests, although the backrests cannot be adjusted.
The chest press seat can be adjusted to seven positions high with half an inches in-between the positions. The seat's upholstery is made of a quality vinyl material that is black.
The machine comes with an ankle strap and an ab/triceps strap with two handles. There are foam rollers of about 4'' on the leg attachment station to provide the much-needed comfort during workouts.
Weight Resistance
The Body-Solid Strength Tech EXM2500S Home Gym is integrated with 210 pounds of weight with a cast-iron weight stack. There are approximately 21 weight plates of 10 pounds each.
The weight stack is not designed to be upgraded, however; some users do improvise by adding and tying one or two Olympic weight plates with something like a chain on the weight stack to increase resistance weight.
The WSA2-5 AND WSA5 are the optional adapter plates you can use to incrementally adjust the weight by 2.5 or 5 pounds.
The weight plates are labeled with the weight capacity in ascending order, from top to bottom with little stickers indicating the plate's weight that is delivered along with the unit. Most times the weight plates come black but sometimes in red.
The Workout Stations
As you may have already known that this machine has six workout stations; the chest press station is used to work on the pectorals, shoulder and of course the back muscle groups. It has single-grip handles that are covered with rubber foam for comfort.
The pec fly station targets the rear deltoids and the pectoral muscles. It is a bi-functional station that has dual overhead cams with six increments per arm for proper pre-stretch with the best movement.
The high pulley with a pulldown bar station is used for workouts that target the shoulders and the back.
Mid Pulleys station exercises work on the abdominals.
The low pulley station is used for one leg curls, seated rows, and any other exercises that involve the low pulley. The workout station is located under the seat of the fly station.
The leg developer is used to work on the leg muscles
The Cons
Assembling tools are not included upon purchase except for Allen keys.
The workout stations' weight ratios are not indicated
It would be rather difficult to relocate once it is fully assembled.
Leg press station is not integrated into this unit
Shipping, Assemble and Maintenance
The shipping cost of the Body-Solid Strength Tech EXM2500S Home Gym varies depending on the retailer you are purchasing from. Amazon usually ships all products for free. However, for a unit such as the home gym, may have some shipping policies you may want to know about because of the weight. Therefore, make sure you read the shipping policy for this product.
As for assembly, it is reported to be fairly and moderately difficult for an average person to assemble. You will need assembling tools such as socket wrenches, hammers, and Allen keys that usually comes with the box.
The home gym does not need any special maintenance as it is built with quality material that could last very long. The cables will not need any replacement anytime soon because of its high quality neither should the ball bearing because they are sealed from dust and alien bodies.
Conclusion
The Body-Solid Strength Tech EXM2500S Home Gym is, first of all, a very recommendable home gym that is made with quality in mind. Currently, 98% of Amazon customers give it thumbs up with a very impressive approval rating of 4.3 out of 5 as at the time this review was written.
It has got multiple workout stations of six where you can perform over 30 different types of workouts that target different muscle groups of the body. You could acquire this unit at a very reasonable price that most individuals think it is cheap.
So, our final word would be that the Body-Solid EXM2500S Home Gym is a highly sold home gym for your money. It also has a lifetime warranty that goes to show the level of confidence the manufacturer has over the quality of this product.
Body-Solid Strength Tech EXM2500S Home Gym Review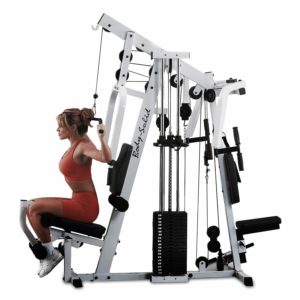 The Body-Solid Strength Tech EXM2500S has selectorized weights which mean there is no need for the hassle of changing cables in order to increase or decreas
Product Brand: Body-Solid
Product In-Stock: InStock