The Bowflex PR300 Home Gym has a power rod resistance based system just like the Bowflex PR1000, Bowflex Blaze, and the Bowflex Xtreme 2 SE. These home gyms are similar in features but then some have more features than the other and they also vary in dimensions and price as well.
The Bowflex Blaze and Bowflex Xtreme 2 SE are the upgraded versions of the Bowflex PR3000 while the latter is the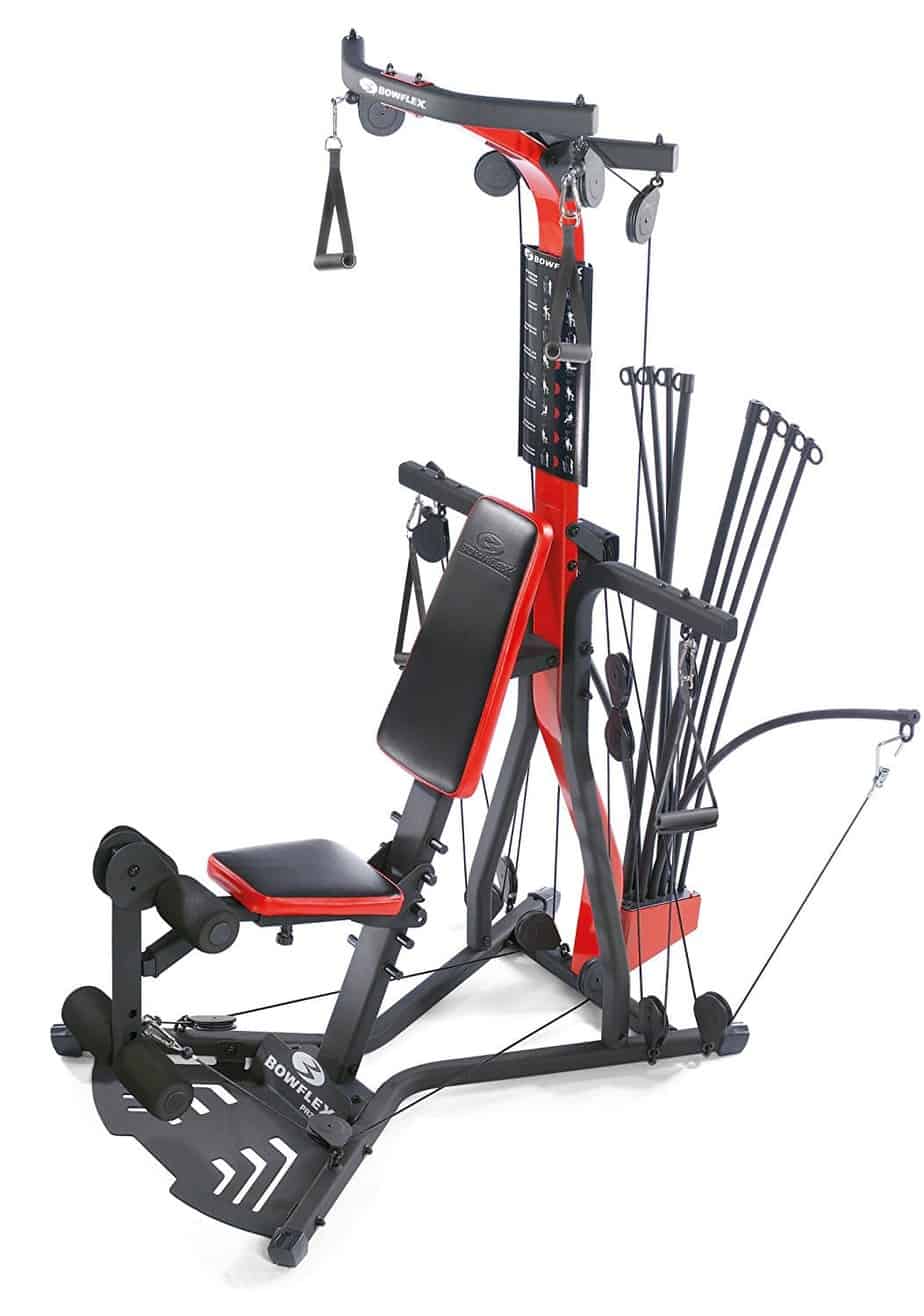 upgraded version of the Bowflex PR1000, that being said, the Bowflex PR3000 Home Gym has a standard weight resistance of 210 pounds and it is also upgradeable to 310 pounds.
This is the perfect machine that would help you achieve your fitness goals. It can help you to lose weight, improve muscle strength, endurance, and flexibility.
With this home gym, you can experience an uninterrupted workout because the pulleys are designed in a way that you don't need to change cables to perform a different form of exercise. This means there are sets of pulleys preset for different exercises. Therefore, you can keep your heart rate up consistently for maximum results.
Full body workout is eminent with the over 50 exercises that target all the major muscle groups in the body. Moreover, a rod-based resistance system is believed to have less stress on the joints and so an ideal home gym for those that are recovering from injury.
You will be able to perform exercises such as the Bench Press, Shoulder Shrug and Standing Low Back Extension for the upper body, and Standing Calf Raise and Leg Extension for the lower body.
For abdominal exercises, the Bowflex PR3000 provides Seated Abdominal Crunch that will sculpt and tone the Abs muscles.
<<<Click right here to purchase the Bowflex PR3000 Home Gym at the best price available>>>
The Frame and Construction
The frame of this home gym is made of steel tubing and well constructed to be sturdy. It offers outstanding stability and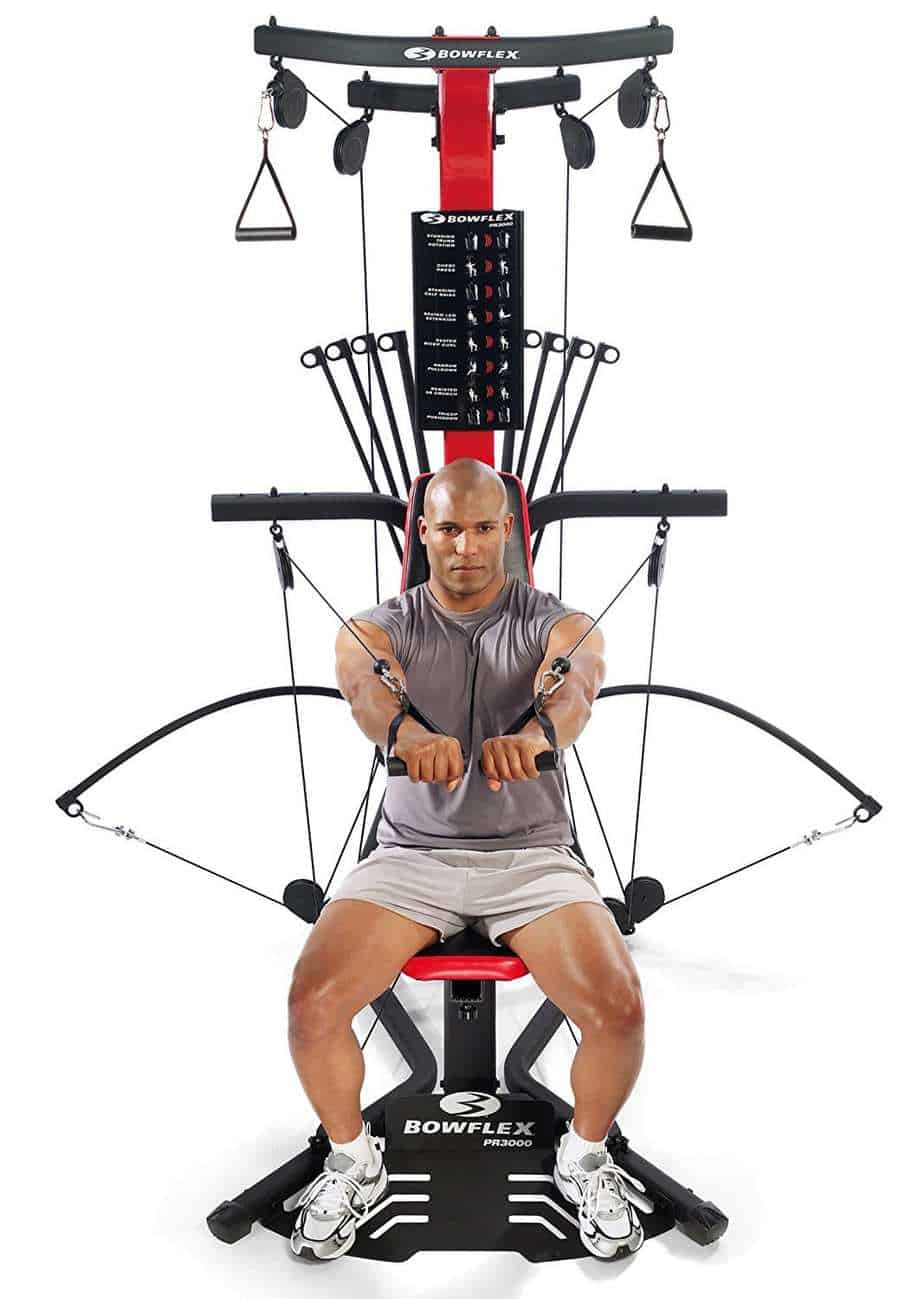 comfort due to its overall design.
It has a well-padded and cushioned seat, backrest, and rollers that are covered with a high-quality vinyl material that will last a very long time.
The unit features Rear Lat Cross Bar, Power Rod Unit, Rod Box, Squat Pulley Frame, Standing Platform, Leg Attachment, Seat Assembly, Chest Bar, and Lat Cross Bar with Pulleys. These are carefully chosen features that make this unit formidable and value-oriented.
It is a compact machine with a footprint of 64'' long by 41 inches wide while the height is 82 inches. However, it will require a larger workout area mainly because of the resistance rods that spread out to the sides taking up space. The recommended workout space should be at least 100 inches long by 78 inches wide to enable a user to perform exercises such as the leg extension correctly without restrictions.
It supports up to 300 pounds maximum user weight and weighs about 157 pounds.
Due to the size of the footprint and the weight of the unit, its stability is further strengthened and a user will not experience any sort of movement or wobbling during even vigorous workouts.
Considering the height that is 82 inches that means it will require being assembled in a room with a ceiling height of at least 7 feet to fit properly.
The front and the rear bases feature rubber capping on each point which will further stabilize the home gym and prevent damage to the floor. However, it is advised to assemble the unit on a level and solid floor for optimal performance and comfort.
The seat and the leg attachment are removable and necessary when exercises such as the kickbacks, squats, or triceps pushdowns need to be performed. However, the overall design of the home gym does not allow the frame to fold, which means it is not foldable.
The Pulleys, Cables, and Handgrips
This home gym comes with several sets of pulleys which make performing more exercises possible. Each set of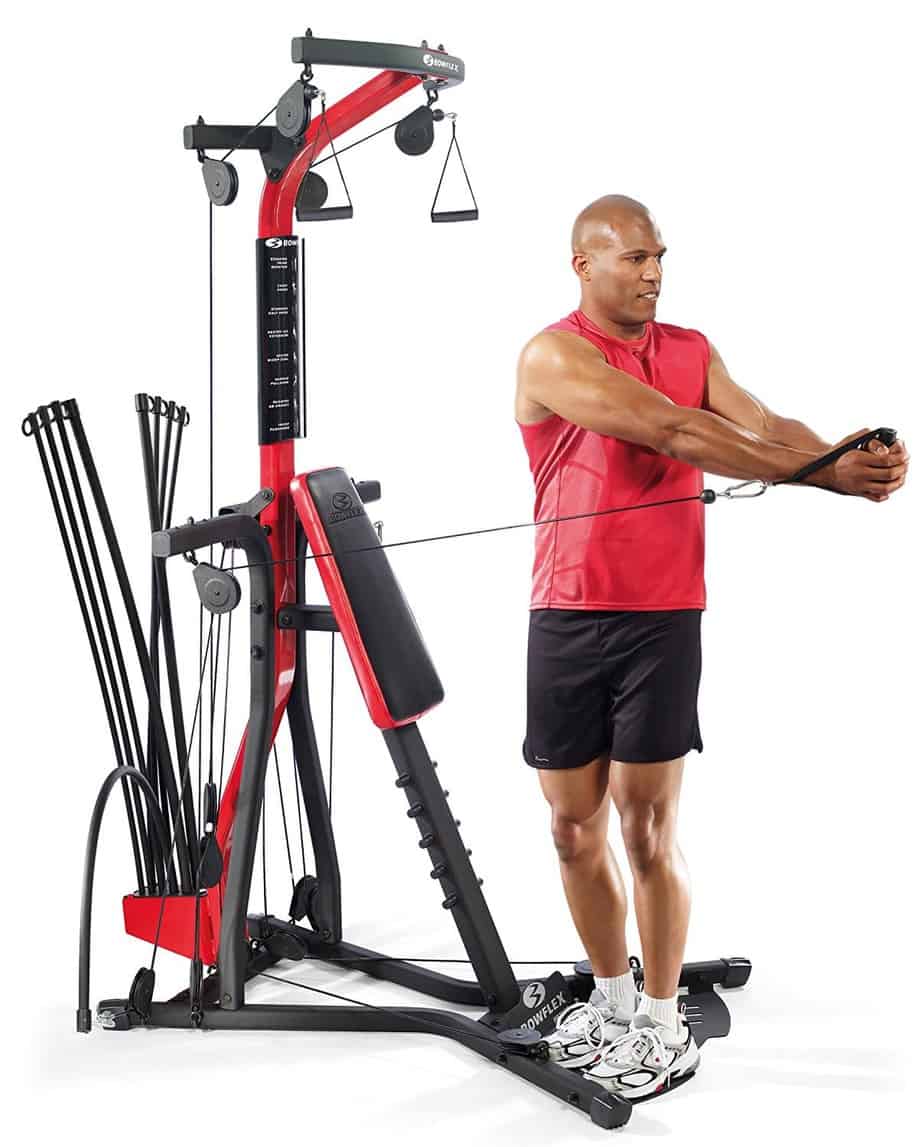 pulleys is designed for specific exercises thereby eliminating the need to change cables each time a user wishes to perform a different exercise.
They are made of durable nylon material with high quality sealed ball bearings that will guarantee longevity and can rotate up to 360 degrees making it easy for users to perform exercises without experiencing limitations.
The cables that come with the home gym are made of high-quality steel material that is sheathed in a thin rubber coating finished with durable hooks for smooth and consistent operation.
Interestingly, it comes with the leg attachment as part of the total package and not optional.
It is also important to mention that it has a chart placard on the lat tower which a user could use for a quick reference regarding exercises.
Resistance System
The Bowflex PR3000 Home Gym has a power rod resistance based system which is similar to other Bowflex home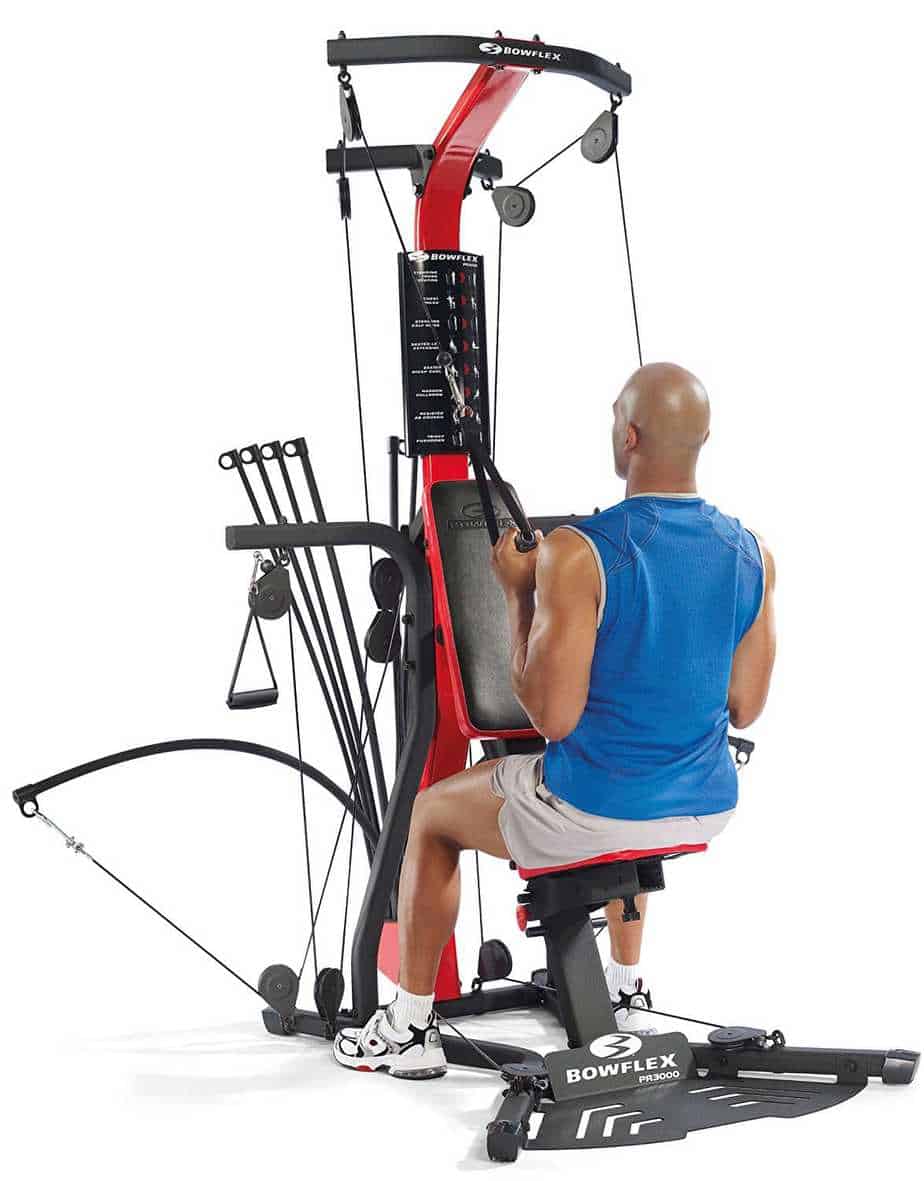 gyms. They are made of composite material that is covered in a protective black rubber coating.
It does not allow the use of free weight or dumbbells to increase the weight, however; it is upgradeable to 310 pounds.
If you choose to upgrade 1 pair of 50 pounds resistance rods will be added to your package.
On each side of the unit are 5 power resistance rods with weight levels of 5, 10, 10, 30, and 50 pounds when summed up they become 105 pounds then multiplied by 2 that would be the standard maximum resistance weight of 210 pounds.
The minimum weight resistance level is 5 x 2 pounds while the maximum is 105 x 2 pounds.
It is very easy to use and adjust the resistance levels. This could simply be done by using the cable and the anchor to hook up the rod cap you wish to use. If you want to use 5 x 2 pounds just hook up the 5-pound rod cap with the cable and hook, but if you wish to use let's say 25 x 2 pounds resistance just hook up the 5, 10, and 10 pounds together to the cable hook and do the same on the other side.
So, that means you have to use several resistance rods to achieve greater resistance levels. When you are hooking multiple rods to the cable bend the closest resistance rod to the cable hook and hook it up and then go ahead to up the next closest resistance rod.
These resistance rods are under warranty of 7 years.
Handgrips Accessories
The Bowflex PR3000 comes with these handgrips, Standard Grip, Hand Cuff Grip, Ankle Cuff Grip, Foot Grip, and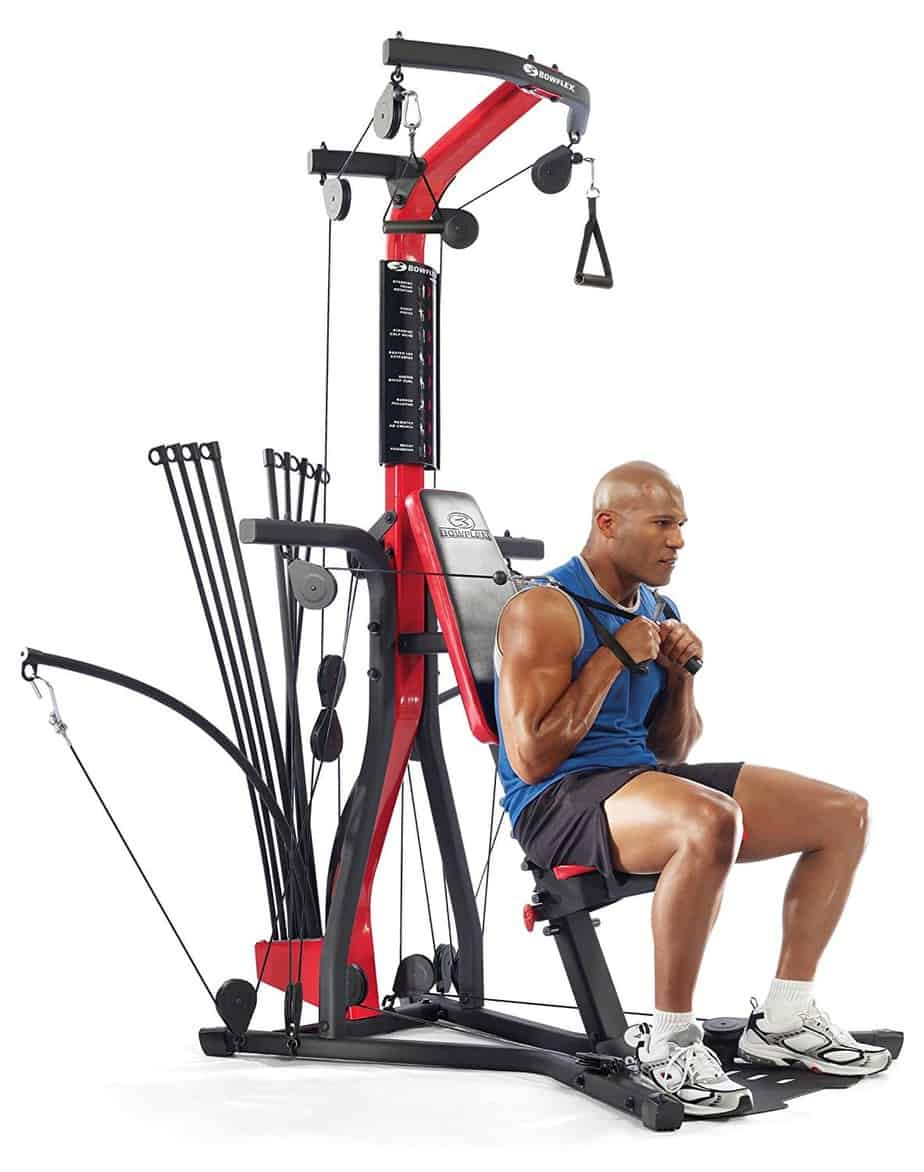 Shoulder Grip. They are mainly for the hand, ankle, or wrist. Attach the pulley cable clips to the D-rings on the handgrips to attach them to the cables.
Standard Grip
Most of the exercises are performed with the Standard Handgrip. To use it, simply grasp the grip and cuff together to form a grip without inserting your hand through the cuff portion. This handgrip is also used for Hammer Grip exercises.
Hand Cuff Grip
This is mainly used for exercises such as the shoulder raises or any other exercise where your palm is facing down.
Ankle Cuff Grip
This is meant for you to insert the foot or ankle and tighten the grip back toward the cuff. Best for exercises that strengthen the glute and hamstrings.
Foot Grip
Just like the Ankle Cuff Grip but this is meant to rest on the instep of your foot.
Shoulder Grip
The shoulder grip works on the abdominals; to use it, simply spread open the cuff and slide the grip onto your arm, tightening the grip on your shoulder by pulling the handle toward the cuff.
Approval Rating
The Bowflex PR3000 has an impressive approval rating that suggests it is recommendable.
We usually look at the approval rating of the products we review to get the overall idea of how the product is doing in the market and how it's being received by users. This way we can have a clear perspective of the product while we do the in-depth research that will ultimately help us to come up with a good review such as this.
You may click right here to read the customers' reviews and approval ratings on Amazon.
Pros/Features Overview
It is high quality and sturdy home gym
It features sets of pulleys that are made of quality nylon with sealed ball bearings
No need to change cables to perform a different exercise
It has over 50 exercises available
It comes with leg attachment and lat tower
The seat, backrest and the rollers are well padded with a thick cushion for optimal comfort
It is upgradeable to 310 pounds
It has a power rod resistance system that is gentle on joints than weight stack home gyms hence making suitable for users that are recovering from injury
It has a standard 210 pounds maximum resistance weight
It comes with accessories such as the Standard Grip, Hand Cuff Grip, Ankle Cuff Grip, Foot Grip, and Shoulder Grip
Offers full-body workouts that include chest exercises, Arm exercises, Ab exercises, Shoulder exercises, leg exercises, and back exercises.
Easy to assemble
Cons
Usually, the downside of power rod resistance-based home gyms is the rods. They lose elasticity over time of use and that will result in a drop of the original weight the power rods suppose to generate.
Cannot perform a leg curl
Product Dimensions and Specifications
64'' Length (footprint)
41'' Width (footprint)
96'' Length (Workout Area Required)
78'' Wide (Workout Area Required)
82'' Height (Workout Area Required)
Standard Weight Resistance is 210 pounds
Over 50 exercises available
Supports up to 300 pounds maximum user weight
Weighs about 157
Warranty
1 Year on Frame
7 Years on Power Rods
60 Days on Parts
Shipping, Assembly, and Maintenance
Shipping
The shipping cost of this machine varies because of different retailers' shipping policy, however, Amazon provides free shipping and usually delivers within 3 to 4 days of order.
Assembly
To assemble the Bowflex PR30000 Home Gym is not difficult and can be assembled in no time if you are skillful with your hands otherwise might take a long time to assemble.  It could take about 45 minutes to have it all assembled but if you are not good at fixing stuff then it could take you up to 3 hours more or less.
It comes with a well-detailed assembly manual that is designed to walk you through the process without hassle.
Besides, it comes with some assembling tools as well.
Maintenance
Always inspect the machine and look out for any worn or loose components before use and fix them if there are any. Do pay close attention to the cables and their connections and make sure everything is alright.
When you are not using the home gym endeavor to disconnect the cables from the power rod unit and use the binding strap that comes with the machine and bind the rods together at the top. You may also place the cables and the grips through the strap to keep them out of the way.
This is a safety measure that must be observed, it is important to avoid an accident that might cause serious injury.
Aside from this, always clean the home gym from dust and sweat as a normal routine.
Download Owner's Manual and Assembly Manual
Conclusion
The Bowflex PR3000 Home Gym is a reasonable machine that is sold at a value-oriented price. It is affordable when compared to other home gyms that provide the same workout value.
This machine will be an excellent option if you are interested in adding a power rod resistance-based home gym to your home, especially if this is within your budget as well.
With it, you can lose that weight, improve strength and endurance.
If you have any questions please do not hesitate to ask and we are going to respond promptly.
Bowflex PR3000 Home Gym Review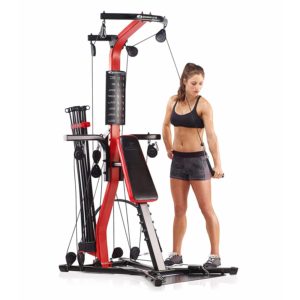 The Bowflex PR300 Home Gym has a power rod resistance based system just like the Bowflex PR1000, Bowflex Blaze, and the Bowflex Xtreme 2 SE.
Product Brand: Bowflex
Product In-Stock: InStock