The Marcy Diamond Elite Smith Cage is yet another home gym from the stables of Marcy.
Marcy has been around for decades if not over a century inventing and building fitness equipment. They have built a reputation for themselves with every product they manufacture and that includes the Marcy Diamond Elite Smith Cage.
This home gym is a complete package for full-body workouts. No extra accessory or equipment is required. It has got features such as the press bar with sealed bearing, a dual-function leg developer, high cable crossover, low pulley, with footrest, free weight squat rack, and more.
If offers the opportunity to work out with the conventional barbell and deadlifts, unlike the Marcy MWM-990 Home Gym. It is an ideal home gym for weightlifters and professional bodybuilders.
This is an all-in-one workout station that could make you rip off graciously.
Click right here to have a peek at the price and of of the Marcy Diamond Elite Smith Cage on Amazon.
The Frame
The frame of the Marcy Diamond Elite Smith Cage is made and constructed innovatively with steel tubing. The frame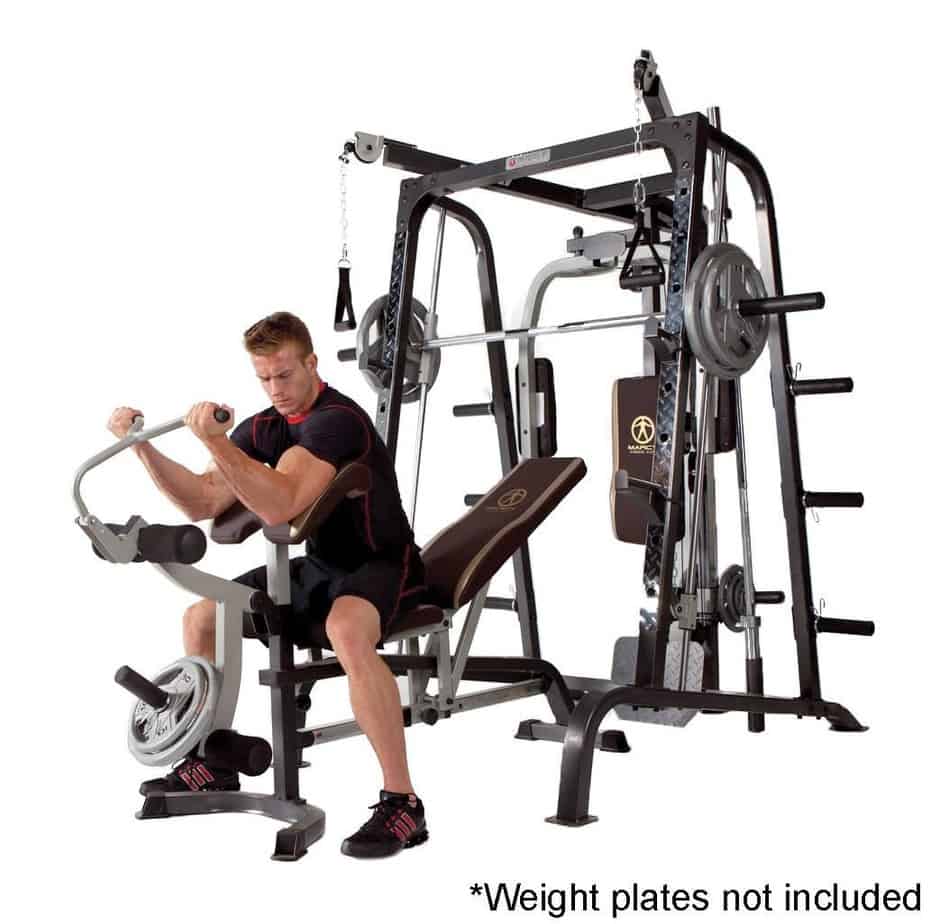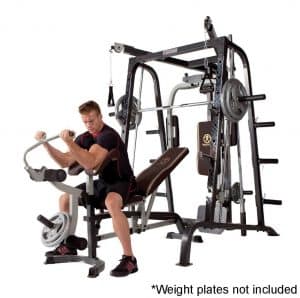 is further fortified with a diamond finish and anti-corrosion paint to prevent any sort of rust.
The design and the steel material made it durable and sturdy, strong enough to support up to 600 pounds equivalent of 272 kg of total weight.
The home gym is so heavy that it doesn't need to be screwed to the floor. However, it may still be screwed if you want. But again, that won't be necessary because the welded steel base bars and the weight are enough to it stable.
Although, it is advised to use a rubber mat underneath it to prevent damage to the floor.
The Bench
Its bench is detachable and is not connected to the cage. It is made of the same quality steel tubing as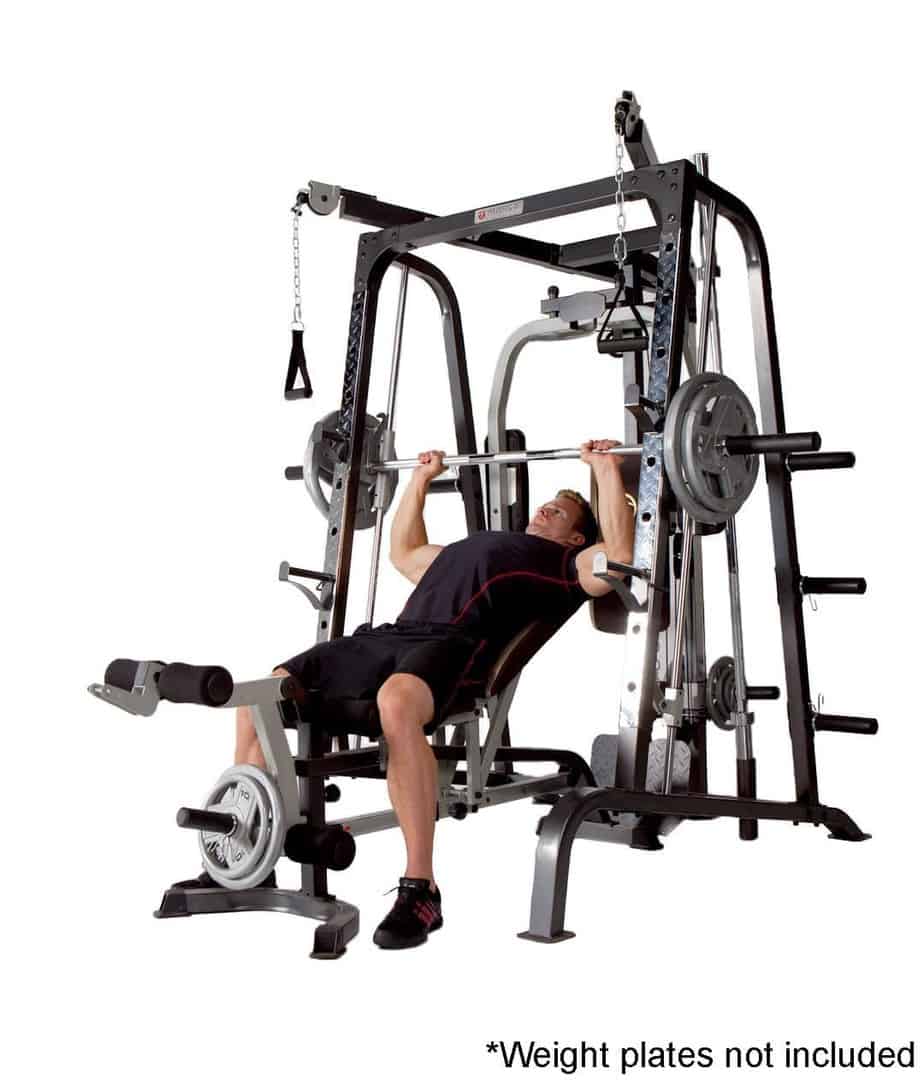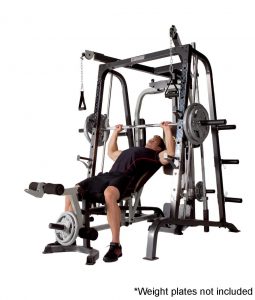 the frame. You can easily position the bench wherever it pleases you during a workout.
The bench can be adjusted to a reclining position that is a little bit below 180 degrees and of course to an incline and horizontal position.
The bench is well padded with foam and with very high-quality upholstery that offers great comfort. To further make sure that your workout is comfortable, the preacher pad is also padded with foam.
So also the oversized 6 roller pads integrated to the leg developer station attached to the bench are well padded to provide optimal comfort during curls and leg extensions workouts.
The pulleys are 3.75 inches in diameter and made of high-quality heavy-duty nylon material with sealed bearings that are designed to last long. The cables are 2000 pounds strength steel ropes that are durable and more than capable to withstand even the maximum weight of the machine.
It has got a press bar that features sealed linear bearings that guarantees consistent and smooth glide for press exercises. As a safety system for the bar, there are 1'' guide rods to the side of the frame.
It is possible to use an independent bar for presses or squats workout since the home gym integrates a Smith Cage.
Product Specifications
Total assembled weight: 237 pounds/ 107.5 kg
Assembled dimensions: 95'' L x 79'' W x 86'' H
Maximum weight on the rack: 600 pounds/ 272 kg
Maximum weight on leg developer: 100 pounds/ 45 kg
Maximum weight on Lat Pull and Cross-Over: 200 pounds/ 90.7 kg
Maximum user's weight (bench): 300 pounds/ 136 kg
Over 100 exercises available
Olympic weight plates required
Features/Pros Overview
The frame structure is designed in a seven-degree slant to accommodate upper and lower body natural movements
It has 3.75'' nylon pulleys with sealed ball bearing
It is an all-in-one home gym training station
It has got a well-structured base that enhances stability
It has got safety stoppers and adjustable catches
It has dual action leg developer integrated with six oversized pads and row/curl bar
It has an adequate pivot point on leg developer for muscle isolation
It comes with lat bar, shiver bar, ankle strap, triceps rope, and chrome row handle
It has a non-slip diamond plated foot brace for row exercises
Quiet operation
There are over 100 possible workouts available
Cons
This may not be a great choice for those that have limited space because it requires enough space.
Unfortunately, the weight plates are not included upon purchase of the home gym, you have to buy them separately.
Warranty
Shipping, Assembly, and Maintenance
Shipping of the Marcy Diamond Elite Smith Cage is usually delivered in more than one box and may arrive separately. They arrive in 3 boxes in these dimensions: 84'' X 20'' X 7.5'' 210 pounds, 44'' x 21.5'' 8'' 108 pounds, and 60.5'' x 24'' x 7'' 77 pounds. The shipping cost depends on the retailer you are purchasing from but Amazon ships the product for free.
Assembling could take up to 6 to 10 hours depending on how dexterous you are. Some would even suggest hiring an expert to do it for you. But if you must do it yourself you can. Just make sure you leave out the bolts and nuts loose until you finish fixing the parts together before tightening them. There is also an instruction manual that can walk you through the process of the assembly.
To maintain the Marcy Diamond Elite Smith Cage you have to grease the ball bearing with light oil.
Conclusion
This home gym has received very many positive Amazon customer reviews that say it all. Its price is great for the value you are going to get in exchange. This is indeed for folks that intend to build that body they have always desired and stay healthy.
Marcy Diamond Elite Smith Cage Review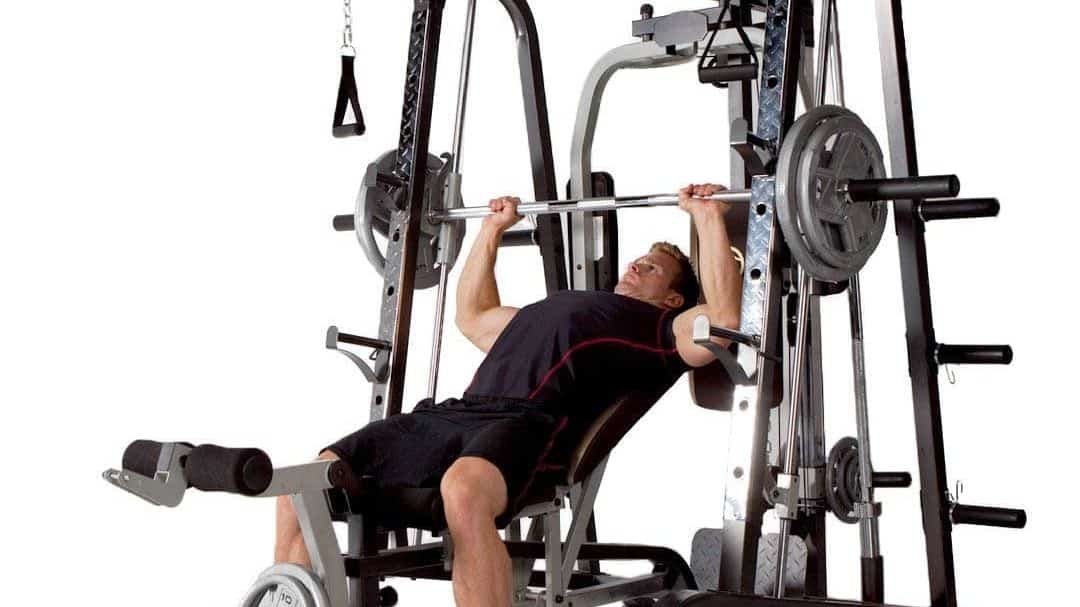 The frame of the Marcy Diamond Elite Smith Cage is made and constructed innovatively with steel tubing. The frame is further fortified with a diamond finish
Product Brand: Marcy
Product In-Stock: InStock