The Bowflex PR1000 Home Gym provides you the opportunity to build up a body that is ripped. When you think of strength training, think of Bowflex PR1000 because it has got 30 strength exercises plus a built-in rowing station designed to help you work on the arms, chest, back, shoulders, and of course the lower body.
It has up to 210 pounds of Power Rod resistance to further make your workout more intense.
It is equipped with a triple-function hand grip for lat pull-down, a horizontal bench press, and four-inch upholstered roller cushions for leg extension and leg curl workouts.
As at the time of writing this review, this unit has a very good approval rate on Amazon.
Click here to have a peek at the price and of of the Purchase the Bowflex PR1000 on Amazon
The Frame
This machine is made for users less or up to 300 pounds/ 136 kg in weight. The frame is made of durable steel and it's coated with anti-corrosive paint that prevents rust.
The unit is large and will require a little bit of space. Its overall assembled dimensions are 84'' L x 38'' W x 81'' H. It could fit in a room with 7 feet ceiling height and it needs extra clearance of at least one 1-2′ around it. This is important for the free movement of the resistance rods and of course for safe and convenient workout experience.
The home gym's base features 2 big and 1 small stabilizers that promote floor-friendliness and maximum stability.
Just like most home gym systems, the Bowflex PR1000 Home Gym is not designed to be moved around after assembly because it does not even have transport wheels. Therefore, make sure it is assembled on the spot it is going to be utilized to avoid the need for relocation.
The Bench
The bench of this unit is made of quality leather upholstery with 2'' thick foam to maximize comfort. It is also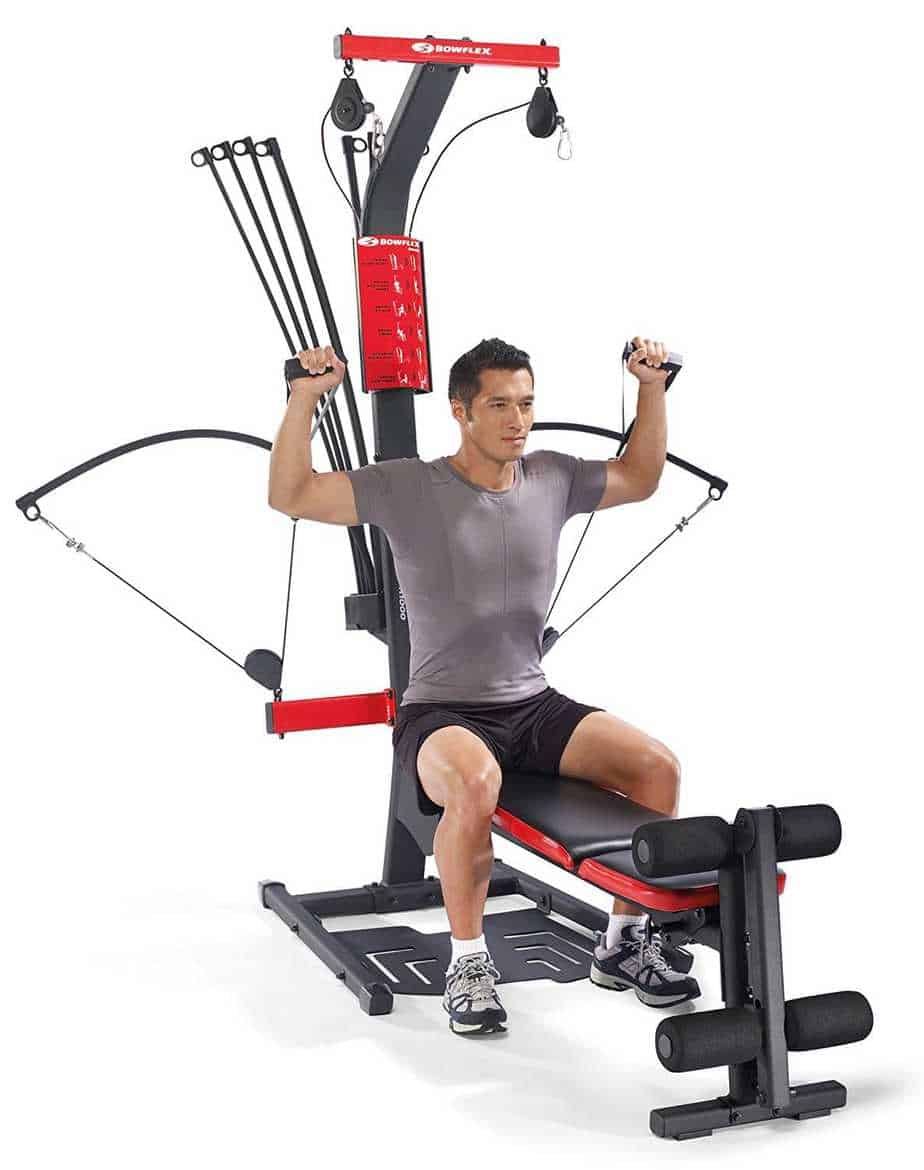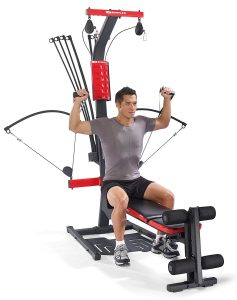 adjustable to 45 and 180 degrees and the backrest can be detached from the seat, and this is most necessary when you need to perform rowing exercises.
The machine offers strength and cardiovascular exercises as well.
It is possible to perform a rowing exercise which is often used as a warm-up before embarking on strength training.
Rowing exercise and leg presses are made possible by the roller system (which consists of a sealed ball bearing for long lifespan) that is integrated into the seat so that it glides on the main horizontal bar of the frame.
Through a lock pin, the seat can also be locked into the bar in various positions.
The Leg Attachment
The leg attachment of the Bowflex PR1000 Home Gym is covered with about 4'' cushions for optimal comfort to the legs during leg extensions and curls workouts.
The Cables
The cables are made of steel (which makes them very durable) and they are responsible for the connection of the grips and resistance rods.
The Rings and Hooks
The Rings and Hooks on this home gym system are made of steel coated with a chrome finish that is meant to prevent rust. They can support a tremendous weight of force without having to worry about breakage.
The Pulleys
There are several sets of pulleys available on this system just as you should expect. These pulleys are made of industrial heavy-duty urethane material with quality ball bearings while the handgrips are covered with rubber-like foam to increase comfort during exercises.
These handgrips are multi-functional because it could be used for standard grips, cuff, and foot grips, and an accessory like the leg press belt is also included which could also be used for other workouts.
The Resistance System
The resistance system of the Bowflex PR1000 is a unique one. It is made up of rods and cables that could be hooked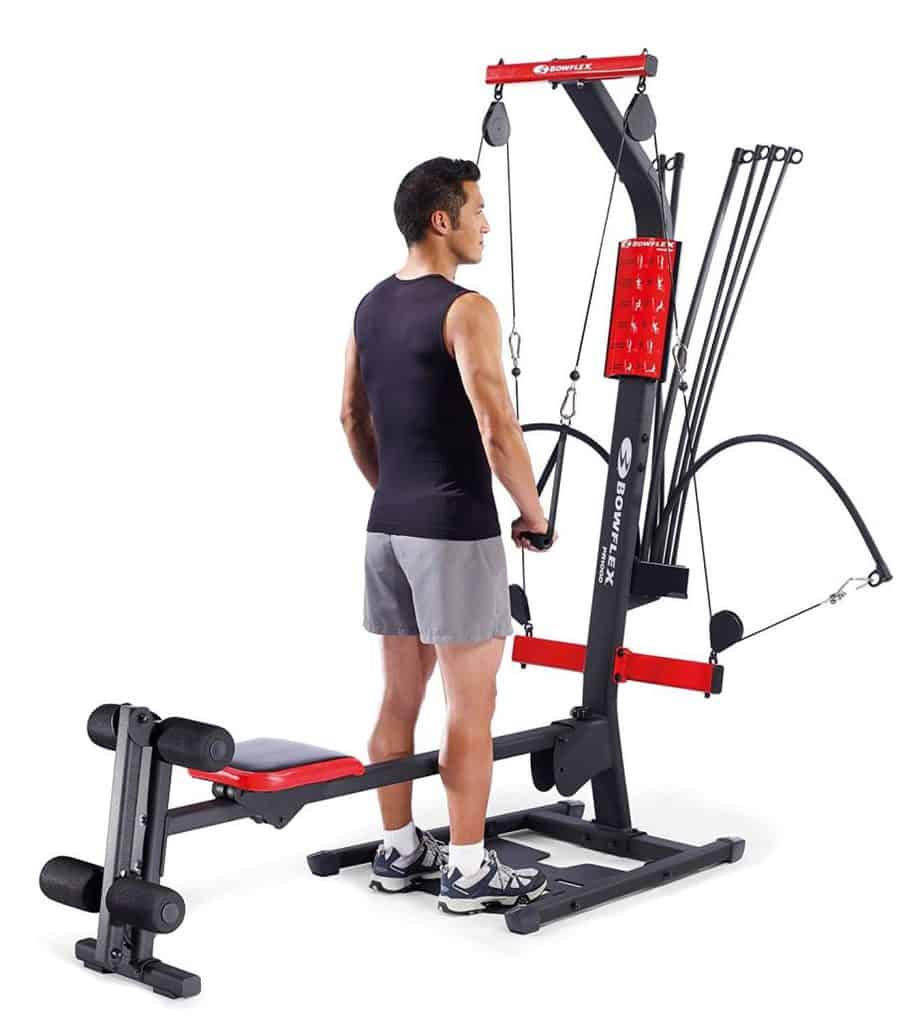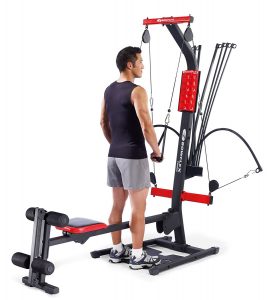 up on any of the rods depending on the level of resistance you want.
Typically, the rods are the source of resistance. These rods are strong and flexible that they cannot break during workouts. They are coated with rubber material and holes at the tips where hooks can be anchored on them.
There are several resistance rods for each side of the body. To generate resistance, a set of rods is used at a time. The set of rods can generate different levels of resistance.  They can generate as little as 5 pounds of resistance to up to 210 pounds.
Exercises Available
There are 30 exercises available that target the arm, abdominal/abs, back, chest, leg, and shoulder.
Specifications
Maximum User: 300 pounds/ 136 kg
Assembled weight: 131 pounds/ 59.4 kg
Assembled dimensions: 84'' L x 38'' W x 81'' H
Resistance System: Power Rods
Standard Weight Resistance: 210 pounds/ 95 kg
Warranty
1 Year for Frame
5 Years for Rods
60 Days for Parts
Feature/Pros Overview
The frame is foldable
Very sturdy home gym system
The leather bench is durable
The bench has 2'' thick cushion for optimal comfort
The rollers are covered with 4'' upholstery cushions for optimal comfort for leg extensions
It has a maximum of 210 pounds resistance
It has got triple-function handgrips
It has gliding seat for cardiovascular rowing exercises and leg presses
It has a unique resistance system of Power Rods that does not require weight to generate resistance
There is a sticker with several types of workouts that could give orientation to a user.
It has got up to 30 exercises
The bench can be adjusted to two main positions of 45 and 180 degrees.
The handle grips are versatile in that it can support three types of grip placements
All the moving parts have quality ball bearings
Cons
First, the resistance system cannot be officially upgraded to more than 210 pounds weight, even though I have seen someone who has upgraded to 410 but at owners' risks though.
There is also the tendency that over time the Power Rods may lose their elasticity and initial resistance
And obviously, the 5-year warranty on the rods doesn't cover wear and tear and so you will have to foot the bill for replacing any of these rods that shows any sign of wear and tear.
Shipping, Assembly, and Maintenance
The shipping cost of the Bowflex Home Gym depends on where you are purchasing the unit from as different retailers have their unique shipping policies.
However, Amazon usually ships this product for free and it comes with these shipping dimensions 54'' L x 34'' W x 9'' H and weighs about 131 pounds and should require 2 persons to carry to the spot of assembly.
Assembling the machine is not difficult by the accounts of those that have assembled it. It can take up to 2 hours to completely assemble it. Unfortunately, tools for assembly are not included and you will need wrench and screwdriver for the assembly and it is accompanied by a detailed instruction manual that will help you put it together.
Maintaining the unit is not rocket science. All it requires is to keep it clean by wiping it periodically and check and make sure that the gliding seat is free of dirt.
Conclusion
The Bowflex PR1000 Home Gym is an ideal home gym for many obvious reasons; no wonder folks that purchased it are satisfied with what they got. Ordinarily, you can hardly find any good thing without some flaws or downside but the cons of this unit are not a ''deal-breaker'' because there is so much value to get in return for what you would be paying for it.
Bowflex PR1000 Home Gym Review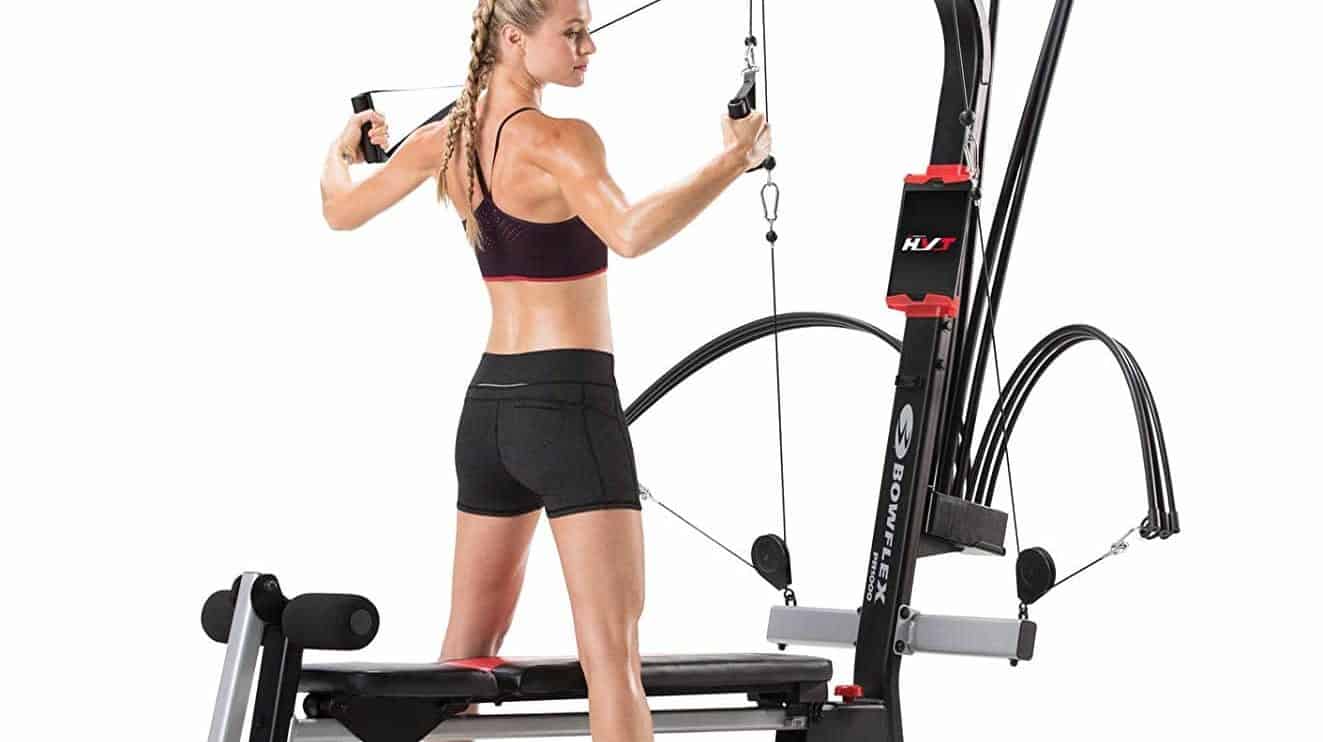 To be honest, the Bowflex PR1000 Home Gym is certainly the way to start off building that body with ripped muscles.  When you think of strength training,
Product Brand: Bowflex
Product In-Stock: InStock