The Schwinn MY16 830 Treadmill is similar in features with the ProForm 705 CST Treadmill, the reborn. Except that the latter has a bigger running surface, supports a slightly higher maximum user weight capacity, and it is iFit and Bluetooth enabled.
Nevertheless, the Schwinn MY16 830 Treadmill is slightly cheaper and has a SoftDrop deck folding system that allows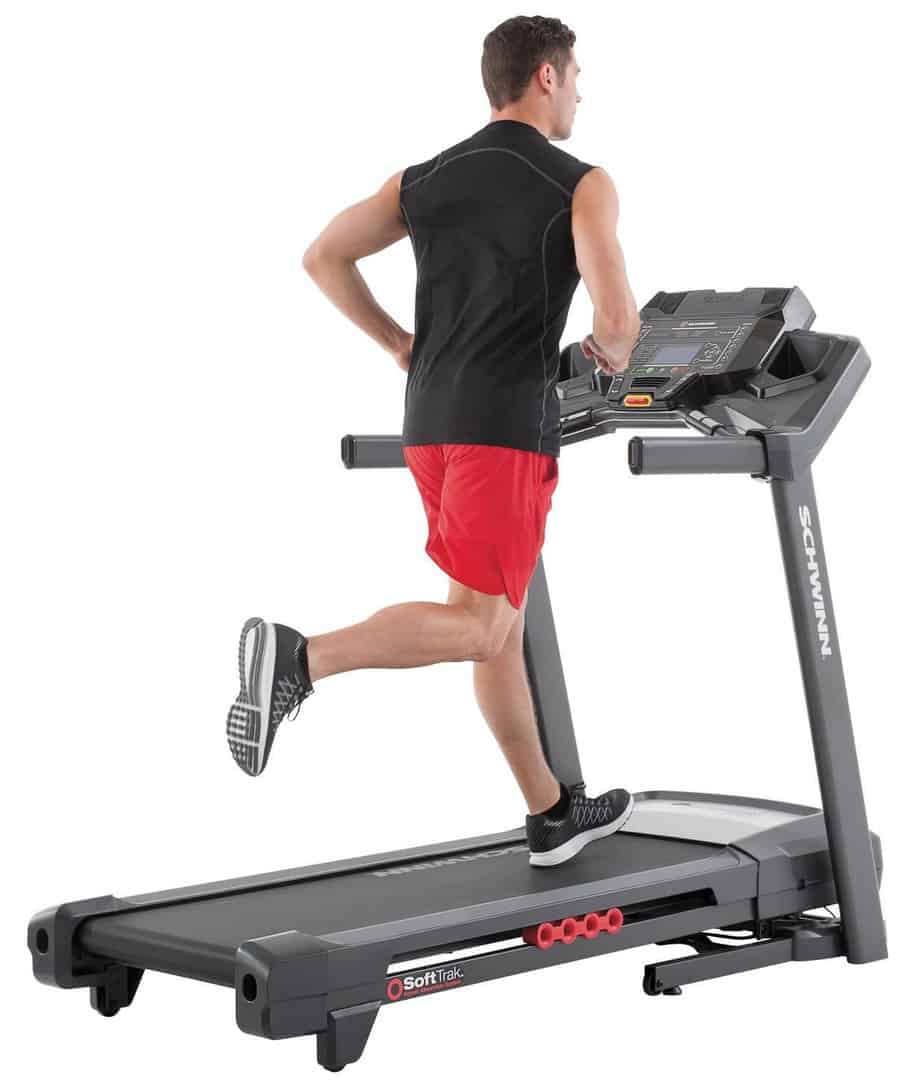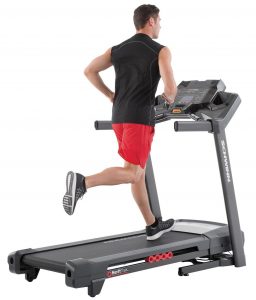 the user to fold and unfold the treadmill without the risk of dropping it.
This treadmill is the 2016 version of Schwinn 830 Treadmill which was launched in 2013 just as the Schwinn 870 MY17 Treadmill is the 2017 version of the Schwinn 870 Treadmill.
Usually, when there is another version of certain model chances are that the newer version will be upgraded with extra features than the previous.
Between the Schwinn MY16 830 Treadmill and the Schwinn 830 Treadmill, there are differences.
But if you have not noticed, the newer version happens to be slightly cheaper than the older version, which is ironic because the newer version has more features.
This treadmill provides quality and useful features that are geared toward helping the user to realize fitness goals at an affordable price. It is a mid-range treadmill that is best for walking, jogging, and light running workouts.
It is important to note, this is not the perfect treadmill for folks that wish to perform serious running because the running surface is slightly small and the motor capacity may not withstand prolong high-speed running exercise requires.
<<<Click right here to purchase the Schwinn 830 MY16 Treadmill at an affordable price>>>
The Frame
The Schwinn 830 MY16 Treadmill is designed for home use with features tailored for that purpose.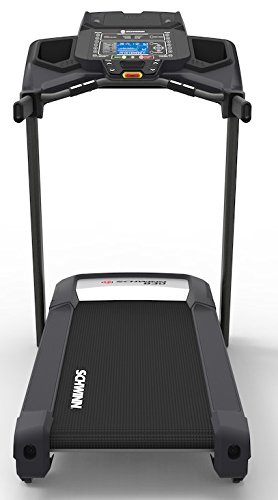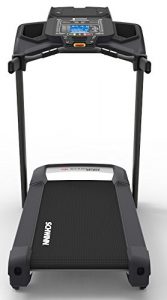 Even though it is designed for home use, it has a solid and sturdy built that is closer to the commercial-grade model. The frame is made of heavy-duty steel that could last forever and the overall weight is considerably heavy. It weighs about 200 pounds/ 91 kg when fully assembled and supports up to 300 pounds maximum user capacity.  All the steel parts of the treadmill are finished with anti-corrosion and scratch-resistant paint.
Due to its weight and the integrated oversized crossbar tubing at the front base it stability is overwhelming and a user won't experience any sort of wobbling or movement during rigorous workouts.  Then in the middle, beneath the deck are transport wheels for easy relocation of the machine.
It features the SoftDrop folding mechanism that consists of a hydraulic cylinder that is meant to aid in the safe folding and unfolding process of the machine for storage.  It is a fairly large treadmill with dimensions of 74 inches long by 34 inches wide by 54 inches tall and when folded it dimensions become 39 inches long by 32 inches wide by 60 inches tall.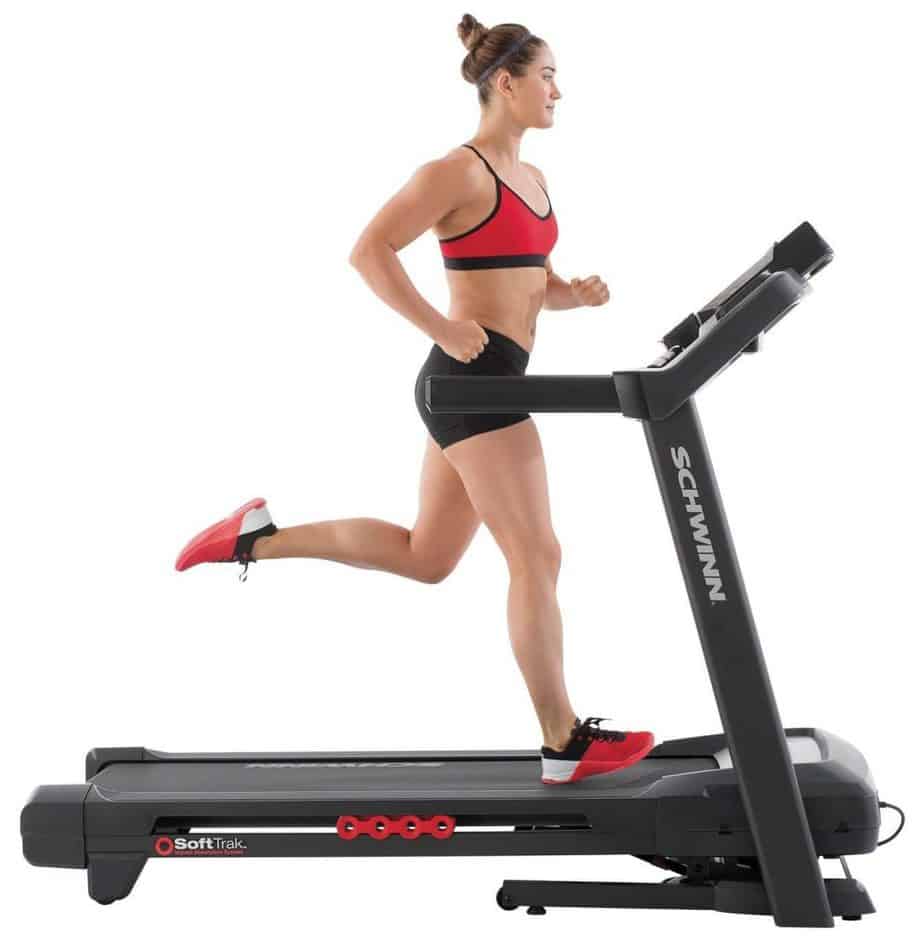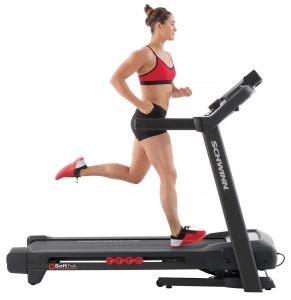 Therefore, even though it is a somewhat large treadmill when folded it length is reduced to almost half of it assembled length. This means less space required for storage, however, when in use extra 2 feet clearance is recommended to be added to each side, and 3 feet to the rear of the treadmill for safe and optimal workout experience.
The Schwinn 830 MY16 Treadmill's belt is driven on a set of 2.5 inches, crowned rollers which delivers smooth and consistent motion during operation while the belt is made of a 1 ply, 1.5 mm heavy-duty belt. The dimensions of the running surface are 20 inches wide by 55 inches long, which can still accommodate different users of different sizes.
Taller individuals can use the treadmill but may be restricted from exercising their full stride though, and this is part of the reason why this treadmill is not good for running purposes.
The deck is also integrated with 4-cell cushioning system that is designed to reduce the stress the joints receive during exercises. The deck absorbs part of the shock that occurs when exercising on the treadmill. As a result, a user can work out longer and ultimately achieve a lot more.
The Motor
The motor is like the engine or the core element that makes a treadmill to be functional and useful, without it there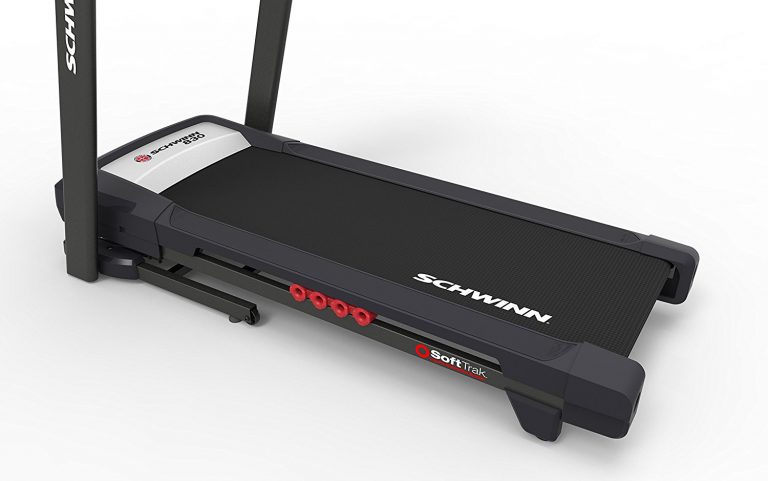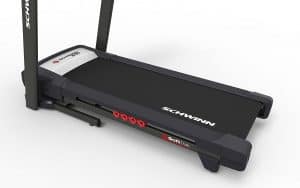 will be no moving belt because it is the driver. This is also the reason why the motor's capacity is being considered when trying to purchase a treadmill for certain exercises.
For instance, if you are looking forward to acquiring a treadmill for the sole purpose of running on it then you should consider purchasing a treadmill with at least 3.0 CHP motor or above because only this type of treadmill can guarantee providing runners with the exercise they need without a breakdown or overheat.
But in the case of the Schwinn 830 MY16 Treadmill, it possesses a 2.75 CHP motor that is best used for walking, jogging, and light running. It is also integrated with a small flywheel designed to ensure that the performance is smooth and consistent.
Its speed range is 0.5 to 12 MPH with a possible increment of 0.1 MPH which is kind of an advantage because the user can easily find a suitable speed range for a workout. However, it has a default and start-up speed of 0.5 MPH which cannot be reduced.
A user can gradually increase the speed or use the quick key on the console to access the preset speed available which are 2, 4, 5, 6, 8, and 12 MPH.
The motor is considerably quiet during operation and responds promptly to speed adjustment.
Therefore, a user will experience outstanding workouts without having to worry about disturbing the family or neighbors during any workout session and can also enjoy watching the favorite TV show or listening to music.
The Incline
The Schwinn MY16 830 Treadmill's incline level is 0% to 12% with a possible increment of 1% which means there are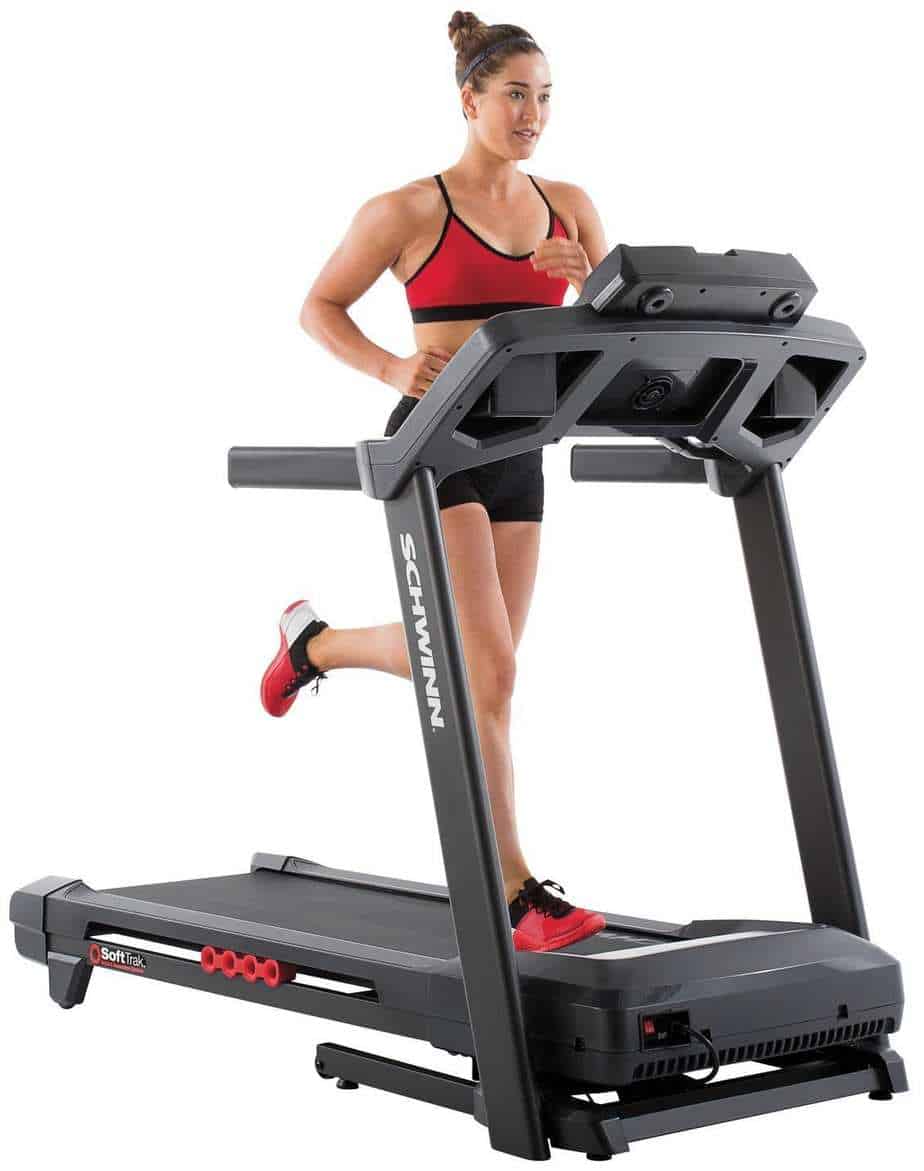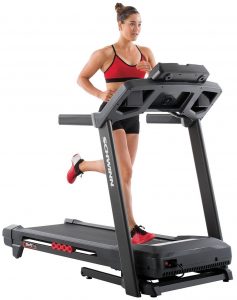 12 incline settings.
The incline system is motorized which means it can only be manipulated via the console. And the console automatically adjusts the incline when a user selects any of the preset workout programs that involve incline.
Just like the speed, the incline also has quick keys that allow a user to quickly adjust the incline to a certain value, and these adjustment keys are 0, 2, 4, 7, 10, and 12 percent.
It is important to consider the incline when assembling the treadmill because that will also determine the ceiling height where the machine must be used. Ordinarily, the step-up height of the deck without incline is about 9 inches from the floor. Therefore, considering the highest range of the incline which is 12%, there will be the need to add at least 20 inches to your height to determine the ceiling height where the treadmill is going to be used for safety and optimal performance.
The Console
The console is the control unit of the treadmill with a lot of functions designed to make the user's experience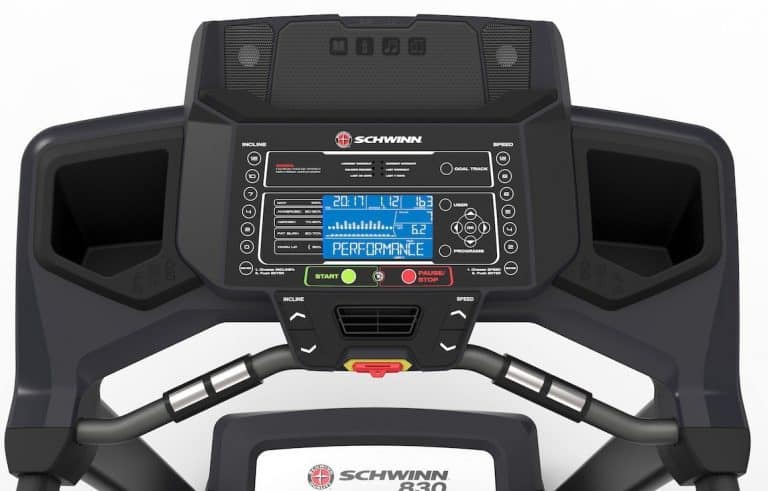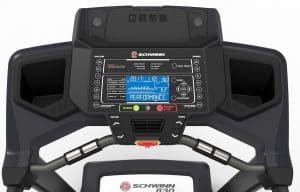 outstanding.
One such function is the ability to copy files onto a USB device and store them in many online apps that surpass the number of online apps compatible with the previous version which is the Schwinn 830 Treadmill.
This console allows the user to transfer data and track the workout progress via several online apps, and not limited to SchwinnConnect and MyFitnessPal.  The user can also track and transfer data to the GoogleFit, Apple Health, Endomondo, MapMyRun/Ride, and more.
The console features 5 inches blue backlit LCD monitor that has high-quality readability. The data visibility on the monitor is great even in a poorly lit room. This tracks and displays workout data such as speed, distance, time, calories burned, pace, laps, heart rate, goal, and records.
A user can set time, distance, and calories, while the monitor displays how much of these goals have been accomplished and what is left.
The goal tracking function provides an overview of the previous workout data such as the last workout, last week's workout, or last month's workout which could be very motivational to the user.
22 preset workout programs include 1 manual, 3 quick goals, 5 training, 3 weight control, 5 heart health, 3 intervals, and 2 custom.
It is also very important to know that the console provides 4 user profiles that could allow multiple users to set up their profiles, which is great for the family members.
The console is telemetry enabled which means that HR chest strap could be used to transmit the heart rate data to the monitor, although, the accessory is not included in the package, the user may have to purchase it separately.
The user could also use the handlebars that are embedded with heart rate sensors to transmit the heart rate data as long as they are been gripped during workouts. However, the grip heart rate sensors don't provide flexibility during exercises and do not also provide accurate heart rate data as the HR chest strap does.
There is another bunch of extras on the console such as the 3-speed cooling fan, tablet holder, sound system for listening to music (no volume control keys though for the speakers, the control has to be done through the phone or tablet), the accessory trays that could contain water bottle and other items such as phone, keys, earphone, or remote control.
If a tablet is placed on the tablet holder it won't obstruct the view of the workout data that is being displayed.
Approval Rating
The approval rating of any product is significant because that tells you if the product is popular or not and automatically solves half of the problem of purchasing decisions.
If you are set to walk down a road and it will be wise to find out from those that have walked down the road to know if it worth trying, right? Same with buying any stuff online, and that is even the reason for this review but we include feedback from real users to help our audience make a smart decision.
As for the Schwinn 830 MY16 Treadmill, it has a very good and impressive approval rating at the time this review was written. This tells you that the majority of the users are satisfied with their investment and would recommend it to their friends.
Click right here to read the Amazon customer reviews, that might help.
Pros/Features Overview
Sturdy and solidly built with a steel frame
It supports up to 300 pounds maximum user weight capacity
It is foldable hence saves space during storage
It is integrated with transport wheels for easy relocation
It is equipped with 75 CHP motor that supports walking, jogging and light running workouts
Speed range is 0 to 12 MPH
Speed could be increased by 0.1 MPH which is an advantage to finding the suitable speed range
It has motorized incline of 0% to 12%
22 preset programs include 1 manual, 3 quick goals, 5 training, 3 weight control, 5 heart health, 3 intervals, and 2 custom
Quick access speed and incline buttons
The console is telemetry enabled for heart rate
Grip heart rate
The SoftDrop mechanism for easy and safe folding and unfolding of the machine
The deck is equipped with 4 cell SoftTrack cushioning system that reduces joint stress
Beautiful 3 inches by 5 inches high resolution blue backlit LCD monitor
Has got accessories such as the water bottle holder, tablet holder, acoustic speakers, 3-speed cooling fan,
USB port for workout data transfer to SchwinnConnect, MyFitnessPal, GoogleFit, Apple Health, Endomondo and more
Smooth and quiet during operation
Impressive warranty
Cons
No Bluetooth connectivity, therefore, data transfer cannot be done wirelessly
The cooling fan is not powerful
The HR chest strap is not included
Product Dimensions and Specifications
74'' Length
32'' Width
54'' Height
39'' Length (folded)
32'' Width (folded)
60'' Height (folded)
Weighs about 200 pounds
Supports up to 300 pounds maximum user weight
75 CHP motor
SoftTrack deck cushioning
SoftDrop deck folding system
22 preset programs
Speed range; 0.5 to 12 MPH
Incline range; 0% to 12%
Warranty
10 Years warranty on Frame
10 Years warranty on Motor
2 Years warranty on Parts
2 Years warranty on Electronics
1 Year Warranty on Labor
Shipping, Assembly, and Maintenance
Shipping
The shipping cost of the Schwinn 830 MY16 Treadmill varies because different online vendors have their shipping policies; however, Amazon provides free shipping and delivers within 3 to 4 days from the day of order.
Assembly
The assembly of this unit is not difficult if you wish to do it yourself, but you may need a hand because there are instances when you will have to lift heavy items and you don't want to do that alone.
That being said, you can assemble it because it comes with the major components preassembled. Instruction manual and tools are also included to help you assemble it successfully.
This could take up to an hour; more or less depending on how good you are with your hands.
Endeavor to log onto the Schwinn website and register the product so that you can fully benefit from the warranty.
Maintenance
The owner's manual has a comprehensive detail on what to do to keep the treadmill running smoothly. One of the things you must do is to make sure you lubricate the belt every 25 hours of use with 100% silicone lubricant.
Always examine the treadmill daily before use for any loose, broken, damaged, or worn parts. Do not use it if there is any such case until you have repaired or replaced the ailing part(s).
Conclusion
We do think that the Schwinn 830 MY16 Treadmill is a recommendable machine for home use. There are a lot of good reasons why this treadmill should be added to the home gym.
First of all, it has a good approval rating which means it is popular and then it is affordable as well compared to other treadmills in the same category.
This is a good treadmill for individuals that wish to perform exercises such as walking, jogging, or light running. It is not for serious runners, it is important you take note of that.
Schwinn MY16 830 Treadmill Review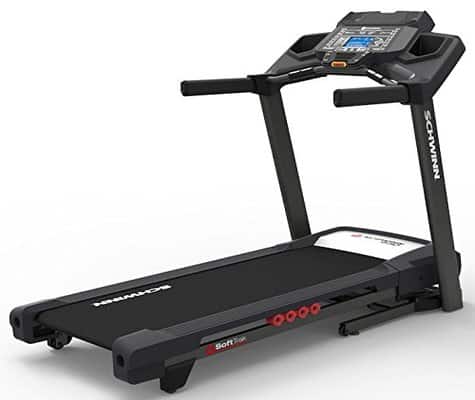 The Schwinn MY16 830 Treadmill is similar in features with the ProForm 705 CST Treadmill, the reborn. Except that the latter has a bigger running surface, supports a slightly higher maximum user weight capacity, and it is iFit and Bluetooth enabled.
Product Brand: Schwinn
Product In-Stock: InStock