The Horizon Fitness Adventure 5 Treadmill is the runners' adventure machine just like the NordicTrack C 1650. It is designed for this purpose, to allow folks or running enthusiasts to experience outstanding indoor running workouts.
If you are looking for a running treadmill, then this unit could be perfect for you because it is designed for that purpose.
It has a Passport Video Workout that allows you to connect the treadmill via the wifi to your TV so that you can enjoy beautiful scenic outdoor simulated workout experience.
Click right here to have a peek at the best price of the Horizon Fitness Adventure 5 Treadmill. 
The Frame
The frame of the Horizon Fitness Adventure 5 treadmill is made of steel tubing just like every good treadmill. It is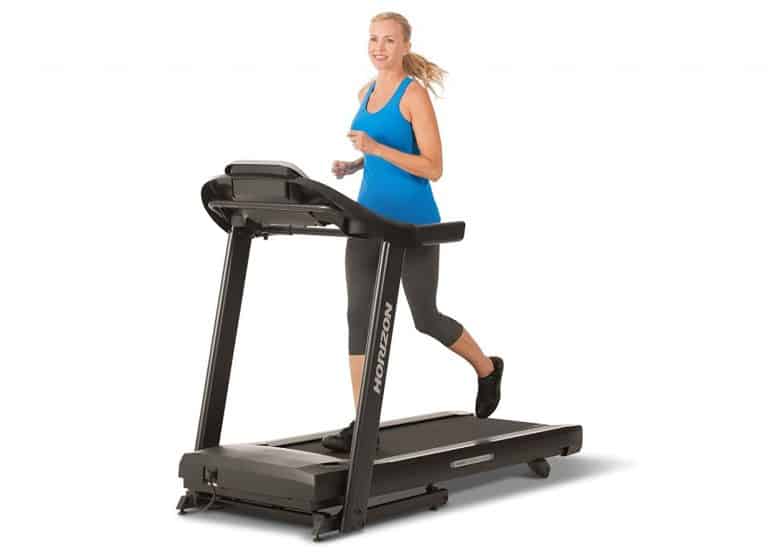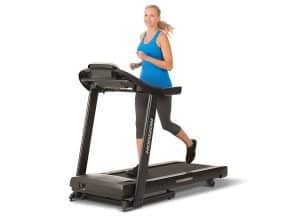 also coated with a quality corrosion resistant paint that would prevent any type of rust to occur.
For stability purposes, it is equipped with robust stabilizers and transportation wheels at the front base for easy relocation process.
Its overall weight of 188 pounds/82 kg also optimizes its stability.
The treadmill is designed for runners and so, it is slightly bulky with a spacious running surface (60" L x 20" W). Taller individuals will be able to run with their strides not restricted.
The overall assembled dimensions of the treadmill are 76'' L x 34'' W x 54'. In other words, it will require a workout area with perimeters of 6'3" length by 2'9" width.
It is also recommended to leave an extra clearance of 1-2′ at the rear and on each side of the treadmill for a safe and comfortable workout experience.
However, the treadmill is foldable, thus, it takes slightly less space for storage.
The folded dimensions are 50'' L x 34'' W x 64'' H, which means it will need a storage space with perimeters of 4'2" length by 2'9" width.
Its folding mechanism makes it super easy to fold and unfold without any hassles. It has this hydraulic cylinder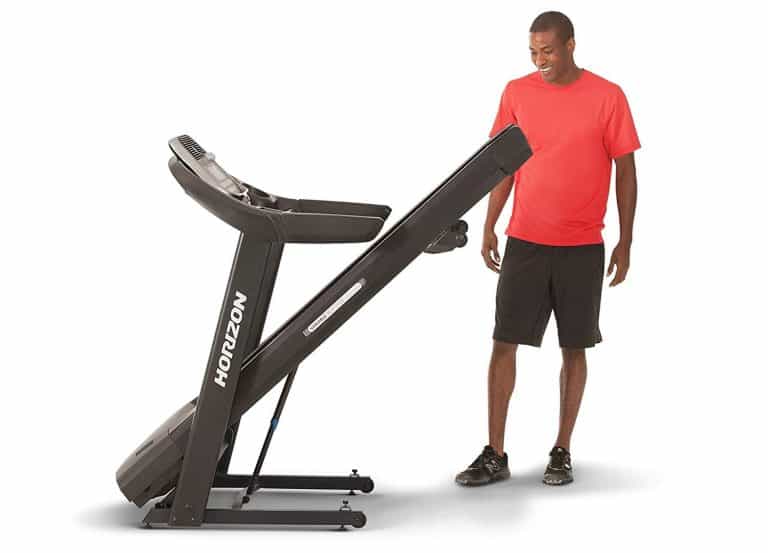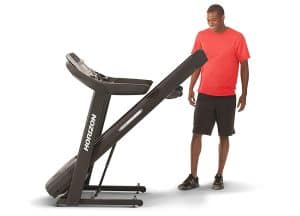 that does the lowering of the deck safely.
The treadmill's running surface is integrated with a three-zone Variable Response Cushioning system that provides support and flex to the user.
The deck has enough cushioning to absorb the impact that would otherwise impact the joints.
The rollers in the tread belt are industrial-grade quality. The dimension of the rear roller is 1.75''/4.4 cm while the front roller is 2.25''/5.7 cm. Its sealed bearings can last longer.
The Motor
The treadmill has a 2.5 CHP motor that supports a prolonged high-speed workout session. It doesn't overheat or break down no matter how frequent it's being used.
It is also integrated with a flywheel that prevents vibration and instead promotes stability and consistent operation.
It provides a speed range of 0.5 mph to 12 mph. The 0.5 mph is the default and the lowest speed and 12 mph is the highest speed. It has a 0.1 mph increment which helps you to easily adjust to a speed range that is suitable for your workout.
The speed can be controlled via the console up/down speed keys on the right side of it and there are also quick speed buttons that allow you to quickly select a speed from 1 to 12 mph.
The motor needs to be plugged into an outlet of 110-120V to be operational.
The treadmill is delivered with a power cord with 3 prong type plug U.S standard.
The Incline
The Horizon Fitness Adventure 5 Treadmill has an automatic incline system that can only work when it is plugged into a power source. The incline is made of a small motor and a lift that is responsible for elevating the front deck.
It can be adjusted manually via the buttons on the console or automatically when a preset program is selected.
The incline ranges from 0 to 12% and has got a 1% incremental adjustment. You can gradually adjust the incline via the console, but it also has quick incline keys as well, which enables you to select any level of the incline you wish to use.
For safety purposes, you have to make sure that the room you are going to use the treadmill in is high enough to accommodate your height when the incline is adjusted up to 12%.
The Console
The Adventure treadmill has a 7.5'' LCD monitor with backlit that enables you to track your workout progress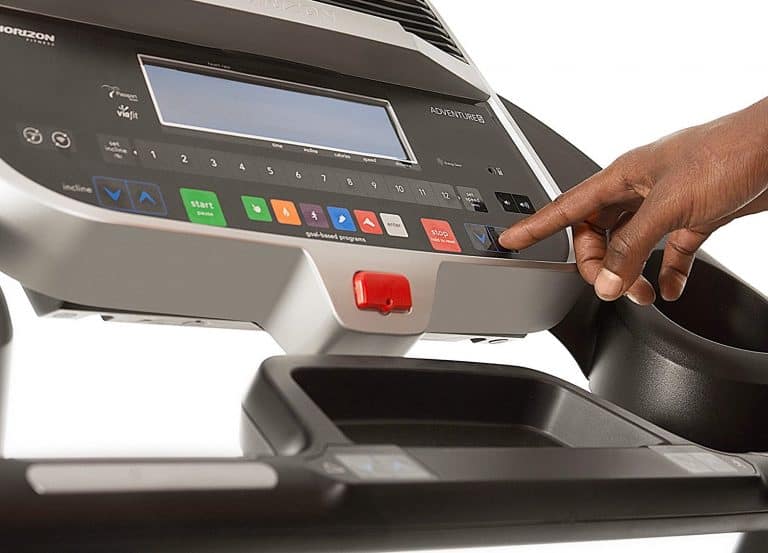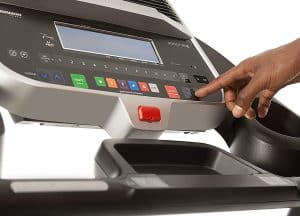 by displaying vital workout data such as time, distance, speed, calories burned, incline, and heart rate.
Interestingly, it has also got a track function that shows the distance covered as a race track. This enables you to count how many laps you have completed. There is also an option for you to set the speed and distance in an imperial or metric unit.
Worthy to mention that the console is not telemetry enabled. This means you cannot use a wireless HR chest strap device for monitoring your pulse rate. It does not also have a Bluetooth function as well.
To be able to read or observe your heart rate on the monitor you have to hold onto the handlebars that have the heart rate sensors embedded on them otherwise you cannot see your heart rate data.
But the consolation is that the Horizon Fitness Adventure 5 Treadmill has about 35 workout programs that are geared to helping you achieve your fitness goals.
Below are some of the workout programs;
It has the Manual mode that allows you to control the speed and the incline manually just like the name implies.
It has got the calories category that enables you to select from 9 workouts that target 100 to 900 calories. You have to manually select the incline and speed for each calorie workout while the machine calculates the calories you will burn based on the weight you supplied to the user profile.
It has also got 10 distance workouts that include 1 mile, 2 miles, 5k, 5 miles, 10k, 8 miles, 15k, 10 miles, 20k, and ½ marathon goals.
There is the step category that features step-based workouts of 1000, 2000, 3000, 4000, 5000, 6000, 7000, 8000, 9000, and 10,000 steps.
It has got the intervals category which is great for losing weight, improving stamina and endurance are included.
Then, there the custom user profiles allow you to create your unique workout, save, and even reuse them again. You will be able to create 2 distinct unique workouts with your preferred speed and incline.
Just as aforementioned, the treadmill has got a Passport feature that allows you to connect the machine to your TV. This means you will be able to work out as you view a simulated outdoor terrain on the TV which is designed to motivate and help you to have an enjoyable workout experience.
However, you will need a Passport player that will enable you to connect the treadmill to your TV and this is not included unfortunately you will have to purchase separately.
Just like the Proform Pro 2000 Treadmill that has an iFit technology, the Horizon Fitness Adventure 5 Treadmill has ViaFit. A function that enables you to make a connection to various workout apps, laptops, tablets, or any smartphone through wifi. It also enables you to save your workout data online or on any social media.
There are several other extras on the console aside from the aforementioned. For instance, it has other entertainment features such as the speakers that would allow you to listen to some quality sound output.
This is compatible with MP3 players or most smartphones. There are bottle holders on each side of the console which will help you to keep water handy and stay hydrated throughout the workout session. There is also a tablet holder available.
Product Specifications
74'' Length
34'' Width
54'' Height
Tread belt: 60'' L x 20'' W
Weighs about 188 pounds
Supports 325 pounds maximum user weight
Incline- 0% to 12%
Motor- 2.5 CHP
ViaFit connectivity
Extras: Speakers, tablet holder, water bottle holders, etc
Warranty
Lifetime for Frame and Motor
3 Years for Parts
1 Year for Labor
Pros
It has a durable and well-constructed frame that supports up to 325 pounds maximum user weight.
It has 35 workout programs
It has got a quality heavy-duty tread belt that does not stretch
It gives you the ability to increase your speed by 0.1 mph thereby helping you to find the speed level that suits you best.
It is wifi and ViaFit enabled
It has a well-designed deck with a cushioning system that can reduce the impact on the joints
It has a folding mechanism/system that makes folding and unfolding of the machine hassle-free.
It has Passport Virtual technology that makes the workout fun and motivational
It operates smoothly and almost quietly too.
It requires little maintenance
It has got speakers, tablet holder, and water bottle holders.
It has a very impressive warranty
Easy to assemble
Cons
You have to lubricate the track periodically, although, it is common with every treadmill
It is not telemetry enabled
It has no cooling fan
No USB port available
Shipping, Assembly, and Maintenance
The shipping cost for the Horizon Fitness Adventure 5 Treadmill depends on where you are buying the unit. Usually, Amazon ships this product for free within a few days.
Putting the treadmill together is relatively easy as it comes with most of the major components preassembled. You are only required to fix the console stands and the console which will not take up to an hour.
Also, there is a detailed instruction manual that could walk you through the whole process of assembly. Tools needed are also included but may require your tool as well to successfully assemble it.
As for maintenance, you are required to lubricate the track periodically and also make sure you dust and clean the unit as a whole at all times.
Conclusion
The Horizon Fitness Adventure 5 Treadmill is good for walking, jogging, and running exercises. It is built to last with so many features that are designed to provide you with quality and productive workouts.
It features automatic incline, 35 workout programs, 2.5 horsepower motor that provides 0-12 mph speed range, Passport technology, VioFit, and more.
Horizon Fitness Adventure 5 Treadmill Review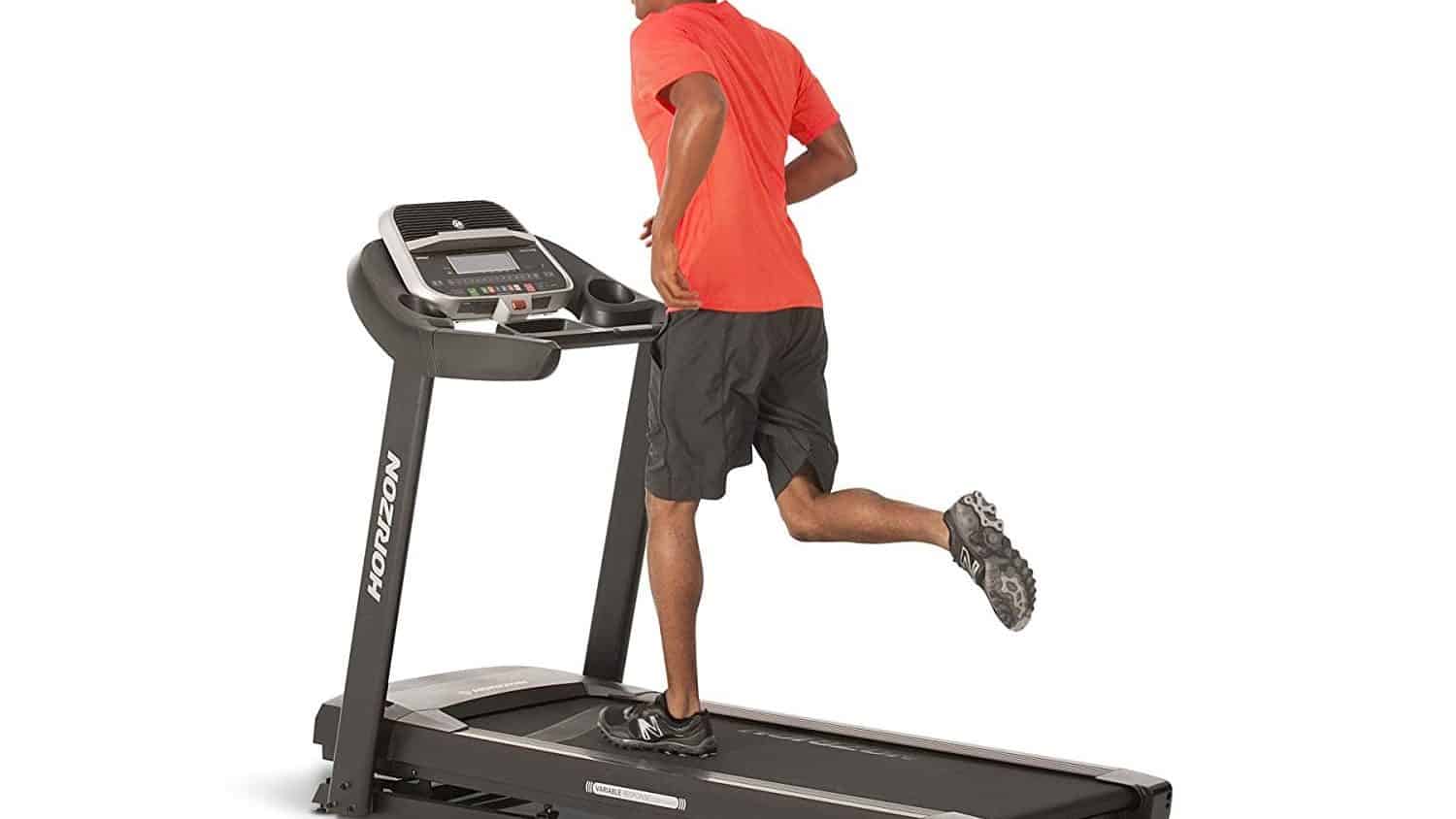 The Horizon Fitness Adventure 5 Treadmill is the runners' adventure machine just like the NordicTrack C 1650. It is designed for this purpose, to allow folk
Product Brand: Horizon
Product In-Stock: InStock