The Schwinn 170 Upright Bike is the upgrade version of the Schwinn MY16 130. They both are similar in many ways, but except for the fact that the former has a Bluetooth and telemetry-enabled console while the other doesn't.
It (Schwinn 170) is equipped with an eddy current resistance system that offers 25 adjustable levels for light to difficult workout challenges that are suitable for different users.
The console features a DualTrack 2 Backlit LCD windows system that tracks your workout progress with high readability that cannot be compromised even when viewed in a poorly-lit room.
A comparison table that puts the differences between the Schwinn 170 and Schwinn MY16 130 Upright bikes in perspective is right at the end of this review.
Click right here to have a peek at the best price of the Schwinn 170 Upright Bike on Amazon.
The Frame and Construction
The Schwinn 170 Upright Bike is a 2017 model that features an anti-rust powder-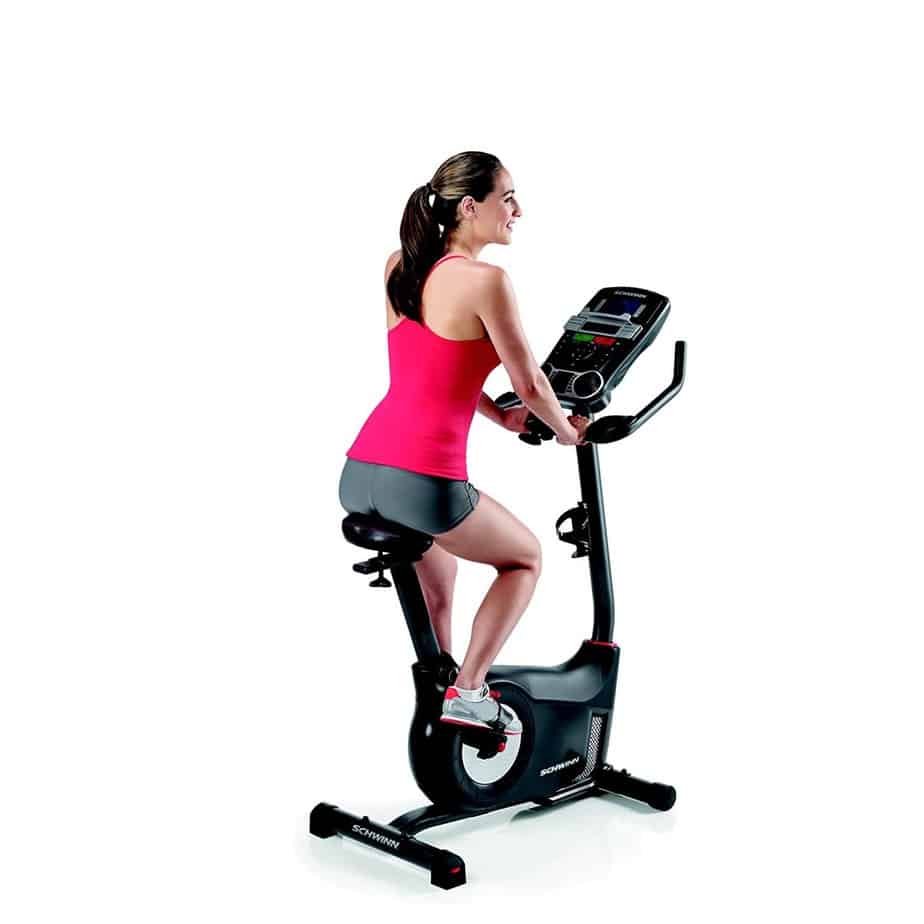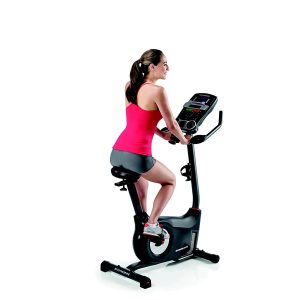 coated heavy-duty steel, while the drive covers that are mainly for safety and cosmetic purposes are made of ABS material.
Hence, it supports a maximum user weight capacity of 300 lbs./136 kg.
It is not foldable but neither is it nearly large to overwhelm your space. Its overall assembled dimensions are 41.3" long by 21.4" wide by 55.6" high. In other words, It will require a workout area with the perimeters of 3'5" length by 1'8" width.
Also, consider adding extra clearance of at least 2′ at the rear and on each side of it for easy access, safety, and convenient workout experience.
Users, especially those with mobility issues will find the bike scalable due to its easy step-thru design.
The bike has a robust and floor-friendly base that features a rear stabilizer bar that is equipped with adjustable levelers. This means that its stability is well-established despite having a small footprint.
Moreover, you can balance the bike on a crooked surface as well.
It weighs about 62.8 lbs./24.4 kg and can easily be moved for storage via the integrated transport wheels at the front base.
The Seat of the Schwinn 170 Upright Bike
The upright bike has a 2-way adjustable saddle that is large, cushioned, with a groove in the middle of it, and covered with a vinyl material.
You can adjust it vertically (upward/downward) with several adjustment positions available. This offers ample suitable positions that could accommodate users between the heights of 5′-6'5".
It is the representation of a comfortable seat that allows you to train longer without feeling boredom.
Swapping it for another seat of your choice won't be a problem because its connection mechanism is standard, thus, compatible options are widely available. However, Nautilus does not have another seat for it.
The Handlebar
The unit is equipped with an angle-adjustable multi-grip handlebar that has elbow pads for comfortable forearm rest during workouts.
The handlebar provides multiple grip positions for different workout postures. It is cushioned with anti-sweat soft rubber foam that prevents slippage and instead promotes secure and comfortable grips.
EKG heart rate sensors are integrated on the handlebar for heart rate monitoring purposes.
The Pedals
The Schwinn 170 Upright Bike has large textured counter-balanced pedals with adjustable safety straps that accommodate only standard gym shoes and different foot sizes.
They secure the feet comfortably during aggressive pedaling.
Nautilus recommended not to swap the pedals because it is going to void the warranty.
The Drive
This is a belt-driven bike; meaning its mechanisms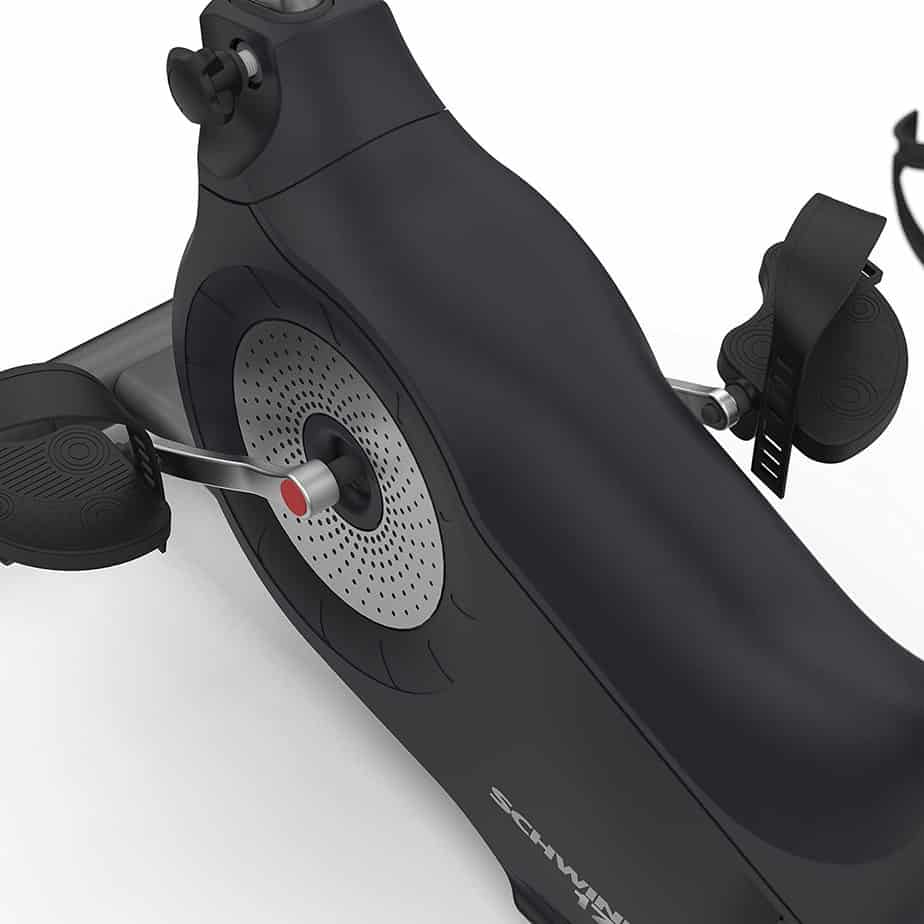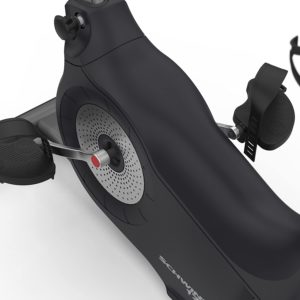 include a heavy-duty belt, pulleys, a flywheel, and 3-piece cranks.
Its operation is quiet and smooth and needed no maintenance such as periodic lubrication and adjustment.
The drive's operation, makes it's safe to work out at any time of the day at home without being a nuisance to the people around you.
It is bidirectional, thus, you can pedal in reverse to diversify and tone more muscle groups.
The Resistance
The Schwinn 170 Upright Bike features an eddy current magnetic resistance system that offers 25 resistance levels.
This consists of mechanisms that include a magnetic brake pad, a small servo motor, and the high inertia perimeter-weighted flywheel. Resistance is generated without friction occurring between any of these elements.
Hence, the bike's operation is still smooth and vibration-free even when the resistance is applied. Secondly, no part wears out, and no part requires a replacement in the long run.
The 25 resistance levels provide a wide range of workout challenges that could help you achieve your fitness goals. All resistance adjustments are done via the console.
Although, it can also be automatically assigned when one of the preset programs is selected.
For the resistance to function, the bike needs to be plugged into a 110v-120v power source, and the power adapter is included in the package.
The Console
The console on the Schwinn 170 Upright Bike features a DualTrack 2 LED display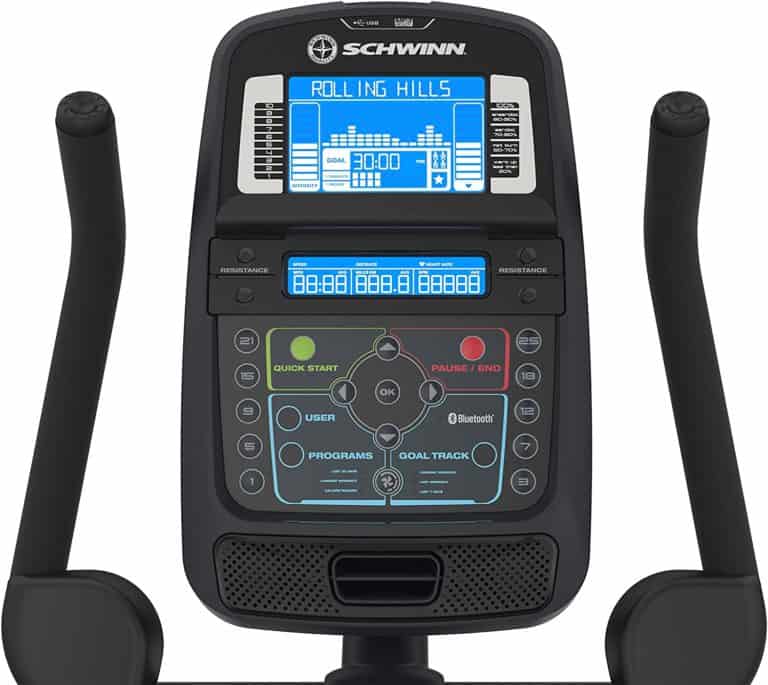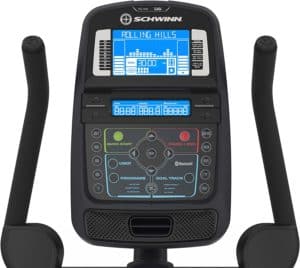 windows system.
In other words, 2 separate backlit display windows track your workout progress with high readability that cannot be compromised even when they are being viewed in a poorly-lit room.
The lower display window tracks workout stats such as Speed, Distance, Calories, Pulse Rate, Resistance Level, RPM, and Intensity.
The console is Bluetooth and telemetry-enabled.
The enhanced Bluetooth connectivity enables you to set, track, and monitor workout progress by connecting to popular app-based tracking tools like Explore the World, MyFitnessPal, UA Record, Strava, RideSocial, and more.
The charging USB port is also used for data exchange. You can track workout progress by transferring data using the USB port to connect to the Schwinn Connect website, MyFitnessPal, and more.  
Since the console is telemetry-enabled, you may use a wireless HR chest strap (not included) to monitor your heart rate
The console offers 29 workout programs that include 12 Profile, 9 heart rate-based programs ( for 4 Beginner, 4 Advanced, 1 Custom), 4 Custom User-Defined, 2 Fitness Tests (for 1 Beginner, 1 Advanced), 1 Recovery Test, and 1 QuickStart.  
There are several navigation buttons on the console such as the 10 quick select resistance keys, gradual resistance keys, programs key, goal track key, and more. 
Accessory
This upright bike has several extras such as the water bottle holder, a built-in tablet holder, a 3-speed cooling fan, and built-in speakers. 
These enhance the quality of your workout experience. 
Storage
The Schwinn 170 Upright Bike is compact and portable, meaning, it is storage-friendly. 
It doesn't require too much storage space and it can easily be moved for storage via the integrated transport wheels.
A storage area with perimeters of 3'5" length by 1'8" width will suffice. 
Approval Rating
Some users had a negative view of this unit but the majority of them think it's an awesome ride. 
As a result, its overall approval rating on Amazon is positive, and independent review sites have a favorable view of it as well.  
Features/Pros Overview
This unit is cost-effective
It is a sturdy and durable indoor bike 
It supports a maximum user weight capacity of 300 lbs./136 kg
Its resistance system offers 25 resistance levels that enable you to go from light to difficult challenging workouts
It has got 29 preset workout programs that are designed to help you achieve your fitness goals
The user can download workout data via Bluetooth and USB connectivity to Schwinn ConnectTM and MyFitnessPal
Contact sensors in the had hand grips allow the heart rate to be monitored and also it is chest strap enabled 
It has adjustable forearm rest and handlebars that allow a user to get into a comfortable workout position
It has a large contoured thick padded seat with fore and aft adjustability to allow a user to find the most suitable and comfortable position
Its DualTrack two blue backlit LCD window system allows you to monitor up to 13 different display feedbacks including heart rate data that would enable a user to maintain a target heart rate zone at all times
6 LED tracking lights
Media shelf for magazine or tablet is also available
Speakers and MP3 input port and USB charging are available on the console; which means a user can be entertained during a workout
Water Bottle holder enables users to keep water handy for proper hydration throughout a workout session
3-speed fan to keep a user cool and comfy during a workout.
For added support, it has 3 piece cranks
Ergonomically placed grip heart rate for a relaxed workout when using a heart rate program
Easy to assemble
Low maintenance
Cons
HR chest strap not included; has to be purchased separately
Warranty
10 Years for Frame
2 Years for Mechanical parts
1 Year for Electronics
90 Days for Labor
Product Dimensions
41.3'' Length
21.4'' Width
55.6'' Height
Shipping dimensions: 41" L x 23" W x 12.5"' H
Net weight: 62.8 lbs./24.4 kg
Gross weight: 74 lbs./33.5 kg
Pedals: Large and textured with safety adjustable straps
Frame: Steel
Flywheel: 10 lbs./4.5 kg
Seat: 2-way adjustable, large & contoured
Handlebar: Adjustable (angle-wise)
Drive: Belt
Resistance: Eddy current magnetic with 25 adjustable levels
Programs: 29
Console/Monitor: DualTrack 2 LCD windows Tack workout Profiles, Goals, and User Profiles, Time, Speed, Calories, Distance, Pulse Rate, Resistance Level, RPM, and Intensity
USB port for charging phones and data transfer to online apps such as SchwinnConnect, MyFitnessPal, GoogleFit, and more
Built-in speakers
Bluetooth connectivity
Telemetry-enabled
Transport wheels included
3-speed cooling fan
Water bottle holder included
Tablet holder included
Shipping
Shipping cost usually depends on where you are purchasing the unit. If you are buying from Amazon, they usually ship it for free without charges of any sort. But that may not be the case with other retailers.
Assembly
The Schwinn 170 Upright Bike can be assembled by one person because its major components are pre-assembled. Moreover, the included instruction manual guides you through the process of the assembly.
Make sure to follow the instructions and you will be able to get your equipment up and working within an hour or so.
Maintenance
Keep the bike clean at all times, and inspect it for any loose or broken part before use to avoid an accident or further damage to it. 
Conclusion
The Schwinn 170 Upright Bike is an ideal fitness machine for home use.
Its operation is quiet and smooth. 25 resistance levels provide a wide range of challenging workouts that could help you realize your fitness goals. 
Other features such as the 29 workout programs, Bluetooth connectivity, UBS charging port, the cooling fan, and more only make your quest for physical fitness easy to attain. 
Comparison Table
| | | |
| --- | --- | --- |
| | Schwinn 170 | Schwinn MY16 |
| Programs | 29 | 22 |
| Bluetooth | Yes | No |
| Monitor | DualTrack LED | DualTrack LCD |
| Resistance | Eddy-current Magnetic, 25 Levels | Eddy-current Magnetic, 20 Levels |
| Immersive Training | Explore the World | No |
| USB Port | Yes | Yes |
| Speakers | Yes | Yes |
| Cooling Fan | Yes | Yes |
| Max. User Weight | 300 lbs./136 kg | 300 lbs./136 kg |
Schwinn 170 Upright Bike Review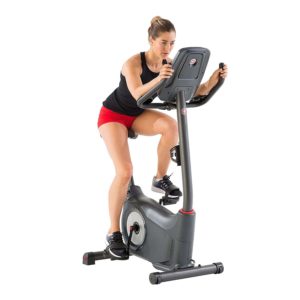 The Schwinn 170 Upright Bike is no doubt one of the best workout upright bikes, thus, recommendable. It has got great features that would appeal to both
Product Brand: Schwinn
Product In-Stock: https://schema.org/InStock