Schwinn is an iconic American brand that has evolved to become one of the most reputable fitness equipment manufacturers. They have a list of quality and user-friendly fitness machines that include the Schwinn MY16 130 Upright Bike.
This cost-effective 2016 upright bike has a lot of impressive features that are not very common on other bikes of the same category.
It has a U-shaped frame design with an easy step-thru that allows users to effortlessly mount and dismount it regardless of their fitness status. This means users with mobility or injury problem can find it scalable.
The upright bike is designed to be ridden by both men and women.
Click right here to have a peek at the best price of the Schwinn MY16 130 Upright Bike on Amazon.
The Frame and Construction
The Schwinn MY16 130 Upright Bike features a heavy-duty steel frame that is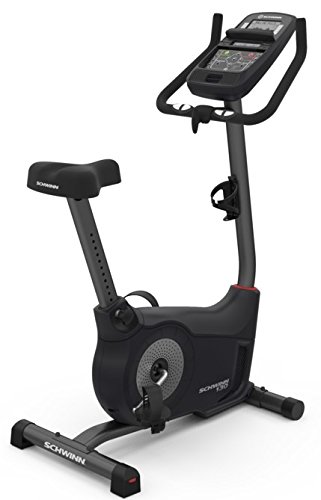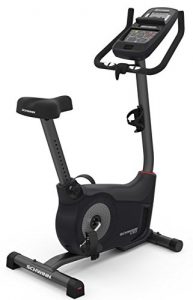 powder-coated with anti-corrosion paint, while the safety covers for the drive are made of ABS material.
As a result, the bike supports a maximum user weight capacity of 300 lbs./136 kg.
It is not foldable but it's a pretty compact upright bike with overall assembled dimensions of 41.3" long by 21.2" wide by 55.5" high. Differently put, it's going need a workout area with measurements of 3'5" length by 1'8" width.
However, there is the need to add extra clearance of 2′ at the rear and on each side of it for safe and comfortable workout experience.
Its robust base framework features adjustable levelers at the rear stabilizer bar for optimal stability that holds even on some crooked surfaces.
Moreover, its assembled weight of 70.5 lbs./32 kg further solidifies its stability as well.
The Seat of the Schwinn MY16 130 Upright Bike
The seat that comes with the Schwinn MY16 130 Upright Bike is more comfortable than some of those on other units.
It is contoured and has padding that is thicker with a groove in the middle of it for air breathability. Consequently, it provides enduring comfort that lasts through a prolonged intense workout.
You can swap it for another saddle if you want because the connection mechanism is standard and alternatives are widely available in local bicycle shops and online.
The seat is 2-way adjustable with several adjustment positions; this means it can be vertically (upward/downward) adjusted to suit different users that are between the heights of 5′-6'5".
The Handlebar
The multi-grip handlebar is adjustable, angle-wise. Something that is not common with other upright bikes of the same category.
You can work out in different suitable postures due to its multi-grip design and its adjustability.
The rubber foam coated handlebar also offers comfortable and secure grips that prevent slippage and blisters in the palm which may occur during a prolonged workout.
The Pedals
The Schwinn MY16 130 Upright Bike is equipped with a set of large anti-skid pedals with adjustable straps.
They are made of durable nylon material with a metallic core and can accommodate different foot sizes and standard gym shoes.
The self-balance pedals secure your feet comfortably for maximum footing stability during an intense and aggressive pedaling.
The Drive
This upright bike has a belt drive system that consists of a heavy-duty belt, pulleys, solid cranks, and a 10-pound/4.5 kg perimeter weighted flywheel.
As a result, its operation is smooth and quiet and the flywheel ensures consistent momentum and vibration-free motion.
You can work out at home without getting in the way of other people around you, and you can also enjoy watching your favorite TV show or listen to music without any noisy interference from the bike.
The drive does not need any maintenance such as periodic lubrication or adjustment as the case with a chain drive system.
It allows you to pedal in reverse if you want to diversify your workout and tone more muscle groups.
The Resistance
The Schwinn MY16 130 Upright Bike has an eddy current magnetic resistance system with 20 adjustable levels. This means it is a motorized resistance system that comprises a magnetic brake pad, a flywheel, and a small servo motor.
It generates resistance without any friction occurring between the mechanisms.
Although, the bike needs to be plugged into a 110-120 V power outlet so that the resistance system may be functional. An AC power adapter with 120 V 60Hz AC input, 9VDC, 1.5A output specifications is included in the package.
The 20 resistance levels it offers can only be adjusted via the console. However, if any of the preset workout programs available is selected, a certain resistance level will automatically be applied for your workout.
The resistance levels provide light to difficult workout intensities that are suitable for everyone that wishes to burn calories, improve cardio health, strength, and endurance.
The Console
The console integrated on the Schwinn MY16 130 Upright Bike features a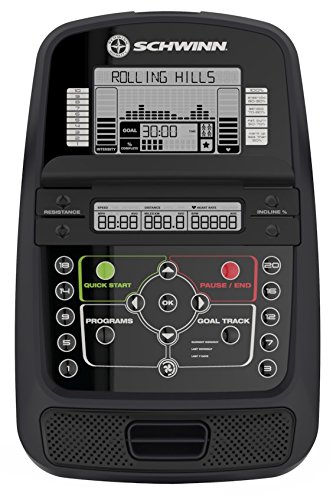 DualTrack  2 LCD windows system that is similar to the one on the Schwinn 170.
The large part of the upper display screen with the dimensions of 3" x 5" tracks Time, workout Profiles, Goals, and User Profiles, while the smaller display screen with dimensions of 1" x 5" tracks workout stats such as Speed, Distance, Calories, Pulse Rate, Resistance Level, RPM, and Intensity.
Their readability is good but could be compromised when viewed in a poorly-lit environment because they aren't backlit.
The console also features 22 workout programs that include 9 preset workouts (that offer Rolling Hills, Easy Tour, Pike's Peak, Pyramids, Uphill Finish, Interval, Ride in the Park, Mount Hood, and Cross-Training),.
8 heart rate based programs ( 4 for beginners, 4 for advanced users), 2 Fitness Tests to measure your physical fitness progress and improvements, 2 Custom user-defined for the storage of workout data and personal information, and 1 quick start.
The console features navigation buttons that include the keys for gradual resistance adjustment, and quick keys for 1, 3, 5, 7, 9, 12, 14, 16, 18, and 20 resistance adjustments.
A USB port on the console enables you to connect to online apps such as SchwinnConnect, MyFitnessPal, GoogleFit, AppleHealth, Endomondo, or MapMyRun/Ride for workout data transfer. It also serves as a charging port for your phone device.
Just for the record, the console is not Bluetooth or telemetry enabled as the Schwinn 170.
Accessory
The Schwinn MY16 130 Upright Bike has a couple of extras integrated into it to make your workout enjoyable and productive.
Such accessories include a water bottle holder, & a tablet holder. Both designated within arms-reach for entertainment and maintaining proper hydration during workouts.
A sound system that consists of 2 built-in speakers (compatible with an iPod or smartphone device) is available and a 3-speed cooling fan as well.
If a tablet device is placed on the holder, the upper display window cannot be viewed, but the lower window that displays most of the real-time workout data remains visible.
The Storage
The unit is not foldable neither is it bulky. Thus, it won't take up much storage space.
It will need a storage area with measurements of 3'5" length by 1'8" width.
The incorporated transport wheels at the front base facilitate the relocation process without hassle regardless of its weight.
Features/Pros
There are 20 levels of eddy current brake computer-controlled resistance available that provide a wide range of challenging workout options that would ultimately expedite achieving your fitness goals
It has adjustable handlebars for a comfortable riding position, which also make the accommodation of different heights of users possible
It has an adjustable, well contoured and padded seat for a comfortable workout (most individuals of different sizes will find it suitable).
Wobbling during a workout is eliminated because of its oversized crossbar tubing for stability and two integrated levelers for a solid workout platform
Ergonomically positioned grip with heart rate sensors makes it possible to ride in comfortable positions
It has a sturdy frame and high speed, high inertia perimeter weighted flywheel that provides a smooth, quiet, and consistent workout experience.
The DualTrackTM two LCD window system that offers increased visibility to workout progress data and goal tracking
22 workout programs designed to offer an outstanding workout and fitness goal-oriented result
A user will be able to download workout data via the USB connectivity to Schwinn ConnectTM and MyFitnessPal
Media shelf for your magazine or tablet
There are speakers on the console with the MP3 input port and USB charging for your entertainment and data transfer to online apps
Adjustable 3-speed fan to keep you cool throughout your workout
Water bottle holder for keeping water handy during a workout for hydration, very important
Transportation wheels for easy relocation process
Easy to assemble
Low maintenance
Cons
The monitor is not backlit
The console is not Bluetooth or telemetry-enabled
Warranty
10 Years for Frame
2 Years for Mechanical
1 Year for Electrical
90 Days for Labor
Product Dimensions
58'' Height
22'' Width
41'' Length
Shipping dimensions: 12.5" H x 22.5" W x 41" L
Net weight: 70.5 lbs./32 kg
Gross weight: 77 lbs./35 kg
Maximum user weight capacity: 300 lbs./136 kg
Frame: Steel
Flywheel: 10 lbs./4.5 kg
Seat: 2-way adjustable, large & contoured
Handlebar: Adjustable (angle-wise)
Pedals: Large and textured with safety adjustable straps
Drive: Belt
Resistance: Eddy current magnetic with 20 adjustable levels
Programs: 22
Console/Monitor: DualTrack 2 LCD windows Tack workout Profiles, Goals, and User Profiles, Time, Speed, Calories, Distance, Pulse Rate, Resistance Level, RPM, and Intensity
USB port for charging phones and data transfer to online apps such as SchwinnConnect, MyFitnessPal, GoogleFit, and more
Built-in speakers
Transport wheels included
3-speed cooling fan
Water bottle holder included
Tablet holder included
Shipping
The shipping cost of the Schwinn MY16 130 Upright Bike depends on where you are making your purchase. If you are purchasing from Amazon, then the shipping ought to be free but that may not be the case with other retailers.
Assembly
The assembly of this unit is relatively easy because the major components are preassembled.
That said, you will be required to attach the stabilizers, pedals, console, seat post & the seat, and handlebars to the main core unit. It takes around an hour or so to get it all set up.
An instruction manual and tools are included in the package for guidance and successful assembly.
Maintenance
The upright bike needs to be kept clean at all times. Ensure to inspect it for any loose or broken part before use.
Retighten any loose part and replace any broken part.
Conclusion
The Schwinn MY16 130 Upright Bike has a lot of features that are geared towards helping you to achieve your fitness goals while enjoying every bit of the journey.
It is equipped with 22 workout programs, the eddy-current resistance system with 20 adjustable levels, a DualTrack 2 LCD windows system, and more.
[rank_math_rich_snippet]