The Sunny Health & Fitness Evo-Fit SF-B2969 Upright Bike integrates interesting and useful features that can only be compared to some of the top upright bikes such as the Sole LCB.
It is a belt-driven bike with an electromagnetic resistance system that provides 24 adjustable levels of intensity. It has pre-installed workout programs and Bluetooth connectivity that synchronizes a device for quality music output or streaming training programs that bring the best out of you during workouts.
The unit is compact, portable, lightweight, and yet stable enough to hold up when exercising aggressively.
There are legitimate reasons to consider adding this upright bike to your home or office.
Click right here to have a peek at the Sunny Health & Fitness Evo-Fit SF-B2969 Upright Bike on Amazon.
The Frame and Construction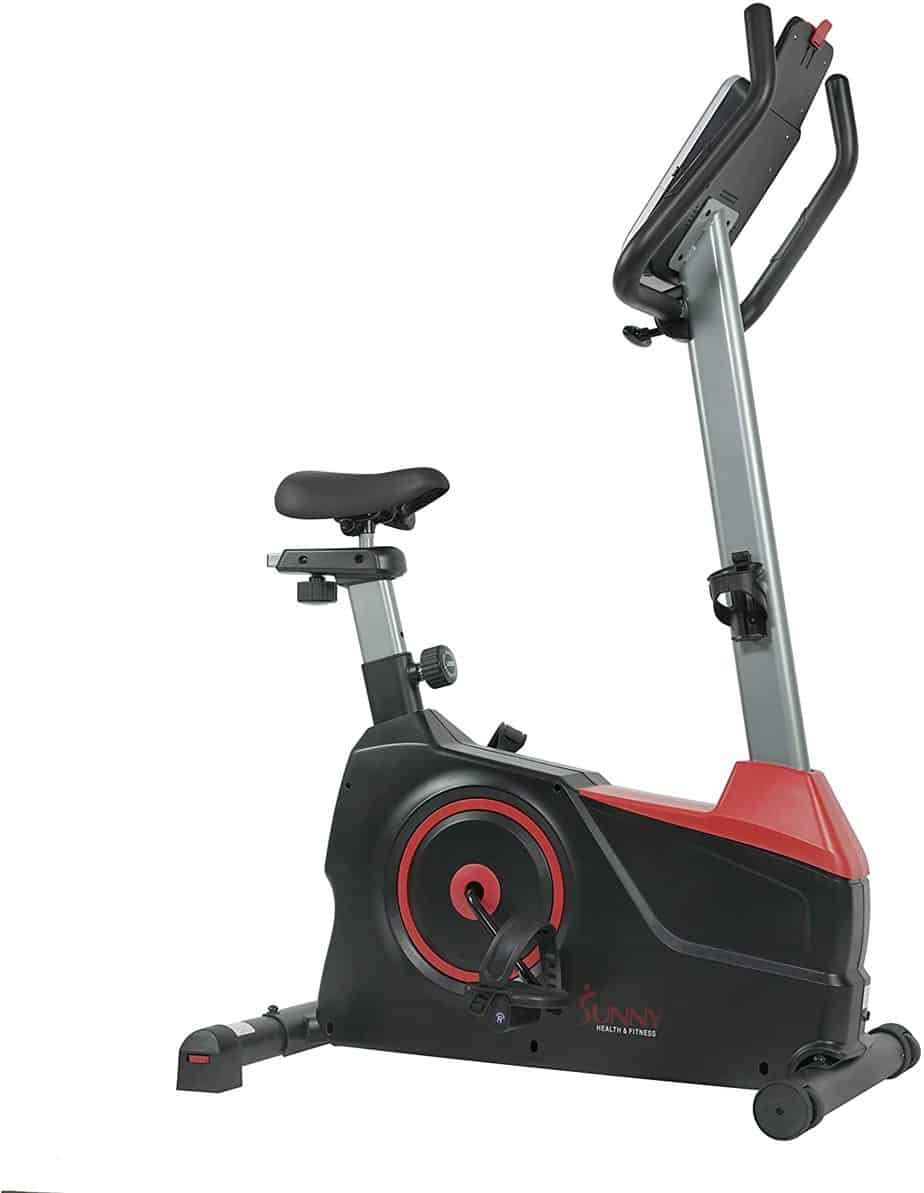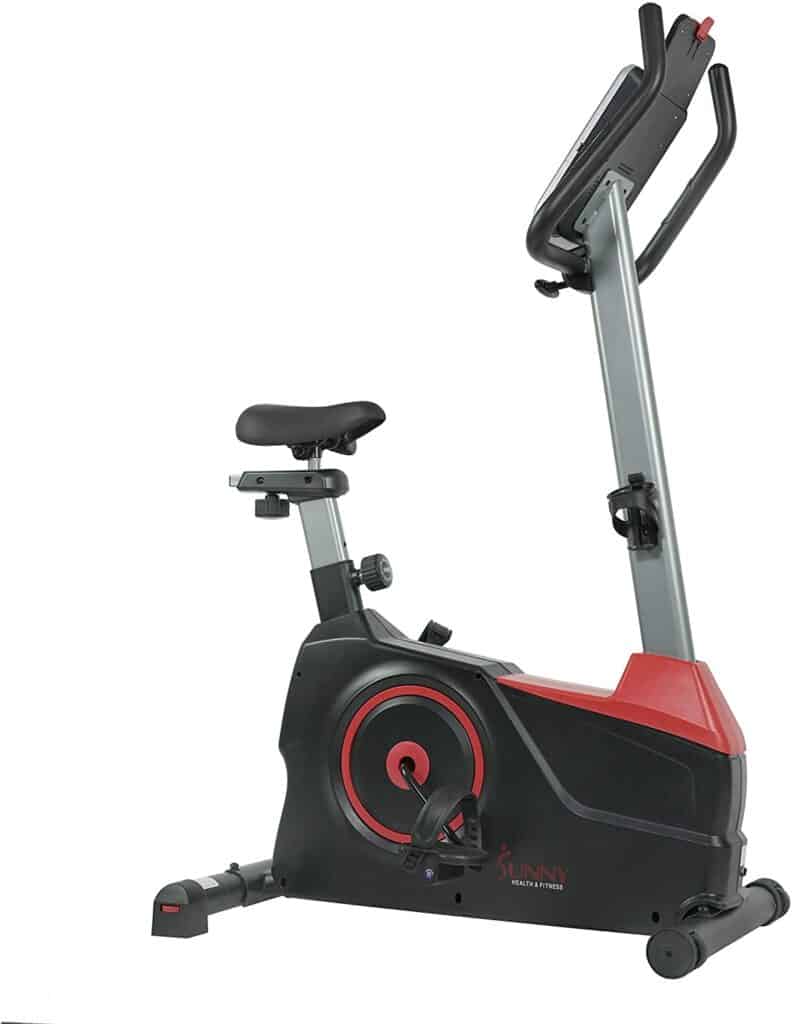 The Evo-Fit SF-B2969 Upright Bike has a simple construction that features a durable heavy-duty steel frame that is coated with anti-corrosion paint. Its drive/resistance system's shrouds and the console covers are made of ABS material.
The bike supports a maximum user weight capacity of 300 lbs./136 kg.
Its overall assembled dimensions are 48'' long by 21.7'' wide by 56'' high. To put it differently, it means that the unit requires a workout area with the perimeters of 4' length by 1'8'' width.
However, if you are going to use it in a confined or congested area, ensure to leave a clearance of 1-2′ around it for a safety and comfortable workout experience.
Despite its small footprint, the bike has awesome stability, thanks to its base framework that features front and rear steel stabilizer bars.
The front stabilizer has plastic end caps and transport wheels that literally help in the relocation process of the bike, while the rear stabilizer has anti-skid pads underneath and adjustable levelers that enable the user to balance the bike on a surface that is not even.
Therefore, if well positioned, the bike doesn't wobble or tilt during a workout. Although, the use of a protective rubber mat could also be useful in promoting stability and preventing sweat from spilling on the floor.
The Seat of the Sunny Health & Fitness Evo-Fit SF-B2969 Upright Bike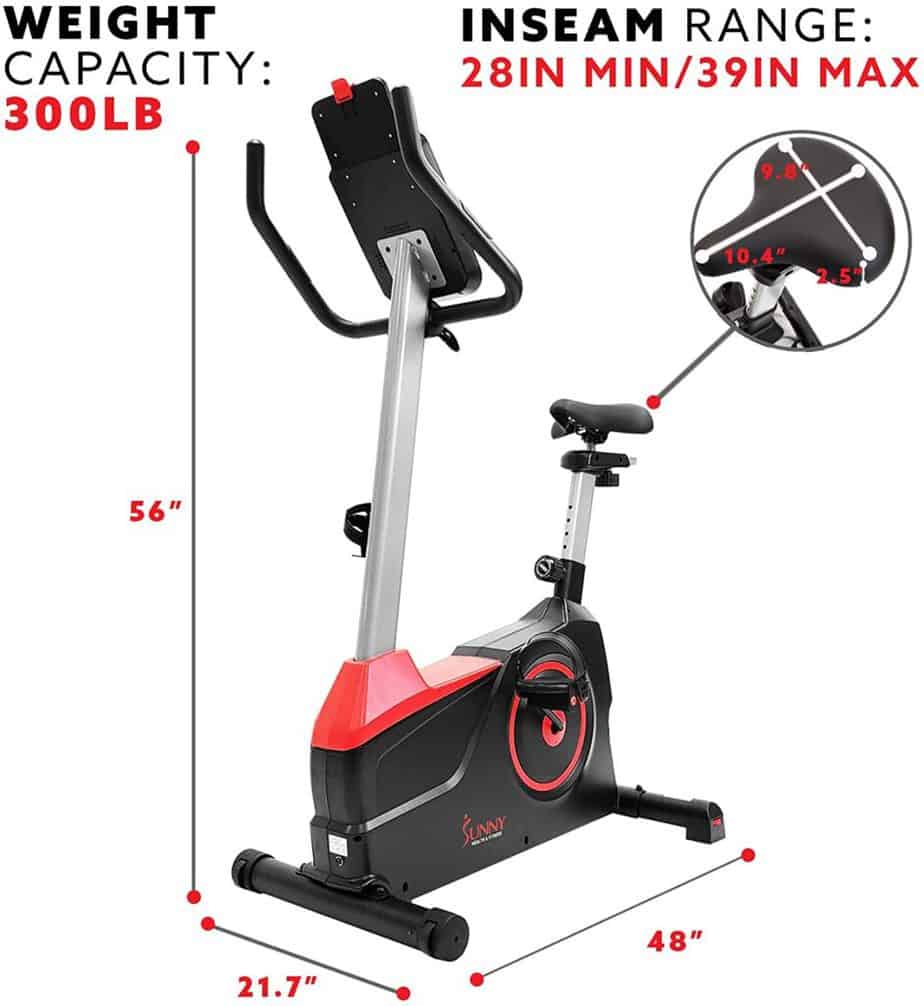 The seat of this bike is large, cushioned, and covered with vinyl material. Its design is meant to provide optimum comfort and it does.
The dimensions of the seat are 10.4'' long by 9.8'' wide by 2.5'' thick.
However, if for any reason you wish to replace the seat with another, you can, because its connection mechanism is standard, thus, options are widely available in the local bicycle shop or online. The seat can also be enhanced by the use of a gel seat cover.
The seat is 4-way adjustable; meaning, it can be adjusted vertically (upward & downward) and horizontally (fore & aft) to several inches, either way.
This makes the bike to be customizable and accommodative. Thus, it supports users with inseam heights of 29.5'' min.-39'' max.
In other words, users that are up to 6'4'' tall can fit in comfortably. But, if you are not sure, you can measure the inner part of your thigh to the ankle to verify. After all, there are individuals with longer or shorter legs.
The Handlebar
The Sunny Health & Fitness Evo-Fit SF-B2969 Upright Bike has a handlebar that is multi-grip designed. It offers several grip positions that enable the user to work out in different postures that include stand-up pedaling.
Moreover, the handlebar's angle can be adjusted to customize your grips for a suitable position.
It is coated with anti-slip rubber soft foam that provides secure and comfortable grips for prolonged workouts.
The handlebar integrates EKG heart rate sensors that read and transmit your pulse rate data to the monitor when held during an exercise.
Pedals
The self-leveling pedals are anti-skid designed and large. They have an adjustable safety strap that ensures the foot has maximum footing stability even during a vigorous workout.
They accommodate different foot sizes and only allow to be ridden with a pair of standard gym shoes.
The possibility of swapping them for another type of pedal is not mentioned. However, there won't be the need for that since this is an upright bike, and so, it doesn't need a spin bike's SPD pedals.
The Drive
The Sunny Health & Fitness Evo-Fit SF-B2969 Upright Bike is equipped with a belt drive system that makes its operation smooth and quiet. As a result, the bike can be used in a home where there is a newborn without problems, and neighbors won't complain of disturbances either.
Also, it is maintenance-free as opposed to a chain drive system that requires periodic lubrication and perhaps adjustment as well.
The drive system comprises a durable anti-stretch belt, pulleys, solid crankset, crank-arms, and 8 lbs./3.6 kg perimeter weighted flywheel.
It is bidirectional; hence, you can pedal in reverse if you wish to diversify and tone more muscle groups
The Resistance System
The Evo-Fit SF-B2969 Upright Bike is incorporated with an electromagnetic resistance system that offers 24 adjustable levels. This also means that the bike needs to be plugged into a power outlet for the resistance to work, thus, it comes with a 9VOLTS, 2.5A, AC power adapter.
The mechanisms in the resistance system include a magnetic brake pad, a small motor, and the flywheel.
To generate resistance, the motor moves the magnetic brake pad close to the flywheel and emits magnetic fields around it.
Hence, no friction occurs in the process of generating resistance and consequently, no part wears out, and ultimately, the resistance system is maintenance-free.
The 24 resistance levels provide different workout challenges that are suitable for beginners, intermediaries, and everyone else that wishes to lose weight, and improve overall physical fitness.
You can adjust the resistance via the – and + keys on the console.
The Console
This upright bike is equipped with a console that features a backlit monitor. It tracks workouts stats such as Time, Distance, RPM, Speed, Calories, Watts, Temperature, and Pulse. Its readability won't be compromised even when viewed in a poorly-lit room.
It has 6 Workout Modes that include Manual, Program (P1-P12), Fitness, Watts, Personal, Heart Rate Control (HRC).
The Manual Mode allows you to manually select the resistance level you deem fit for your workout, and you can also set up goal countdown for Time, Distance, Calories, and Pulse.
The Program Mode offers 1-12 built-in workout programs you can select from. Each program has 16 segments with the same amount of time. When any of the programs is selected, the resistance is applied automatically.
The Fitness Mode allows you to train under a fixed time and resistance level, and this is usually 12 minutes with resistance level 6.
When the Watt Mode is selected the console automatically applies a resistance level based on the speed to maintain the constant watt value.
Personal Mode enables you to create a program that can be used immediately. Each program is divided into 16 segments.
The Heart Rate Control (HRC) Mode decides the resistance intensity of your workout according to your heart rate. It automatically increases or decreases the resistance level when your pulse is above or below a selected heart rate.
The HRCs are as follows;
55% Diet effect program
75% Health effects program
90% Exercise effect program
Target heartbeat-Self-training heartbeat
There is also a Heart Rate Recovery function that calculates and scores the status of your heart. Upon selection, hold the heart rate sensors for a 1-minute test while exercising and a result that is usually between F1 (excellent) to F6 (poor) will be displayed.
There are 4 easy-to-use navigation keys on the console, and how to use them are explicitly explained in the owner's manual.
That said, the console is not telemetry-enabled, and it doesn't connect to an online app.
Accessory
The console integrates Bluetooth speakers, a cooling fan, and 2 device holders. These ensure that you don't sacrifice comfort for fitness because you can remain cool, listen to your favorite music, or watch a movie while exercising.
A water bottle holder is also designated by the right side of the mast within arm's reach for proper hydration, and a USB charging port for keeping your smartphone/tablet alive.
Storage
This upright bike is not difficult to put away. It doesn't need too much space for storage and it's lightweight and portable.
A storage area with the perimeters of 4' length by 1'9'' width can accommodate it, and it only weighs 68.3 lbs./30.9 kg.
Pros/Features Overview
Built to last with steel frame
It is compact; doesn't take up too much space
Sturdy enough to support a maximum user weight capacity of 300 lbs./136 kg
The base has anti-skid pads and adjustable levelers for floor-friendliness and stability
It is customizable to accommodate users with inseam heights of 29.5''-39''
The thickly cushioned and large seat provides lasting comfort
The angle-adjustable multi-grip handlebar allows users to customize setting for an ideal suitable workout posture
Electromagnetic resistance system offers 24 workout intensities for weight loss and overall improvement of physical fitness
12 workout programs
Recovery function for heart rate status
Goal settings for Time, Distance, Calories, and Pulse Rate
Backlit LCD monitor tracks Time, Distance, Speed, RPM, Watts, Calories, Temperature, and Heart Rate
Its operation is smooth and quiet; thus, you can train any time of the day
Assembly is easy
Transport wheels included for easy relocation
Maintenance-free
Tablet holders, water bottle holder, cooling fan, Bluetooth speakers, and USB charging port included
A device can be placed on the upper tablet holder without blocking the view of the monitor
Cons
The monitor is not telemetry enabled
No online connectivity
Warranty
3 Years for Structural Frame
180 Days for Parts and Components
Product Dimensions and Specifications
Length 48''
Width 21.7''
Height 56''
Shipping dimensions: 42.3'' L x 12.4'' W x 25.2'' H
Net weight: 68.3 lbs./30.9 kg
Gross weight: 79.5 lbs./36 kg
Maximum user weight capacity: 300 lbs./136 kg
Inseam heights: 29.5'' min.-39'' max
Frame: Steel
Flywheel: 8 lbs./3.6 kg
Drive: Belt
Resistance: Electromagnetic, 24 adjustable levels
Seat: 4-adjustable
Handlebar: Angle-adjustable
Monitor: Backlit LCD
Power: 9VOLTS, 2.5A, AC power adapter
Programs: 12
Recovery Function
Goal settings for Time, Distance, Calories, and Heart Rate
Bluetooth built-in speakers
A cooling fan
Tablet and water bottle holders
USB charging port
Transport wheels
Shipping
The Sunny Health & Fitness Evo-Fit SF-B2969 Upright Bike is shipped in a box that weighs 79.5 lbs./36 kg with dimensions of 42.3'' length by 12.4'' width by 25.2'' height.
Amazon ships it free of charge and gets it delivered in a couple of days.
Assembly
The drive/resistance system comes preinstalled. Therefore, you are only expected to attach the front and rear stabilizer bars, the mast, the seat, the post, the handlebar, and the pedals to the main core unit.
It takes less than an hour to fully assemble the bike.
Also, the tools needed for assembly and an instruction manual with graphic illustrations of how to assemble the unit are included in the package.
Maintenance
Keep the machine clean always and endeavor to inspect it before use for any loose or broken part.
Do not allow liquid, moisture, or direct sunlight to get to the console.
Conclusion
The Sunny Health & Fitness Evo-Fit SF-B2969 Upright Bike is designed for home use and could also be used in the office.
Its operation is environmentally friendly and its resistance system offers a range of workout challenges that enable you to attain your fitness goals.